If you're a seasoned explorer, finding something that other travelers may not know about is just the icing on the cake. There are plenty of these gems in Macau and one of them is an area rarely visited by tourists, Horta e Costa Avenue–close to the Three Lamps District–which leads all the way to the historic red-bricked building, Red Market. Explore the area and experience the authenticity of this locale and its abundant food offerings, especially when it comes to street food or snacks you can buy and eat while strolling.
Waffles Stall at Rua do Almirante Costa Cabral (喜記小食)
(See featured image above)
This stall located at Rua do Almirante Costa Cabral–next to Pui Ching Middle School–offers both egg and regular waffles made with a traditional recipe perfect for when you're on a walking tour and want a bite! Very popular in both Macau and Hong Kong, these waffles are great if you're looking for a not too sweet treat that's also fulfilling. Pair it with an ice lemon tea or soy milk and get going on that stroll along this busy street!
Waffles Shop 41 Rua do Almirante Costa Cabral, Macau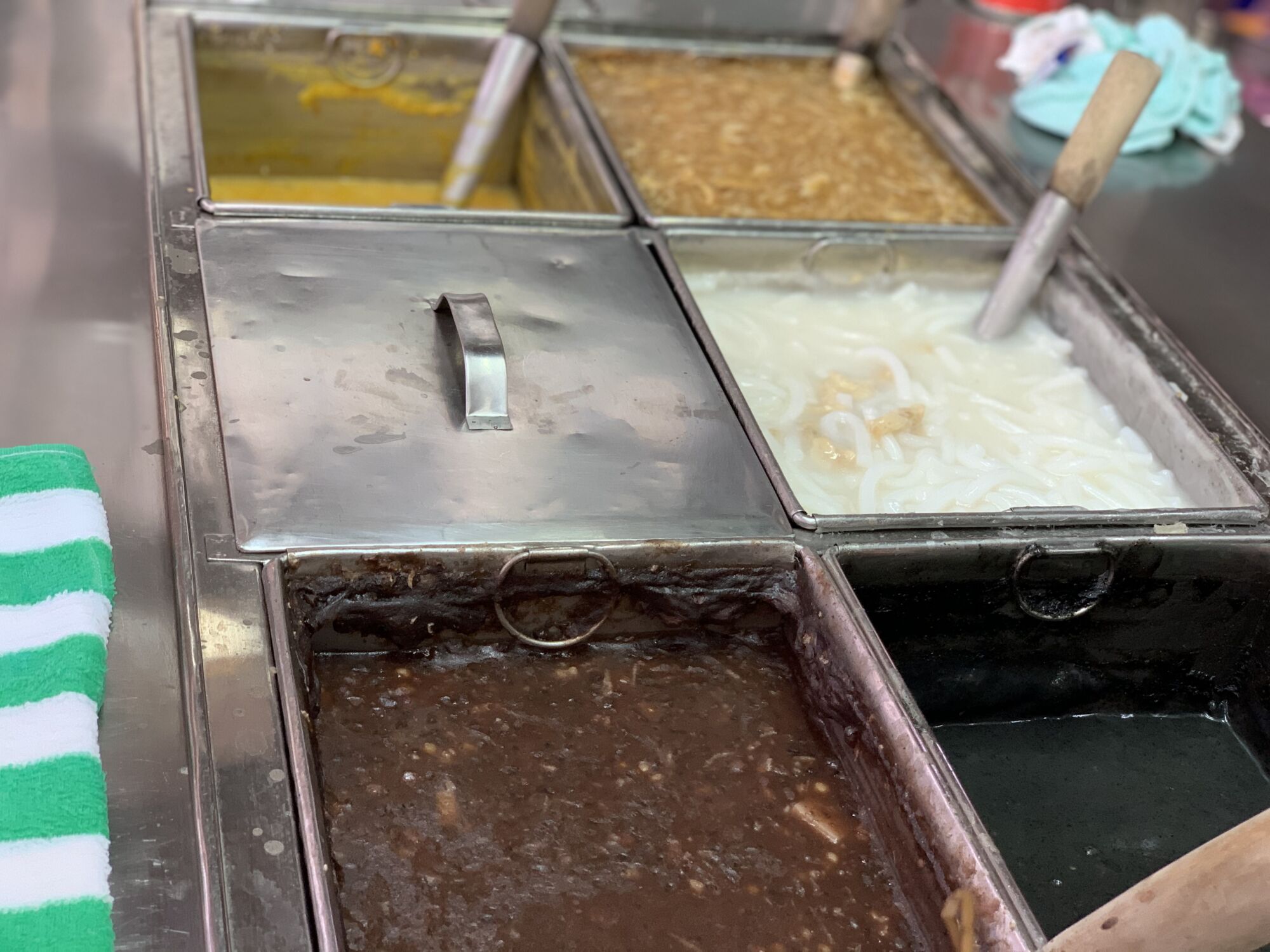 Wan Kei
Rice noodles are definitely what to order at Wan Kei. Set in Three Lamps District, this street food spot is located close to the fruit and vegetable stalls along a covered area designed with the ends looking like the ones on traditional temples. Wan Kei–which only has its Chinese name on the top–sells wholesome cups of noodles with different sauces: sweet potato with sago, black sesame, pork, and more are the available options. A portion–although small–costs less than MOP $25.
Wan Kei Three Lamps District, Rotunda (Roundabout) Carlos da Maia, Macau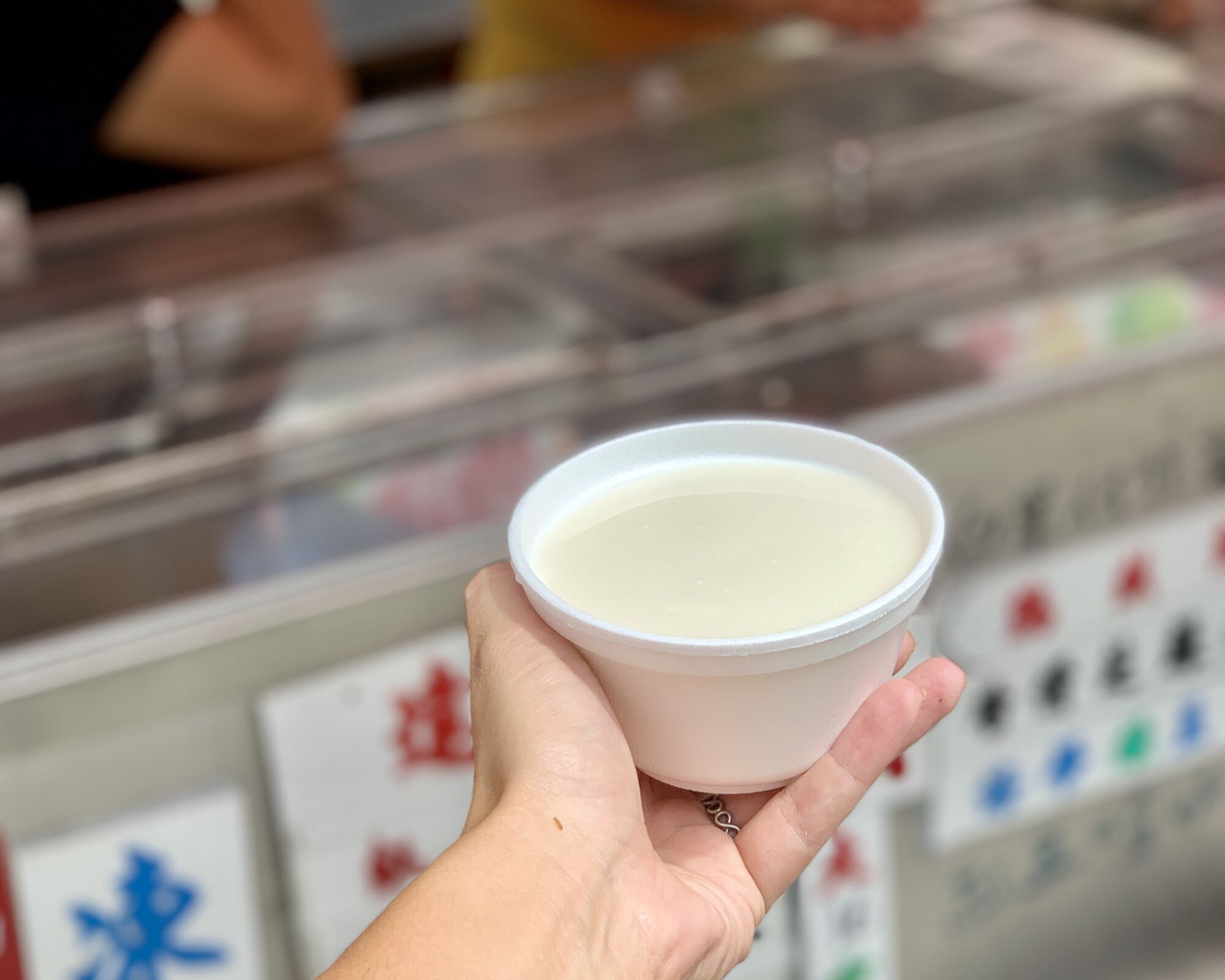 Tat Kei Dessert
There's always something nostalgic about having cold Chinese dessert soup from a styrofoam bowl and plastic spoons. It brings back memories of a simpler time during our childhood when food carts such as Tat Kei were found nearly everywhere selling our favorite street food. There are many places in Macau selling this traditional Cantonese dessert–some are even in air-conditioned settings now–but enjoying this street snack out in the open on Avenida Horta e Costa amidst the bustling crowd is both a foodie and cultural experience.
Don't know how different desserts are called? Here's a handy guide for you: 椰汁奶露 = coconut milk soup, 椰汁西米 = coconut milk with tapioca, 消暑冬瓜水 = refreshing melon soup with water, 紅豆喳咋 = red bean soup, 菠蘿西米羹 = pineapple soup with sago. Don't be shy in adjusting according to your tastes with the can of evaporated milk on display. You can also enjoy these desserts during the winter since they have hot and cold variations.
Tat Kei Dessert Behind the Red Market, 105 Av. de Horta e Costa, Macau
Also read: Tat Kei Dessert: Four Decades of Sweet Soup in Macau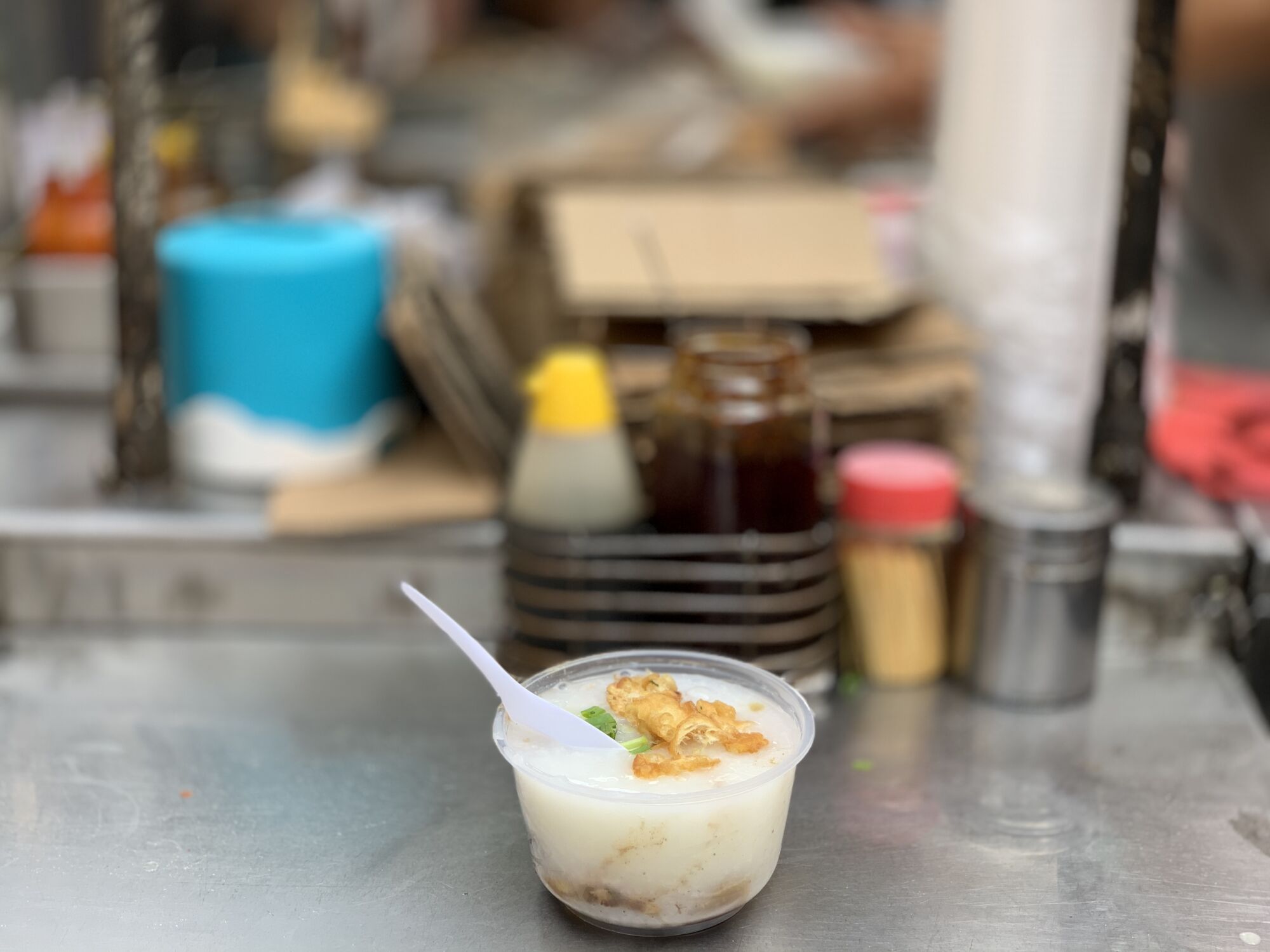 Stall With Pig's Intestine Congee (紅街市牛雜檔 牛什檔)
Street vendors and stalls selling freshly made food are very scarce nowadays in Macau and the Red Market area is one of the few still offering this kind of precious local traditions. Right in front of Tat Kei sits a street stall selling bubbling congee with freshly cooked pork parts, the most sought after being the intestines. There was a crowd in line waiting for their "tapau" (takeaway) when we visited, around 5:00pm on a weekday.
Opened in the afternoon, it doesn't have an official name, but locals call it "the stall with pig's intestine congee". While the rich soupy congee is bubbling away, the chef puts the meat together on a plastic container, plus whatever the customer requests–egg, fritters, and others–then pours the congee on top. A fan of local dishes? This is a must-try! Opened from 2:00pm to 7:00pm every day, it's a great place to grab something hot before heading home.
Stall With Pig's Intestine Congee Behind Red Market, 5 R. Leste do Mercado Almirante Lacerda, Macau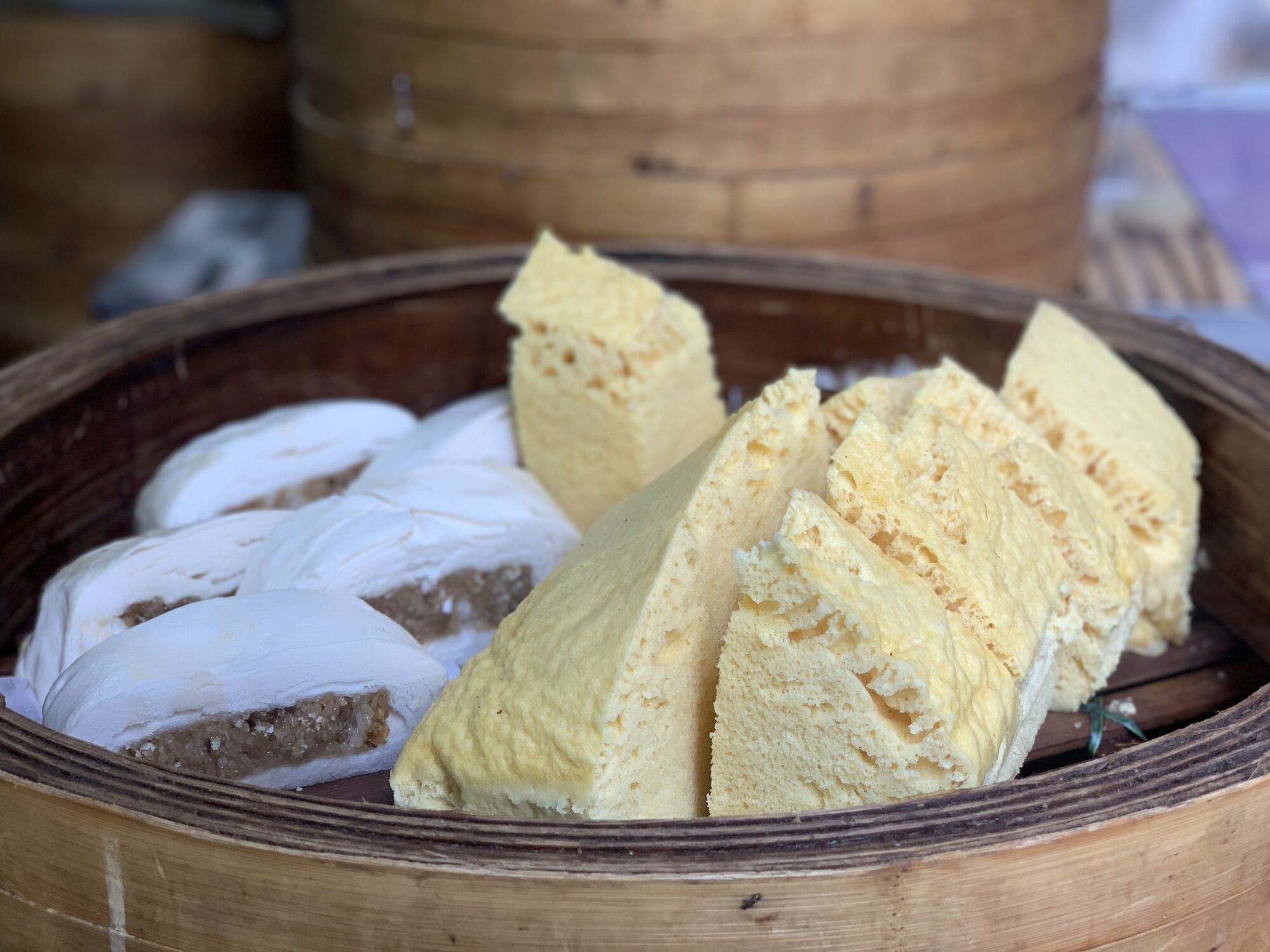 Cheong Seng Ka Fei Fan Min Bakery
You will easily spot this place when a gust of warm steam greets you along with the delicious sweet smell of authentic Cantonese pastries that permeates the air upon entering the chaotic market at Rua de Tomé Pires. Notice the gigantic bamboo steamers cooking large batches of our beloved dim sums like cha siu bao (barbecue pork buns) or siu mai (pork dumplings with distinct yellow-colored wrapper), to name a few. Simply point to whatever is on display and you'll be sure to enjoy a warm snack as you wander about the Horta Costa area.
Cheong Seng Ka Fei Fan Min Bakery Rua de Tomé Pires, Macau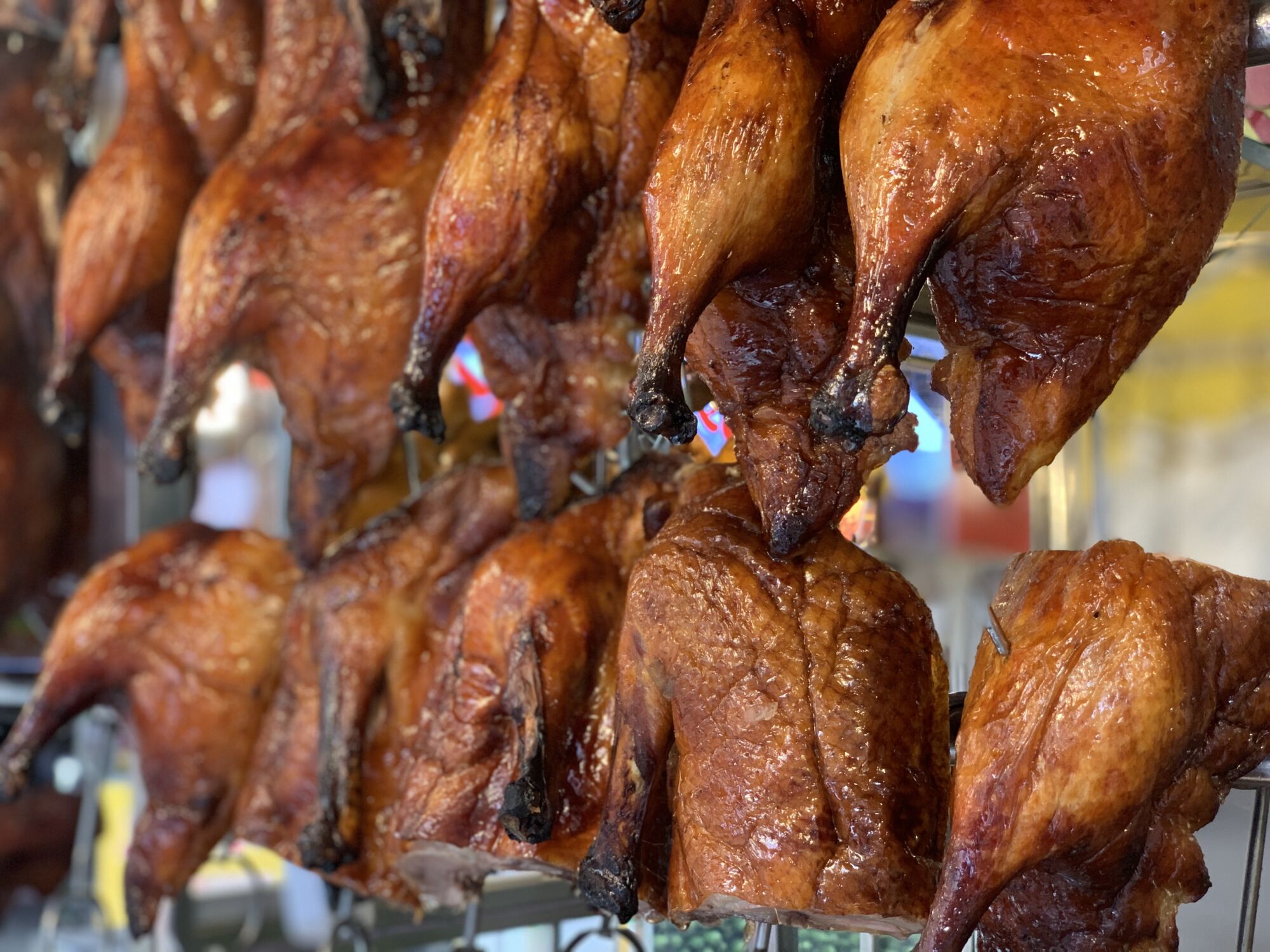 San Fat Chai Carnes Assadas e Fumadas
Selling some of the best BBQ meats–duck, chicken, and pork–this is an intersection filled with cute local eateries all specializing in this craft. With a crispy skin glazed with honey, the meat is usually very tender and flavorsome, especially when it comes to a very popular Cantonese dish: char siu. The duck is also a great choice, with its crunchy skin and a special, strong flavor. However, this specific one might be the winner; with people queuing outside during peak hours (lunch and late afternoon), this makes a great snack to eat while checking out the surroundings. While you're at it, grab some local sweets from Cheong Seng Ka Fei Fan Min Bakery and you're having a Macau foodie experience for sure.
San Fat Chai Carnes Assadas e Fumadas Intersection of Rua de Tomé Pires with Rua do Rebanho, Three Lamps district, Macau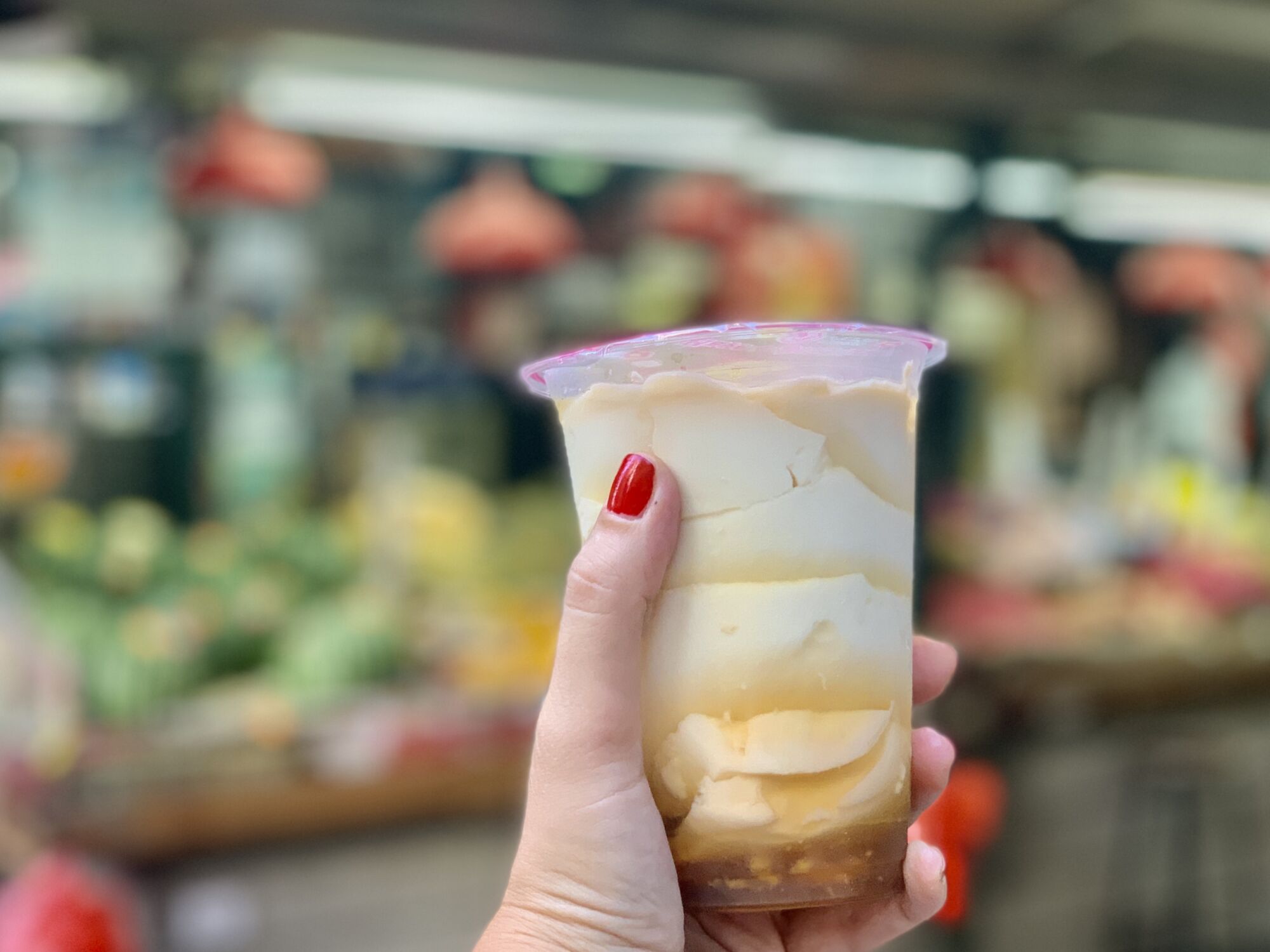 Fat Kei Siu Sik Snack Shop
Although it's called a snack shop, we highly recommend this place for its delicious tofu drinks. Yes, tofu. It's not strange to crave for a sweet, cool, and custardy tofu drink to beat the heat. It comes in different varieties like black sesame with tofu and milk tea with sago and it's quenching enough for those looking for other options to water or juices. All are equally delicious and a real treat especially when it's hot out!
Fat Kei Siu Sik Snack Shop 74B R. de Coelho do Amaral, Macau
This article was originally written by Nisa Reyta in 2017 and updated by Leonor Sá Machado in July 2020.
Tags
Related Posts