Banyan Tree's Afternoon High Tea Set is a game changer! Typically, tea sets are served in a three-tiered tray placed on the table. At Banyan Tree Macau however, the elegant set comes in a beautiful birdcage, complete with fresh bamboo leaves and orchids, the entire then piece stands on a hook, giving the illusion it is floating. It looks so attractive and unique that the afternoon tea set became the second most "hashtagged" feature of Banyan Tree Macau, according to their Assistant Marketing Manager, Vanessa.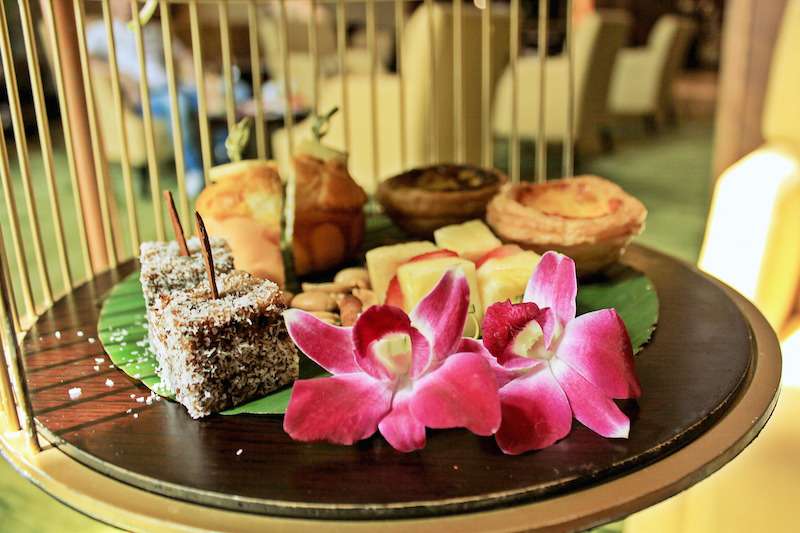 You can choose between a traditional or Macanese themed tea-set, for either one or two persons. Since the first is a selection of mostly sweet items,we chose the Macanese which offers an array of South-East Asian flavors and ingredients. It comes with a choice of coffee or tea, and we picked an iced cappuccino and the Banyan Tree iced tea, which we think had an orange infusion. Needless to say, the heat outside begged  for ice cold drinks!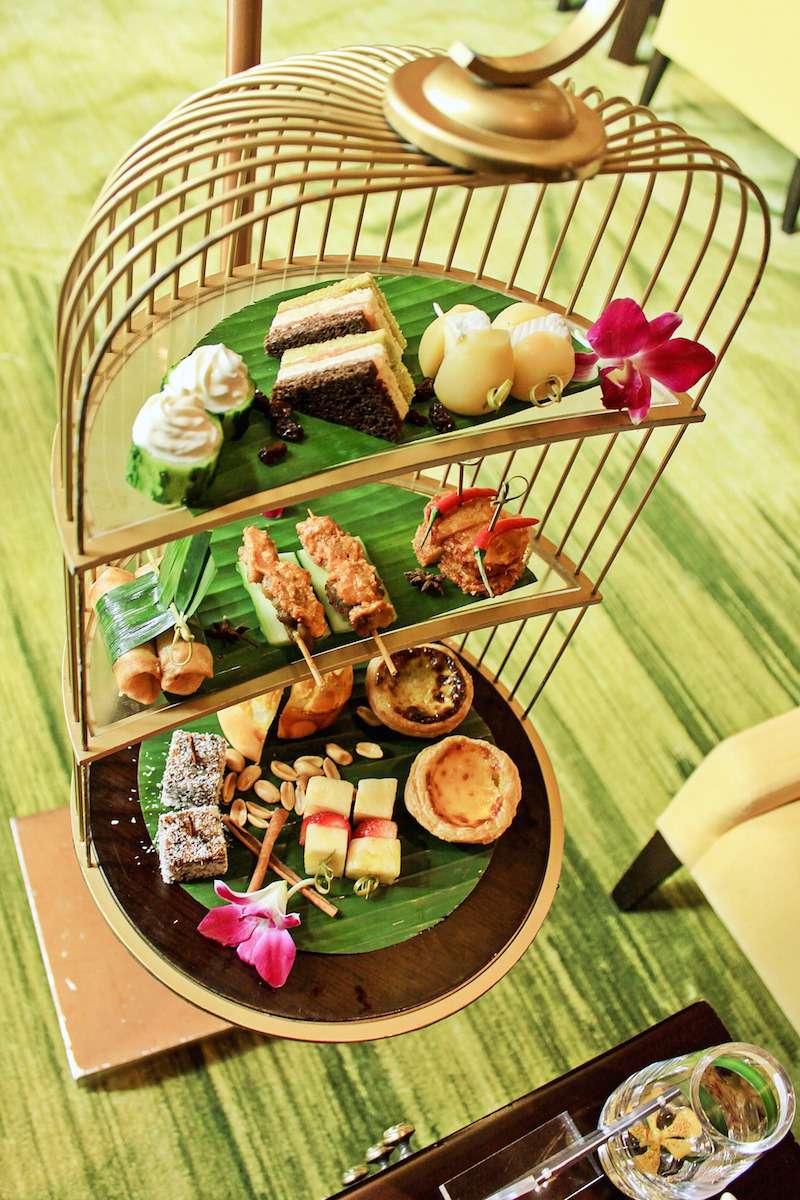 The first level of the birdcage can be considered as palate cleansers and the second level include all  the savoury and mildly spiced items, the third level are the pastries and desserts. The service matched the display, and the server kind to explain each item and what was their inspiration.
Below are some of the delights that are totally worth coming back for!
Best Afternoon Tea menu selection, truly recommended:
Salmon Mini Sandwich
Thai Shrimp Cake
Macanese Egg Tart
Banana & Nut Bread with Coconut Shavings
Banyan Tree Iced Tea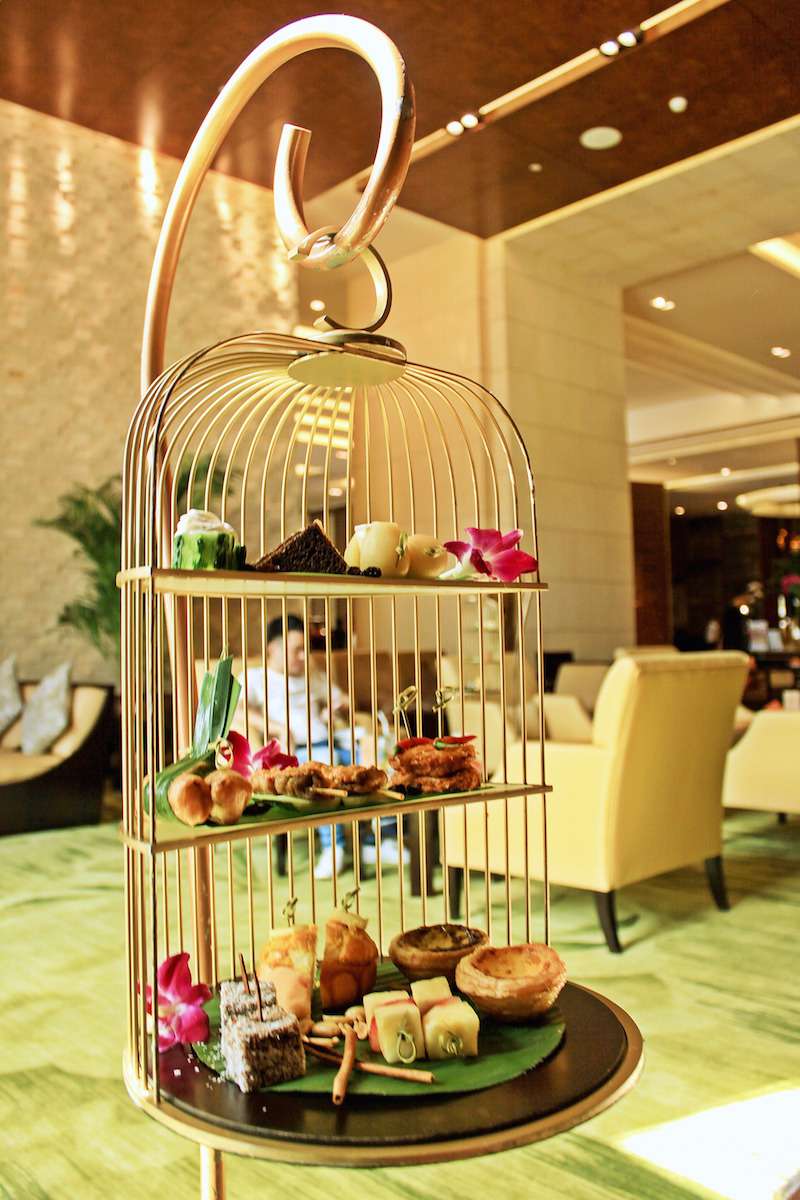 You can order the tea set for MOP $138 for one person or share it with someone else for MOP $238. Either way, their tea set has is quite varied and  would easily serve three. Not only is the atmosphere of the Banyan Lounge comfortable and relaxing, you can even the  Asian touch on their room fragrance, lounge décor and the sound of the Guzheng playingir.  The entire environment is really a "Tranquil Oasis in the Hustle & Bustle" of the city. If you're a visitor who would be interested in trying high tea in Macau, Banyan Tree is definitely the place to go!
Not only is it affordable, it is also a chance for foreigners to try most of South-East Asian flavors in one go!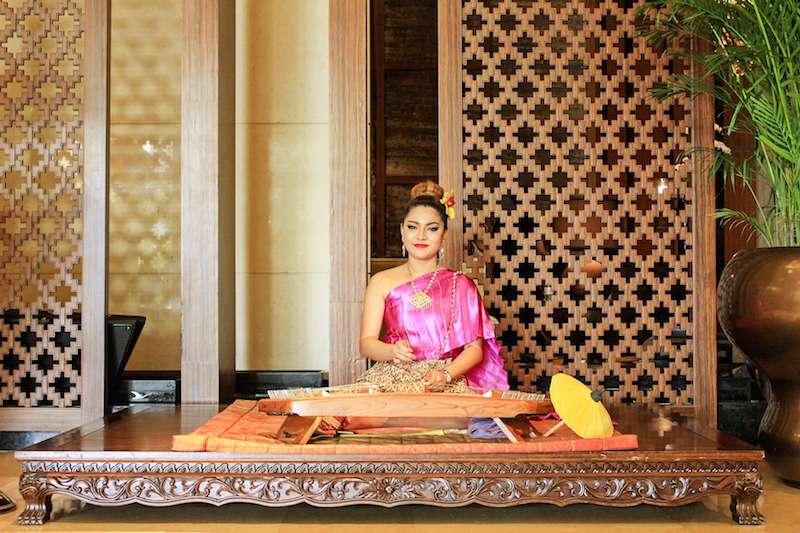 Banyan Lounge G115a, G/F, Banyan Tree Hotel. Operation Hours: everyday: 09:00am – midnight; +853 8883 6061 / http://www.galaxymacau.com/en
Tags
Related Posts