What is the guaranteed way to stay safe when dining out? Booking a private room, of course. Group gatherings feel like they will never be the same again but with plenty of options in Macau, planning an intimate party or celebration can still be quite easy. Whatever the occasion may be, these are the best restaurants with private dining rooms to gather and celebrate in Macau. Don't forget to always follow the most up-to-date rules around group gatherings and always book in advance!
Le Lapin Macau
(Featured image above)
There are plenty of private dining rooms hidden in some of Macau's outstanding dining destination. You'll be surprised to learn however that Macao Science Center is home to a precious dining gem. Le Lapin is a stylish French restaurant tucked away inside the Macao Science Center. The design of the venue was exceptionally executed by Wilson Associates New York. Embedded all throughout the setting is Macau's status as an intersection between East and West. A richly layered design narrative takes guests of Le Lapin on an immersive dining experience. You'll find cultural symbolism, fairy tales, and references to classic literature as you wander around the restaurant.
Experience unique private dining experience at Le Lapin. Even the carpets in the private dining rooms are inspired by poetry. The one in the larger room is based on Jules Verne's De la Terre à la Lune, while the one in the smaller room features Chinese poet Su Shi's Mid-Autumn Moon. The elements incorporated from the poem is poised to guide guests towards the Macau skyline. The two private rooms are simply stunning and can cater to a crowd of 12 and the other one for eight persons.
Le Lapin 5/FAvenida Dr. Sun Yat Sen, Macao Science Center, +853 2878 3938, www.lapinrestaurant.com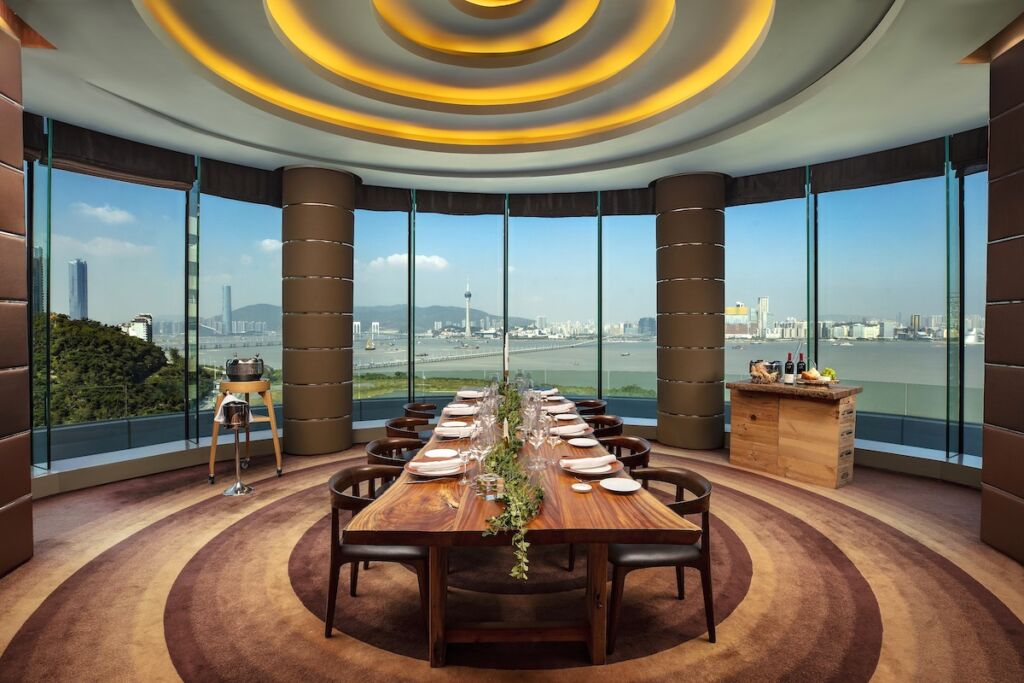 Yi Pavilion at Altira Macau
High above the city, literally, Yi Pavilion at Altira Macau offers a majestic view of the Macau Peninsula. Just look at this stylish space, even with minimal decor, this location is perfect for a wedding reception or an anniversary dinner. The intimate space features a separate lounge area offering guests comfort and convenience. Redefining the meaning of exclusive when it comes to dining experiences, you can even have a dedicated chef crafting bespoke dishes specifically for your event. With one table able to host up to 15 guests, an unforgettable evening is certain at the exquisite Yi Pavilion.
Altira Macau Avenida de Kwong Tung, Taipa, Macau,+853 2886 8888, www.altiramacau.com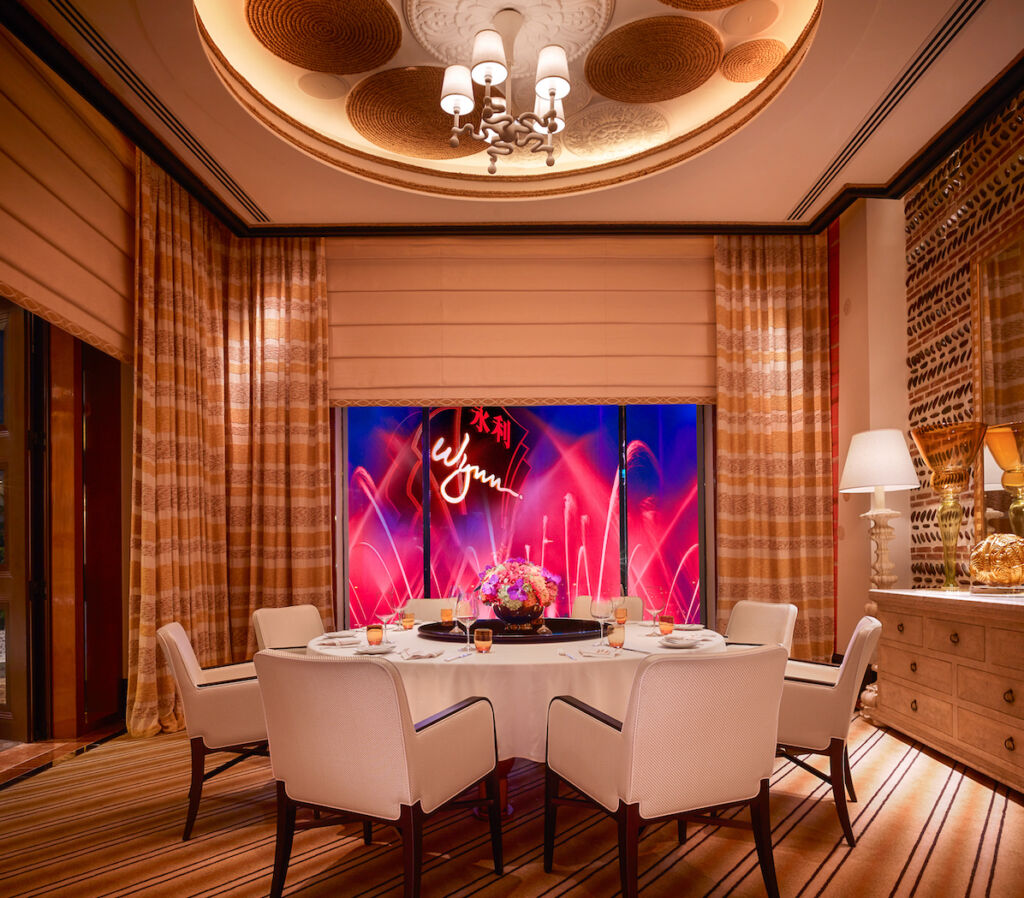 Ristorante Il Teatro at Wynn Macau
There is a certain aura that comes with private dining at Ristorante Il Teatro nestled at Wynn Macau. Two private dining rooms with balcony areas overlooking the spectacular lake are available for special occasions. You'll find classic décor and contemporary Italian fare at this outpost. Fall in love with amazing views of the Performance Lake too. The two private rooms seat 20 persons with a minimum charge of MOP $5,000.
Wynn Macau Rua Cidade de Sintra, Nape, Macau, +853 2888 9966, www.wynnmacau.com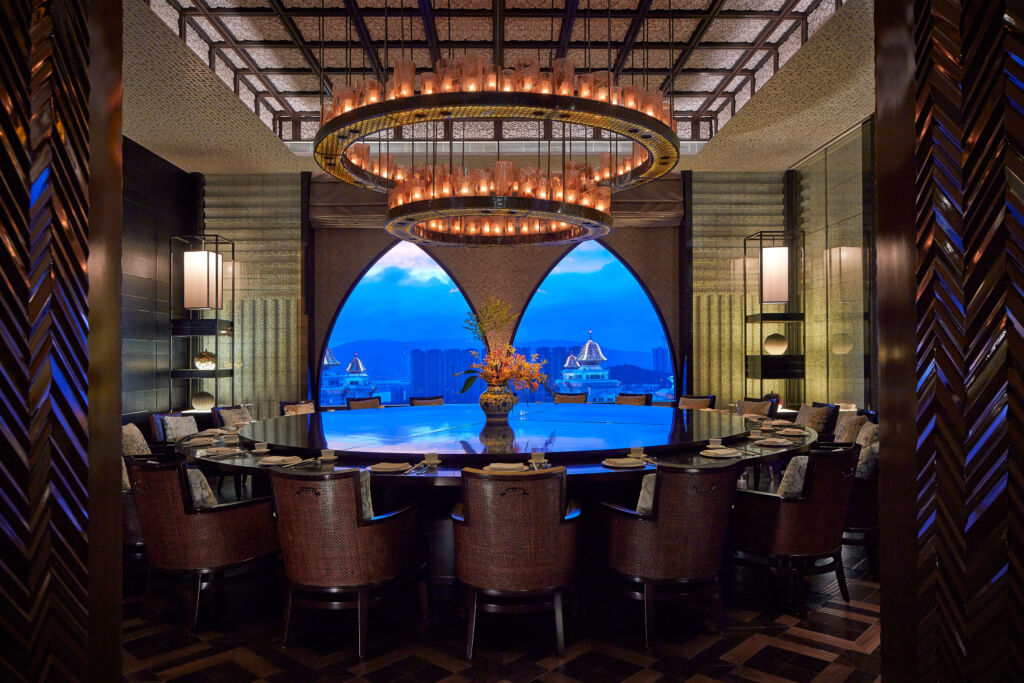 Lai Heen at The Ritz-Carlton, Macau
Booking a private dining room at the award-winning Lai Heen located at The Ritz-Carlton, Macau means world-class dining combined with a resplendent panorama of Macau's very best. Choose from five elegant private dining rooms filled with contemporary artworks. Dining in secluded style has never looked better with Lai Heen dubbed the highest Chinese restaurant in Macau. The Michelin-starred restaurant's Lapis Lazuli is the biggest space out of the five dining areas. The round table can comfortably seat a maximum of 24 persons. Indeed, it's a rare setting for Chinese restaurants making it an ideal space for business meetings and family gatherings. A minimum charge applies to the private room with lunch from MOP $5,000 and dinner from MOP $8,000 and above.
The Ritz-Carlton, Macau Galaxy Macau, Nossa Senhora da Esperança, Estrada da Baia de Nossa Senhora da Esperanca, Macau, +853 8886 6868, www.ritz-carlton.com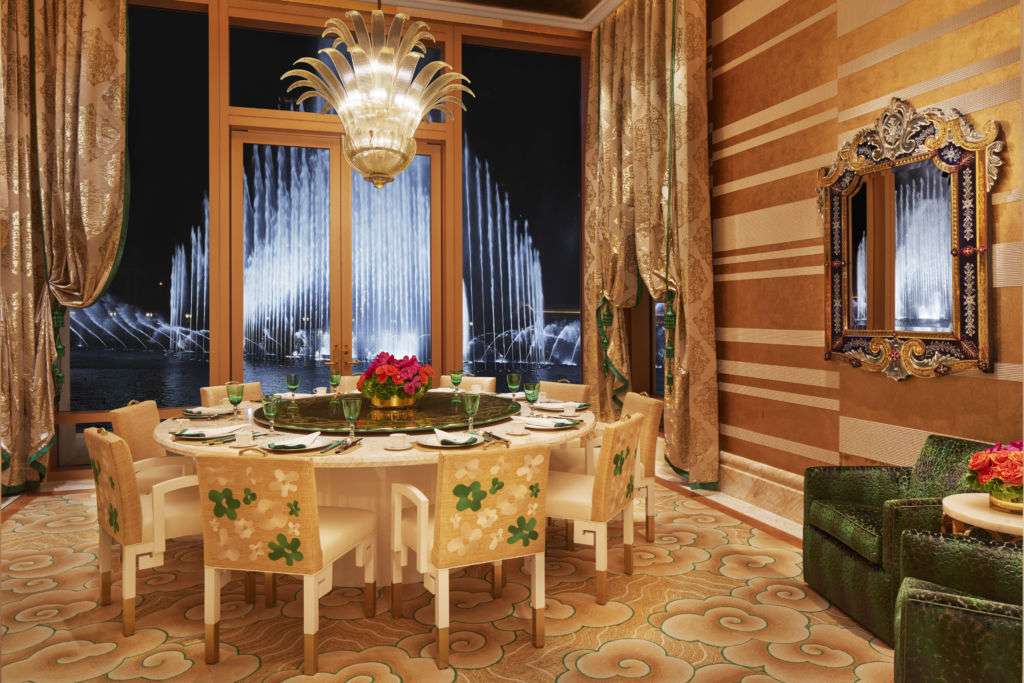 Wing Lei Palace
An oasis of calm, Wing Lei Palace is the perfect place for private parties. We're talking about a small wedding, engagement, proposal, birthdays, and more. With seven luxurious private dining rooms, you'll be reminded of European opera boxes in terms of design and interiors. The spaces are also accompanied by ensuite bathrooms making it a truly private affair for you. Three of the private rooms are situated lakeside with private terraces making it an amazing location for that lively celebration you've been planning!
Wing Lei Palace Wynn Palace, Avenida Da Nave Desportiva, Cotai, +853 8889 3228, www.wynnpalace.com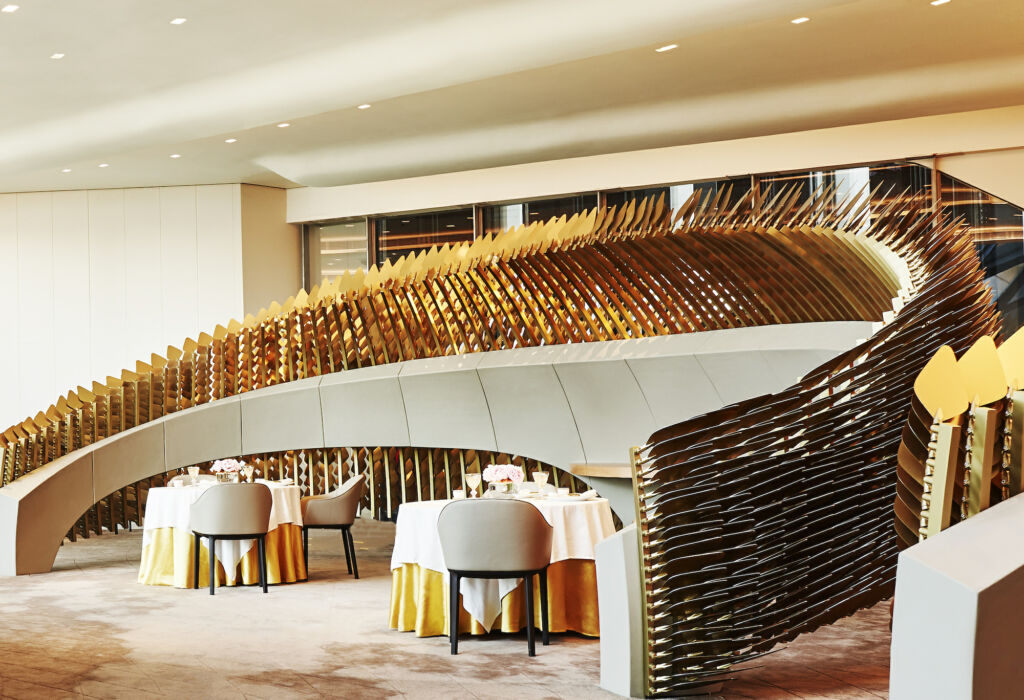 Yí at Morpheus
A hidden gem awaits Morpheus. Head to Yí situated on the 21st floor Sky Bridge and you'll find three majestic VIP rooms suitable for any kind of event. Captivating guests with the tantalizing flavors of regional Chinese cuisine served in tasting menu format, Yí is comprised of culinary experts ensuring every dining experience is excellent. Unbeknownst to many, the 12 tables set within nine dragon-scales-inspired golden semi-domes can actually serve as a private dining room offering guests an ample amount of seclusion and privacy. The sophisticated surroundings set the scene for a memorable experience at Yí. Even if it's just for a cup of tea with your friends, you'll find a certified tea sommelier to help enhance your culinary experience with expert tea pairings. For something stronger or in a celebratory mood, Yí offers an excellent selection of wines and spirits.
Morpheus City of Dreams Macau, Estrada do Istmo, Cotai, +853 8868 3432, www.cityofdreamsmacau.com/morpheus
Also read: Yí at Morpheus: Chinese Haute Cuisine & the Book of Changes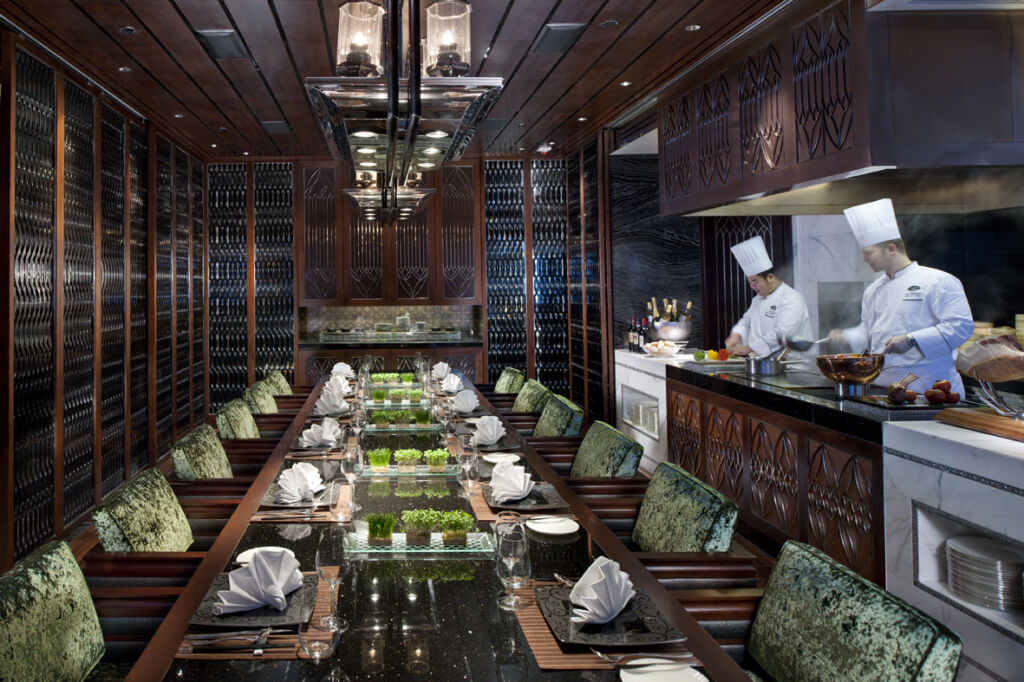 Vida Rica Restaurant at Mandarin Oriental, Macau
Everything is superb when you dine at Mandarin Oriental, Macau's Vida Rica Restaurant. Renowned for having stunning views of the city, this is one of our favorite dining spots of all time. If you're yearning for peaceful dining without compromising on quality, this dining spot is the answer to the problem. The kitchen team offers a curated menu for private dining. For an intimate dinner of ten persons, The Chef's Table is a great choice. Food is served fresh from the kitchen; it's like having your own chef catering to all your needs and wants!
Mandarin Oriental, Macau 945 Avenida Dr. Sun Yat Sen, NAPE, +853 8805 8888, www.mandarinoriental.com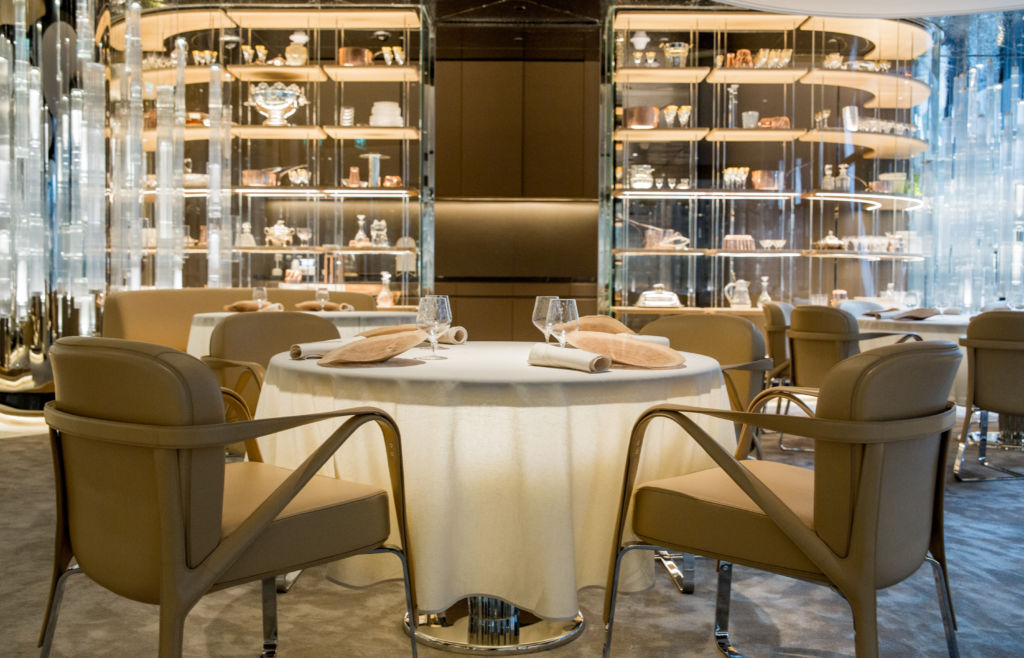 Alain Ducasse at Morpheus
Not only does Alain Ducasse serve the best of what the culinary world can offer, but it also provides its guests with a prestigious and fascinating private dining experience that is unlike any other. Whether you are out for a business meeting, a romantic date, or just celebrating the beauty of life, this space will make sure that each moment spent inside the restaurant will be an unforgettable one. The restaurant has a chef's table tucked away between its wine cellar and kitchen offering guests a more intimate dining experience. The spectacular space can seat between two to eight diners and is separated from the kitchen by a full-height glass wall. One of the unique features is that the glass wall can be turned into an opaque wall at the press of a button offering guests a secluded feel and sense of privacy.
Morpheus City of Dreams Macau Estrada do Istmo, Cotai, +853 8868 3432, www.cityofdreamsmacau.com/morpheus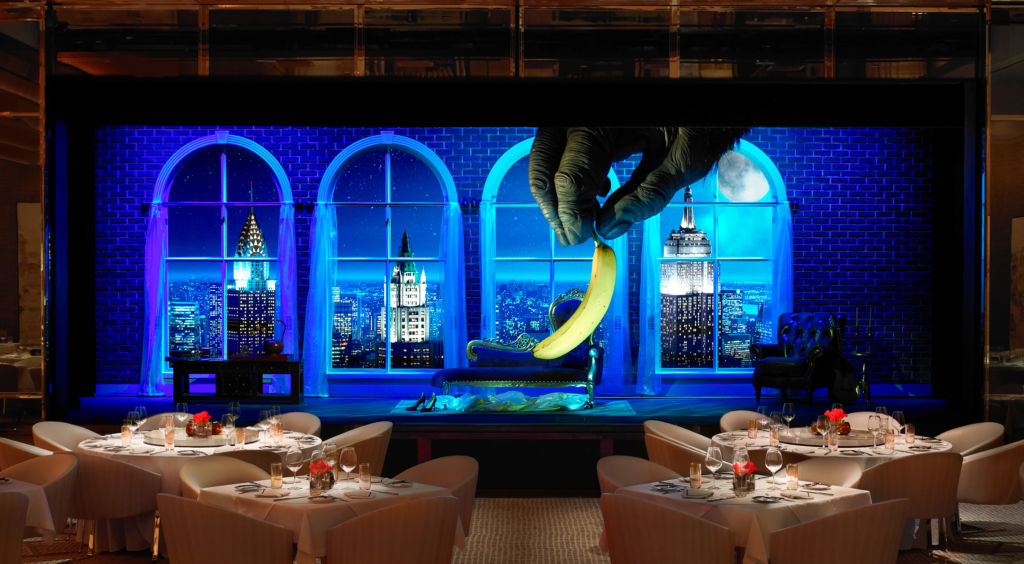 SW Steakhouse
Are you looking for a restaurant for your next date night? SW Steakhouse is the place where you can be alone without actually being alone. Memorable food and dazzling entertainment make this location perfect for a romantic outing. SW Steakhouse offers three private rooms with modern design and amenities. You'll find that it features a spectacular theatrical animation with 3D mapping vignettes, themed around a waking dream. Succulent steak and fresh seafood dominate the impressive menu, there's no room for disappointment when dining at this Wynn Palace restaurant.
SW Steakhouse Wynn Palace, Avenida da Nave Desportiva, Cotai, +853 8889 3663, www.wynnpalace.com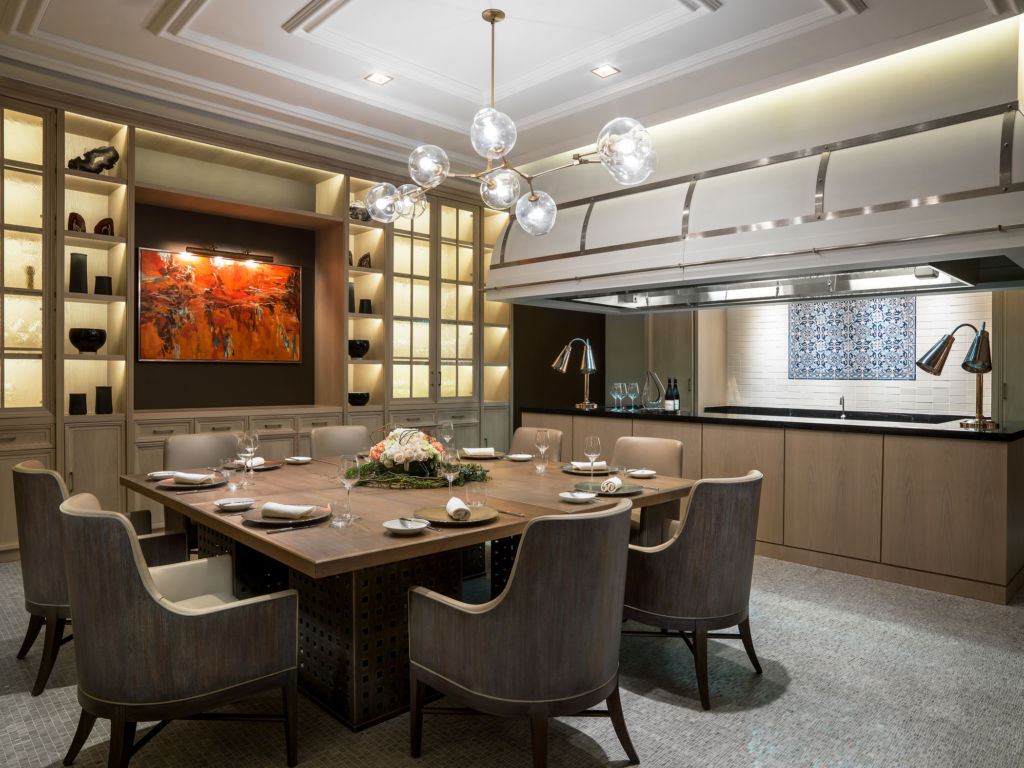 The Penthouse Kitchen at The St. Regis Macao's The Manor
Enjoy a memorable meal, crafted from authentic recipes and the finest ingredients at The St. Regis Macao's The Manor. Unbeknownst to many though, this place offers private dining options in a wide variety. Each nook caters to a different vibe and number of guests. For family gatherings or an important business meeting, The Penthouse Kitchen is a perfect choice. Perfectly positioned seating arrangements with gorgeous interiors and neutral colors, the space is calm and relaxing. It gives you the privacy you need while enjoying top-notch food.
The St. Regis Macao The Londoner Macao, Estrada do Istmo, s/n, Cotai, +853 2882 8898, www.stregismacao.com
Tags
Related Posts