Macau has no shortage of restaurants and bars, especially impressive for its 33 square kilometers of space. All of them have stories behind and remarkable people in charge who are more than happy to share them. We met with Bruno Santos, the owner of Antica Trattoria and the man behind their cocktail menu to talk about juggling various roles at the same time, his love for Macau's history and the little red cocktail book.
Italian meets Portuguese

 
Just a few steps up the narrow stairs and we find ourselves in a traditional, home-style Italian trattoria. It is dinner time. The restaurant is busy and filled with sounds of chatter, glasses clinking and mouthwatering aromas. However, tonight we are not here to dine. Passing by the tables covered with pasta and pizza plates, we walk through the restaurant towards the bar area where Bruno Santos, Antica Trattoria's owner is greeting us with a big smile. Bruno was born in Portugal but considers Macau his home as he has lived around 34 years here. Way more than just a business owner, he is very affectionate about Macau and cares deeply about what is happening in town. Hence, besides owning an Italian restaurant and working there every day he's in town, Bruno manages to balance some other important roles in the community, not to mention fathering his little adorable daughter. 
He's been in the food and beverage industry for decades, watching it evolve and being a part of this evolution. It wouldn't be an exaggeration to say that all the local bartenders know Bruno, both as a brilliant professional and the founder of UBCM, Union of Bartenders and Cocktails of Macau. Although he has stepped down from his post as a president, he is still very much involved in all the UBCM activities contributing to the development of Macau's bar scene and professional growth of bartenders. 
When an opportunity to take over Antica Trattoria, a restaurant where Mr. Wynn and Mr. Sheldon Anderson used to dine, Bruno didn't think twice. Driven by a passion for cocktails, he made sure to have an area specifically dedicated to the guests who appreciate a fine cocktail. For now, Antica Trattoria is his harbor from where he often travels to all kinds of destinations, from a Macau-based bartender jam event to an international congress on the opposite side of the globe. His dedication to the profession has been noticed way beyond Macau's borders. Starting November 2019, Bruno was appointed a secretary position at IBA, International Bartenders Association. 

Little red cocktail book
Antica's cocktail menu has recently been updated with a list of six unique creations each being a chapter of the story that shaped Macau. Bruno created six recipes inspired by the historic event of 1966 and its preconditions. We know it as the 12-3 incident when the Chinese community in Macau, nurtured by communist ideology and tired of corruption and colonialism initiated a riot. 
Talking about history in the form of cocktails is far from being conventional. Undoubtedly though, it is one of the most entertaining ways. From presentation to each ingredient, every element has its symbolism, so you won't help but wonder why it was used. Bruno and his bar team in stylish leather aprons are happy to reveal some (but not all) secrets behind the cocktails. Only the most curious guests would get the secret little red cocktail book. Sounds familiar? If you know something about Chinese history in the 20th century, you might have heard of Mao Tse-tung's little red book. With 267 aphorisms of the communist leader, it was an influential propaganda tool and helped a great deal to spread the ideas of the "founding father". Whereas Antica's little red book is a manifesto of outstanding mixology inspired by a fascinating history, harmless and full of bartender's wisdom.
Six cocktails range from light to stronger ones. Hours of experimenting with Chinese and Portuguese liquors, home-made syrups, infusions and cooking methods resulted in six new recipes with extraordinary combinations. Chinese baijiu with five spices cordial became a base for "The Fortune Teller" sour, served on an actual fortune teller "coaster". A twist on a classic communal drink, "Colonial Punch" is made with Agua Ardente and port wine and served in a teacup as a curtsey to the tea ceremony tradition. The more cocktails you try, the more history you learn. And while Bruno is mixing and stirring, we took that opportunity to chat.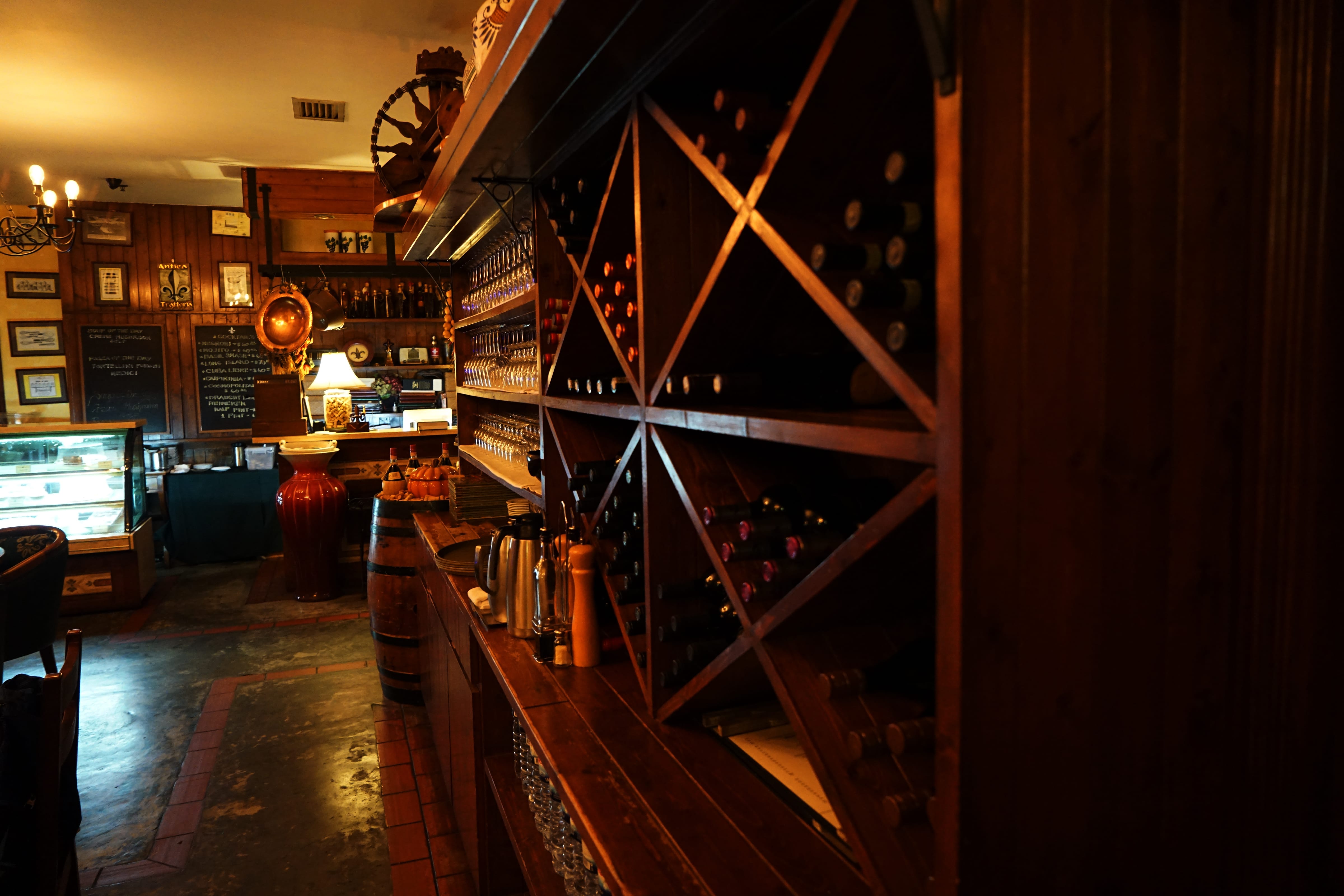 Tell us about Antica Trattoria. How did you become the owner? 
It is an old restaurant with a history that goes back to 2003. Back in the day, many celebrities used to come here, even Mr. Wynn and Mr. Sheldon Anderson. But Macau changed and new restaurants have appeared. Instead of a couple of Italian restaurants, there are more than 15 in Macau these days. So Antica Trattoria had a challenging time. When we (Bruno and his wife, co-owner) had an opportunity to take over around two and a half years ago, we took it. After Pacha (Bruno worked there as an F&B assistant director), we wanted to work for ourselves and do something creative. I love that and I like the process. If I don't create, I stagnate.
What changes did you make? 
We didn't demolish everything and create a brand new place as we wanted to keep the good things and loyal customers, implementing our vision gradually. 
One of the first things we did was this bar area. I wanted a proper cocktail bar. We call it Syndicate bar, kind of 30-40s wise guys (mafia) concept. And as most of the American wise guys were of Italian origin, it fit perfectly with the Italian restaurant theme. 
Being a big boss now, do you spend any time behind the bar? 
As a business owner, I'm everywhere. I work on the floor, behind the bar and, most of the time lately, in the kitchen. It depends. My bar team can do well on their own, but especially when the restaurant is busy, I'd come and do some work behind the bar. 
So you say you have a very good team which is actually backed by your recent "Hospitality team of the year" award at The Bar Awards Hong Kong & Macau 2019. How do you pick the team members? What qualities are the most important ones?
The first thing I look for would not be knowledge. I want somebody who knows what they want to do. And if they are willing to learn and determined to become better, it's more important than knowledge and experience. I want my team to be passionate. That's why this restaurant failed at some point before–people were not smiling. Moreover, I want to be their colleague, work by their side, not just be their boss. 
What are your favorite bars? 
The one where Peter Chua works, Crackerjack in Singapore. Orchid bar in Tokyo is good as well. 
How about Macau?
China Rouge and Vida Rica Bar definitely. The Roadhouse Macau is fun too. 
What do you order in a bar?
A sour. I like mojitos but without mint. This is really how I like my mojito, I just hate when mint gets stuck in a straw (laughs)
When you travel, do you try to explore local bars?
Yes, but it stopped being my priority. Because lately, I travel a lot for work, bar-related business. I'd take more opportunities to do some sightseeing and spend more time with my family. But yeah, eventually I'd do some bar hopping. I'm really curious about different techniques.
Why do you think Macau and Hong Kong bar scenes are so different?
Most of all, more people drive in Macau than in Hong Kong. Also, it's the industry. Hong Kong is the financial capital, people who work in finances don't stay home that much and go out more often. Look at the cities like New York, London, Tokyo, Singapore. In Macau, people normally finish work and head home.
Do you feel like the Macau bar scene has evolved through the years?
Definitely, yes. A couple of years ago, a bartender wasn't even a serious profession. So the drinks were awful and expensive. Lately, with the new younger generation and the growing audience that appreciates cocktails, it has become much better. Besides, ever since we started the UBCM, we managed to help the development of the local bar scene and bartenders.
---
To find out more about UBCM, follow their Facebook page or check out their website
For updates and the latest news on Antica Trattoria, check their Facebook page or follow them on Instagram at @antica.trattoria
Antica Trattoria 40-46 Edificio Vista Magnifica Court, Avenida Sir Anders Ljungstedt, Macau, +853 2875 5102, www.facebook.com/anticatrattoriamacau
Tags
Related Posts