Situated in the heart of Taipa's most visited area, Goa Nights, a new chill spot, is waiting to be discovered. A modern Indian tapas-style restaurant and cocktail bar, the newly opened three-story concept establishment is a modest space. It boasts of a vibrant mix of fusion Indian and Goan cuisine, complemented by a themed cocktail menu that celebrates exotic flavors.
The ground level houses the bar donning bohemian decor and across the entrance are two flights of stairs leading up to the restaurant, a dimly lit and cozy eatery with a balcony overlooking all of Taipa Village. It is downright the perfect setting for a casual night with friends on any day of the week.
Also read: The Best Things to Do in Taipa Village
Bar nights
We were warmly welcomed by the bar manager, Chetan Gangan, who is a celebrated mixologist and the genius behind Goa Night's innovative cocktails. He also happens to be a natural charmer. As it turns out, the cocktail menu is a literal map with the footprints of Vasco da Gama's sea voyage from Portugal to India, the inspiration behind the nine specialty cocktails. Intrigued by the ingredients found on the cocktail named after Lisbon, we decided to start the night with it.
The cocktail base was gin infused with raw turmeric aperol, grapefruit, and egg white sprayed with port wine. Raw turmeric and egg whites are some of Gagan's favorite ingredients to experiment with, noting that the former gives out an earthy flavor while the latter does well for creating a smooth finish. True enough, the Lisbon cocktail is the perfect blend of fruity and bitter, leaving you thirsting for more.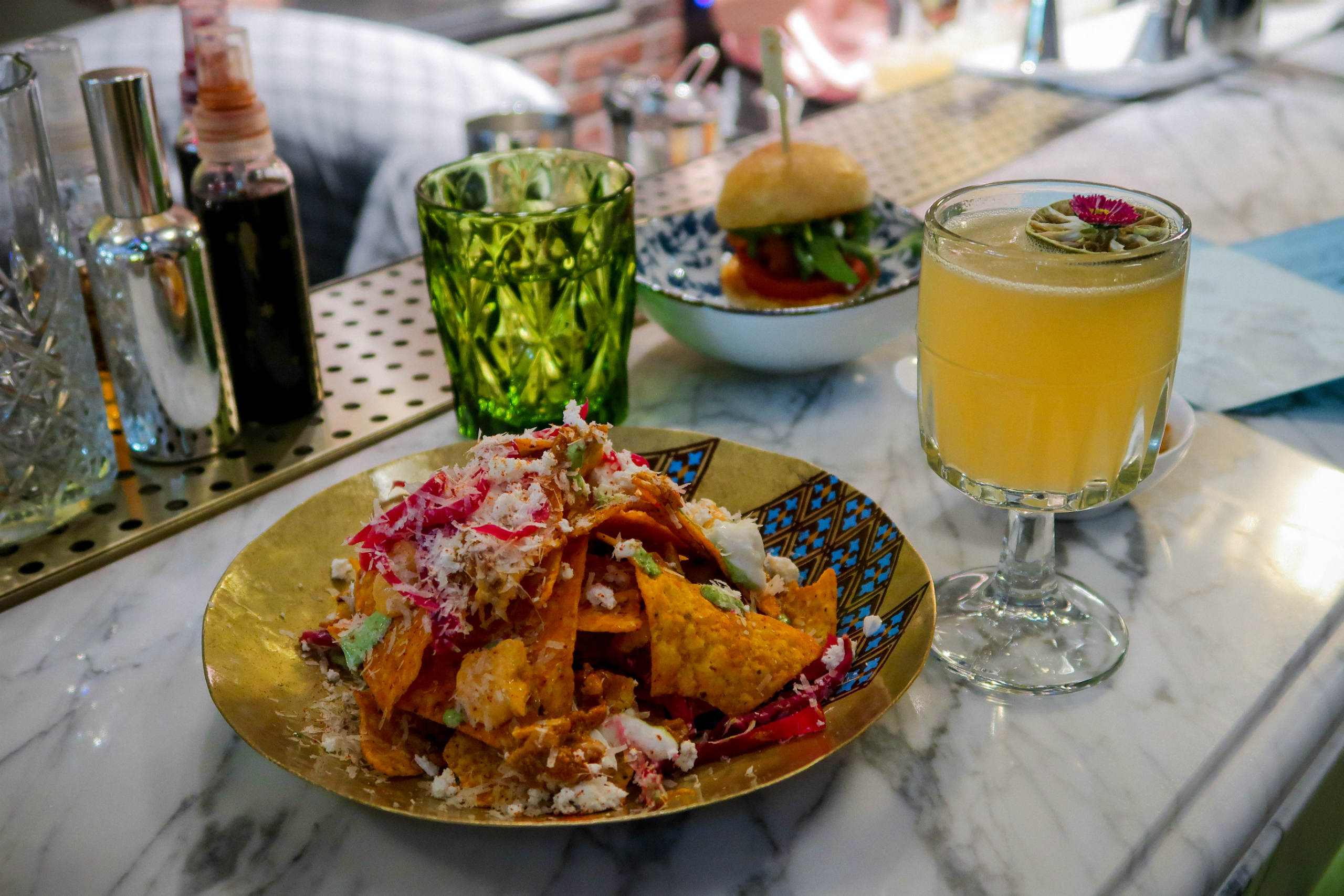 Hunger Pangs
One of the anticipated items to sample from the bar snacks selection was the Chicken Tikka Slider which, that went well along with a sharing plate of Goa Style Nachos–tortilla chips with tikka masala, topped with mint, tandoori mayo, and goat cheese. It's much like classic Mexican nachos but with a distinct Indian spice twist. The slider was a little heavy to be considered an appetizer but we were not complaining. The juiciness of the chicken tikka, coupled with caramelized onions and tandoori mayo exploded in our mouths.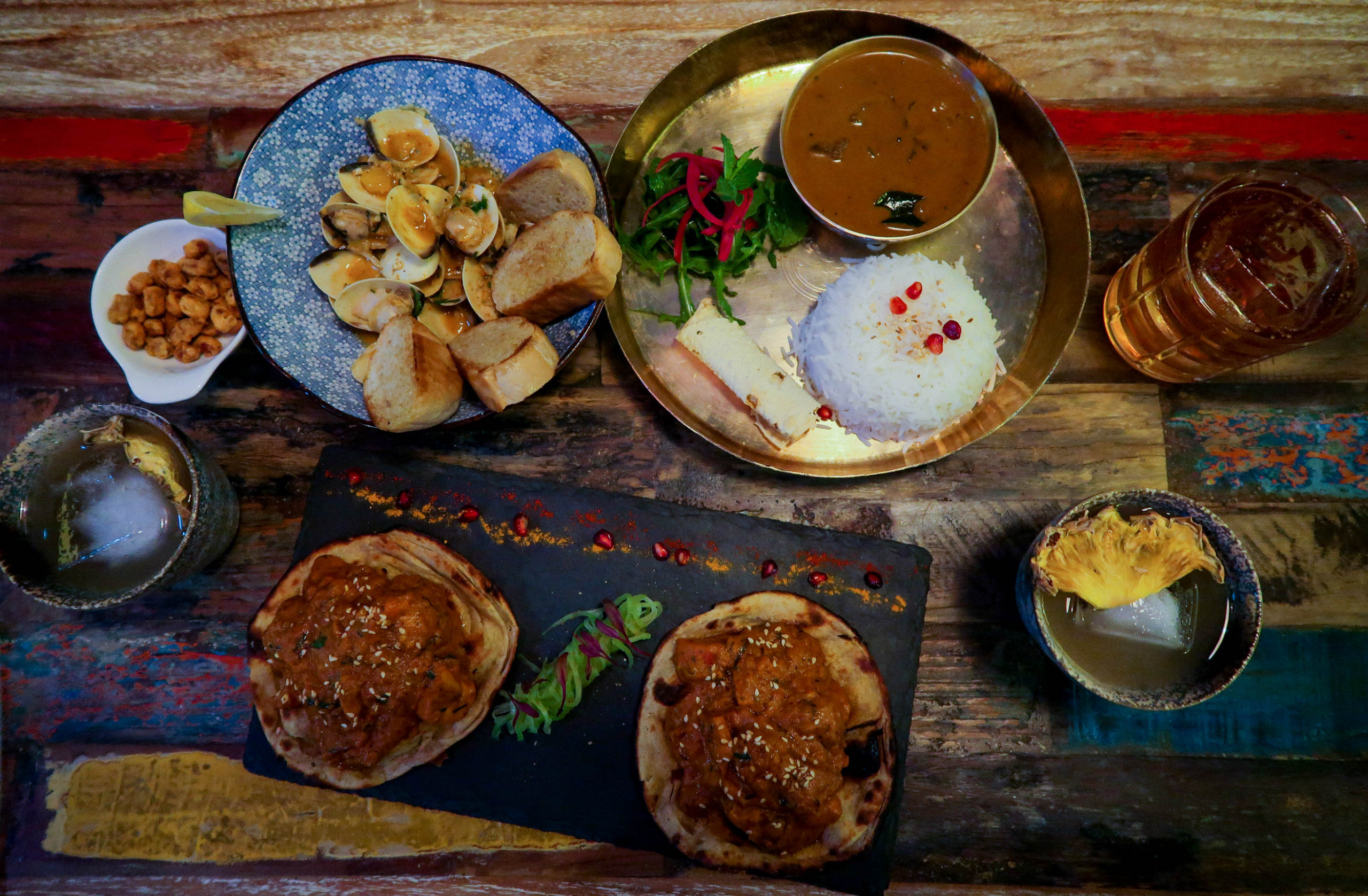 Soon after we swallowed our last bite of the slider, we were led to the upstairs dining area, ready to savor more delectable plates. It's almost impossible to not order a dish of masala or curry when in an Indian restaurant, so when it came to the main course, we tried the railway lamb curry and the chicken tikka masala to share. Both so flavourful they spoke for themselves. As if the more than generous portion wasn't enough, the chef insisted on trying seafood, particularly the Goa-style clams and recheado shrimps.
In retrospect, we are glad we didn't miss out on the shrimp. It was absolutely divine. A combination of spicy and tangy, a nice contrast to the other fiery dishes.
Lesson learned: Always trust what the chef recommends.
High on dessert
To cap off our dinner, we each had a Kulfi on a stick, a rather small version of a popsicle with nutty sprinkles; and another round of cocktails, this time a lighter and more refreshing glass of "Cape Verde Islands". Reflective of its name, "Cape Verde Islands" is a play on a classic Pina Colada made with Goa Night's in-house crafted pineapple syrup. We edged closer to the terrace, enjoying the view of the old Taipa Village as we sipped on our cocktails, welcoming the weekend.
Goa Nights is definitely one for the books if you're looking for an intimate spot to share with friends. The menu is well suited for anyone who appreciates mouthwateringly fragrant and spicy flavors, and space's underrated yet tasteful decors make for a comfortable atmosphere to dine in or just chill out with a glass of cocktail.
---
Tags
Related Posts