The Manor, at The St. Regis Macao has a new innovator in the house! Italian Chef Michele Dell'Aquila is the restaurant's new executive sous chef. Strongly inspired by his upbringing and professional experience around the world–he worked in Germany, Spain, and Bangkok–he's been crafting new dishes with The Manor's signature ingredients while underlining the importance of the produce's freshness. We sat down with innovative Chef Michele Dell'Aquila and discovered vegetables can play an essential role and that teamwork and creativity are two of the most relevant assets in his kitchen.
You're The Manor's new executive sous chef, congratulations! How's the experience been so far?
It's been an exciting one! I like the concept (of the restaurant) and I like the company. It's something that represents the brand in great ways. It expresses its luxury, a very unique place. This is something very special where even the environment and decorations make it a unique setting. Dining here never gets boring. You can have dinner or lunch, come just for a drink or have a party and it'll always be different.
For me, as a chef, it's also great to be here; we have a lot of things ongoing while trying to keep the concept of St. Regis as a brand. We're trying to work together to revise and create new things. The most important thing is that we're going towards personalizing things.
Have you ever worked in another St. Regis hotel?
No. But I used to work for Marriott–at a Bulgari brand, at the Bulgari Hotel in Tokyo, and at the Bulgari Resort in Bali so I'm already familiar with this concept that offers luxury and premium quality, to work with people with expertise. The difference is people who can recognize what's good and what's not.
What do you believe you can bring to The Manor?
My personality! I think I'm friendly and I like to accommodate the guests, make them feel at home, and personalizing the experience. If you're my guest, you need to feel relaxed and comfortable. You won't have to worry; I'll worry for you and make everything feel great.
Can you tell us a bit about how your career started?
I graduated from a culinary school in my hometown, one of the most popular ones in my region, in Puglia on Italy's southern Adriatic coast. Then I started working in restaurants in and out of Italy, with Michelin starred chefs as well. I decided to invest my time in traveling and working for good restaurants for free because I believed gaining experience was key. I have experience in different locations: I worked in Germany, London, Frankfurt, Madrid among others. I was with the chef from Don Alfonso restaurant (in Sant'Agata) for almost four years and we, as a team, traveled a lot to get the best ingredients, and to gain knowledge.
How was it to work with the Michelin chefs?
It's really nice to have the chance to work with these chefs because you learn to have and put passion into the food. It's not just about the presentation: it's what you're investing daily, the effort you're putting into the dishes; the effort of selecting the products, even the simplest recipe, made with great ingredients, make a huge difference.
Learning the skills (of cooking) is very important. The same recipe made the same way with the same ingredients, but by different chefs, will most certainly come out different. In Europe, there are so many talented, famous, Michelin starred chefs; because in Europe, there's the freedom to create. They learn, from the beginning, to create and to be crazy in the kitchen! You're taught to think ahead, of different mixings and combinations. I'm Italian, but I believe people in general, in Europe, think like that.
Is it any different in Asia?
In Asia, the concept is a little different. Following someone's technique as well as the recipes is more rampant here. Those who put passion into their cooking will pay attention to lots of things such as the ingredients' quality, the flavor, and other details.
He's not simply following a recipe; he's interpreting in and putting his character and expertise into it. That's how one reaches perfection. I grew up being taught to be free and I don't like to follow, there's no expression in it. 
What are some of the most important assets a chef should have?
You must be skilled, test the food all the time and you need to understand what you're doing, as well as know your clientele. What are the flavors they're looking for; the mentality of the customer? There are basic techniques, but then you have to adjust yourself to cater it to the client.
How long have you been in Asia and how did you end up in Macau?
16 years. I was in Italy, finished school and went to Germany, then returned to Italy, always working. I then worked at Don Alfonso, then went to London and Don Alfonso called me back to the restaurant (in Italy).
I always dreamt of working for Michelin-starred chef, Sandi Santamaria, but his team was full at the time, so he found me some other place in Madrid. After that, I went back to Italy, an Italian contacted me to come work in Asia; they were looking for someone–who'd worked at a Michelin starred restaurant–to open an Italian restaurant. I then flew to Bangkok, where we opened the Dome State Tower "Mezzaluna" restaurant.
After this, came Bali and Tokyo, after which we (my wife and I) decided to come to Macau because of the economic situation of Japan at that time. "Let's go to Macau for one or two years until the situation gets better in Japan," we said. And suddenly, 11 years have passed!
Where did you start, in Macau?
I worked in Altira Macau's Aurora restaurant for six years, then I resigned to start my own private business of consulting. I had enough of that and went back to hotels as a chef.
What are the main differences between working in a restaurant in a hotel, and a normal restaurant?
I've had that experience and I don't want to do it again. I was always at fine dining restaurants and then it was time to go back to the hotel industry. There are lots of differences. If you work by yourself (when you own or manage a restaurant) you have to worry about everybody and everything.
Would you like to open your own place?
In Macau, there is a slight problem with hiring, the other is also training the staff and rents can get quite expensive. Macau is a very hard market to open a business of your own so I wouldn't want to, no.
Were you always directly connected to places focusing on Italian cuisine?
Yes, but when you work at a Michelin-starred restaurant, you need to open your mind, you can't stay in the same place. Yes, my base is Italian food and will always be, but I also like to incorporate other cuisines. I use a lot of ingredients from Japan because they have very premium ingredients; other spices they use here in Asia. I'm really interested in twisting things up a bit, use that side of Asia; people don't do this in Europe, but clients here like these kinds of combinations.
So you do perceive food and cooking as an art?
Yes, in a way. I always create; your mind and your passion make you keep going. When you spend years and years working in kitchens across the world, your memories come to you from time to time. You remember colleagues, friends, experiences you had before. Everything is incorporated.
Did you ever imagine you would come to Macau and work here?
Not really, no (laughs). We never thought of Macau as a place to go. The first time we heard of it, we didn't really know where it was. When you come from the international capital, filled with foreigners and tourists all around, Macau is just a name on the map, and it's pretty small. It was a very nice experience, and it has now become like a second home. My kids grew up here so this is a base for me. I know a lot of chefs and we have a lot of friends in the hospitality industry; this makes us feel at home and comfortable.
I'm at The Manor now after six years of working at another Macau hotel and my clients and friends have followed me here. When people discovered I was here, they started coming as well.
So this project is a cool challenge…
It's great because we're kind of revamping the restaurant's image, it's like we're opening all over again!
What was your first impression of Macau upon arrival?
It looked like a countryside city. This was 2009: there were many problems with suppliers and there were problems importing ingredients into Macau. Lots of the hotels we now have weren't even built yet.
Your hometown is in the Puglia region, 30-minutes away from Bari. Did growing up there shape the way you interpret food and cook?
Yes, it provided me the basic knowledge. My hometown is known for the high production of farm products; Puglia is the top number one region in Italy when it comes to olive oil production as well as producing grapes, almonds, and cherries. I grew up eating fruit and vegetables directly from the source, from the trees and plants themselves. Even when you bought it in a store, everything was fresh, just taken from the land a few hours before. 
And at The Manor, are dishes also inspired by Italy's history and ingredients?
Some basic touches are there. One thing that stuck with me is the importance one gives to the quality of ingredients: it's important to keep the produce's taste. If you mess too much with it, in the end, you don't even know what you're eating.
I believe that, whatever you eat, it has to be as pure as possible. You have to know which technique is the most correct to make the best out of a product. You also have to let people understand how to treat food–the skill that's needed.
In your opinion, what makes a great dish?
First of all, the ingredients. Secondly, it's the chef's skill. I'm very Italian in that sense: spaghetti with tomato and basil is really simple, right? However, not everyone can make it. You must use good olive oil and tasteful cherry tomatoes; the spaghetti also has to be of good quality. It has to do with the pasta's texture and taste.
What are The Manor's signature dishes?
At the moment, we have the Glacier 51 toothfish and the Japanese Miyazaki beef. I think Japan is doing a great job when it comes to meat–Wagyu beef. I'm trying to use ingredients with a story behind it, a narrative. In this case, our Wagyu has a special way of being bred, the animals are fed in a certain way, there's a lot of care surrounding their production. It's an expensive, premium product. You pay a higher price, but there's a big reward: you're eating something special that melts in your mouth. It's also essential to know how to cook this: it's already fatty meat, so putting too much oil, or overcooking it will ruin the dish. Do it simple, but do it properly.
What new things can our readers expect to find at The Manor?
We're doing some interpretations combined with Portuguese flavors–that influenced Macau–twisting the dishes to make them interesting for clients, for them to be surprised. We are presenting the Japanese scallop and cooking it in bulhão de pato style. We use the fish stock to highlight the aroma and flavors of the sea, which goes very well with the scallops. We try to combine things we feel people are interested in.
I think everything depends on how delicate one is with food. I believe every chef has a different touch, a different way to think about food.
Regarding Macanese food: do you like it?
Actually, I haven't really tried Macanese food. We just studied and researched a bit on Portuguese gastronomy and recipes so we can incorporate and put a twist on it.
What three things you value most in your kitchen?
First of all, the produce and ingredients you use; secondly, the way you train the staff. If you want your dishes to come out nicely, you have to teach it to your staff. You can't cook 300 dishes, so you have to teach someone how to do it; you have to monitor the team. The third thing is the organization of the team: how the whole thing is run. This is not a one-person job, it's a team effort! That's how a restaurant is successful.
Do you have any mentors?
Yes, I have some. It was very important for me to work with Michelin-starred chefs at their restaurants. It was essential for me to invest my time and my money in these places because in the end, what you learn and get from there is priceless, really.
What were some of the best advice you were given?
I grew up around regional produce and products. In the south of Italy, we believe that to work with food, we have to have a real concept. "Kilometre zero" was the concept at the time: to work with local producers, always try to get it from there.
At the same time, you're highlighting your place, your region. Working at Don Alfonso was really important because it taught me a lot about farming. He has a farm in Punta Campanella, "Le Peracciole" Farmhouse. Living abroad and looking back, you really acknowledge and appreciate the place you came from and what's done there. Even here, when we import, sometimes you can't get the same flavor or the same scents.
Where do most of the products and ingredients at The Manor come from?
At the moment, most are imported. You get a lot of things from Japan, some from Australia–meat, some vegetables–and we all get some stuff from France and Italy–like the olive oil–and also Portugal. We're looking for premium products and selecting them carefully.
There are good imported products in Macau, but you still have to choose which meets your standards. We try to work out how to get the best ingredients like this.
What's your favorite ingredient to work with?
I really love vegetables. Not only because I grew up with a lot of them, but also because I believe they balance food in the kitchen. It's important that dishes are not heavy; I like to do a pure, balanced cuisine. Cooking healthy food is also important: you're providing the customer with something different from everybody else. Cooking them simply and purely, you're able to bring out the true flavor of the vegetables.
It's great to see people are surprised and like the food you craft. The work that's behind selecting and preparing the food is worth it because of the surprise in people's faces.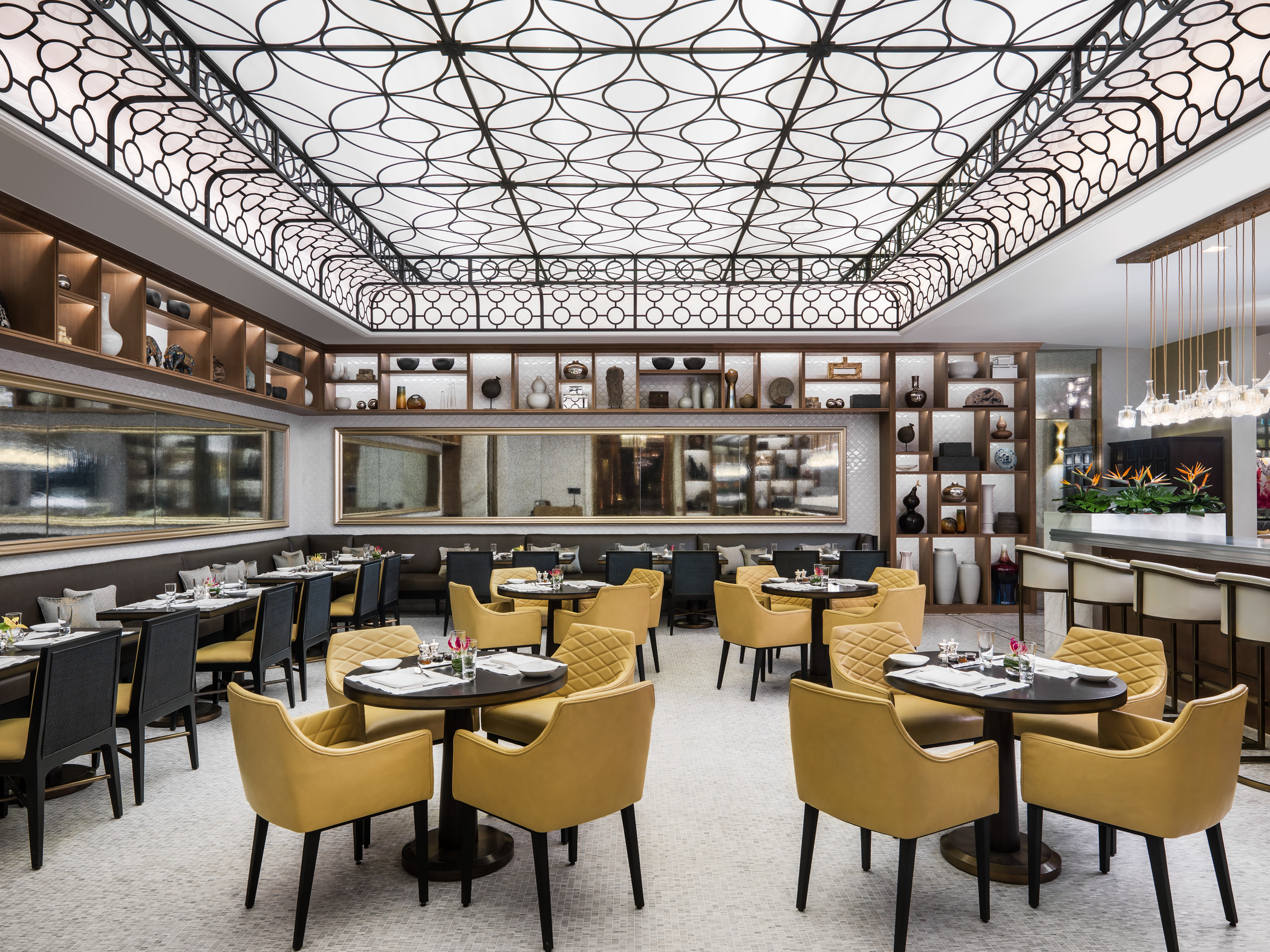 What do you believe makes a restaurant successful?
The success of a place depends on having someone who thinks freely and creatively. This makes a lot of difference. Communicating with the customer is also essential. It's very hard to maintain a business if you don't create a connection with people.
Can you let us know some exciting plans for The Manor's future?
In general terms, we're revising a lot of things to refine the whole concept. I want to make the customers happy, make them leave with a smile, and book the next time (laughs).
When you're not working, how do you spend your free time in Macau?
(laughs) Actually, I don't really have much free time. But when I'm off, I spend time with my kids, take them to and from school. I take my kids to their activities, like football and Portuguese classes. We love eating together as well.
And where do you usually like going?
We either go to Italian and Japanese places. My kids grew up with me cooking for them at home, so when we dine at an Italian place, they always say "Papa cooks better" (laughs), so we usually go to Japanese places. Personally, I love Tenmasa, in Altira Macau. I like their tempura and the restaurant's atmosphere.
Any advice for aspiring chefs?
To achieve something, you have to work hard and be patient. Whatever you do, it takes time to reach perfection. If you work hard, good things will come. Also, be professional; respect people. This is crucial when it comes to your team, suppliers, and management.
---
Follow The Manor's Facebook page to see more of Chef Michele Dell'Aquila's genius creations
The Manor First Floor, The St. Regis Macao, The Londoner Macao, Estrada do Istmo, s/n, Cotai, +853 2882 8898, www.themanormacao.com
Tags
Related Posts