Coloane Village is surely a popular destination for all who seek authentic Macau feel or simply wish to rest from busier areas of the city. When it comes to food, the best-known attraction that has become a foodies' mecca is, of course, Lord Stow's Bakery. However, there is much more to the Coloane Village dining scene than egg tarts. To reveal lesser-known food destinations, we've created a dining guide to Coloane Village. 
Nga Tim Cafe
(See featured image above)
Cozied up inside the Village Chapel Square colonnade, Nga Tim is a family-run restaurant, named after its owner. The neighbor of one the Coloane's main landmarks, it is hard to miss which makes it an ideal spot to relax after visiting Coloane Village. 
Nga Tim's menu is divided into two main sections. One has more comfort food choices and the other one is for adventurous foodies. Most of the dishes are accompanied by photos so that everyone can easily choose what they want. Stick to comfort food, if you are not ready to take on some challenging Chinese dishes. Go for the pineapple rice, clams in black bean sauce, juicy lamb chops or pretty much any grilled seafood and you won't be disappointed. 
Of course, if a full integration into local food culture is what you are aiming for, try their minced pigeon and snacks like fish skin.
Nga Tim Cafe 1 Rua Caetano, Coloane Village, Macau, +853 2888 2086

Chan Seng Kei
Standing right in front of Nga Tim, on the other side of the beautiful St. Francis Xavier Chapel, Chan Seng Kei is another traditional restaurant with history. It was established more than 70 years ago and just like Nga Tim, it is a family-owned business. Together with Lord Stow's Bakery, it is mentioned in the Michelin Hong Kong & Macau dining guide! 
There is not much to say about its decor as it's quite simple. People don't come back here for the stunning design, but for their Cantonese food, daily delivered fresh seafood and signature stewed duck with tangerine peel. While the duck is an absolute must-try, it takes more than 10 hours to cook it. So mind that portions per day are limited. First come first served! 
Chan Seng Kei 21 Rua do Caetano, Coloane Village,+853 2888 2021

Café Cheri
Café Cheri's blue facade is one of the first things you see when coming to Coloane Village by public bus. It is located right in front of the main square of the village and opposite the bus stop. The restaurant is open all day, offering European and local food. 
We would especially recommend it as a breakfast spot for their Parma ham & cheese croissant and omelets. Their lunch sets deserve some attention as well. After the busy lunch hours, it is a pleasant and quiet place to have some tea time. Another memorable detail is their latte art which is so Instagramable! 
Café Cheri 19 Rua Da Cordoaria, Sao Francisco Xavier, Coloane Village,  +873 2888 2778, www.facebook.com/cafecheri
Also read: Most Instagrammable Buildings in Macau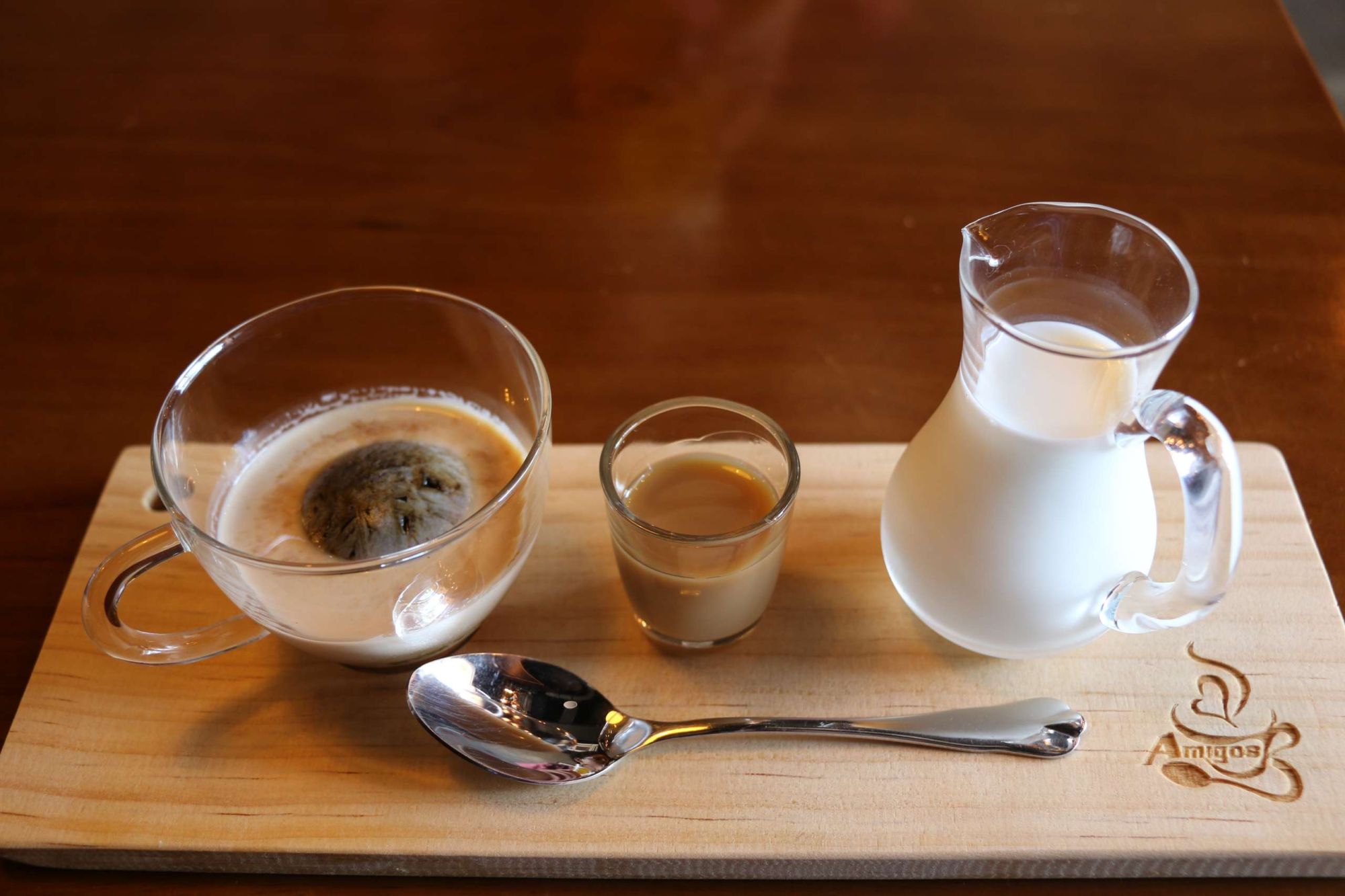 Cafe Dos Amigos
Another notable gastronomy venue nestled next to the chapel of St. Francis Xavier, Cafe Dos Amigos is a relaxed and comfortable place to enjoy a drink and even grab lunch or dinner. Pasta and risotto, Spanish paella, cakes and waffles are some of the recommended food choices. With its outdoor table facing the river, it is a sweet little sunset watching spot.
Brewing with a variety of beans, Dos Amigos can easily qualify as Coloane's best coffee shop. While waiting for your coffee, check out their small library and pick a book to peruse. Add free Wi-Fi and charging outlets under the tables to the list of Dos Amigos advantages and it becomes an ideal cafe to work on on your laptop. 
Cafe Dos Amigos Rua Correia Lemo No.7, Coloane Village, +853 2888 1810, www.facebook.com/Cafe-Dos-Amigos

Hon Kee Cafe
Looking for authentic local eateries? Take a slight detour passing by historic Coloane shipyards, head up the hill and here you will find Hon Kee Cafe. Camouflaged by lush greenery, this simple cafe is one of the get-together places in the neighborhood. Upon arrival, you'd probably notice most of the customers are drinking the same kind of coffee. That's what they mostly keep coming for. Although made of instant coffee powder, this coffee drink is surprisingly tasty. Must be the family's secret recipe! Allegedly hand-whipped 400 times with water being added little by little, this coffee becomes ultra-creamy and smooth. The price range of the food in Hon Kee is not bad at all, and we would highly recommend their pork chop bun.
Tip: Take your own reusable straw if you are craving for ice coffee or just remember to ask your waiter not to use a plastic one!
Hon Kee Cafe Merendas de Lai Chi Vun Park, Coloane, +853 2888 2310
Also read: Hon Kee Café: A Taste of True Coffee in Coloane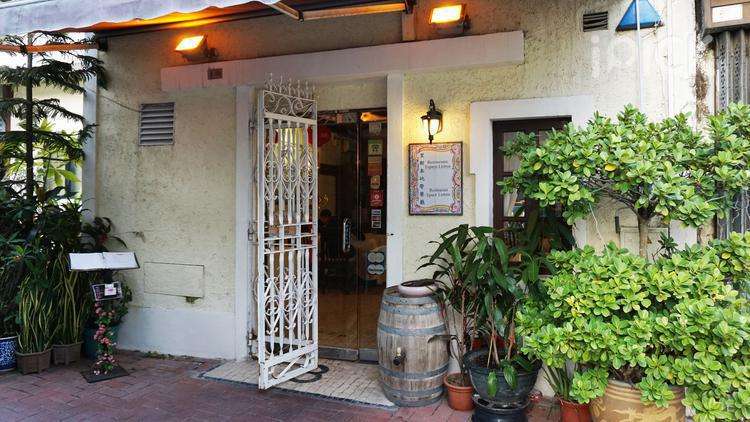 Restaurante Espaço Lisboa
Restaurante Espaço Lisboa is a small, old and typical house of the village that was converted to accommodate this two-story Portuguese restaurant. With its cozy balcony overlooking the alleys of the peaceful village, this is a perfect destination for a romantic date.
When it comes to dining on authentic Portuguese food, Restaurante Espaço Lisboa remains the only restaurant in Coloane Village to serve it. Try their goat cheese topped with honey, served on toast bread that's truly mouthwatering. In hot humid days, indulge in a home-made chilled sangria in a cozy and relaxing ambiance.
Restaurante Espaço Lisboa 8 Rua dos Gaivotas, Coloane Village, +853 2888 2226, www.facebook.com
Also read: Off the Beaten Path: 10 Things to Do in Coloane
Tags
Related Posts