Located on the right side of the lobby as you enter Banyan Tree Macau is their signature Thai restaurant, Saffron. The culinary journey starts when you find yourself surrounded by the pleasant and peaceful atmosphere. Hints of gold scattered beautifully around the restaurant in contrast with it's all wood interior evoke a feeling of understated luxury. Saffron has just launched a new Discover Thai menu by talented Chef Chananya Chawengchote, a previous winner of Thailand's Ultimate Chef competition. The menu that features new dishes inspired by both royal and traditional Thai favorites, is a feast for the palate and will make you understand why Saffron is Macau's only multi award-winning Thai restaurant.
If you prefer a light appetizer to start with, I suggest their Pla Salmon Chare Nampla (Salmon salad with lime fish sauce dressing topped with crispy shallots). This dish sits beautifully on the plate as if it were an elegant crown. You'll taste the unmistakable freshness of the salmon.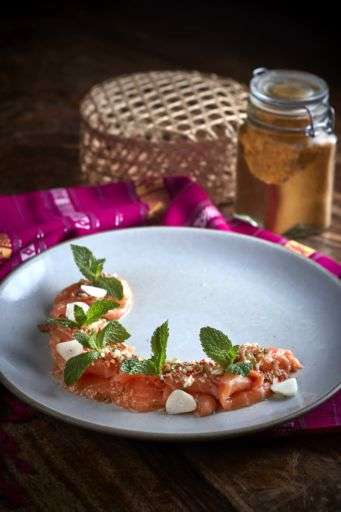 If you would rather start your meal with a spicy kick, go for the Plaa Hoi Nang Rom (Oyster with Thai Spicy Sauce, and Green Mango Salad).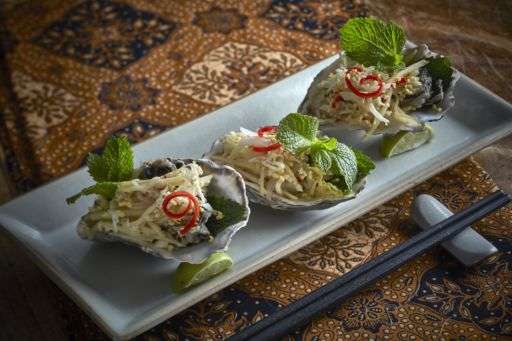 The menu is rich and flavorful. Among our favorites are Yum Gai Yang Num Tok (Grilled Chicken Salad, Shallot, Thai Coriander, Rice Powder) and Peek Gai Tord Sriracha (Fried Chicken Wing, Sweet Tamarind Sauce, Cashew Nuts, Chilli Powder). I personally like how easy it is for me to remember these two dishes. "Gai" in Cantonese also means chicken in Thai. And also if you see an "N" symbol (that for some reason reminds me of Harry Potter's scar) next the dish's name, you will know it contains nuts.
On a side note, I strongly recommend their signature dish, Green Curry Chicken with rice noodles.  I've always had my curry with rice, but at Saffron, you can either have it with rice noodles or have the option between red or white rice. You may also find that there is a slightly bitter yet interesting flavor. That would be the pea eggplants as they add a unique touch to the dish.
And for the sweet tooth, Kluay Thod  (Banana Fritter with Thai Tea Ice Cream). This reminded me so much of Filipino "Turon" (fried caramelized banana rolls) but Kluay Thod's version wasn't caramelized but rather sprinkled with black and white sesame seeds giving it a light and not too sweet taste. The homemade Thai tea ice cream complements the dessert by giving it that extra exotic feeling.
And of course, you can never forget my love for milk tea so do try their smooth and perfect Thai milk tea if you're still craving for something sweet and pleasant. The Thod Muan Sod Maprao Onn  (Thai Coconut Pandan Crepe with Mango Ice Cream) is a dessert that's 100% tropical and comes with elegant edible gold leaf making it even more decadent. What better way to end a memorable experience at Saffron than enjoying such a deliciously elegant treat?
Saffron Banyan Tree Macau, Galaxy Macau, Avenida Marginal Flor De Lotus, Cotai; open daily from 7am to 11pm, +853 8883 6061
Tags
Related Posts