It's that time of year again, yes, we're talking about hairy crab season. Also known as Chinese mitten crab, this seafood delicacy is widely appreciated in China, mostly in Shanghai and Jiangsu. Living in freshwater zones in Asia, hairy crabs reach maturity during two months throughout the year, namely October and November. Hairy crabs get its name from its golden claws covered in dark fur, which is similar to hair. To find out more about hairy crabs, here's 5 Fun Hairy Crab Facts!
You can usually find the best and most expensive hairy crabs in Shanghai but also Hong Kong. However, you're in luck if you're visiting Macau during this season! If you've not had hairy crabs before, it doesn't need much convincing. Hairy crabs are well-known for its sweet, delicate taste which doesn't have the briny taste or smell which other seafood may have. There's also the bonus of the female hairy crab roe that's buttery and oh so creamy. Female hairy crabs are also believed to have sweeter flesh than their male counterparts!
Steamed and Ready to Go
At Mistral Restaurant, you'll be able to have hairy crab just like how the Chinese would usually enjoy them at home–steamed and then spiced up at the table with a tangy vinegar and ginger sauce. To celebrate this delicacy in grand style and to allow you to have the full experience, Sofitel Macau At Ponte 16 has crafted a sumptuous all-you-can-eat buffet. We had the chance to check out their spread and boy, it was something to remember!
Now here's the cherry on top: the buffet is available at dinner time, every day and at a good price. Starting at MOP $428 per adult, this is a family-friendly buffet, where kids can have fun learning all about international cuisine, but also on how to eat a hairy crab the traditional way.
Besides, the weather at this time of year is mild and perfect for a table at the restaurant's terraced area allowing the little ones to run and play. Take unique photographs with a view of the Pearl River Delta and enjoy breezy Macau before winter sets in. Book your seat at this beautiful restaurant and have a great time sipping on some international wine with cheese and bread, followed by a slew of hairy crab at the table!
Hairy crabs first
Upon entering Mistral Restaurant's delicately decorated and prepared buffet, the first thing one sees is the dessert tower. Well, we recommend you save these for later since there is an array of other things to try, especially the hairy crabs, which are waiting for you at a dedicated corner, in front of the fresh juices.
Besides the classic and very popular steamed ones, you can also ask the friendly and very helpful staff to make them any way you prefer–with or without sauce, spicy or not, you choose. It might be difficult to navigate your way to opening a hairy crab, so it's perfectly alright to ask the staff for tips! After the adventure of cracking open your dinner, we highly suggest you go for the crab congee that is absolutely a must-try at this all-you-can-eat buffet.
What's next?
There is bread, compotes, selected luxury cheeses, fresh seafood (including clams, shrimps, oysters and lobster) and several different kinds of hot dishes, some of them crab themed as well. Tofu and crab sauce and crab meatballs are some of our favorites! Head for the Indian food as well, as it's worth a try with the myriad and combination of flavors and textures.
Each person is allowed two oysters per serving, but you can have as many as you desire upon request at the oyster bar. Sushi is also included in this amazing offer, from California rolls to simpler combinations or just sashimi, there is an array to try out. For the little ones, why not choose something from the salad corner to accompany one of the hot crab dishes? This is the best time to try new things as there is a whole spectrum of dishes to taste and combinations to discover!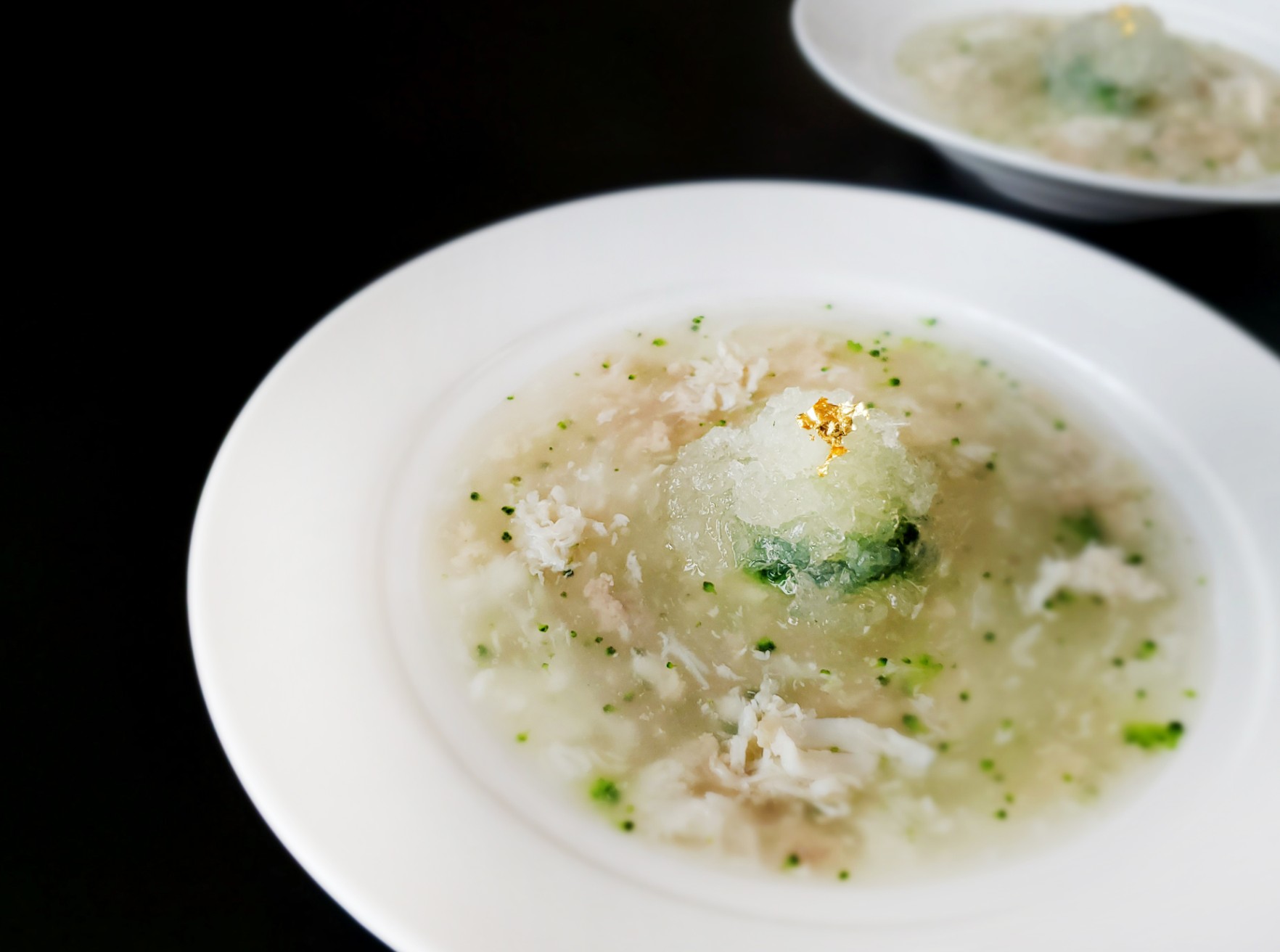 To Wine or not to Wine, That's the Question
To quench your thirst, drinks are also part of this buffet. Contrary to other offerings out there, this has a wide list of options: from fresh fruit juices to water, soft drinks and beer, diners can also opt for red or white wine (which changes every week) or a new addition: Chinese rice wine! The latter is meant to accompany the steamed hairy crab. This combination is very popular in Mainland China, where the appreciation of hairy crab comes from and it's very much sought-after. Being so, it really is a privilege to have them, right here in Macau.
Back to the Beginning
And we're back at the desserts' section, at last. This incredible table has everything you could imagine: from lemon pie to chocolate tart, hazelnut delights and fruit with chocolate, there are ice-creams and so many other delightful sweets. If you're almost full to bursting, worry not as dessert servings are small so be sure to take one or two to top off your buffet experience!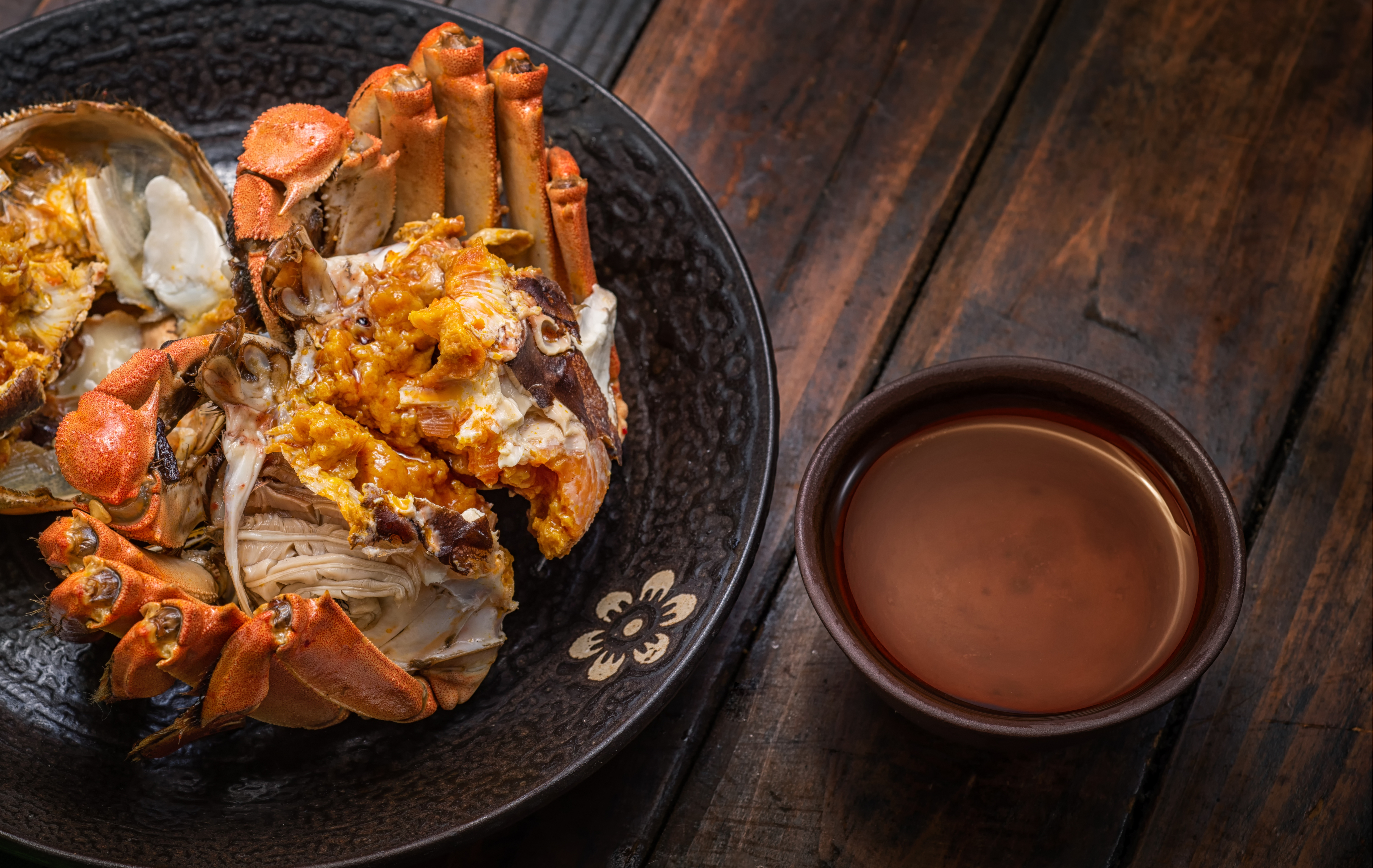 ---
The months of October and November are the best time for enjoying succulent and luscious flesh along with golden creamy roe of hairy crabs. In celebration of this season, Mistral Restaurant showcases hairy crabs at an international buffet featuring exceptionally fresh crabs and seafood from around the world, including French brown crabs, blue swimmer crabs, snow crabs as well as fresh oysters, mussels and prawns. An array of sizzling hot wok-fried crab dishes such as Singapore curry crab, hairy crabs at the live cooking station and classic sweet crab congee wrap up your crab gourmet journey perfectly. Both your taste buds and stomach are guaranteed to be happily satisfied!
When the autumn winds blow, the hairy crabs grow. To celebrate the arrival of hairy crab season, Le Chinois Cantonese Restaurant reveals a highly anticipated eight-course Golden Autumn Hairy Crab Set Menu paired with an array of classic Cantonese seafood dishes. The feast begins with a combo of crab fruit salad, deep-fried crab claw, and crabmeat xiao long bao. Then, savor bird's nest soup with minced chicken and crabmeat to fully take in the nutritious and nourishing values. The star of the show–steamed whole hairy crab with shiso leaf–is steamed to perfection to preserve the natural and succulent taste. The feast ends on a perfect note with the stomach-warming glutinous dumpling in sweet ginger tea to offset the cool nature of hairy crab.
When: 6:00pm–9:30pm, October 1–November 30, 2019
Where: "Juicy Crab Attack" International Seafood Buffet – Mistral Restaurant,  Sofitel Macau At Ponte 16, Rua do Visconde Paço de Arcos, Macau
Golden Autumn Hairy Crab Set Menu – Le Chinois Cantonese Restaurant, 18/F, Sofitel Macau At Ponte 16, Rua das Lorchas e Rua do Visconde Paço de Arcos, Macau
How much: "Juicy Crab Attack" International Seafood Buffet – from MOP $428 per adult
Golden Autumn Hairy Crab Set Menu – MOP $388 per person (minimum two people)
For more information and bookings at Mistral Restaurant, call +853 8861 7210, and for Le Chinois Cantonese Restaurant, call +853 8861 1001. Also, check their Facebook page for more updates.
Tags
Related Posts