The focus on wellness and conscious living is a global phenomenon that no one can deny. A growing number of people is committed to this, adopting measures to reduce their carbon print and somehow be the change they want to see in the world. Locals and Macau visitors are not indifferent to this global movement, and there are currently a few dining options set up to suit their needs. Among these, there is The Blissful Carrot*, nestled in the charming Taipa Village. This vegetarian takeaway was founded in early 2014–a pioneer at the time–by Alyson and Marissa (who later on moved to Mexico), and is currently led by power duo Alyson and Syen. The vegetarian eatery has been a huge success since then and nowadays it is without a doubt a favorite among the community and a common first stop for conscious-minded newcomers on the lookout for soulful home-made style vegetarian meal, vitamin-packed juice or just aiming to stock up on nut butter, banana bread or the delicious in-house made kombucha, and more.
Beyond a vegetarian takeaway
The Blissful Carrot marked a turning point for the vegetarian, eco and conscious living scene in Macau, not only because it brought delicious, carefully sourced, organic and innovative food to guests but also because of their commitment to developing a close-knit community focused on conscious living, promoting different events and initiatives as well as food education. At the shop, customers can also find a variety of fair trade eco-products, such as eco-ware, lunchboxes, bamboo toothbrushes and more. The stock is constantly rotating to bring guests the most up-to-date products.
Colorful, seasonal, nutrient-packed food 
It the kitchen, chefs Leslie and Rymark, and head baker Jaja work hard to prepare every single meal, baked good and juice, often innovating and adapting local dishes to vegetarian or vegan dishes, with a strong concern on using the freshest, organic and seasonal produce, to make sure guests make the most out of their meal. Everything at The Blissful Carrot's kitchen is made in house from scratch–from spice blends to dressings.
The Blissful Carrot's menu offers a wide array of healthy, global options for plant-based food, ranging from hot mains, salads, sandwiches, burritos, tortillas bowls and all-day breakfast. Most popular dishes are the Indian curry bowl, Bimi-BAP bowl, Asian fried rice, Blissful Beyond burger, breakfast burrito, Mexican-grilled cheese wrap, acai bowl, and their gluten-free pancakes!
Those with dietary restrictions will find it easy to have a hearty meal suited to their needs, as The Blissful Carrot's menu features several vegan, vegetarian, gluten-free and nut-free selections. Low-carb and protein-rich dishes are also made available to meet the customer's needs, allowing them to indulge in a delicious, healthy and guilt-free meal. All items on the menu are marked according to dietary restrictions.
Vegan smoothies, Blissful Bombooch Kombucha and more

At The Blissful Carrot, you'll find an array of different beverages, featuring options for vegan or those with dietary restrictions. Natural juices and vegan smoothies are available, including detox juices, as well the well-loved in-house made Blissful Bombooch Kombucha, a fermented drink with countless benefits for gut health. This popular drink comes in different flavors such as turmeric bliss or strawberry chia, and customers refill on tap or get a bottle. Moreover, coffee and tea are also served, either plain or in variations such as chai-spiced coffee. You can select between oat or coconut milk to go with your coffee or tea too.
If you're hosting a family or friends gathering, you can pre-order your favourite cake or tart, bread and cookies, which also come in vegan and gluten-free options. You'll find it hard to choose from the array of mouthwatering goodies, such as key lime tart, coconut pumpkin pie, dark chocolate raspberry cake and their all-time classic carrot cake!
You Are What You Eat
Now more than ever, information is easily accessible. Even if you're not a vegetarian or vegan, you might consider cutting down on one meat or fish-based meal a week, this way making a positive impact on the environment, contributing to the reduction of gas emissions. Or you might just value eating fresh, organic and seasonal, making sure your food is packed with great nutrients to boost your energy. We must not forget we are what we eat and our bodies deserve the best to reach their fullest potential and face today's demanding daily lives.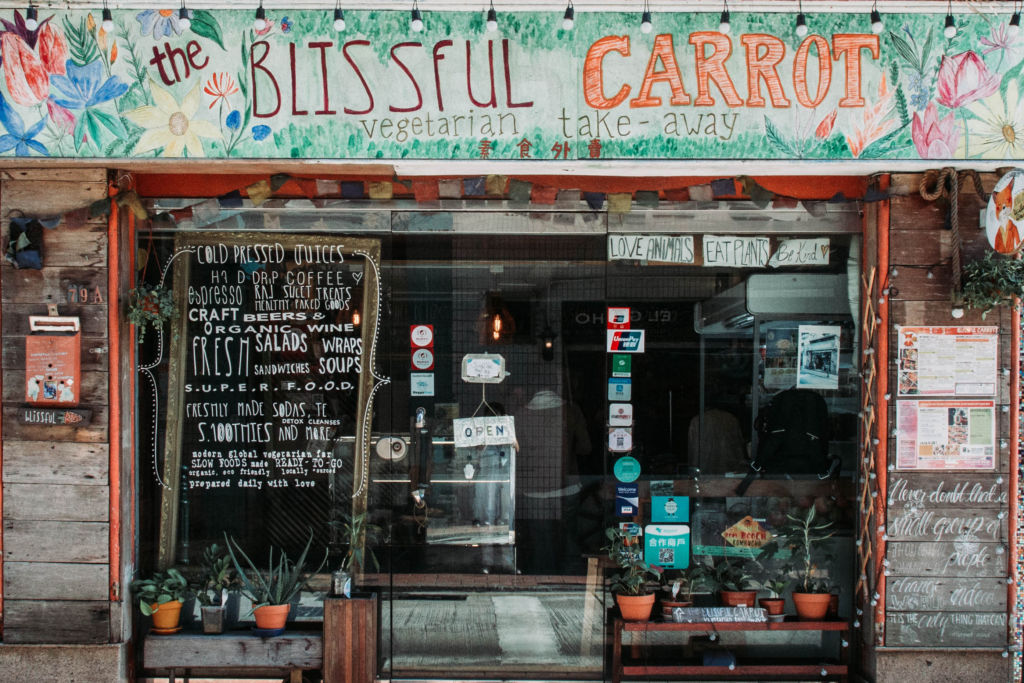 You don't actually need any specific reason or label to pursue healthy eating and adopting a conscious stance. The main reason you'll love The Blissful Carrot is that everything is made with love, in-house by a hard-working dedicated team, creating delectable plant-based food.
You can grab a meal to go, get it delivered to you at home or work via Aomi and Food4U apps or enjoy it at the little counter facing Rua Direita Carlos Eugenio. We especially love grabbing food and a juice, walking up to the charming Taipa Houses and take the time to enjoy the wonderful meal and views over Cotai Strip. And don't forget: If you can, bring your own food container, to reduce plastic usage! We only have one planet earth.
This article has been originally written by Annie Anastacia in August 2016 and updated by Sara Santos Silva in November 2019.
---
For more information on The Blissful Carrot, check their www.facebook.com/blissfulcarrot
The Blissful Carrot 79 Rua Direita Carlos Eugénio, Taipa Village, +853 6298 8433, www.facebook.com/blissfulcarrot
*The Blissful Carrot is no longer operating as a shop. However, they still sell vegetarian and vegan dishes, as well as their in-house-made pantry items such as coconut yogurt and kombucha via Aomi and MFood. If you have any questions, hit them up on Facebook and WhatsApp, but orders are to be placed via the delivery applications. For their Juice Detox program and private catering, contact The Blissful Carrot on Facebook or WhatsApp.
Tags
Related Posts