Macau's food scene is a reflection of a brilliant cultural mix. While the city serves flavors from around the world in every corner, a truly immersive experience would be incomplete without savoring a sumptuous Chinese meal. Macau serves a rich variety of Chinese cuisine as the culture it represents and thus has some of the best Chinese restaurants around! One will find the familiar and the new, the classic and the reinterpreted modern version, regional and global showcase of this fine food right here in our own city! We've dedicated this page to award-winning establishments serving Chinese food that entices even the most discerning palates from all over the world.
SICHUAN MOON AT WYNN PALACE
(See featured image)
Having gained two Michelin stars in such a short span of time, Sichuan Moon is a lifetime experience when in Macau. Renowned Chef Andre Chiang who is at the helm of the dining destination showcases the unique aromas and flavors of Sichuan cuisine in such unparalleled beauty. His mastery of the culinary arts has earned him many distinctions and our city perfectly complements the caliber of presentation that Sichuan Moon takes pride in. Taste the rich history and culture of Sichuan on a plate. Their ma po tofu, in particular, is a masterpiece that needs to be experienced. You can also sample extraordinarily rare specialty teas that are available for pairing with the dishes. Chef André's goal is simple, he says, "I want the world to fall in love with Sichuan cuisine through Sichuan Moon."
Wynn Palace Av da Nave Desportiva, Macau, +853 8889 8889, www.wynnpalace.com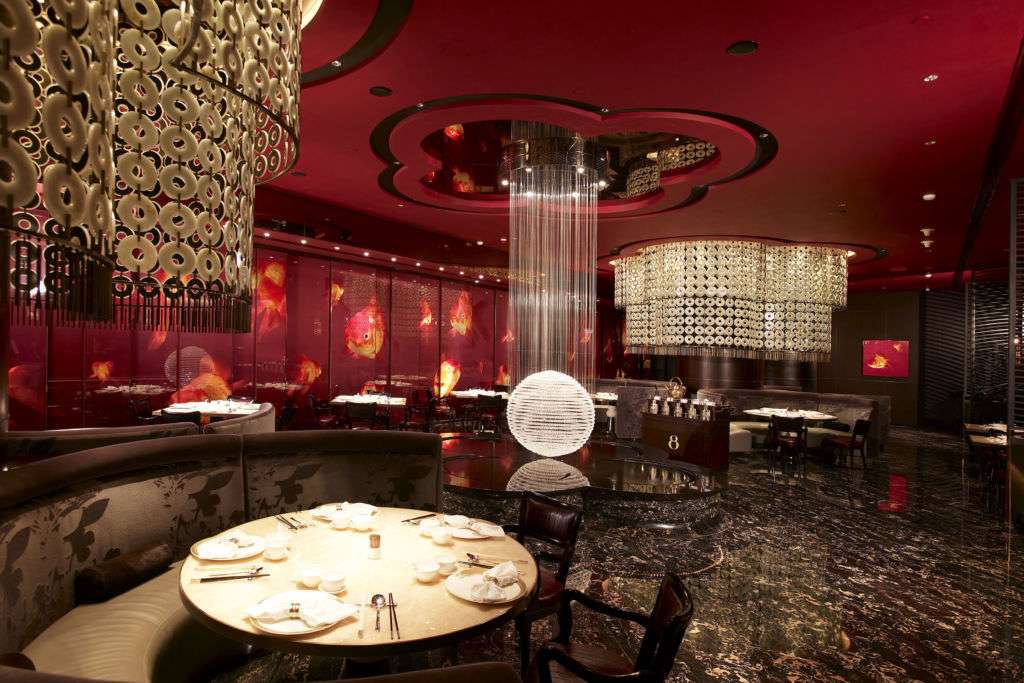 THE EIGHT AT GRAND LISBOA HOTEL
The dazzling crystal ball at the center of the dining hall welcomes guests with such grandeur. Housed at Grand Lisboa Hotel, The Eight is in fact the first Chinese restaurant in Macau awarded with three Michelin stars for seven consecutive years. It's easy to discern how the number eight plays a significant role in both name and aesthetics of the establishment. Radiating good fortune, guests will find Cantonese and Huaiyang cuisines intertwined together in the spectacular menu. The steamed crab claw with ginger and Chinese wine is a crowd-pleaser according to the Michelin Guide. With over 40 kinds of dim sum served during lunch, this restaurant has certainly lived up to its reputation through the years.
Grand Lisboa Hotel Avenida de Lisboa, Macau, +853 2828 3838, www.grandlisboahotel.com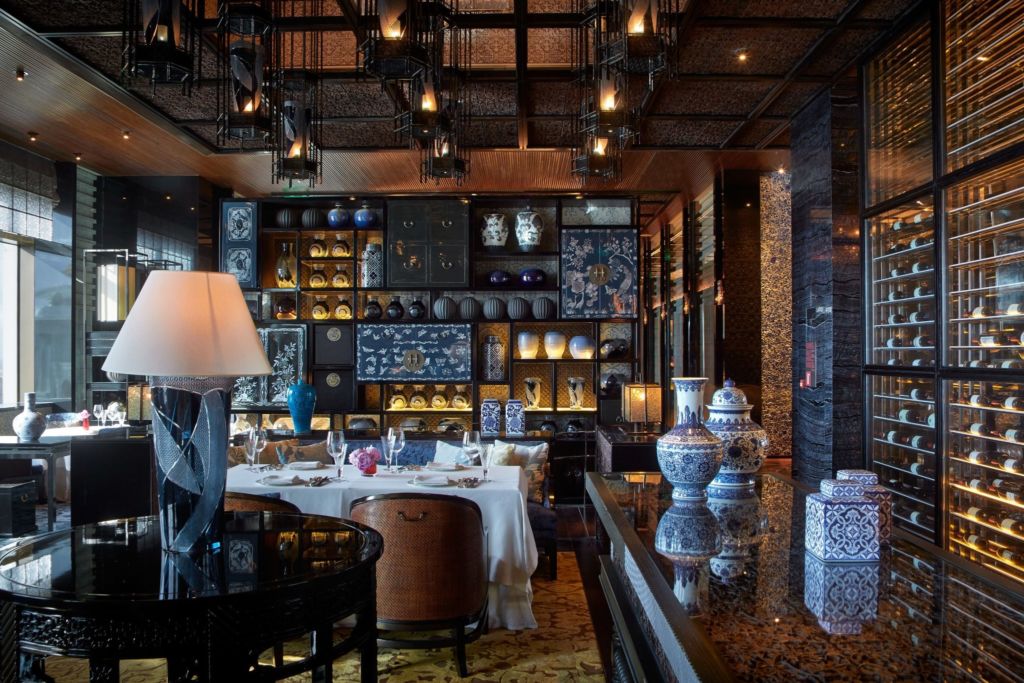 LAI HEEN AT THE RITZ-CARLTON, MACAU
Walking through the doors of Lai Heen is like being transported to another time. The intimate elegance that this location evokes is unlike any other dining destinations. Located at The Ritz-Carlton, Macau, the restaurant leads with a majestic panorama of Macau's stunning skyline. Exquisite design that blends the old and new in visual aesthetics can be found and felt at the highest Chinese restaurant in Macau. Dining in style is the ethos of this Michelin-starred restaurant. Private dining spaces are able for families and business meetings ensuring the pinnacle of privacy for guests. In terms of food, Lai Heen exemplifies the finest level of craftsmanship and highest service levels in luxury Cantonese dining.
Please note that Lai Heen at The Ritz-Carlton, Macau is currently closed until further notice. Check their website for the latest details.
The Ritz-Carlton, Macau Galaxy Macau, Nossa Senhora da Esperança, Estrada da Baia de Nossa Senhora da Esperanca, Macau, +853 8886 6868, www.ritz-carlton.com
Also read: Michelin Food Diary: Luxurious Cantonese at Lai Heen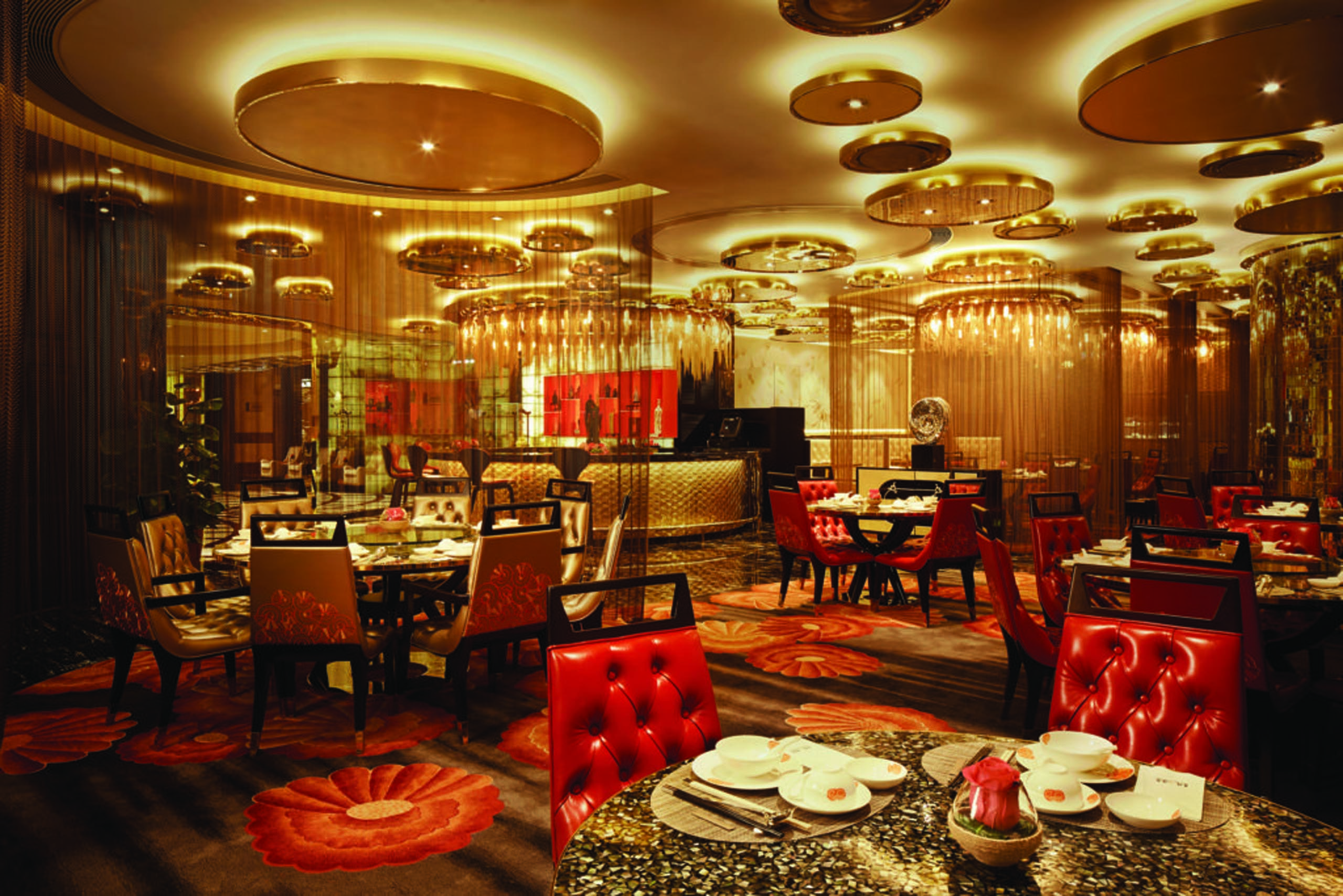 FENG WEI JU AT STARWORLD HOTEL
Tucked away on the fifth floor of StarWorld Hotel, you'll find a sophisticated yet inviting interior design at Feng Wei Ju. The massive gold pebble pillars and dark red leather chairs are all dressed to impress guests. What makes this place a topnotch dining choice? Boasting two stars from the prestigious Michelin Guide, it has exceeded the expectations of diner eager to savor the precious taste of quality Chinese cuisine. Explore the rich history and culture of Sichuan cuisine with every dish at this restaurant. You'll also spot the chefs in action from the open kitchen but if you prefer an intimate setting there are also two elegant private rooms for special gatherings. The braised pork belly "mao" style, boiled mandarin fish fillets in chili oil, and northern handmade noodles are among the recommended dishes to try at Feng Wei Ju.
Feng Wei Ju StarWorld Hotel, 5/F, Avenida da Amizade, Macau, +853 8290 8668, www.starworldmacau.com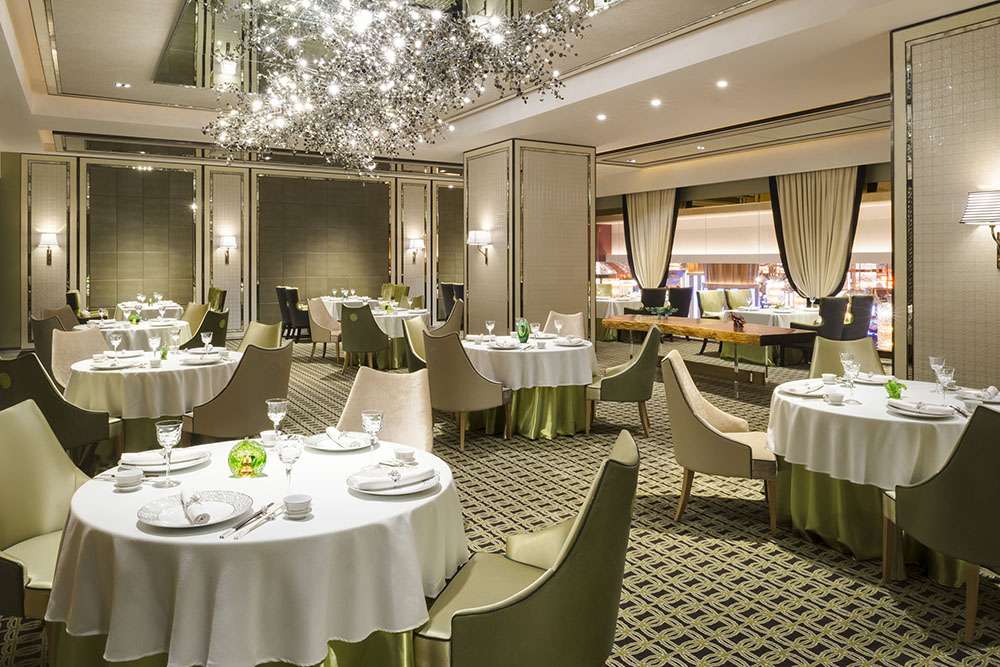 PEARL DRAGON AT STUDIO CITY MACAU
You won't be able to taste abalone and bird's nest the same way in Studio City Macau's signature Chinese restaurant, Pearl Dragon. This fine-dining restaurant oozes with sophistication perfect for first dates and special occasions. Their menu echoes the same ethos with refined dishes focusing on innovative interpretations of Chinese cuisine. The menu exhibits a wide range of exquisite Cantonese dishes matched with attentive staff providing impeccable service. This superb restaurant is definitely worth a visit. Children aged below six years are welcome to dine at the private dining rooms.
Pearl Dragon Shop 2111, Level 2, Star Tower at Studio City Macau, Estrada do Istmo, Cotai, +853 8865 6560, www.studiocity-macau.com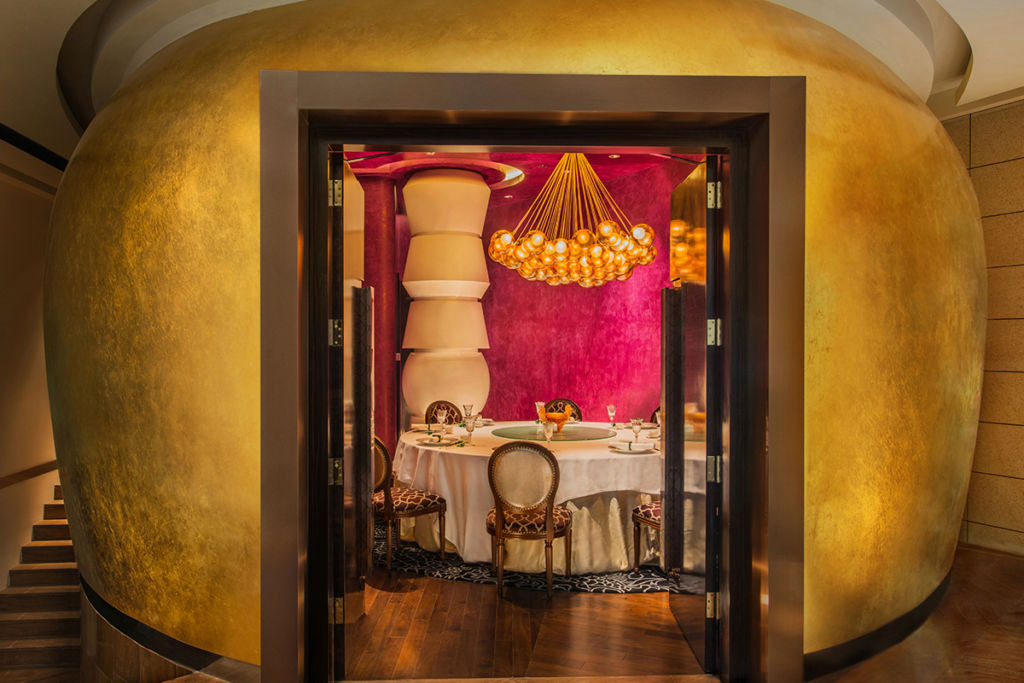 JADE DRAGON AT CITY OF DREAMS
Bask in real royalty at Jade Dragon, nestled at the stunning surroundings of the City of Dreams. This location could seriously be a scene in the "Crazy Rich Asians" movie, styled in crystal, gold, and silver interiors, this place is not your ordinary dining experience. From the carved jade chopstick stands to the glass-clad wine cellar, everything around you is simply luxurious. The food is simply unforgettable with dishes like lychee wood-barbecued meat and their double-boiled tonic soups based on herbal medicine. Jade Dragon has maintained a high level of gastronomy and it's clearly manifested with three stars from the Michelin Guide. Experience the best of authentic Cantonese specialties, made from the highest quality ingredients at this Chinese restaurant in Macau.
Jade Dragon City of Dreams, Estrada Do Istmo, +853 8868 6688, www.cityofdreamsmacau.com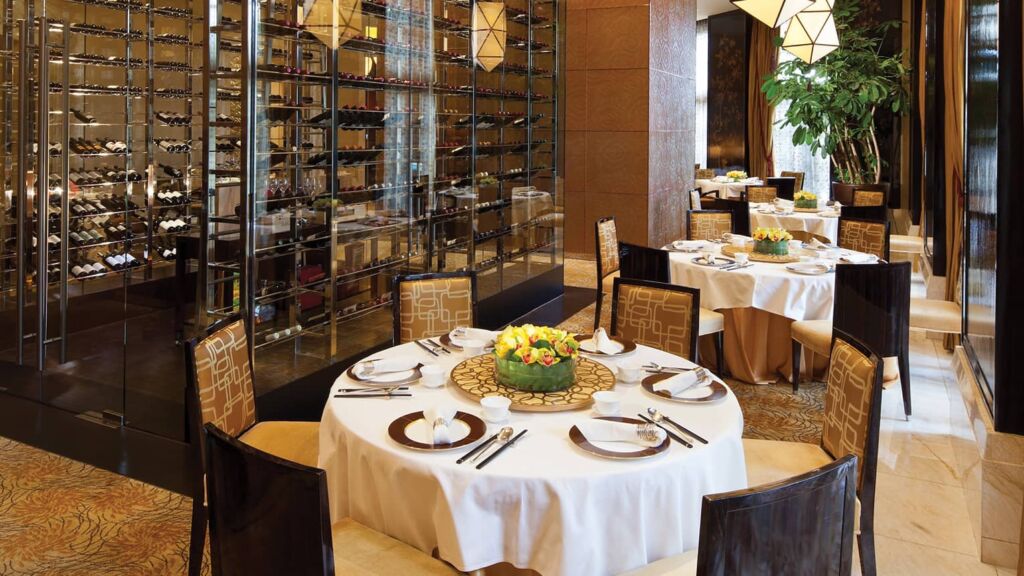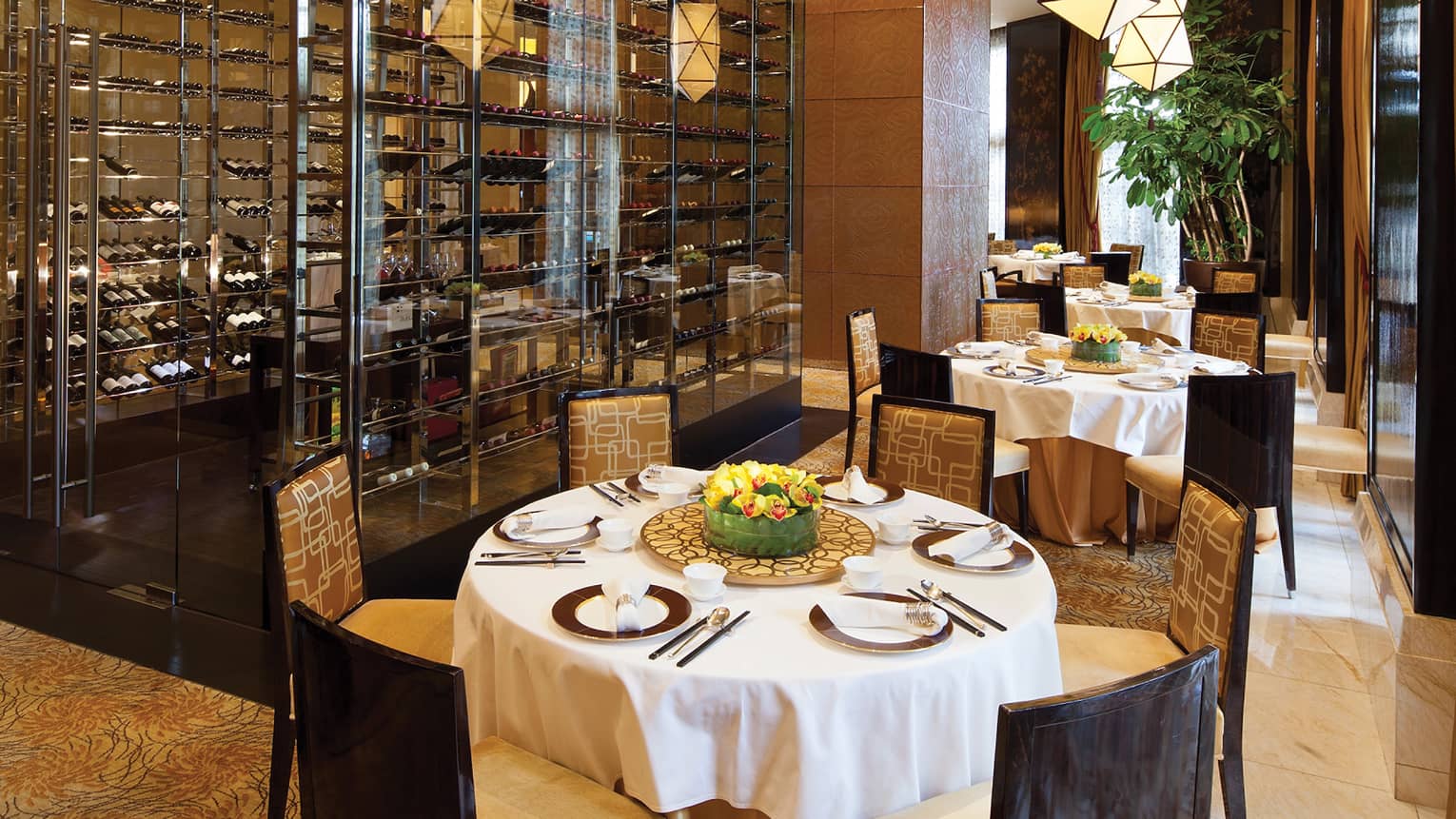 ZI YAT HEEN AT FOUR SEASONS HOTEL MACAO, COTAI STRIP
Experience authentic Cantonese dining at the Michelin-starred restaurant Zi Yat Heen situated at Four Seasons Hotel Macao. Dine in the stylish surroundings while partaking in creative dim sum and beloved Chinese food classics that are accompanied by a great selection of specialty teas. The relentless passion of Chef Choi who leads the kitchen team can be savored through the authentic Chinese cuisine served at this place. He has dedicated his life to perfecting the essence of Cantonese food and creating new ways to experience it.
Four Seasons Hotel Macao, Cotai Strip Estrada da Baía de N. Senhora da Esperança, Taipa, +853 2881 8888, www.fourseasons.com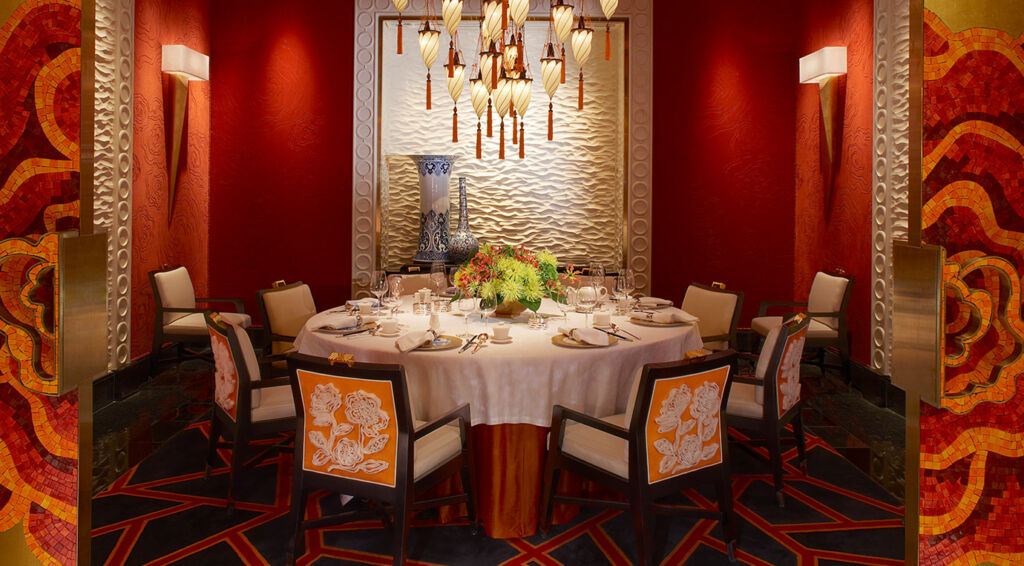 GOLDEN FLOWER AT WYNN MACAU
Immerse in the rich history and traditions of China at Wynn Macau's Golden Flower. The highly acclaimed two-star Michelin restaurant has received numerous awards throughout the years. Prepare to be impressed by the menu that allows you to select from a wide range of favorites, including signature dishes such as braised Yoshihama abalone in brown sauce, stewed fish maw with crab claw in supreme chicken soup, and imperial dessert. A variety of Tan, Lu, and Sichuan dishes, as well as a range of vegetarian options, are also available to ensure every diner enjoys a delicious, authentic experience. Savor premium ingredients blended with ancient traditional recipes and supreme culinary crafts. There are two private dining rooms available at Golden Flower that can host up to 10 people.
Please note that Golden Flower at Wynn Macau is currently closed until further notice. Check their website for the latest details.
Golden Flower Wynn Macau, Rua Cidade de Sintra, NAPE, www.wynnmacau.com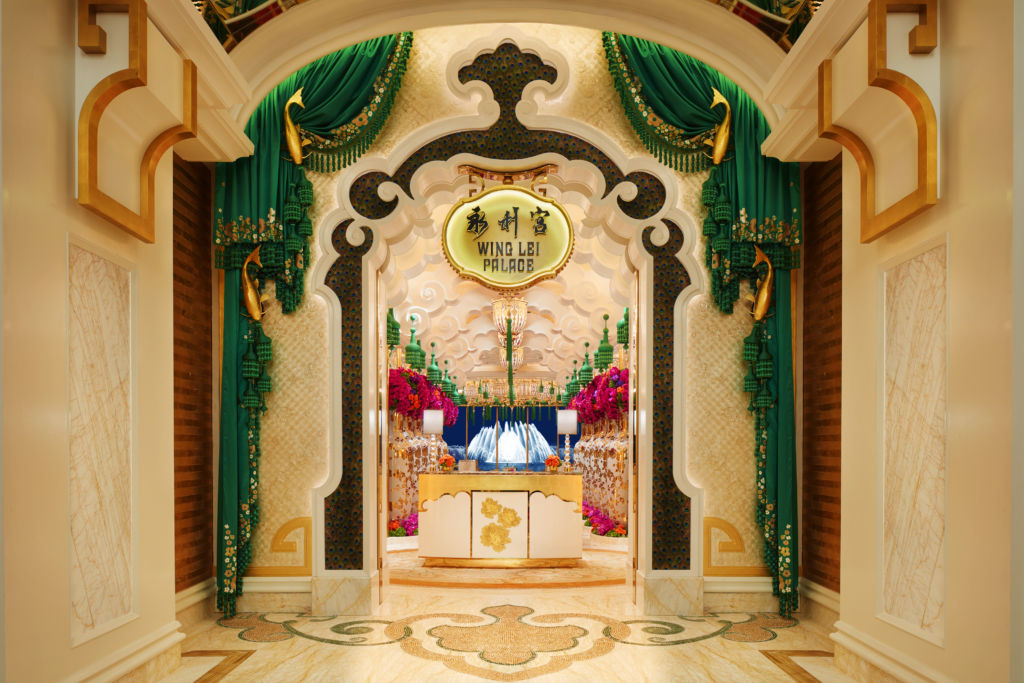 WING LEI PALACE AT WYNN PALACE
Wing Lei Palace has garnered a formidable reputation as a dining destination for a good reason. A prominent choice for private parties with its seven luxurious private-dining rooms, guests can bask in the chic ambiance of European opera boxes in terms of design and interiors. What really mesmerizes diners is the extraordinary Cantonese fine-dining fare that truly honors both cultural traditions and the beauty of China. World Champion of Chinese Cooking Gold Medalist Chef Tam showcases his innovative culinary creations. Each dish reflects the food that's healthy, natural, and in harmony with the seasons, while carefully preserving the rich traditions of Cantonese cuisine. And of course, the fantastic views of the Performance Lake show are guaranteed entertainment for guests young and old.
Wing Lei Palace Wynn Palace, Avenida Da Nave Desportiva, Cotai, +853 8889 3228, www.wynnpalace.com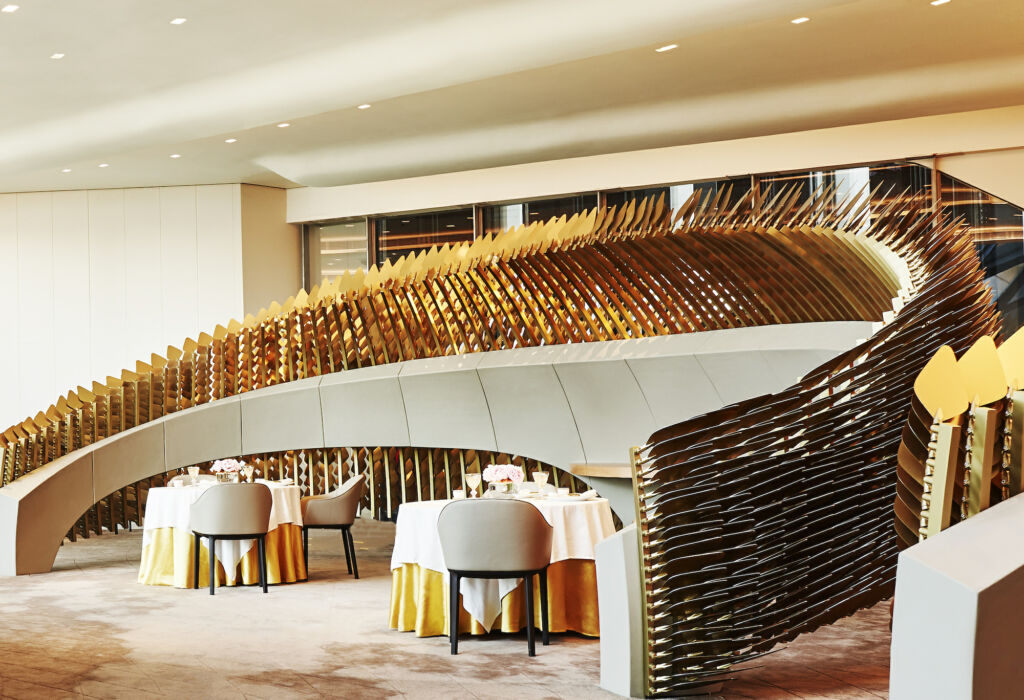 Yi at Morpheus
Yí is one of the newest kids on the block of fine-dining Chinese restaurants in the city. Located high above the magnificent structure of Morpheus, Yí offers unmatched views of Macau. You'll find an unforgettable tasting menu blending authentic and modern Chinese cuisine in such an intricate way that your palates won't easily forget. Feast on Australian wagyu, Vietnamese prawns, Hakka chili, and Chiu Chow Puning sauces from China that melds traditional methods and contemporary ingredients at this exciting restaurant. The name "Yí" and its culinary concept comes from Yí Jing, internationally known as the Book of Changes, one of the most influential Chinese texts. To align it with 24 solar terms of the traditional Chinese calendar, the chef changes it every month, addressing the ancient Chinese philosophy.
Yí Level 21, Morpheus Hotel, City of Dreams, Estrada do Istmo, Cotai, +853 8868 3446, www.cityofdreamsmacau.com/yi
Also read: Yí at Morpheus: Chinese Haute Cuisine & the Book of Changes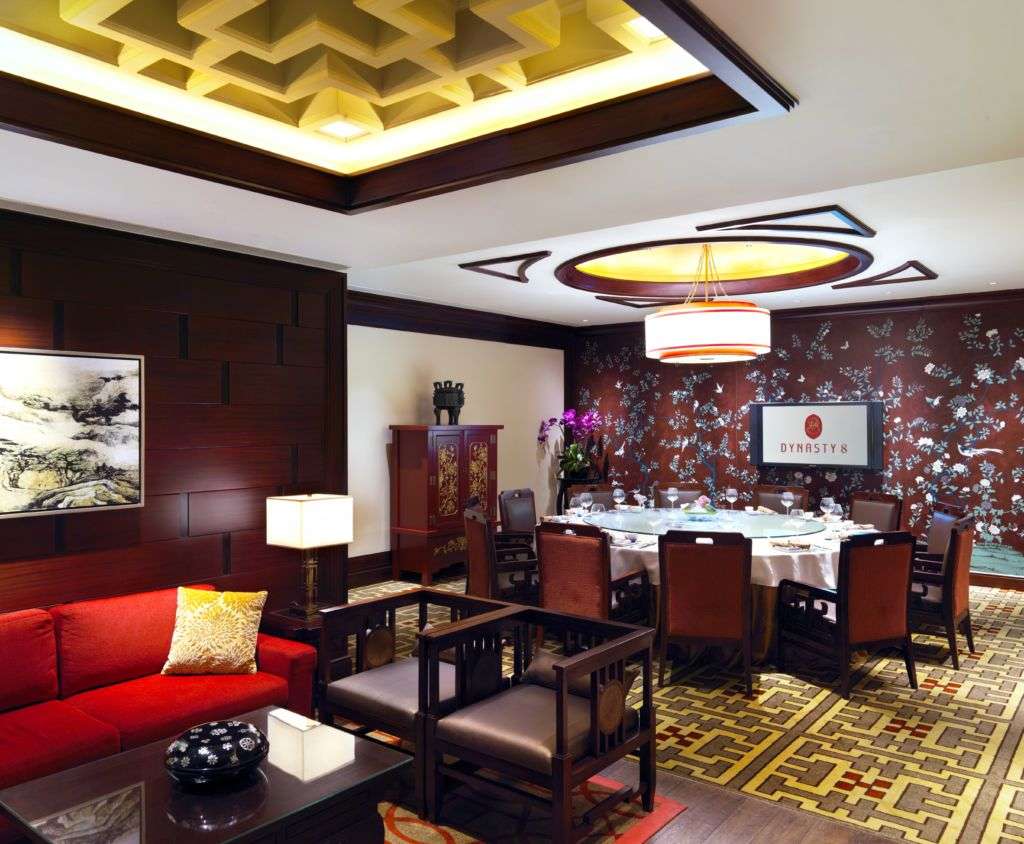 DYNASTY 8 AT CONRAD MACAO
The home of classic authentic high-end Chinese cuisine, Dynasty 8 evokes a feeling of old-world China charm. Allow our master chefs to take you on a memorable culinary journey embracing thousands of years of culinary wisdom with dishes designed to delight all the senses. Enjoy lunch or dinner in our main dining room or reserve one of our eight private dining rooms, richly decorated in the style of eight represented dynasties: Qin, Han, Sui, Tang, Song, Yuan, Ming, and Qing. It's worth pre-ordering their double-boiled soups in smoked coconut. A variety of dim sum is available at lunch and wine lovers will want to check out the cellar.
Dynasty 8 Conrad Macao, Estrada do Istmo. s/n, Cotai Strip, Macau, +853 2882 9000, www.hilton.com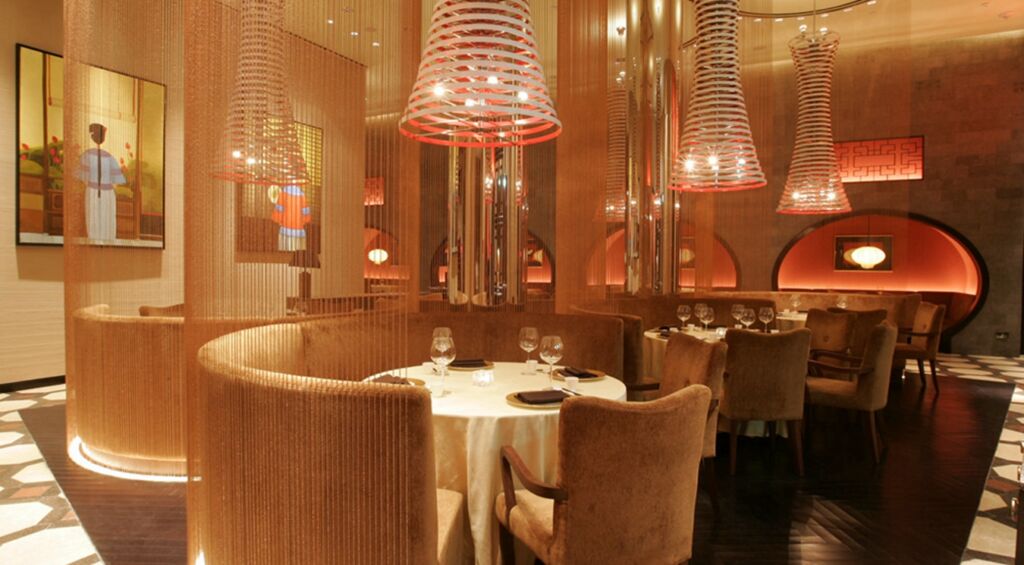 CANTON AT THE VENETIAN MACAO
Canton is one of The Venetian Macao's best-kept secrets. Tucked away in a corner of the hotel, this hidden gem presents premium seafood from around the world, signature dim sum specialties, and a host of healthy vegan dishes. It's not just the modern design and deep crimson hues of this elegant restaurant that impresses at first sight. The atmosphere echoes an unmatched sophistication. With the highly distinguished chef Wan on board, the menu is freshened up with some novelty creations such as stir-fried Wagyu beef with fresh mushrooms and pickled chili, or stir-fried scallops with okra in plum sake. Ask for the booth seats that look like circular caves carved into the walls for an interesting dining experience!
Canton The Venetian Macao Estrada da Baía de Nossa Senhora da Esperança, Cotai, +853 2882 8888, www.venetianmacao.com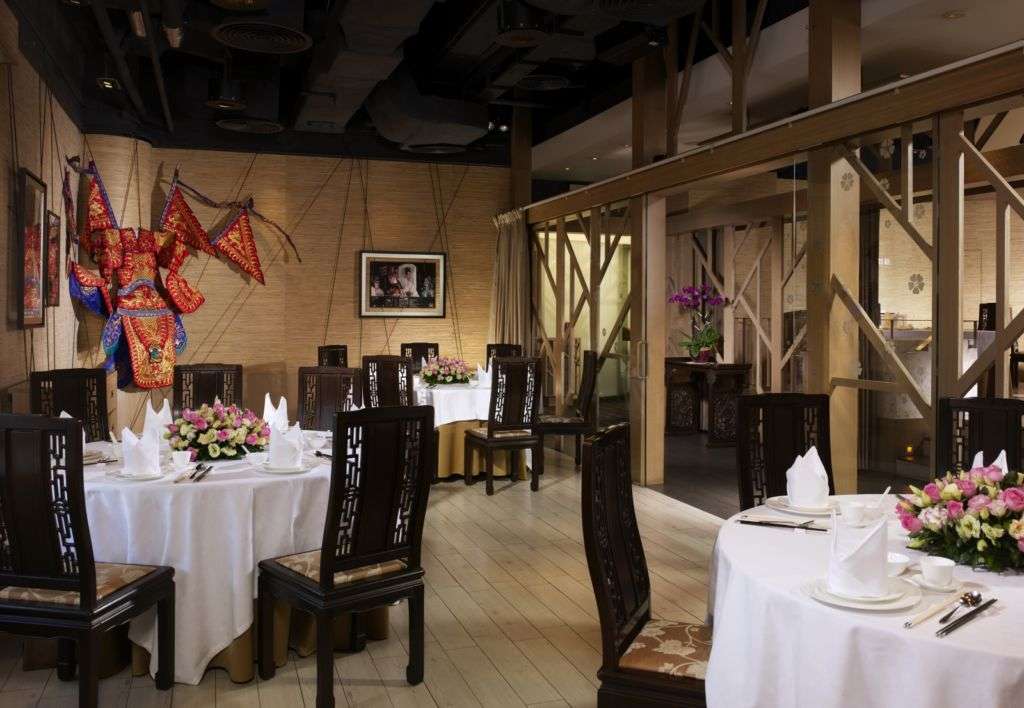 TIM'S KITCHEN AT HOTEL LISBOA
One of the old but gold locations when it comes to great Chinese food is Tim's Kitchen at Hotel Lisboa. Chef Lai's signature dishes include crystal king prawn, steamed whole crab claw with winter melon as well as other authentic Cantonese dishes. Thought the plates may seem simple, the tastes are beyond words and imagination. The poached and sliced pork stomach in wasabi sauce and sweet and sour pork ribs is a winning dish according to the Michelin Guide. Diners will find a flair of drama with the ambiance amid the variety of operatic costumes and photos that decorate the restaurant.
Hotel Lisboa 2-4 Avenida de Lisboa, Macau, www.hotelisboa.com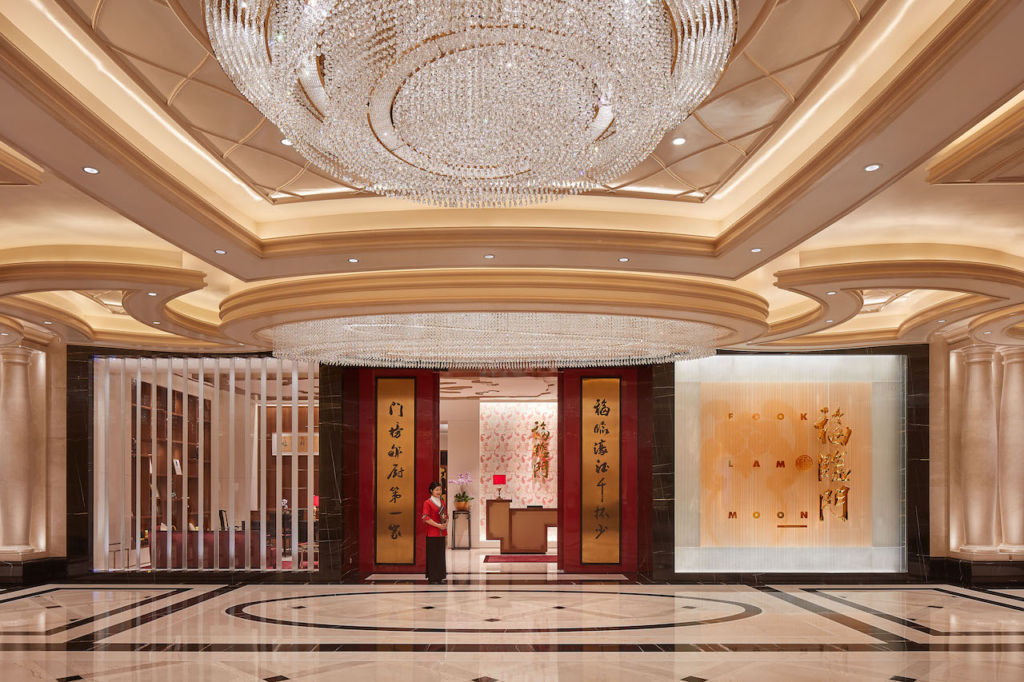 FOOK LAM MOON AT GALAXY MACAU
Fook Lam Moon has always been popular for family gatherings. This Cantonese restaurant is nestled at the Galaxy Macau and embraces the classic essence of Chinese culinary traditions and recipes. If you're not aware, the first Fook Lam Moon restaurant was actually opened in Hong Kong and is still famous among local foodies and celebrities. The outpost in Macau is often considered one of the best spots for Cantonese food in the city. Their signature dishes are time-tested favorites. From the deep-fried crispy chicken to the baked stuffed crab shells with onions and fresh crab meat, the menu is teeming with delicious choices to please all kinds of diners. There are several private dining areas where families and friends can commune in guaranteed privacy too.
Fook Lam Moon Galaxy Macau, Estrada da Baía de Nossa Senhora da Esperança, Galaxy Macau, Cotai, www.galaxymacau.com
Also read: Tradition, Calligraphy and The Best of Cantonese Cuisine at Fook Lam Moon
Tags
Related Posts