Nothing gets us more excited than the news of food here at Macau Lifestyle HQ. When we heard that BaseHall is opening, our hearts fluttered. Set to be an iconic dining destination in Hong Kong, the multi-concept food hall in Jardine House has redefined what eating and drinking from lunch, dinner, and everything in between means for us.
Prepare to devour satisfying dishes from ten outlets honoring Hong Kong's homegrown culinary talent. If there's something we've learned to appreciate a lot lately is the robust talent of culinary arts in our city especially during the lockdown when we yearned to embrace the art of fun dining once again. Savor delicious food at Roti Tori, a Japanese-inspired rotisserie chicken spot by Yardbird Hong Kong, Pub 1842 from Young Master, chow down on tacos and more at Westside Taqueria from taco king, Esdras Ochoa. Meanwhile, if you want a taste of Malaysia, enjoy a contemporary version of nasi lemak at Return of Lemak by the renowned former chef at Beet, Barry Quek adds a new offering to the mix. Embark on a culinary adventure while enjoying the sound of live DJs under the city's most extraordinary indoor lighting system at BaseHall. Take your senses on a journey of flavors while supporting local culture and the culinary scene.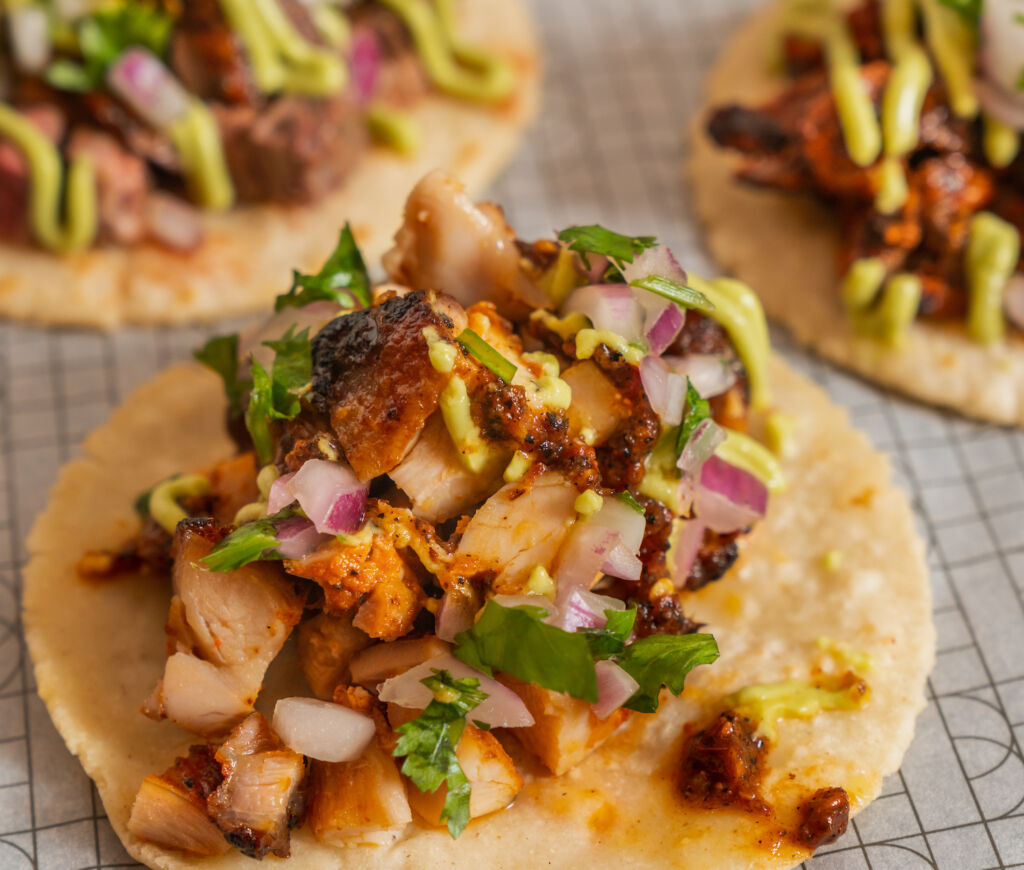 WHAT TO EXPECT
Looking for a place to dine with family and friends bit can't really quite decide what cuisine or vibe, BaseHall offers the perfect solution for everyone. This new dining hub reflects the city's world-leading design scene, thanks to a creative partnership with Linehouse. The concept draws from historical depictions of Jardine House in 1970s cinema evoking a nostalgic feel through its spatial arrangement and the use of exquisite lighting and detailing. Sustainability is also a key focus for BaseHall, as seen in the compostable food packaging and cutlery, water fountains, waste decomposers, and upcycled design elements. Now more than ever, it's the best time to celebrate Hong Kong's creative food industry and BaseHall champions the food and people in a circle of trust that conveys the city's real charm. Whether picking up to go or dining in, choose from eight food outlets and two bars that will keep everyone's tastebuds entertained.
MUST-TRY
Honbo – For an unforgettable "real good burger", this is top choice. Their burgers are crafted with seasonal natural ingredients and their signature potato buns are always freshly made.
Moyo Sik – Moyo Sik will give you true Korean drama feels. Enjoy an authentic Korean meal in style with family and friends at this new location!
Return of Lemak – Return of Lemak celebrates the true taste of street food culture. Embrace the classic and comforting flavors of their dishes that will transport you to Singaporean and Malaysian hawker centers.
Co Thanh – Listed in every Saigon travel guide, Nguyen Thi Thành, better known as the Lunch Lady, serves one dish a day and a rotation of local Vietnamese noodles soups made fresh daily from scratch. Cô Thành brings her recipes to the heart of our city with a memorable menu.
Westside Taqueria – Westside Taqueria is the answer to all our taco cravings. Embark ina real roadside taqueria experience at this dining spot.
Treehouse – Led by the belief of "One with Nature",  savor all the dishes from the stimulating plant-based menu at Treehouse. Dine with the principles of sustainable, ethical, modern, and fast when it comes to top-notch food.
Cookie DPT- Cookie Department presents freshly baked cookies that are crisp on the outside while decadently moist and chewy on the inside. Each one of their signature cookies is heavenly!
Pub 1842 -Pub 1842 by Young Master is set in a cozy nook. Enjoy brewery-fresh ales and lagers from 10 taps alongside a draft cocktail and a daily dram. It's the perfect end to a busy workday or a weekend break with friends and colleagues.
BaseHall – The BaseHall bar has the makings to keep people entertained day or night. Whether to enjoy a freshly brewed coffee, fruit blend, or smoothie, it's a spot for the perfect pick-me-up.
How much: HKD $100–200, without drinks
When: 11:00am till late, Monday–Saturday
---
BaseHall Shops 9A, 9B, 9C Lower Ground Floor, Jardine House, 8 Connaught Place, +852 3643 0865, www.basehall.hk
Tags
Related Posts