You don't need to be a wine connoisseur to enjoy a fine glass of wine in Hong Kong. In fact, if we've learned something very important recently and that's learning should never stop. Where else can we level up our fascination for wine other than ThinkWine? This hidden gem is undoubtedly the coolest wine bar in the city. It certainly epitomizes everything wonderful about the concept of going out for a drink.
From the beautiful terrace to the creative pieces on display including that of French designer Christian Lacroix and a mural made of Champagne capsules, ThinkWine radiates a warm and comfortable vibe that does not intimidate at all. The welcoming atmosphere can be attributed to its founders, Jean-Benoît Isselé and Romain Loriot. Two expats settling on this side of Asia who couldn't be more different and yet complementary to each other. Their passion for wine gave birth to this cozy location that transcends the weather. With a melange of vintage and unique, you can explore a myriad of bottles from all over the world at ThinkWine. In a market brimming with opportunities, the two seasoned sommeliers have embarked on an adventure of a lifetime as we sat down to learn how it all began.
Congratulations on opening such an innovative and much-needed place in Hong Kong. Where did the idea come from? 
Basically, our background as sommeliers was where the idea originated. It came out as a sort of a dream because we've always known each other. We had our Sundays off and constantly met and drank together. We would laugh and share our thoughts about launching our own business as we both had the same aspiration and what better way than to make it truly happen. We love the bar and cocktail scene here in Hong Kong and lamented that there weren't any true wine bars. We yearned for a wonderful place where people can be seated and enjoy a glass of wine with good food. So, that's how ThinkWine started!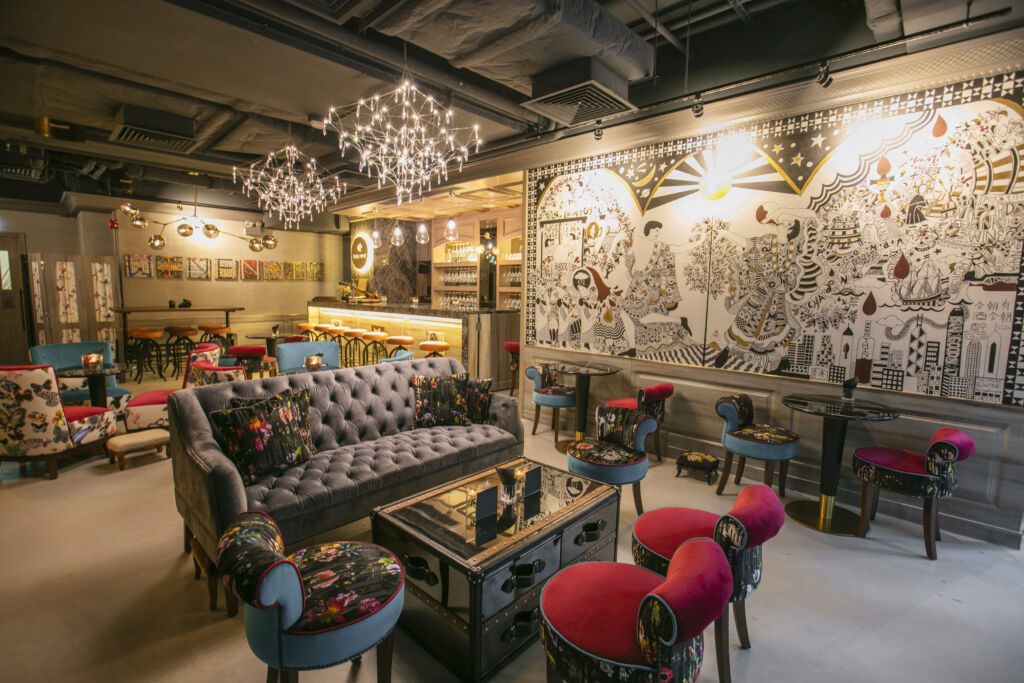 What makes ThinkWine different? 
I think the atmosphere plays a lot in setting ThinkWine apart from other establishments. We take pride in the knowledge of our staff and the versatility of our wine list. Everything is boutique wine so no huge wineries here. We have small winemakers but a very reasonable price. We take top-notch quality seriously and our team members are all really passionate. For us, we've been doing this our whole lives so we are at the top of our game.
In terms of space, we definitely wanted to feel like its home. A space that depicts your living room and makes you feel comfortable. It's very modern with good lighting by day or night. We also wanted to be able to move tables around whether for a big gathering or an intimate affair. There is the presence of art all over the place and a piece of our very own personal touches. It's safe to say we didn't hire a designer and we did it ourselves (laughs). Our capacity is around 45 people for a sit-down event and around 70 for standing options.
Is there a story behind the name "ThinkWine? How did you come up with it?
In the beginning, we had a French name in mind but we realized that it would not resonate much with our guests. Both of us have worked all over the world and felt a French name would not exactly fit what we wanted to represent with our brand. We want to be open to everybody and opted for ThinkWine. It's easy and straightforward.
Could you tell us a bit about how your interest in wine all started? What is your first memory of wine?
[Jean-Benoît Isselé]: I was oriented at a young age having grown up in a place influenced by winemaking. We always had white wine or riesling at home. As a sommelier, I've worked in Paris, Dubai, China, and Hong Kong throughout my career.
[Romain Loriot]: I was drawn to wine because it was easy for me to learn (laughs). I was around 18 years old when I ventured into this industry. I have a long working history with the Alain Ducasse Enterprise, and I was in London as well for a notable period of time in my career.
Do you have a favorite style of wine? 
[Jean-Benoît Isselé]: I grew up in the South of France and we have a really beautiful wine selection in my region.
[Romain Loriot]: For me, elegance is key so I usually like pinot noir. I lean towards more of Burgundy as well, the classics.
[Jean-Benoît Isselé]: This is where we are different is mostly our style and also represent ThinkWine in general. Romain is more classic and I am diverse in my taste. When we work together, we truly complement each other and are good critics of one another.
We practically have wine from every region in France. We didn't omit any wine region and we also wanted to be open to everyone. We store bottles from Italy, Spain, Switzerland, Germany, Australia, New Zealand, and the USA. We have a bit everywhere in the world even Lebanon and Morocco. We searched for the best that we can offer our guests. Our vision for Think Wine also encompasses connection with our suppliers making sure we have the best people and products here.
For those new to wine and want to explore and discover, what are three things everyone should consider before trying new wine?
[Jean-Benoît Isselé]: Honestly, some people don't care. They just want to buy an expensive bottle because they think it's good. My advice would be to find or figure out the kind of taste you like. Remember that the more your drink, the more you are able to understand and discern what you like. We here at ThinkWine always aim to help guests dissect and navigate through the varieties that might be appealing to you.
[Romain Loriot]: Look deeper inside a bottle. Ask where it's from or what are its components only then will you have an understanding of what works for your taste.
How can guests gain confidence in speaking with sommeliers, ordering wine, and reviewing a wine list? What are some tips for navigating these somewhat intimidating situations?
[Jean-Benoît Isselé]: Keep it simple. Don't overpower or overplay. I always destress by making jokes and a dash of humor in conversations. I guess stop trying to understand what's going to happen at the table and overanalyze.
[Romain Loriot]: Reflect on what you feel during that day. Do you feel like having a white or red wine? Decide on what you want to eat, and ask simple questions. It's always good to ask because that's how you learn or figure out what suits best for you. The key goal for us is to ensure our guests drink good and satisfying wine at a good and reasonable price. A good sommelier won't make a guest feel uncomfortable by suggesting wine out of their price range or pushing them to choose a certain wine. I would always offer my guests three different options at three different price ranges and work from there.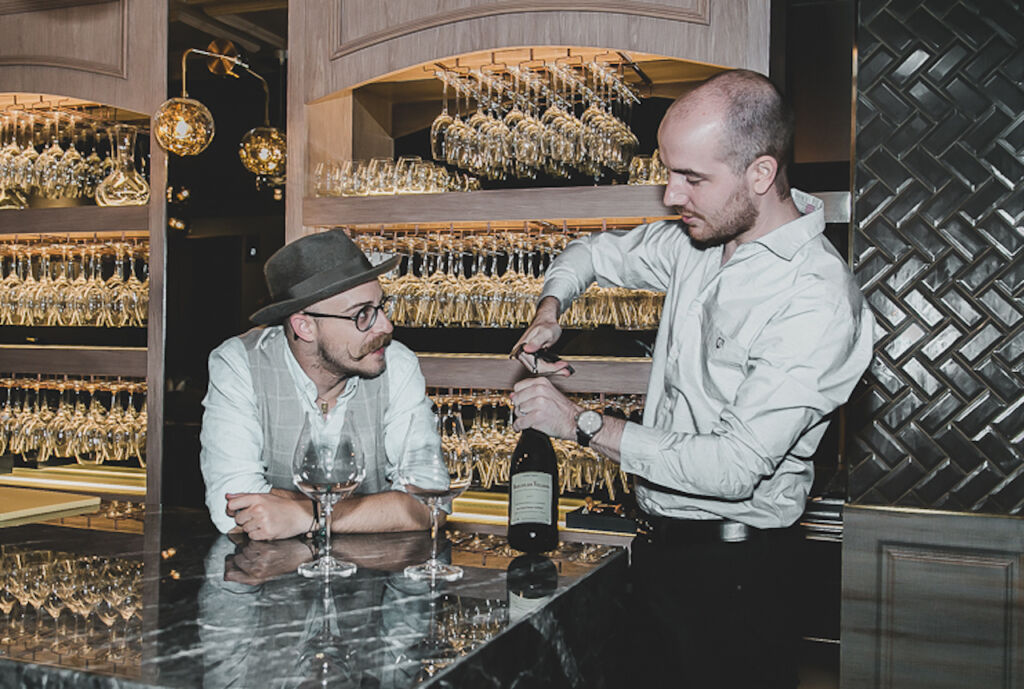 Wine lists are known to be endless, how do you pick the right wines for the wine list? 
[Jean-Benoît Isselé]: It was an interesting period for us. We have different tastes and Romain made me discover a lot of new things. It was fun because we have different horizons when it comes to wine. I was more of a rock n' roll type and he was more refined.
[Romain Loriot]: Our budget was also a factor as with our storage capacity. We've contacted lots of winemakers and discussed our criteria and then we collated it together. We've tried and tested many bottles.
We drank everything on the wine list. Everything that's there has been vetoed by us. We have around 500 and more bottles that are all different and diverse.
ThinkWine also serves up some food, what is the dining element like here? How would you describe the food? 
The food here is simple, good, and effective. We wanted to keep it down to earth. Of course, we want the best quality. Even if it's chorizo, truffle ham, or cheese, we focus on premium ingredients. We source many of our produce from Italy, France, and always ensure to keep it fresh. We carefully crafted the menu to suit taste and budget. We're open from 3:00pm to 2:00am and guests are welcome to come anytime for food and drinks. We also work with the chef from Sweet Fashion House who bakes our bread, we are the only place in Hong Kong that is serving his bread and it's great!
What's coming up for ThinkWine this year?
We had a few events in collaboration with wine suppliers and we plan on continuing that kind of activity. We had a lot of delayed events and once the situation settles in, we plan to pursue those plans. There's an afternoon tea set we're planning to launch but preparations are still underway. So, watch out for more exciting promotions!
---
Follow them on Facebook and Instagram for more updates
ThinkWine 2/F, LL Tower, 2 Shelley Street, Central, Hong Kong, +852 2886 3121, www.thinkwinehk.com
Tags