Art in China, Macau and Hong Kong is already a bright and flourishing sector, but is it the most accessible? Well, new gallery Carre D'Artistes is determined to make it so! They opened in Hong Kong at the end of June, and they are a gallery with an unusual and amiable concept. Believing that 'art is for everyone', the brand's mission is to 'democratize contemporary art'.
The success of the concept began in France back in 2001, when Stéphanie Tosi, co-creator of Carré d'artistes, opened the first gallery in Aix-en-Provence. They now have almost 40 galleries worldwide and have become a truly global phenomenon with the opening of the gallery in Hong Kong, which marks their entry into Asia.
Most art galleries represent only a handful of artists and selectively and exclusively only sell a few select items to the world's elite, usually operating on a look-but-don't-touch basis. However, At Carrés d'artiste, you can see a huge assortment of art, take them out of plastic slips, try them in frames and – most importantly – make your decision after this process.
With one price per size, regardless of the name of the artist, owning an original artwork is no longer out of the realms of possibility thanks to Carré d'artistes. The gallery represents and promotes over a whopping 600 artists, dedicated not only to selling their work but also helping them develop their craft and career as well. Each artwork is sold according to size and format, at a fixed price that is fair but not extortionate. Despite the popularity of pop-art, there is no reproduction involved in this process. An artist is commisioned to produce around 10 original works to start with, which are shown only at one gallery at a time for around 10 weeks before then ultimately being sold or moving on.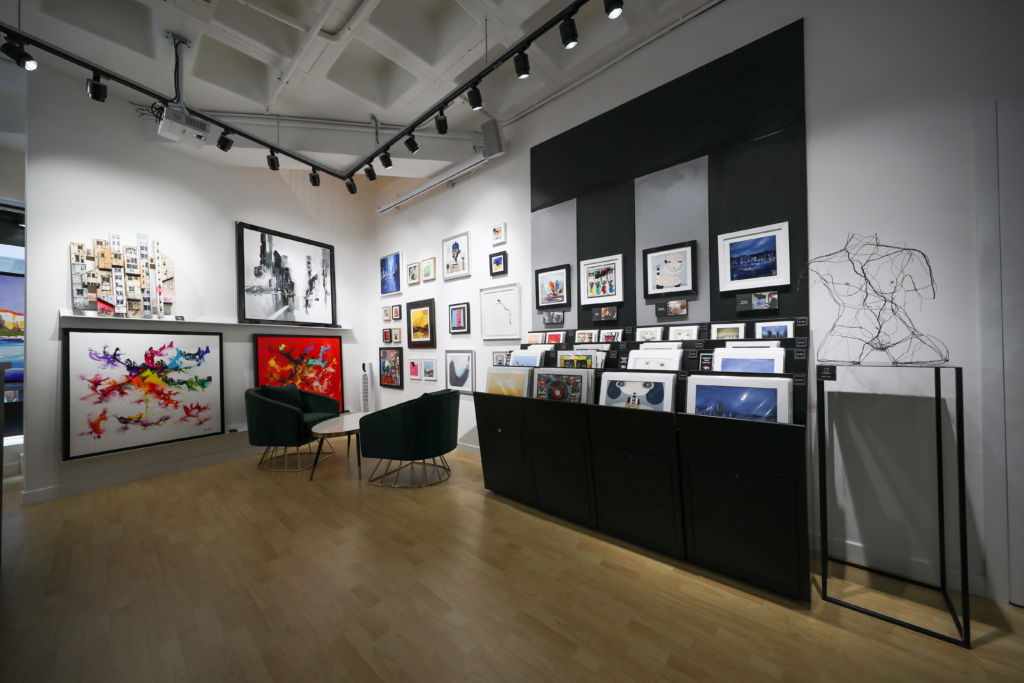 Whether commoditizing art or just running a successful business, this new way of working benefits both the artist and the buyer. No longer is the image of the artist that of a starving, tortured soul. The artists represented by Carrés d'artistes get commissioned for regular work, which means they can eat and develop their art on a regular basis, which is great for budding, upcoming artists trying to make it. The art market will no longer be dominated by bald, white, middle-class males – the friendly atmosphere of this gallery welcomes all and the concept looks like it will catch on.
The gallery's unique concept is more than welcome in the oversaturated art market in Hong Kong, and we can't wait to start attending events here. It feels almost like a record store – it's a gallery you don't feel intimidated to spend time in and is a refreshingly alternative to the traditional white cube. Here are the works of some of our favorite artists currently being exhibited that you should definitely check out. Will you be buying any art for your home from Carrés d'artes? Let us know in the comments what's your favorite!
Carres d'artistes 53-55 Hollywood Road, Central Hong Kong, Hong-Kong, +852 3709 0909
---
To find out more about the first Carré d'artistes flagship art gallery in Hong Kong and the man behind it, check out our interview with Arthur De Villepin, the founder and CEO of Art de Vivre Group, the entrepreneur responsible for bringing Carré d'artistes to the city.
Tags