You might be scratching your head upon finding out what all the fuss is about: the classic sushi hand-roll that you can get in almost any convenience store or Ten-Musubi. But the folks at Hong Kong's Pirata Group are convinced that this modern Japanese food trend is going to take the city–or, at the very least, this little corner of Sheung Wan–by storm.
Taking over an obscure hotel restaurant previously occupying the two-floor space, TMK–along with its sister restaurant Honjo–have opened simultaneously, together representing Pirata Group's first foray into Japanese cuisine. TMK is the younger, punk rock sibling for all-day dining and late-night drinking, while Honjo is for the "contemporary and refined."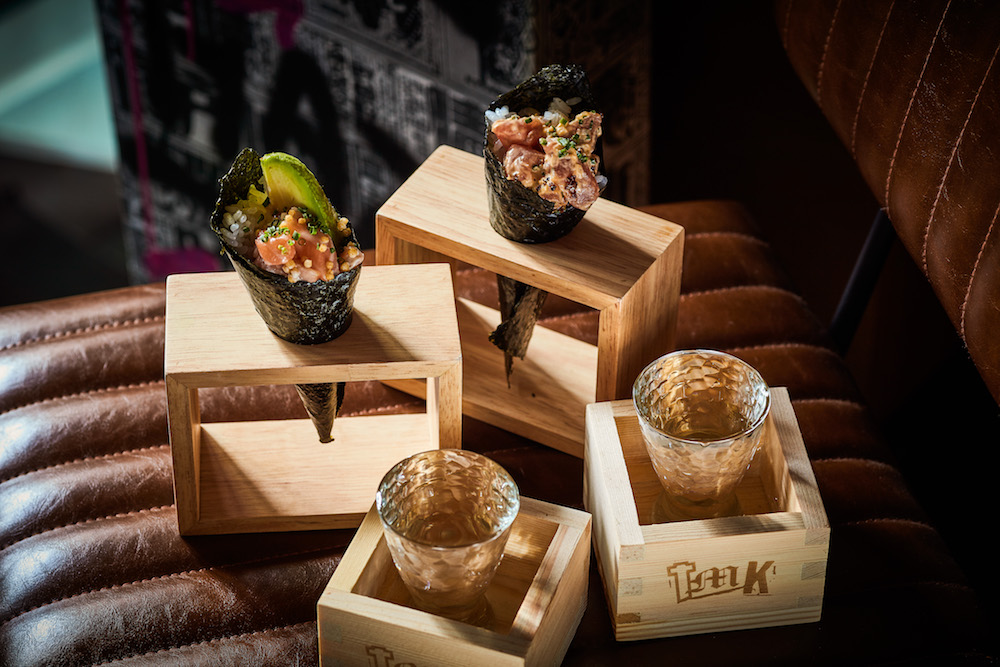 Location gentrification
Last week, we visited TMK shortly after their July 17th opening to taste-test the daring concept. At the intersection of lower Hollywood Road and Queen's Road West, the "temakeria" solidly sits on the border of Sheung Wan and Sai Ying Pun. The area isn't quite as buzzing as Soho or High Street, but it's definitely up-and-coming, and conveniently close enough to the two.
TMK joins trendy hotspots Yardbird and Okra in this hipster part of town to signal the onset of gentrification here, known as the "Dried Seafood Streets." The restaurant could even go down in history as one of the "first movers" that ultimately shaped the "next Soho"! And conveniently enough for Macau-dwellers, it's just a bridge away from the Hong Kong Macau Ferry Terminal at Shun Tak Centre.
Japanese punk rock dream
A dark and subtly signposted door on the street level opens into a stairway going up to the restaurant. The walls are designed in a mishmash of retro stickers and graffiti not unlike the interiors of Baohaus in Manhattan's East Village.
Further research revealed the inspiration that motivated Charlie & Rose designer Ben McCarthy: "[It] came from listening to punk rock music and immersing myself fully into the culture," he said. "This was a liberating project for me… the concept is so dynamic and there was a lot of room for expressive freedom."
TMK is not exactly the perfect place for a relaxed, quiet evening or romantic date. Servers will be shouting their welcome as you step in and someone from the kitchen will ring a gong if a guest decides to get everyone in the room drunk (HKD $280 per round). If you're feeling generous, simply shout "Drinks on me!", and each person in TMK gets poured a generous serving of sake. We can definitely see a lot of stag and hen parties here!
What to order
The menu comes in the form of a paper checklist, which your party should mark with a pen to order. Two set menus come at decent prices: "Denim" (HKD $288 per person) with eight dishes for the whole table, and "Leather" (HKD $398) with nine. A great way to try as many plates as possible in one go!
That night, we shared 11 dishes between eight diners. The classics were ingredient-focused and satisfyingly traditional: steamed Edamame with sea salt (HKD $38), and a sashimi platter of salmon and yellowfin tuna (HKD $78, HKD $98).
Other cold appetizers were also served: super-fresh Wagyu tataki (HKD $118) cured in calamansi soy (instead of traditional lemon-lime), hot oil and pickled rakkyo. The green tea soba with yellowfin tuna (HKD $128) was a refreshing plate of soba-tsuyu with a strong wasabi flavor, sprinkled with crisp nori.
The deep-fried dishes were comfort food concoctions taken up a notch: the chicken-thigh karage (HKD $88) was particularly impressive for being juicy and tender yet crisp on the outside; it came with a spicy yogurt and coriander dip. It even outshone the heavyweight Iberico kushikatsu (HKD $108), which on paper sounds better – "slow cooked secreto with spicy pineapple sauce".
But whatever you do, don't miss the star of the show: the Tuna hotdog (HKD $98). Classified as a temaki, the creative hand roll was an explosion of flavors and textures, a tempura fried Kalifornia roll topped with spicy tuna. Seriously delicious!
Others we tried–the restaurant serves three types: open, cone and hot dog–were the vegetarian hamachi tomato (HKD $58) with yuzu kosho, red onion and coriander, as well as the essential soft shell crab (HKD $68) spiced with wasabi mayo, cucumber and tobiko.
Dessert was a pleasant surprise with homemade green tea and red bean ice cream to challenge defending champions at Unkai (Sheraton Hotel Tsim Sha Tsui). If you have a sweet tooth and love all things matcha and red bean, this is already reason enough to come.
Paint the town red
On 1st August, TMK officially opened its doors for lunch catering to the hungry Sheung Wan and SYP office folk. However, you need to be here for some pre-gaming and dinner in a vibey watering hole, away from tourist central. It's a great place to start a fun night without fighting the Lan Kwai Fong crowds that starts way too early in the night.
Choose from a drinks selection of smooth sake, refreshing draft beer and Japanese highballs. Expect high quality sake here as it's TMK's forte and they actually produce their own namesake label, crafted and brought directly to Hong Kong from Japan. Sip the dangerously delicious stuff from a wooden Masu cup, the traditional Japanese way. Kanpai!
---
Do note that there are no reservations accepted, walk-ins only. Follow them on their Facebook page for updates or check out their menus here
Opening hours: 12:00pm–2:30pm (lunch); Sunday–Thursday, 6:00pm–11:00pm, Fri–Sat, 6:00pm–11:30pm (dinner)
TMK Shops G & H, G/F and M/F, 77-91 Queens's Road West, Sheung Wan, +852 2662 2269 [email protected], www.tmk.hk
Tags
Related Posts