Almost everyone in Macau who is truly passionate about yoga and wellness has met Rita Gonçalves in one way or another. While her admirable posture and super healthy body might make one envious, Rita is as beautiful inside as she is in – she is a devoted yoga teacher and a kindhearted soul. It doesn't matter what stage of life you're in when you feel your ultimate calling – everything else will happen naturally, the wellness guru tells us during a chat. Read on to find out more about her yoga journey, her tips for maintaining a balanced lifestyle, and why she is passionate about yoga, Macau, and motherhood.
What is your Macau story? When did you first come to Macau?
My parents moved here in 1988. So, I was eight years old at the time. I grew up here and studied here until I was 17 years old. Then I returned to Portugal for my university studies in journalism so my parents went back also. Then they came back to Macau again for the second time, so I also came back and I worked in a Portuguese newspaper, Jornal Tribuna de Macau and worked the for the Macao Cultural Center before the whole yoga shift happened to me.
I lived in France and Portugal and for some unexpected reason, I just moved back here. It was supposed to be a temporary situation that turned into something quite permanent. Things started to unfold and happen and I felt that I had a such a strong connection to Macau. There seemed to be always something that pulled me back to this wonderful place. I guess it has become my life mission (laughs) and that's how I am very connected to this city.
Sometimes you have that feeling that is not just a sense of attachment but there is a certain passion about it. I loved Europe and I love the cosmopolitan way of life. Macau is very different from Europe. At the same time, they also share a very particular context that creates circumstances that are very exciting and interesting to explore.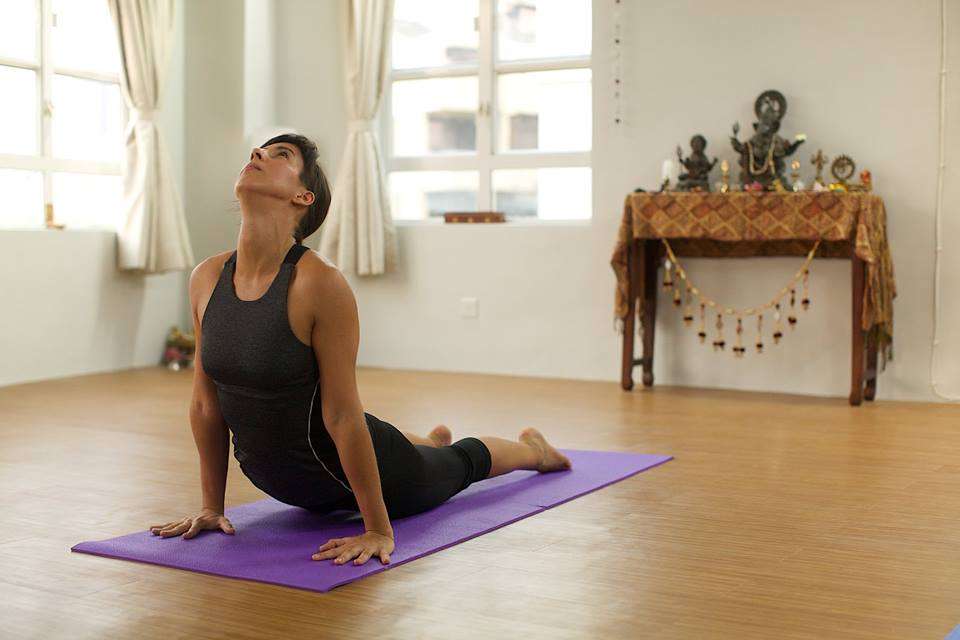 You own and run Yoga Loft yoga studio as well as teaching there as the leading yoga instructor – how did this come about?
In 2013, I moved back to Macau for the third time. I just started to teach because I'd already taught in France and Portugal. It was just a matter of finding my own space. We opened in 2014 and are still going strong to this date.
I've had various team members and other instructors. I like people who share the same values as me in terms of yoga and practice, and someone who is a team player. As a Studio Manager, there are certain phases where people move in and move out and that's okay. I am still the main person running the show.
How did you come up with the idea of Yoga Loft Macau?
Yoga Loft Macau is a blessing in terms of space and its uniqueness. It has such a special energy and vibe. There's a calm soothing energy around it. Obviously, it's on the top floor and the name Yoga Loft seemed very fitting as it was on top of the building, making it very spacious.
Who comes to your studio? Who is your core in terms of students?
It's people who are very aware of a certain quality. They want the quality of the practice to be more tailor-made in terms of service. I have already built a certain level of relationship level with them and that's the reason people stay with me. Some people are not ready for an intimate relationship with their yoga teacher. How I teach yoga is honest – if you're not ready for it you're not ready for it and sometimes people don't connect naturally with me. Sometimes it's also about certain timing in the lives of those that come here.  I have a certain group who has all been with me for a long time.
What is your experience of starting and running a business in Macau?
I think I am still lucky in a certain way because I had a background in law as well, and was tuned into going through all the system of paperwork for a business. Of course, it's always about the honeymoon phase for a business venture – those first three years are important. But now it's come to a point where I'm deeply rooted in the community.
In the beginning, I wasn't valuing myself enough I think. I was too tolerant but I had to find a middle ground. I don't like being too corporate but I also learned to find a system that works for me. Running a business is certainly a challenge but I don't want to betray my ideals and principles, and that's the essence of my practice.
In Macau people come and go – how does it impact your business?
It's wonderful actually – I love that new people are always coming to the city. People come in from everywhere. I had the opportunity to have the cast of Thriller from the show in The Venetian Macao come and join my class. And when you hear praise those moments bring the best reward to your heart. It felt really good to be a part of their wellness journey.
What is your personal yoga journey? When did you discover yoga? What took you from practicing to teaching?
I started to do yoga when I was 18 in Lisbon. I was studying at the University and I noticed I was out of shape. I just enrolled in a gym and started to do body balancing first then came into contact with yoga, and a mixture of tai chi and pilates. I realized I love yoga more.
Yoga started to become regular for me in Macau in 2007. It was also during that time that I had an epiphany because I was quite unhappy with instructors who don't make time to interact more with students. I felt something was lacking in that part – so instead of complaining, I thought I should do something about it.
I went to India very spontaneously and learned yoga teaching there. It took over my whole life. It changes you forever when that drive is very strong. I studied in an Ashram in Kerala, India and then everything else happened naturally. For me from practicing to teaching was a very rewarding transition. When I became a teacher, it was like my ultimate calling, and now I am devoted to it.
Over the last few years, you've built a strong community of local yoga enthusiasts. Tell us more about this community. What do you think brings people together?
The community spirit is special in a way because people come and go a lot in the city, yet we connect no matter what or where came from. I think it's because we're all not in our comfort zones, and this brings people to honestly share things. For me, it's a great feeling and I'm blessed to have that honor to facilitate that for people.
What is your own personal yoga practice?
My personal practice has become less physically demanding because I work out so much already. My practice nowadays is just the essentials, because it's good for the nervous system. I love twists, breath-work, meditation, and body relaxation. It's now easy for me to achieve an out of body experience. I really want to go forth towards meditation and enlightenment.
How do you stay on top of the game in this industry?
I don't see the need to stay on top of the game. For me, it's a spiritual practice. I have also become detached in the aspect of income and am focused more on the service of the business. I think you give energy to the world and then the money comes naturally. I just focus on being myself and being honest. Following my intuition and staying true to myself is just what I do.
What do you think of Macau wellness scene?
It's growing – just like how Macau Lifestyle has grown. It's getting more developed and people have more awareness of it. There is definitely a demand for it here in Macau.
What are your favorite places in Macau to hang out? With friends, with family, with your son?
I love to go to Bistro D'indochine. It's in between my house and the studio. I love having a drink or beer at their outdoor space. My favorite Portuguese restaurant is In Portuguese Food in Old Taipa on Rua do Cunha. I also love Mandarin House. I find it very interesting. The Chinese architecture and the space are really marvelous.
You are also a mother – how do you manage your work, motherhood, being a community leader etc.?
I manage time better now that I have become a mother. I must say, I manage it in a better way. I think mums normally tend to prioritize their kids over themselves but I believe there should be a balance in that. I think mums should be happy as well, and kids should be taught to be independent in a certain way.
It's good to spend quality time with your children but you have to spend quality time with yourself so you don't resent time. I believe in the balance of everything and becoming a parent has changed that perspective of time for me differently.
Where do you live? What do you like about that neighborhood?
I live in Mitra neighborhood under the hospital Conde de São Januário. I love that neighborhood – my parents have lived there for a long time. It's surrounded by local shops and the tiny streets are without cars. It's very serene and there are nearby Thai shops which are quite cool.
---
Yoga Loft 4-5, F Lek Tang Commercial Center, 2A Travessa S. Domingos, Macau
Follow their Facebook page for class schedule and other updates
Share
Tags
Related Posts