Searching for the right wedding venue is like looking for the perfect wedding dress. It takes time, patience and needs to leave an impression that lasts. You'll just get that feeling when you've found a gem that combines convenience with class, sophistication, and beauty. We're a fan of outdoor locations for many reasons. We love the natural lighting that will surely do wonders for your photographs, the bright ambiance that goes with the scenery adds romance to the day and the emotions evoked by daytime are all simply timeless. That is why we wanted to share with you our favorite outdoor locations in the city for your wedding ceremony whether you opt for an intimate or a big affair.
The Ritz-Carlton, Macau
(Featured image above)
Finding that perfect outdoor wedding venue can be a challenge but The Ritz-Carlton, Macau is sure to be the most stunning backdrop for the most important day of your life. They have a brand new outdoor wedding ceremony package to offer couples of various budget and style. You can customize the wedding details whether you're leaning towards a classic and refined traditional ceremony with a gorgeous set up on the vibrant green lawn or an outdoor cocktail party with a fun and fabulous theme. Recite your vows under the beautiful blue sky then dance the day away with drinks and delicious food. There are packages that include a personalized wedding concierge for the bride and groom, usage of the lush outdoor lawn area and more.
The Ritz-Carlton, Macau Galaxy Macau, Estrada da Baia da Nossa Senhora da Esperanca, Cotai, +853 8886 6868, www.ritzcarlton.com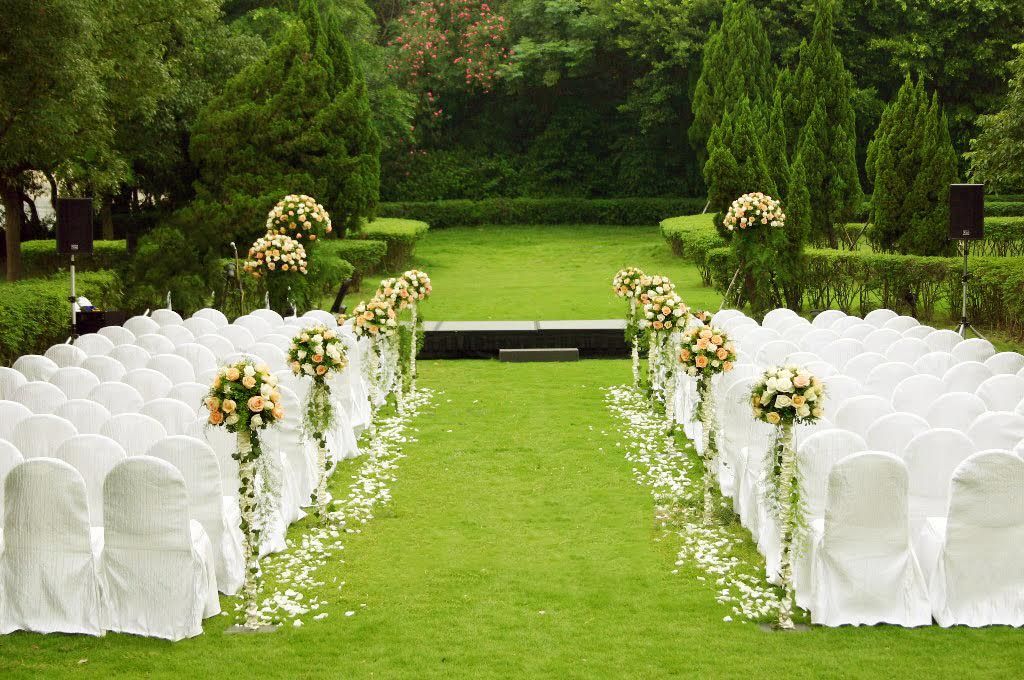 Grand Coloane Resort
Escape the hustle and bustle of Cotai and busy areas of Macau and head to the Grand Coloane Resort for what feels like a destination wedding. You'll feel closer nature as you make your solemn vows and while being only a few minutes away from the exciting Cotai strip for your guests, pre or post-wedding day. You can choose to have your ceremony set up overlooking the sea or have an elegant setting surrounded by lush greens in the lovely garden. Listen to the waves and feel the peace of nature as you make the greatest commitment in your life with family and friends to witness this memorable affair. Grand Coloane Resort takes pride in service and is attentive to every detail that nothing is impossible to make your dream wedding come true.
Grand Coloane Resort 1918 Estrada de Hac Sa, Coloane, +853 8899 1127, www.grandcoloane.com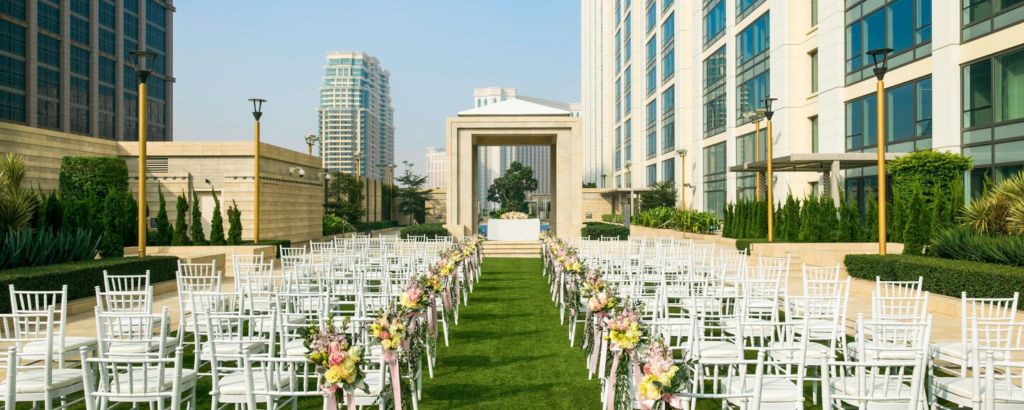 The St. Regis Macao, Cotai Central
You'll feel on top of the world on your big day at The St. Regis Macao. We already love so many things at this hotel property. From the incredible food, stylish spaces and a talented team of wedding specialists, you'll have a worry-free wedding at this location. Situated on Level 8, The St. Regis Macao's pool deck is an exquisite outdoor venue overlooking the scenic Cotai Strip and offers an idyllic setting for your wedding celebration. Your wedding memories are precious moments in your life and a beautiful setting with exquisite decor will ensure that you'll always remember this special day.
The St. Regis Macao, Cotai Central 8/F, Estrada Do Istmo, S/N, Cotai, +853 2882 8898, www.londonermacao.com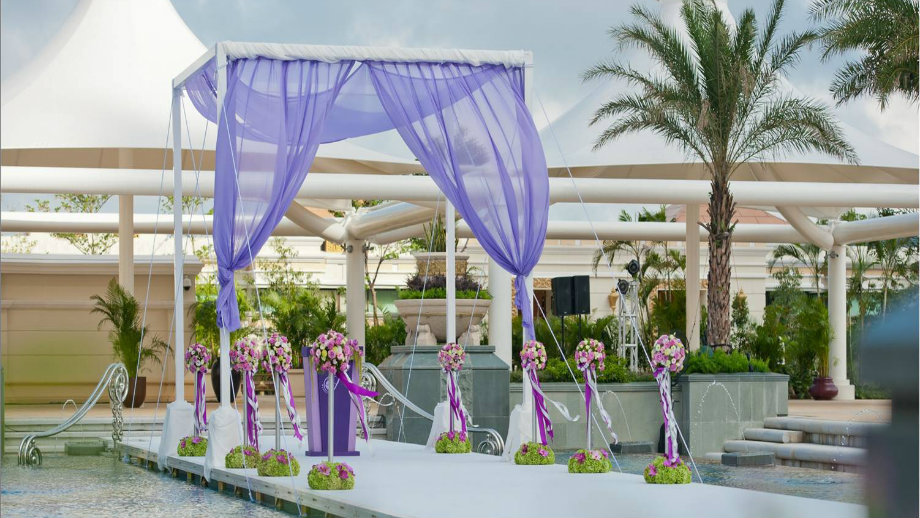 Banyan Tree Macau 
Take your wedding ceremony seriously because it's the most important of the big day. There's nothing more beautiful than having it at the luxurious location of Banyan Tree Macau. The hotel resort offers a wide range of wedding packages and can provide a breathtaking venue for wedding ceremonies and reception. This place is always romantic and if you're truly leaning towards an opulent outdoor wedding ceremony, the Cabana Pool is simply stunning. From a beautiful floating stage to the charming cabanas for your guests to lounge in, your wedding will undoubtedly be unforgettable.
Banyan Tree Macau Galaxy Macau, Estrada da Baia de Nossa da Esperança, Cotai, +853 8883 6688, www.banyantree.com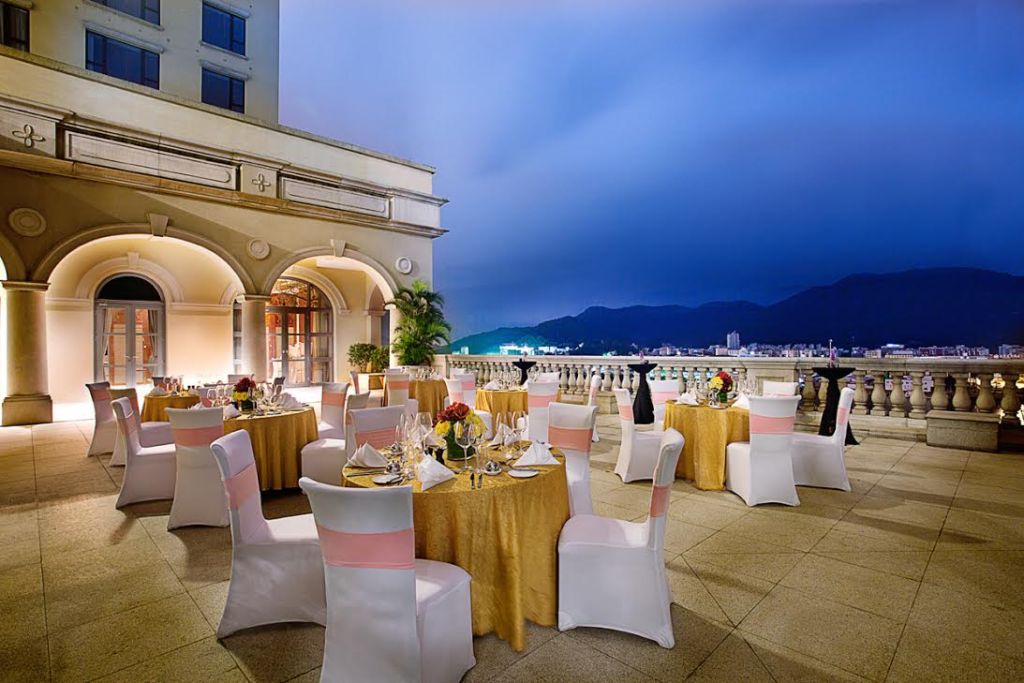 Sofitel Macau At Ponte 16
Imagine a charming courtyard with a historical feel to your wedding and that's what you'll find at the stylish venue of Sofitel Macau At Ponte 16. Nothing says "happily ever after" than a stunning view overlooking the Pearl River. This important day of your life deserves a cinematic moment and the vibe at Sofitel will guarantee a majestic wedding. After the ceremony, head to the poolside for a lavish reception. The staff will ensure a personalized wedding plan with all the essential details, including photography and catering if you wish to avail of their service. This intimate venue is the perfect place to make your vows of endless love.
Sofitel Macau At Ponte 16 Rua do Visconde Paço de Arcos, Macau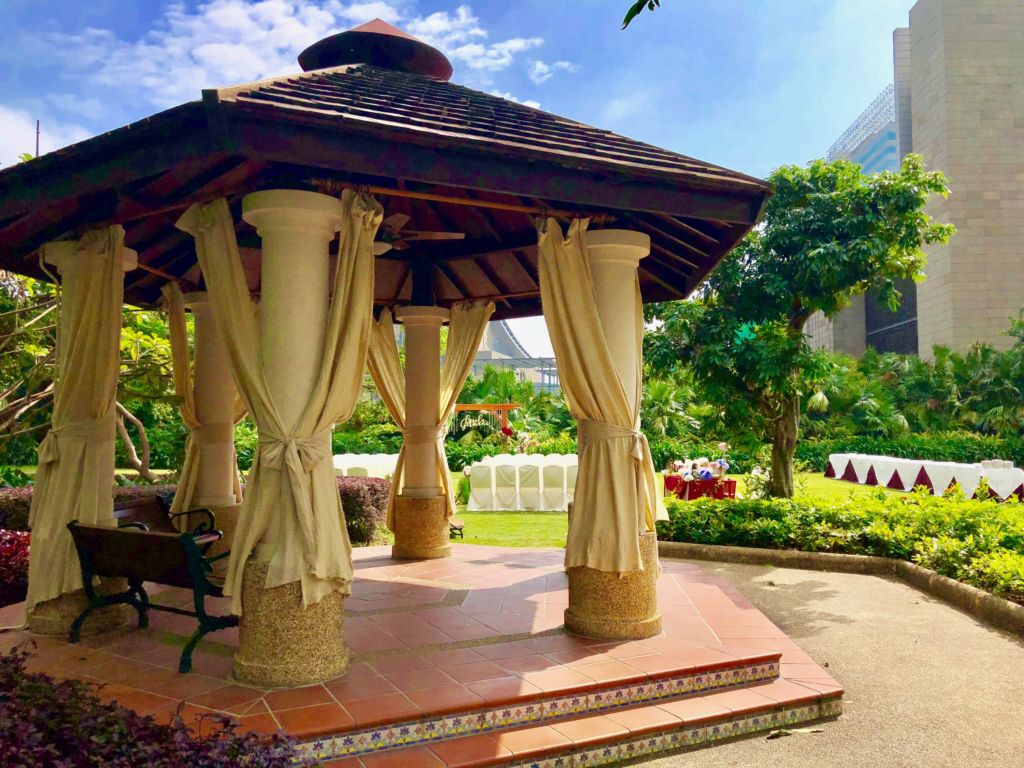 Grand Lapa Macau
A serene space right in the midst of the city is what you'll find at Grand Lapa Macau and that's a rare gem. From the central location and top-notch facilities, Grand Lapa Macau provides everything you need for the day you say "I do". It doesn't matter if you're eyeing a lavish wedding reception or an intimate candlelit dinner, Grand Lapa Macau has great options for the wedding of your dreams. For a garden ceremony that will bring out the best in both of you, this wedding venue is spectacular. Grand Lapa Macau also has a dedicated wedding planner who can assist, organize and coordinate every detail of your day before, during and after your event. You can simply enjoy the day without feeling any hints of stress. There's nothing more romantic than a gorgeous garden wedding surrounded by all your loved ones.
Grand Lapa Macau Avenida de Amizade, Macau, +853 2856 7888, www.grandlapa.com
Tags
Related Posts