Featured image photo credit: Cássia Schutt
Cristiana Figueiredo is the co-founder, owner, and manager of the successful Nata Bakery, Cuppa Coffee, and other businesses in town. She is passionate about food, design, books, and countless other things. Cristiana Figueiredo is at the helm of several companies in Macau and she might be one of the most active female entrepreneurs in town. We sat down with Cristiana to find out more about her career and what's been driving her since 2002. Read on and discover how a sociology major ended up crafting bread and coffee in Macau!
First of all, congratulations on all your achievements! We'd love to know how it all started, how did you find yourself here?
Wow, it was already 20 years ago (laughs). My partner, Rui (Alves), wanted to have the living abroad experience and we had been in Macau before in 2000 with Rui's father. His father was a university professor and lectured on innovation at the European Studies Institute in Macau. We loved this trip and Rui was very interested in coming back. We were employed at the time; we had a home automation company because he's a Physics Engineer. I worked for a company of the Aveiro University (in Portugal) responsible for creating technology–students pursuing doctoral degrees often created products and appliances specifically for the doctorate, but these never see the light of day although this technology can be developed for real use.
The company I worked at basically tried making that shift and launching spin-offs of the university research. I also worked with the university's incubator. When Rui decided to move to Macau, in 2002, he started by working at CEM and, just like everyone's Macau story, came for six months and it's been 20 years since then (laughs). He also worked for The House of Dancing Water and ended up opening his own automation software company. I basically manage all the businesses on my own (laughs). When we realized we wouldn't be able to hire one person for each function, Rui designed software to help us. The software allows us to manage everything we do in the company (referring to Nata and Cafeína, under which is Cuppa Coffee Taipa). From pricing and ingredients list, calculating costs, managing deliveries, doing receipts, and paying our team, everything is done with that software. This means our administrative structure is me and a Chinese-speaking operations manager. This software helped us out a lot.
So you have experience in the business, technology, and the food world. Is your academic background related to any of this?
Actually, I graduated in sociology. I've never worked in sociology, so I used to say I'm a non-practicing sociologist (laughs). What I do like is design–every kind–including graphic, interior, and product. What I like most about a company is the creative process. I usually say I'm more of an entrepreneur rather than a businesswoman. What I like is to create the concept and the products, and if I could, I'd delegate the managing to other people and dedicate myself to creating and launching new stuff.
So you're also responsible for the designing of everything in the companies, including lettering, packaging, the online store's design?
Yes, even the credit card processing system on the online store. We can't hire people to do this, so we're the ones learning and doing it ourselves.
What prompted you to embark on the bakery and pastry business?
My first job in Macau was teaching English at a learning center, and then, I got a job at Banco Nacional Ultramarino in the department of Organisation and Procedure. I worked there for about five years designing interfaces along with computer engineers and other tasks. At the time, I started wanting something different, the opposite of a nine to six job, wanted freedom and do creative things. The café experience is very present in the daily lives of the Portuguese (living in Portugal). We go there with our parents when we're small, then with our friends, then our own children and so on. The café has a very real presence in our lives and when we arrived in Macau, 20 years ago, there was nowhere with that vibe, and thought "Why won't we try creating it?"
However, we started from the middle, thinking about what we needed to open a café–the food and drinks. A friend of mine had a vacant space so we rented it, I went to Hong Kong and bought a bunch of books on how to make bread, found a baker to teach us–and they're actually still working with us since then–and start experimenting with bread recipes, tasting it, changing the recipes, perfecting it. Portuguese businessmen Tomás Pimenta put us in touch with Seng Cheong supermarkets and that's where we first started selling our bread in 2007. The next year, a former colleague of Rui–also our business partner at Cuppa Coffee Taipa–challenged him to open a café together. And that was it, Cuppa Coffee Taipa opened!
What's the concept behind Cuppa Coffee Taipa?
The aim wasn't to create a "Portuguese café". We think of ourselves as an international café with a Portuguese soul. International because we want people to come in and feel the ambiance and vibe of a true café, to have a familiar feeling inside. The Portuguese soul is materialized on some of the products we sell, including pastel de nata, chicken pie, galão (coffee with milk), Portuguese-style toasts, and croissants with butter, jam, or cheese. We want people to have a homey feeling. We aim to allow people to experience something familiar.
For people to understand a bit about your businesses: how does it work?
We have two companies: Nata and Cafeína, and then we have different revenue streams. Nata Bakery, Cuppa Coffee Macau, Cuppa Coffee Macau–opened in 2019–Coffee Breaks by Cuppa Coffee, the online shop, and Macau Luxbox. We tried to find, within our main activity, different things. We launch different things with the products, materials, and spaces we already have.
We recently launched Nights by Cuppa Coffee, which consists of happy hours on Thursdays, Fridays, and Saturdays nights between 7:00pm and 11:00pm.
Are there differences between Macau and Taipa's Cuppa Coffee?
Very different, yes. Taipa's clientele is more about breakfast and afternoon snacks and I'd say an average of 70% expats and fewer locals. Cuppa Coffee Macau's frequency is around 80% locals, and people usually head there for lunch and breakfast. We fought hard the first two years because it wasn't easy for people to go our way (on AIA Tower's street). Things turned out very fine though!
Taipa's is busier during weekends, while Macau's busiest on weekdays. Fortunately, our businesses cater to locals, not tourists, which means we depend on the people that actually live here. Our online store's growth was 130% in these past two years because people stayed at home, ordered in, especially online. We are Macau's biggest online bakery and have more than 200 products available.
The efforts to create more businesses are also to cope with the challenge of keeping up with rents, managing to maintain salaries. We have a responsibility to the people who work with us, who in turn also have their own responsibilities. This drives us to create more things and have ideas on how to improve business and revenues.
You're a very active woman, full of ideas…
I believe this is a challenge that came with the current situation (Covid-19 pandemic). Many of our clients left–most people from Taipa–and we've been thinking of ways to attract locals and create new things in Macau. We're also letting out Cuppa Coffee Macau on Sundays for private events now.
What would you say are the major differences between Cuppa Coffee and the experience one has at one of Macau's Western-style cafés?
I'd say all of them offer coffee experiences, different ones. People that go to those cafés usually look to try special coffees with different origins. It's very hard to have a business solely focused on this because it only serves a niche population. So what we do is offer both things: coffee lovers can also enjoy single-origin coffee at Cuppa Coffee, but we broaden our scope of business to also allow people more experiences. In a way, all of us (companies focusing on coffee) contribute to a growing awareness of coffee, which is great!
What are some of Cuppa Coffee's signature items?
Pastel de nata, cinnamon roll—an all-time favorite amongst the Australians—ham and cheese toast or croissant, these are usually the Portuguese clientele's favorites (laughs). On Cuppa Coffee Macau it might also be the Impossible burger as most customers head there for lunch.
Also read: Where to Find the Best Portuguese Egg Tarts in Macau
Does your team make the bread from scratch, or do you import it?
Yes, we make both the bread and the pastel de nata from scratch. When we first started, we wanted something ethical and honest, something we would eat ourselves. Neither the bread nor the pastel de nata has any kind of frozen ingredient. We don't import flour from Portuguese, we buy locally. Even the pastry's dough is homemade. We have a factory close to Cuppa Coffee Taipa where we grow our own bread yeast that started being made in 2007. Everything's artisanal and homemade and that's one message we want our clients to know. There are no conservatives or preservatives. We want to feel proud of our businesses and do the best we can.
Regarding the pastel de nata: what's the secret?
Well, there's one thing we put in it that's a secret (laughs), but the general recipe can be found on Maria de Lurdes Modesto's (a famous food connoisseur and writer) cookbook.
What about this new launch, Coffee Breaks by Cuppa Coffee?
We launched it after popular demand from our customers. The concept is catering coffee breaks for events such as meetings, conferences, and other things for companies, groups of people. We have tables set with fresh hot coffee, mini pastries, juices, and other items. This is yet another revenue stream where we use our own products and advertise the brand because these are coffee breaks "by Cuppa Coffee", people recognize the name and are guaranteed quality with all their favorite products, and those who don't know us, learn about us.
How can people request this service?
By email, and also on our online shop where the catering service is highlighted.
Besides these coffee and pastry-related companies, you also co-founded Plantdipity. What is it about?
The idea came to me after I became a vegan. So many people are resistant to adopting a different diet because they believe all vegan food is awful. During my first years as a vegan in Macau, I quit having dinner out with my friends because the only thing on offer for me was plain rice. Fortunately, things are better now. I'm vegan not only for health reasons but also for ethical reasons. I'm a huge fan of Impossible burger, and although people might think this was made for vegans and vegetarians, it's more designed to raise awareness amongst people who enjoy meat and make them understand there are other options and alternatives. I then invited Andreea (Apostol), from Rawlicious, to join me. The concept is a vegan consultancy service targeted to local restaurants, resorts, and hotels. We help chefs to create vegan dishes designed for everyone, not just for people with a vegan diet. Plantdipity started in 2019.
I think the meaning of the word "vegan" is shifting. A few years ago, it was something terrible and kind of messy. Nowadays is gaining other connotations, associated with health. I usually use the expression "100% plant-based" rather than "vegan". It's actually very easy to create vegan recipes, including bread. We have lots of bread at Nata Bakery that is 100% plant-based, which is curiously the easiest one to make.
I have an Instagram of my own called @thenotweirdvegan where I post my creations–recipes and dishes–of existent dishes that I "veganize", we don't need to be constantly innovating, we can base our foods on existing ones. One of the other reasons we founded Plantdipity is because we wanted to broaden the offer of Macau restaurants. I usually eat lots of vegetables throughout the week. When I go out to dinner I want to eat something new, something less "healthy". I believe there's a lack of effort from kitchen teams in creating something tasty or different. I like going out and being able to eat something other than a salad for the main dish and fruit for dessert.
They only seem worried about having an option to provide to vegan people. At home, I cook delicious things! Pancakes, mushroom pasta, all kinds of things. One of our missions is also to teach and train F&B personnel such as waiters to know the differences between diets. Explain to them how to differentiate and to know which products are vegan and which aren't.
Unfortunately, we started right before Covid-19 hit, so things paused for a bit. In 2020, we went to ARTM (Association of Rehabilitation of Drug Abusers of Macau) to teach how to cook vegan dishes and took some Asian and some Western ones, desserts, and more. That was part of our mission. We hope to restart Plantdipity once things get better.
Also read: Not All Heroes Wear Capes: Augusto Nogueira
Do you offer vegan choices at Cuppa Coffee?
We have burgers, a hot dog with Beyond sausage, an Arabian mezzo with babaganoush, hummus, seeds, salad, also lentil curry. Even our sandwiches can be 100% plant-based, with vegan bread and vegan cheese. Blueberry scones are one of our vegan desserts.
You have yet another new business, Macau Luxbox. Can you tell us what's about?
A Macau-based (English) friend of mine showed me something similar that she stumbled upon in England, and I kept thinking about it for two years. With time and mental space, it finally blossomed. There's a bunch of work behind something like this: selecting the products for each box, creating the packaging, photographing it, and I'm basically a "one-man show" (laughs). I found the concept really cool, it's just "open and eat it". There are several business meetings and parties where people feel these boxes fit. I recall parties on a boat that tours around Macau and groups of friends like taking Macau Luxbox with them to the boat.
We have two vegan grazing boxes–one sweet and one savory–and two regular ones, sweet and savory as well. We also offer themed boxes for children's parties, special events, and special days such as Mother's Day. Interestingly enough, the most popular are the vegan ones! They included falafel, different kinds of bread, bagels with vegan cream cheese, and other things. Once again, we used our platforms and products to build something different that didn't exist in Macau.
To who would recommend these boxes?
Perhaps parties at home, where people just need to open the box, which is very beautiful and can stay open at the table for people to take the food.
What are some of your upcoming projects?
We're always trying to introduce new things, like products. We recently added new drinks to our Cuppa Coffee Taipa menu: Bulletproof Coffee, Pink Power, and Moringanana. These two are made with Moringa powder from Ekithi, a local project that sources it from its own plantation in Mozambique. One of our goals is also to co-create with local projects. We had the idea for these drinks because there's a gym close to Cuppa Coffee Taipa and lots of people look for a morning boost before training.
You manage countless businesses in Macau. Is there a key to success?
Patience and perseverance. Owning a business demands most of your time and dedication. Our factory still works in a traditional way–things are made during the night to be fresh in the morning. So over time, an issue that cropped up was that I had to pick up calls in the middle of the night and solve whatever it is. One might sometimes feel tired, but there's the hope and will to keep it going, believing that it will bear fruit that will fulfill me professionally, personally, and creatively speaking, as a woman and as an entrepreneur. This is basically like planting a tree (laughs), the things one creates and launches, it's a legacy one leaves. We want to keep the business growing with different streams.
It's been a real adventure! I think there's a discomfort zone where certain people feel good because there's an underlying uncertainty. It's extremely challenging and attractive. I love that zone and that's also why I like being a foreigner and to live abroad. It has you at the tip of your toes, experiencing new things and adventures.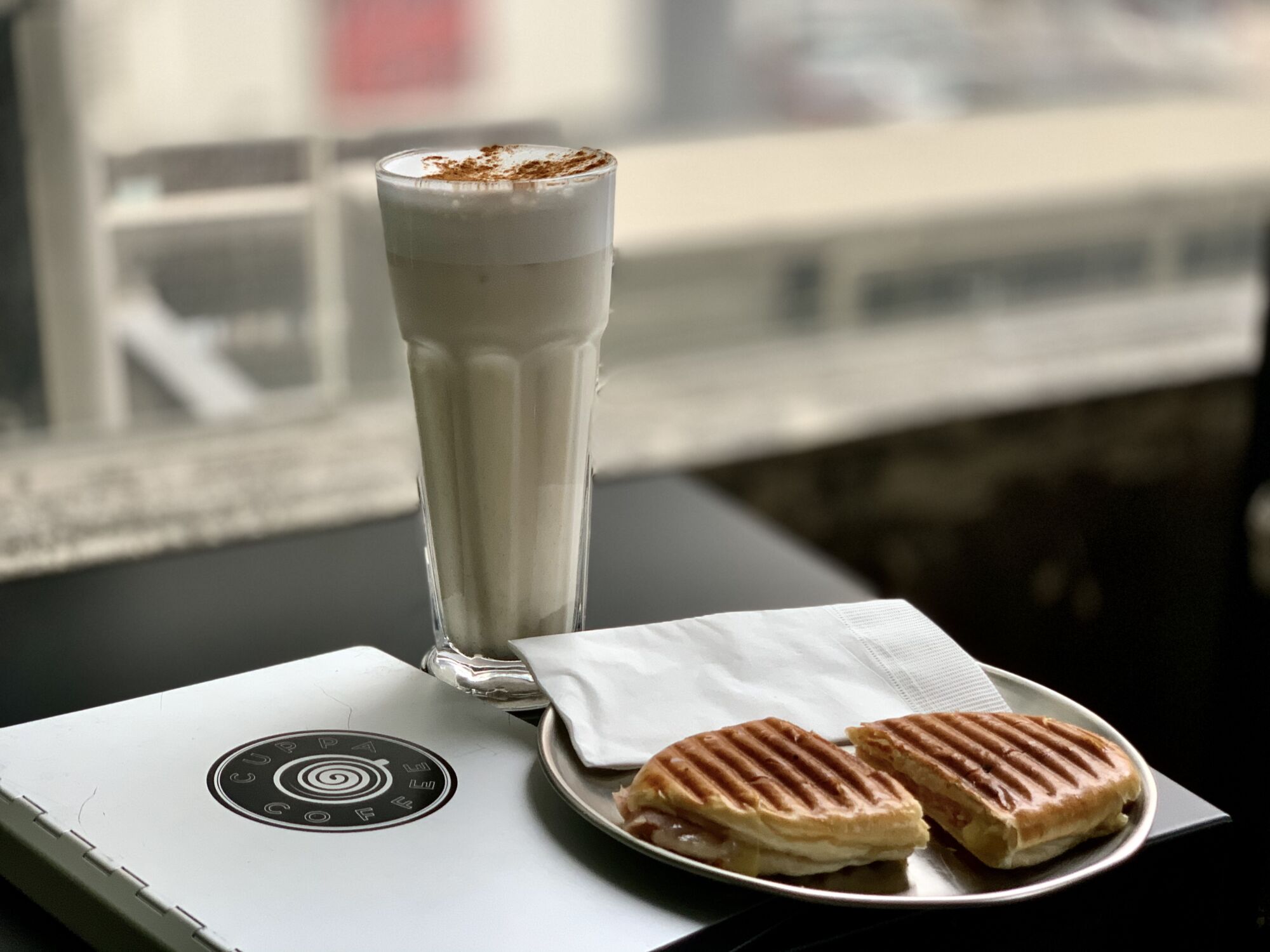 You must be left with very little free time, but when you find some, what do you do?
Read. I love reading, which I usually do for two hours at night. I also like writing for myself, traveling, cooking, painting. One of my passions is interior design and I'd love to launch an interior design business, but I needed someone to join me to share the work.
So you also worked with interior design at some point.
Yes, as kind of a hobby. I learned 3D modeling over the summer. I also take charge of the interior design projects and decor of our own homes.
What are your favorite places in Macau?
Home (laughs). I love being home, facing Hac-Sá Beach.
What about your favorite restaurants in town?
I like North a lot, which has a vegan menu. I also love Wynn Macau's Café Esplanada, one of the first places in Macau to offer a vegan menu, and that's still very good. When I dine out, I look for the whole experience, not just the food, so I like beautiful places, the cutlery, and the plates, good service, the whole thing. Brasserie, at The Parisian Macao, is also good. Non-dine in spots, I'd say The Blissful Carrot.
Also read: Alyson & Syen: Sustainability & Conscious Living with The Blissful Carrot
---
To know more about Cristiana Figueiredo and these businesses, check Nata Bakery, Cuppa Coffee Macau, Macau Luxbox, and Plantdipity's Instagram pages. Visit and order through their online store. To request catering services Coffee Breaks by Cuppa Coffee, send an email to [email protected]
For more info on the local company Ekithi, check their Instagram page and to browse Cristiana's own suggestions of vegan recipes, tap to @thenotweirdvegan

Cuppa Coffee Taipa 104–106 Rua Fernão Mendes Pinto, Taipa, +853 2882 5201, www.facebook.com/cuppacoffee.macau
Cuppa Coffee Macau 145 Avenida Comercial de Macau, Edif La Bahia, G/F, Macau, +853 2888 9916
Tags
Related Posts