A cozy restaurant minutes away from the Ruins of St.Paul's, Mariazinha has been in Macau for five years. Both locals and tourists compliment it for serving some of the best and most authentic Portuguese food in Macau. We sat down with Mariazinha's owner Nelson Rocha and asked him about the importance of staying authentic and what it is like to run a family restaurant in Macau.
First of all, can you tell us the story behind that name–Mariazinha? And what does it mean? 
It is a funny story. Mariazinha means "little Maria." That was what my uncle called my mother when she was a kid and would tease her with it. She hated it! When we got to Macau, I wanted to use it, but she was against it. 
We had a backup title, which I later found out we could not use. So I told my mother, sorry, we are going with the original one.
How about now? Is she still mad?
Not anymore! She got over it and now agrees that it's a funny story to tell.
Which part of Portugal are you from? 
Matosinhos, it is less than two kilometers from the city center of Porto.
Have you been to Macau before moving here?
Yes, I visited Macau in 2010. I was planning an Asian vacation with friends and at the same time, I met a girl in Portugal who is now my wife. She grew up in Macau, so I asked her to help me out with planning the trip. We started dating then. 
At some point, our parents began to nag about how we should move to Macau and start a restaurant there. They believed the restaurant like we had in Portugal might be successful there. However, I refused to move without my parents, as I'm not the one who cooks. 
Then, it took me about three years to convince my parents. My father called me crazy and claimed he'd never leave Portugal. So what happened is when I came with my father, he ended up liking Macau as well. Finally, after going back and forth, the whole family moved here in 2013. 
Do you think that it was the best decision in your life or do you regret it? 
It's the best decision in my life, not only because Portugal at the time was not doing well economically, but also because I've always wanted to open a Portuguese restaurant somewhere abroad.
When I was growing up, I spent all my savings on travel. So I wanted to see the world. Then I just fell in love with Macau. Here, almost everybody knows three languages. You can speak Portuguese, English, and Chinese. That alone can let you work and travel all around the world, and it's a handy tool for your career.
How long has Mariazinha been operating?
My family arrived in Macau in late 2013 and it took us quite a while to get the license, but we finally opened mid-2015.
How would you describe the concept of Mariazinha?
Mariazinha serves Portuguese family-style food with better presentation. Our food is well-presented, but it still tastes like homemade food. We mostly brought the menu that we had in our restaurants back in Portugal, adding some dishes popular in Macau, such as suckling pig and grilled codfish. 
Mariazinha is right in the middle of the historic center. Was this what you were aiming for initially?
Yes, I wanted a place in the old part of town. But, of course, rent here is costly. Luckily for us, I realized that down the street, the lease is five times higher than up the street. It's still expensive, but not as crazy expensive. It took me about three months to find the place.
Macau has plenty of Portuguese restaurants. How do you compete for clientele? 
We knew that before coming here, but we have always tried to look at competitors from a healthy perspective. Anyway, if you prove that your food, service, and attitude is right, you will notice people coming back again and again. This on top of seeing Portuguese locals in the restaurants can help to attract tourists as well because they'll conclude that it's worthy of a visit.
Macau is a special place. There's always room for new businesses. Even among competing restaurants, we try to promote and support each other. In my experience, it is a friendly and positive environment.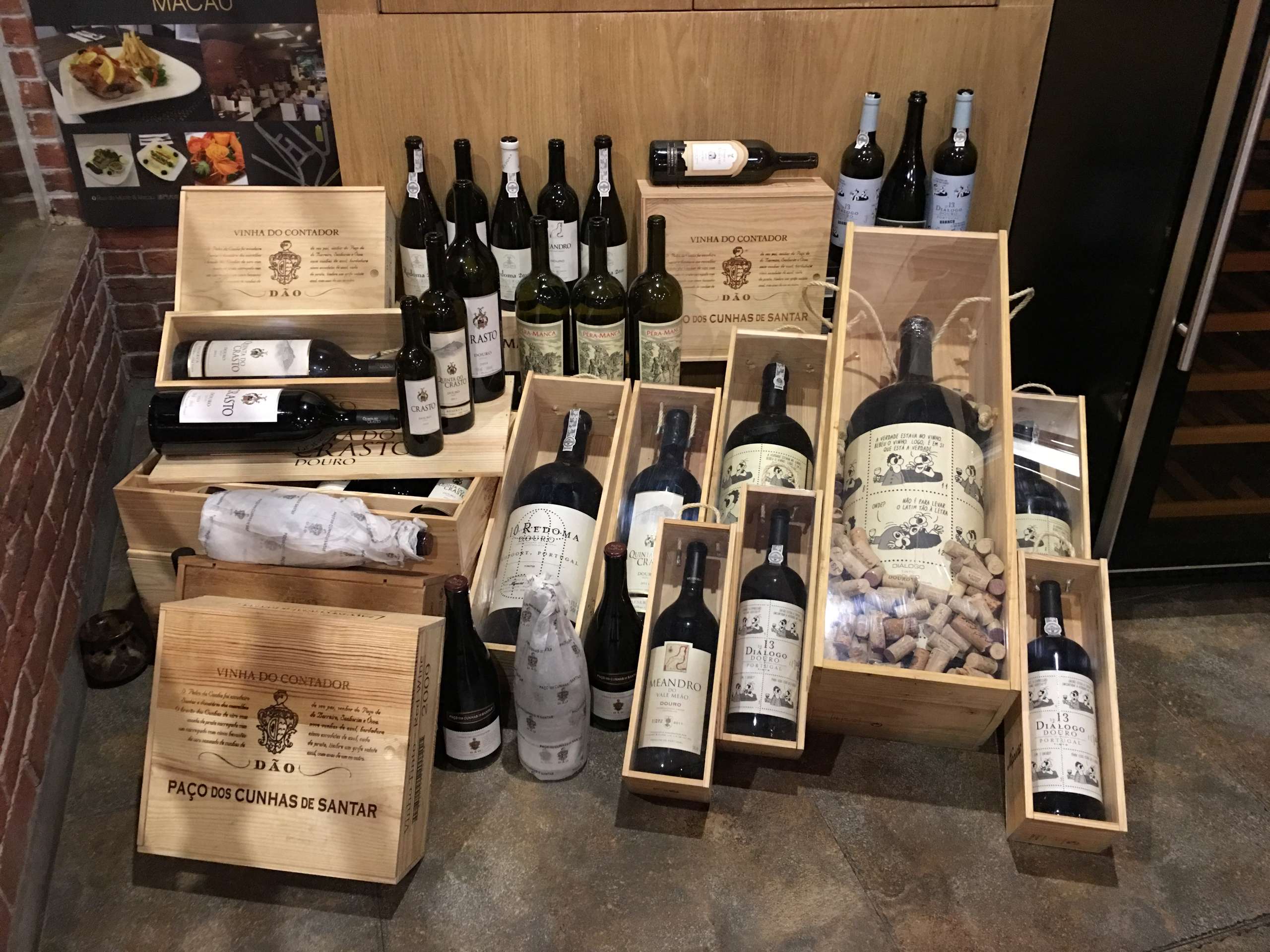 Many people, especially the Portuguese in Macau, claim that Portuguese cuisine here is significantly different from Portuguese cuisine in Portugal. Do you agree? 
I do agree with that, unfortunately, and that's one of the reasons that allowed me to come to Macau. For example, I've seen dishes like stir-fried rice with codfish in Portuguese restaurants, which I love, but it's been presented as a Portuguese dish when it is not. 
Sometimes customers expect us to offer certain dishes such as African chicken. When it happens, I will encourage them to visit a Macanese restaurant instead, as we only serve 100% Portuguese food. Yes, Macanese cuisine comes from mixing Portuguese recipes with local ingredients. But it already has an identity of its own, which is fantastic. We stick to our original concept. Admittedly, I realize that we lose customers because of that. On the other hand, many more customers keep coming back for the same reason, because they expect the same authentic Portuguese food that they tried here before. In tough times such as right now, having loyal, local customers have benefited us. 
That's good to hear. Are there recipes on the menu that have come straight from your family's kitchen? 
Yes, there are. I wouldn't say that our family invented them because these are traditional Portuguese dishes. We have served some of those dishes both in Portugal and Macau, and people love them!
You mentioned that your parents are the ones who cook. Do they cook at Mariazinha? 
When we opened, both my father and mother worked in the kitchen. However, later on, my mother got sick. Now she is mostly in the house with me helping me to take care of my kids but my father is still in the kitchen.
We hired another Portuguese chef and some Filipino kitchen staff too. They are vital for us, and we treat them like family as well. So it's a 360-degree family business now. 
Who is cooking in your family at home? Do you?
At the moment, it's mostly my mother who cooks at home. I do too sometimes, but I'm a lousy cook (laughs). 
See, if you work in this business and come home after a long day, you just do something simple like scrambled eggs, and that's it.
What are the signature dishes at Mariazinha? 
One of them is the sliced veal with olive oil and black pepper. It's one of our bestsellers among tourists and Portuguese locals. 
The other one is grilled codfish. Even though it's a simple one, it represents our culture perfectly. 
Then we have fried codfish with tomato and onion sauce, clams, and shrimps. We cut the loin in small pieces and fry it in smaller cubes. This way, it gets crispy on the outside. You probably won't find this dish in any other place.
There is seafood rice as well. Our hometown, Matosinhos, is known for having a lot of fresh fish. That is where everybody in Porto goes to eat seafood. There are seafood restaurants everywhere. One of the typical dishes in that area is seafood rice. It resembles risotto but with more sauce.
Your lunch menu is quite popular. Why do you think it's so in-demand? 
I would say it's because we do a full set menu. In Macau, set lunch is often just two things or one dish and one drink. In Portugal, a set menu is a complete meal.
Mariazinha's lunch set is a bit more expensive than some other menus. But if you consider what you get, it is a good value for money. Besides, we have different lunch sets every day.
What is your regular day like at work? 
I come here around 10:00am and prepare the menus for the day. Then, I deal with the cashier, set the tables, and check the reservations. If I have time, I eat a quick meal before the opening.
During lunch break, I either go home to have lunch with my kids or run some errands and do paperwork. When I'm back, we reopen for dinner. After work, I'd normally go home or if I'm not too tired, head out for a drink with some friends. 
Has your daily routine changed much since you moved to Macau? 
Definitely. That's one of the reasons I love Macau so much. I do all my routines on foot or take short bus trips. Everything is minutes away; my house, my workplace, bars I frequent. Back in Portugal, I would waste at least an hour to one hour and a half in traffic jams.
Besides that, what else do you like about Macau? 
Its mix of cultures. You see people from all over the world in Macau and food from across the globe. There are excellent Italian, Spanish, Portuguese restaurants–anything you want, really. 
We celebrate all the holidays, whether Catholic or Buddhist, Chinese or Portuguese. And there's no rivalry. Everybody gets along here. 
Would you say that Macau has changed a lot since you arrived?
Most importantly, lately, people started to realize that it cannot be all about the casinos. We need other businesses, as well. Casinos are essential, but we also need some diversification. 
Where do you usually go out for dinner?
If not here, I choose Italian cuisine as it's my favorite one after Portuguese. I'd typically go to Bella Taipa or Antica Trattoria. Other than that, we go for burgers at Coast, MGM Cotai.
How do you spend your days off? 
Usually, I go for lunch with my family and then take my kids out to catch some sun, play games, or walk around the lake.
What is your favorite place in Macau? 
Our Lady of Penha Chapel. It's the place I always recommend to my customers. It's a magical, very peaceful spot with a stunning view of the city. On your way back down, you can cover three or four landmarks–Moorish Barracks, Mandarin's House, Lilau Square, and go all the way to A-Ma temple. 
Do your customers ask you for recommendations on what to do and see in the city?
Yes, a lot, actually! I love giving them recommendations. Usually, I advise them to take a taxi up Penha Hill and then go back on foot admiring the landmarks, if they have time. If not, walk around Senado Square and the Ruins of St. Paul's. In fact, I started following Macau Lifestyle because I found a lot of information about the city and walking routes that are not that easy to find! 
---
Mariazinha Tak Fat Building, 8 Rua do Monte, no. 8, Tak Fat Building, Macau, +853 2835 7558, www.facebook.com/Mariazinha
Tags
Related Posts