Paul Lapsley has dedicated no less than 30 years to his career at Accolade Wines group and as Hardys Wines 19th Chief Winemaker, he is not only known for his incredible palate but also for unfading enthusiasm and wealth of knowledge.
Before his official retirement, we caught up with Paul Lapsley during his last work trip to Greater China and spoke about all things wine that matter, from Chinese food wine pairing to global warming, and more.
What is the most challenging part about being a winemaker?
During the vintage period–the weather. During the non-vintage period–waiting for the vintage to start again.
Winemaking is one of the most complex processes when it comes to alcoholic beverages. The challenges are never-ending but always stimulating; there are so many decisions to be made, making wine is a continuous process of solving problems and logistical exercise–when to pick, how hard to press, what temperature to ferment, yeast type or natural fermentation, how long to leave in oak…the list is never-ending and each vintage is different.
One of the main challenges for all winemakers is to avoid shortcuts and compromises, this inevitably results in lower quality wine.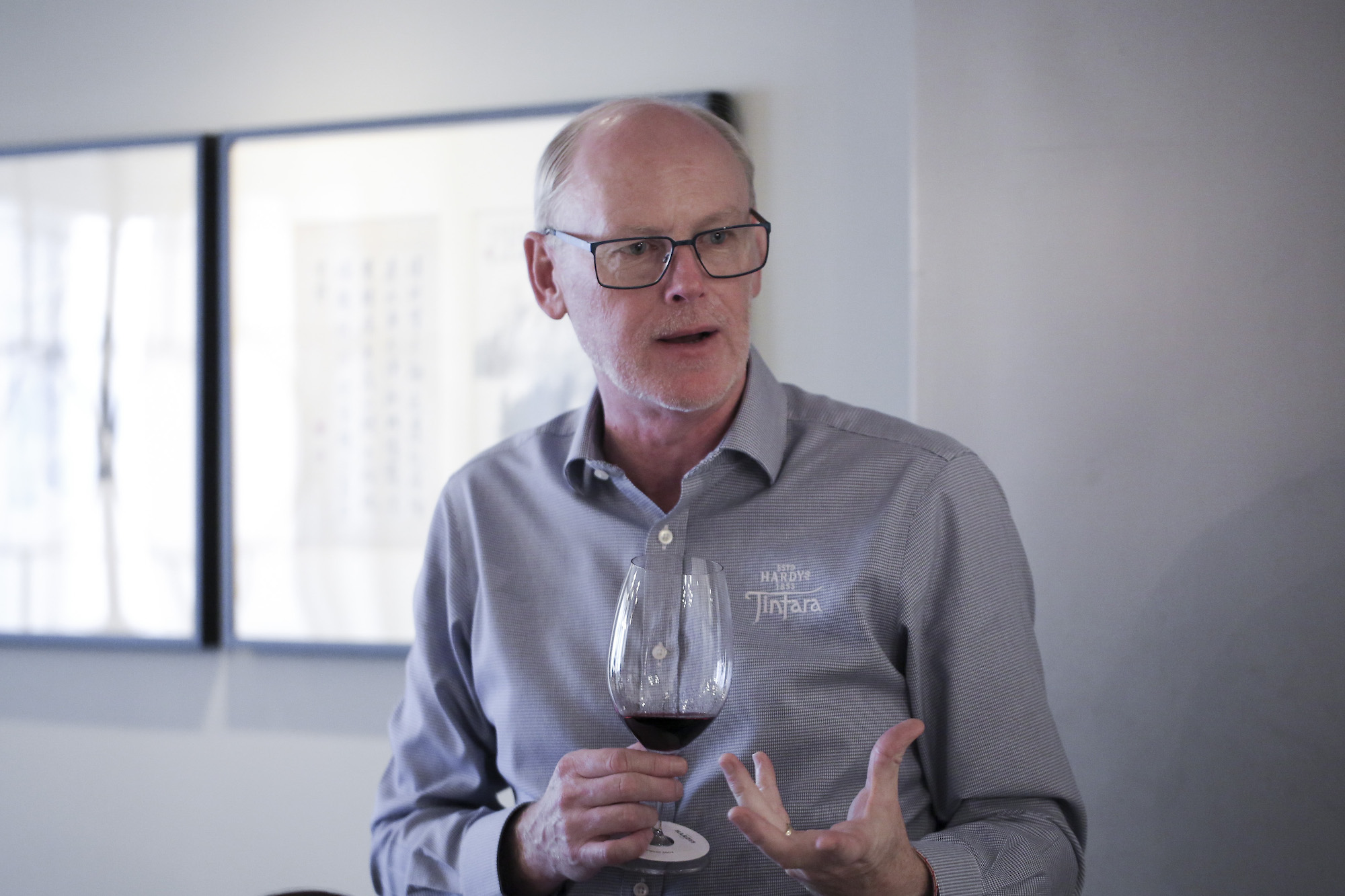 In over 30 years with Accolade Wines group, what was the highlight of your career?
It's not one single highlight but I'd say it divides into segments. One segment is people–I really enjoy watching younger winemakers come through and show their true potential, especially when you had some input into that, which is just fantastic. It's a real highlight for me when people bring out their true talent. When you see it in them and you go "Yeah, come on, you can do it, actually!" I've convinced this one guy to keep going in college. He didn't want to be a winemaker but I knew he had a brilliant talent so he got through and then went on to make some of the best wines in our portfolio. It's great to see that.
From an operational basis, it's about the journey of how the wines have evolved. Going down the vineyard, selecting the fruit and overseeing the winemaking, I've seen a thirty-year period of evolution of a style and it's been really exciting to be a part of it. And now the younger generation is coming through that is going to evolve the style into something else. But you know, you've left them the recipe and see how they are going to evolve it is truly exciting for me.
And another one–there are 30 years of friendships that I've made all around the world. I go to Burgundy in France and just call people for lunch, everyone is so generous and brings outstanding wines and talk about them and then, of course, talk about other things. It's the great thing about wine; the interaction between humanity and social life–it's been fantastic really.
If there was one true achievement, it was about developing a wine that sold eight million liters and they told us it wasn't very good. We put a lot of work into it, put it into a wine cellar and then won a gold medal. It was eight million liters of wine that got sold in a heartbeat. It's been a spectacular journey around the world.
Talking about young winemakers, what are the essential qualities knowledge-wise and character-wise to be a great winemaker?
You really have to have a gutfeel about winemaking. It's about looking at the fruit that's coming in and instinctively know what to do with it, rather than working by a formula. With those people who have that gutfeel, it's sort of a sixth sense combined with passion, going that extra step and putting one more hour during the working week to do extra. That makes the difference.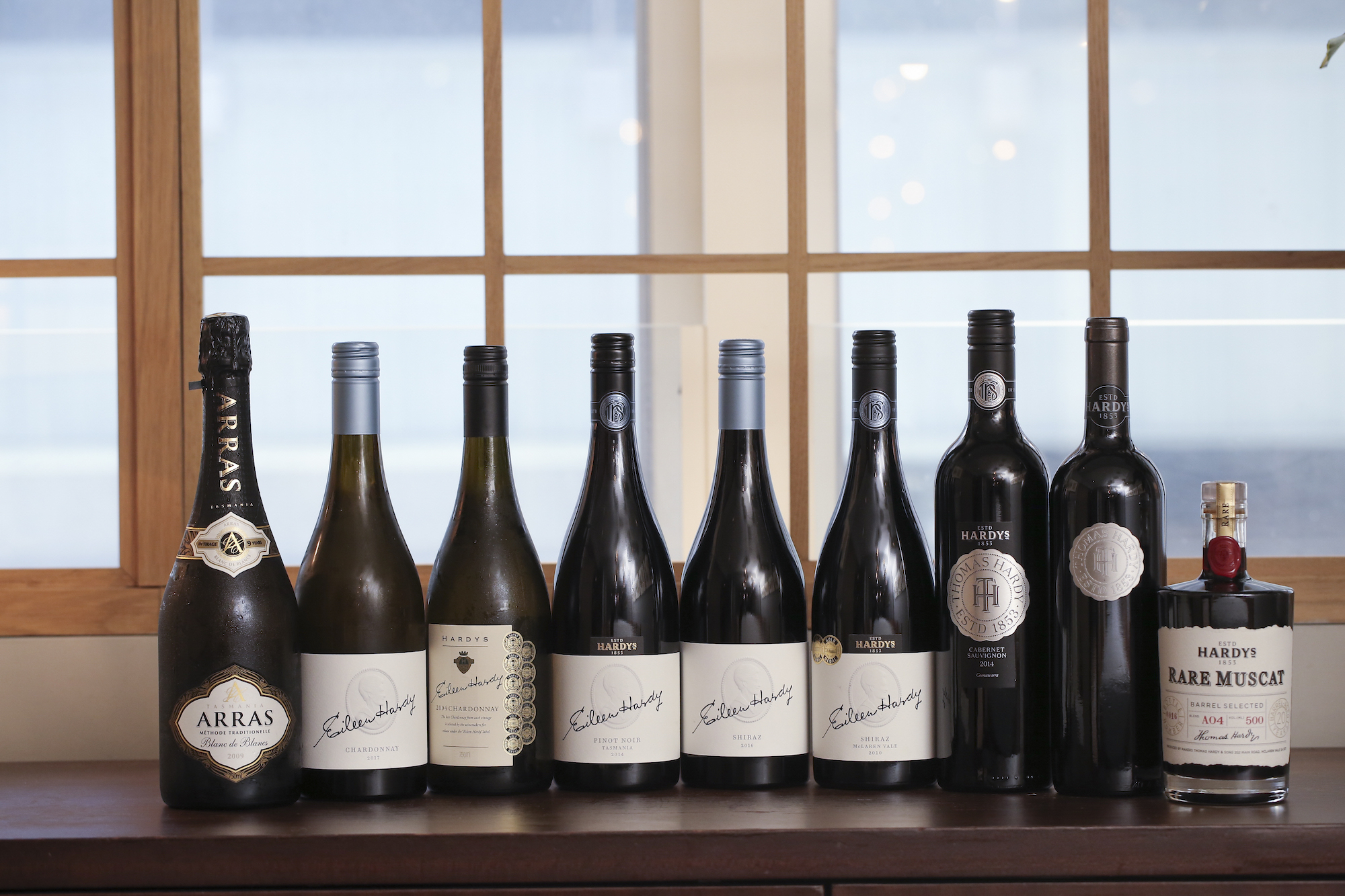 What makes Hardys Wines stand out on the global wine scene?
Hardys Wines has been around for 166 years, so we know a thing or two about wine quality, consistency, and diversity of wine styles. Look at our wonderful portfolio to see how you can buy everyday wines through to our ultra-premium iconic wines.
Each wine has the same level of passion, great quality, and commitment. Our biggest strategic advantage is blending between varieties and regions. No other wine country can do this to the degree that we do and produce better wines by blending rather than offering individual wines. That was the philosophy of our founder Thomas Hardy. It is what we do in spades, from Coonawarra and Margaret River cabernet blends, Yarra Valley, Pemberton, Adelaide Hills, to Tasmanian chardonnay blends. With over 60 regions to choose from and 100 different varieties, there are endless possibilities.
It's always challenging to excite the consumer and experiment, but it never becomes insular, and you can never lose sight of who is buying your wines and their expectations.
Wines in general, type of grapes, endless wine lists can be quite intimidating – how can we become a more confident wine consumer?
Buy, experiment; buy, experiment; buy, experiment and hook onto a group of winos who do similar things. Then… buy some more! (smiles)
What wines are best to pair with Chinese food?
I don't think there is one style that goes well with Chinese food. I think there is a variety. China is so vast and there are so many different flavors. You can't choose a wine to pair with every different type of cuisine you are going to come across in China. Imagine a banquet with 15 dishes–it's nearly impossible to do a wine pairing with each dish. But you could select, let's say, five wines.
And some dishes are extremely hard to pair. During my trip to China, I tasted this broth dish with fish lips in it and I truly think that beer or rice wine is a much better pairing here!
For those who love to dine and wine for leisure, what's the perfect Australian wine travel itinerary?
Ah, I can organize one for anyone who's interested! (smiles)
I would start in Margaret River with its wonderful array of chardonnay and cabernets, not to mention succulent seafood. Then journey to South Australia to the Adelaide Hills, to experience a landscape filled with great textures and diverse terroirs, not to mention the sparkling chardonnays and shiraz. There's also access to the Barossa Valley and their shiraz, plus a couple of great chocolate shops. They head off to Yarra Valley, home of fantastic pinot noir, cabernet and of course chardonnays with a picturesque landscape similar to Burgundy. Finally, hop on a ferry to Van Diemen's Land, aka Tasmania, from the beautiful east coast drive to the old English feel of the Coal River Valley, home of great sparkling wines, pinot noir, riesling, and some of the best seafood that can be found anywhere, including tasting the water which is so pure it doesn't taste like anything.
With new technologies, the wine industry is continuously innovating. What are you most excited about?
It's interesting because in the last 30 years there was a lot of innovation and the New World was more receptive to it. We just wanted to experiment with everything!
What I am particularly excited about is not technology per se but new grape varieties that are coming to Australia–to see where we can grow them. For example, growing grenache grape from France's Rhone Valley in Australia. I've tried the fruit and it's actually delicious. It will challenge the standards not only in Australia but also in the Old World.
Another thing is producing natural wines with minimum input–crushing the grapes, leaving them in a tank and coming back in six months to see what comes out of it.
Global warming is a real thing. What is your take on that?
I saw an interesting chart the other day showing how the regions around the world are up to three weeks earlier than the normal seasonal onset in the past 30 years. It's scary, but it also offers a different perspective on how the industry must adapt and challenge the norms such as in the areas of irrigation, clones, varietals and more.
On one hand, it will mean that cooler regions may probably have a greater run of successful vintages due to the drier conditions. However, on the other, it will impact style, so areas such as Chablis may not be so racy or minerally.
With so many wine industry years under your belt, what wine do you drink most outside of the work environment?
I've found my taste buds now dictate a variety of wine styles, but like me, anything with age (smiles), in preference to younger wines. I really enjoy Chablis at five years and older, white and red Burgundy, Barolo, aged cabernet, Sauternes, and German cabernets. But on a Friday afternoon at my house in Seacliff, overlooking the sea, listening to Led Zeppelin, a gin and tonic really hits the spot.
As collecting wine and investing in wine become more and more popular, what would be your recommendations for those who are interested to start?
My cellar is full of wines that I used to like, but now I sell at auction. Thus, your taste will change over time.
Go with what you like and nevermind the experts, but use them as a guide when venturing into unknown areas. An example would be Burgundy, as it can be a minefield. Most wines will improve with two or three years in the bottle so if you have a cellar, put some of your favorite wine away and even the cheaper wine will taste better.
What does a good cellar look like? Ideally 12°C, 70% humidity, free of external light sources, preferably situated many miles from your home as this will stop you from raiding the cellar at midnight and regret the decision the next day!
---
Learn more about Hardys Wines on their website and try the wine in many Macau and Hong Kong restaurants. You can also purchase Hardys Wines in wine stores in Macau and Hong Kong.
Hardys Wines www.hardyswines.com
Tags
Related Posts