What are you looking for in a wedding venue? Does it have to be convenient, accessible, and flexible enough to accommodate your wedding theme? There are truly many factors to consider when choosing the right venue in the same way we choose the right person to marry. Everything leading up to the wedding day is a part of the great adventure a bride and groom are set to embark on. There might be a number of luxury wedding venues alongside The St. Regis Macao but they shine brightly when it comes to artistic settings, beautiful decor, and lavish dining experiences.
What sets it apart from other luxury properties in Macau is its heart. The talented people behind The St. Regis Macao are genuine in their commitment to attend to every detail with great care. They are driven to make each and every moment a cherished memory in the making. It's like every couple's story is woven into their history that makes this location truly magical and unique. Delivering an elegance that is already quite unmatched, discover the beauty of their ballrooms and spaces that continue to make fairytale weddings come true!
Captivating Weddings: Outdoor Wedding 
There is something quite dramatic about an outdoor wedding at The St. Regis Macao pool deck. It could be the natural light of the bright blue sky, the fresh air, and the picturesque outdoor setting of the property that makes it a popular choice. The exquisite outdoor venue can accommodate up to 80 guests. This package includes a full wedding ceremony set up, including exquisite floral decorations, cocktail canapés, and a complimentary bottle of champagne for toasting. This wedding package is priced at MOP $26,800+.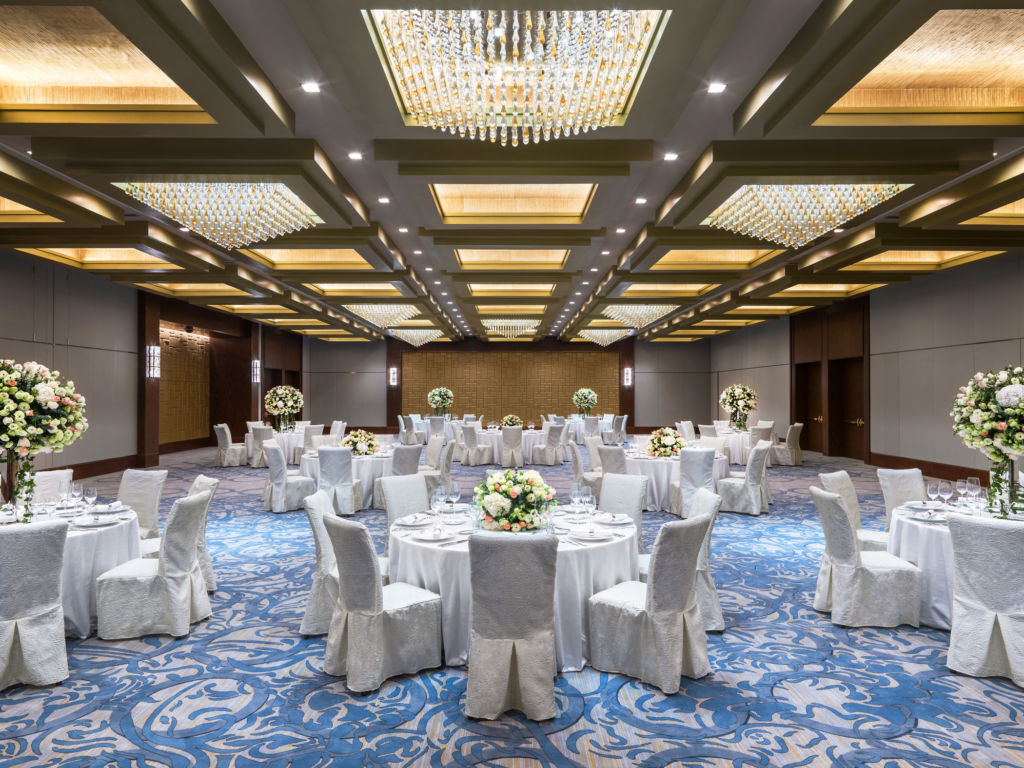 Art of Celebration: The Astor Ballroom
Set on the 5th level, this ballroom is an excellent backdrop for a memorable celebration. The stylish venue can accommodate up to 336 guests for a lavish banquet. Outside the ballroom, the foyer area is perfect for pre-banquet cocktails, as well as smaller private rooms available for the newlyweds to relax while guests are arriving. You will find crystal chandeliers hanging from the ceiling with romantic lights, and wood trim with gold-brick motifs complementing the posh flooring of blues and greys sitting in contrast with the cream and gold making it just perfect for an elegant wedding setting.
The St. Regis Wedding Package offers a variety of bespoke wedding arrangements. On the couple's wedding day, they can enjoy a complimentary night's stay in a St. Regis Suite, while receiving personalized butler service round-the-clock. They can also indulge in a 90-minute spa journey that soothes the body and mind at Iridium Spa. The wedding package price starts from MOP $13,388+ per table.
TOP TIPS
The most memorable weddings are those where guests don't have to travel far for the duration of the celebrations. It's because you allow them to enjoy the day without rushing from one location to another. Talk to The St. Regis Macao about coordinating rooms for your guests. You'll be glad to have easier access to your friends and family.
The St. Regis Macao is home to a number of excellent amenities and you can use them to create opportunities for your guests to mingle. One of the best things about having a wedding at this location is that you can set-up a pre-wedding gathering, or an afternoon tea catch-up with your entourage or the whole family just before the big day. The St. Regis Bar or The Manor are both elegant spaces to host a private meal or drinks.
Add a personal touch by talking to the team about your preferences. Whether it's about the menu or table set-up, they also want to ensure that the day reflects your personality while appealing to all of the wedding guests. Communicate with The St. Regis Macao's team which offers personalized cocktail and a signature ritual called champagne sabering that you can incorporate into your wedding reception.
Request for help when you need it. A dedicated wedding butler will be there to take care of all your needs on the day leading up to your wedding day. Learn to delegate tasks even if it's just some simple ironing, ordering breakfast in-room while preparing for your make-up or leaving notes for your guests. The St. Regis Macao team are on standby to ensure that your special day is an unforgettable one.
---
The St. Regis Macao The Londoner Macao, Estrada do Istmo, s/n, Cotai, +853 2882 8898, www.stregismacao.com
Brought to you in partnership with The St. Regis Macao
Tags
Related Posts