Long working hours and a packed social calendar can easily take their toll on one's health and body. Finding a balance between "stop" and "go" is a necessity for us in order to continue striving in a world that demands so much of our time. What better than a wellness guide to let you in on where to go to stay healthy and fit in the bustling city of Hong Kong!
– Meditation and Wellness –
Enhale
(See featured image)
A newly opened holistic space that offers group meditation sessions, as well as breathing and sound healing classes, such as Tibetan and crystal singing bowls, Enhale is an oasis of calm in this hectic city. Located smack bang in the middle of Hong Kong's busiest nightlife scene, Lan Kwai Fong, this place offers a quiet refuge for those seeking to slow down their day.
Enhale 14/F, The Plaza, 21 D'Aguilar Street, Lan Kwai Fong, Central, www.facebook.com/enhalems
Fivelements Habitat
Expanding from its award-winning wellness retreat in Bali, the brand will launch Fivelements Habitat, city sanctuary for yoga, sacred arts and plant-powered cuisine, with the first one in Hong Kong this July. Fivelements Habitat will feature a rich collection of holistic practices aimed at fostering self-exploration, mental and physical health and wellbeing. The holistic studio will offer its signature holistic wellness programs and coaching for rejuvenation, detox and weight management, coupling bespoke therapies and a diverse array of sacred arts practices, including bodywork, intuitive healing, energy work, and wellness therapies.
Fivelements Habitat 13A/F, Tower One, Times Square, Causeway Bay www.fivelements.com
Ikigai 
Ikigai is a new bespoke wellness studio in Tsim Sha Tsui, offering unique experiences that encourage transformational change. The studio is based on the Japanese concept "Ikigai", which means "a reason for being". At this new city wellness space, you discover your reason for being through authenticity and community. Honoring everyone's journey, the studio isn't limited by age, gender, race or social status. Ikigai was created with the intention for it to be a simple yet powerful space that feels like your own home in the bustling city of Hong Kong. Check their Facebook page for more information and updates.
Ikigai 62 Mody Road, Unit 1207, Tsim Sha Tsui East, Kowloon, www.ikigai.hk
Kinesiology Asia
This wellness center provides kinesiology therapy, which is a non-invasive healing science that encompasses various holistic health disciplines to promote physical, mental and emotional health. Kinesiology identifies and addresses a wide range of physical, psychological, nutritional and environmental stresses to support the body's innate healing abilities and help facilitate positive change. It can help with allergies, anxiety, chronic pain, detox and nutritional support, hormonal imbalances, learning disorders, phobias, stress, reproductive health, and much more.
Kinesiology Asia 8-9/F Cheung Hing Commercial Building, 37 Cochrane Street, Central www.kinesiologyasia.com
Float On
Experience ultimate relaxation in a flotation tank that shuts out sound, sight, touch and smell. Cocooned and floating in a zero-gravity environment is said to relieve stress and improve circulation. You'll quickly achieve a meditative state, reducing levels of anxiety and depression, and possibly even curb addictions and cure phobias. The Dreampods are filled with 500 kg of Epsom salt and magnesium in water kept at 34 degrees Celsius. Float, relax and recharge.
Float On Basement (Door Beside 7-11), 89 Caine Road, Mid-Levels www.floatonhk.com
– Shop –
Caelum Greene
Retail therapy at its best, Caelum Greene is Hong Kong's first dedicated athleisure and lifestyle boutique, marrying fashion, wellness and sustainable living. It offers the latest activewear, but also beauty and home products, such as natural skincare, candles and teas. 
Caelum Greene Shop 304-305, The Landmark, 15 Queen's Road Central, www.caelumgreene.com
– Food –
Genie Juicery
The perfect spot for people on the go, Genie Juicery makes sure you get all your vitamins and minerals for the day. Cold pressed, raw juices packed with nutrients are great coffee alternatives and ideal for a pre or post workout pick-me-up. They now also offer healthy snacks.
Genie Juicery ifc Mall, 2096B, Podium Level 2, Central www.geniejuicery.com
Nectar Integrative Dining
Spearheading Hong Kong's plant-based scene, Chef Peggy Chan's Nectar Integrative Dining is the finest vegan and vegetarian gourmet restaurant in town. The new restaurant, which was formerly known as Grassroots Pantry, received an overhaul to take the clean-eating concept to the next level. 
The delicious menu includes the healthiest locally-sourced organic ingredients and changes seasonally. Nectar's cheese course is completely dairy-free, and the Grassroots Pantry crossover signature mixed mushroom linguini with house-made vegan pasta tossed with maitake mushrooms and shaved summer truffles is a must. For updates on their delicious menu, check out their Facebook page.
Nectar Integrative Dining 108 Hollywood Road, Sheung Wan, www.nectarexperience.co
Mana!
With the motto "Eat Like It Matters" Mana! offers guilt-free organic, vegan and raw food, with several gluten-free options. Choose from an array of beetroot, grilled veggies, potato salad, quinoa and more for your salad, and opt for their famous freshly baked flatbreads, which come as a wrap. Fill it with haloumi, grilled vegetables, baba ganoush or hummus, and rocket. Or go for their veggie burger and "healthy" fries. Dubbed "fast slow food", the meals are perfect for take-out or a quick eat in. 
Mana! 92 Wellington Street, Central www.mana.hk
– Fitness –
Kita Yoga
In contrast to the big yoga companies in this city, this little studio in Sheung Wan offers intimate engaging classes with a hands-on approach. With a relaxed, chilled-out atmosphere, this modern studio, which was started by Nikita Ramchandani, offers vinyasa flow, hatha and yoga therapy classes. Kita Yoga creates a holistic and healing experience for the urban city dweller. Stay after class to hang out with like-minded people. 
Kita Yoga 1A U Lam Terrace, Sheung Wan www.kita-yoga.com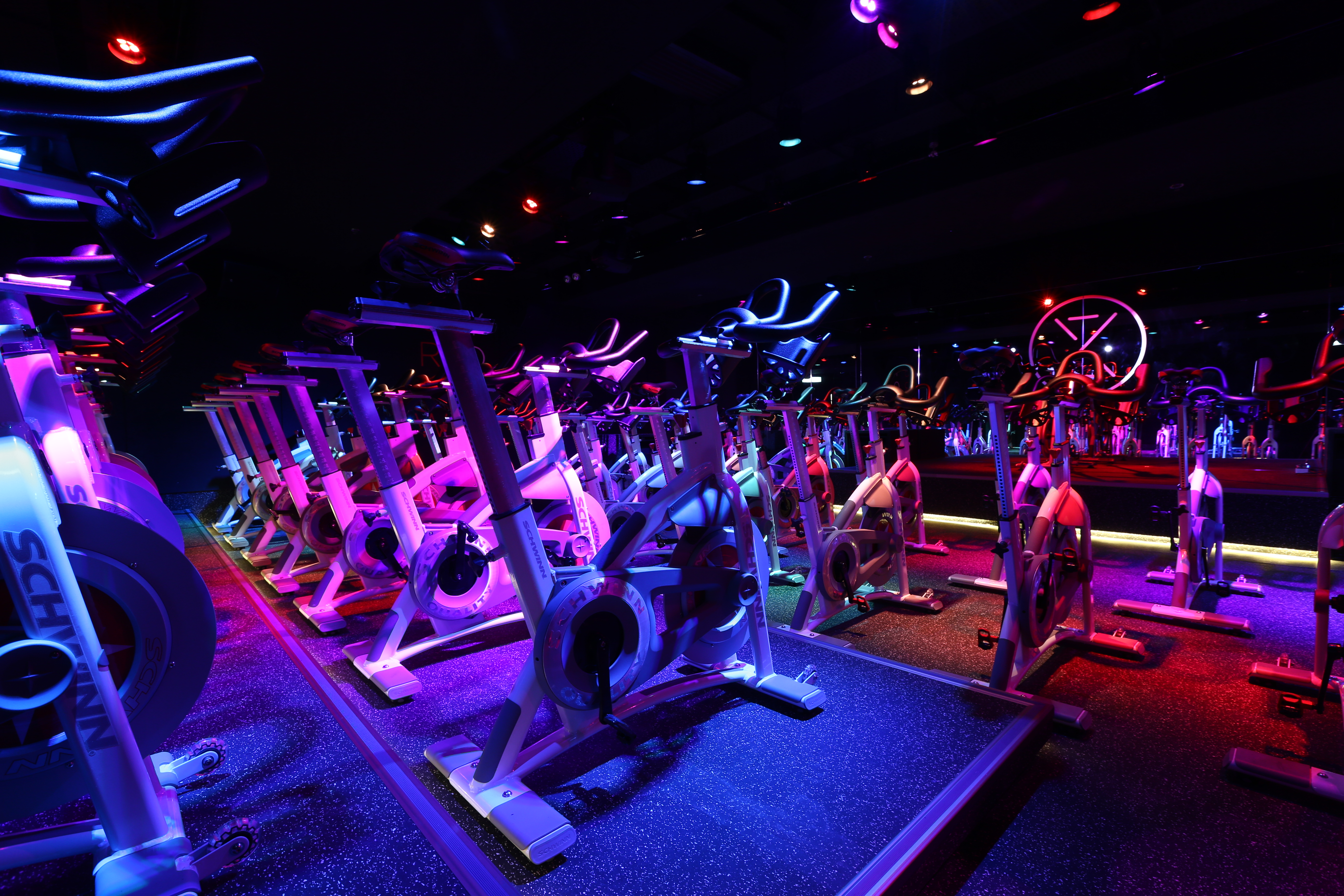 XYZ
Ride with some of Hong Kong's coolest movers and shakers at XYZ. The cycling studio, which feels more like a nightclub, will outdo any Lan Kwai Fong hotspot. Spinning at XYZ is like partying on a Friday night sans alcohol and while getting much healthier. 
XYZ 2/F, New World Tower 2, 18 Queen's Road Central, Central www.youarexyz.com
Barre 2 Barre
If you're feeling social, head to the barre for your next workout. A technique based on pilates and stretching, this exercise will leave you lean and chiselled. Part cardio, part strengthening, a class at Barre 2 Barre will hit every muscle. Even if you're not feeling your fittest, don't fret, go for the community feeling and laid-back fun vibe.
Barre 2 Barre 4/F, Cheung Hing Commercial Building, 37 Cochrane Street, Central www.barre2barre.com
Tags
Related Posts