Brian Chung is the Creative Director of O.N.S, a New York City-based brand that has captivated the fashion scene with its sleek and minimalist style. He took time out of his busy schedule to tell us here at Macau Lifestyle about the evolution of the company. From its humble beginnings in Hong Kong and Macau, he tells us about the growth of the brand. O.N.S now has a posh flagship store in the heart of SoHo set amongst retail giants – an impressive space that is a dream for fashion lovers. With a legacy that goes back to his father's apparel background, Brian reveals his deep respect for the history and journey of the brand.
O.N.S resonates with different audiences and Brian takes great pride in its multi-cultural team which drives the brand to progress. He describes the team behind O.N.S as an eclectic mix of people who work past their differences and occasional disagreements to ultimately come together and create a unique experience for customers. As they prepare for the upcoming season, they also focus on community-driven events, providing a platform for creatives and different professionals.
Can you share with our readers your story and how O.N.S all came about?
I have a background in business and management but I never thought that I would venture into the fashion and manufacturing world, even though my parents were already in that field. It was actually my father who started the company in 2010. It was in a different field then with a lower price point, and more hipster in style. I worked there but never felt really comfortable. I felt that we didn't need another Banana Republic or Gap-esque kind of brand in the city. So we restructured the brand and repositioned it in 2015. We made the decision to evolve the brand in a younger way. I was in college then and one of my Dutch friends came over to my house and he mentioned that O.N.S actually meant 'US' in Dutch. This seemed really in sync with our principles. We made the changes in 2016 and that's how the new brand started. It was an interesting transition and it's been a great journey so far. We continue to adapt our product to fit the market and have a great understanding of where we are at in the industry.
How did you come up with the name for your brand?
As mentioned, O.N.S means 'US' and this stuck with me and evolved along the lines of minimalistic, cooler and quality-driven ideals as we pursued work on the brand. O.N.S is also an abbreviation for one nice shirt. Many people refer to it that way. With O.N.S, I like the simplicity of the three letters.
What is the concept behind the clothes you create?
For us, it's always about allowing our customers to interpret and come up with their own different styles. What we do best is focusing on fabric development, fitting and structure so they can fit no matter the nationality or background of the wearer. We keep the brand open for everyone.
What are the values of the brand in two words?
Versatility would be the biggest word to describe our brand. The second would be inclusion. From the fabrics to fitting and the people we have in our team to the projects that we do, O.N.S embodies our collective principles. There is a diverse style and a sense of creativity amongst us but we all collaborate together. We continue to also be immersive and improve as a brand. We often work with certain artists, other designers, and brands.
Who is your audience?
I think it's a creative class of people. The ones that push boundaries within their own discipline. I think artists, tech individuals or businessmen and women. They are a diverse group mostly between the ages of 30-40 years old who have now deviated from the streetwear and have come of age.
How does the heritage of Macau influence your design and business?
From the eclectic versatility of architecture and food, there's just so much in Macau that inspires the brand. The mix of spices from India, China, and Portugal. I love Pinocchio restaurant, and the city is teeming with award-winning fine dining restaurants now. I was born in Hong Kong but kind of grew up in Macau. It has a certain charm that seems to call me back.
What do you love most about Macau and miss now that you are away?
I definitely miss the food in Macau that I cannot seem to get anywhere else. I love Lord Stow's Portuguese tarts with a perfect balance of custard creaminess. I have the best memories of my life from Macau. I remember my modest rides to school in a scooter and feeling the wind on my face.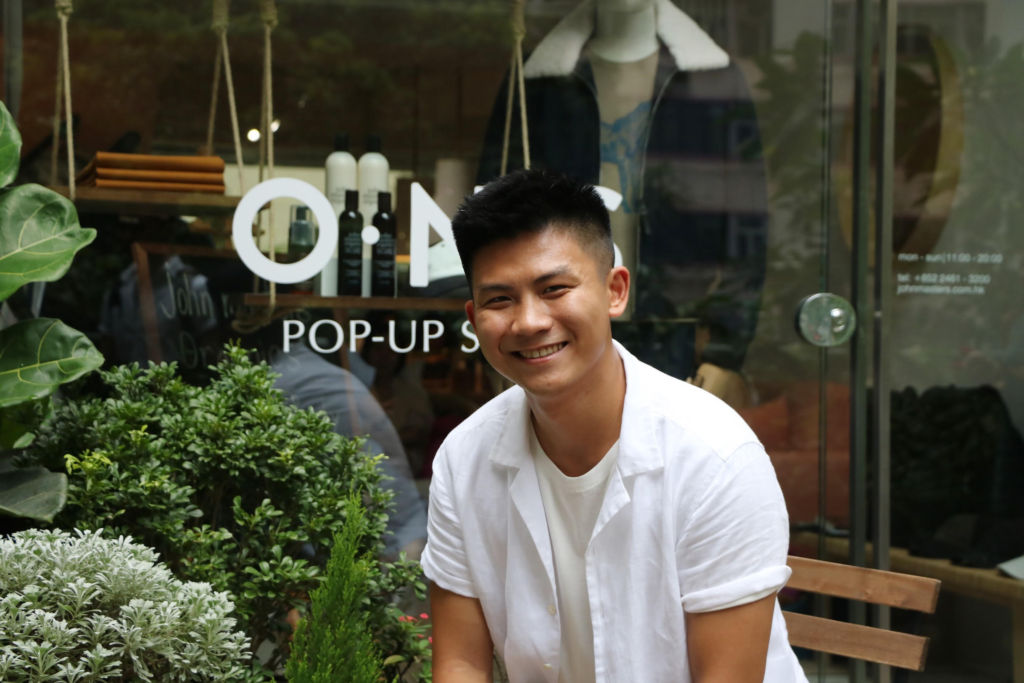 What celebrity would you love to see sporting your label?
Donald Glover. He is a pretty interesting guy. He has an eclectic personality with a sense of community.
What trends do you currently see in the fashion industry?
Every brand out there still hasn't created something the market really needs. For us, we are pushing and focusing on luxe loungewear. We are going for something sophisticated yet with quality fabrics. We want to emphasize simplicity and elegance and make it for everyone. We want a laid-back and sophisticated feel that anyone can carry.
What's up for O.N.S next year?
We're very excited about our upcoming collaborations. We'd also like to expand more on the retail side. As we continue to grow the brand, I am particularly proud of our events – we provide a platform for creatives. Having a space to present products from art walls to fashion, we are very fortunate to have our space in SoHo, one of the main shopping meccas in the world.
O.N.S is available at Kapok stores in Hong Kong and online at onsclothing.com
Tags
Related Posts