The holiday season is indeed the sparkliest there is in a year. Everywhere you look is almost always shining with Christmas decor and lights, and in fashion, what better way to join the festive sparkles than wearing something shining, shimmering and splendid. Earlier this decade, glitter in fashion had a reputation for being over the top and ostentatious, but in 2019, the style has been toned down and a favorite amongst fashion enthusiasts. What's interesting is that glitter hasn't taken its form in muted, tiny accessories, but full-length gowns, dresses, jackets, and jumpsuits in glitzy, glamorous and super shiny garments. Safe to say, there's a glittering wave and it's here to say. The glitter effect on clothes has long been associated with special occasions like birthdays, Christmas and New Year. And it's time we all shine as bright as this festive season is. Like Rihanna once famously sang, "Shine bright like a diamond" and Christmas 2019 is making it easier than ever to follow her wise words. Here is our glittering holiday dress code from Alice+Olivia, Altuzarra, Sachin and Babi, and Michael Kors.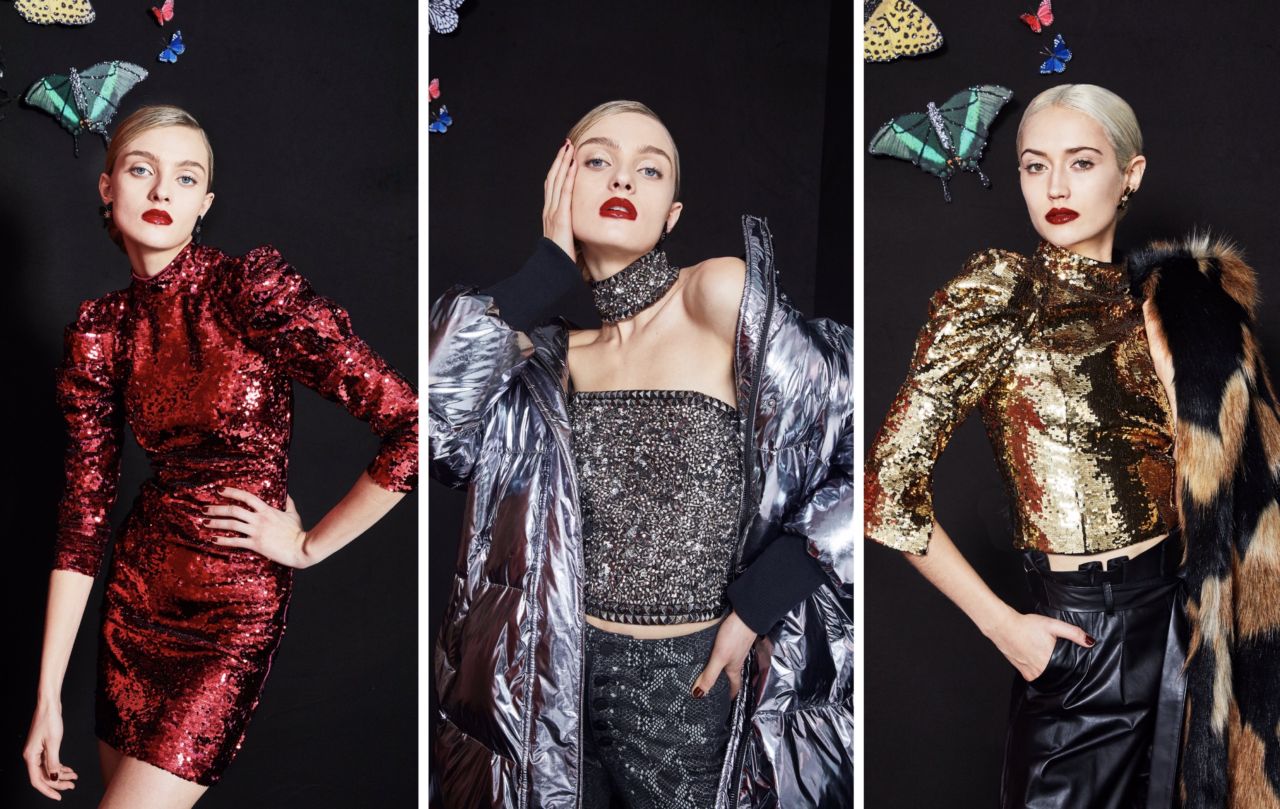 ALICE + OLIVIA
Alice + Olivia Fall 2019 collection is inspired by the theme of fantasy, merging art, fashion, and fantasy. Imaginative prints are complemented by a color palette of rich jewel tones in shades of bordeaux, merlot, ruby, and pink mixed with black, white and sparkling metallics. Among the standout pieces are the pleated bordeaux skirt made with yards of iridescent pleated taffeta paired with a top created in a new technique of velvet sequin and skirt of ivory feathers with a gorgeous white puffer jacket. Puffer jackets in reversible prints and patterns are worn over evocative dresses and sequin skirts. Signature pants in a variety of shapes made to juxtapose evening and day with velvet cargo joggers and wide-leg pull up styles. The suit of the season is a beautiful merlot satin straight leg pant with an expertly tailored velvet tonal blazer, symbolizing a luxe minimalist-meets-maximalist ode to the 90s, while shoulder pads, plunging necklines and short lengths make a statement. Luxurious tailoring of day and evening wear, a vibrant color palette and glittering garments are combined to reveal a fall collection that is an empowering wardrobe for the fashion house Alice + Olivia.
Alice + Olivia Shop G066, G/F, The Promenade at Galaxy Macau, Cotai, Macau, +853 2882 7201, www.aliceandolivia.com
ALTUZARRA
Taking inspiration from Joseph Altuzarra's recent travels, the Fall/Winter 2019 collection of the fashion house Altuzarra was designed to address multiple needs and scenarios, without losing its wanderlust vibes. It revolves around the blending of assertive tailoring and outerwear, Morocco-by-way-of-India prints, hues, and decorative motifs. Key pieces include mini dresses, mashed up long-sleeved top with overlapping detailed neckline in glittering fabrics and long dresses, and combined fisherman's knit bodices with plissé lamé skirts. This collection is all about clothes that are one-shoulder, ruffled and plissé paisley.
Altuzarra ifc Mall, Podium 3, 8 Finance Street, Central, Hong Kong, +852 2118 2288, www.altuzarra.com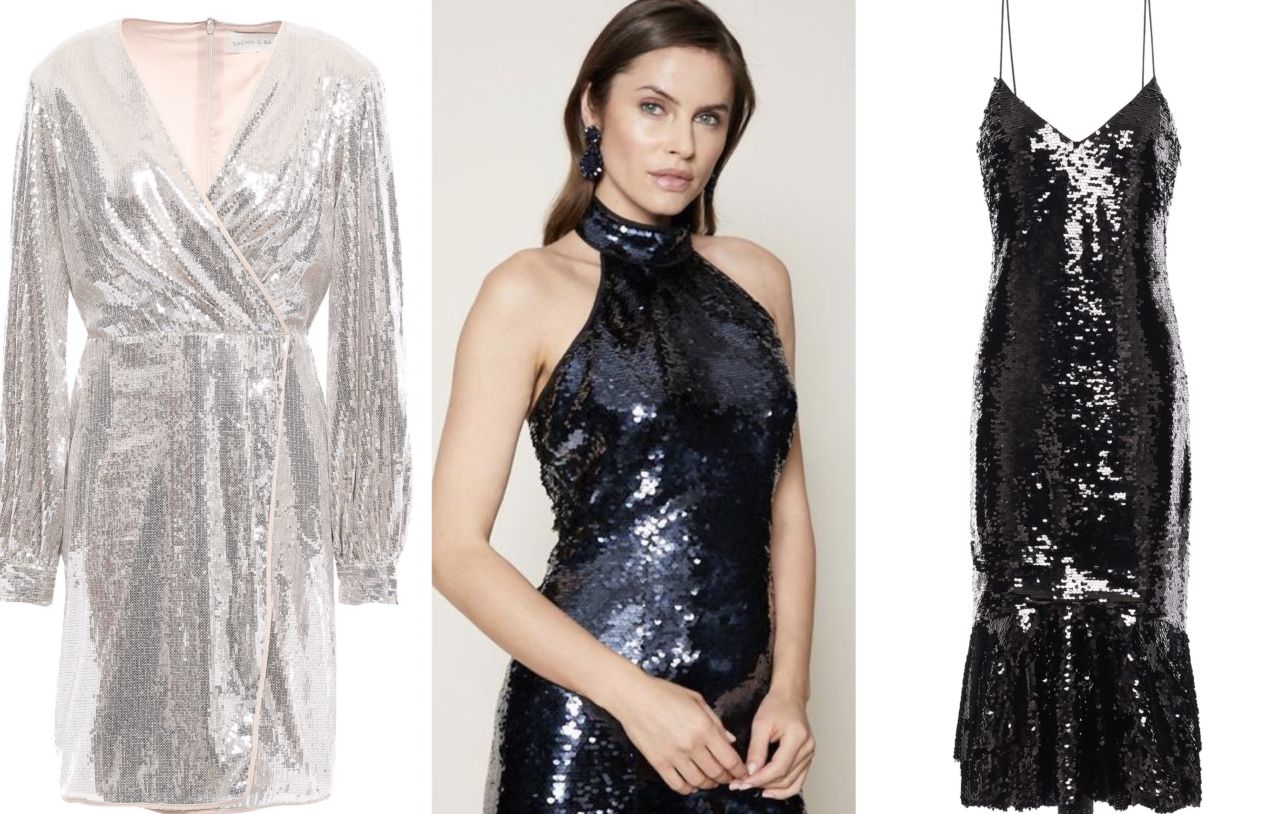 SACHIN & BABI
A red carpet mainstay, Sachin & Babi Fall/Winter 2019 continues to make their pieces a little bit more extra as it already is. Pleated blouses with large pearl trim, crystal buttons or a new sculptural gold shape, and a little spray of sequins that can be worn throughout for day till night, to name just a few. One of the standout pieces is actually the most basic: a black bias dress, nipped at the waist and ruched at the shoulders. Cocktail and eveningwear remain in the fashion house offering a bit of trendy 80s glitz in the form of bows and crystal rope trim.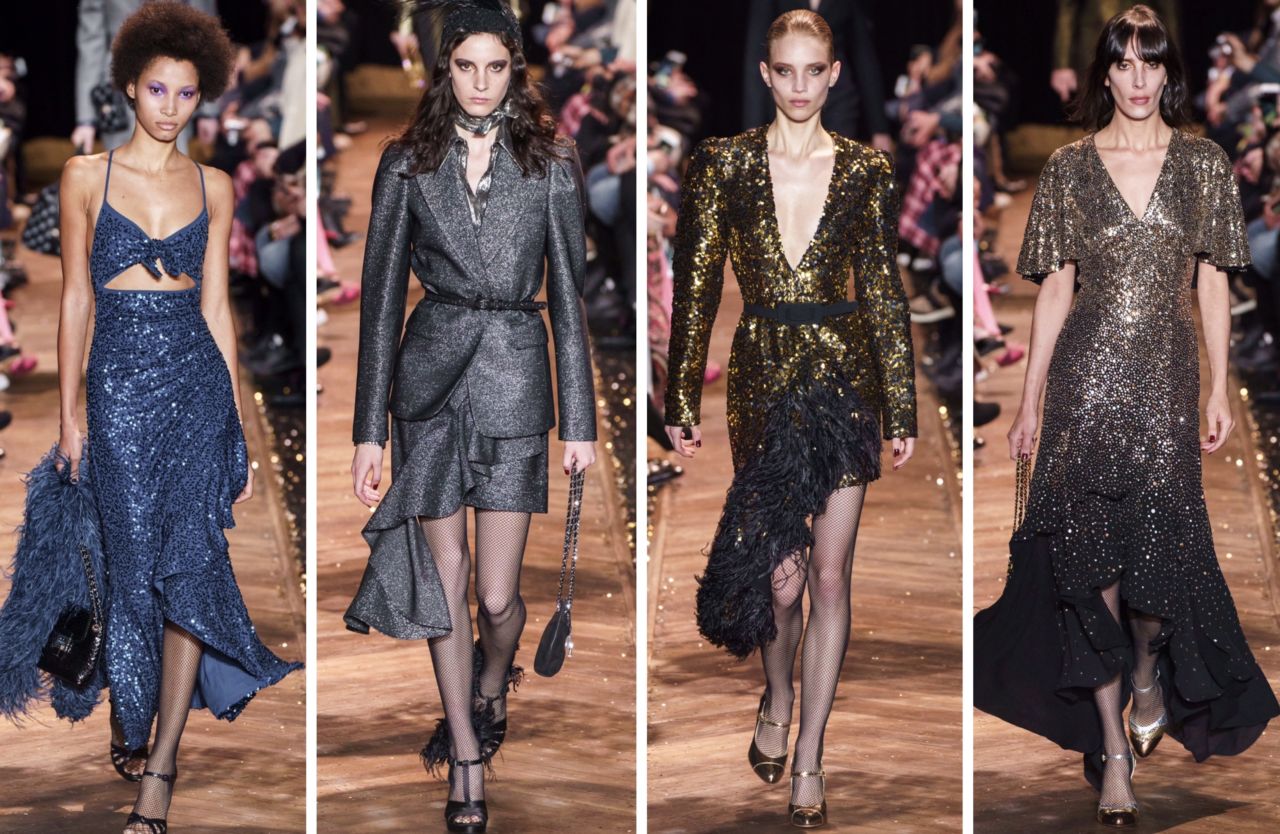 MICHAEL KORS
For Michael Kors' Fall/Winter 2019 collection, the designer focused on the 70s aesthetics and pop culture with feathers and fake fur coming together for his sparkling clothes. The standout pieces, of course, are the dresses in a sequined matte jersey that shout "dance-floor ready" of the 70s or the 80s. Whichever way you want to look at it. Metallic mixed with glitters has never been this exciting!
Michael Kors Shop 1019a, Level 1, Sands Cotai Central, Cotai, +853 2885 3031, www.michaelkors.com

Tags