Ohemia is an awesome bohemian multi-brand fashion and lifestyle destination in Hollywood Road in the heart of Soho in Hong Kong. With an eclectic mix of women's wear, resort wear, activewear, jewelry, intimates, accessories, stationery and home décor, the well-designed store is set to modernize the boutique shopping experience, with engaging studio workshops to inspire customers too. Vivian took time out of her busy schedule to sit down with us at Macau Lifestyle and tell us about her journey, not just as a creative but as an entrepreneur in the competitive fashion and business industry in Hong Kong.
When we met up with her at the recently opened Ohemia, we were blown away by the beauty of the store, as well as her beauty as well – she had an impressive tan and a healthy glow. It is easy to see why she is an influencer and easy to see why people are attracted to the brand – like her, Ohemia and her brand Rising Lotus have become stars on the pop-up scene, and they are all over Instagram. However, Vivien is more than just an opinion leader, she is also a role model for us all – as she is currently studying and running her business at the same time. She is currently in her final year at SCAD, and she is a great example of how one can balance studying whilst forging a career in the creative industries at the same time. The young talented designer showed us around the shop and told us about her newest venture.
Can you tell us a bit about yourself and your background?
I grew up here in Hong Kong but moved to California when I was 16 years old. I studied Fashion Design there and got an internship at Abercrombie & Fitch and eventually moved to Ohio as an Assistant Designer. I was with the company for a year and then I decided to move back to Hong Kong.
I initially worked with a local maternity label here called Aria. I developed their maternity denim line and it was a very interesting experience. I got the chance to experience big and small business operations. When I turned 25, I was restless and I realized how hard it is to find designer jobs in my field. There were offers in merchandising, styling and other aspects of fashion but not design in itself. It was worrisome because it was truly my passion.
So I went to Thailand to clear my head and it was there that I suddenly realized I had to start my own brand with my own designs. I've always wanted to do it so it seemed like the perfect time. That's how Rising Lotus was born. I went to Krabi on an island for a week of soul searching and I just came back and started designing the logo and everything else followed suit.
Can you tell us about Rising Lotus and the inspiration behind it? How do you feel you stand out in the saturated lifestyle market?
I would describe Rising Lotus as athleisure (a trend in fashion in which clothing designed for workouts and other athletic activities is worn during other casual or social occasions). There are also certain styles you can wear on a day to day basis like t-shirts. That's something I want to change in our upcoming collection. We are focusing on tops that are functional for yoga and to wear in the gym, but can also do well on a casual street stroll.
I didn't have any knowledge of the business when I started out in fashion design. I started my Master's degree as well as I felt it would help me grow my business and I would learn more. We launched as an active leisure wear because of my personal style and lifestyle. I usually wear similar clothes and my life in California influenced me in a lot of ways. I love the laid-back vibe and often incorporate it in my designs.
You have successfully launched Rising Lotus, why did you decide to open your own shop?
Having a shop has always been my dream but I could never do it alone. It's such a big financial commitment. I've done pop-ups many times and customers would often inquire about a physical store, so it only made sense to work on making this come true.
What does Ohemia mean?
The store was opened by me and my partner Christina. We bonded over our mutual love for island life. It has bohemian roots. Our style is minimalistic and simple with an island vibe. In the store, we stock Rising Lotus and jewelry. We also stock brands from LA.
How do you curate other brands?
I've done pop-ups with Christina so many times that we now share the same pool of customers. We have an understanding and insight of what our customers like and we curate and select them and then bring them to our store. In a way, it's a more affordable type of fashion – it's more of a handpicked and curated and style. Resort wear is usually hard to find in Hong Kong and that is how we differentiate ourselves from other brands and shops.
How does Ohemia differ from any other boutique shopping experiences out there?
We opened with only two key brands. For us, it's very personal – it's not just a shop, it's a creative space. There are a lot of personal touches here. This shop is our baby. We did a lot of DIY. We want to offer experiences as well. I think many of our customers like the cozy ambiance where they can talk to us comfortably. We want to have that flexibility with our customers because we feel that is something really special.
What's the best advice you have received about running your own business? Or received prior to the opening?
One of my professors was a great influence when I started the business. I wanted to go into different categories and do so many things all at once, but he taught me to be realistic and to narrow down on a specific market and focus. My dad also gave me crucial advice. He said aesthetics is important but watch your costs. At the end of the day, a lot of designers tend to forget if you're not looking at your books you won't keep the business alive.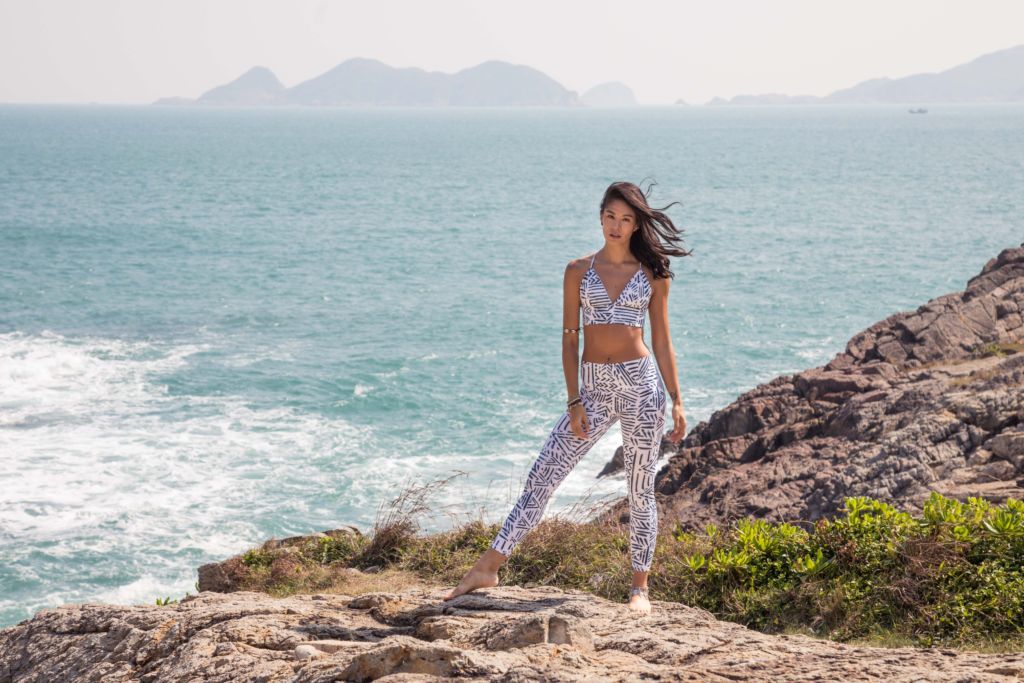 What has been your biggest challenge in running your own business so far? And how did you overcome it?
I would say running my brand on the financial side proved to be a struggle. In the beginning, I used up all my savings and that's why you think you're not prepared for so many aspects of the business. After launching the brand, the waiting part can also get frustrating. You come to a point when you doubt yourself, but I had to get back into it and really go for it. Talking to a lot of people helped, especially my parents who shared their advice and support. I was really hustling, joining pop-ups and such. When the recognition from customers started pouring in, it was very rewarding.
How do you manage everything? How do you stay on top of work but maintain balance in your life with your studies too?
To be honest, it's tough, but I'm really thankful I have Christina as a partner in this business venture. I am certainly lucky to have a supportive family. However, it's important for me to have a creative partner who understands me in a certain way. We pick each other up and I must say this has been helpful in a few instances lately with me studying and doing simultaneous things. It's important to have a solid support system and also learning to delegate. It's good to ask for help especially when you need it.
How do you get inspired by your designs? What inspires you?
I am truly inspired by my customers whenever they wear certain pieces and they give me feedback. I just love that part. When I see my creations on people, it's definitely inspiring.
Where do you see yourself in the next few years?
We want to see Bohemia grow and we want to open a store elsewhere of course. Our dream shop would be in Bali and it would mean a lot to us to be able to bring our brand to such a special place. In terms of fashion, I am working on new prints for the new collections and I'm very excited about an upcoming collaboration with a local brand, so big things are happening both for the brand and the store.
Ohemia G/F, 75A Hollywood Road, Central,
For inquiries, call +852 9512 3315, email them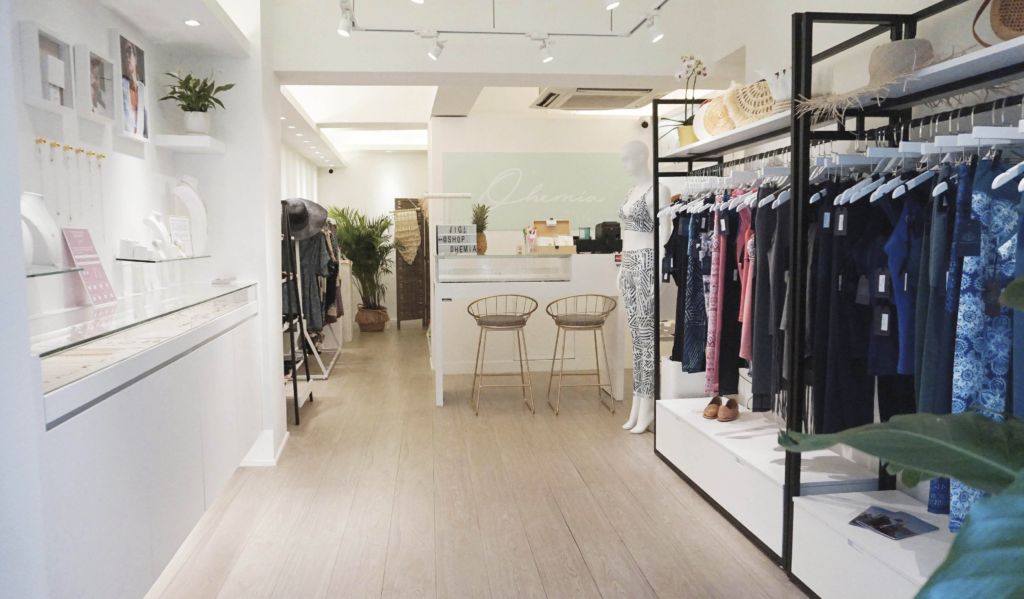 Tags