Name: Noelle Tolin
Age: 26
Nationality: Filipino
Instagram: @noelletolin
Our special feature Macau Street Style to highlight Macau fashion—follow our Instagram @macaustreetstyle for daily inspiration!
What does the word "fashion" mean to you?
Fashion for me is an expression. It expresses who you are, how you want to be perceived and how you want to be remembered.
How would you describe your personal style?
I don't really have a specific style. I can't plan what to wear in advance 90% of the time because I dress depending on my mood when I get out of bed. The only thing constant about my style is that I always make sure I'm comfortable with what I'm wearing. It's an instant confidence booster and it always adds oomph to whatever you are wearing. It's a cliche but it's true: comfort is key!
How do you get your daily dose of fashion information?
Pinterest and Instagram!
Does fashion allow people to express their individuality or does it force people to conform?
For me, it is the former. As I've said earlier, fashion for me is an expression. But, I personally believe that each one of us is different and unique so it will really depend on the person how they would want to use fashion in their lives. To express or to conform? It doesn't matter, as long as it makes you happy at the end of the day.
Does the media (or the fashion industry) play some role in creating or continuing stereotypes?
I think the media and the fashion industry have changed a lot.  They are more careful now on what they put out and they've been very open and considerate towards people's individuality.
How does Macau inspire the way you dress?
The classic architecture, the rawness of the city, the many places to visit and the variety of people you'll meet as you explore the city inspires me to dress very comfortably in style. When I went around the city, I chose to wear dark blue almost black high-waisted culottes with comfortable white sneakers so I can tour the city with no fuss. To contrast this very laid back bottom and show my femininity, I wore a laced off-shoulder cropped top in white.
What do you think of Macau's fashion scene? How can it be improved?
I think Macau has a good fashion scene already. Macau is rich in beautiful architecture; the old and the new are both picture perfect. Because of this people are naturally drawn to the city. It's a great city to dress up in and get a really good photo shot so easily.
Whats your go-to outfit when you don't know what to wear?
A little black dress always saves the day! Not the doctor, haha!
What is your favorite place to shop in Macau?
Senado Square! You'll find everything there. Plus, the brick streets of the old town are enchanting. It will make you feel like you've been transported to earlier days of Macau. That also means you'll want to get photos of/in the streets while shopping! It's never boring!
Who takes photos of your outfits?
My friends, my boyfriend or my dad!! He took all photos of me in Macau. Instagram daddy!
How much attention do you pay to fashion in terms of trends in the way you dress?
I always surf the internet to keep myself updated.  I do this mostly in the morning while having breakfast or at night before bed to keep me inspired to dress up the next day.
Which social media platform are you most active on? and why?
I'm most active on Instagram and Pinterest. There are a lot of people on these platforms that are fashion forward, bold and artistic. I like people's diversity and to see what they share keeps me inspired. I'm a design specialist/graphics designer and it helps my creativity and refreshes my mind.
Which celebrities have the best style to you?
Olivia Palermo, Vanessa Hudgens, Gigi Hadid and Victoria Beckham.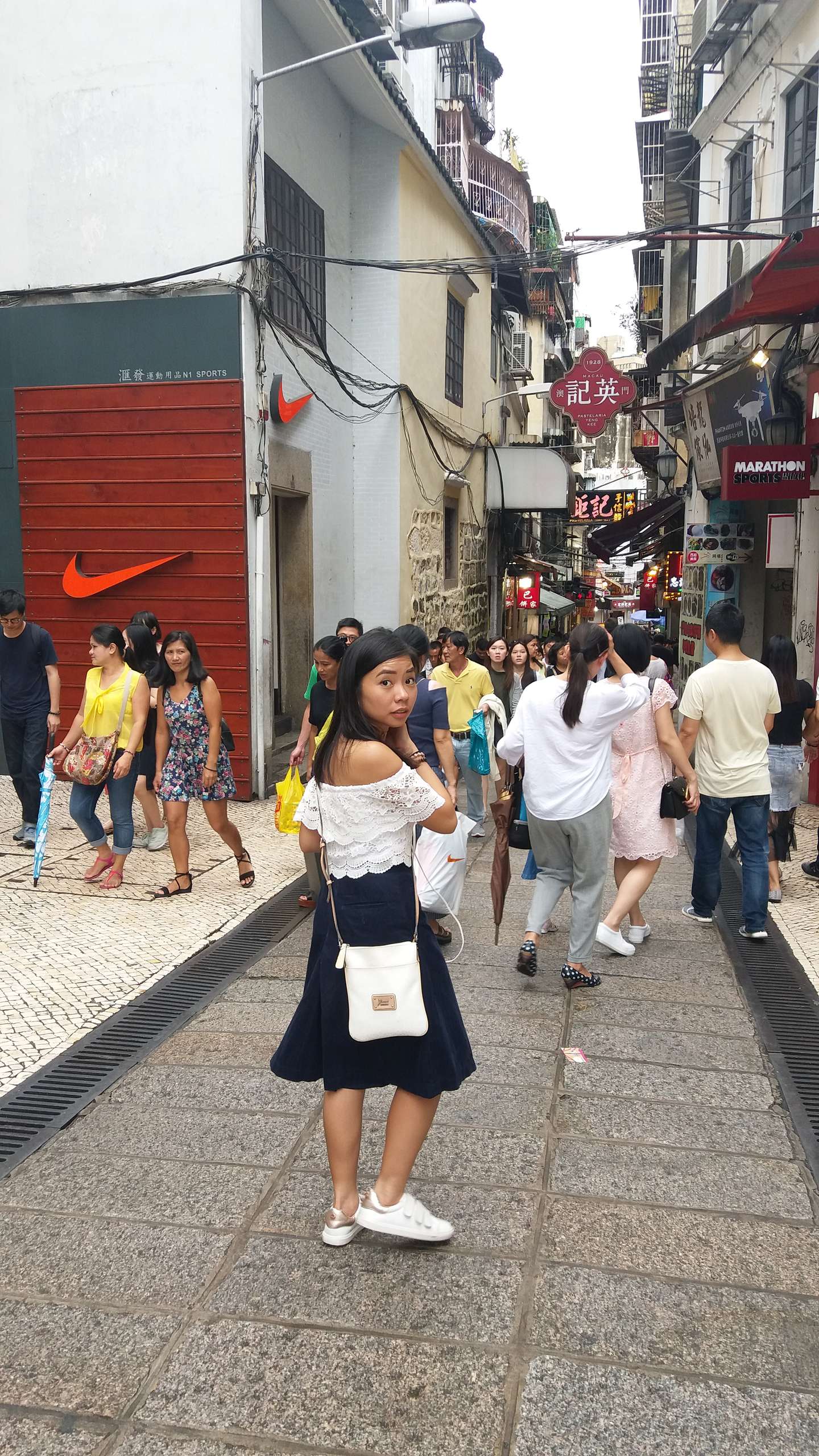 Tags