Being at a destination resort, going to the beach, or just staying outside these days for the sole purpose of relaxing and soaking under the sun like the good old days of summer, seem to be impossible with everything that is happening with the global pandemic we are still facing. Yet, for some of us who are lucky enough to be in a place where situations are improving, hitting the beach or the resort closest to you is enough to make the most out of the remaining days of summer. Resort looks have traditionally ranged from swimwear and cover-ups to billowing dresses and linen suits. But these days, resort collections have evolved into somewhat timeless selections of pieces, ranging from boldly printed capes to lacey cover-ups that can be worn for any occasion. A part of the so-called new normal in fashion includes face masks and protective gear that go along with the whole ensemble and outfit. A lot of designers have been incorporating these concepts into their collections. Summer is the time of the year where one can experiment with lightweight clothing, but summer differs from place to place, so not all resort looks need to be limited to swimwear and cover-ups. We have rounded up our top picks of resort looks that are timeless, weather appropriate, and very much fashion-forward for your next vacation or even just to inject some tropical vibes into your summer wardrobe.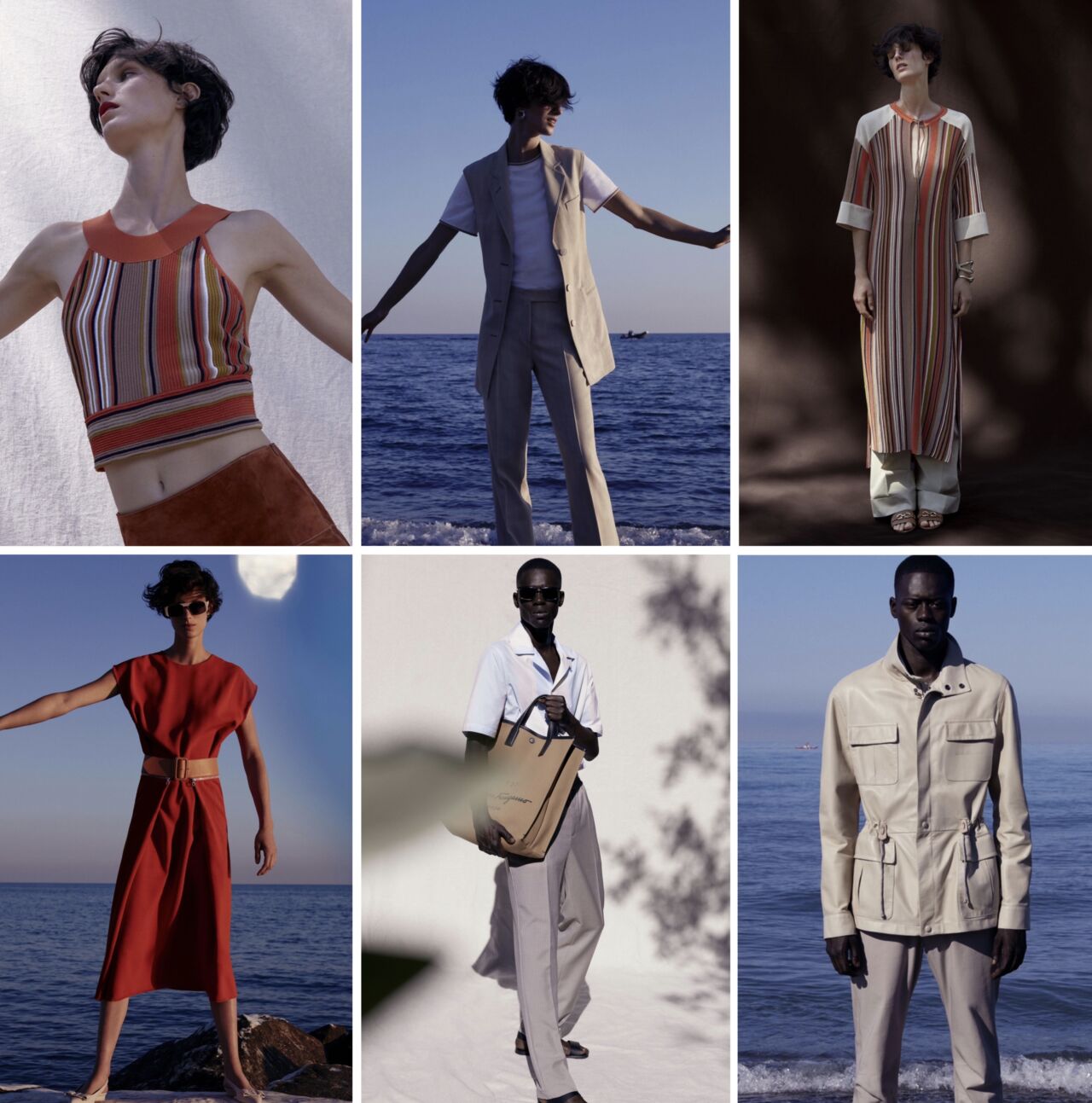 SALVATORE FERRAGAMO
The latest resort line collection from Salvatore Ferragamo is all about functionalism, clean lines, organic materials, and minimal construction as concepts resonating with the brand's take on the midcentury Scandinavian furniture design as inspiration. Designed for both men and women, the sleek silhouettes are designed with a focus on lightness and suppleness made from mostly organic materials. Committed to moving in a more sustainable direction, the team from Salvatore Ferragamo uses raw materials like upcycled leather and cashmere in the production. During this trying time, the brand presents lightness with a sophisticated idea of styling that exudes a lively summery feel. Softly tailored pieces with a utilitarian undertone are at the core of both collections. Tailored, unstructured, and unlined suits are making a hit to the brand's resort collection with bursts of bright orange and a touch of animal print to complete the serene collection in a decorative jolt.
Salvatore Ferragamo Shoppes at Four Seasons, Shop 1110, Level 1, Cotai, +853 8791 8000, www.ferragamo.com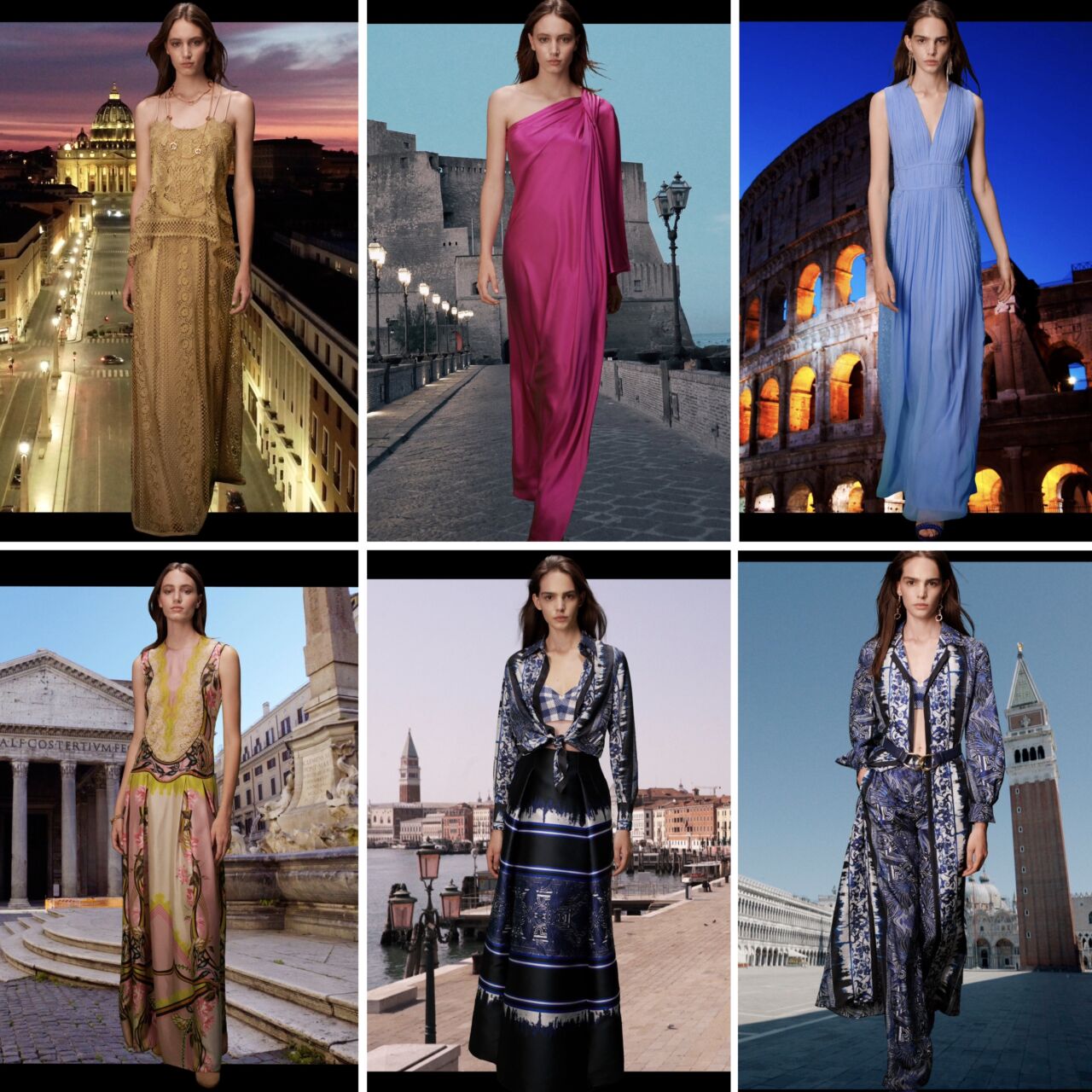 ALBERTA FERRETTI
Paying homage to travel destinations, especially to the first cities to be hit hard by the pandemic, the fashion team at Alberta Ferretti presents its latest resort line collection shot against a background of postcard-like images of Venice, Florence, Rome and Naples and makes a statement conveying a spirit of optimism, infusing the brand's signature with energy and joie de vivre. Delivering its optimistic message through its choice of sunny colors like fuchsia, pink, orange, and turquoise, ethereal dresses are languid and light as air, made from floaty chiffon encrusted with intricate lace seemed ideal for post-lockdown dreams of garden parties and romantic moonlit escapades.
Alberta Ferretti www.albertaferretti.com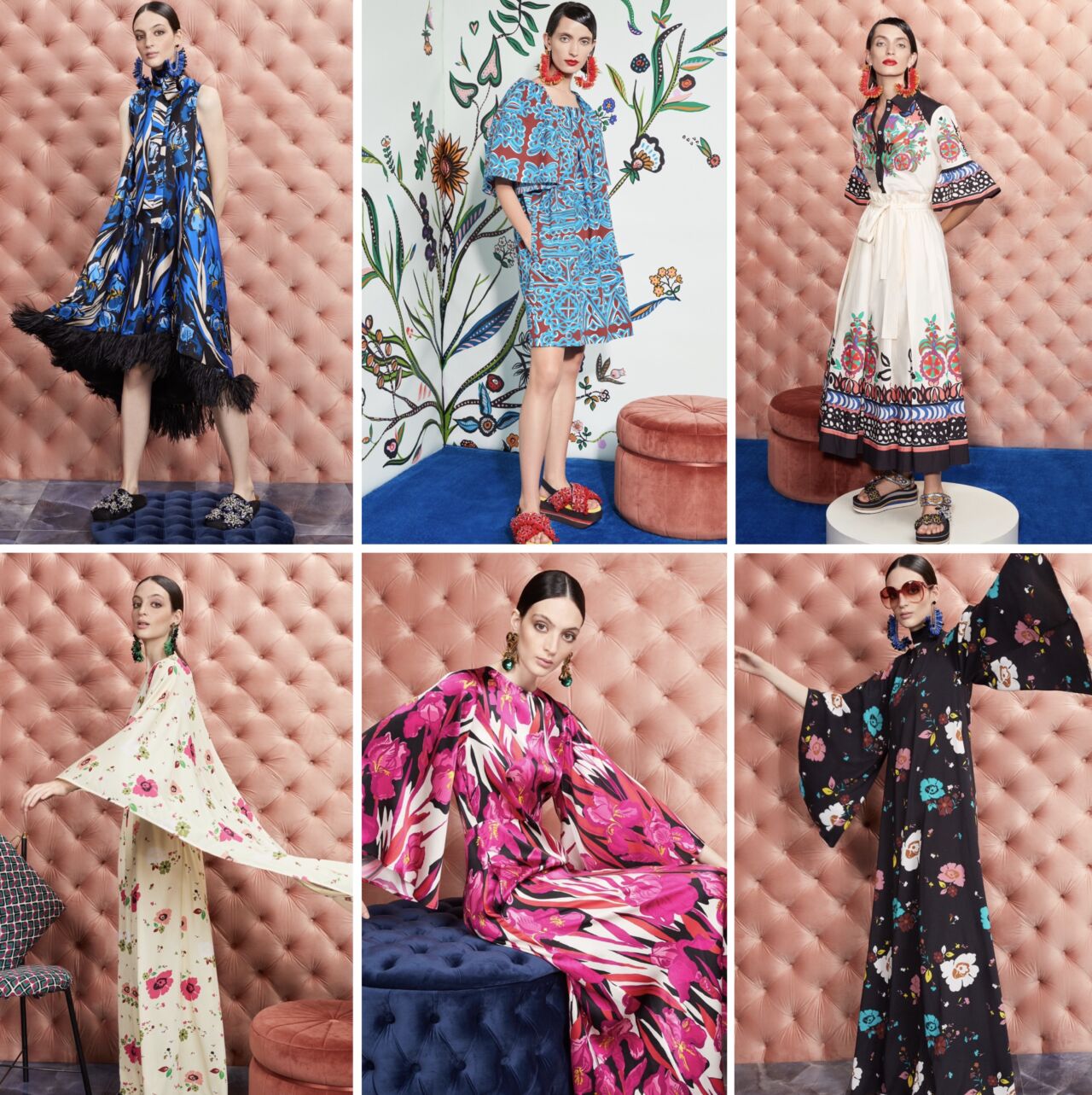 LA DOUBLEJ
For La DoubleJ, their resort collection revolves around Carpathian and Hungarian patterns and embroideries as translated into a new portfolio of original prints. Flowy and majorly styled as maxi dresses, silhouettes are patterned to the shapes of folkloric costumes of that region with a hint of bohemian flair energized by blown-up prints. Summer with La DoubleJ garments means sexy stylings in sumptuous printed lamés and brocade complete with glamorous feather trimmings.
La DoubleJ www.ladoublej.com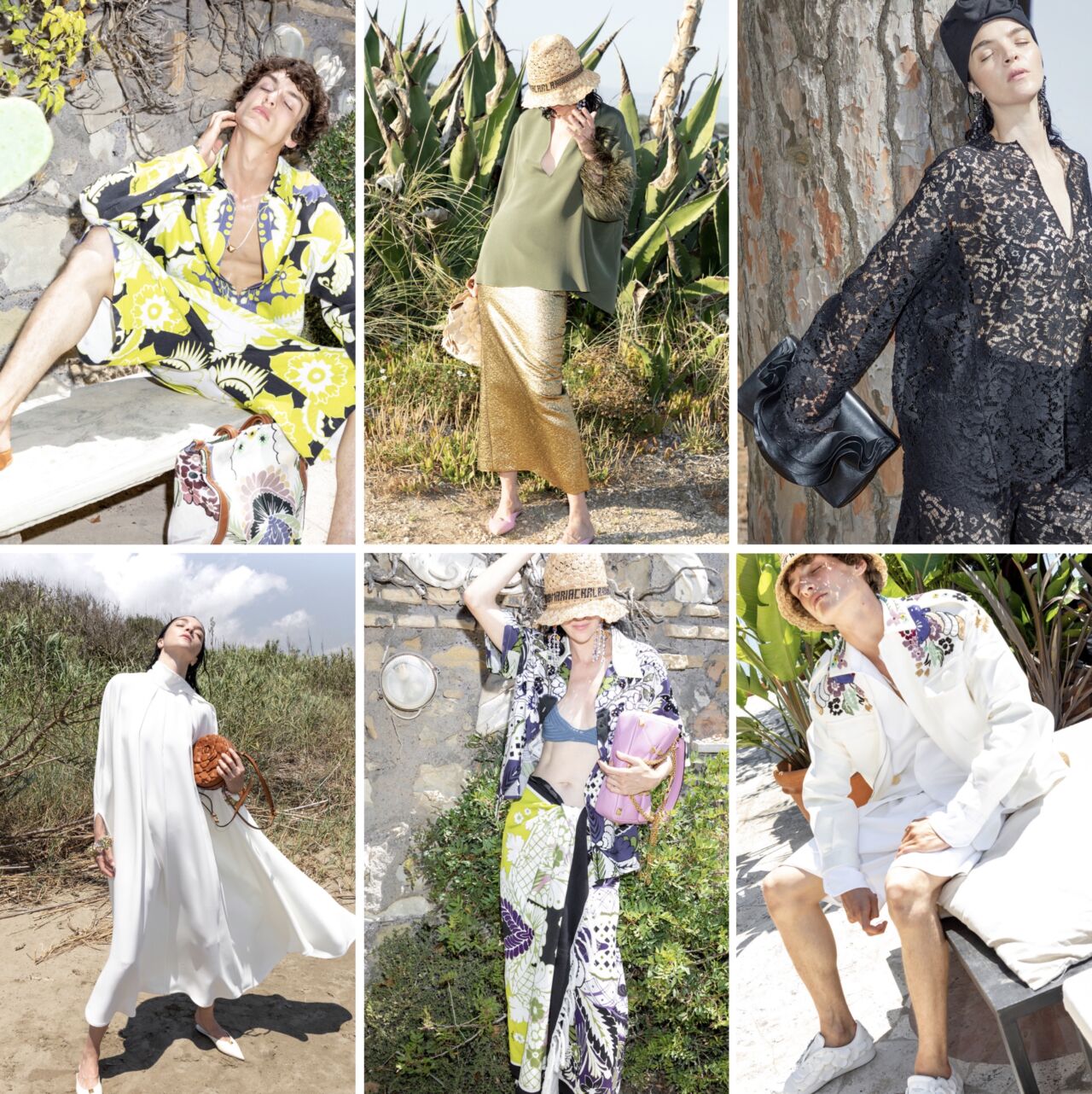 VALENTINO
Simplicity, the Valentino way, is radical simplicity achieved in shapes, volume, and construction as seen in the fashion house's resort line collection. Overall, the collection is simple but not simplified. An ease and a fluidity of movement, a feel for freedom and effortlessness exude from the lean silhouettes of caftans, elongated shift dresses, capes, and separates. There are also couture signifiers like feminine bows, ruffles and frills, flounces, flower petals translated on everyday staples like straw hats, huge shopping bags, and flat beach sandals–all designed to appeal to both genders.
Valentino Shoppes at Four Seasons, Shop 2840 – 2841, Level 2, Cotai, +853 2899 9816, www.valentino.com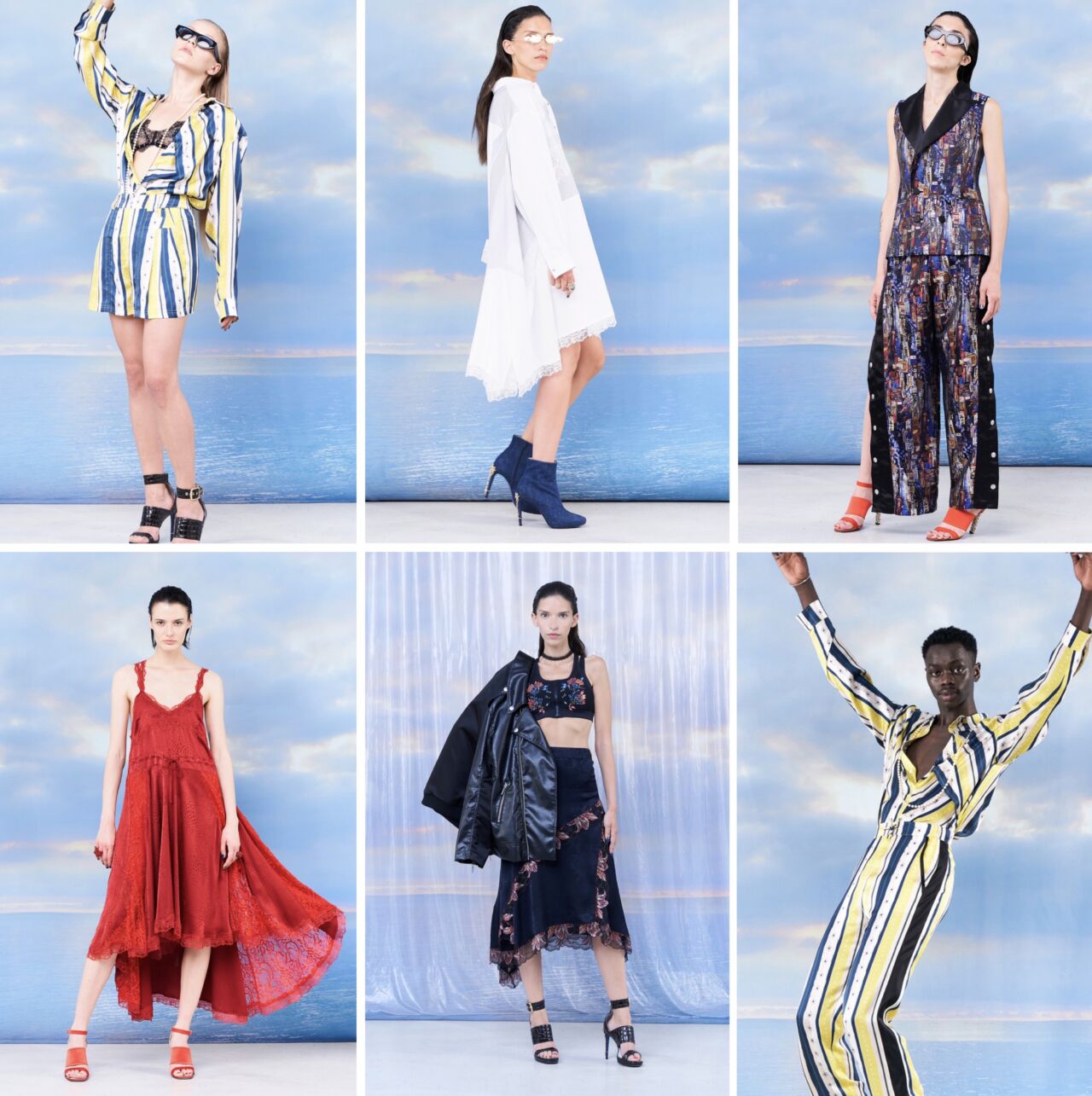 KOCHÉ
Mixing couture with streetwear, Koché brings its elevated eye for detail to its ready-to-wear pieces, putting a stamp on an otherwise street-ready tracksuit with patch-worked color-blocking and twisting the everyday right out of polo shirts and dresses with clever pattern making. The resort collection is completed by a look combining a sleeveless jacket and snap-off sports trousers in jacquard and a suit made from lightweight denim with an all-over lace print. Easy to wear but definitely unordinary.
Koché www.koche.fr
RAQUEL ALLEGRA
Probably one of the first brands to introduced facemasks to go along with their collection, Raquel Allegra pushes its creativity with clothes fitting in this era of work from home comfort, leaving the office wear staples like sharp pantsuits, tailored dresses or stilettos in the past. Luxe sweats and pajamas make their way to the brand's latest resort collection. Continuing the brand's signature of comfortability being an essential part of the overall aesthetics, the cloud-like softness of the used materials is just as well-known as the inventive tie-dyeing. For the athleisure-averse, the slouchy pants, drawstring jumpsuits, and graphic tees are perfect for Zoom meetings and grocery store runs. Pieces are made from the easiest and most livable fabrics like jersey, velvet, pebbled silk, fleece, and cotton mesh. Tie-dye also appears in Raquel Allegra's new accessories, which is the face mask, designed in a range of fits and styles to accommodate preferences. Some tie behind the head, others loop around the ear, and one is a mask-bandana hybrid that extends to the neck for added coverage–adopting to the new normal in style.
Raquel Allegra raquelallegra.com
Tags