Aman offers some of the best hospitality in some of the nicest properties in the world. We've selected 10 of their best, so pack your bags and come discover these unique destinations, each featuring Aman's unparalleled style and service. From hidden gastronomic treasures, glamorous getaways, or beach adventures, each of these travel spots has something extraordinary on offer to every kind of traveler.
A Lesson in History at Amangyanyun, Shanghai, China
Step back in time at Amangyanyun surrounded by a camphor forest. Each villa has a blend of historical style and modern amenities that embrace the beauty of nature. Set outside downtown Shanghai, immerse in the rich culture surrounding this unique destination. Saved from demolition, these Ming and Qing dynasty dwellings have been reassembled, brick by ancient brick, to create peaceful, refined spaces. With stunning forest views, wooden interiors, stone and bamboo radiating throughout the property, Amanyangyun's 24 Ming courtyard suites and 13 antique villas all feature peaceful courtyards.
Safeguarding a piece of Chinese history, each of the Antique Villas has been meticulously and sensitively restored to include four suites, divided between the historic villa and a newly built wing. It's a combination of contemporary comforts and nature-inspired accommodation that makes this location a memorable spot.
Amanyangyun 6161 Yuanjiang Road, Minhang District, Shanghai, China 201111, +86 21 8011 9999, www.aman.com/resorts/amanyangyun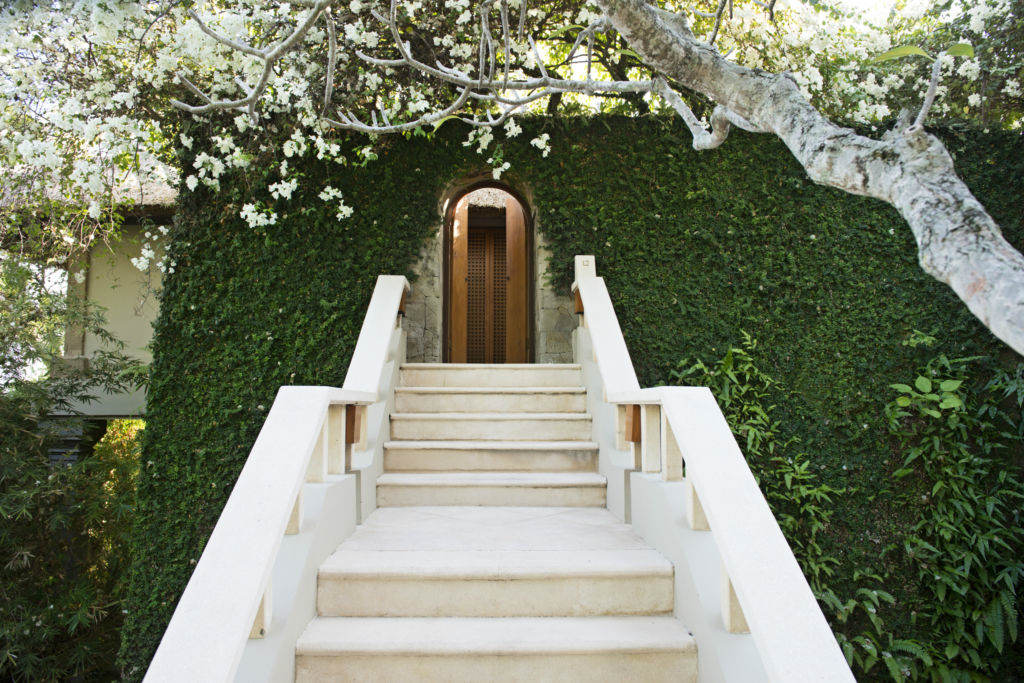 Family Fun at Amankila, Bali, Indonesia
Boasting an unrivaled view of Amuk Bay and Nusa Penida, Amankila's three-tier pool that's set into the cliff edge begins a fantastic holiday for the whole family. The aqua-tiled pools flow one into the other cascading down like terraced rice fields, the scene will simply take your breath away. The sacred Mount Agung also serves as a backdrop while parents sip cocktails or delight in light bites while enjoying your holiday.
Amankila maintains the Balinese culture in its interior designs inspired by the water palace at nearby Ujung. Stretching from hilltop to private beach, the property lies within reach of atmospheric temples and artisan villages. All suites feature canopied king-size beds, a living area, large bathroom with a soaking tub, and outdoor terraces. The kids will never get bored with activities such as trekking, cultural tours, cooking classes, water sports and more.
Amankila Jl. Raya Manggis, Manggis, Karangasem, Kabupaten Karangasem, Bali 80871, Indonesia, +62 363 41333, www.aman.com/resorts/amankila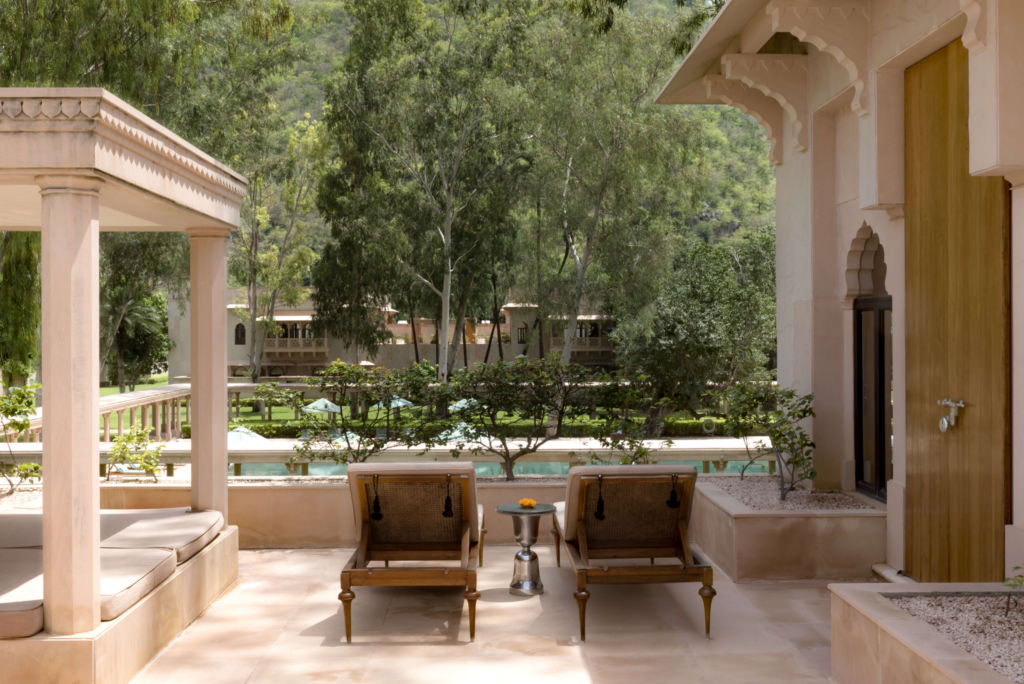 Charmed Cuisine at Amanbagh, Rajasthan, India 
Fall in love with the spices that captured the culinary world at Amanbagh. Enjoy a gastronomical adventure of the Indian cuisine in the countryside setting of Amanbagh where ruins of an ancient empire are dotted in the breathtaking landscape of this dazzling destination. Explore the 17th-century township of Bhangarh that was abandoned just a generation after its completion. Roam around the centuries-old village, fort, and the temple of Ajabgarh. You can travel by foot or camel from the resort. Head to the Sariska National Park, home to tigers, jaguars, sambar deer and more, is a short drive away, as is the temple town of Neelkanth, with more than 80 temples encircled on all sides by mountains.
Apart from the dramatic suites and pavilions, the lush landscape complements the locally-sourced, organic ingredients integral to Amanbagh's cuisine. Three-quarters of the produce used in dishes such as the Rajasthani thali and Hyderabadi lamb biryani is grown in the on-site organic garden, and all poultry is custom-reared in a free-range setting. Prepare your senses for a captivating culinary experience only at Amanbagh.
Amanbagh Ajabgarh, Rajasthan, India, +91 1465 223 333, www.aman.com/resorts/amanbagh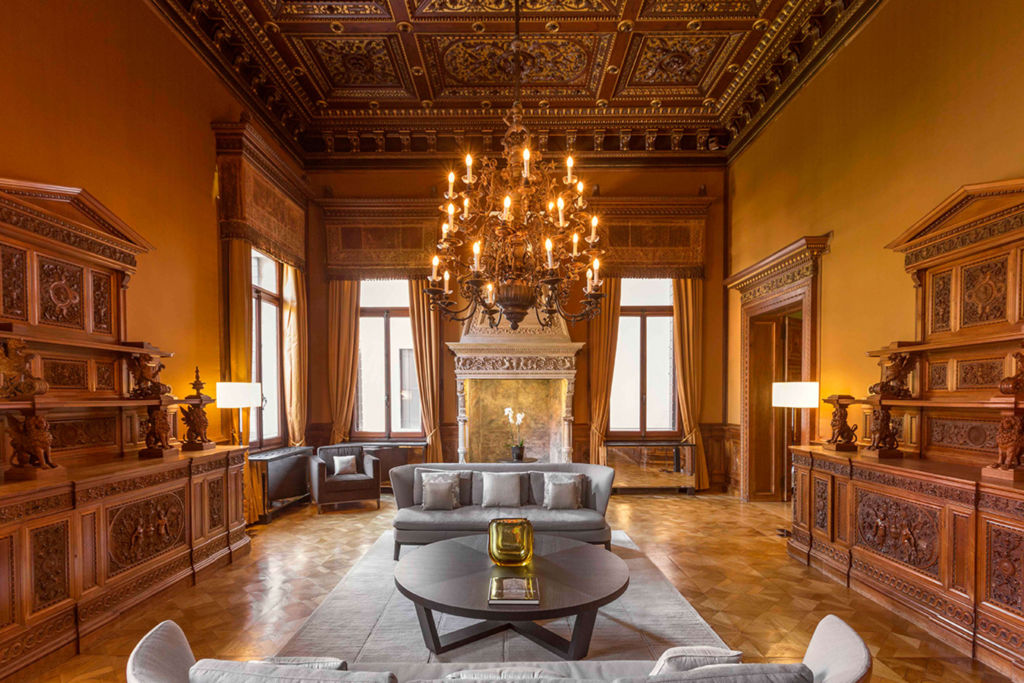 Art Appreciation at Aman Venice, Italy
Nestled in a 16th-century palazzo on the Grand Canal, Aman Venice is home to museum-quality treasures including Tiepolo frescoes, gilded ceilings and centuries-old leather wall coverings. Aman Venice's rooms and signature rooms all vary in size and configuration also feature works by a number of Italy's greatest artists. It includes the 16th-century architect Sansovino and 18th-century painter Tiepolo.
Staying at this property is a magnificent experience. The property is brimming with history and creativity intertwined with contemporary furnishings that complement authentic silk wall coverings, chandeliers, wood paneling, chinoiserie and painted ceilings. Choose one of the suites that offer Grand Canal views for a true Italian holiday.
Aman Venice Palazzo Papadopoli, Calle Tiepolo 1364, Sestiere San Polo, Venezia 30125, Italy, +39 041 2707333, www.aman.com/resorts/aman-venice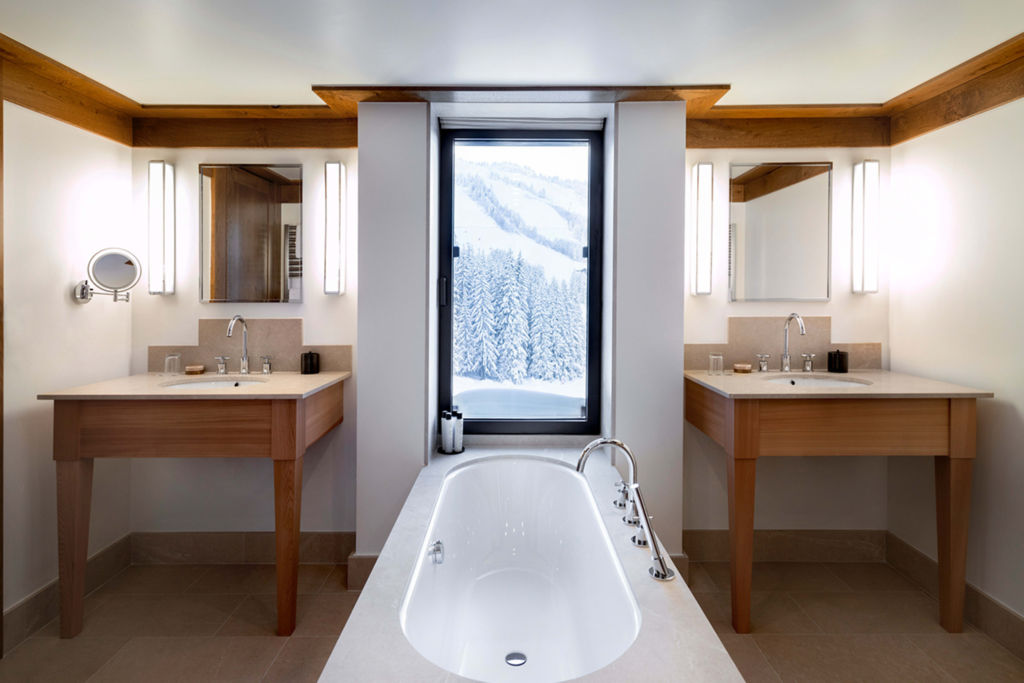 Winter Wonderland at Aman Le Melezin, France
Aman Le Mélézin is situated right in the heart of Les Trois Vallées in France. The luxury ski resort is topped by a slate roof and amid a wonderland of groomed pistes. You won't be bothered by the cold with Aman Le Mélézin's 31 chambers and suites that are all decorated in an Alps-inspired palette with both comfort and style in mind.
Each angle of your view from your room is picture perfect with views of snowy mountains rearing against the Alpine sky. The cedar-paneled ceilings and walls create a cozy chalet feel while large picture windows draw the eye out to the magnificent scenery – even from the bathtub which just might be an iconic Instagram snap.
Aman Le Mélézin 310 Rue de Bellecôte, Courchevel 1850, Saint-Bon-Tarentaise, France, 73120, +33 4 7908 0133, www.aman.com/resorts/aman-le-melezin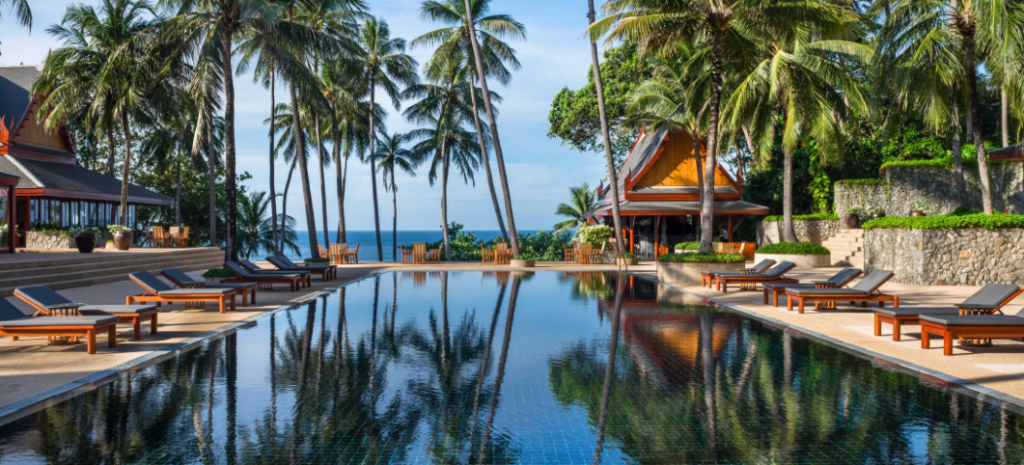 Romantic Reverie at Amanpuri, Phuket, Thailand
Amanpuri is a place of pure bliss for honeymooners. But you don't really need an occasion to get loved up at this romantic location. Nestled in a coconut grove on a pristine location in Phuket and overlooking the Andaman Sea, the resort is set on a hillside with all the stunning details. If you're planning to propose or surprise your loved one, this is a fail-proof destination. Amanpuri's Pavilions are elegant and contemporary with oversized bathrooms and spacious dressing areas. Each private terrace has an outdoor lounging sala and a calm view to truly unwind and relax your mind and body.
Amanpuri 118 Moo 3 Srissunthorn, Phuket, 83110, +66 76 324 333, www.aman.com/resorts/amanpuri/pavilions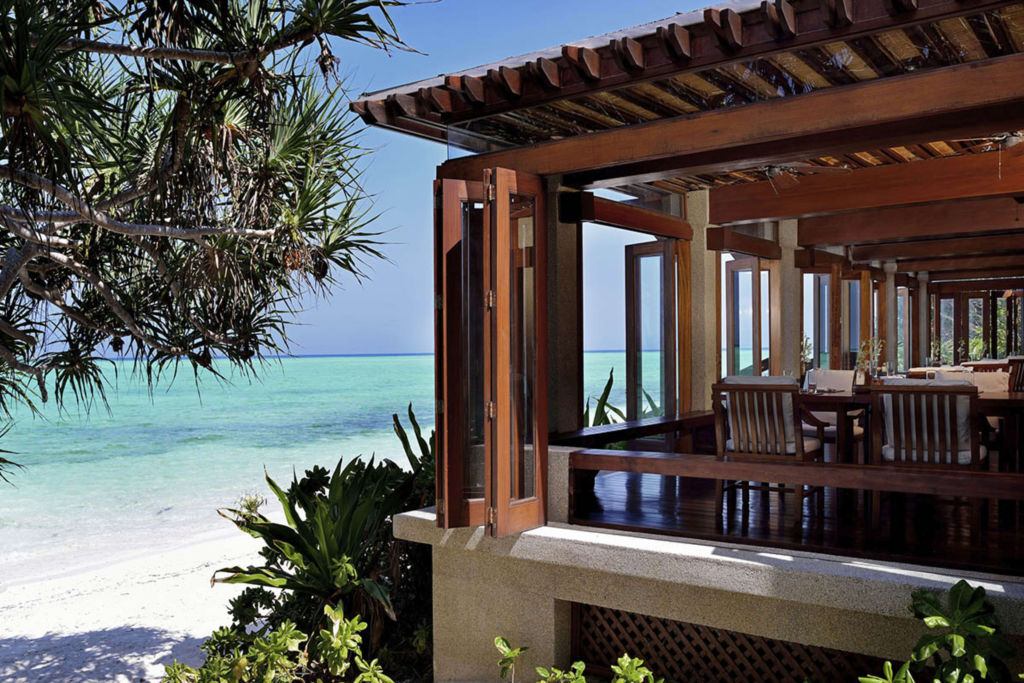 Escape to Paradise at Amanpulo, Palawan, Philippines
Dubbed one of the best islands in the world, Amanpulo Palawan is an unforgettable destination. Whether it is sailing or scuba diving, windsurfing or simply frolicking in the water, Amanpulo offers an abundance of aquatic activities off the beaches surrounding the Pamalican Island, all available to beginners and experts alike. Enjoy nature walks in the morning and star gazing in the evening. They say a stay at this idyllic island is life-changing not only for those soul searching but for those who want to escape the city life and enjoy peace.
Amanpulo's Casitas feature direct beach access via sandy footpaths, magnificent views of the turquoise sea from the hillside, or seclusion within the forest canopy. Broad wooden decks, hammocks in secluded bowers and pebble-washed walls are just some of the traditional Palawan Island elements included that make your stay extra special.
Amanpulo Pamalican Island, Philippines, +63 2 976 5200, www.aman.com/resorts/amanpulo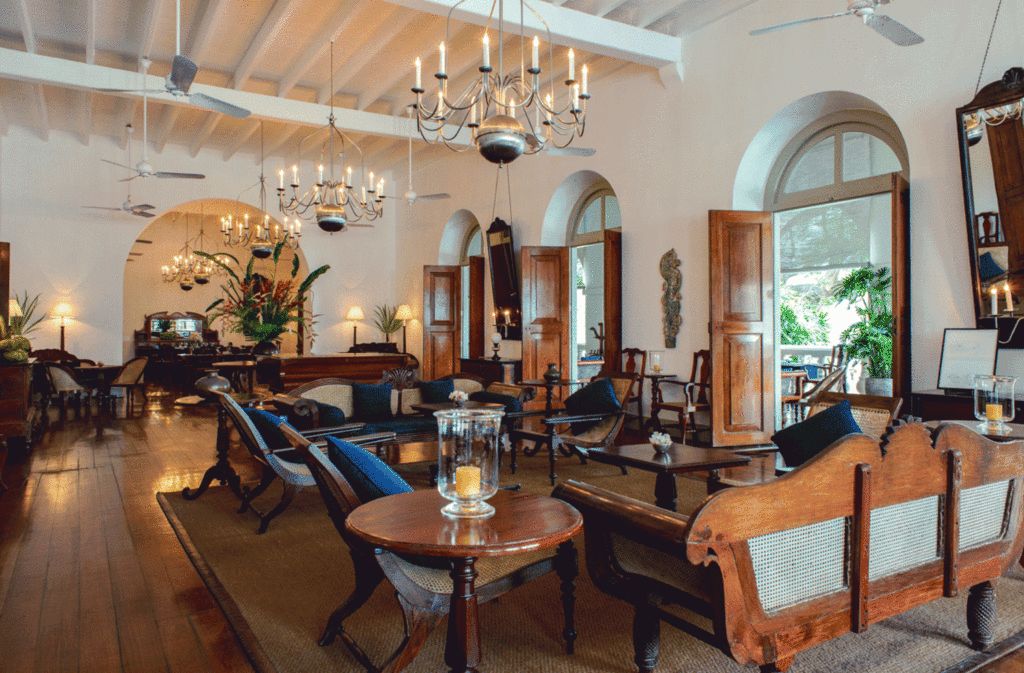 Captivating Culture at Amangalla, Sri Lanka
Amangalla is set on an enchanting ground spread across nearly 9,000 square meters on the Galle peninsula. The resort's mature garden dates back to the building's construction in the 1860s, and the UNESCO-protected fort is the best-preserved colonial fortification in Asia. Explore temples and tea plantations at this scenic destination and learn about the charmed culture and heritage of Sri Lanka.
Evoking the essence of colonial style with pared-back finesse, Amangalla's elegant rooms and signature rooms are highlighted with high ceilings, large windows and the original polished Burmese teak floorboards. It is decorated with period antiques including four-poster beds, pettagama chests and planter's chairs. They overlook the Fort's quaint lanes and the hotel's 200-year-old gardens.
Amangalla 10 Church Street, Fort, Galle, Sri Lanka, +94 91 223 3388, www.aman.com/resorts/amangalla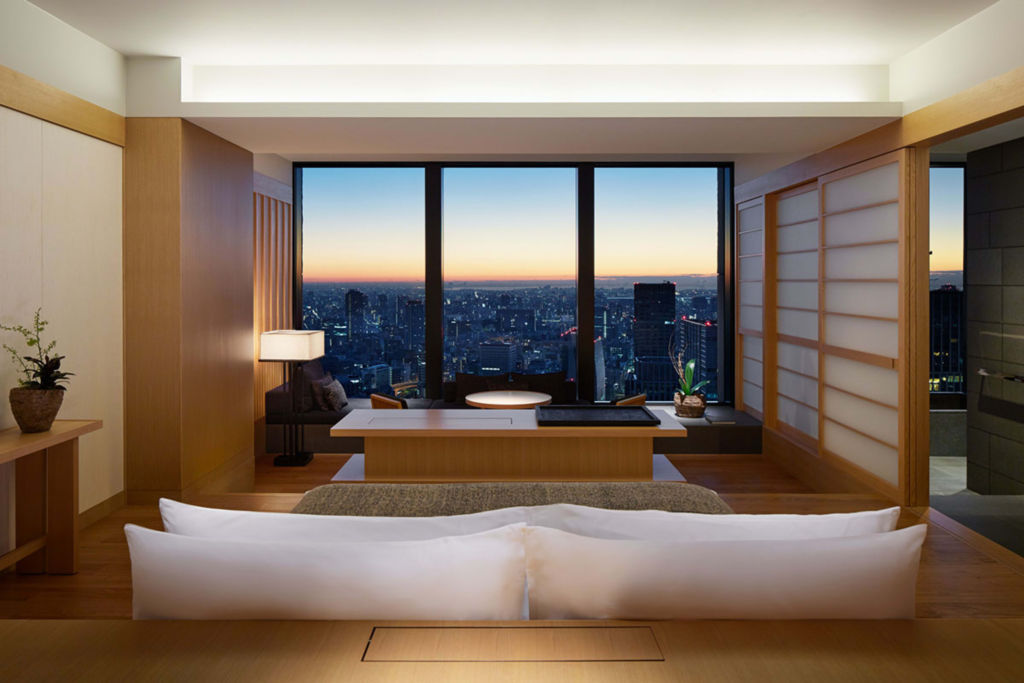 Style and The City at Aman Tokyo, Japan
Aman Tokyo is a monument to the modern-day Japanese capital. It's a fascinating city where urban dynamism has miraculously meshed with peace and mindfulness. Set in Otemachi, the luxury hotel is within easy reach of Tokyo Station and the thriving Nihonbashi district.
Aman Tokyo's rooms and suites put the spotlight on lofty urban sanctuaries by drawing design inspiration from traditional Japanese residences. Made of a vibrant mixture of wood, washi paper and stone with modern technology and luxurious fabrics, the accommodation offers magnificent views including the Imperial Palace Gardens and Mt Fuji on the horizon on a clearer day. Aman guarantees a stylish holiday in the urban jungle.
Aman Tokyo The Otemachi Tower, 1-5-6 Otemachi, Chiyoda-ku, Tokyo 100-0004, Japan, +81 03 5224 3333, www.aman.com/resorts/aman-tokyo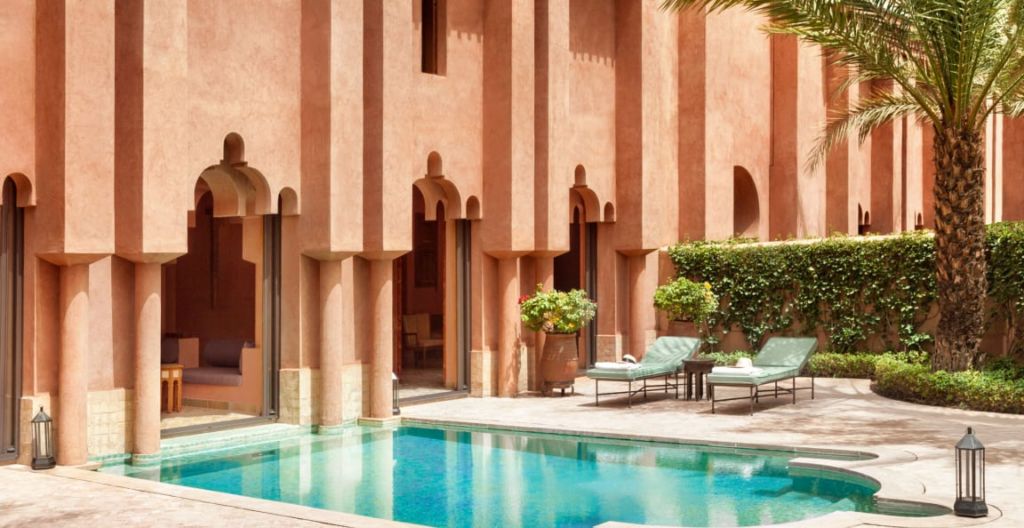 Royal Retreat at Amanjena Morocco
Live the high life with a royal retreat at Amanjena. Explore the old souks of the fabled red city of Morroco. Famous for ceramics, jewelry and metal lanterns, experience the old side of Marrakech. Amidst shady courtyards with petal-strewn fountains, traditional earth-toned pisé-de-terre walls give way to the central basin – it's this ancient-style reflection pool that helps nourish the gardens and its date palms, olive trees and bursts of exotic flora.
Be amazed by Amanjena's 32 pavilions and seven Maisons decked with contemporary interpretations of Moroccan traditions. The sound of running water in fountains soothes while chaise longues and candle lanterns lend classic Moroccan ambiance for a true royal retreat.
Amanjena Route de Ouarzazate, km 12, Marrakech, Morocco 40000, +212 5 24 399 000, www.aman.com/resorts/amanjena
Tags
Related Posts