Siem Reap is known as the gateway to Angkor Wat, the largest temple complex in the world, but there is a lot more to do than meets the eye.  This once sleepy town, steeped in culture is now bustling with life in the form of markets, museums and, of course, fantastic places to enjoy local food. So if you fancy an adventurous weekend getaway then check out our guide on what to do in Siem Reap in 48 hours.
GETTING TO SIEM REAP
Catch a direct flight from Hong Kong International Airport to Siem Reap International Airport in two and a half hours. Most travellers will require a visa to enter Cambodia and immigration forms will be given to you during your flight.
For a visa on arrival, bring a 4x6cm passport photo with you, and USD $30. An e-visa costs the same plus a processing fee of USD $7, and the visa is valid for only 90 days. For e-visa services click here, and do note that you must apply for your e-visa three working days before your arrival in Cambodia.
Cambodia uses US Dollars on the whole but Cambodian Riels (KHR) can also be used, usually at local markets. Please ensure that you have US Dollars to pay for your visa.
DAY ONE
KICKSTART YOUR MORNING
Cambodian cuisine may not be as well known as food from neighboring countries such as Thailand and Vietnam, but it certainly should not be overlooked. We recommend you begin your day by sampling a variety of Cambodian breakfast foods at the elegant Malis Restaurant. The people behind Malis pride themselves on their authentic dishes with inspiration drawn from forgotten recipes before the Khmer Rouge rule. Master Chef Luu Meng and his creative team aim to promote and retain Cambodia's food heritage by keeping traditional recipes alive.
Malis Restaurant offer a free-flow breakfast special from 6:30am–10:30am every day. Tasty options include fresh rice noodles, Cambodian roasted chicken and rice and eggs. Coffees, teas and fresh juices are on offer and we highly suggest their refreshingly tangy passion fruit juice to beat the heat.
Malis Restaurant Pokambor Avenue, Siem Reap Riverside, Siem Reap, Cambodia, +855 (0)15 824 888, www.malis-restaurant.com/siemreap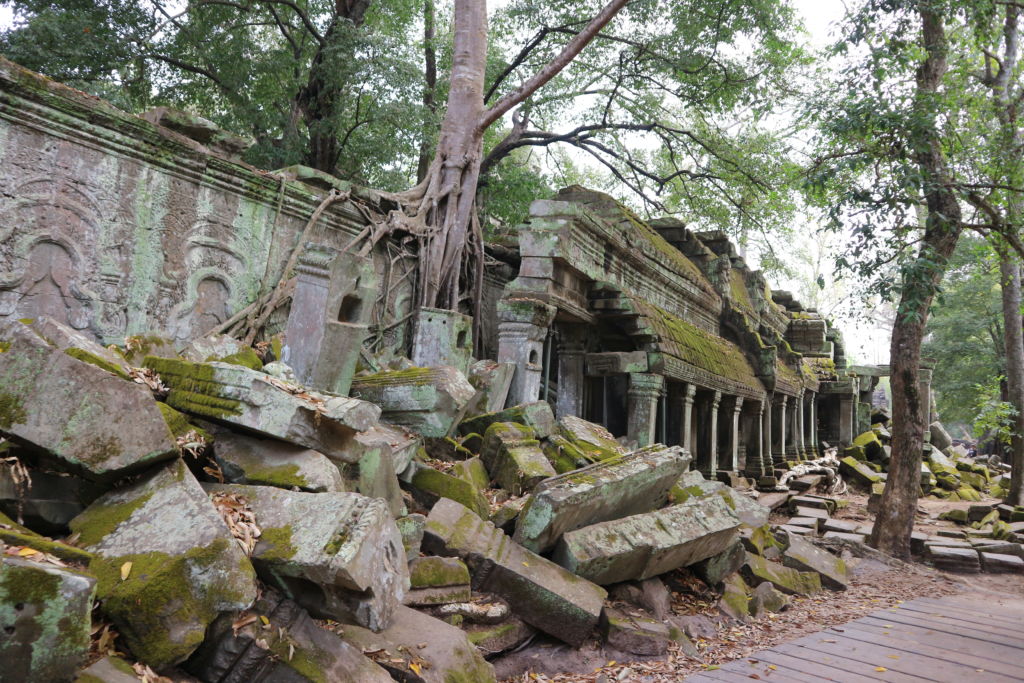 EDUCATE YOURSELF
You've nourished your body with good Khmer food, so now it's time to fill your mind with local knowledge. If you only have two days to spend in Siem Reap, before you visit the Angkor Archaeological Park, we think you should visit one of these fantastic museums. This will provide you a better understanding of the ancient ruins left behind by the Khmer Empire.
Angkor National Museum
The Angkor National Museum gives you a chance to travel back in time and immerse yourself in art and culture of the fascinating civilisation of the Khmer Empire. Cambodia was at the heart of this mighty kingdom with much of modern day Thailand, Laos, Vietnam and Myanmar under its rule for centuries. This museum has a practical layout and is a worthwhile way to spend an afternoon. Not to mention, it is completely air-conditioned which means you will be out of the sweltering midday heat.
Angkor National Museum 968 Vithei, Charles De Gaulle, Krong Siem Reap, Cambodia, +855 63 966 601, www.angkornationalmuseum.com
Cambodian Landmine Museum
The Khmer Rouge ruled Cambodia for four years and during that time, the brutal regime claimed the lives of up to two million people making it one of the worst mass killings of the 20th century. The regime ended in 1979 and there were undetonated mines spread out across the country. For this reason, plus American bombings and the Vietnamese Occupation, Cambodia is one of the most heavily mined countries in the world. The Cambodian Landmine Museum offers information about this ongoing issue.  You can also learn about one of its founders Aki Ra, formerly a Khmer Rouge child soldier, who has disarmed 50,000 landmines in his lifetime. This small museum which will open your eyes and give context to Cambodia's dark history.
Cambodian Landmine Museum 67, Siem Reap, Cambodia, +855 15 674 163, www.cambodialandminemuseum.org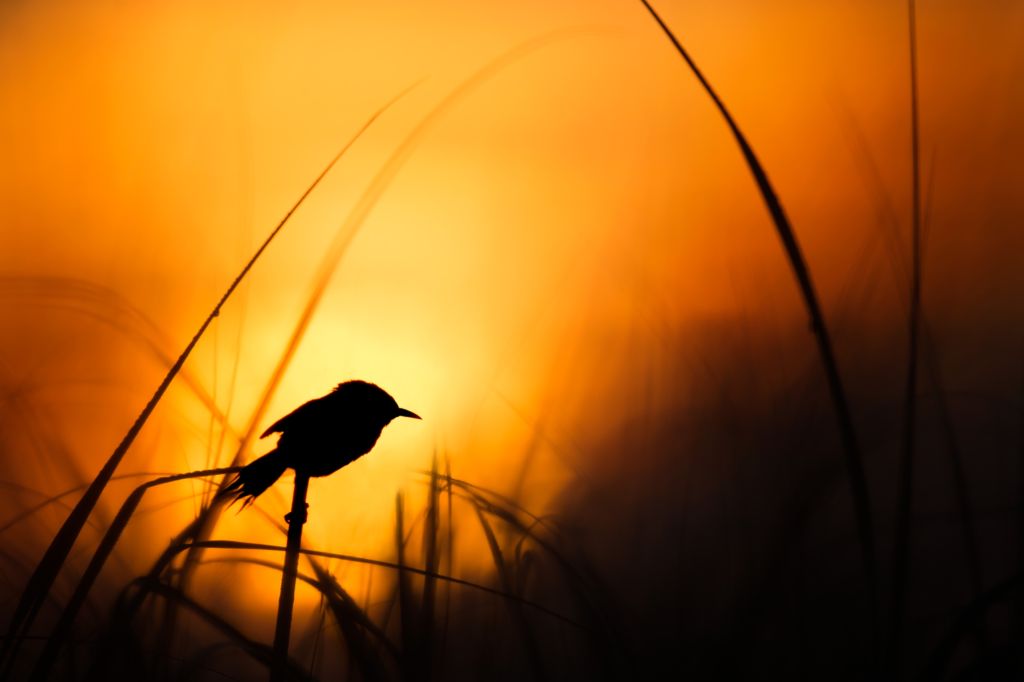 SUNSET AT A TEMPLE IN ANGKOR
With just one day to dedicate to the temples within the Angkor Archaeological Park we have a pro tip for you–purchase your ticket at 5:00pm the day before your actual intended day of visit and enter the park for free! Watching the sun set from an ancient temple can be a spiritual experience so make your way to the ticket office (all tuk tuk drivers will know where to go) and buy your ticket for the day after. As soon as you've purchased your ticket, head into the park to watch a magical sunset.
There are two temples open until 7:30pm–Phnom Bakheng and Pre Rup. You can find Phnom Bakheng atop a hill making it a great place to catch a beautiful, panoramic view over the countryside and temples. Be ready to share this view with lots of tourists as this temple is by far one of the most popular sunset spots in Siem Reap. For a less crowded experience, we recommend you travel a little further to Pre Rup. Climb the steep steps up the three-tiered pyramid temple and watch the sun set over the lush, green Cambodian jungle.
DISCOVER MARKETS
The sun has set and your belly is beginning to rumble.  Head back to Siem Reap and experience the joys of street food at one of Siem Reap's markets! The Angkor Night Market is our first choice as it's open until midnight and offers a wide variety of things to do in the evening.  However Psar Chas is the oldest market in Siem Reap and great if you want a taste of the local lifestyle. At the Made in Cambodia market you can purchase handmade goods from local artisans or sample some delicious Cambodian liqueur Sombai, made with rice, fruits and spices.
Opening hours: daily, 4:00pm–12:00am
Angkor Night Market Off Sivatha Boulevard, Siem Reap, Cambodia

Opening hours: daily, 7:00am–8:00pm

Siem Reap Old Market (Psar Chas) 2 Thnou St, Siem Reap, Cambodia

Opening hours: Saturday, Sunday and Tuesday, 4:00pm–9:00pm

Made in Cambodia market Street 27, Achar Sva St, Krong Siem Reap, Cambodia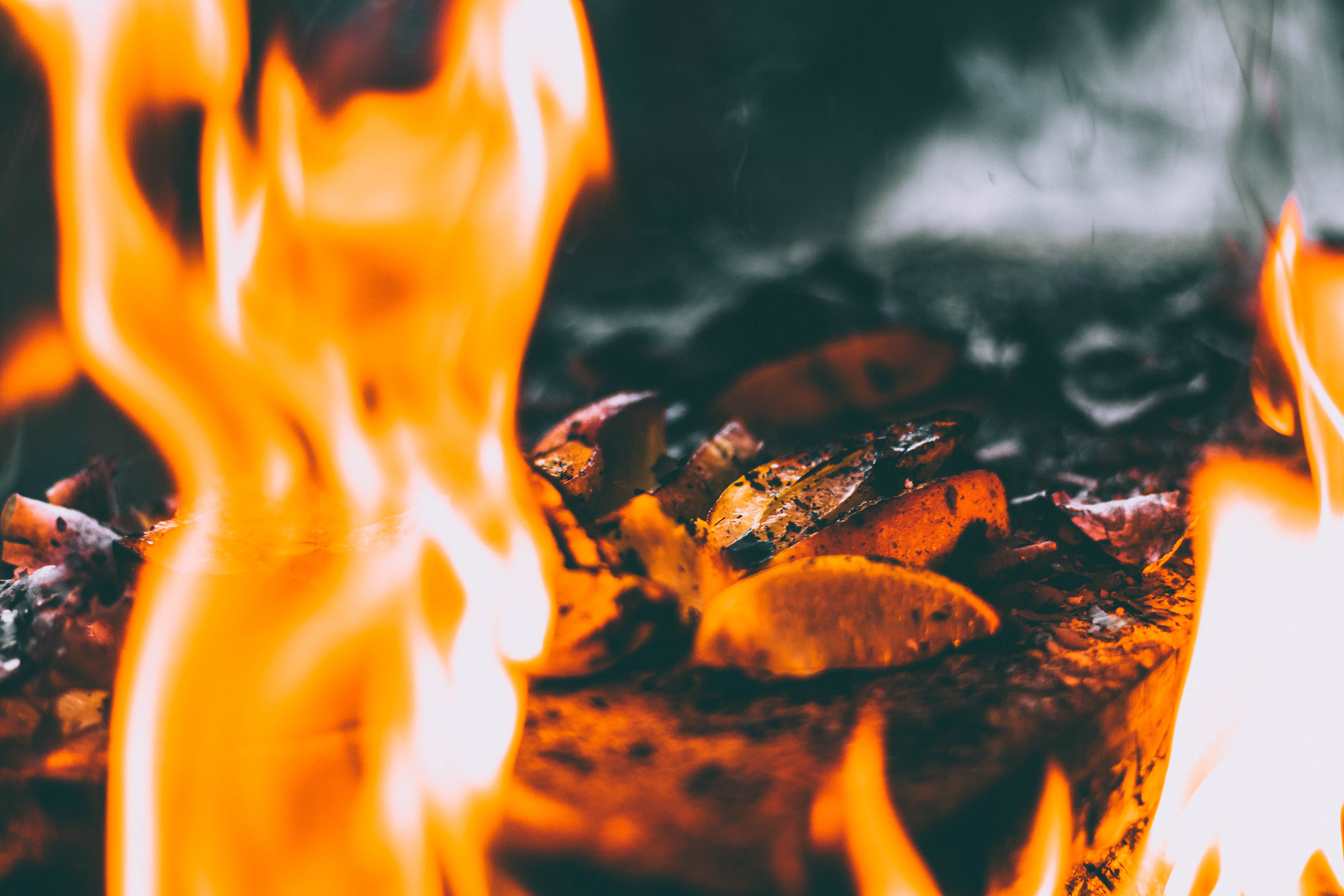 WHAT TO EAT IN SIEM REAP
As you make your way through the labyrinth of huts you will find that the choices are endless. So pick up a fresh fruit shake and and follow your nose around the food vendors.
A local delicacy of Cambodia is deep fried insects.  For the adventurous type, choose between grasshoppers, cockroaches and tarantulas from the menu at the Angkor Night Market.  If you enjoy this delicacy then head over to the Bugs Cafe for more weird and wonderful, tapas style bug-eating experience.
For a more conventional dinner you can't beat perfectly grilled food on a stick! The barbecue squid and fish are mouthwatering whilst frog is a local favorite. Lort Cha is a stir fried fat rice noodle dish topped with an egg. This is a popular market food which is usually fried with beef and served with a spicy and sweet red sauce. Noum Krouk is a crunchy on the outside but soft on the inside fried coconut rice cake with spring onions which is a savoury and can be eaten with a little dash of vinegar.
Finally, make sure you leave room for dessert.  Visit a 'fried' ice cream stall and watch a local pour your selected flavor onto an ice pan then chop and change the liquid into delicious ice cream rolls. These vendors offer many flavours and some use a yogurt base.
Bugs Cafe 351 Angkor Night Market Street, Steung Thmei, 17259, Cambodia, +855 17 764 560,bugs-cafe.squarespace.com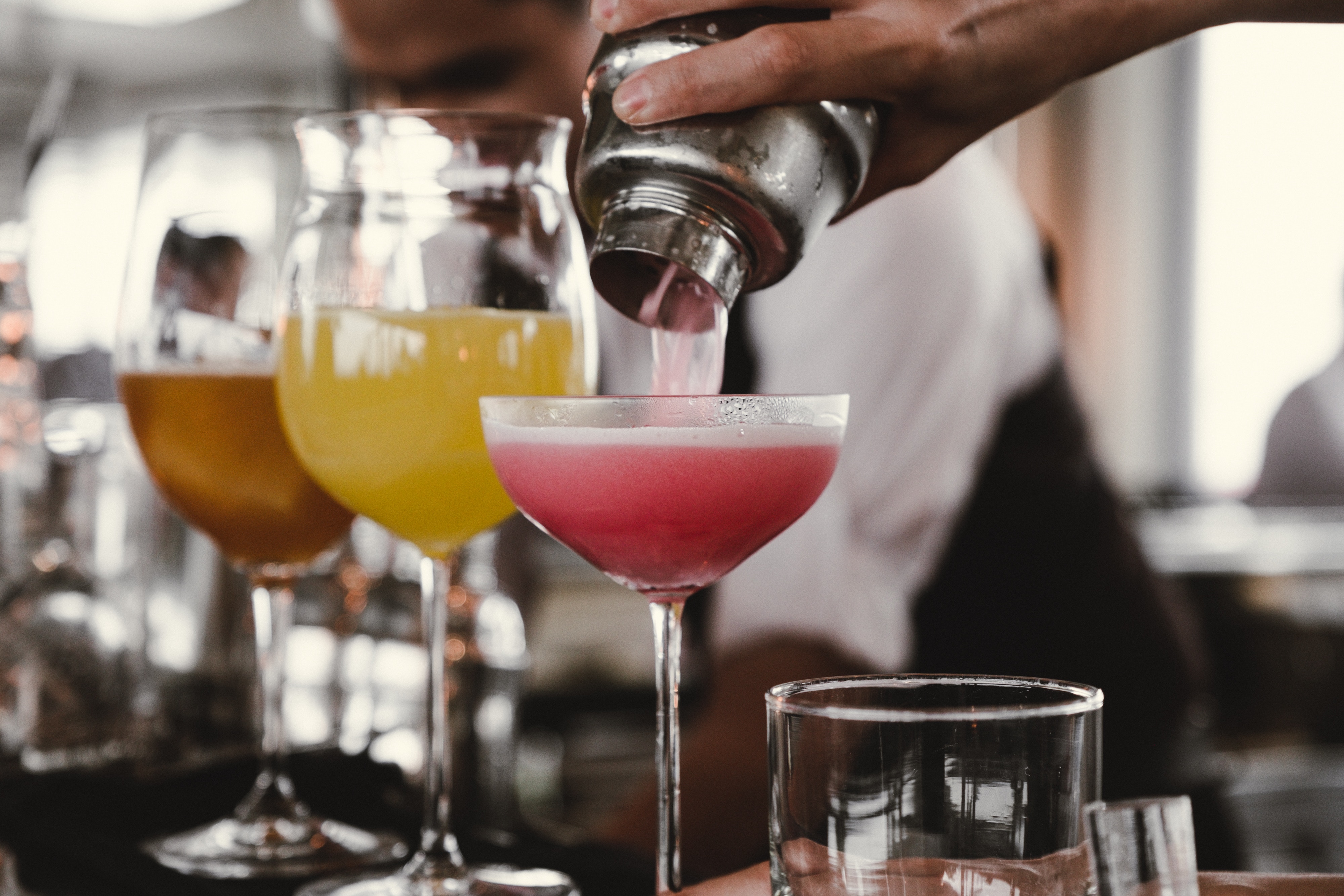 Walk off your food baby and wander around the Khmer style traditional huts. The Angkor Night Market is the first night market to open in Cambodia and is full of stalls selling various goods from paintings to wood carvings. Pick up a souvenir to commemorate your visit then go to one of the many massage and spa parlors to pamper yourself. The night market also offers live music every day. A perfect way to end your market experience would be to enjoy an ice cold beverage while relishing the music.
If you're not ready to end your evening then head over to Pub Street, Cambodia's answer to Khao San Road in Bangkok. Here you will find an international crowd at the vibrant bars and nightclubs which stay open till the early hours. For a more sophisticated nightcap, look no further than Miss Wong, a cocktail bar that has the feel of a 1920s Shanghai speakeasy! Sample the deliciously mixed cocktails whilst taking in the atmospheric decor. We highly recommend having the apricot and kaffir lime martini that's perfect in the heat with a dash of zest.
Miss Wong House No. 2 Road, Mondol 1 Village, 17252, Cambodia, +855 92 428 332, misswong.net

ANGKOR ARCHAEOLOGICAL PARK
Tickets can be purchased from the Angkor Ticket Center (Angkor Enterprise), Street 60, Krong Siem, Siem Reap, which is open from 4:30am–5:30pm. Choose from three options when purchasing your ticket for the Angkor Archaeological Park:
One day pass – USD $37
Three day pass – USD $62
Seven day pass – USD $72
The three day pass is valid for 10 days from the issue date and the seven day pass is valid for one month from the issue date. The ticket counter accepts payment made from the following credit cards–Visa, Mastercard, UnionPay, JCB, Discover and Diners Club.
The Angkor Archaeological Park is a religious site so please do dress modestly.  This means keeping your shoulders and knees covered.  Please note you must also dress appropriately when purchasing your pass from the counter. You may not receive your pass if what you're wearing is deemed inappropriate. Your photo will be taken for your pass and it's a one pass per person rule. Finally, keep your pass safe! There are monetary penalties for the loss of your pass with a maximum fine of USD $300.
USEFUL INFORMATION
The Angkor Archaeological Park is one of the most renowned archeological sites in the world with more than 1000 temples in an area of over 400 square kilometers. You would actually need a few days to see the entire site. With just one day designated to the Angkor Archaeological Park, we recommend you hire a good guide and a driver to make the most of your visit. A guide will help you appreciate the handful of amazing temples you will visit during the day. Your hotel can recommend both guides and drivers if you feel a little lost. We used Amazing Angkor Adventure tour operator to secure a guide during our visit. Our guide doubled up as a driver and he was friendly and very knowledgeable. As a bonus he also introduced us to a fantastic local spot to refuel at lunchtime.
The park is largely out in the open so you will be exposed to the sun for a long period of time. If this doesn't faze you then hire a tuk tuk to take you around the sites. If you want to make your journey more comfortable then we recommend  you choose a driver with an air-conditioned car. The price is slightly higher but you will appreciate the relief from the scorching heat in between temples.
Amazing Angkor Adventure Beng Dounpa Village, Slorkram Commune, Angkor Wat Krong Siem Reap, Cambodia, +855 12 332 331, https://www.facebook.com/Amazing-Angkor-Adventure

DAY TWO
ANGKOR WAT SUNRISE
The famed Angkor Wat sunrise is a firm bucket list favorite and is something you do not want to miss during your trip. Put in a request for your hotel to pack your breakfast to go or pick something up on the way to the ancient ruin.
Angkor Wat is the most important temple in the park which means it attracts the most tourists. Beat the crowds by leaving your hotel by 4.45am at the latest. You will arrive in the dark and it'll take you a few minutes to get to the reflective pools and find a good spot for sunrise.
Once the sun has risen, it's time to explore Angkor Wat. Spend the golden hour walking through the mystic passageways of the temple and wander around the different rooms. Make sure you make your way to the top of the temple for a stunning panoramic view. There is usually a queue to get up the steep stairs but it is definitely a worthy wait.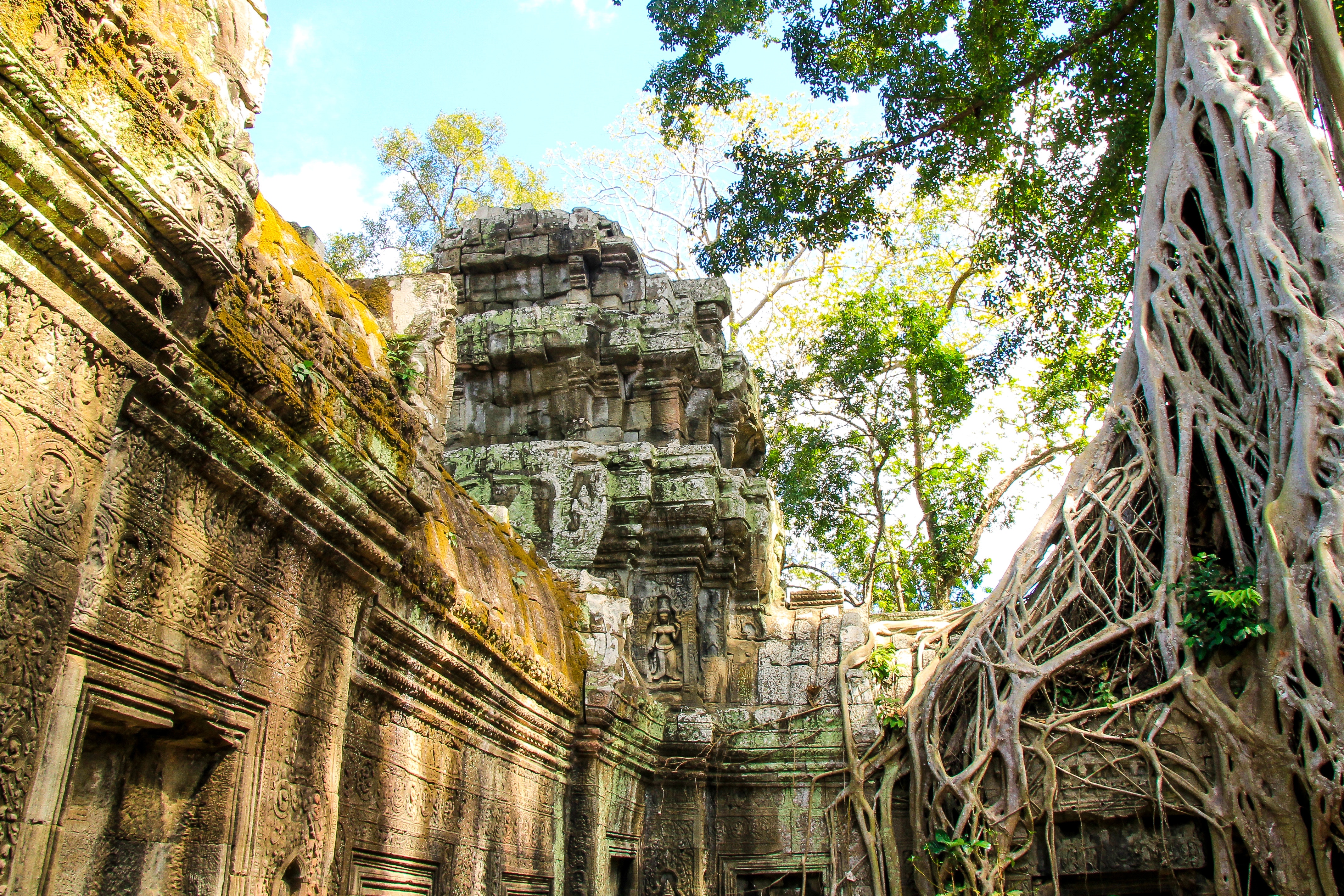 TA PROHM, THE TOMB RAIDER TEMPLE
After a couple hours at Angkor Wat we recommend Ta Prohm as the next destination.  Ta Prohm was famously featured in the 2001 Tomb Raider movie and is an incredibly picturesque temple ruin. You will want to spend at least an hour wandering around this magnificent ruin and admiring the way the gigantic roots of the jungle have reclaimed this 12th century temple back to nature.
TA KEO
Ta Keo pre-dates Angkor Wat and is one of the oldest temples, dating back to the 11th Century. It is a five tiered pyramid with four steep staircases and more than 100 steps. Unusually, it is unfinished. If  it was completed, historians believe it would have been one of the grandest temples within the complex.  Although it will never truly be known why this giant temple was left unfinished, one popular theory is that the temple was struck by lightning during construction. Considered to be a bad omen, Ta Keo was left untouched ever since.
After you have finished marvelling at the mysteries of Ta Keo, find a food vendor and enjoy a quick, street side lunch. Alternatively you can ask your driver to take you to a local restaurant or cafe for a proper sit down meal.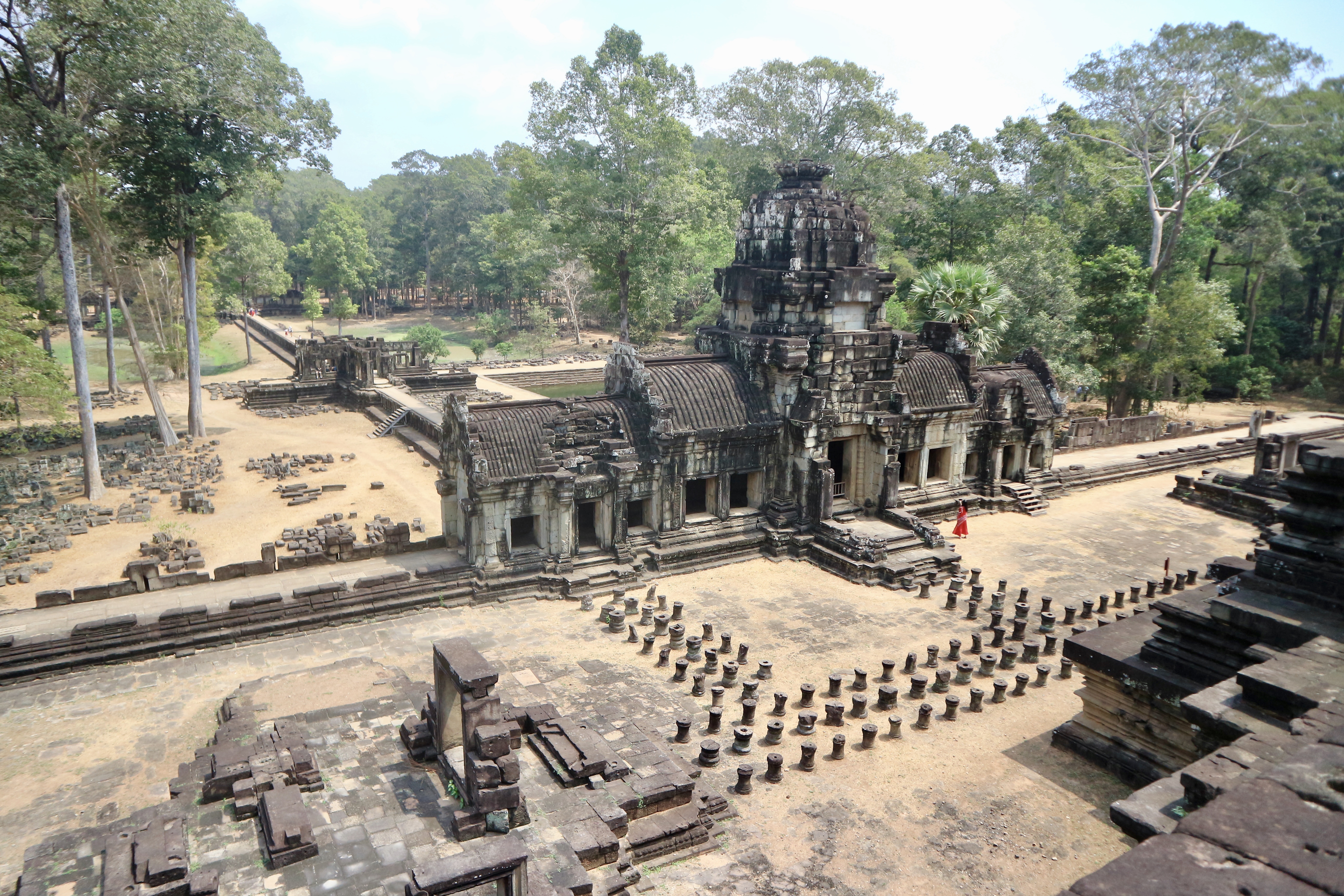 AN AFTERNOON AT ANGKOR THOM
After lunch, drive through the impressive Victory Gate and towards Angkor Thom, the 'great city'.  There are three notable sites to explore here; Bayon Temple, Baphuon Temple and the Terrace of the Elephants.
Terrace of the Elephants
The Terrace of the Elephants is a two and a half meter high wall and it stretches to 350 meters in length. This ornate wall boasts intricate carvings of elephants, lions and also mythical animals including Garuda, three-headed elephants and seven-headed horses. These adornations nod towards Hindu mythology. In ancient times, the king used the terrace as a viewing platform for grand ceremonies, celebrations and games.

Baphuon
From this once grand terrace, make your way to Baphuon Temple by foot. Built in the 11th century before the city of Angkor Thom was established, this temple offers great views over the whole of Angkor Thom. Originally built as a Hindu temple in the late 15th century, it was converted into a Buddhist temple. Thus, a huge reclining Buddha was added to the west side of the temple. Although the addition was never completed, you can faintly see the outline of the Buddha.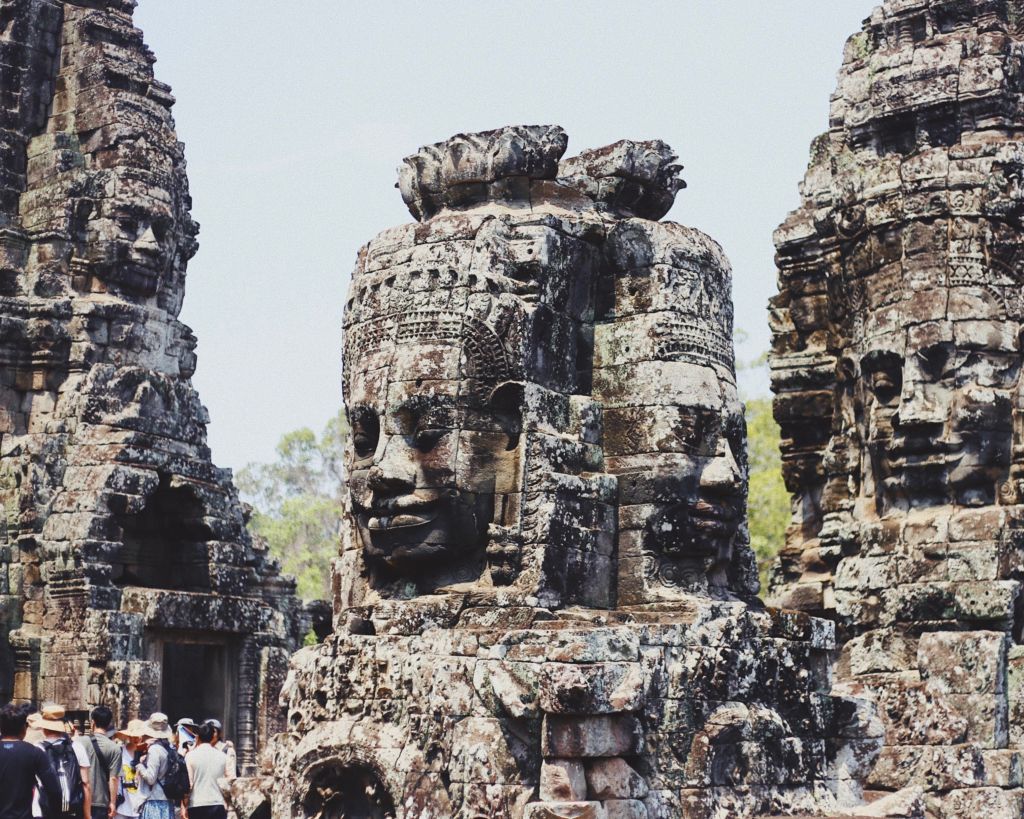 Bayon
Finally, at the heart of the great city is the 12th century Bayon Temple, known for the 216 faces gently smiling down at you. Some say the faces were dedicated to the Buddha whilst others believe that they were carved to look like King Jayavarman VII, who built the temple. This is a great temple to end your day with, visiting later in the afternoon means you get to escape the crowds and also view the ornate faces in the best natural light.
There is a lot more to see in the Angkor Archaeological Park but for a one day visit we think these temples are the most important ones to experience.
A NIGHT AT THE CIRCUS
Exploring temples under the sun can be exhausting, so head back to your hotel and refresh yourself for a relaxing evening at the Phare, The Cambodian Circus. The Phare Circus originates from an NGO school and professional arts training centre which uses visual arts to help children out of tough situations. The show gives students a chance to use their skills by performing on stage. It is a great example of sustainable and responsible eco-tourism. The show itself is full of awe-inspiring acrobatics whilst telling Cambodian stories, both old and new.
There's a nightly performance at 8:00pm, but you can opt for a dinner and show package which includes a three course meal at the Phare Cafe before the show. The Cafe and Phare Boutique opens at 6:00pm so head over early to browse through the locally made products before the performance. The show is sure to enthral you with the performance of the talented students. This is a great way to create vibrant memories of Siem Reap and perfect as an end to your trip to this ancient city.
Phare, The Cambodian Circus Phare Circus Ring Road, south of the Intersection, Sok San Rd, Krong Siem Reap, +855 92 225 320, pharecircus.org
There are some fantastic religious sites right here in Macau.  If you don't get a chance for a getaway to Siem Reap then click here for some temples closer to home.
Tags
Related Posts