Churches, cathedrals, and temples have always been a significant part of cultural heritage practically everywhere in the world. Thanks to Macau's special status, China's Cultural Revolution didn't have much of an impact on local spiritual landmarks. Guidebooks and must-visit lists include these temples but some are more elusive due to the language barrier. We gathered an ultimate guide to Macau most beautiful temples, so forget Google and read on.
– MACAU PENINSULA –

A-Ma Temple
A-Ma Temple is probably the most famous and important temple of Macau. Moreover, it is one of the oldest ones as its Hall of Benevolence dates back to 1488. Local fishermen decided to build the temple in the name of the Chinese goddess of sea, A-ma, also known as Tin Hau. The temple is located on the very south of Macau peninsula and it plays an important part in the legend behind the city's name (read more about it here). 
A-Ma Temple is a beautiful example of how different local religions, such as Taoism, Buddhism, Confucianism and folk beliefs coexist in one complex. The temple's halls are organically incorporated into Barra Hill and guarded by stone lions. After entering through the majestic Memorial Arch, you will find yourself in the Prayer Hall dedicated to the Goddess of Seafarers, Tin Hau, or A-ma. In front of it, there is the Hall of Benevolence. 
Turn right to enter the Buddhist Pavilion, Zhengjiao Chanlin with a shrine for Tin Hau and a moon gate. The top floor of A-ma temple accommodates the Hall of Guanyin. Guanyin is celebrated both in Buddism, Taoism, and Chinese folk religions as a Buddhist bodhisattva and the Goddess of Mercy.
Plan your visit earlier in the morning to avoid the tourist crowd. This way, you have more chances to enjoy the unique atmosphere of this spiritual place. 
Opening hours: Sunday–Saturday, 7:00am–6:00pm
A-Ma Temple Rua de Sao Tiago de Barra and Calcada da Barra, Macau

Pao Kong, Temple of Divinity of Medicine and Nanshan Temple
Doesn't it sound like way too many different temples to list as one? These bright yellow walls with red Chinese characters accommodate three temples in its complex.
The most well-known temple of the complex, Pao Kong, Pau King, or Bao Gong, was constructed during Guangxu Reign in 1889. In 1888, a plague spread around Macau. Someone suggested using an effigy of Lord Pao, a legendary figure in Chinese history, to drive it away. As the plague epidemic cleared, people believed that it was because of Lord Pao. Thus, they built a temple to honor and enshrine his effigy. Pao Kong is also known as the Temple of Sleeping Buddha.
Pao Kong Temple Rua da Figueira, Macau

Lin Fung Temple 
Close to the border of Zhuhai, Lin Fung Temple is a spacious complex that exhibits religious syncretism in China. Lin Fung Temple stands out due to its dedication to a range of divinities to cater for the spiritual needs of everyone.
Believed to be built in 1592, this temple originally named Tian Fei (Taoist Goddess of the Sea) Miao, might be one of the oldest in Macau.
Later in the 18th century, the Guanyin (the Goddess of Mercy) hall was added to the complex. Then, it was renamed Ci Hu Gong (the Palace of Mercy and Protection). There is a small "safe" near the altar where the Goddess gets the money to lend worshippers once a year, legend says. 
After numerous renovations and name changes, the temple finally acquired its present name. Lin Fung literally means "lotus peak" as the lotus is a symbol of great significance in Macau. Moreover, this is how the hill behind the temple is called. 
The temple was also a stopping off point for Mandarins visiting Macau. One of them was Commissioner Lin Ze Xu who was appointed to abolish the opium trade and succeeded. There is a memorial hall on the right of the temple with a stone monument of the hero.
Opening hours: Sunday–Saturday, 7:30am–6:00pm
Lin Fung Temple Avenida do Almirante Lacerda, Macau

Kun Iam Tong Temple 
Kun Iam Tong is located in a pretty remote area of Macau, so only keen explorers can get there. Nonetheless, it is one of the three largest Buddhist temples in Macau and is believed to be the oldest one. It was founded in the 13th century by Kun Iam, the Bodhisattva of Mercy. The current complex of three courtyards and three main halls with several smaller shrines was finished by 1627. The temple is a magnificent example of Buddhist architecture with a lot of hidden details. 
Take a step and you will see a painting of laughing Buddha and giant sculptures of Four Heavenly Kings. The main courtyard is dotted with bonsai pots and sculptures of baby Buddha. Remember to look up to see mesmerizing porcelain figurines decorating the rooftops. 
The statue of Kun Iam is in the main hall, crowned and dressed in embroidered silk. Kun Iam is surrounded by 18 figures of Buddha, one of which allegedly represents Marco Polo. The other two halls are Buddha of Longevity Hall and Hall of Sakyamuni with three gilded statues and a bronze bell of over 300 years old. 
The first Sino-American treaty signed in 1844 took place in the terraced gardens at the back of the temple. Besides the historic significance, there are fountains, groves of bamboo and four intertwined trees that locals call Lovers Trees. Legend says, the trees grew from a burial site of two lovers who had ended their lives as they could not be together. 
Opening hours: Monday–Saturday, 10:00am–4:00pm
Kun Iam Tong Temple Avenida do Coronel Mesquita, next to the building No.2L, Macau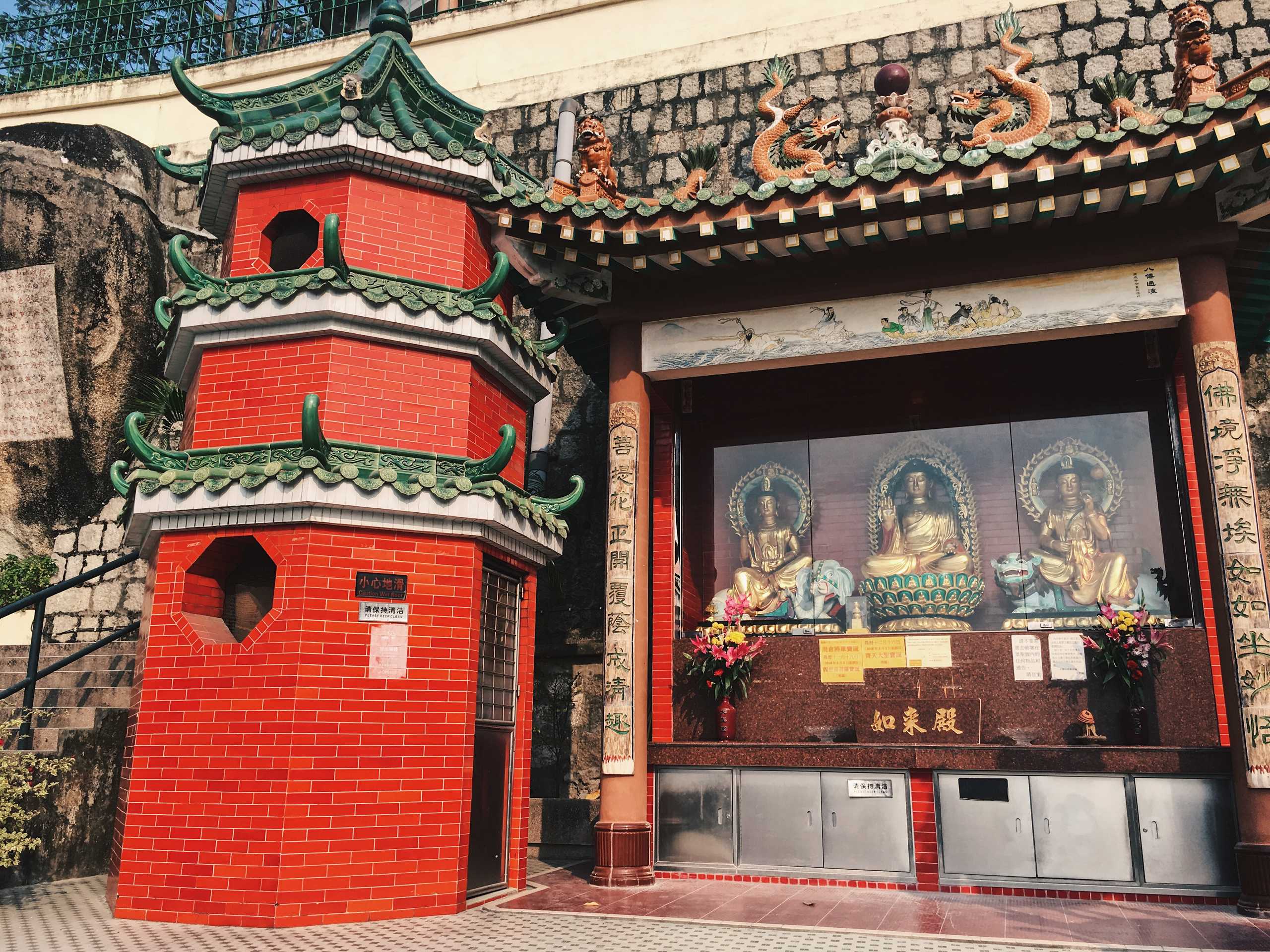 Tou Tei Temple 
Not to be mistaken with another Tou Tei Temple, a small shrine on the crossing of Rua do Patane and Rua do Coelho do Amaral. Built between 1736 and 1795, this temple is dedicated to Tou Tei, the God of Earth. Legend has it, Tou Tei appeared to a tormented young man in human form and helped him resolve a desperate situation. So, the residents built the temple to honor the god. 
It is not like other temples with its stone arch and a moon-shape doorway to the famous Camoes Garden. There are also shrines located on different levels. Its colorful rooftops are particularly striking amidst the brown and beige of the surrounding neighborhood houses.
Despite being right next to Camoes Garden, there are rarely any tourists in the temple. This makes it an ideal place to relax and snap away. 
Tou Tei Temple Escada do Papel, Macau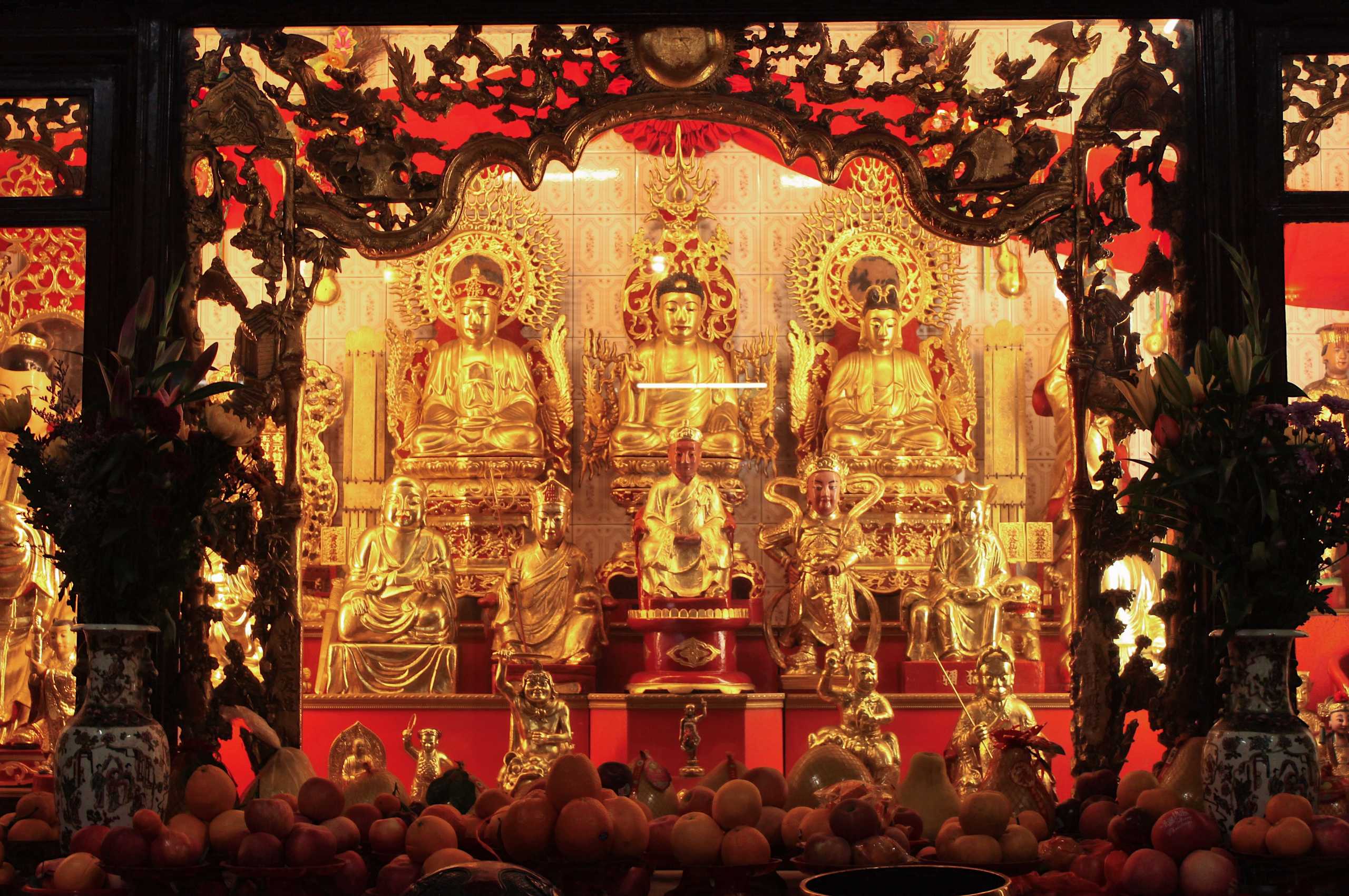 Zhulin Temple 
A relatively new landmark, Zhulin Temple was built in 1991. High green walls hide this tranquil refuge from the busy streets of the city. It is quite astonishing that such a dense area of Macau could fit a temple of this size.
Also known as "Zulin Si", it is dedicated to Bhaisajyaguru (Heavenly King of Medicine), Cundi bodhisattva and the Immortal Buddha Liang. There are shrines, a spacious courtyard with plant pots, big trees and a fountain with a graceful Kun Iam statue in the middle. This is definitely a perfect spot to take a break, enjoy beautiful surroundings and unwind. 
Zhulin Temple Estrada de Coelho do Amaral, Macau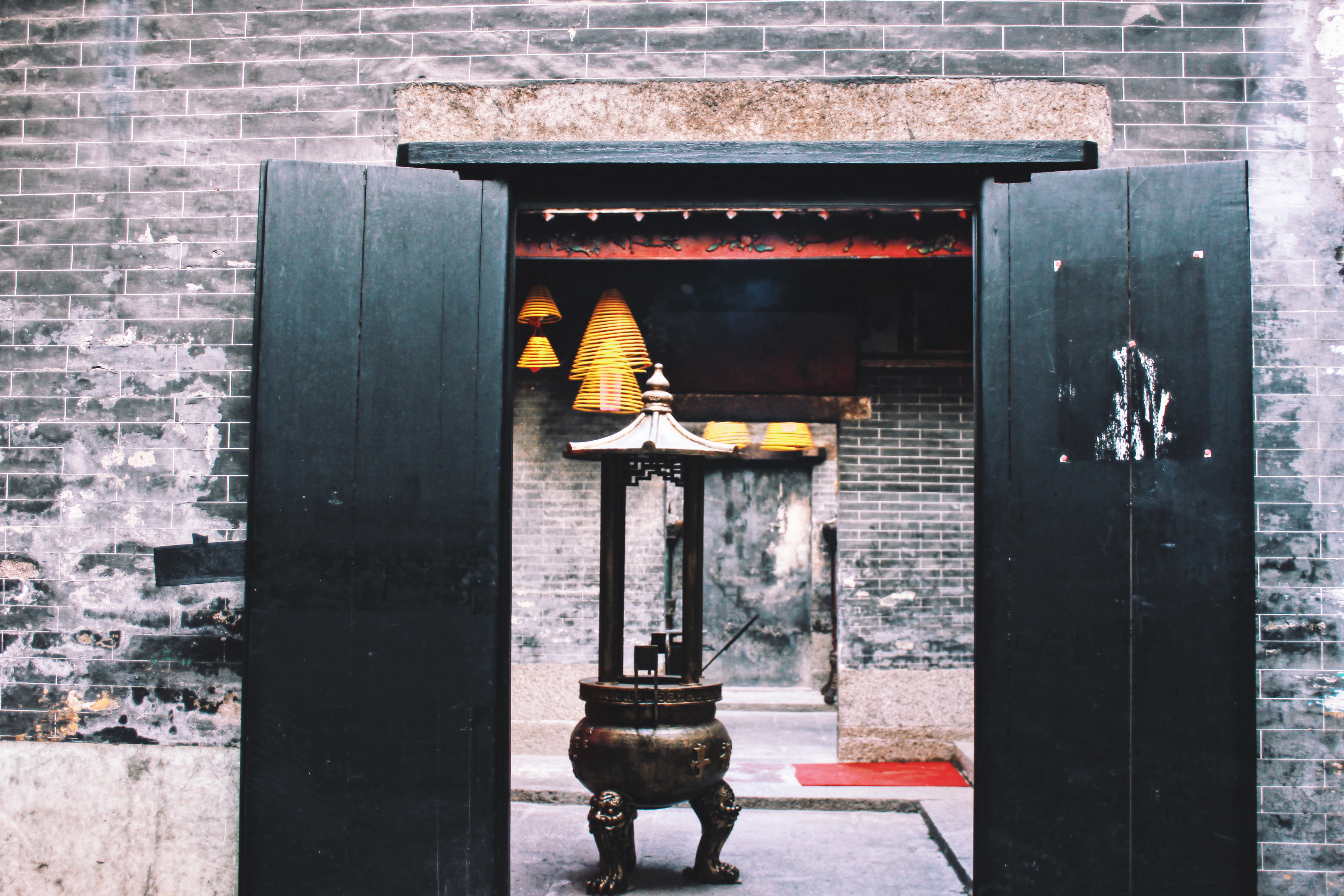 Lin Kai Temple 
Lin Kai Temple in San Kio district is over 200 years old and it faces another Macau landmark, Alegria Cinema. Do not let the food stall and round plastic tables right at the main entrance confuse you and head right in.
The present temple building actually replaces the original one destroyed during a typhoon in 1874. Thus, the signage outside says "New Lin Kai Temple". The temple was initially dedicated to Pak Tai, the God of the North. However, another deity has become equally, if not more worshipped here, over time.
According to legend, local fishermen once noticed a floating wooden figure of what looked like Pak Tai, a mystical ancient Emperor. It wouldn't disappear as days went by and this was interpreted as a sign. Thus, a shrine to worship the god was built but mistakenly, a figure of Ua-Kuong was placed on the altar. Instead of placing the right statue on the existing altar, a second altar was built so both gods could be worshipped. Since then, Ua-Kuong became even more popular, especially after his supernatural powers allegedly helped to put down a dreadful fire. After that event, Ua-Kuong gained a new status of the God of Fire who keeps the area safe from disasters. 
Besides Ua-Kuong and Pak Tai, many other deities occupy the five shrines of Lin Kai temple making its pantheon one of the biggest in Macau.
Lin Kai Temple 21–35 Travessa da Corda, Macau
– TAIPA –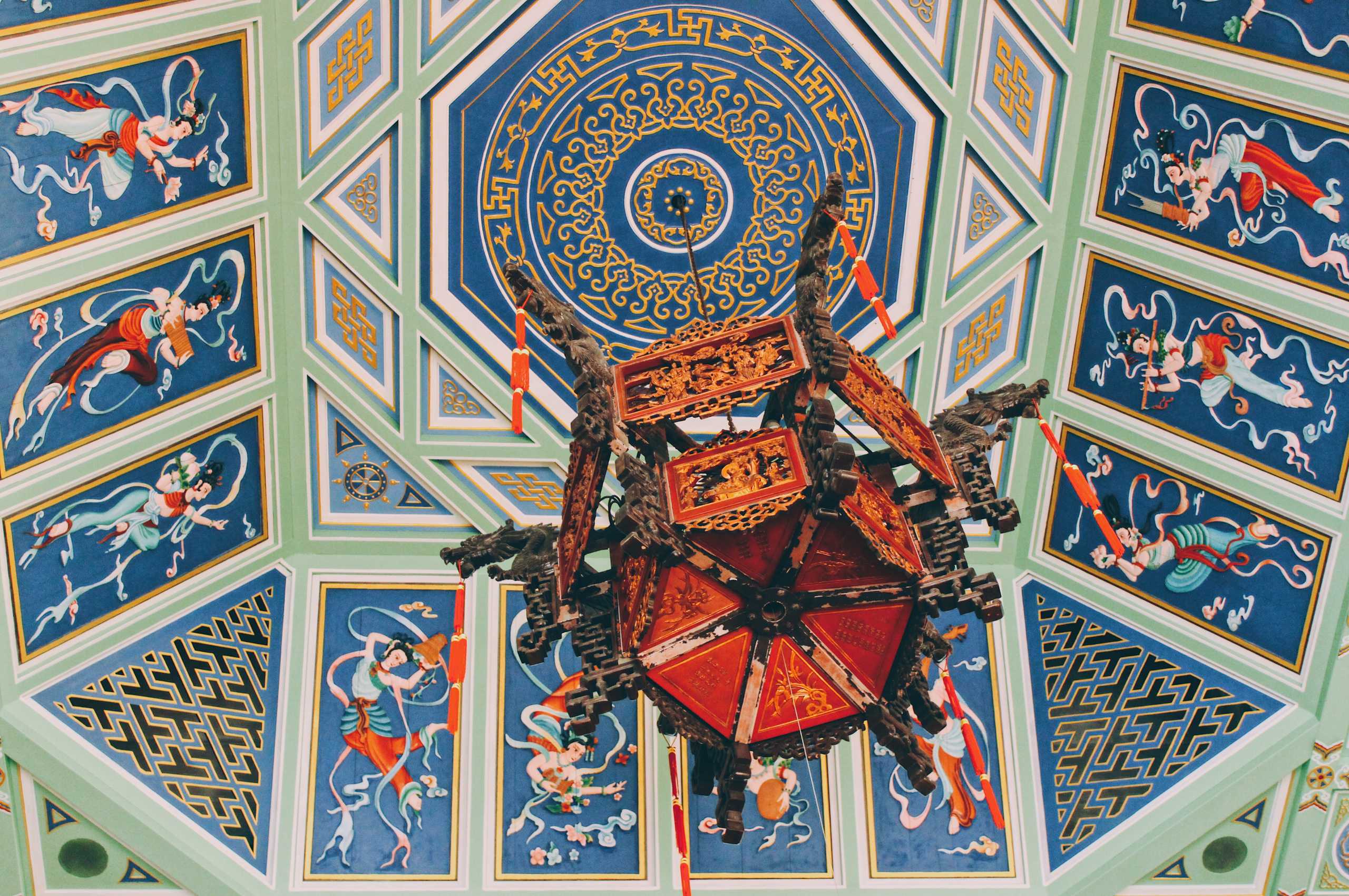 Pou Tai Un Monastery
This was originally a mansion owned by the Lo family before becoming a Buddhist monastery. Lo Pou San, one of Guangdong's most famous painters lived there and after his passing, his son moved out and sold it. A part of the property was later purchased by a Master monk Sik Chi Un who turned it into a monastery.
The spacious complex of Pou Tai Monastery houses several pavilions. The monastery complex has pavilions with Buddhist deities, monks' quarters, columbaria, halls with wooden plates for the spirits, a garden, and a vegetarian restaurant.
One of the most impressive parts of the monastery is the main pavilion, the Buddhist Palace. Decorated with red wooden columns, ornamented ceiling, and colorful wall art, the main three-story pavilion hosts a 5.4-meter bronze statue of Buddha. A beautiful 42-handed statue of Kun Iam stands in the ground floor hall and there's also a marble sculpture of her in a small green yard. 
Opening Hours: Friday–Wednesday, 9:00am–6:00pm
Pou Tai Un 5 – 5B Avenida Lou Lim Ieoc, Taipa
– COLOANE
 –

A-Ma Temple in Coloane 
This temple is the hardest to reach in Macau but also one of the most picturesque. Built on the top of Dieshi Mountain in Coloane, the temple is dedicated to A-Ma (Tin Hau). Along with the A-Ma statue, it is part of the A-Ma Cultural Village. The 170-meter statue is the tallest in the world and on a good day can be seen from the Cotai Strip.  
A wide staircase with carved reliefs in the middle leads to the main gate. Inside, there is a big courtyard with a pond in the middle. In the pond, a sculpture of a turtle sits, carrying a small bowl on its shell where visitors try to throw coins into. The main hall in the back houses an altar of three statues and an impressively carved wooden ceiling.
If you have time and feel like walking, try hiking through the green corridors of the hill all the way up to the Cultural Village. The view of the bright orange temple with carved rooftops and the nearby statue of the Goddess is reward enough for your efforts. If you're not keen on hiking, there is a shuttle service running from the big Chinese arch near Seac Pai Van Park. 
Opening hours: 8:00am–6:00pm, daily
A-Ma Cultural Village Estrada do Alto de Coloane, Coloane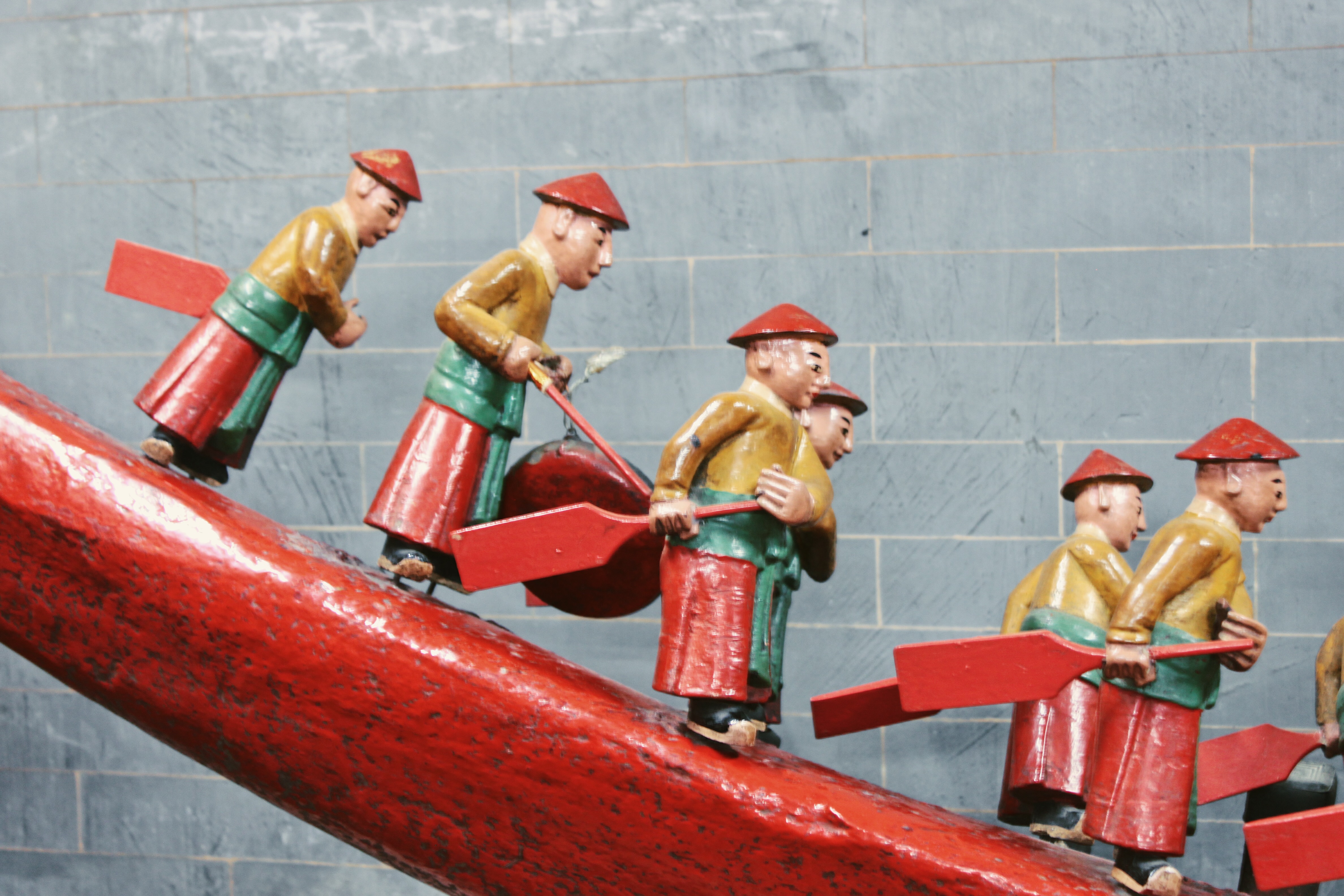 Tam Kuang Temple 
The Tam Kuang Temple was constructed in 1862 to honor Tam Kuang, the child God of the Sea. Tam Kuang is known to predict and control the weather. Behind red doors with the Heavenly Kings painted on them, there is a tiny patio with Tam Kuang's altar. On the left, a window reveals a bas-relief of a tiger with a cub. It is believed that a tiger accompanies Tam Kuang wherever he travels. The temple is also called Tam Sin Sing Temple. 
On the right of the altar, there is a 6-meter dragon boat. This red boat with tiny rowers in red hats and yellow shirts is a replica of an original artifact now found in the Macau Maritime Museum.
To celebrate Tam Kuang, on the eighth day of the fourth lunar month the locals organize festivities and build a bamboo stage for Cantonese opera. Walk up the road behind the temple to enjoy the breathtaking view of the red rooftop and terraces of the temple with a Coloane village promenade behind it.
Tam Kuang Temple Avenida de Cinco de Outubro, Coloane
Tags
Related Posts