Kyoto was for centuries the capital of the ancient Japanese empire and now it is the cultural capital of the country. Home for centuries to emperors, samurai and ancient traditions, Kyoto is the perfect city escape for those looking for traditional Japanese culture, fantastic food and impeccable hospitality. For those who haven't been to Kyoto before, it is a surprisingly easy city to navigate not only by train but by foot and the Four Seasons Hotel Kyoto is conveniently located in the Higashiyama temple district, 15 minutes to Kiyomizu-dera temple and 10-minute taxi ride to Fushimi-inari Shrines, which is where the famous red gates are.
From the moment you enter the lobby, there is an almost instant feeling of calmness that sort of takes over, we instantly felt relaxed and at ease. We were met by warm and friendly staff members who checked us in early and showed us to our room. A passing mention to the concierge who helped us with our bags about where to buy knives and green tea resulted in a detailed letter including a map on how and when to go there being delivered to the room–we haven't even been here 20 minutes and felt so welcome!
It's truly an understatement to say this is a beautiful hotel. It's really something incredible. The hotel itself was built on the grounds of an ancient ikeniwa (pond garden) with over 800 years of history. With stone bridges, cherry blossoms, an array of trees, koi fish and a unique tea house perched on the edge of the pond, it is in every sense of the word, one of the most photogenic and stunning hotels grounds we've ever seen.
Rooms
The Four Seasons Hotel Kyoto has some of the most spacious rooms in the city. With 110 guest rooms and 13 suites plus 57 hotel residences, our Premier Garden Room with a balcony had beautiful views of the garden and ancient lake which we highly recommend booking! The rooms are modern and stylish but with calming colors and interiors. Beautiful dark hardwood floors, bamboo fusuma screen doors lining the inside corridor of the room and wardrobes made for an almost luxury bamboo sanctuary in your very own room. A very large and comfy bed, with bespoke Four Seasons sheets that were so incredibly soft that we even started working out how to get some shipped over from Canada to our home in Hong Kong! There is a spacious desk, and a sofa area with a tea table, which is perfect for enjoying a cup of green tea and stunning views outside your room window. The bathroom is quite spacious with a good layout and comes with double sinks, large soaking tub, and extendable shower and separate toilet. The amenities are by perfumer Lorenzo Villoresi Firenze. As Kyoto and Florence are sister cities, they thought it would be a nice touch by using this brand. The amenities are much larger in size than your usual hotel offerings and every inch the luxurious Italian quality you'd imagine.
The mini bar is well equipped with everything you would need but a special mention must be made for their green tea. We even searched for their supplier in Kyoto to bring some back with us because it was that good. There are some lovely complimentary local treats to enjoy and the most beautiful ceramics to enjoy them from. There are subtle digital fittings throughout that feel very intuitive and have clearly been thoroughly thought out. If you are traveling with kids or extended family, there are a variety of suite categories including the Residential Suites that have their own kitchen and balcony which make them great for a multi-generation trip with the family. They have managed to outfit and design rooms that make you feel as though you are in your own little Japanese home. To complete the authentic Japanese experience, we were provided with a set of yukatas which are casual kimonos. The yukatas are also available for sale at JP ¥8,500 (around MOP $625) per set which would make for an exceptional souvenir of this trip!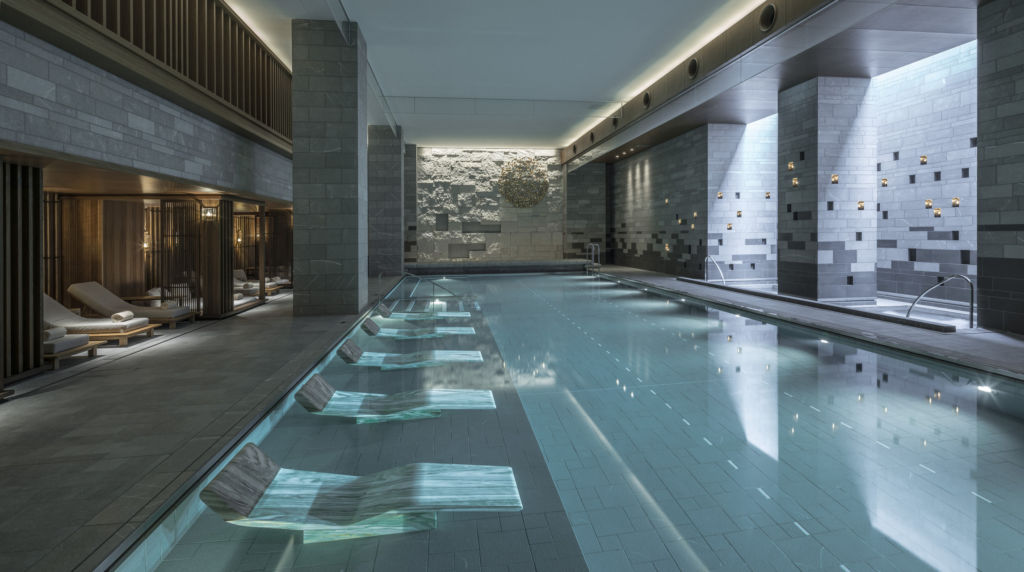 Wellness Centre & Spa
Four Seasons Hotel Kyoto is home to one of the largest luxury wellness faculties in town. With a large pool, two jacuzzis, a huge fitness center that is outfitted with the latest and best workout equipment there is. The swimming pool is incredibly large and almost unbelievable that a pool of this size could be housed in such a prime location. The hotel has done a fantastic job of creating a modern and luxurious space while retaining the rich heritage of the grounds it's built on. The swimming pool has two separate heated jacuzzis on one side and lining along the other side of the swimming pool are very comfortable bamboo day beds, canopies, and cabanas. After a long day of sightseeing, this is a great place to retreat to with a book or for a poolside nap. There is swimwear available for hire if you have forgotten them and if fitness is of the utmost importance, their personal training packages start at JP ¥14,500++ (around MOP $1,065) for one 60-minute session. Visitors who aren't guests of the hotel may also purchase the day pass for JP ¥10,000++ which entitles them to 15% off food and beverage (excluding Sushi Wakon), 15% off spa treatments at The Spa and complimentary parking.
Four Seasons spas around the world are famous for their treatments, therapists and spa facilities and the Four Seasons Hotel Kyoto Spa doesn't disappoint. Featuring single and couples rooms, there are seven spa rooms in total. Specializing in Japanese wellness rituals such as bamboo massaging, Tacha facials and their Royal Enso treatment you are bound to experience pure magic no matter which treatment you choose. The ladies' and men's changing rooms come equipped with a steam room, hammam, hot and cold plunge pools for that ultimate resort experience while in the middle of the city. We recommend enjoying these facilities before any treatment, to help loosen your muscles and relax your body and mind before treatment.
Kyoto is a great city to explore by foot but you can also hire a bicycle from the front desk and get around town on two wheels just like the locals do. During the summer, the hotel has outdoor yoga classes and biking tours around different areas of town. You can enquire at the front desk or wellness center for the schedule.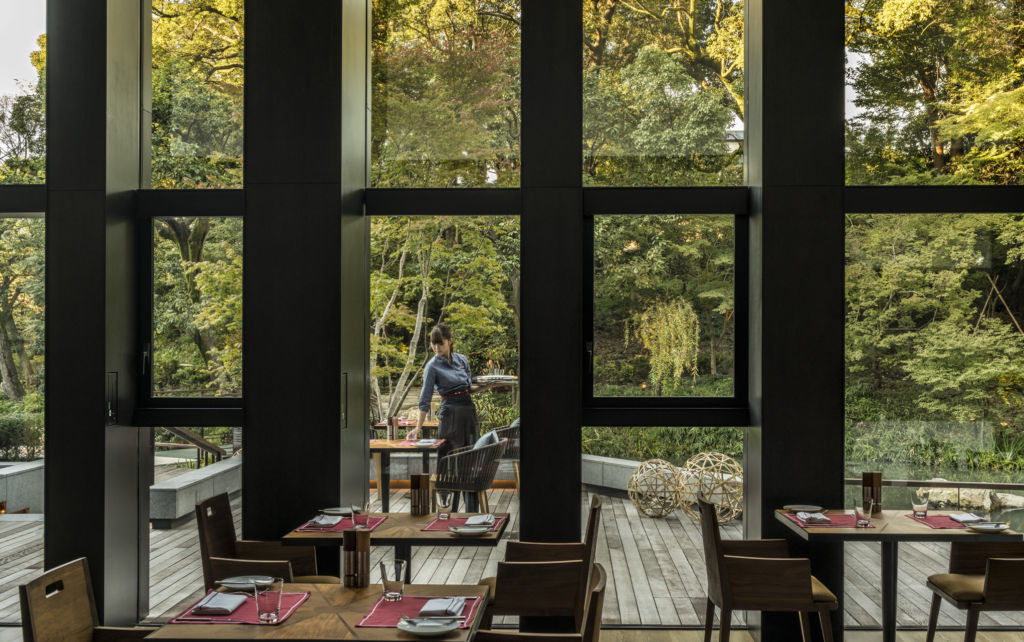 Dining
The hotel and in particular its main dining area are surrounded by large glass windows that give uninterrupted views of the beautiful ancient garden and pond. Breakfast is served at The Brasserie, which sits on the lower level and also serves up Asian-European fusion food throughout the day. Their new chef de cuisine at Brasserie is Ryuji Koga, who was the sous chef at the three Michelin star restaurant Le Cinq at the Four Seasons Hotel George V, Paris. There is a terrace that is the perfect spot for an outdoor breakfast or lunch in the sun. Their breakfast is a buffet with one ala carte choice off the menu or you can choose to try their Japanese breakfast–a must for all first-timers to Japan. There are four dining venues on the property including the beautiful tea house in the garden where they serve sake and champagne at 5:00pm daily. They also have a tea ceremony held there but bookings are recommended. Their bar has excellent cocktails and live music on a Friday and if you aren't sure what to order ask for Raul, he will sort you out. Experiencing fine dining in Japan is truly an experience and the one Michelin starred Sushi Wakon, headed by master chef Rei Masuda, is the perfect place for that.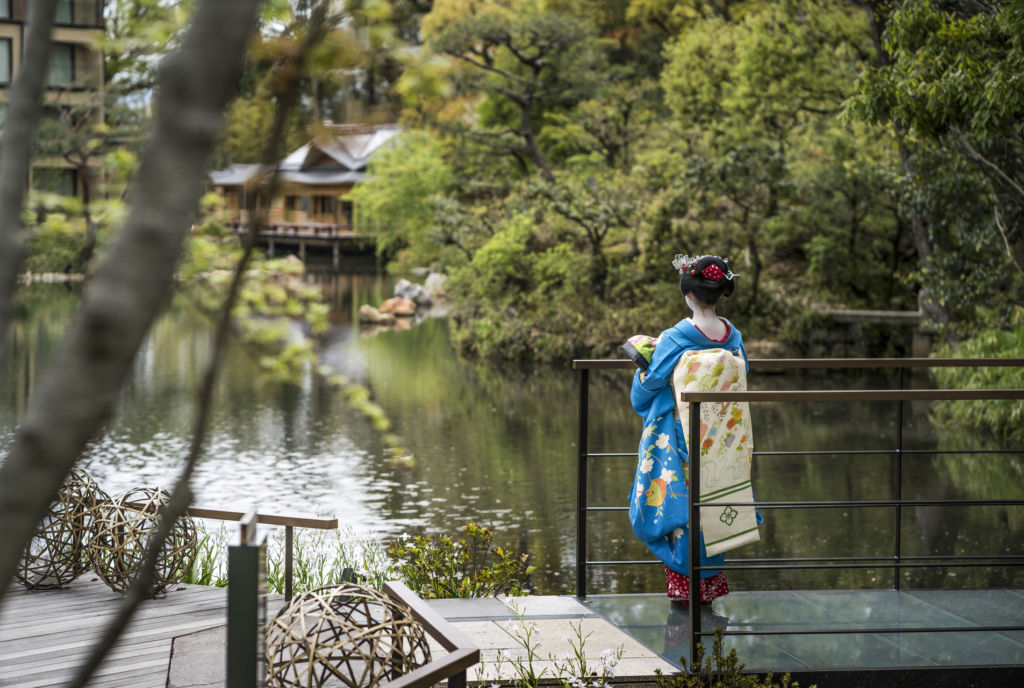 There is a custom-designed chapel for weddings and other events as well as meeting spaces for corporate travelers or guests and if you are staying at the hotel on a weekend, there are maiko performances in the lobby at 5:00pm on Saturdays and Sundays. You can also have a photo after the performance if you wish.
Four Seasons Hotel Kyoto is a destination in itself and staying at the hotel felt like the perfect way to integrate into the city as soon as you arrive. Japanese culture is one that's still deeply rooted in tradition and it's great to see such a balance between modernity and tradition at a hotel. They haven't given way to thoughtless change and development at the risk of damaging historical traditions and culture. Throughout our whole stay, the staff were warm, friendly and always very helpful. When you stay at any Four Seasons, it often creates some sort of expectation as to what your stay will be like, and it's safe to say we were wowed at every turn!
How to get to Kyoto
There are two flights per day from Macau to Osaka and the best way to access Kyoto is by taking the bullet train from the airport or from most major cities in Japan. The nearest airports are Itami and Kansai International. Both are in Osaka Prefecture, between one and one hour and 20 minutes away.
---
Four Seasons Hotel Kyoto 445-3, Myohoin Maekawa-Cho, Higashiyama-Ku, Kyoto, 605-0932 Japan, +81 75 541 8288 (reservations), +81 75 541 8288 (front desk), www.fourseasons.com/kyoto
Tags