Mention Koh Samui, Thailand, and it's sure to conjure up images of beach clubs on Chaweng Beach, affordable local delicacies and exotic experiences for the 'gram. However, Koh Samui is so much more when it comes to accommodations, dining, beach-lounging or adrenaline-pumping activities
Spanning an area of 228.7sqkm, Koh Samui is the second-largest island in the country after Phuket and has been an isolated self-sufficient community with little connection to the mainland up until the late 20th-century. Today, it attracts millions of tourists annually, mainly flying in via Bangkok Airways, who owns the sole airport on the island.
Stay
Although it's home to international hospitality brands like Four Seasons and Conrad, Koh Samui boasts stays for travelers with all kinds of budgets. The key, however, is to select according to the neighborhood. Touristy Chaweng on the northeast of the island is packed with recognizable chains like Hard Rock Café, Hooters, Starbucks as well as fish spas, pharmacies and even a shopping mall. In exchange for convenience and what is regarded as one of the most pristine beach strips on the island, however, are rowdier crowds, narrower streets with occasional potholes and relentless hawkers.
Finding respite in this tourist hub isn't mission impossible. Sprawled on Chaweng Beach is The Library with 46 suites and pool villas boutique hotel owned and designed by local Thais. Snap a picture for the 'gram at the red swimming pool or against Eastern-inspired minimalistic interiors, find where all its 1,400 books are hiding–all of which are available for reading and borrowing, get a taste of old-kingdom cooking at its beachfront restaurant–The Page, or try to go through the Beach Bar's menu of 101 cocktails. The Library is also a member of Design Hotels, so expect hospitality to be A-class. Check out their Facebook page and Instagram @thelibrary_samui for travel inspiration!
The Library 14/1 Moo 2, Chaweng Beach, Bophut, Koh Samui, Suratthani 84320, Thailand, +66 7742 2767, www.facebook.com/librarysamui
Otherwise, venture to the southwest of the island, where Intercontinental, Conrad and as of last summer, Avani+ Samui Resort call home. While convenience is definitely not one of its selling points, this boutique hotel of 25 rooms and 33 villas offers daily shuttle bus services to both Chaweng and Lamai beaches so guests can still get their urban fix but still come home to a serene haven. As a part of the Minor Group and siblings to the likes of Anantara and NH Hotels, top-notch hospitality is expected here at its two restaurants–one for green guiltless pleasures and another serving fusion Thai and Western favorites–its well-equipped gym or spa helmed with the latest meditation tracking technology.
Here, activities are abundant to fill up your travel itinerary. Guests are free to borrow paddleboards shall they fancy a wet workout, or join the evening kayaking group to explore the mangroves and beyond. Thursdays are movie nights, complemented with refillable popcorn and if the private villa pool and the hotel's private beach still isn't enough to fulfill your vitamin-D fix, sign up to visit the nearby Koh Madsum island via longtail boat, a mode of transport exclusive to the country. For more updates, check out their Facebook page and Instagram @avanisamui.
Avani+ Samui Resort 53/5 Moo 4, Phang Ka, Taling Ngam, Koh Samui, Suratthani 84140 Thailand, +66 2365 9110, www.avanihotels.com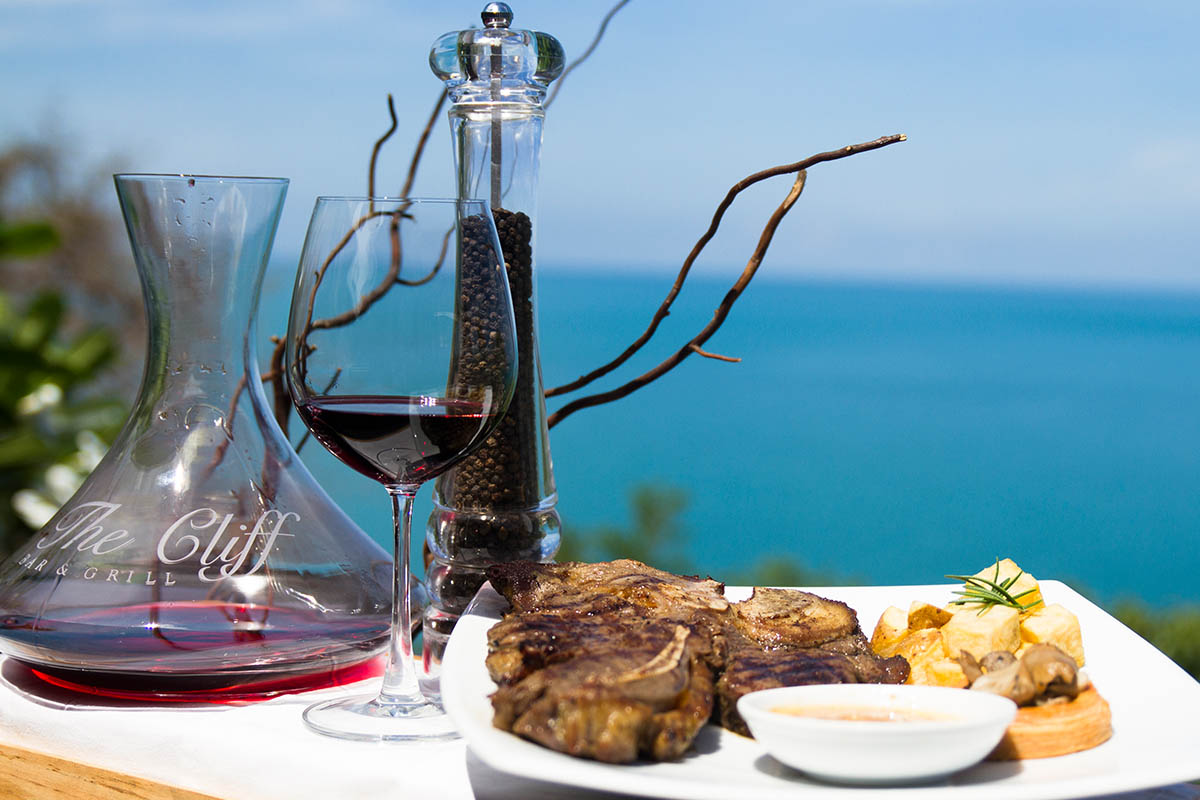 To Eat 
Night markets ar Koh Samui aren't as ubiquitous as Bangkok but swing by Lamai Beach for some live tunes and a handful of mom-and-pop stalls offering the likes of crepes, skewers, and even kebabs. If you need a break from tom yum kung and spring rolls, however, Koh Samui's 2,000-plus hotels and their restaurants won't disappoint. The trick is to find one that looks out to the perfect sunset. 
Literally perched on the mountain with waves crashing just right below is The Cliff Bar & Grill right in between Chaweng and Lamai. A recipient of Thailand Tatler's Best Restaurants Awards for 12 years, the 100-seater restaurant is headed by Italian executive chef Sergio Martelli with a tapas menu by Spanish chef Nico Vicens. Their expertise is Mediterranean food such as lobster tail sandwich, pata negra Joselito and Portuguese piri piri prawn; and to pair is an extensive wine list available by glass or bottle. But remember to book a table as the restaurant can get packed around sunset.
For something more rustic, opt for the bars near Beach Samui where the famous "walkable palm tree" extends out over the blue waters. Guesthouses line this part of the island, and with them, bars with makeshift lawn furniture and plush beanies ideal for sunset-watching.  Unlike Chaweng, the sand here is less crisp but the sight of local children playing and the glass-like reflection of dusk colors on the ocean surely make up for it.
The Cliff Bar & Grill 124/2 Tambon Maret, Lamai Beach, Koh Samui, Suratthani, 84330, Thailand, +66 7744 8508, www.thecliffsamui.com
To Do
Like most tourist spots in Thailand, Koh Samui has everything from getting a quick nose job to shooting a few rounds in a gun range. Though most hotels offer in-house activities that'll fill at least an afternoon, renting a scooter will open up horizons, especially for those who aren't staying in either Chaweng or Lamai. Some hotels would arrange it; but otherwise, roadside rentals usually cost THB ฿200–500 a day excluding fuel. While a driving license is usually not required and the roads are scooter-friendly, drivers should still pay extra attention to potholes and busy traffic.
Take a break from sun and beach with a hike up lush greenery at the Hin Lad Waterfall. The trail begins with a temple and winds up a canopy of tropical evergreen trees against the river. Totalling 3.1km, the path has snack shops along the way so don't worry about hauling water bottles from the start of the trip. Listen to the sounds of the rushing stream and admire the foliage of bamboo and palms. A good pair of running shoes are recommended.
Finally, reward yourself with an ice-cold drip coffee at Red Stone Coffee, owned by an enthusiastic local, who albeit a language barrier, extends his warm hospitality regardless. Sustainability matters at Red Stone Coffee, as guests are asked to remove their shoes upon entering and only paper straws are used. The shop of three tables is whimsically lined with vintage fans, toys, and instruments whose owners remain a mystery as the humble barista claims he cannot play them. It's also a good respite for rainy days, as board games are readily available on the table–mini Jenga anyone?
Red Stone Coffee Hinlad Waterfall, 84140 Amphoe Koh Sa-Mui, Surat Thani, Thailand, +66 9 1156 0709, www.facebook.com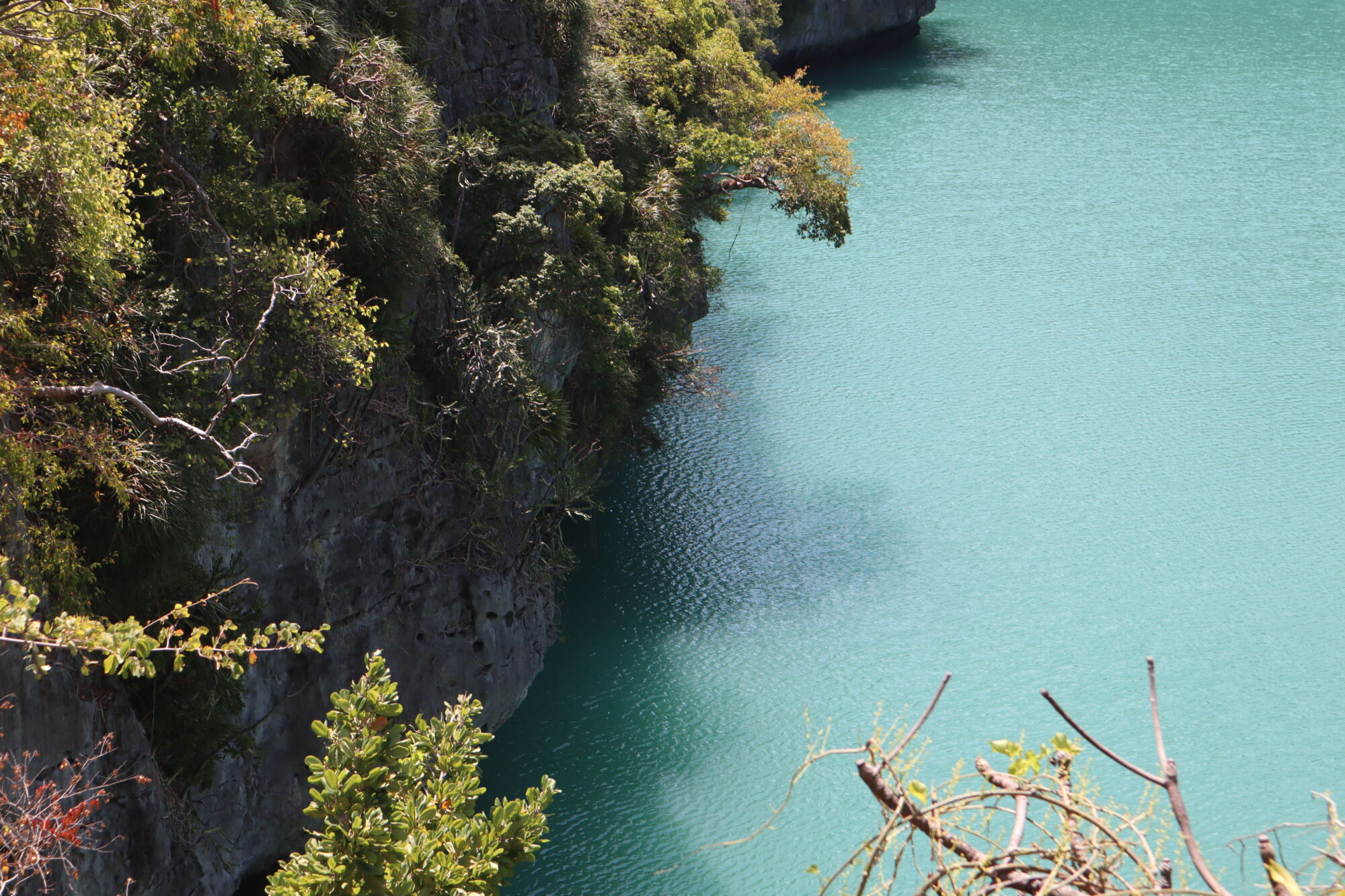 Finally, a trip to Koh Samui isn't complete without island hopping to the famous Ang Thong National Marine Park. Composed of 42 islands, visitors can expect to see all sorts of nature's bounty ranging from limestone mountains, thick jungle, white-sand beaches, waterfalls, and hidden coves and lakes. Spanning more than 100sqkm, this archipelago offers the opportunity to snorkel, hike, kayak, dive or simply soak up vitamin D the Gulf of Thailand has to offer.
Established in 1980, the marine park gained international stardom when it appeared in the novel The Beach by Alex Garland and then in the eponymous movie featuring Leonardo Di Caprio. Its "marine park" status ensures that development remains minimal. Here, garbage is forbidden, smoking is permitted in designated areas and only a handful of tour operators are allowed in.
Most Ang Thong visitors arrive on a day-trip or by boat charter, so choose wisely depending on what activities you want to do. For example, while some islands have promising altitudes for fantastic vistas, they may not impress under murky waters. Those hoping to stay overnight should opt for Koh Wua Ta Lap, known for hiking and cave explorations. Meanwhile, certain islands are home to langurs, hair-nosed otters, pacific reef egrets, white-bellied sea eagles, sea turtles, and other bewildering wildlife.
Visiting all the islands would take weeks so most boat tours usually stop at the aforementioned Koh Wua Ta Lap and Koh Mae, home to a stunning beach and an inland saltwater lagoon called Emerald Lake as well as Koh Sam Sao for coral reefs and a dramatic rock arch.
Koh Samui offers a plethora of sights, eats, and activities whether you're the laidback traveler or the sun seeker, partier or tree hugger. It's where curiosities and cravings are easily satisfied–new to stand-up paddleboards? They're available for rent at beaches with instructors on hand. Want to join a wellness retreat? Just select whether you want a day program or full-week of digital detox. Want to try local delicacies but still miss the occasional burger and pasta? The options are endless on this beautiful archipelago.
How to get there
There are a few options when it comes to flying to Koh Samui. There is no direct flight to the island from Macau but you may book a flight via Air Macau to Suvarnabhumi Airport in Bangkok (around three-hour flight) then take a Bangkok Airways flight (one and half hour-flight) to Koh Samui. You may also fly from Hong Kong after taking the ferry or taxi from Macau. There's the option of flying from Hong Kong to Phuket island then hop on a connecting Bangkok Airways flight to Koh Samui.
Tags
Related Posts