Rosewood Hotel Group is renowned for its highly individual approach to hospitality, luxury and "A Sense of Place" philosophy with each property reflecting the location's unique geography, history and culture. That is why we were especially excited to visit Rosewood Phuket, the first resort in Asia for Rosewood Hotels & Resorts opened in November 2017.
With no shortage of high-end hotels and resorts on the island, it is however impossible to find a newly built property of such grand scale. Built from scratch, the hotel is designed with deep understanding of eco-friendly philosophy, sustainability and contemporary luxury. Our stay at Rosewood Phuket was the perfect island escape to the tropical heaven of Emerald Bay.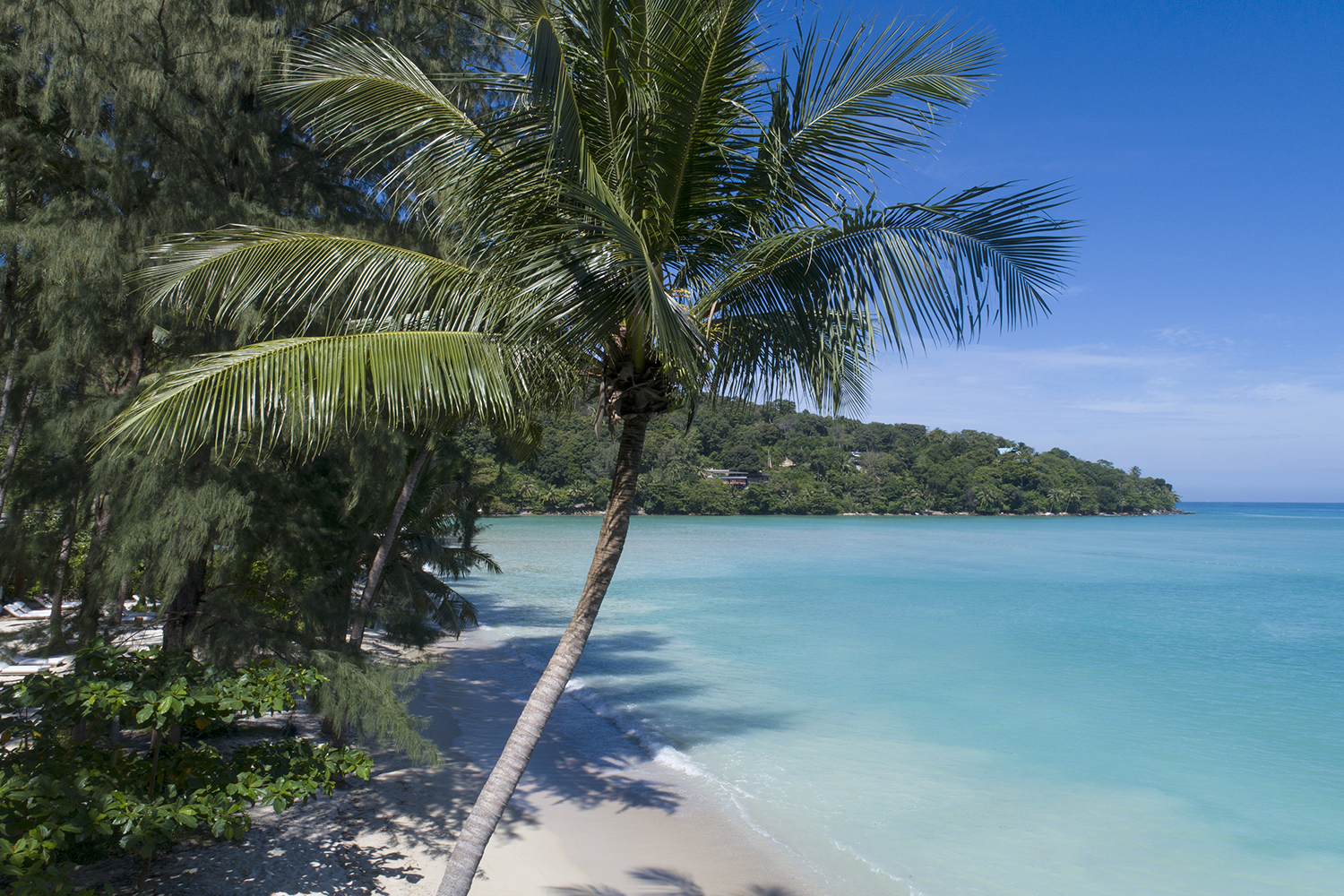 DESTINATION
Located in the southwestern part of the island and only about 50 kilometers ride from Phuket International Airport, Rosewood Phuket is nested along a 600-meter beachfront at Emerald Bay featuring 71 pavilions and villas, most of which have their own private pool. With Patong located nearby, the peaceful resort is tucked away in a green oasis with direct beach access. The villas, restaurants and multiple pools are surrounded by beautifully designed tropical landscape and trees with sacred 150-year-old banyan trees situated on the resort grounds. Much to our joy, more than 30 percent of the buildings' rooftops are covered by gardens to provide lush views and, wisely, keep the buildings cooler and conserve energy. With the direct beach access, it's possible to just go for a swim in the warm waters of the Andaman Sea and the hotel concierge will kindly provide a tide chart as well.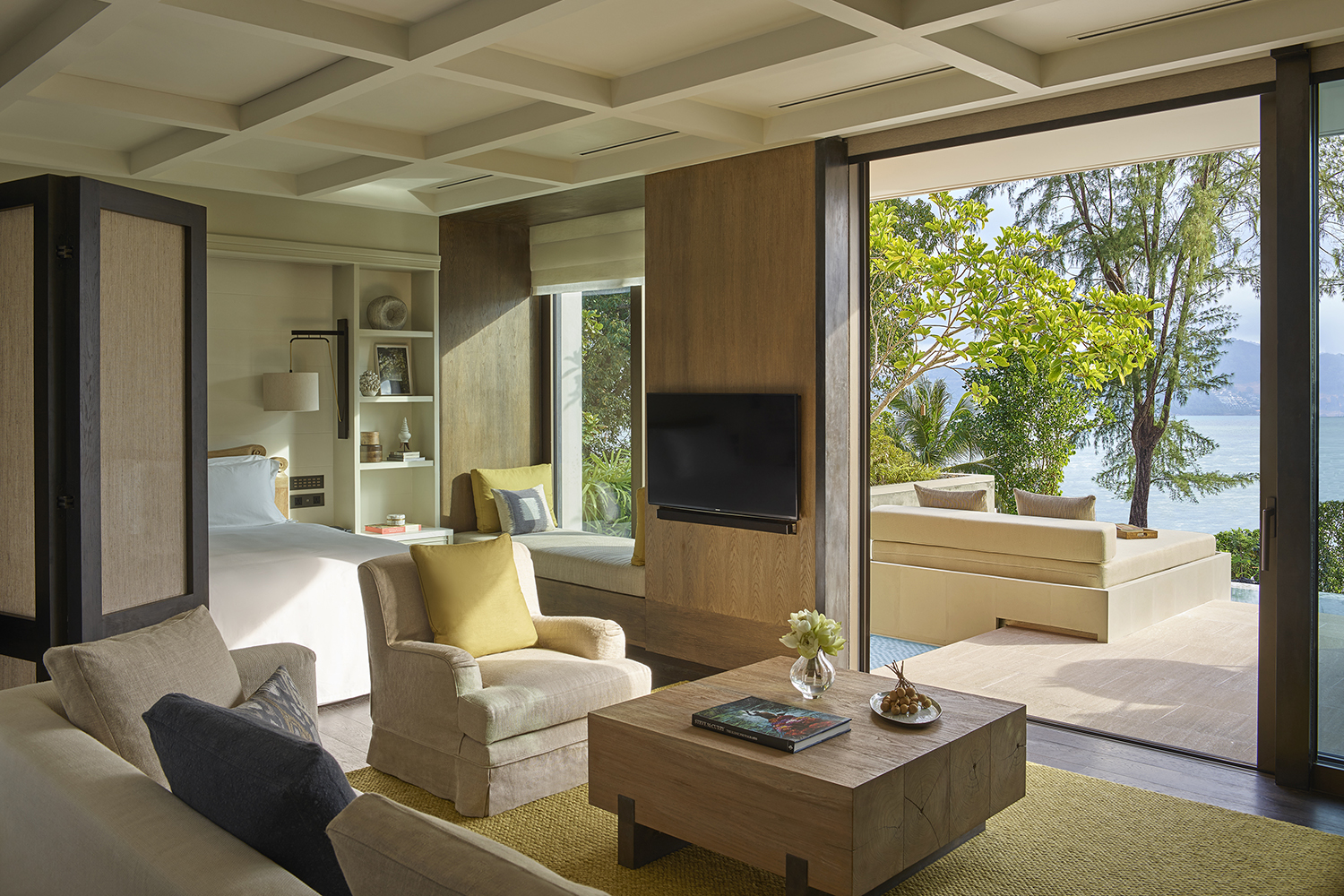 ROOMS
The resort offers 71 pavilions and villas including pool pavilions, pool villas as well as two-bedroom beach houses. We stayed in the ocean view pool pavilion but have bookmarked the beach house to come back with a bigger group of family or friends. Contemporary interiors of the room felt like well-designed home–spacious, tastefully decorated and equipped with touch-panel in-room technology system. You will also find a cocktail-making kit, oriental art objects and even a selection of books on the bedside shelves. The spacious bathroom includes a walk-in wardrobe space, double vanities and an outside courtyard state-of-art bathtub and rain shower. If that was not enough, there is a small private pool outdoor with a cozy terrace where you can enjoy a quick refreshing dip.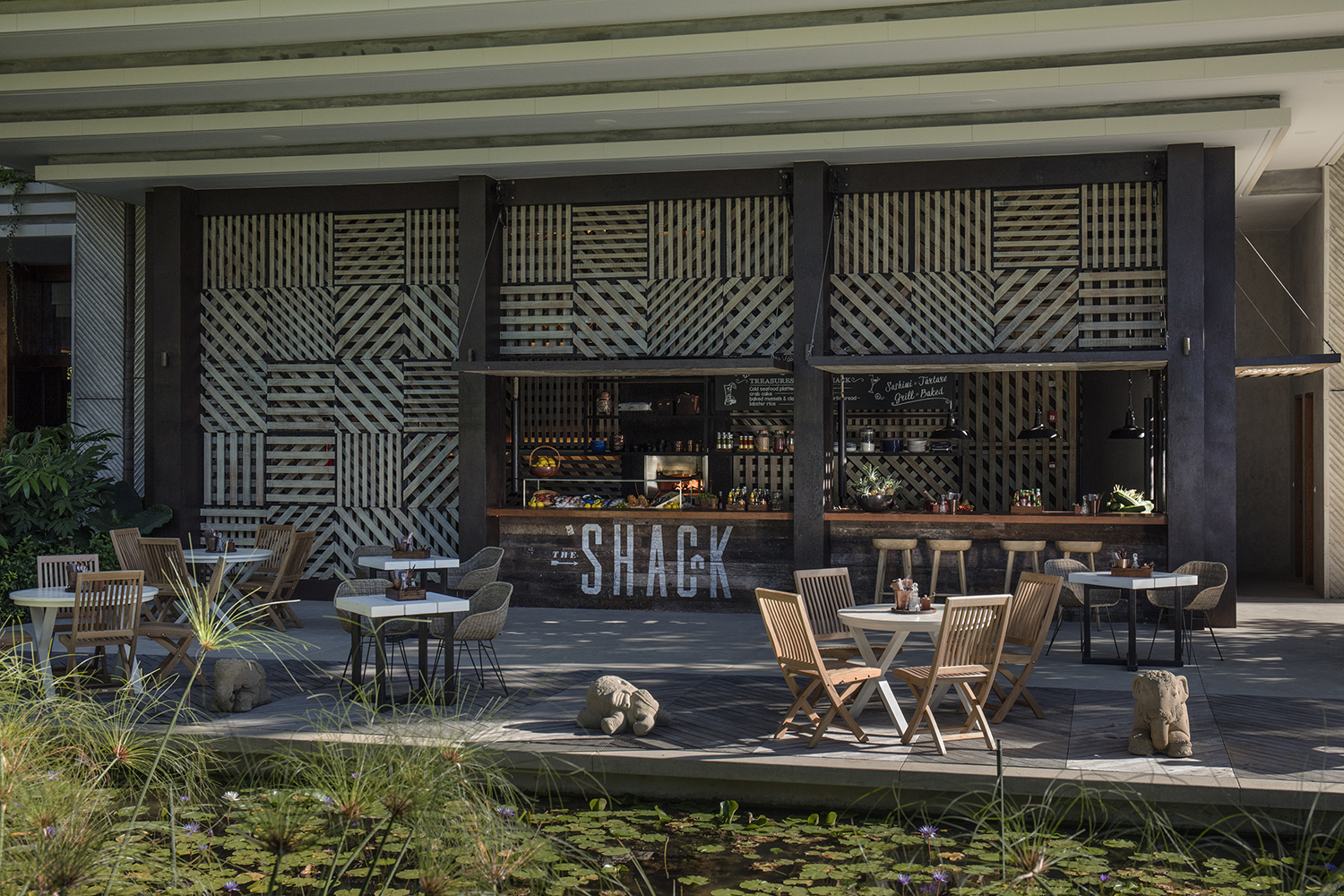 DINING
If rooms are the number one thing to look at in hotels, dining would be number two and Rosewood Phuket doesn't disappoint. In fact, the dining options are so good that guests from other resorts often book a table for dinner. Four restaurants and bars will certainly keep you busy and well fed while staying at the resort. Red Sauce, a Southern Italian inspired restaurant features an open kitchen (with wood-fired oven) welcomes you for breakfast and later transforms to a relaxed all-day dining destination. Breakfast deserves special attention–served indoors or outdoors you are presented with a selection of fruits, breads and pastries (including gluten-free options), Italian cheeses and cold-cuts as well as options like chia seed pudding for those who are watching their superfoods intake. For a-la-carte options you'll find dishes like skillet-baked eggs and chocolate quinoa bowl.
We found The Shack, a rustic poolside restaurant, perfect for lunch. Serving local and international seafood dishes, you can choose your seafood and have it grilled or prepared as ceviche or tartare. A bottle of chilled rose wine to go with your meal makes it that much more enjoyable.
For further unwinding head to Mai, a sophisticated poolside lounge and bar, perfect for an afternoon drink and a relaxed holiday chat.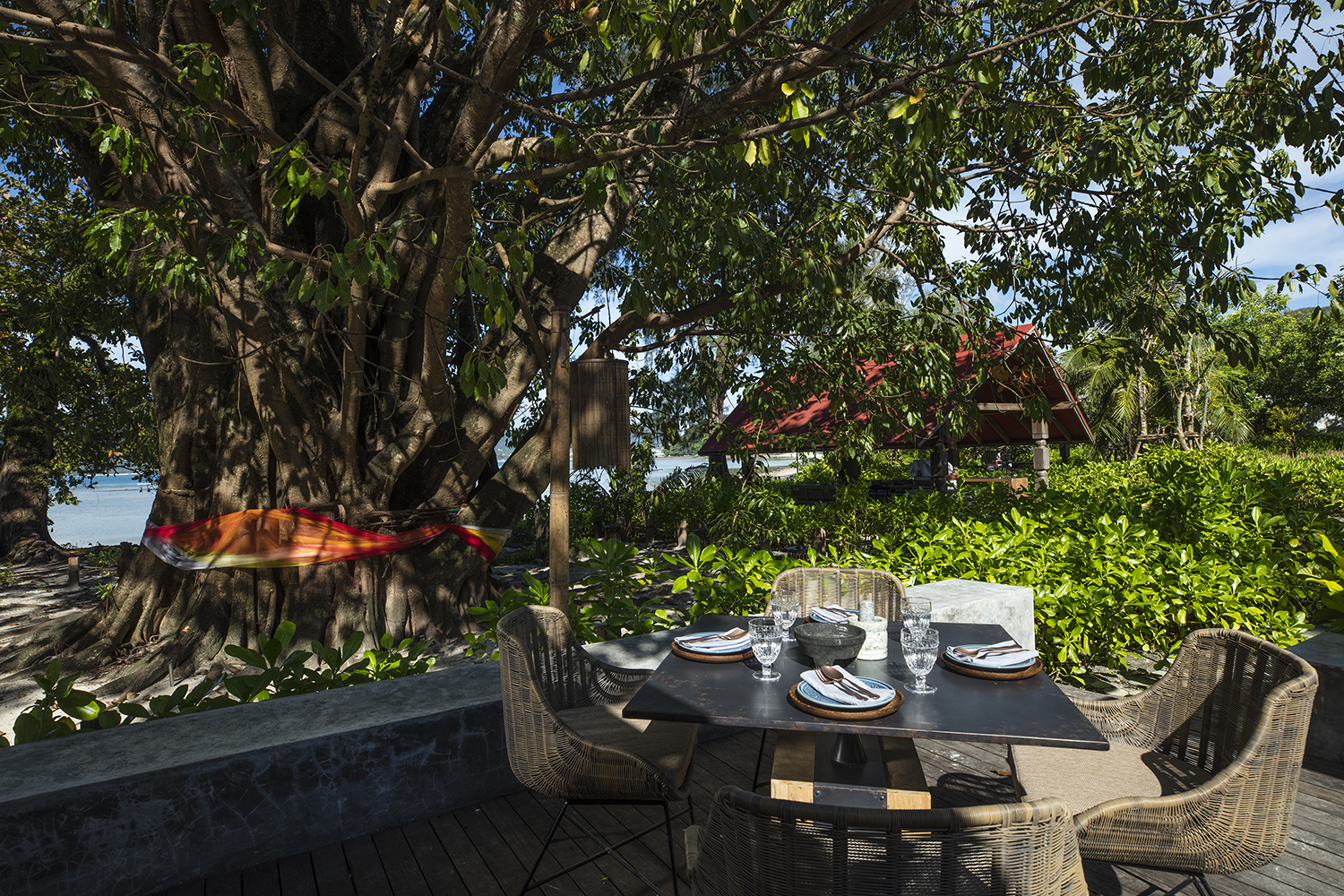 The dining jewel of Rosewood Phuket is Ta Khai, a rustic-chic beachfront restaurant serving authentic traditional Thai dishes. Helmed by local chef couple Uncle Nun and Aunt Yai the restaurants offers a wide selection of fresh seafood that you can choose from the live seafood tanks. The open pavilions display a variety of local vegetables and herbs as well as an open kitchen where you can observe your Thai salad prepared right before you. Its seaside location makes it enjoyably breezy and the neighbouring sacred 150-year-old Banyan trees make the dining experience even more dreamy and romantic.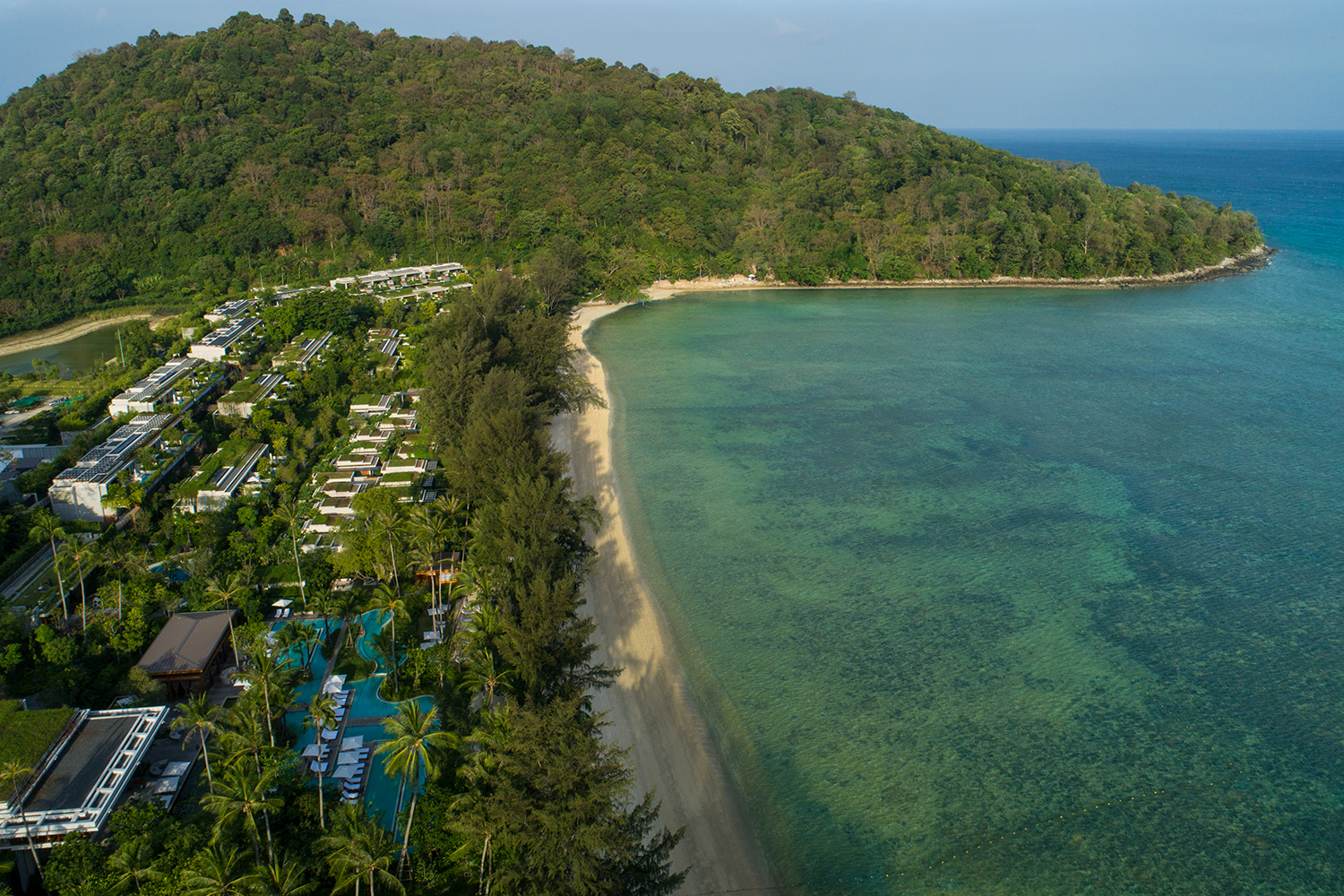 WELLNESS
With the opening of Rosewood Phuket, the brand has introduced Asaya, their global holistic wellness concept. The word "Asaya" is Sanskrit for understanding where you came from. Mindfully designed wellness programs and resident wellness practitioners will assist you on your journey of self-acceptance and self-discovery. Daily wellness experiences will give you a taste of what you can dive into with a holistic customized program. Your personalized program will include curated recipes for either wellness, spa or a combination of both.
The resort features not one but a few pools. The free-form infinity pool, lap pool, activity pool and children's pool ensures that you will find your own corner whether you'd like to read a book in peace or sip on a cocktail with a friend or partner.
For those who are dedicated to their fitness routine while on holidays, there is a state-of-the-art fitness center which is open 24 hours and leaves you no excuse to skip your workout. Fitness programs include yoga, pilates, HIIT training and boot camp.
THINGS TO DO
There is no shortage of activities around Rosewood Phuket! From kayaking and stand-up paddle-boarding to exploring historical Phuket Old Town which is just 30 minutes away. The resort is also family-friendly and has a fantastic kids club as well as specially-designed kids programs. Whether you are travelling with your partner, friends or family you will most certainly feel rested and want to keep coming back again and again.
---
Visit Rosewood Phuket's website for more details or check out their Instagram to get inspired for your next trip
Rosewood Phuket Tri-Trang Beach, Patong, Kathu District, Phuket, Thailand
Tags
Related Posts