We're huge fans of dining under the sky, day or night. There are plenty of options in Macau for enjoying a great meal outdoors so if you're planning a visit, this is the guide for you! All these places are definitely worth a try and it is always fun sipping wine while enjoying watching the world pass you by.
Naam
(See featured image above)
Named after the Thai word for water, Naam's design is based around a central pond, which creates a relaxed atmosphere. Located at the Grand Lapa Hotel, it is arguably one of the best Thai restaurants in the city and the location is beautiful. With a vintage look and a perfect swimming pool view, this exotic food spot is the to-go place for people looking to have a quiet dining experience, away from the chaos of the city. Try their curries (especially the duck one) and the steamed red snapper fish with assorted Thai herbs or spicy lime chilli sauce. Check their menus here.
Opening hours: 12:00pm–2:30pm (lunch); 6:30pm–10:00pm (dinner), closed on Mondays
Naam Grand Lapa Macau, 956-1110 Avenida da Amizade, Macau, +853 8793 4818, www.grandlapa.com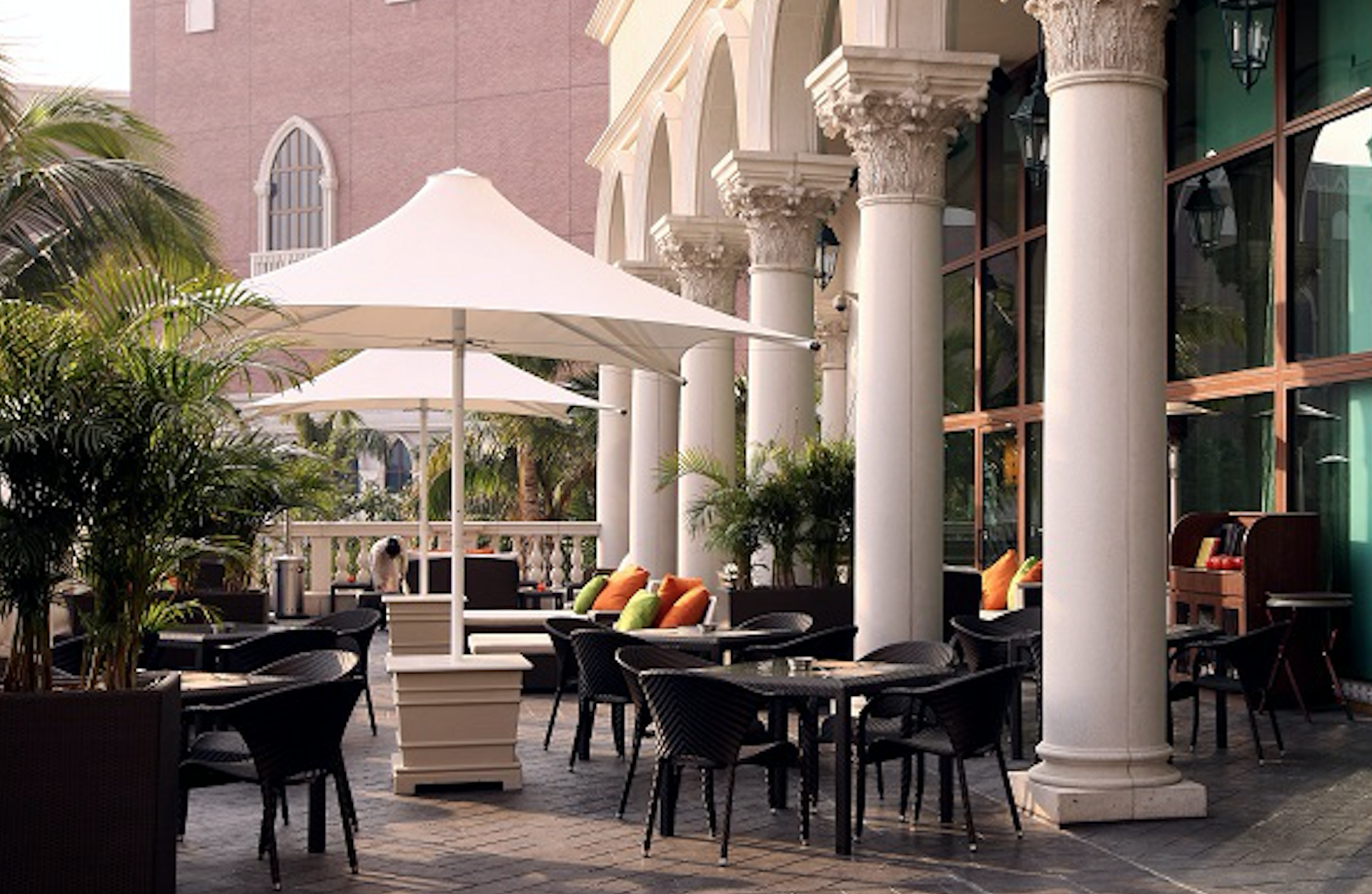 Portofino at Venetian Macao
Portofino might as well be called Cotai's "Little Italy". It overlooks Venetian Macao's swimming pools in a spacious outdoor patio. They are great value for money with all-you-can-eat pizza and pasta, special lunch menu on Sundays and a decadent brunch with alcoholic beverages included! For more on their brunch, click here.
Opening hours: Seafood Trattoria — Daily, 11:00am–3:00pm (lunch); 6:00pm–11:00pm (dinner); Weekends, 6:00pm–12:00am
Wine & Crudo Bar – Sunday–Thursday, 11:00am–11:00pm; Friday & Saturday, 11:00am–12:00am
Spirito Bar – daily, 6:00pm–1:00am
Portofino Restaurant The Venetian Macao, Estrada da Baía de Nossa Senhora da Esperança, Cotai, +853 8118 9950, [email protected]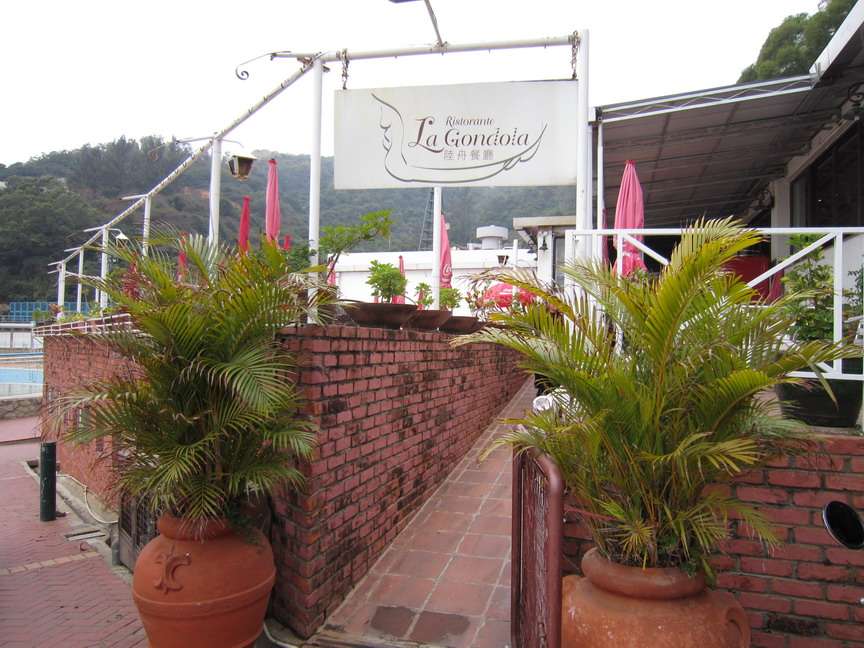 La Gondola
Located in Coloane's Cheoc Van bay, right next to the public swimming pool, it is the perfect place for a good chill-out after a day in the sun. Order their pizzas and sangria and daydream about the times when pirate boats and caravels could be seen along the shore. This is an all-time favorite for expats living in Macau, as it's close to a fresh water pool, allows a glimpse of the horizon, and serves an array of dishes, from pizzas to pastas, a grill corner and fresh juices. However, book in advance if you are looking to head there on a Saturday or Sunday, as they're usually full with families and groups of friends. The best thing? You can also take your dog for a walk and have a meal there!
Opening hours: daily, 11:00am–11:00pm
La Gondola 41 Escadaria da Praia de Cheoc Van, Coloane, + 853 2888 0156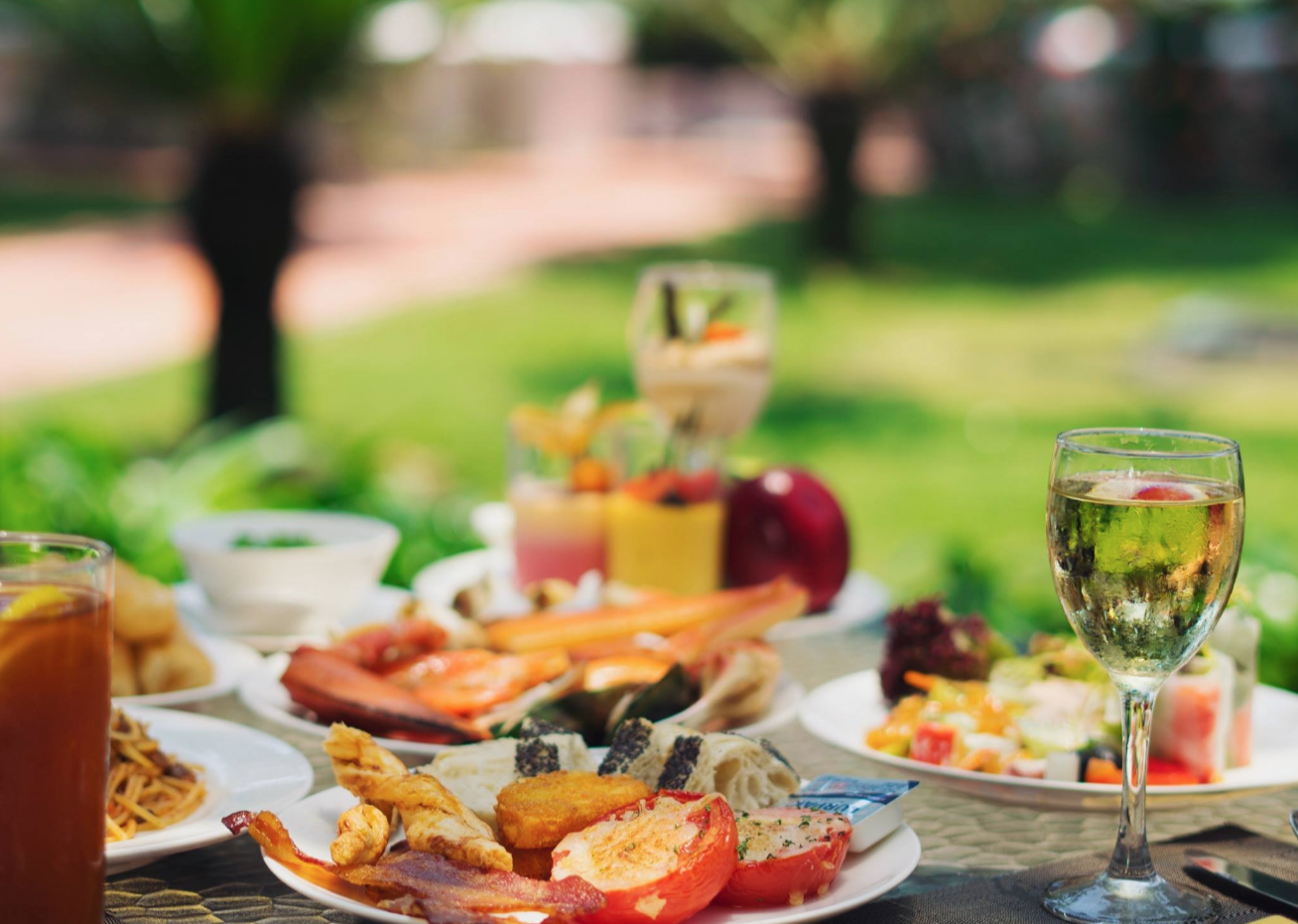 Café Panorama
Far from the gambling side of Macau, the Grand Coloane Resort preserves that calm of the sea that bathes the island. They have a poolside bar with a light menu and fresh juices; but if you're hungry for something heavier, Café Panorama has both an a-la-carte menu and a weekend buffet. And of course, nothing beats that freshly cut grass smell and the sound of playful kids splashing in the pool's clear water. They have new promos from time to time, so be sure to check them here.
Opening hours: a la carte – daily, 7:00am–12:00am
Special menus – daily, 7:00am–10:30am (breakfast menu), 11:00am–3:00pm (set lunch), 6:30pm–10:00pm (dinner buffet)
Café Panorama Grand Coloane Resort, 1918 Estrada de Hac Sá, Coloane, +853 8899 1020, www.grandcoloane.com/en-us/dining/Cafe-Panorama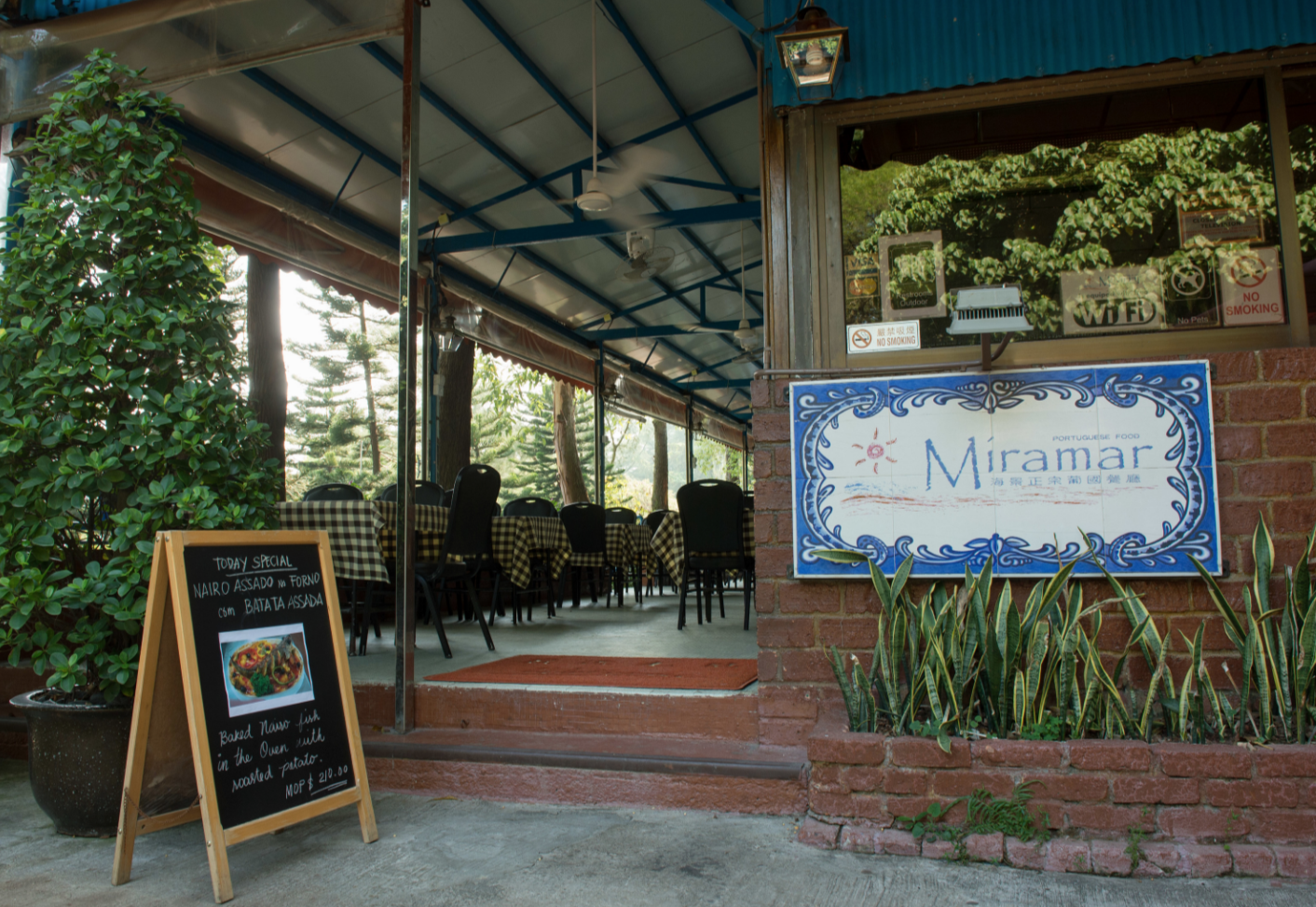 Miramar
Set in Hac Sá beach, this a must-go when looking for seafood dishes and traditional Portuguese delights, such as fish or seafood rice, roasted codfish and grilled meats. They even have a spacious BBQ area where you can take a look at all the action before the food goes to the table. Located on the north side of Hac Sa, it's a very quiet place, since it's far from the bus terminal at the main beach, allowing for a quiet and relaxing meal with your friends and family. Dogs are permitted since they have a indoor area, a covered upstairs outdoor area, as well as downstairs on the beach level. Let the kids explore, dip your feet in the water and troop to the table for a feast to remember.
Opening hours: 11:30–3:00pm and 6:00pm–11:00pm (weekdays); 11:30am–11:00pm (weekends)
Miramar Zona Norte Praia de Hác Sá, Coloane, +853 2888 2601, www.miramar.com.mo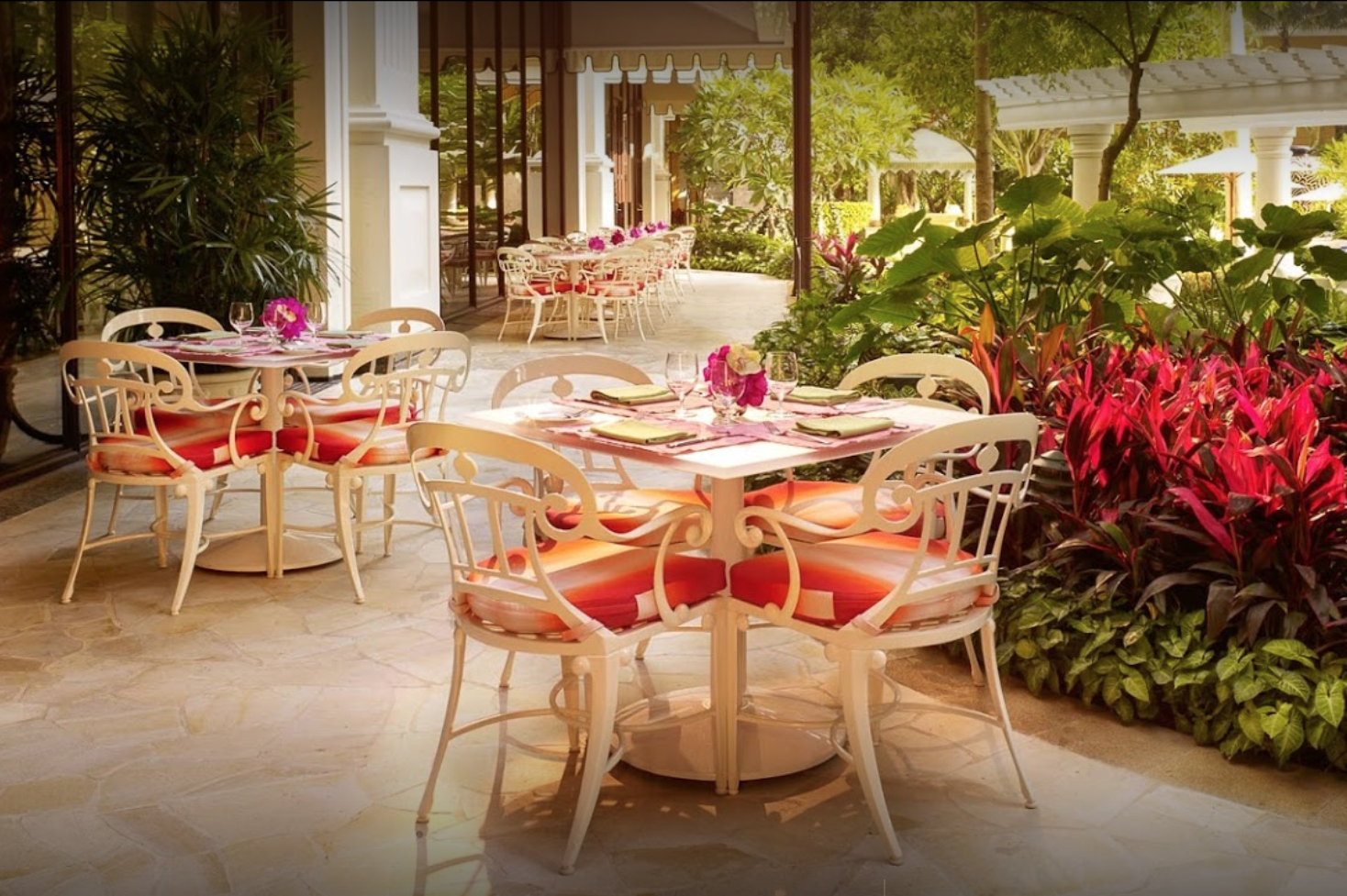 Café Esplanada
The fact that they update their menu from time to time is the cherry on top of this nice place tucked away inside a hotel casino. While it might be hard to imagine a quiet spot hidden away in this bustling structure, Esplanada offers everything from an all-day breakfast (with vegetarian options), to light lunch, heavier and tasty meals, a wide wine list and so on. The trick? To head there during summer: locals don't appreciate warm weather that much, so if you are a sucker for sun and high temperatures, you won't have a problem finding a spot on their sumptuous outdoor area overlooking the pool. Try their salads, roasted chicken with polenta or exotic Asian dishes.
Opening hours: 6:30am–12:00am
Café Esplanada Wynn Macau, Rua Cidade de Sintra, Macau, +853 8986 3663, [email protected]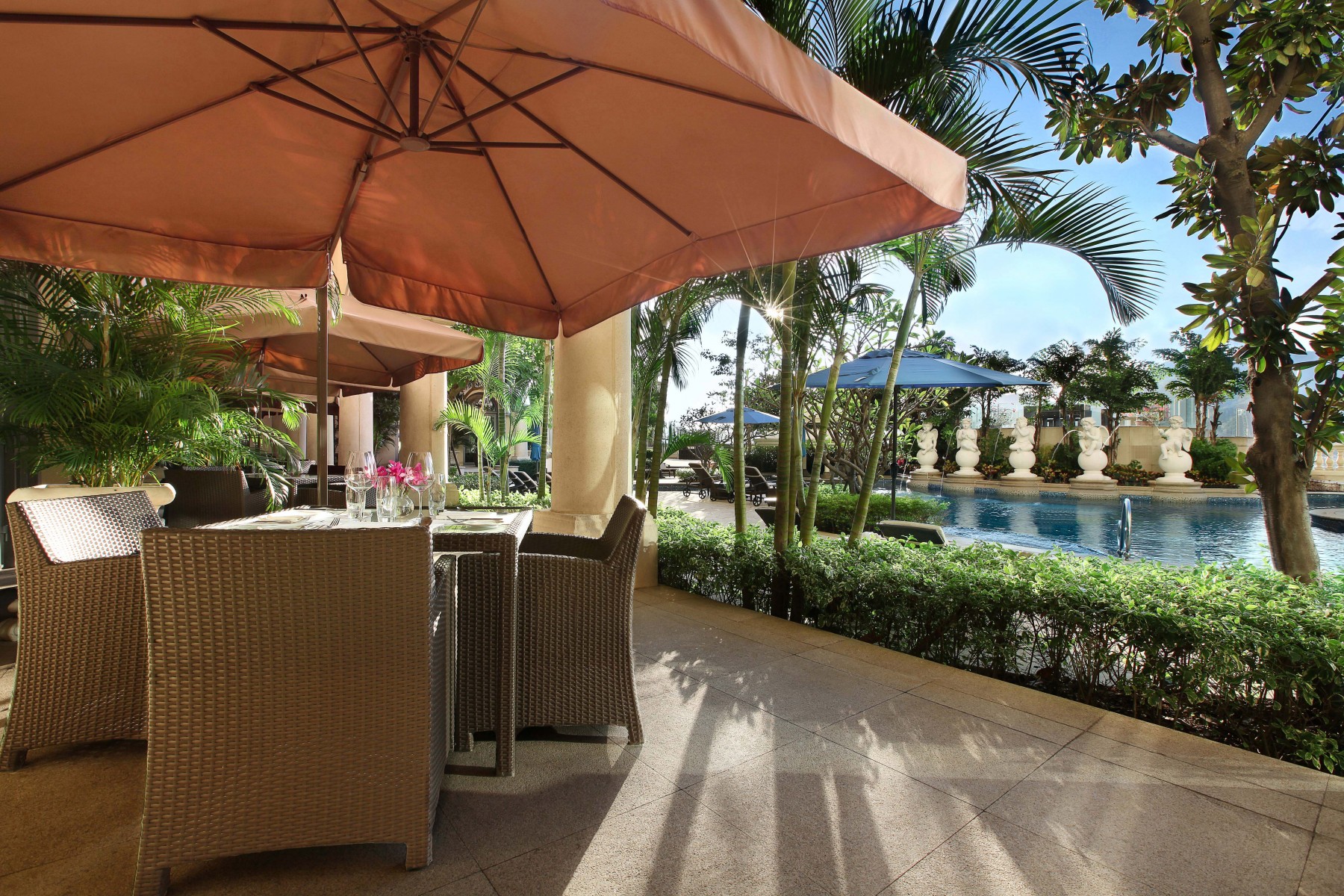 Mistral 
With China just a few steps away, Sofitel Macau At Ponte 16 is a great place for breakfast, lunch and dinner. As the sun shines during the day and the other side lights up at night, Mistral restaurant is the perfect spot for a nice dining experience, be it with friends or a romantic date. Serving sumptuous buffets, they frequently have thematic meals based on a specific cuisine or seafood.
Opening hours: daily, 7:00am–10:00pm
Breakfast buffet – 7:00am–10:30am (weekdays), 7:00am–11:00am (weekends)
Lunch buffet – daily, 12:00pm–2:30pm
Dinner buffet – daily, 6:00pm–9:30pm
Mistral Sofitel Macau At Ponte 16, Rua do Visconde Paço de Arcos, Macau, +853 8861 0016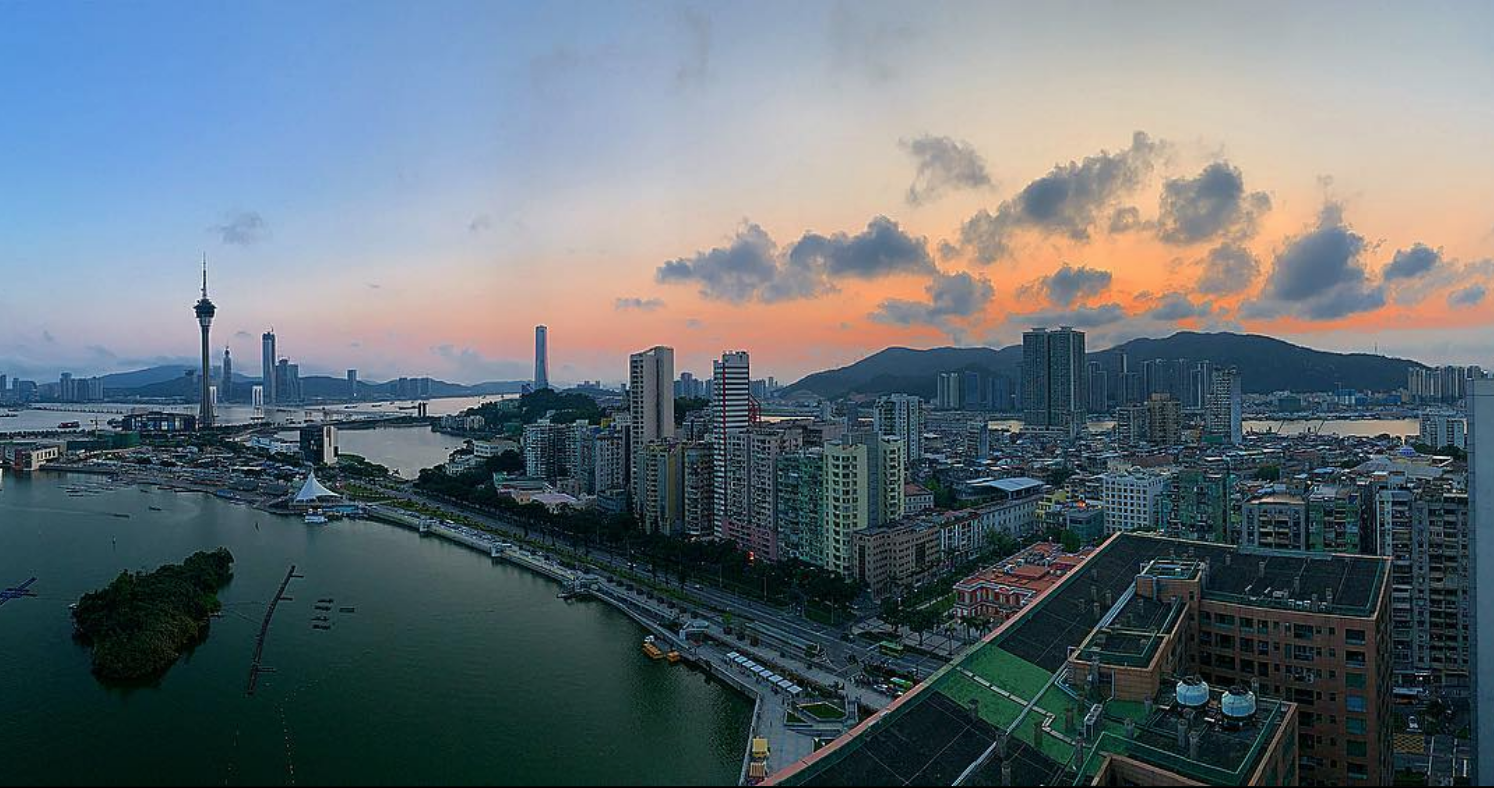 Sky 21
This one definitely offers a privileged view of Macau, with the advantage of being right in the city centre. During the day, Sky 21's bar area turns into a buffet restaurant where you can take a break and treat yourself to our city's skyline. It's one of the best lunch buffets in town: whether indoors or outdoors, bring your colleagues for a sumptuous lunch! Order a pasta with whichever options they offer, go for the table of cheese, honey and walnuts, pick some cold cuts, cured salmon and salad and you'll see that your money was really worth it.
Opening hours: daily, 11:30am–10:00pm
Portuguese Lunch Buffet – 11:30am–3:00pm
Portuguese Dinner Buffet – Saturday–Thursday, 6:30pm–10:00pm
Portuguese Happy Friday Dinner Buffet – Fridays, 6:30pm–10:00pm
Sky 21 Bar & Restaurant 21/F AIA Tower, 251A – 301 Avenida Comercial de Macau, Praia Grande, Macau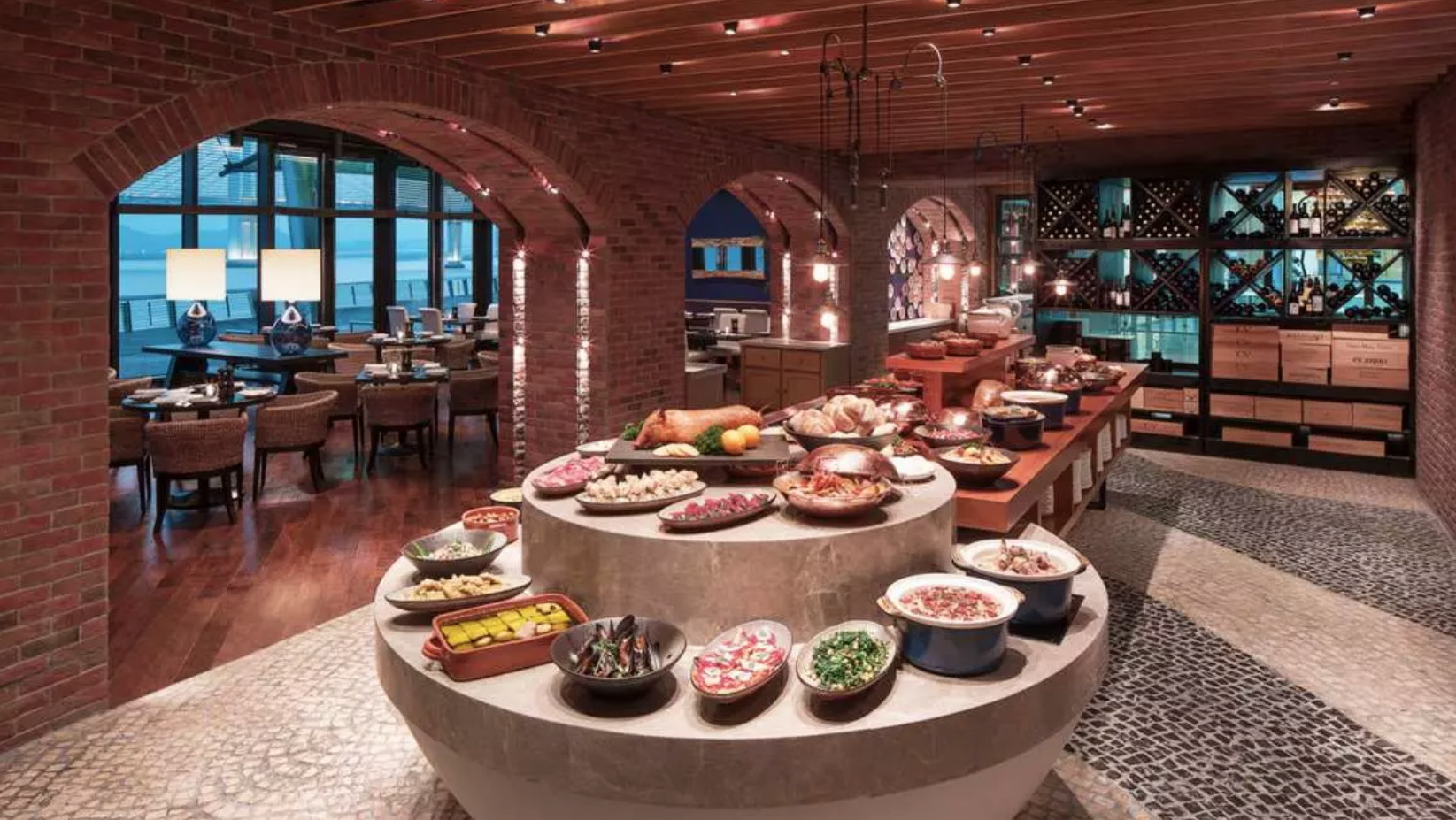 Tromba Rija
We love the Macau Tower area, where we can watch boats passing by on the river and hear excited screams of people jumping from the world's highest bungee jump. At Tromba Rija's outdoor area, we can do that, while enjoying a nice Portuguese buffet or a-la-carte if you happen to go after 3:00pm. The food is delicious, but the view and the terrace makes the experience infinitely better. If you're not in the mood to stuff yourself, go for a beer or a glass of Portuguese wine and sip it by the river.
Opening hours: daily, 11:30am–10:00pm
Tromba Rija G/F, Macau Tower Convention & Entertainment Centre, 17-97 Praça do Lago Sai Van, Macau, +853 2896 2878, www.macautower.com.mo/dining-experience/tromba-rija/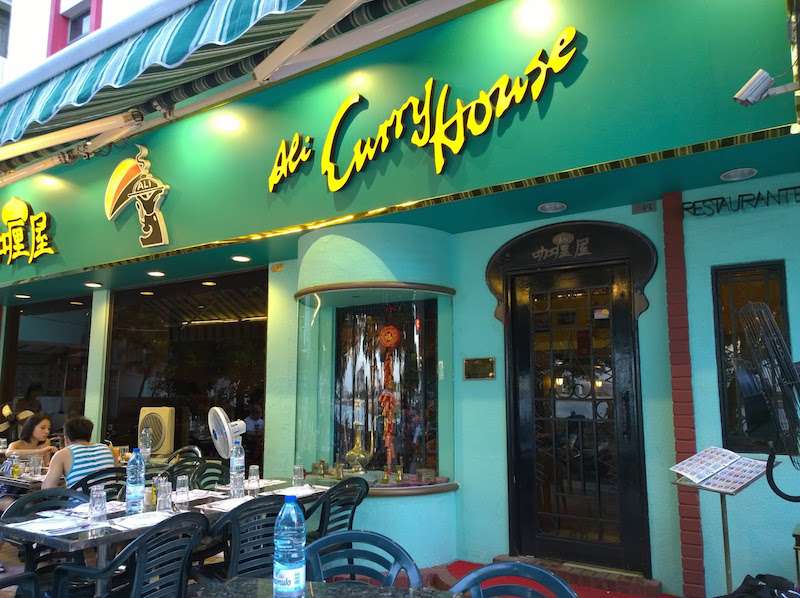 Ali Curry House
Sai Van Lakes are a sight to see, so head there with your friends and family to this spot, right in front of the lakes! From Portuguese-inspired dishes, Macanese and local curries, there are also some good old Chinese delicacies. Depending on what you like, there is an array ranging from the heavier to fresher goodies for you to savor in the fresh air. The restaurant's exterior is colorful, allowing great pictures with the lakes as a background.
Opening hours: daily, 12:30pm–10:30pm
Ali Curry House Avenida da República, Sai Van, Macau, +853 2855 5865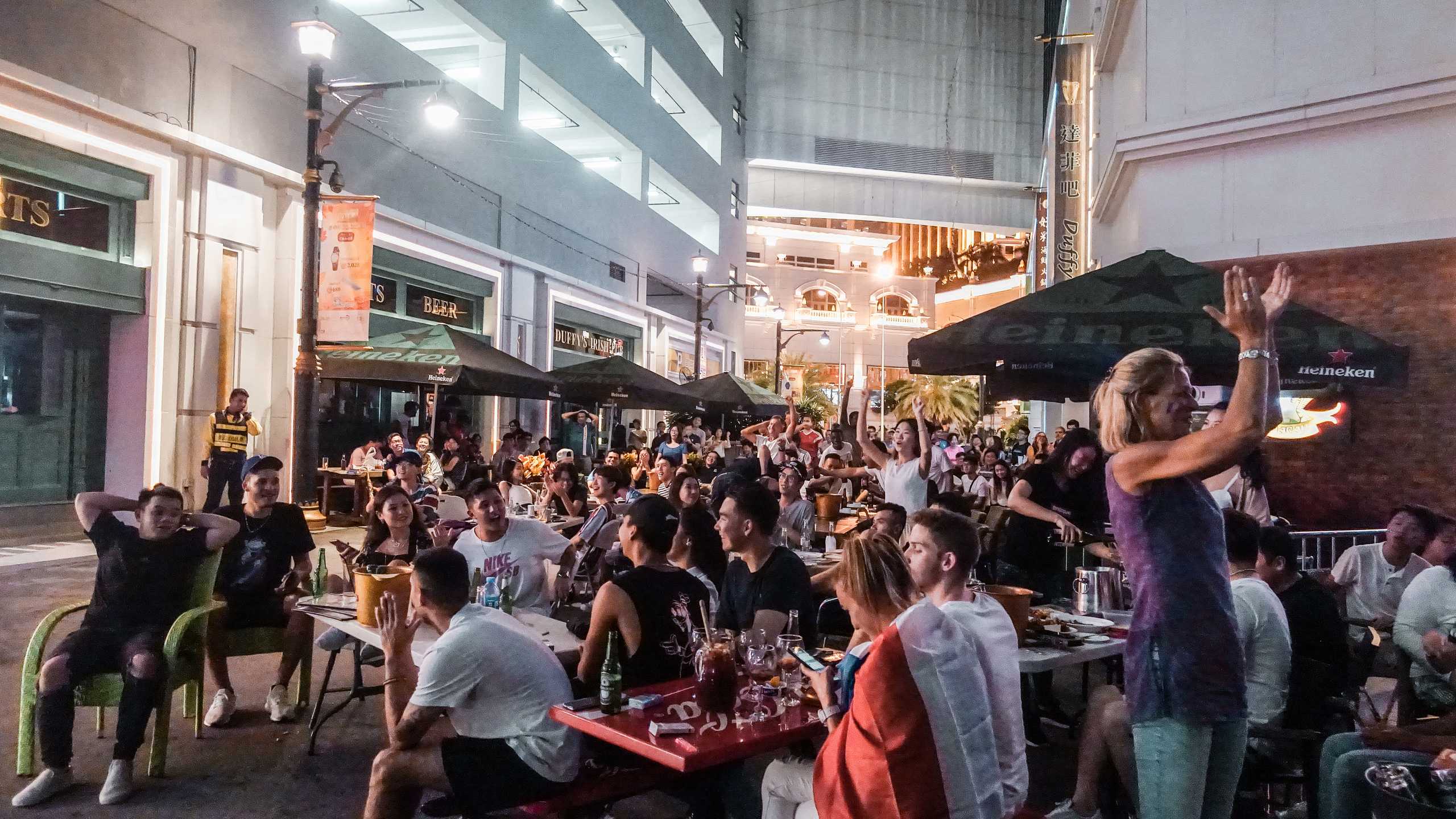 The Roadhouse Macau
The Roadhouse Macau is the to-go place when looking for a great time with friends or family. Here, everything is possible: watch a sports match, have beers while great music is playing, see a live concert and so much more. The restaurant and bar has themed nights, so be sure to check their Facebook page from time to time to be there for your favourite event. Here, you can have a taste of different gastronomies: from Filipino to Mexican, there is an array of foods to try and lavish on. Order the nachos and quesadillas. We promise you won't regret! A cold beer always goes well with these strong dishes, so a bucket might also be a good idea. With a great peaceful and wide alfresco area, The Roadhouse Macau is the perfect spot to have dinner (or even a late snack, since they serve until late) and fun at the same time.
Opening hours: Monday–Friday: 4:00pm–4:00am, Saturday and Sunday: 12:00pm–4:00am
The Roadhouse Macau E-G016-G019 Broadway Food Street, Broadway Macau, Avenida Marginal Flor De Lótus, Cotai, +853 2875 2945, /www.galaxymacau.com/en/dining/restaurants/the-roadhouse-macau/, www.facebook.com/theroadhousemacau/
This article was originally written in June 2016 and revamped in July 2019.
Tags
Related Posts