We're huge fans of dining under the sky, day or night. There are plenty of options in Macau for enjoying a great meal outdoors so if you're planning a visit, this is the guide for you! All these places are definitely worth a try and it is always fun sipping wine while watching the world pass you by. Outdoor dining spots don't necessarily mean you have to be hungry to be seated there; why not just go for a cool sangria with freshly cut fruit, a wine tasting with friends, or cocktails over a romantic view? Here, we let you know where the best terraced restaurants and bars in Macau are, so be sure to check them out if you're feeling the need for dining with a view in the fresh air.
–MACAU SIDE–
Talay Thai
(See featured image above)
Set in Macau Fisherman's Wharf and featuring a wide seating area, this outdoor space is very popular amongst expats for birthday parties and dinners, probably because it also has karaoke rooms one can rent and it's close to some nightclubs too. Serving traditional Thai food, it's great for beer lovers, as it has an ongoing "pay one get two" beers and buckets promotions as well. We'd go for their pad Thai, minced beef with lettuce, spicy soups, and some starters such as fried crab. Talay Thai overlooks the Pearl River Delta, allowing for a relaxing environment without swarming crowds around or loud music.
Talay Thai Shop 3, Macau Fisherman's Wharf, Avenida da Amizade e Avenida Dr. Sun Yat-Sen, NAPE, +853 2872 7207, www.fishermanswharf.com.mo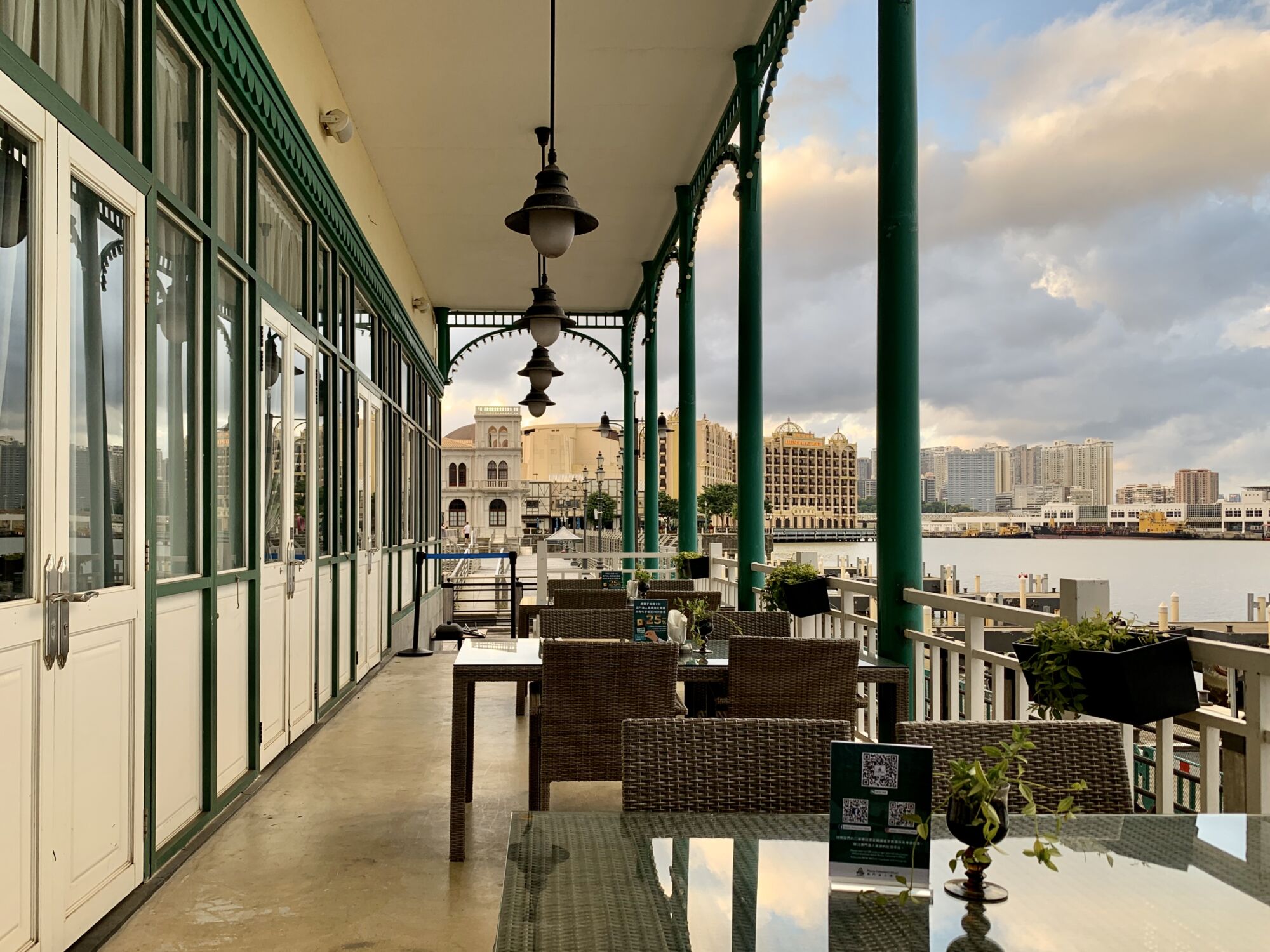 FW Rio Grill & Capriccio Coffee Shop
Not far away still at Macau Fisherman's Wharf, Capriccio was recently revamped and it's now one of the coolest and off the beaten path outdoor spots in Macau. Although their food list is not that vast, they serve wine, beer, and cocktails, which is ideal for a chill sunset-watching session with friends or a loved one. Head there if you're looking to stay offline for a bit. They have different outdoor areas: one in front of the main door, and the other overlooking the river, with the bridge lights coming up when it starts to get dark. We loved this place over an Aperol Spritz and a glass of house wine.
FW Rio Grill & Capriccio Coffee Shop Cape Town, Macau Fisherman's Wharf, Avenida da Amizade e Avenida Dr. Sun Yat-Sen, NAPE, +853 8799 6338, www.fishermanswharf.com.mo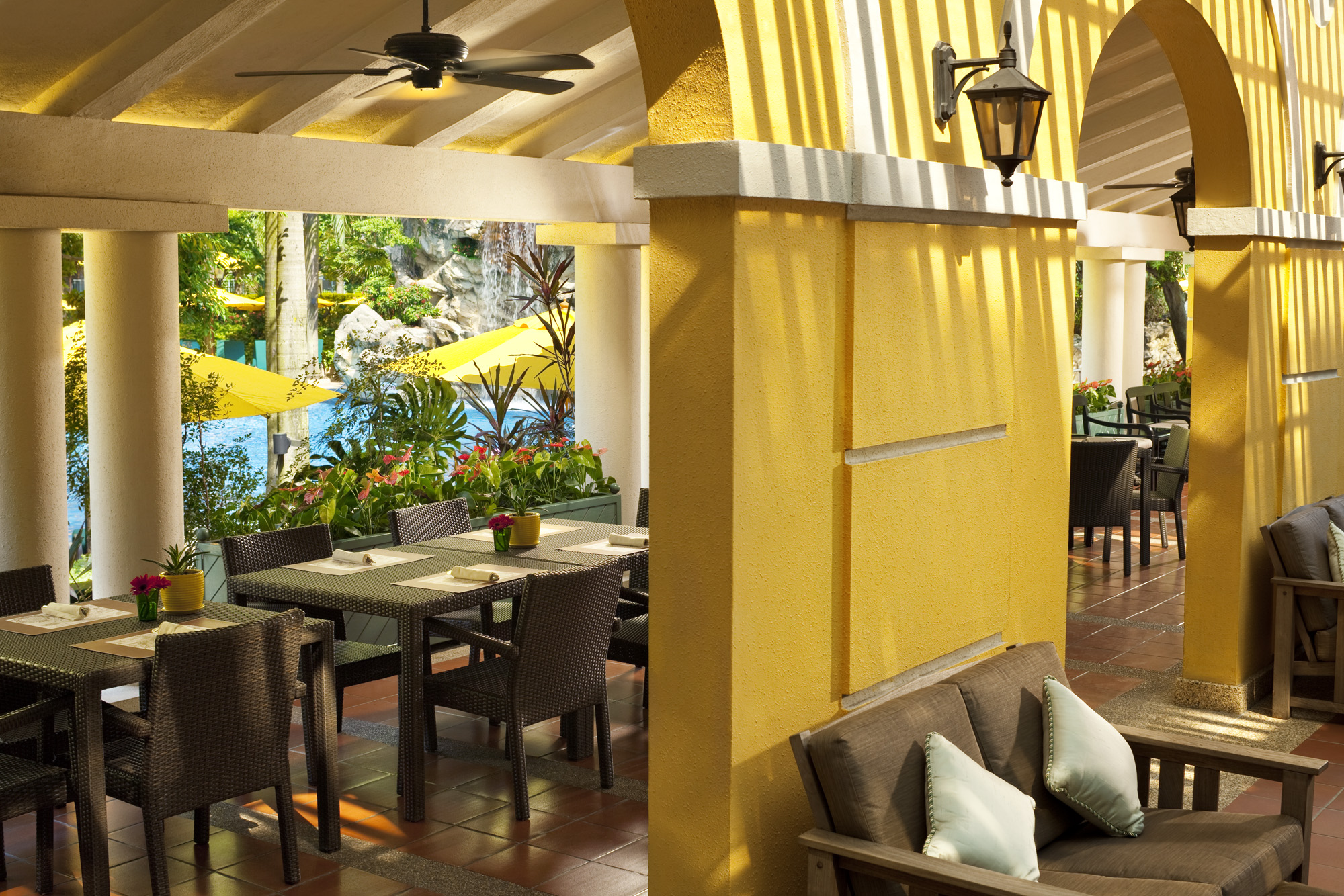 Naam at Artyzen Grand Lapa Macau
Named after the Thai word for water, Naam's design is based around a central pond, which creates a relaxed atmosphere. Located at Artyzen Grand Lapa Macau, it is arguably one of the best Thai restaurants in the city and the location is absolutely beautiful. With a vintage look and a perfect swimming pool view, this exotic food spot is the to-go place for guests looking to have a quiet dining experience, away from the chaos of the city. Try their curries (especially the duck one) and the steamed red snapper fish with assorted Thai herbs or spicy lime chili sauce. Check their menu here.
Opening hours: 12:00pm–2:30pm (lunch); 6:30pm–10:00pm (dinner), closed on Mondays
Naam Artyzen Grand Lapa Macau, 956-1110 Avenida da Amizade, Macau, +853 8793 4818, artyzen.grandlapa.com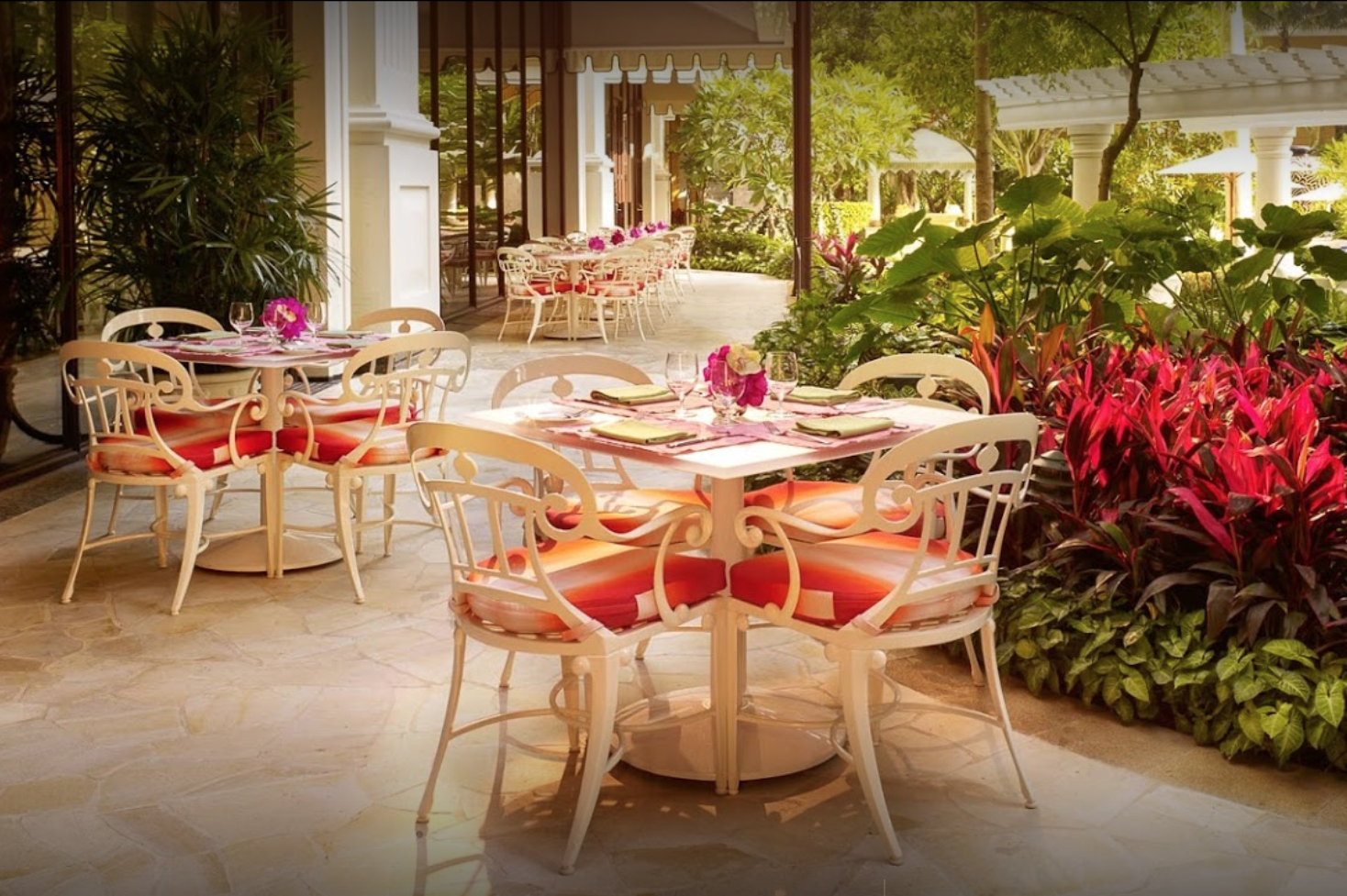 Café Esplanada at Wynn Macau
The fact that they update their menu from time to time is the cherry on top of this nice place tucked away inside a hotel casino. While it might be hard to imagine a quiet spot hidden away in this bustling structure, Esplanada offers everything from an all-day breakfast (with vegetarian options), to light lunch, heavier and tasty meals, a long wine list and so on. The trick? To head there during summer: locals don't appreciate the warm weather that much, so if you are a sucker for sun and warmth, you won't have a problem finding a spot at their sumptuous outdoor area overlooking the pool. Try their salads, roasted chicken with polenta or exotic Asian dishes!
Opening hours: Daily, 11:30am–10:30pm
Café Esplanada Wynn Macau, Rua Cidade de Sintra, Macau, +853 8986 3663, www.wynnmacau.com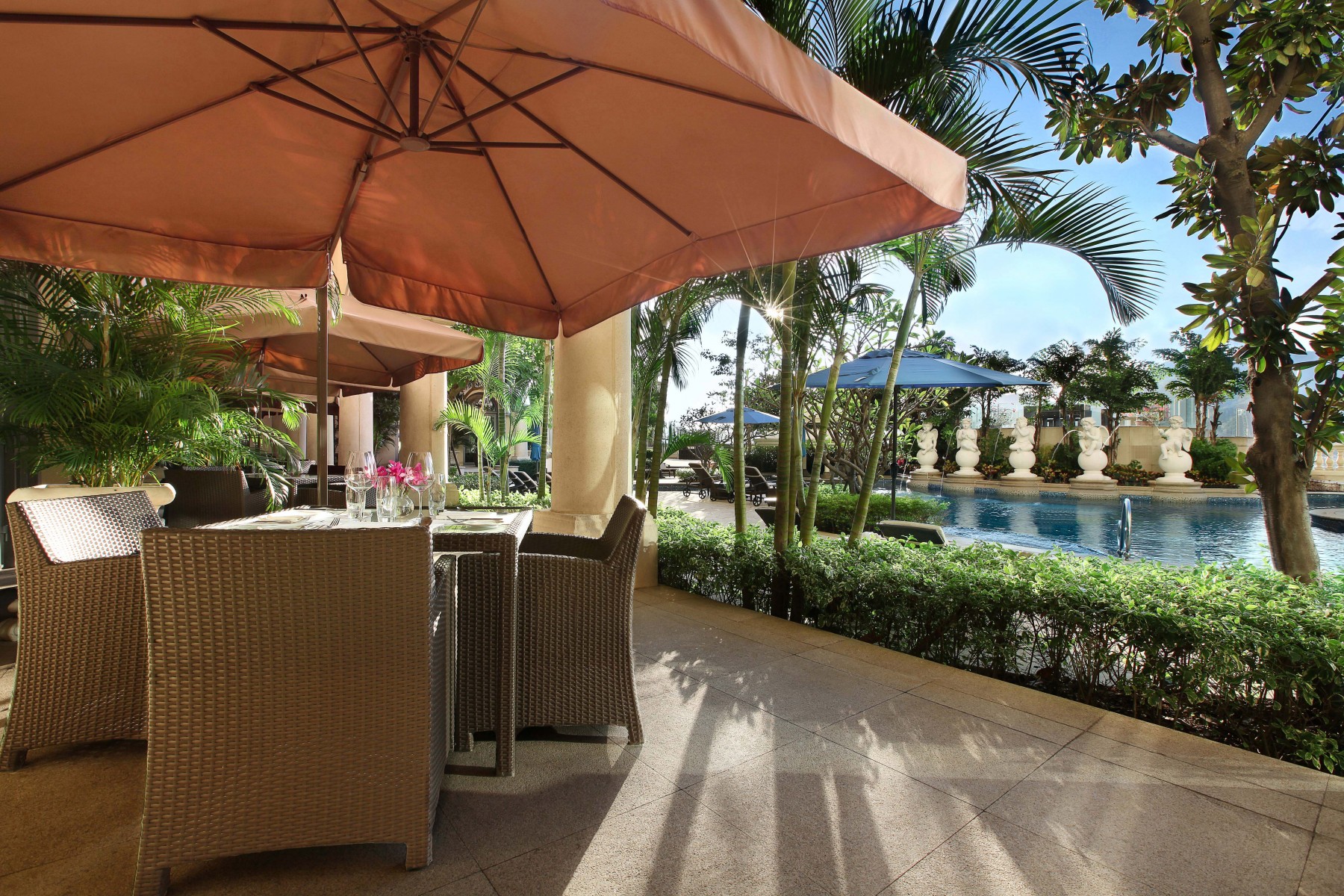 Mistral Restaurant at Sofitel Macau At Ponte 16
Sofitel Macau At Ponte 16 is a great place for any meal, whether breakfast, lunch, or dinner. As the sun shines during the day and the other side lights up at night, Mistral restaurant is the perfect spot for a wonderful dining experience, be it with friends or a romantic date. Serving sumptuous buffets, they frequently have thematic meals based on a specific cuisine or seafood.
Opening hours: Daily, 7:00am–10:00pm
Breakfast (A la carte menu) – 7:00am–10:30am (weekdays), 7:00am–11:00am (weekends)
Lunch (A la carte menu) – Monday to Friday, 12:00pm–2:30pm
Lunch (Weekend seafood lunch buffet) – Saturday to Sunday, 12:00pm–3:00pm
Dinner (A la carte menu)  – Daily, 6:00pm–9:30pm
Mistral Restaurant Sofitel Macau At Ponte 16, Rua do Visconde Paço de Arcos, Macau, +853 8861 0016, www.sofitelmacau.com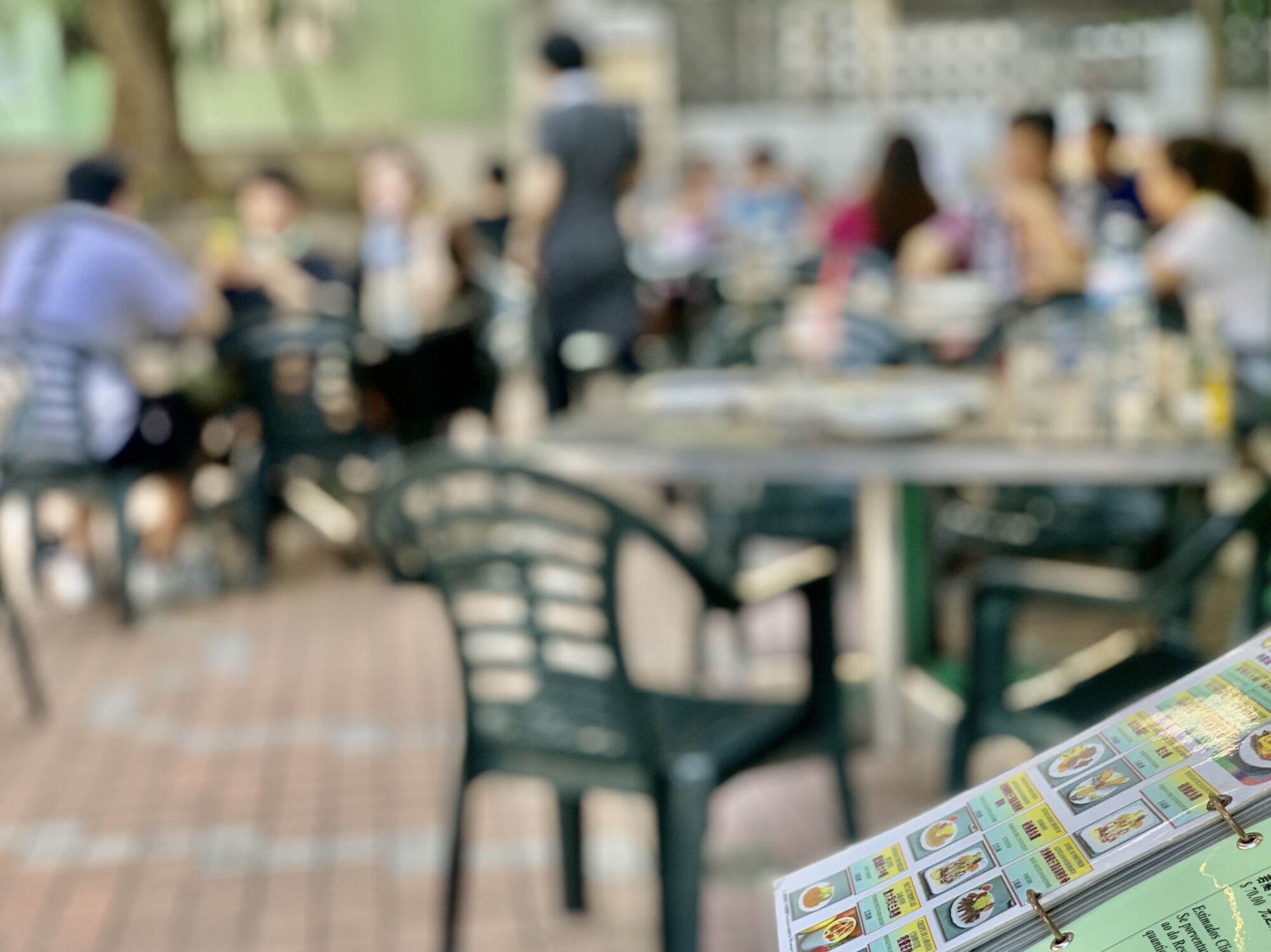 Ali Curry House
The Sai Van Lakes are a sight to see, so head there with your friends and family to this spot, right in front of the lakes! From Portuguese-inspired dishes, Macanese and local curries, there are also some good old Chinese delicacies. Depending on what you like, there is an array ranging from heavier dishes to fresh goodies for you to savor al fresco. The restaurant's exterior is colorful, allowing great pictures with the lakes as a background too.
Opening hours: Daily, 12:30pm–10:30pm
Ali Curry House Avenida da República, Sai Van, Macau, +853 2855 5865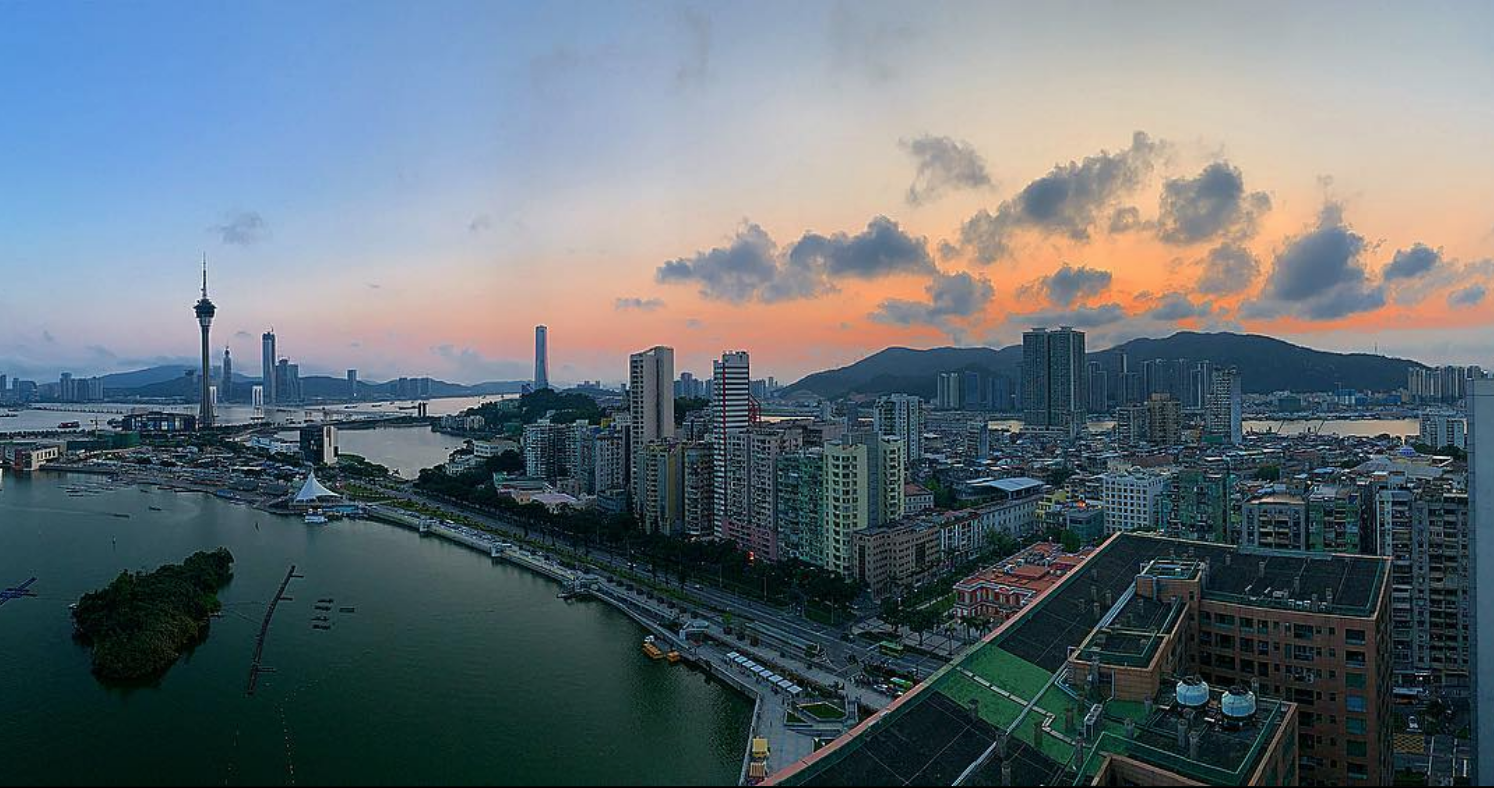 Sky 21
This one definitely offers a privileged view of Macau, with the advantage of being right in the city center. During the day, Sky 21's bar area turns into a buffet restaurant where you can take a break and treat yourself to a breathtaking view of the city's skyline. It's one of the best lunch buffets in town and that includes both indoors and outdoors; bring your colleagues for a sumptuous lunch! Order pasta with whichever options they offer, go for the table of cheese, honey and walnuts, pick some cold cuts, cured salmon and salad and you'll see that your money was really worth it.
Opening hours: Daily, 11:30am–10:00pm
Portuguese Lunch Buffet – 11:30am–3:00pm
Portuguese Dinner Buffet – Saturday–Thursday, 6:30pm–10:00pm
Portuguese Happy Friday Dinner Buffet – Fridays, 6:30pm–10:00pm
Sky 21 21/F AIA Tower, 251A – 301 Avenida Comercial de Macau, Praia Grande, Macau, www.sunfnbgroup.com/en/sky21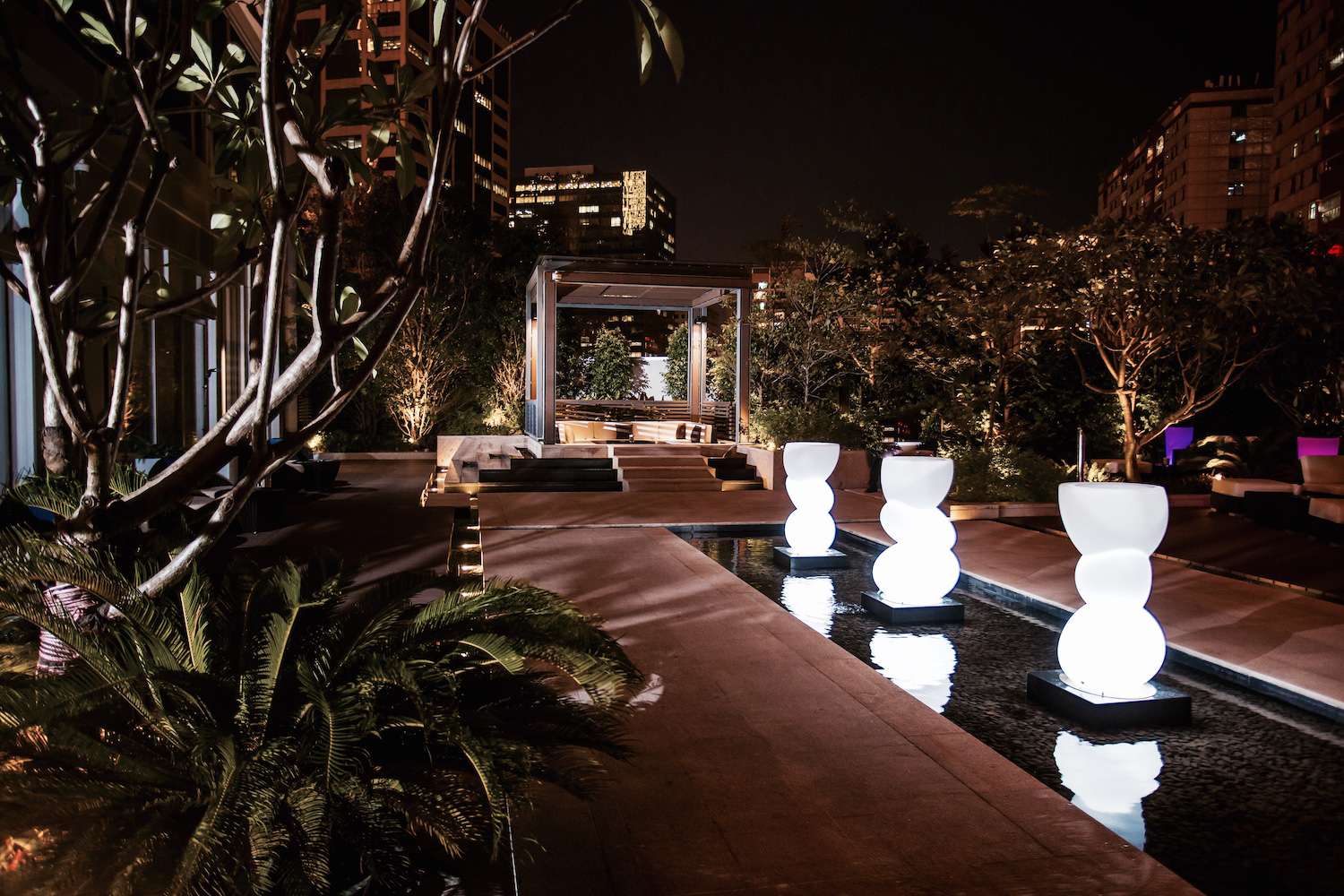 Heart Bar
Offering a quiet and chill oasis in the middle of the Macau peninsula, Heart Bar is our to-go place when looking for something classy, yet relaxing and unassuming. Located in the NAPE area–10 minutes away from Hotel Lisboa–it features comfortable lounge chairs set on a beautiful venue with a modern decoration. Besides great drinks (including especially crafted cocktails and a wide menu of alcoholic beverages), they offer oyster deals, set lunch menus with steak, amongst other dishes. Heart Bar is perfect during nighttime, but also nice to head to when the sun is still out. Even better: go there straight from work to catch some of the best sunset skies in Macau.
Opening hours: Daily, 12:00pm–3:00am
Heart Bar Ascott Macau 2/F, Rua Cidade de Braga, NAPE, Macau, +853 2822 8523, www.facebook.com/Heart-Bar
Read more: Heart Bar: A New Mixology Bar in Macau
–TAIPA–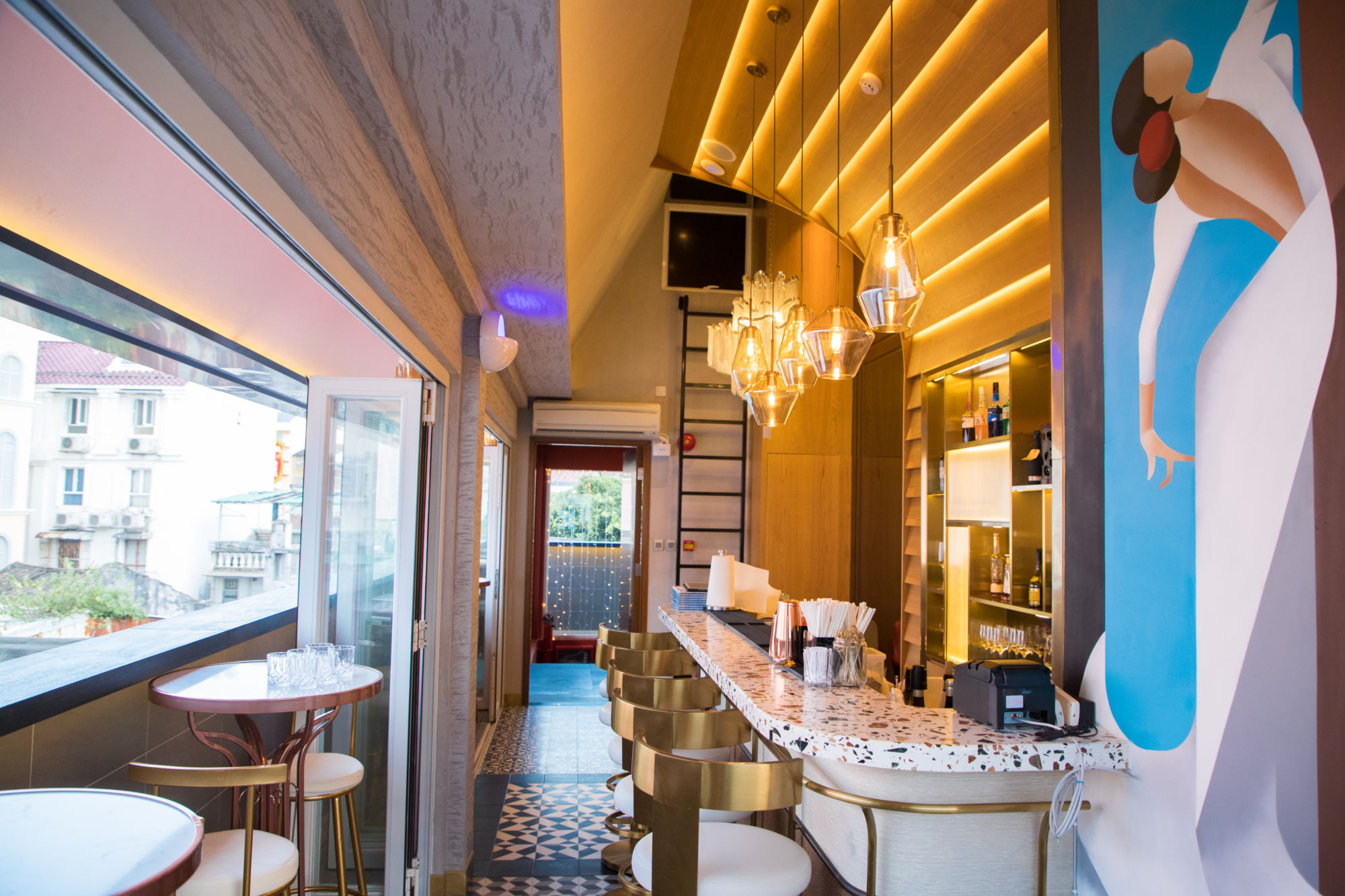 Barcelona Macau
With truly traditional Spanish tapas–and also great wholesome dishes–Barcelona Macau is one of the trendiest restaurants in Taipa Village! We had a lovely lunch there and besides the sangria, we also recommend the 36-month cured Iberian ham platter, plus the "croquetas" and a very original recipe of ceviche with scallops which is a popular type of seafood in Asia. These are just the starters, so keep some space for the paella and their incredible, crispy suckling pig. Barcelona Macau has a very cool terrace upstairs, away from all the hustle and bustle, although it's located right in the middle of one of Macau's most touristic areas. If you're not too hungry, book a table outside for some refreshments and relaxation.
Opening hours: Daily, 12:00pm–2:00am
Barcelona Macau 47 Rua dos Clérigos, Taipa Village, +853 2845 5168, www.taipavillagemacau.com/directory/barcelonamacau
Read more: Barcelona: True Catalonian Food at the Heart of Taipa Village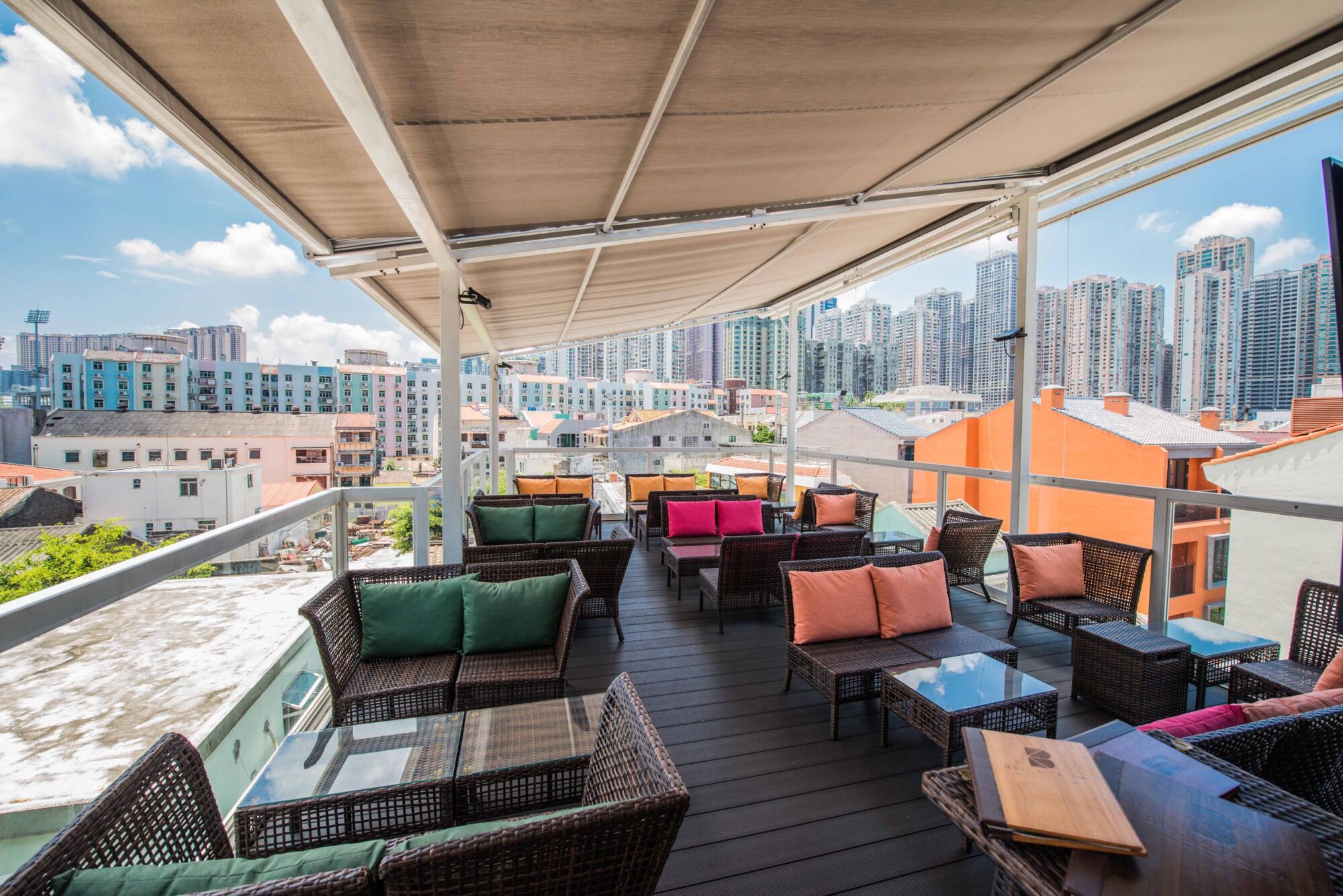 Bella Taipa
Also located in Taipa Village, this one offers a wide selection of Italian food. From starters to desserts, be sure to order one of each so you'll get a taste of the menu. Their tomato and mozzarella salad is to die for, but also the pizzas and the roasted salmon. With comfortable sofas on their breezy rooftop, you won't resist staying a bit longer! It's also one of the few spots in town serving authentic Aperol Spritz cocktails, which are just perfect for an afternoon drink over a Taipa Village sunset. Why not gather a few friends at the end of a day's work and head there for a chill out session?
Opening hours: Daily, 12:00pm–00:00am
Bella Taipa 1 Rua dos Clérigos, Taipa Village, +853 2857 6621, www.bellataipa.com/index
IN Portuguese Food
With terraced seating area on its upper floor, it's a very popular dining spot not just for Portuguese living in Macau, but also locals and tourists coming here to experience Portugal's flavors. IN Portuguese Food serves modern-looking dishes which taste truly Portuguese with a twist, like their codfish chef's style, served with mashed potato and onion. Their sangria is also super quenching! However, remember to take some mosquito repellent if you want to keep the insects away. It offers a great view over Taipa Village as the building is a bit taller than the surrounding ones.
Opening hours: Monday to Friday, 11:30am–3:00pm and 6:00pm–11:00pm, Saturday and Sunday, 11:30am–11:00pm (last order at 10:00pm)
IN Portuguese Food 86 GF, Rua Correia da Silva, Taipa Village, +853 2857 6700, www.facebook.com/inportuguesefood
Read more: IN Portuguese Food: A True Portuguese Gem in Taipa Village
Tapas de Portugal
Serving Portuguese food with a twist, they too offer sangria–by the jar or glass–a long wine list (red and white), soft drinks, and others. To eat, we recommend some of their tapas-like dishes, such as octopus or avocado salads (which is vegetarian), some ham and cheese croquettes, or the cured salmon tartare. The stuffed bell peppers with prawns in béchamel sauce and the scrambled eggs with fresh asparagus, bacon, and Iberico sausage are also truly tasty. Although "tapas" is in its name, this restaurant also serves traditional Portuguese dishes such as seafood rice, roasted codfish, roasted suckling pig, BBQ chicken, and much more. Their terrace is small–two tables for five guests each–while overlooking Goa Nights and the streets below.
Opening hours: Daily, 11:30am–11:30pm (last order at 10:30pm)
Tapas de Portugal 9 Rua dos Clérigos, Taipa Village, +853 2857 6626, www.taipavillagemacau.com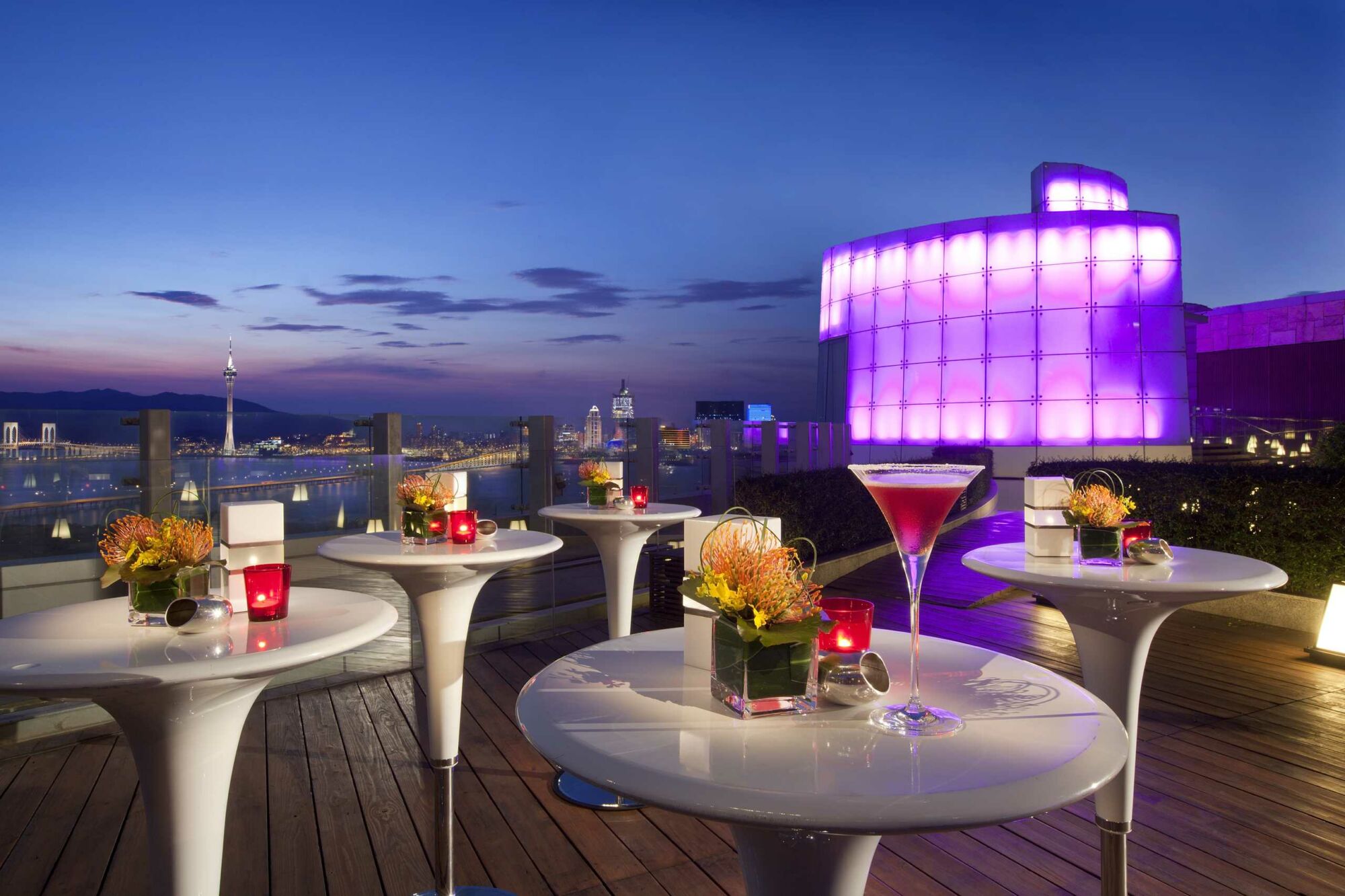 Aurora at Altira Macau
This Italian restaurant set on Altira's 10th floor offers traditional dishes with a glamorous twist. Must-tries include their pizza, the zafferano pappardelle, the lobster linguini, while their steaks and sea flavors are also tempting. Both indoor and outdoor settings are available at Aurora, so why not have a sumptuous dinner inside and then switch to the breezy and outstanding terrace for after-dinner drinks?
Opening hours: Thursday–Sunday, 12:00pm–2:30pm and 6:00pm–10:00pm
Aurora Altira Macau, Avenida de Kwong Tung, Taipa, +853 2886 8868, www.altiramacau.com/aurora
–COTAI & COLOANE–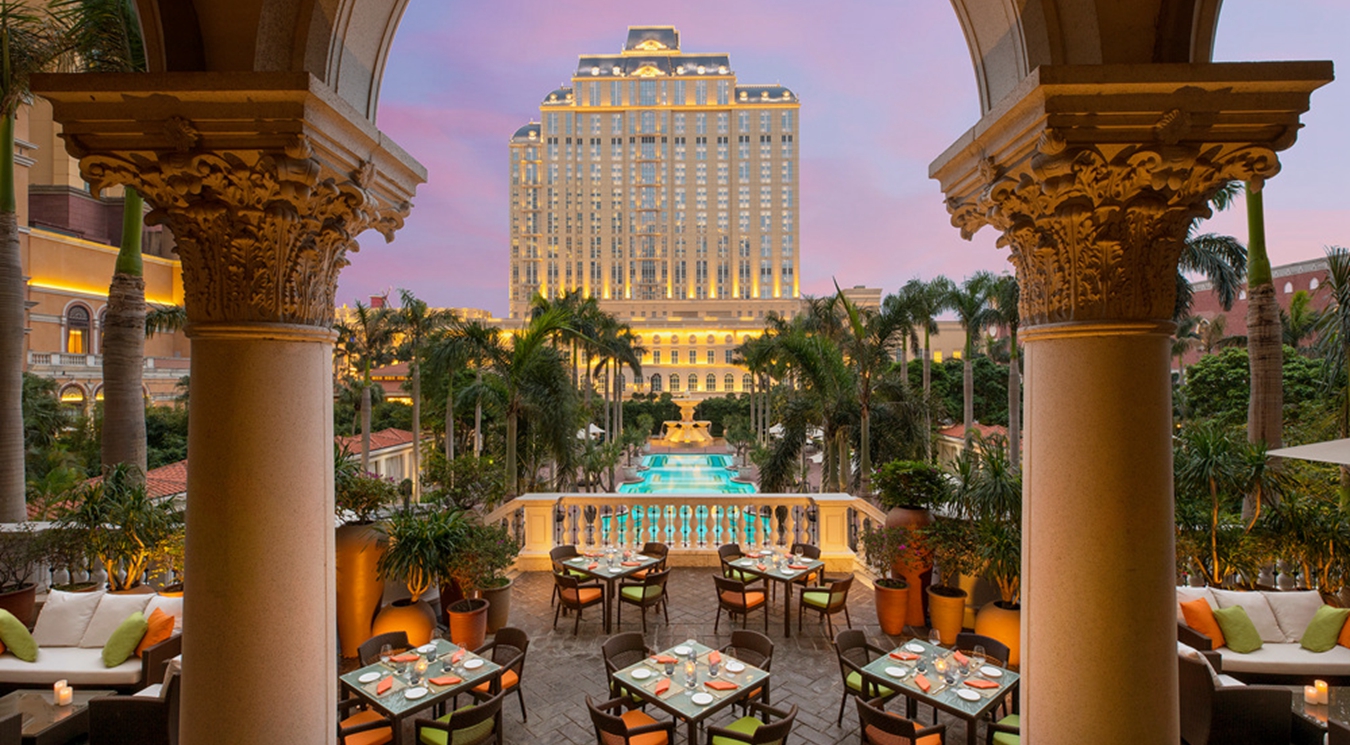 Portofino at The Venetian Macao
Portofino might as well be called Cotai's "Little Italy". It overlooks The Venetian Macao's swimming pools in a spacious outdoor patio. They are great value for money with all-you-can-eat pizza and pasta, a special lunch menu on Sundays, and a decadent brunch with alcoholic beverages included! Portofino is also known for its fresh oysters and stunning views while still located on a secluded place in the middle of a busy area of Macau.
Opening hours: Tuesday–Sunday, 12:00pm–3:00pm, 6:00pm–10:30pm
Portofino The Venetian Macao, Estrada da Baía de Nossa Senhora da Esperança, Cotai, +853 8118 9950, www.venetianmacao.com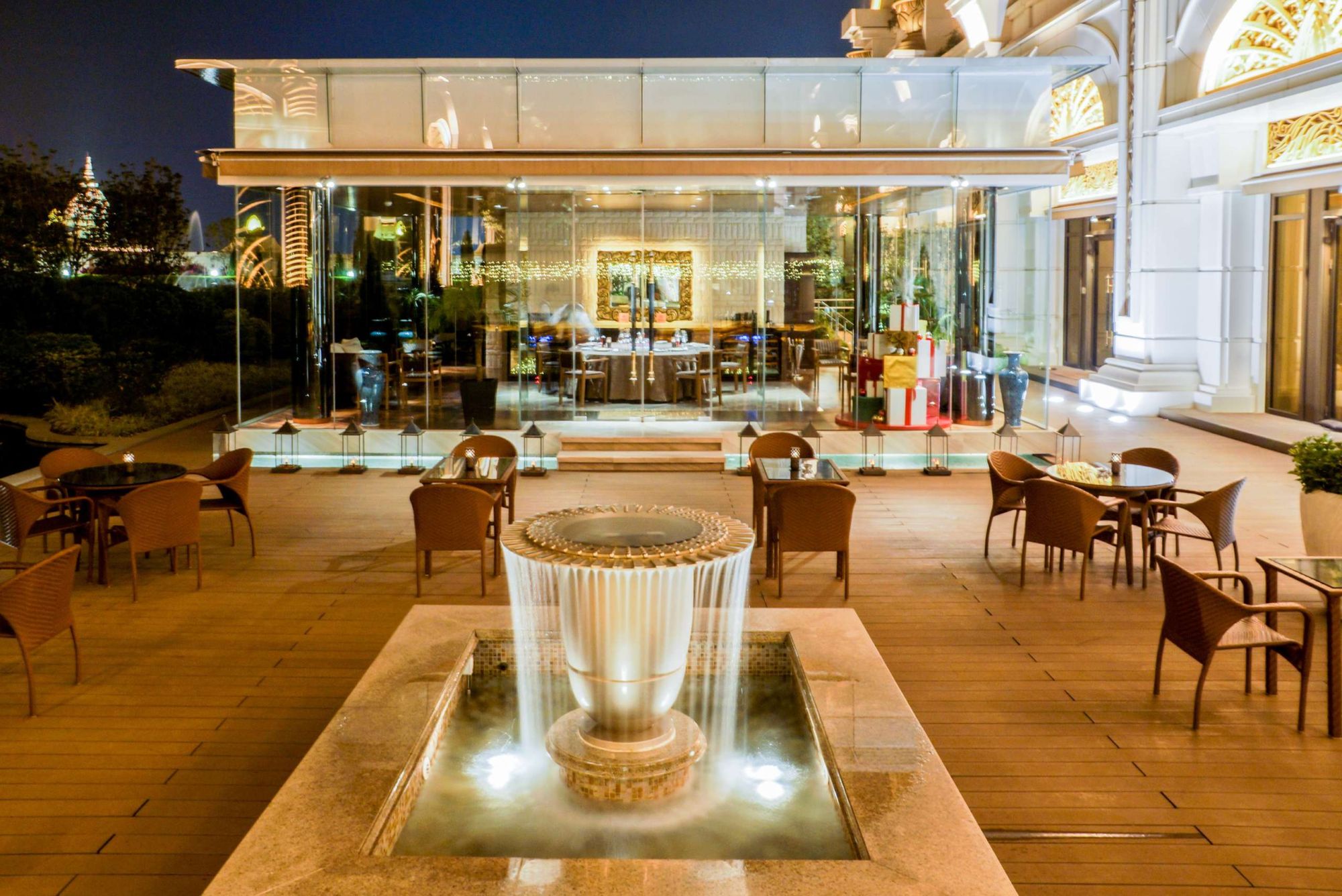 Terrazza Italian Restaurant at Galaxy Macau
The proud winner of the Michelin Plate in Michelin Guide 2018, Terrazza features a fantastic terrace for everyone to gather and enjoy delicious, classic, and luxurious dishes of Italian tradition! The Italian-style roasted suckling pig, the slow-cooked veal loin in tuna sauce, and the paccheri pasta are some of our favorite Terrazza dishes, so be sure to try them out. You can also head there for drinks if you're not hungry! Their wine list is unbelievable and with different price ranges for everyone.
Opening hours: Daily, 6:00pm–11:00pm
Terrazza Italian Restaurant 201, 2F, Galaxy Macau, Estrada da Baía de Nossa Senhora da Esperança, Cotai, +853 8883 2221, www.galaxymacau.com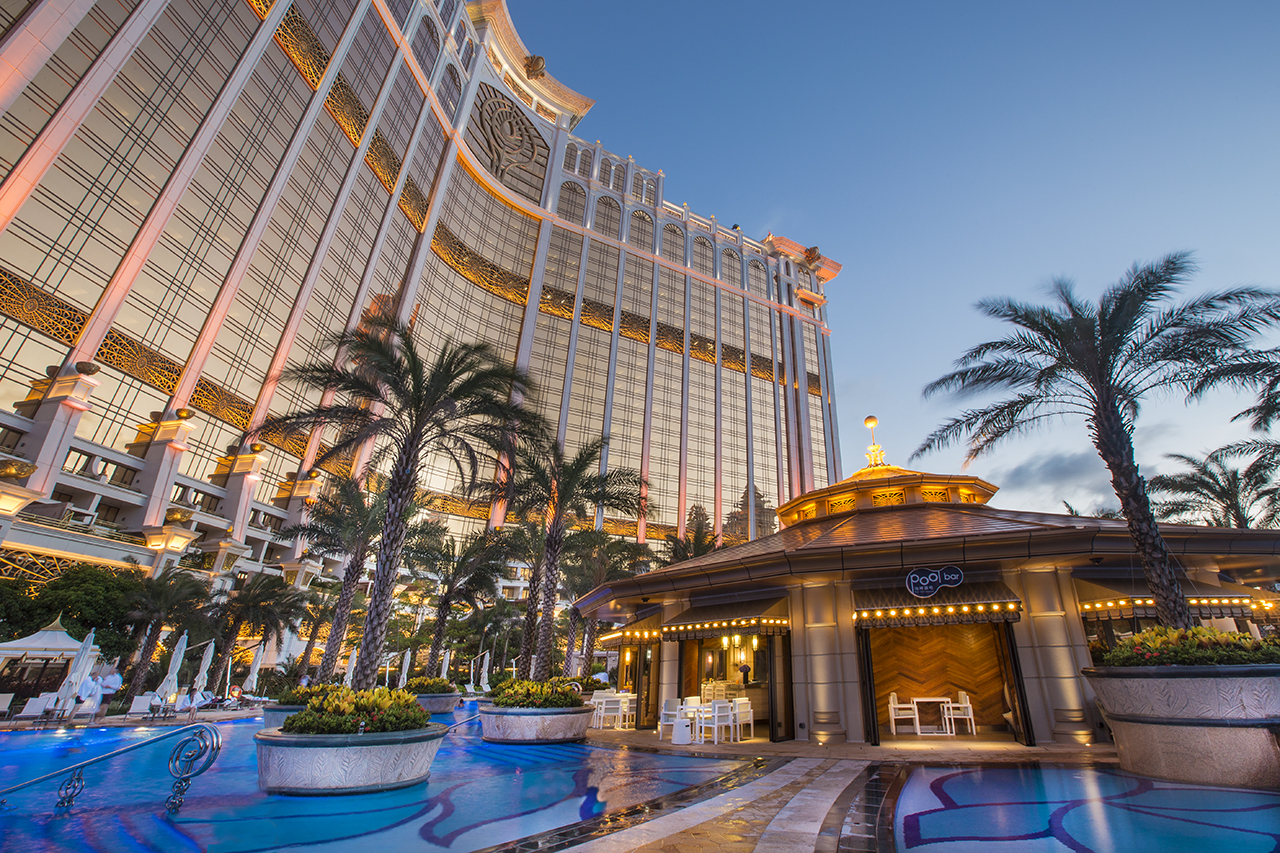 Pool Bar at JW Marriott Hotel Macau
Classy and breezy, JW Marriott Hotel Macau's Pool Bar is the perfect venue to hang out with friends over nibbles and cocktails! With the pool literally a foot away, just relax and take in all the great vibes a setting like this allows. Their Pool Bar features international dishes and original cocktails and mocktails so guests can choose from an array of things to have.
Opening hours: Daily, 11:00am–6:00pm
Pool Bar JW Marriott Hotel Macau, Galaxy Macau, Estrada da Baía da Nossa Senhora da Esperança, Cotai, +853 8886 6888, www.marriott.com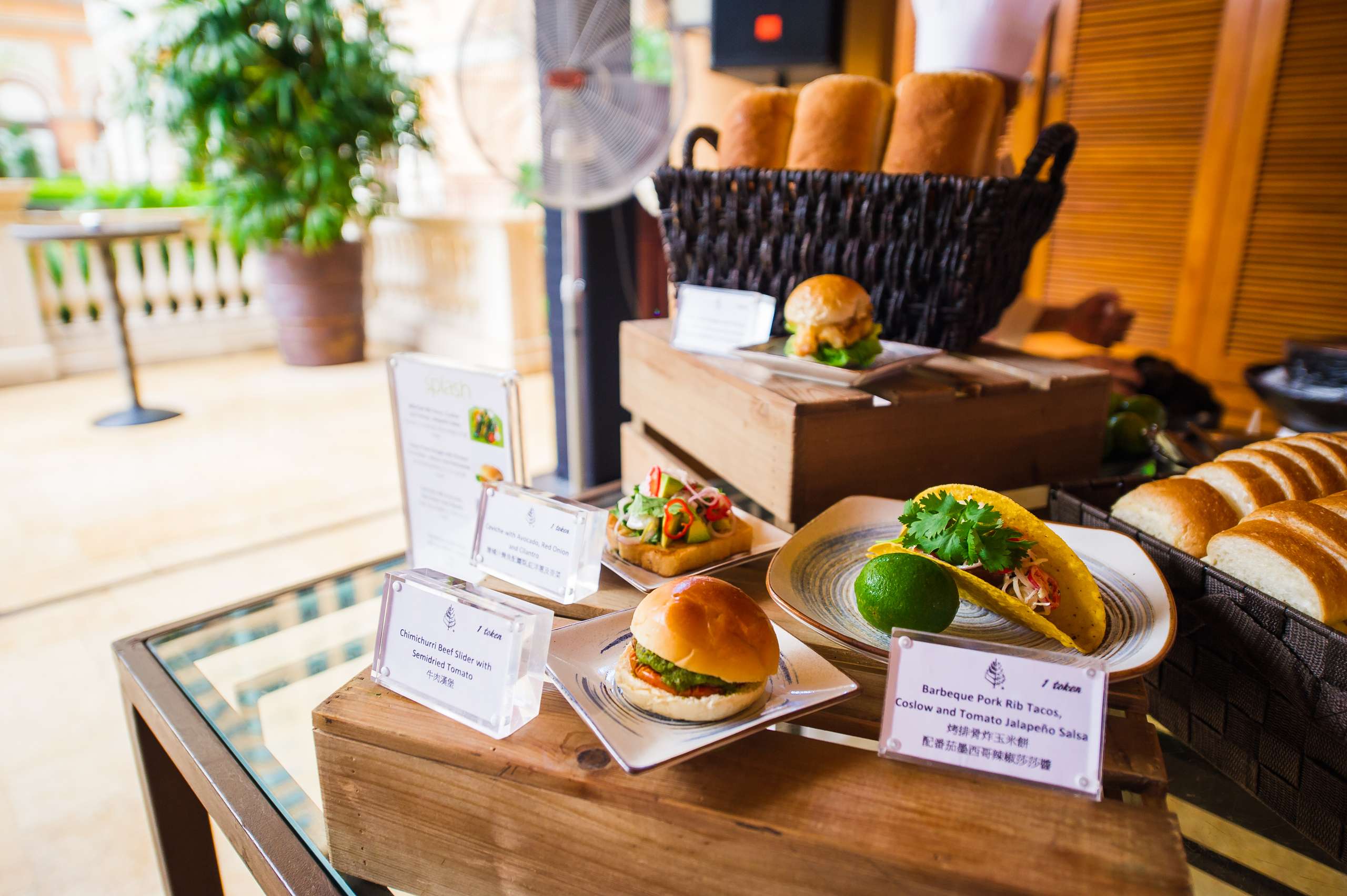 Splash at Four Seasons Hotel Macao, Cotai Strip
This outdoor spot has one of the best menus so far! With light but also wholesome dishes for everyone to choose from, there are great salads–tomato and mozzarella, avocado and spinach and kale, sweet potato and mushrooms–sumptuous burgers with caramelized onion, jalapeño salsa, nachos and also fish and chips! If you're thinking of spending the day at the pool on the company of family and friends, this might be one of the best options in town, as Splash is right by the pool and serves up delicious food for a full-on day of splashing and diving!
Opening hours: Daily, 12:00pm–7:00pm
Splash Four Seasons Hotel Macao, Cotai Strip, Estrada da Baía de Nossa Senhora da Esperança, Cotai, +853 2881-8888, www.fourseasons.com
Read more: Splash: Poolside Dining in Macau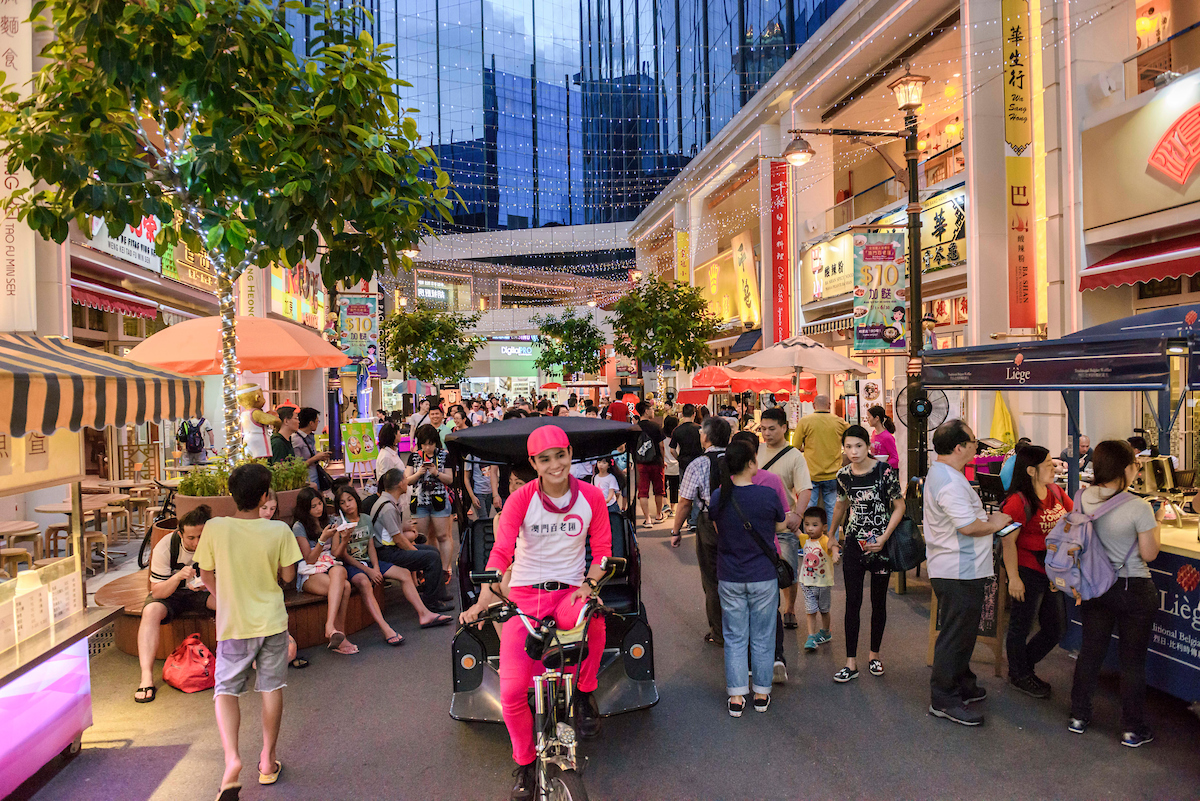 Broadway Macau
Featuring a series of very pleasant outdoor seating areas from a variety of restaurants–including bars and cafés, Chinese, Japanese, Irish and Mexican delights–this area is a must-visit when looking for a cool environment filled with entertainment and lots of foods to experience. Broadway Macau includes Duffy's Irish Pub and The Roadhouse Macau where the first features a wide selection of beers and whiskeys and it's ideal to chill with some friends at the outdoor area. The Roadhouse Macau is one of the city's best venues when it comes to live music performances, which they frequently host, especially inviting artists from abroad. They offer a wide food menu with Filipino and Mexican specialties that include burritos and tapas. Thai restaurant Thai Chiu, Japanese-inspired Ufufu Café, and signature dim sum eatery, Tim Ho Wan are also great choices, while Rethink Coffee Roasters is the place to stop by if you're looking to grab a coffee while strolling.
Opening hours: Monday–Friday, 4:00pm–4:00am; Saturday–Sunday, 12:00pm–4:00am
Broadway Macau Avenida Marginal Flor de Lótus, Cotai, +853 8883 3338, www.broadwaymacau.com
Read more: Your Guide to Broadway Macau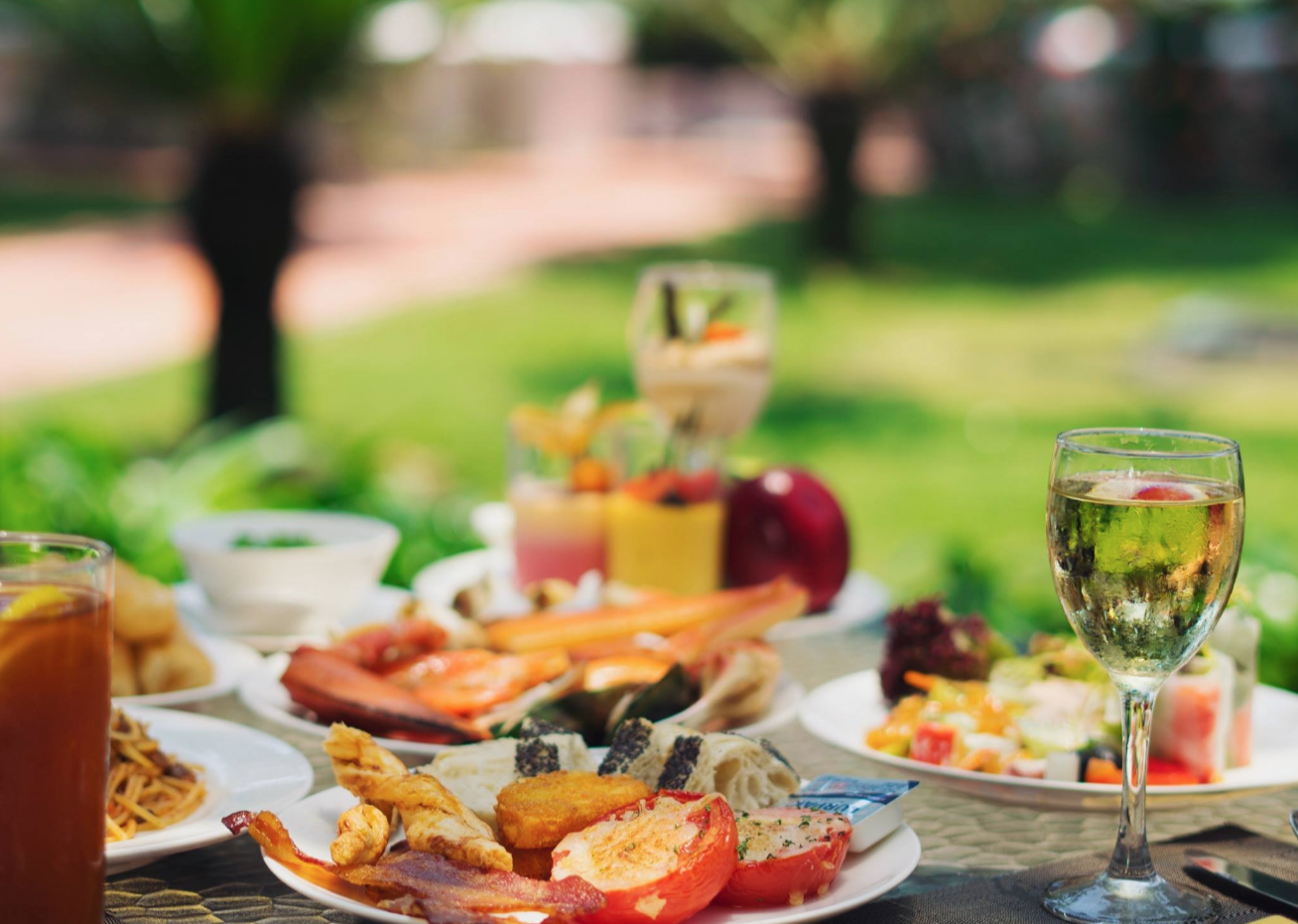 Café Panorama at Grand Coloane Resort
Far from the gambling side of Macau, the Grand Coloane Resort exudes the calm that the sea brings and bathes the island. They have a poolside bar with a light menu and fresh juices; but if you're hankering for something heavier, Café Panorama has both an a-la-carte menu and a weekend buffet. And of course, nothing beats that freshly cut grass smell and the sound of joyful kids splashing in the pool's clear water. They have new promos from time to time, so be sure to check them out here.
Opening hours: A la carte – Daily, 7:00am–12:00am
Special menus – Daily, 7:00am–10:30am (breakfast menu), 11:00am–3:00pm (set lunch), 6:30pm–10:00pm (dinner buffet)
Café Panorama Grand Coloane Resort, 1918 Estrada de Hac Sá, Coloane, +853 8899 1020, www.grandcoloane.com/en-us/dining/Cafe-Panorama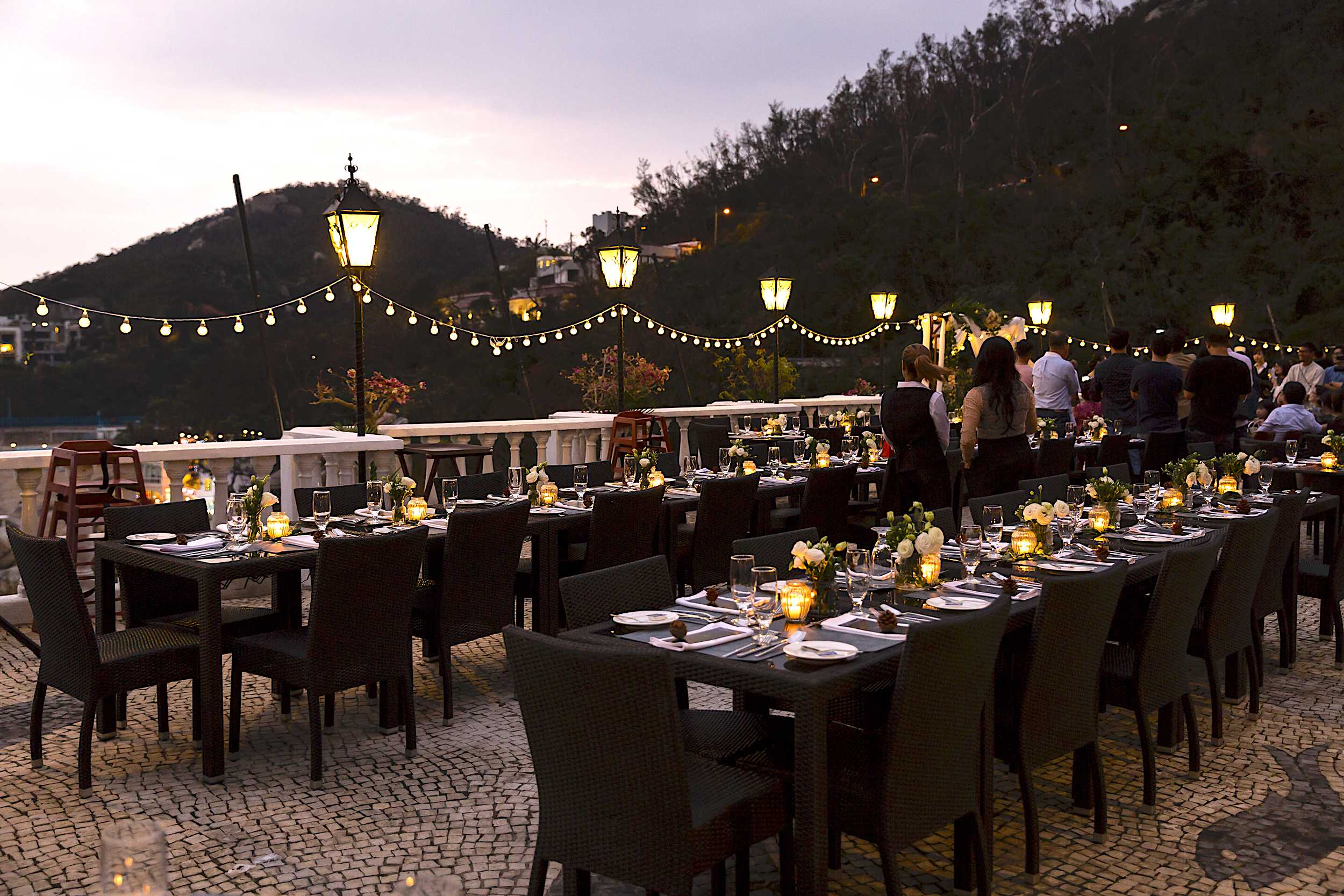 Pousada de Coloane
This off the beaten path place is also a cool outdoor venue to chill at! With a wide outdoor space fitted with tables and chairs, it overlooks Coloane beach and the sea, allowing people a quick getaway from the busy areas of the city. The restaurant mostly serves Portuguese dishes and some local creations as well. It's a great option for an anniversary dinner or party, as they can organize a cooking station with BBQ and grilled food being cooked right in front of the guests. You can arrange a package with drinks included as well!
Pousada de Coloane Praia de Cheoc-Van, Cheoc-Van Beach, Coloane, +853 2888 2143, +853 2888 2144, www.facebook.com/pousadadecoloane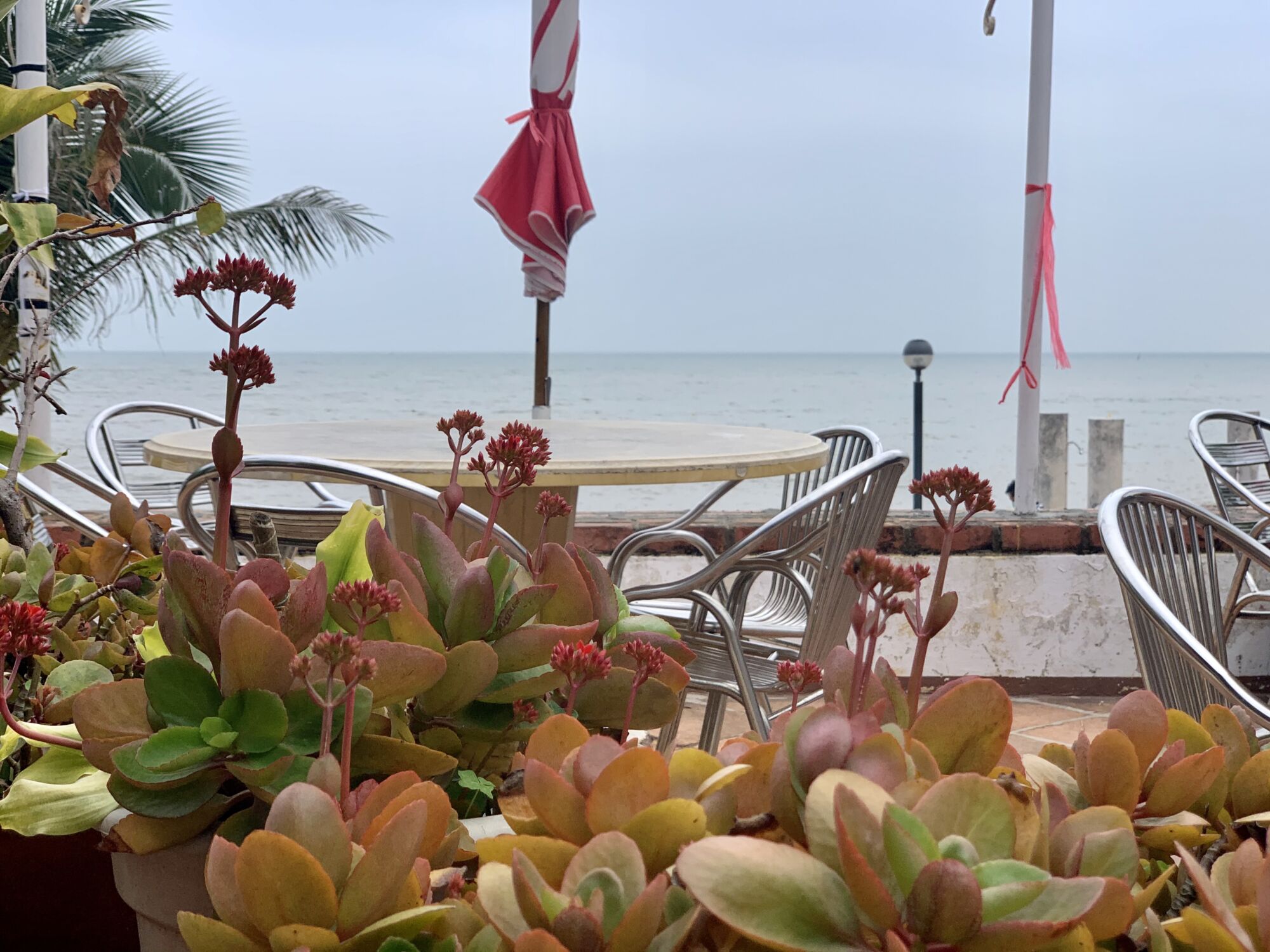 La Gondola
Located in Coloane's Cheoc Van Bay, right next to the public swimming pool, it is the perfect place for a good chill-out after a day in the sun. Order their pizzas and sangria then daydream about the times when pirate boats and caravels could be seen along the shore. This is an all-time favorite for expats living in Macau, as it's close to a freshwater pool, allows a glimpse of the horizon, and serves an array of dishes, from pizzas to pasta, a grill corner, and fresh juices. However, book in advance if you are looking to head there on a Saturday or Sunday, as they're usually full of families and groups of friends. The best thing about La Gondola? You can also take your dog for a walk and have a meal there!
Opening hours: Daily, 11:00am–11:00pm
La Gondola 41 Escadaria da Praia de Cheoc Van, Coloane, + 853 2888 0156, www.facebook.com/lagondolamacao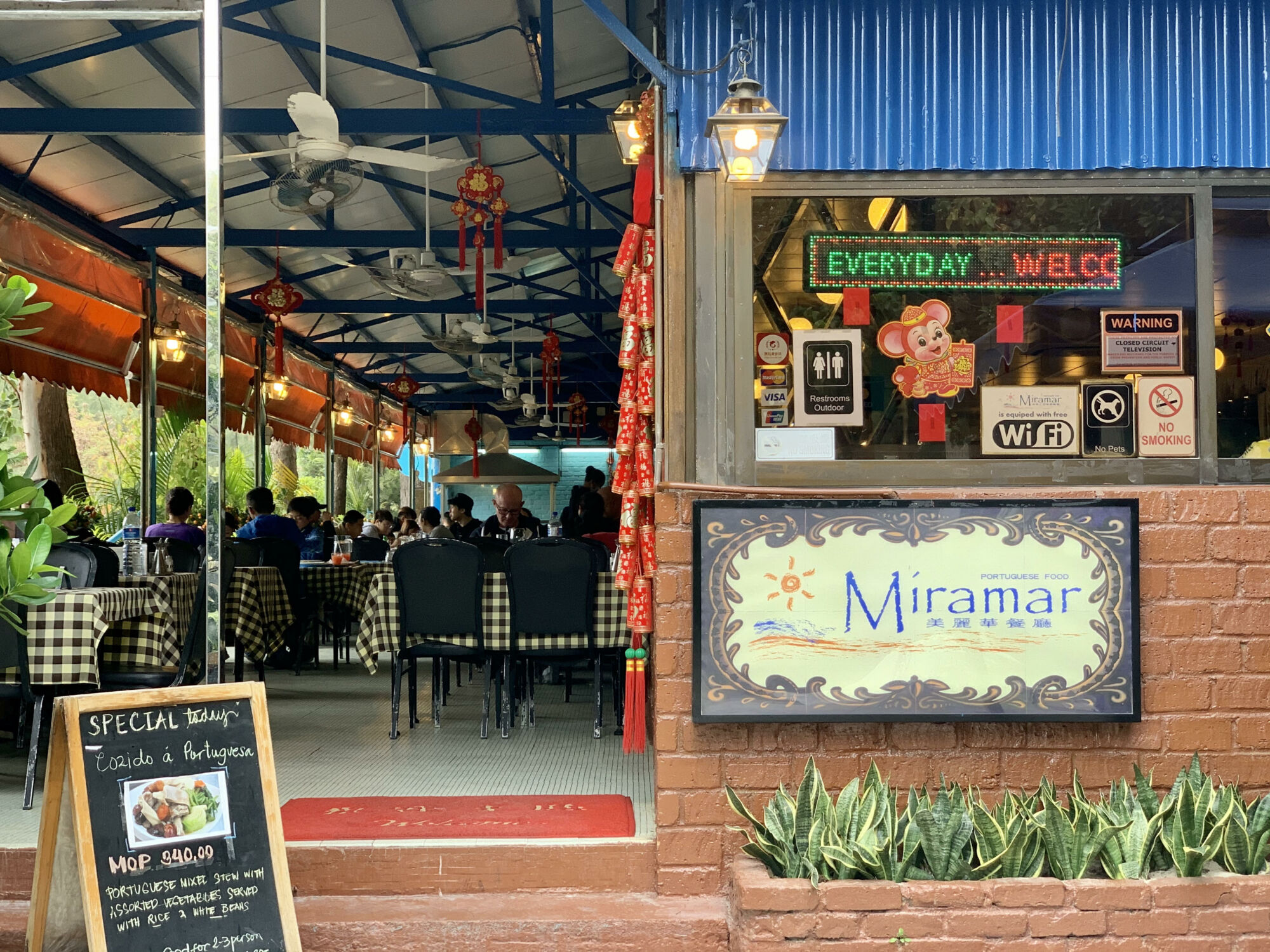 Miramar
Set in Hac Sá beach, this is a must-go when looking for seafood dishes and traditional Portuguese delights, such as fish or seafood rice, roasted codfish, and grilled meats. They even have a spacious BBQ area where you can take a look at all the action before the food goes to the table. Located on the north side of Hac Sa, it's a very quiet place, since it's far from the bus terminal at the main beach, allowing for a quiet and relaxing meal with your friends and family. Dogs are permitted since they have an indoor area, a covered upstairs outdoor area, as well as downstairs on the beach level. Let the kids explore, dip your feet in the water, and troop to the table for a feast to remember!
Opening hours: 11:30–3:00pm, 6:00pm–11:00pm (weekdays); 11:30am–11:00pm (weekends)
Miramar Zona Norte Praia de Hác Sá, Coloane, +853 2888 2601, www.miramar.com.mo
This article was originally written by Macau Lifestyle in June 2016 and updated by Leonor Sá Machado in July 2020.
Tags
Related Posts