So you've covered all the Unesco World Heritage Sites, or simply want to avoid the crowds. Get to know Macau's underrated and often overlooked sites on the fringes of the Historic Centre. The new Macau was born after its return from four centuries of Portuguese occupation to local Chinese rule in 1999. The city's urban landscape has changed rapidly in the last two decades, but there are still Sino-Latin treasures to be found amid the glass and steel. This walking tour of Macau's non-UNESCO spots lingers on the peninsula to the north of the territory, which shares a border with mainland China. It skirts Macau's World Heritage Sites yet packs in more than its fair share of centuries-old Portuguese and Chinese relics. Prepare your comfiest shoes for a whole day (or three!) of sightseeing–walking through al fresco gardens, museums, temples, and much more.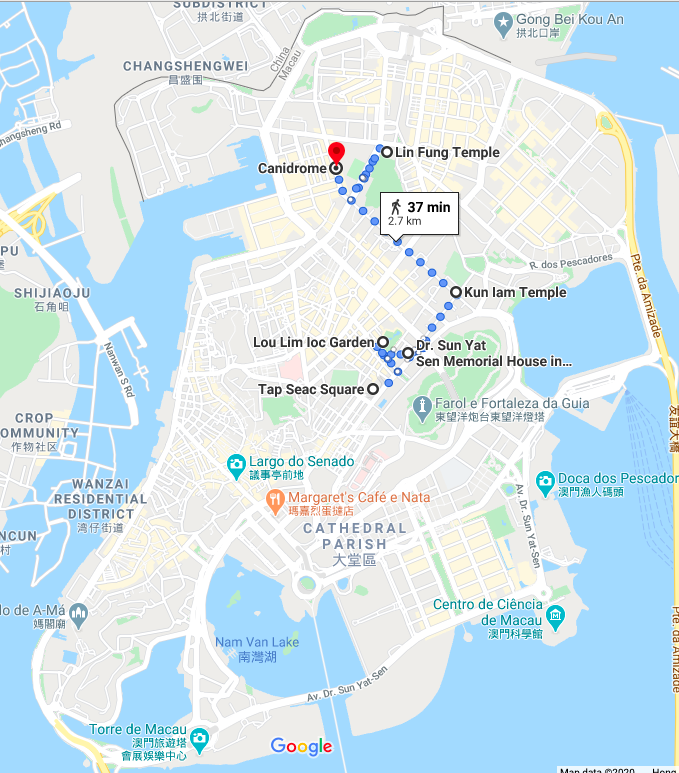 We included 21 stops on this route, which would give you a whopping 15km of ground to cover–pretty impressive for such a tiny territory! Feel free to make your own shortlist of places you want to prioritize–you can skip some while lingering in others. We've suggested a lunch hour somewhere in the middle around the bustling shopping stretch of Av. Almeida Ribeiro too so forget hiking or running, because you're about to get 20,000 steps in!
Lin Fung Temple
We start near The Barrier Gate, the old gateway between Macau and Zhuhai, built to delineate Mainland China from Macanese territory in 1870. Our first stop is Lin Fung Miu or Temple of Lotus. Built in 1592, this historically famous site has been regularly restored being the place where Chinese mandarins would stay on visits to the territory. The main hall is dedicated to Kwun Iam, while other shrines are for the worship of Tin Hau and Kwan Tai. In the courtyard behind the main hall lies a writhing dragon, so vivid as if it were flying out of the wall.
Lin Fung Temple Avenida do Almirante Lacerda, Macau
Also Read: Your Ultimate Guide to Macau's Most Beautiful Temples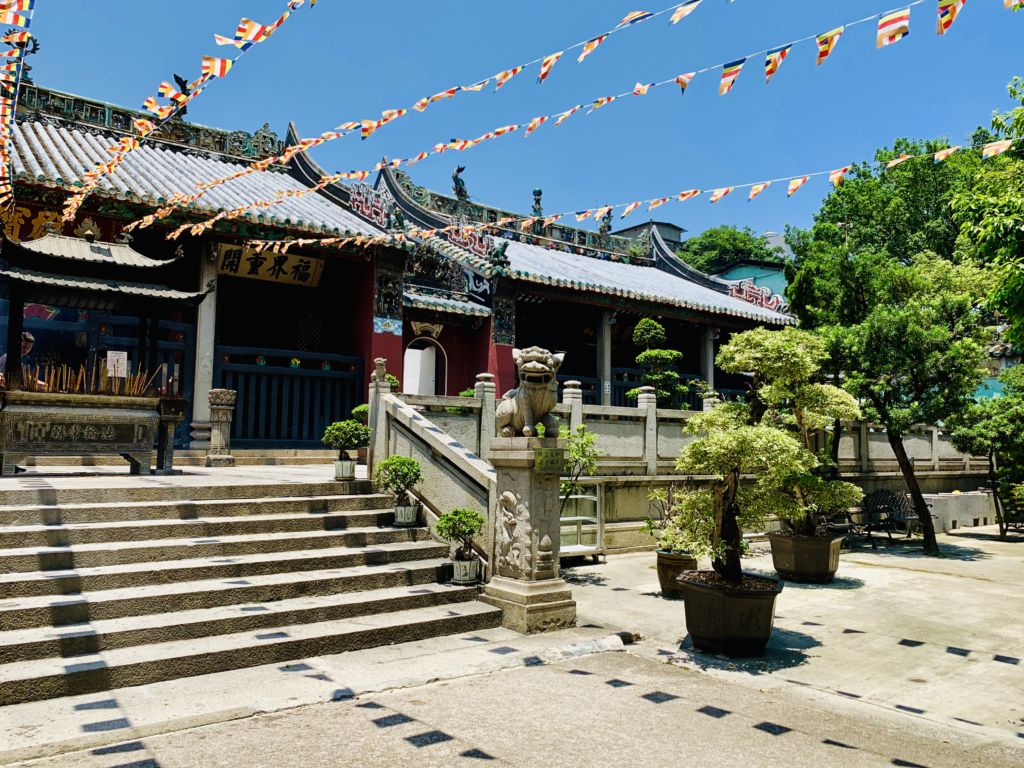 Kun Iam Temple
Also called Po Chai Sim Yuen, this Buddhist temple is dedicated to the Goddess of Mercy. Founded in the 13th century and rebuilt in 1627, Kun Iam Temple is one of the largest temples in Macau consisting of three main sections: the main hall dedicated to the Precious Buddha, the Longevity Pavilion for the Buddha of Longevity, and the Kun Iam Pavilion for the Buddha of Mercy. The first Sino-American treaty was signed in this temple on July 3, 1844.
Kun Iam Temple Avenida do Coronel Mesquita, Macau
Also Read: Kun Iam Temple: A Tale of Love and War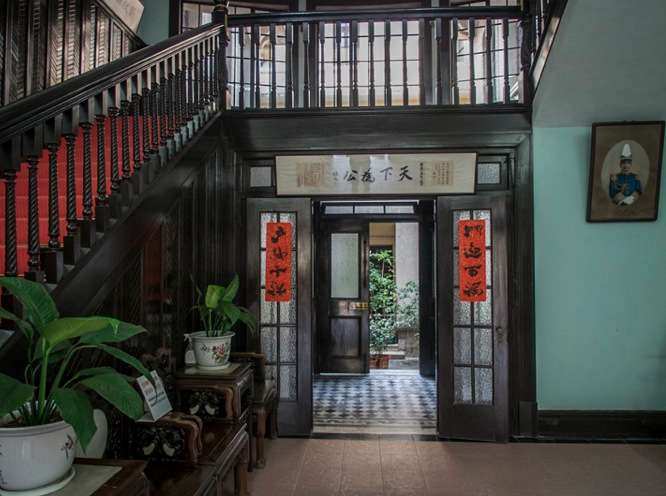 Memorial of Dr. Sun Yat-sen
This memorial house built in 1919 was where Dr. Sun Yat-sen lived for a short time. His wife and daughters, however, always lived there, and after their death, it was turned into a memorial in 1958. A bronze statue of him stands in the garden.
Sun Yat Sen Memorial House 1 Rua de Silva Mendes, Macau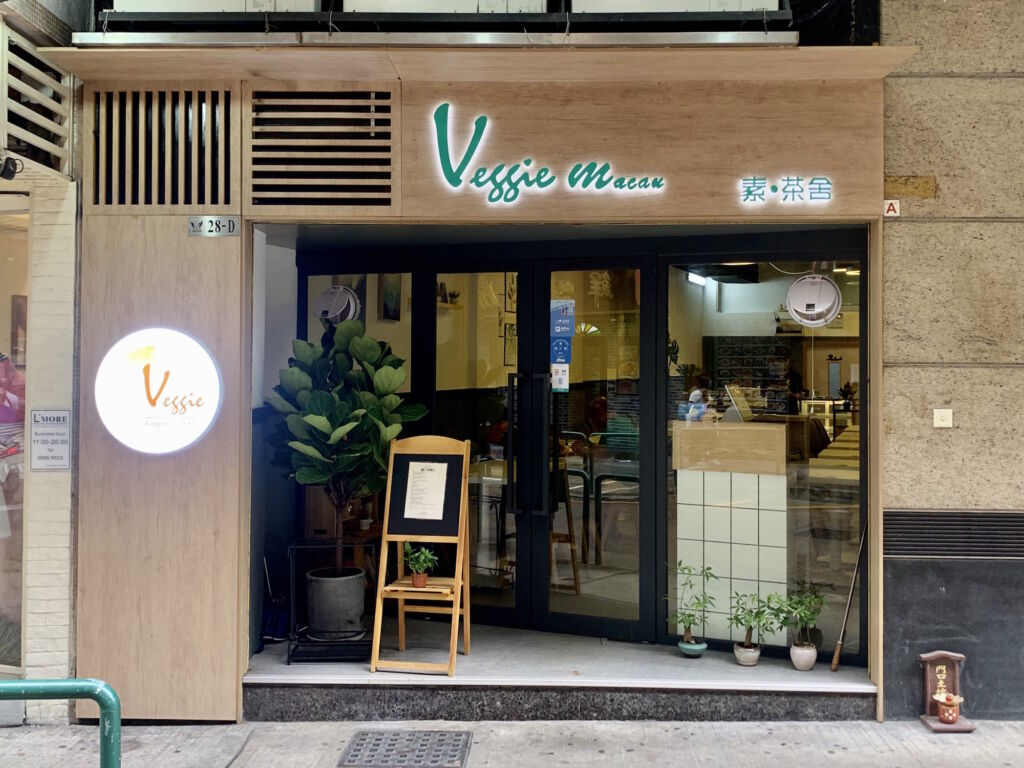 Veggie Macau
If you're feeling peckish, this is your chance to grab a bite at this vegetarian, lacto-ovo, vegan cafe–a neighborhood favorite. Delicious eats include the Japanese curry bread bowl, tofu tikka masala with mushroom in peanut sauce skewers, the vegan cheeseburger, and delicious pastries sans egg or milk.
Veggie Macau Rua do Tap Siac 1-3, The Serenity R/C G, Macau, +853 2872 3751, www.facebook.com/VeggieMacau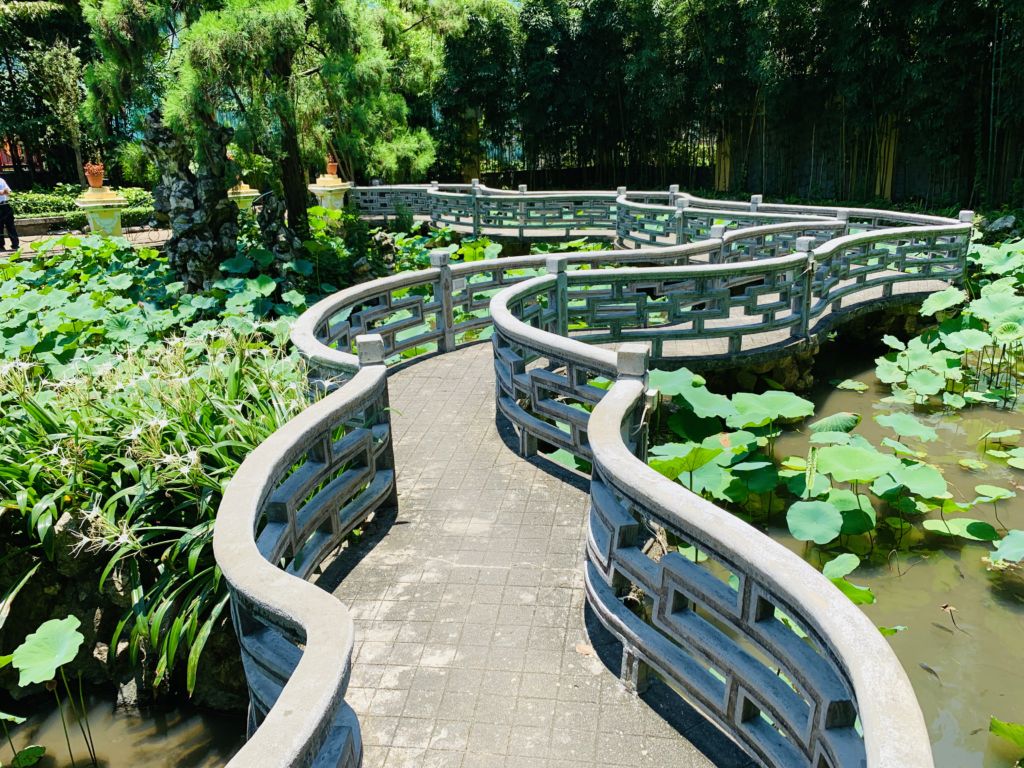 Lou Lim Ieoc Garden
Built in the 19th century, this garden is the only existing Suzhou-style Chinese garden in the SAR. It was well planned with several uniquely-styled classical pavilions, curved bridges, imitation mountains, streams, fish ponds with lotus flowers, and weeping willows. Its owner Lou Kau was a well-known businessman.
Lou Lim Ieoc Garden 10 Estrada de Adolfo Loureiro, Macau
Also Read: Lou Lim Ieoc: The Garden With a Troubled History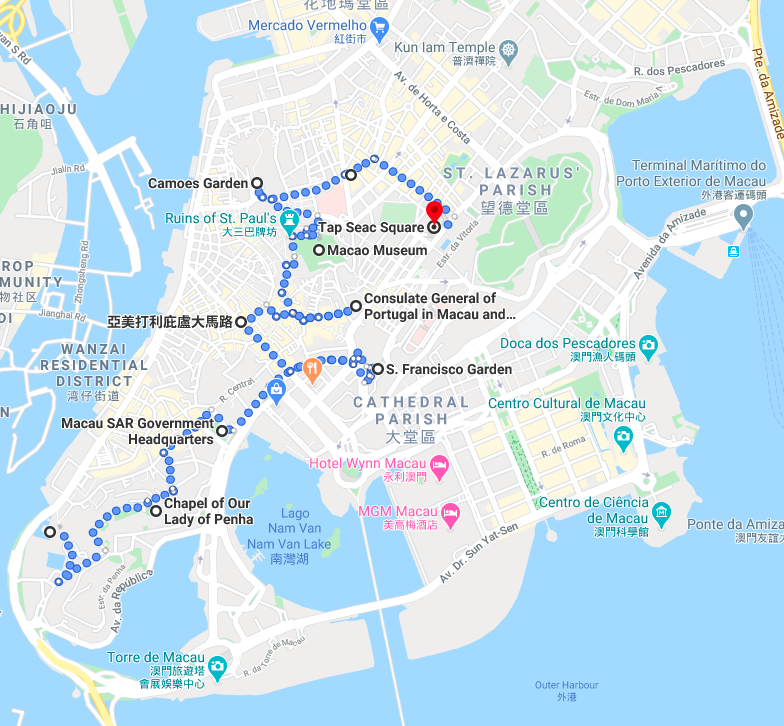 Tap Seac Square
Tap Seac Square is the largest public square in Macau. During holiday periods each year, the square is filled with decorations and themed performances. Chinese New Year, Mid-Autumn Festival, and Macau Grand Prix are particularly good times of the year to visit this spot. This is a highly utilized location, where festival celebrations, events, fairs, and performances are held throughout the year. Tap Seac Square has several coffee shops and places with cool activities
Tap Seac Square Avenida do Conselheiro Ferreira de Almeida, Macau
Fire Services Museum
This European-style building began works in 1920 and finished in 1923 when it became the Fire Department of Macau. The building's ground floor is now being used as the Fire Services Museum, great for children and families. Although not a huge exhibition hall, it displays over 700 memorabilia from Macau's history of fire services such as vintage fire trucks, pumps, hoses, hammers, helmets, and suits.
Fire Services Museum 2-6, Estrada Coelho do Amaral, Macau, +853 8396 0420, +853 8396 0319, www.macaotourism.gov.mo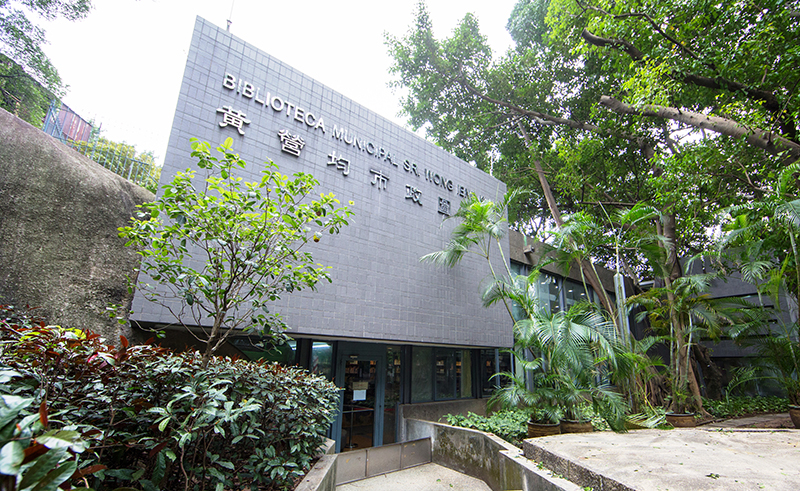 Camões Garden
Now home to a Municipal Library, Luis Camoes Garden and Grotto was originally built in 1770 as the home of a rich Portuguese merchant–Comendador Marques. The bronze sculpture in the fountain was set up in 1996 to mark Chinese-Portuguese friendship. The elderly and retired like to hang out here chatting, playing chess, and doing tai chi.
Camões Garden Praça de Luís de Camões, Macau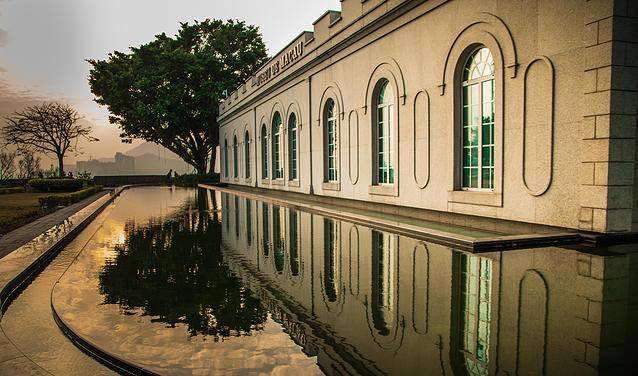 Macao Museum
This is where we intersect with the UNESCO World Heritage Site of Mount Fortress. The Macao Museum is the territory's largest museum, tracing the city's development from its early days when the Portuguese arrived. It gives visitors an idea of local people's daily lifestyle under the influence of traditional Chinese as well as Portuguese cultures and religions.
Macao Museum 112 Praceta do Museu de Macau, +853 2835 7911, www.macaumuseum.gov.mo
Consulate General of Portugal in Macau and Hong Kong
Take a detour just off the busy street of Rua Pedro Nolasco da Silva to check out this fine-looking building and its big garden. Formerly St. Rafael Hospital, it now houses the Consulate General of Portugal in Macau and Hong Kong. From visas to passport renewals, the consulate can help you. The consulate also regularly participates in, as well as sponsors, cultural events celebrating Macau history and Portugal-China relations.
Consulate General of Portugal in Macau and Hong Kong 45 R. de Pedro Nolasco da Silva, Macau, +853 2835 6660, www.cgportugal.org
Av. Almeida Ribeiro (San Ma Lo)
This busy avenue–the center of Macau's urban life–has been the city's heart since the late 20th century. In the 1980s, it was Macau's only main shopping street and is now a business area where you can find banks, jewelry shops, trading companies, souvenir shops, bakeries, and more. Grab your lunch in this area to fuel up for the rest of the day!
Also read: Great Places to Eat Around Senado Square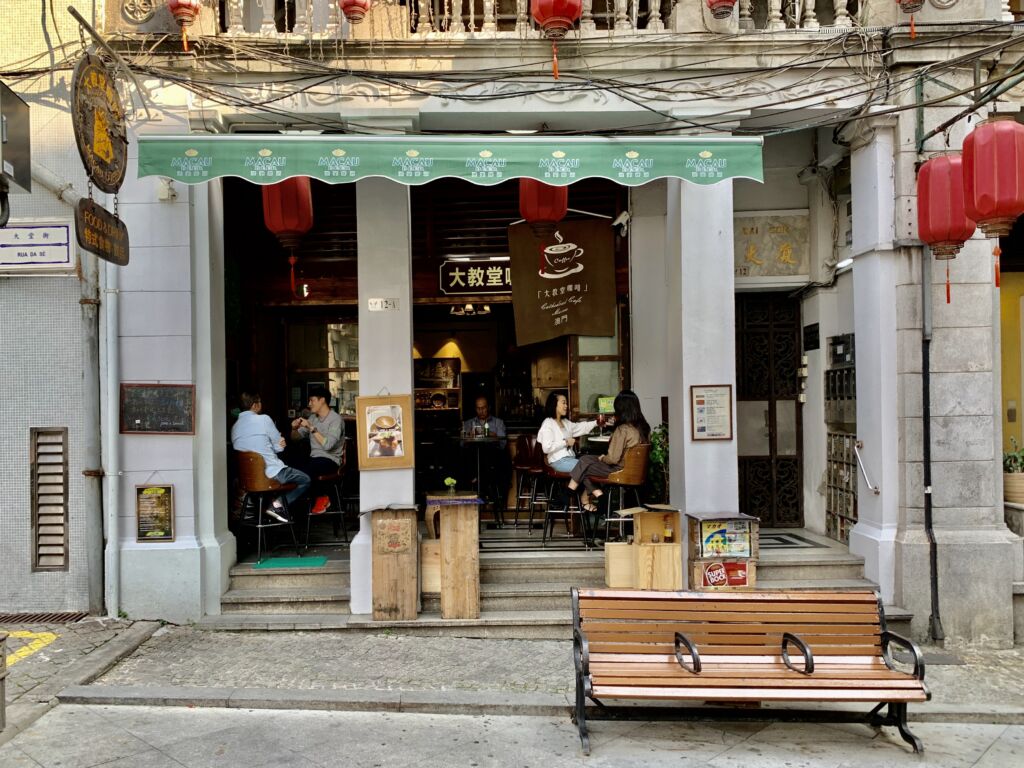 Cathedral Cafe
This atmospheric establishment is popular for its great vibe, warm service, and flavorful Portuguese fare. Come for the food and the sangria; don't miss the beautiful wine cellar. Recommended dishes include the African chicken, sausage chourico, and bacalhau à brás.
Cathedral Cafe 12 R. da Sé, Macau, +853 6685 7621, www.facebook.com/macauaussie

S. Francisco Garden (Nam Van Garden)
If you have time to make a side trip, feel free to stroll along the shopping street of San Ma Lo to cool down in this leafy oasis. Nam Van Garden is popular among locals and home to two valuable old trees–camphor and banyan–well preserved and growing healthily.
São Francisco Garden Rua Nova À Guia, Macau
Also Read: Must Visit Gardens in Macau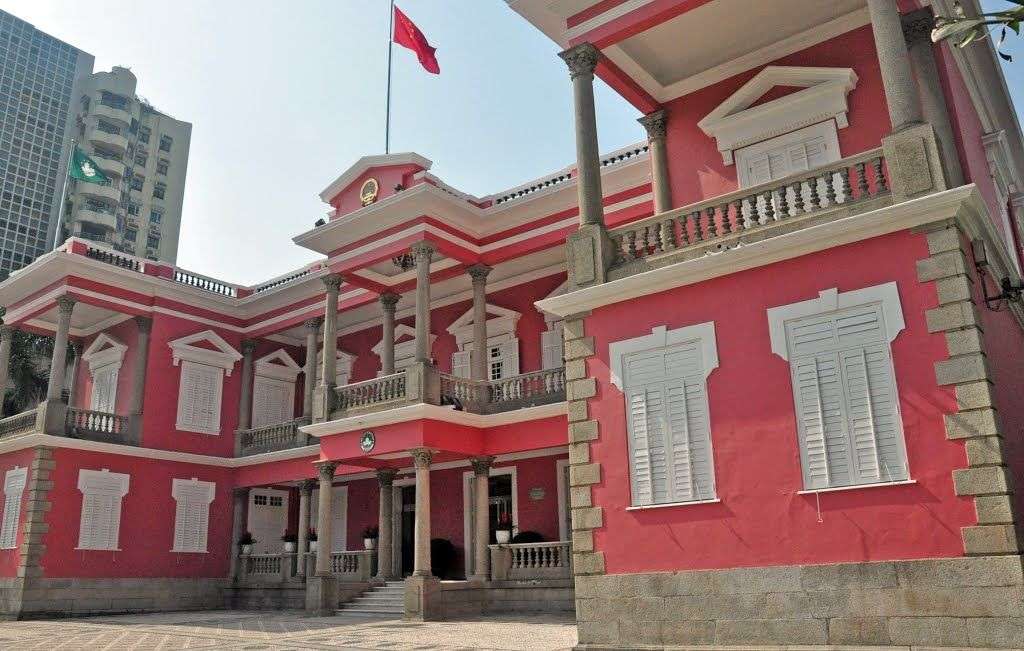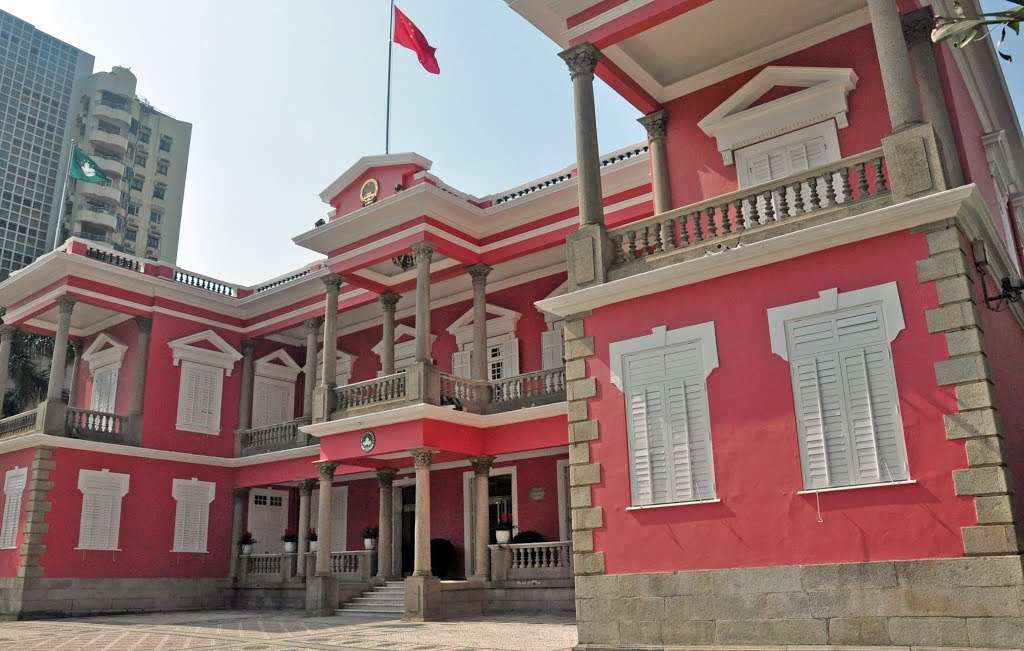 Macau Government Headquarters
The Macau Government Headquarters in all its pink glory formerly served as the governor's house during the colonial days. The two-story building was built in 1849, designed in the traditional Portuguese style. Occupying 4,645 square meters, it consists of three blocks surrounded by gardens. The public is not allowed entry for most of the year though, so you'll have to content yourself with snapping a few photos outside the gates!
Macau Government Headquarters Sede do Governo da RAEM, Avenida da Praia Grande, Macau, +853 2872 6886, www.gce.gov.mo
Also Read: A Brief History of Macau's Government Headquarters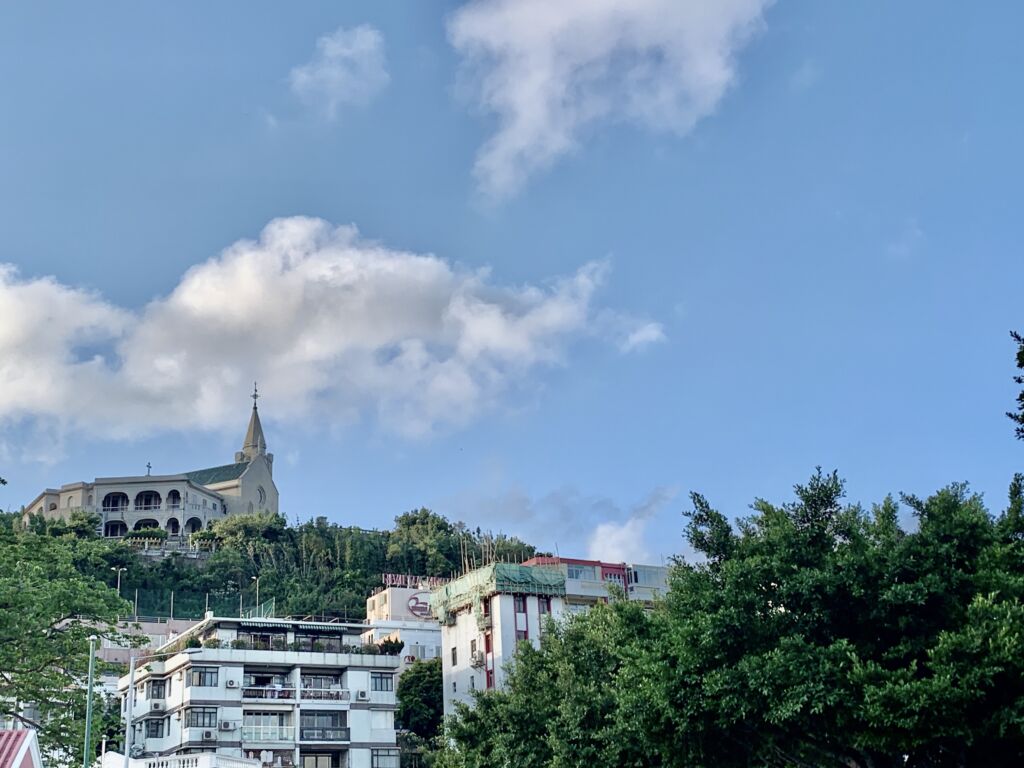 Penha Hill & Penha Church
Also known as the Chapel of Our Lady of Penha, this church on a hill lies on the south-west part of the Macau Peninsula. At over 60 meters above sea level, it is the highest hill on Macau's west side, making it an ideal site for the Portuguese to build a fortress. The church was first built in 1622 and completely rebuilt with the Bishop's Palace in 1837.
From the top of the hill where the Church of Our Lady is situated, visitors get a good view of Macau and Taipa, and the two bridges stretching out over the water: the Macau-Taipa Bridge and Friendship Bridge. There are several panoramic locations around the hill and near the church, great for photographs.
Chapel of Our Lady of Penha Hilltop of Penha Hill, Macau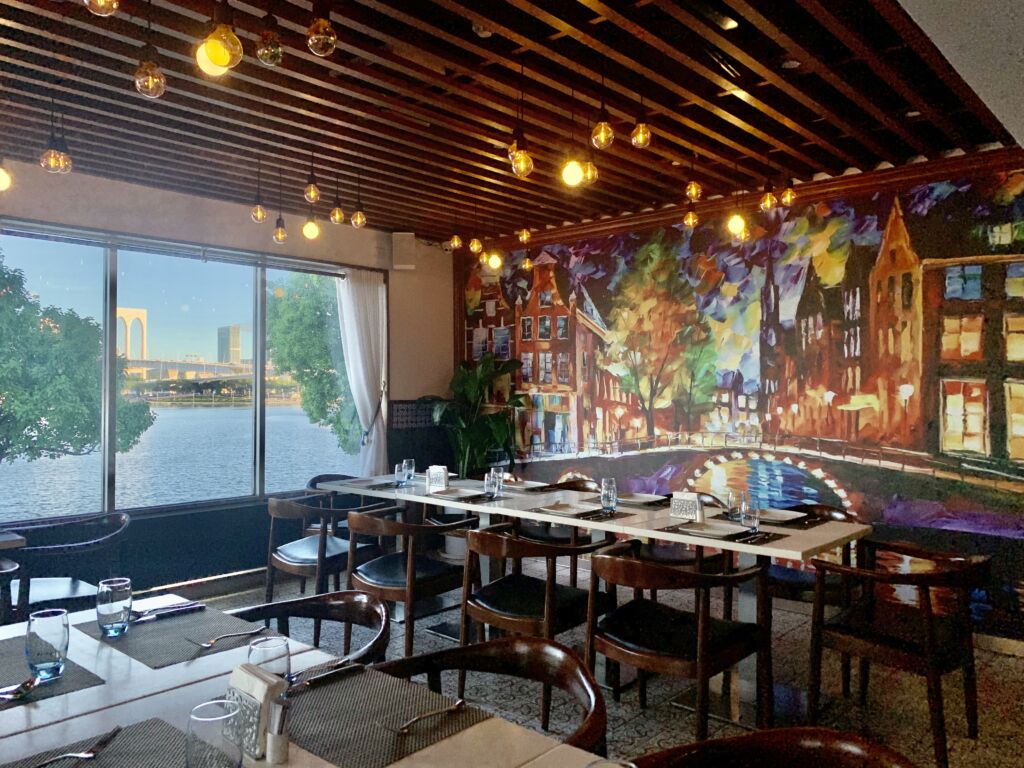 1826 Restaurante
A great stop for lunch with a view, 1826 Restaurante sits right along Sai Van Lake down the hill from Jardim da Penha. If you happen to be there at the right time, their set lunches come at great value including starters, main course, a drink, and dessert in the region of MOP $100. Go for the fresh and fragrant seafood dishes like paella with generous portions of prawn, crab,  mussels, and clams. The salads are also highly rated.
1826 Restaurante 1/F Ténis Civil, 14 Av. da Republica Sa Van, Macau, +853 2838 1826, www.facebook.com/1826Restaurante

Maritime Museum
This three-story building exhibits mainly Portugal and China's maritime history, depicting the life of fishermen in South China and the history of sea trade between East and West. Don't miss the museum's fountain fronting it, designed with the masts of ships!
Maritime Museum 1 Largo do Pagode da Barra, Macau, +853 2859 5481, www.marine.gov.mo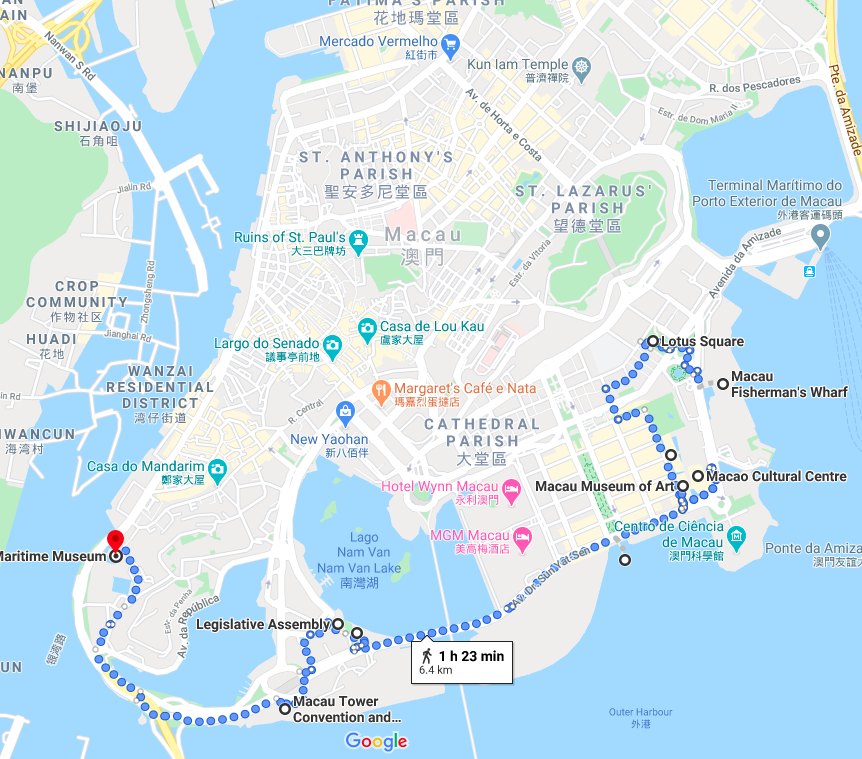 On its own, this part of the walking tour can be considered a great jogging route of 6.5km. So if you're looking for a scenic route to run through with views of the lakes and harbor, this would be perfect for you!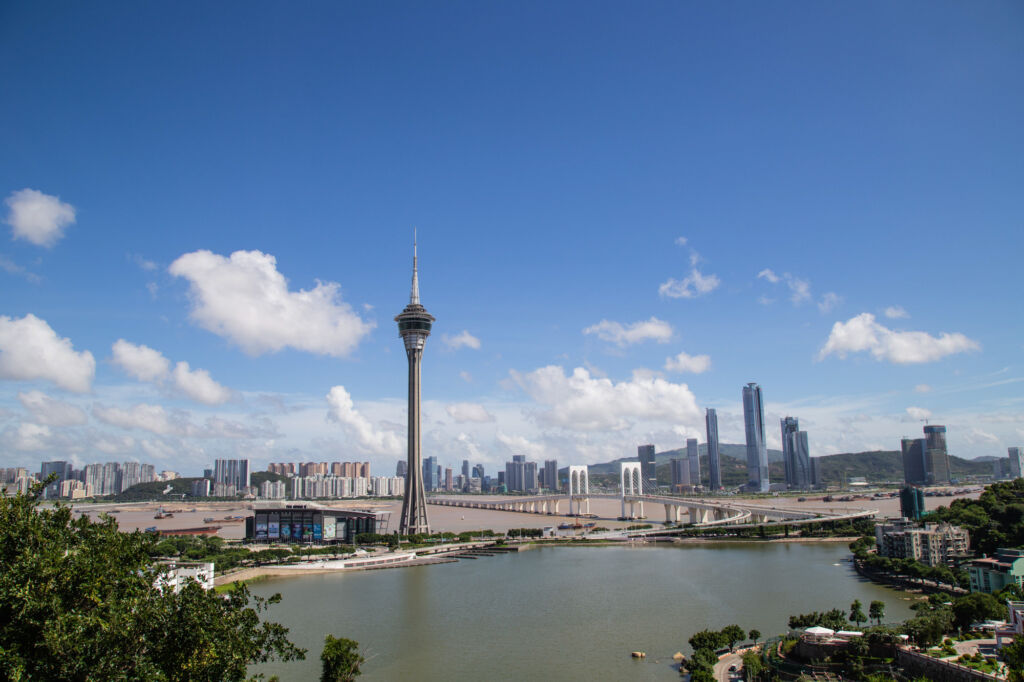 Macau Tower
Straddling two bodies of water, the Macau Tower Convention and Entertainment Centre is home to the 500-seat Macau Tower Theater, Macau Tower 360° Café and AJ Hackett Macau Tower for adrenaline junkies. The 233-meter bunjy jump has broken records for being the world's highest!
Macau Tower Largo da Torre de Macau, Macau, +853 2893 3339, www.macautower.com.mo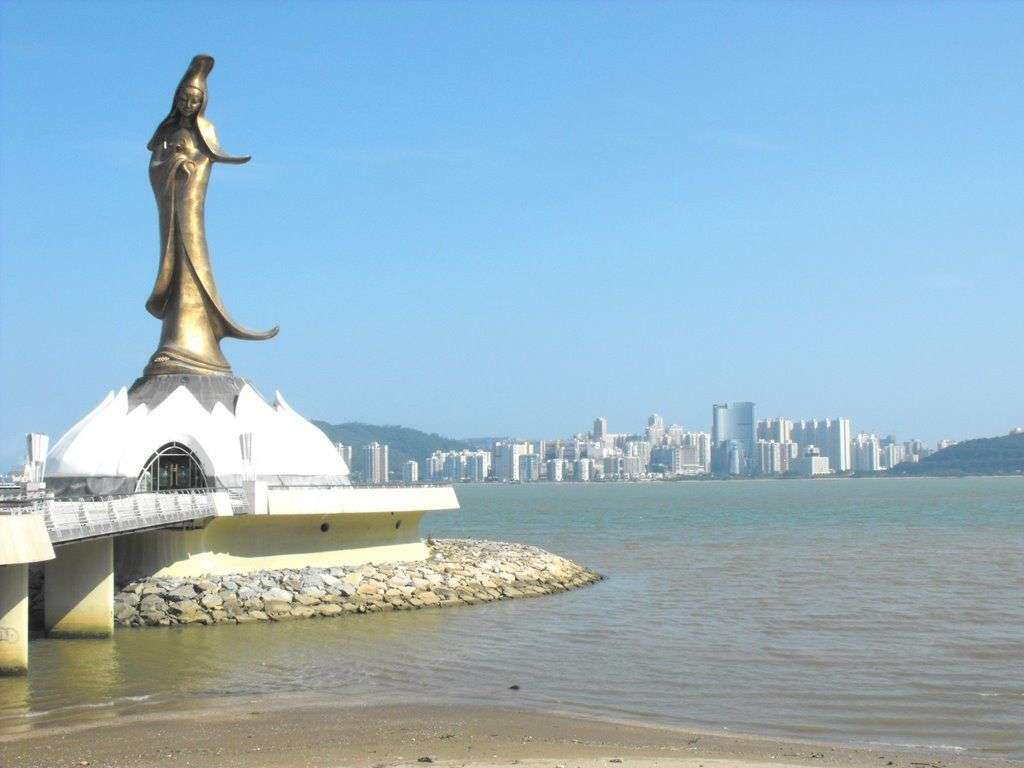 Giant Statue of Kun Iam
After optional detours to the Court and Legislative Assembly Buildings by Nam Van Lake, stop for a photo break at the Kun Iam Ecumenical Centre. Inaugurated in 1999, it was designed by Portuguese architect and sculptor Cristina Rocha Leiria with UNESCO support.
Kun Iam Ecumenical Centre Avenida Dr Sun Yat Sen, NAPE, Macau, +853 2875 1516, www.macaotourism.gov.mo
Also Read: Macau's Most Interesting Statues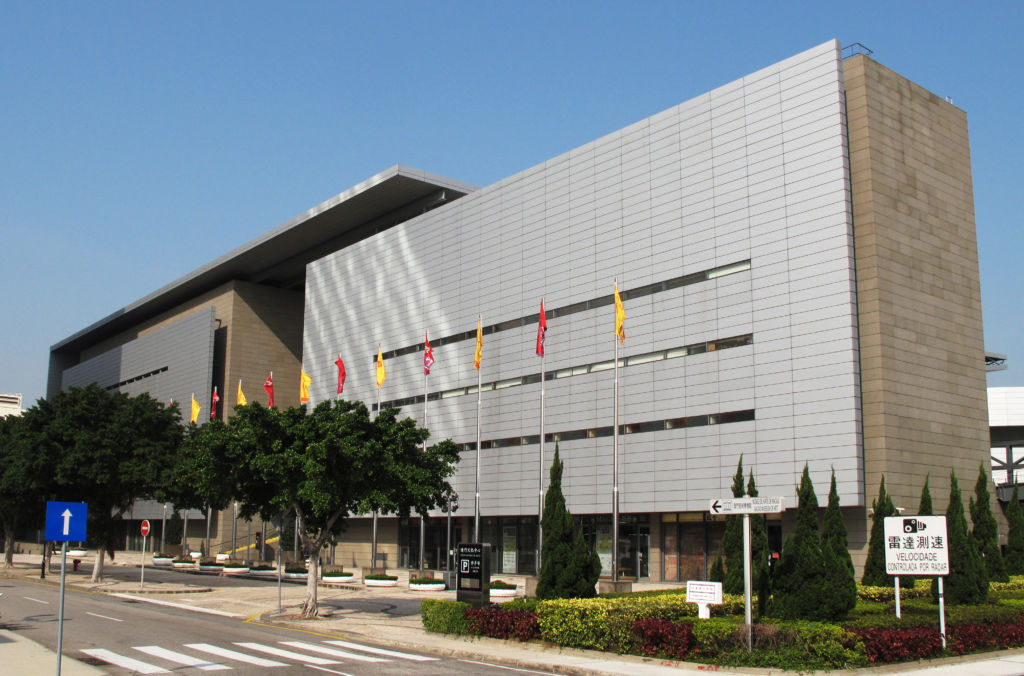 Macao Museum of Art
Also founded in 1999, The Macao Museum of Art (MAM) is the only museum in town fully dedicated to the arts. Its area of 4,000sqm is divided into distinct areas: Chinese traditional art, MAM collections, and a large special gallery. Its library dedicated to art offerings a wide range of books covering subjects like art history, paintings, ceramics, photography, and illustrated children's books.
Macao Museum of Art Avenida Xian Xing Hai, NAPE, Macau, +853 8791 9814, www.mam.gov.mo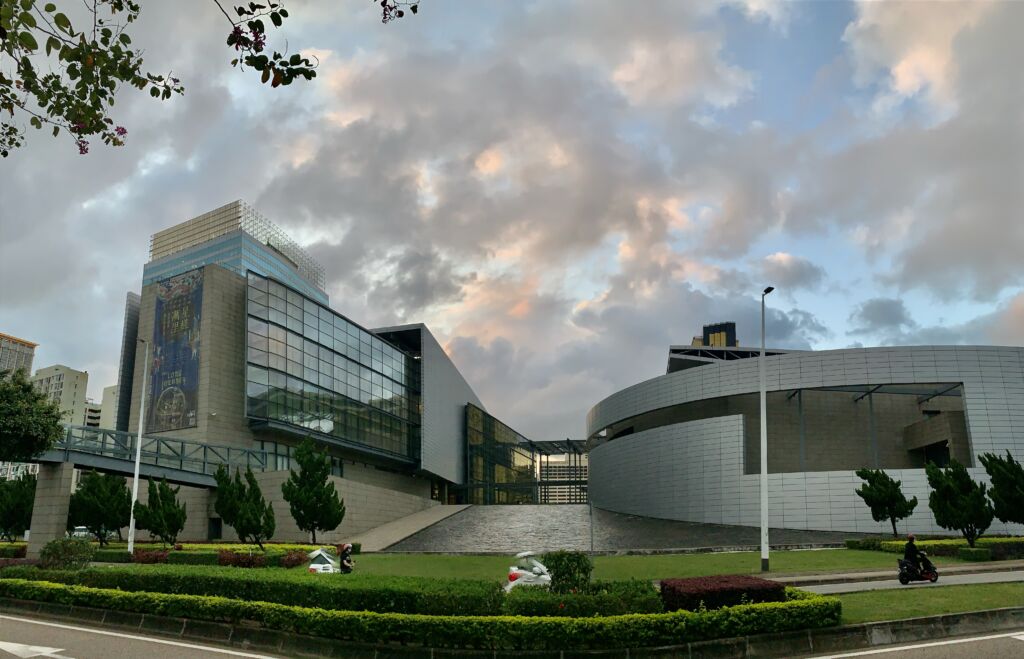 Macao Cultural Centre
The modern architectural gem that is the Macao Cultural Centre was founded in 1999 as well. Its complex of auditoria has two venues for performances, both with simultaneous interpretation booths: The Grand Auditorium with a capacity for 1,076 spectators, and the Small Auditorium for smaller shows and movies with 389 seats. Past performances include The Scottish Ballet: Hansel & Gretel, The Wizard of Oz, and more.
Macao Cultural Centre Avenida Xian Xing Hai s/n, NAPE, Macau, +853 2870 0699, www.ccm.gov.mo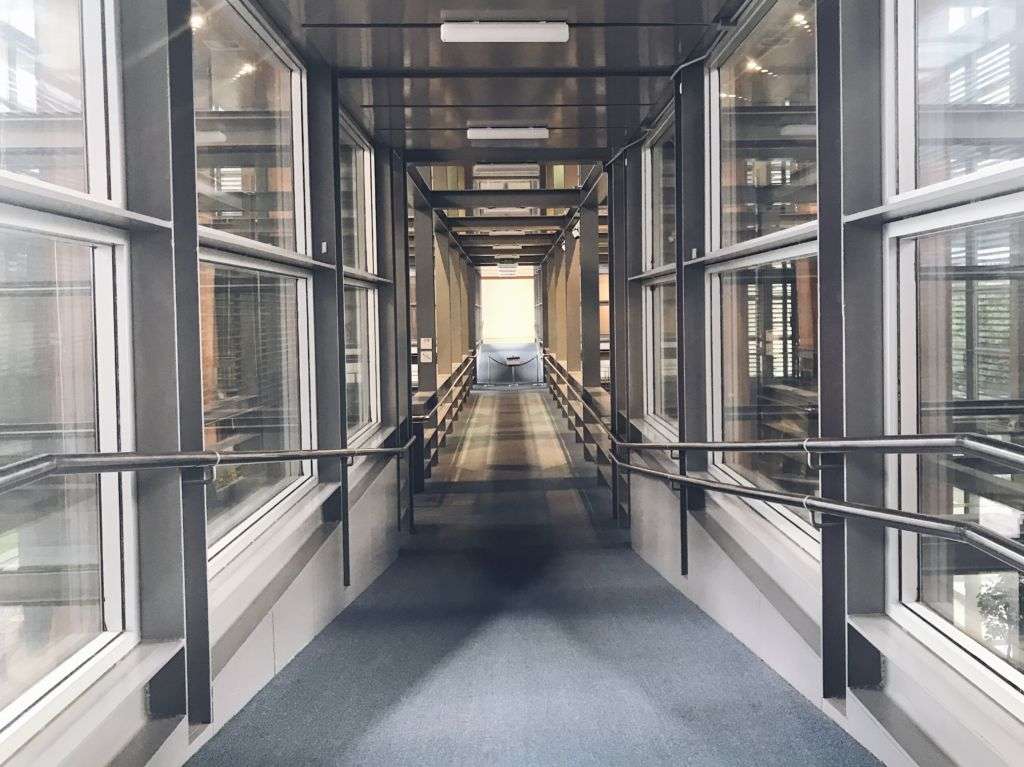 Handover Gifts Museum of Macao
One of the best free museums in Macau, this cultural institute was built on the site of the Macao Handover Ceremony of the Sino-Portuguese Governments. Now, it is the permanent location for the exhibition of "auspicious gifts" offered by the 56 ethnic groups of China to celebrate the establishment of the Macao Special Administrative Region.
Handover Gifts Museum of Macao 237–285 Avenida Xian Xing Hai, NAPE, Macau, www.icm.gov.mo/handovermuseum
Also read: The Best Free Museums in Macau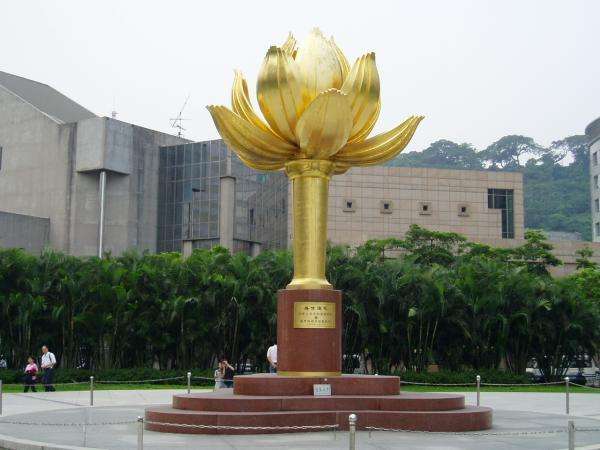 Lotus Square
The golden lotus is Macau's city flower as featured on its flag. It is made of bronze and gilded, with a base of granite stones. Both the flags of Macau and China are hoisted every morning here at 8:00am.
Lotus Square Avenida de Amizade, Macau

Macau Fisherman's Wharf
Finally, we reach our last stop, the perfect place to grab dinner and drinks on a balmy night. Macau Fisherman's Wharf, inspired by European architecture, extends to several casinos and hotels, as well as the convention and exhibition center. Here you can stroll through the marina, try out the VR Zone (Virtual Reality), check out galleries like Galeria Lisboa or go clubbing at the likes of DD3 or D2 Club Lounge! How's that for a morning to night itinerary?
Macau Fisherman's Wharf Avenida da Amizade e Avenida Dr. Sun Yat-Sen, NAPE, Macau, www.fishermanswharf.com.mo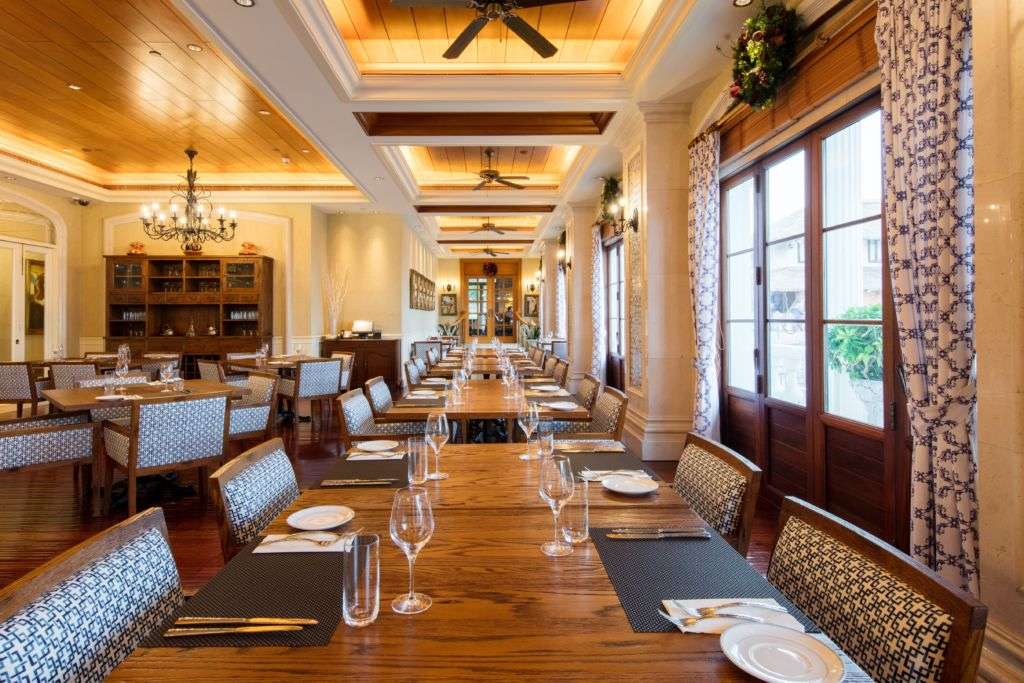 Vic's Restaurante
Close the evening with a fancy Portuguese dinner at Vic's Restaurante by the sea, headed up by Executive Chef Martinho Moniz. The stewed clams and duck rice come recommended, but most importantly, a glass of Porto to celebrate a full day's adventure.
Vic's Restaurante G/F, Rocks Hotel, Macau Fisherman's Wharf, Macau, www.fishermanswharf.com.mo/rocks-hotel
Also read: Top Locations to Visit in the UNESCO Designated Historic Centre of Macao
---
Sources:
Macau History and Heritage by Moby Lau, copyright Pacific Century Publishers Ltd 2008
The New Macau by Jennifer Walker, copyright April 2005 China-Link Publishing (Macau)
Tags
Related Posts