The easiest and most preferred way to reach Macau is by means of sea travel. You may opt for the Macau Outer Harbour Ferry Terminal, or the Taipa Ferry Terminal. While both are in Macau and the frequency of ferries to both from Hong Kong is almost the same, it often confuses tourist. If you're unsure which terminal suits you best, our guides to Macau's ferry terminals can help you with that.
The long-awaited Taipa Ferry Terminal is the newest facility that provides the Cotai strip with a modern and convenient ferry terminal. Apart from being close to the Cotai Strip, it sits next to the Macau International Airport and a station of the anticipated Light Railway System that's still under construction.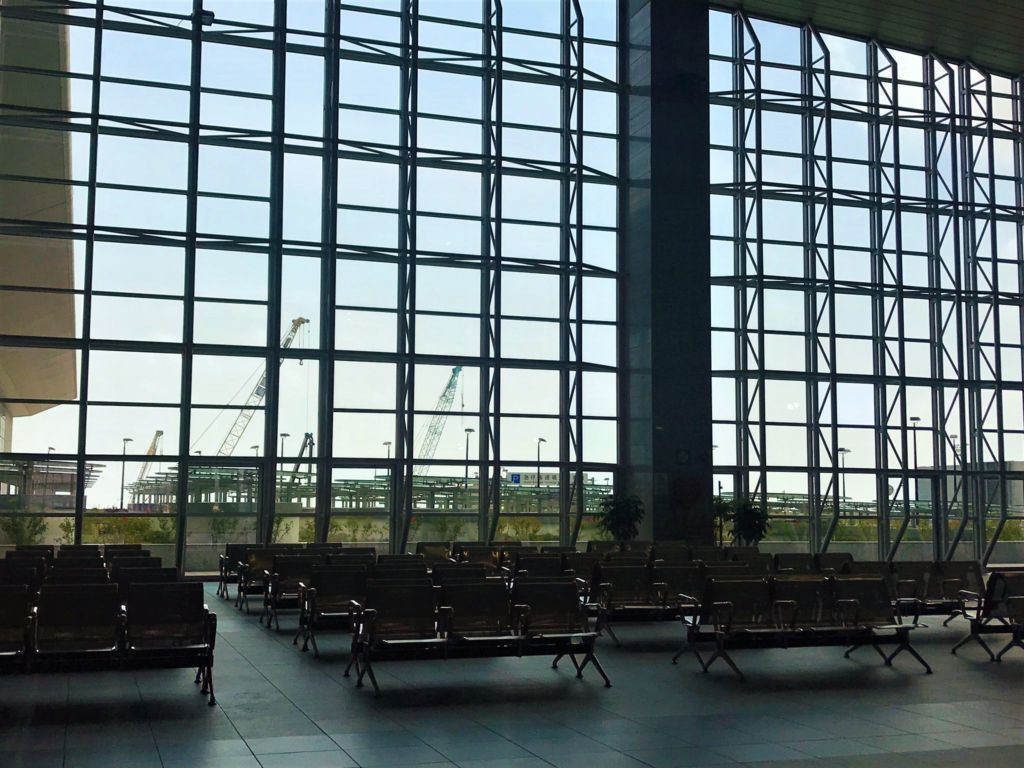 Basic Information
Truly a massive terminal, it can serve twice the amount of visitors compared to its Macau counterpart. The size of 25 standard football fields, travelers don't have to worry about it being crowded at any time of the year. With its modern design made to look more like an airport than a terminal, it is equipped with 127 immigration counters at both arrival and departure halls to ensure a quick and smooth immigration procedure.
It is also important to note that all Cotai Water Jet fleet solely ferries to this terminal upon arrival to Macau. However, TurboJet ships ferry to both Taipa and Macau Outer Harbour Ferry Terminal. Operating 24×7, maritime passengers will have transport services to and from Hong Kong and Shenzhen as well as helicopter services.
Basic facilities throughout the terminal include vending machines for food and drinks and telephone cards in addition to the use of public phones, ATM machines, charging ports, and free Wi-Fi services are available for their passengers. What's awesome is that the Taipa Ferry Terminal offers nursing rooms and golf carts specifically for passengers with special needs.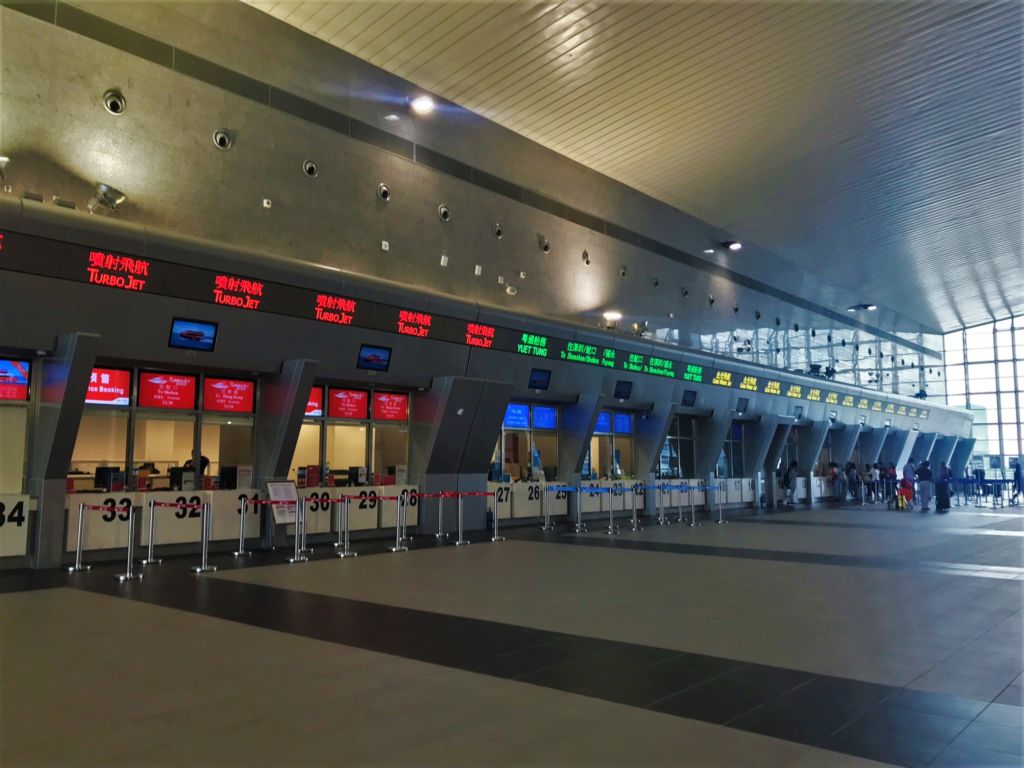 Departure Hall Facilities
Ticketing offices are located at the departure hall at an elevated level. Passengers can choose to board on ships from TurboJet, Cotai Water Jet, or Yuet Tung Shipping Company depending on the destination. These destinations include Hong Kong terminals (Sheung Wan, Kowloon, Tuen Mun, and the Hong Kong International Airport) and Shenzhen terminals (Fuyong and Shekou). There are also self-serving ticketing counters to avoid any queue.
After buying tickets, travelers can proceed to the ground floor to pass through the immigration and eventually head to the boarding rooms which takes about a 5-10 minute walk. If heading to the Hong Kong International airport is your agenda, there are also check-in counters and baggage drop-off areas for airport routes that are located to the west of the departure hall.
Enjoy the local cuisine before departing at the Terminal's food court and various souvenir stores. From shops serving roasted meat over hot rice to pastries, there's something for everyone. Or if you want some good ole' french fries, McDonald's is within reach at the ground floor of the departure hall.
Arrival Hall Facilities
Alight the ship, and follow the signs carefully to head towards the immigration counters which takes approximately 10-minutes to walk from there. After completing immigration procedures, those who've checked-in their luggage may go to the baggage reclaim area equipped with two carousels to freely pick them up.
Now you're officially in Macau! Travelers who wish to explore Macau are able to visit the tourist information counter located at the arrivals area. The courteous staff will assist you with all queries about the city's tourism and tourist publications highlighting all the latest happenings and best spots to visit. Among the line of counters, money exchange services are also found here while several travel agencies and hotel counter areas also help with your planning needs. Nonetheless, Macau is easily navigable and it's highly recommended to explore this tiny city on foot to get the most out of it. If you have any other questions, visit their information booth or simply log on to Macau Lifestyle to get your dose of local tips and insights.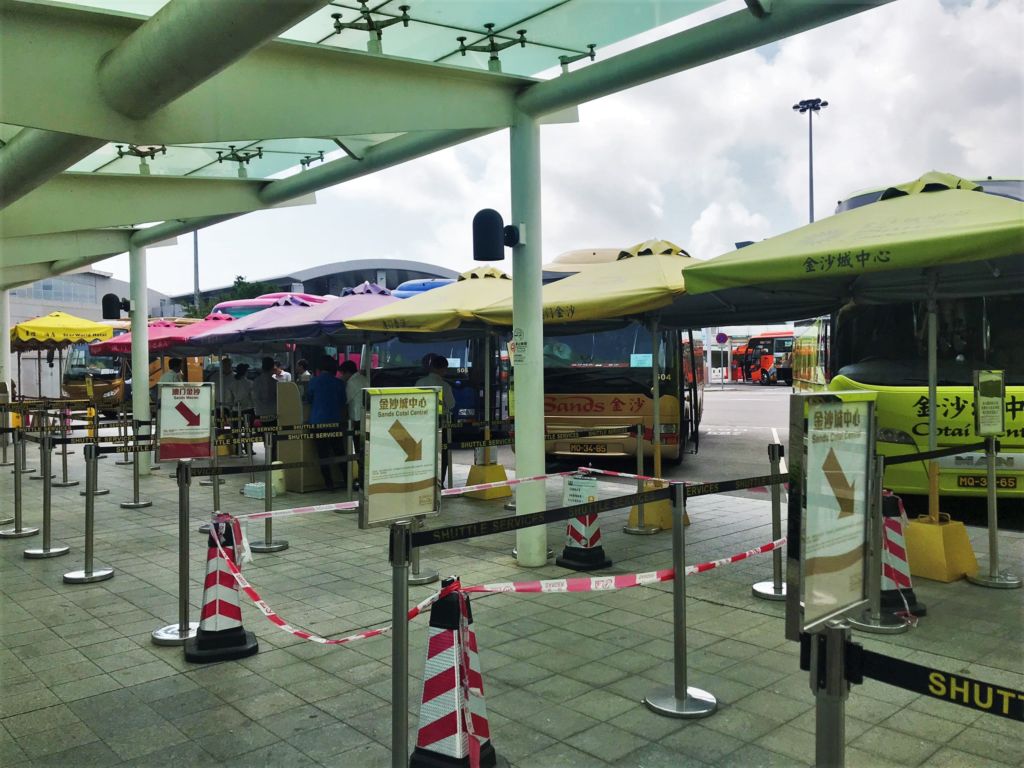 Transportation
For those who wish to use the car park, there's no need to worry about space since this terminal has 1,000 parking spaces. Parking fees cost MOP $6/hour during the day and become cheaper after midnight at MOP $3/hour.
Buses and taxi stands are located at the west exit of the arrival hall. For those unable to speak the local language, it may be difficult to communicate with the drivers and bus directories are only written in Chinese and Portuguese. But there's no need to worry since there are apps to help you with that. Download these apps to makes traveling around Macau worry-free.
Major hotels in Macau have their own shuttle buses lined up for guests to arrive directly at their premises. Hotels located at the Cotai Strip can easily be reached within 5-10 minutes making the travel quick and efficient. Not only are these buses comfortable, they are also free of charge making it the optimal way to get to hotels in the city.
Tags
Related Posts