As of March 2019, there are eight new scenic spots to watch out for in Macau! The decision–based on the population's votes–includes Travessa da Paixão, Rua da Felicidade, Senado Square, Two Lakes and One Tower, Penha Hill, Coloane Fishing Village, Long Chao Kok trail and the Hong Kong-Zhuhai-Macau Bridge.
In January 2019, the Macau Chinese Cultural Exchange Association launched a challenge to the population to choose the city's new eight most scenic spots in the city. The race of 20 candidates–including the Gongbei Border Gate Square, Rua do Cunha, Kun Iam Ecumenical Centre, the University of Macau, Mount Fortress, Camões Garden, among others–ended in March, with a three month period of voting across different platforms. The activity was thought to coincide with the 20th anniversary of the establishment of the Macao SAR, in order to recognize the achievements of the city throughout the years. Let's find out more about these winning spots! And while you're at it, why not plan a tour of these new scenic spots?
Travessa da Paixão
(See featured image above)
Even though it may seem like any other random Macau alley, Travessa da Paixão bears more history than most around the city. Besides including one of the hippest cinemas in town (Cinematheque Passion), it bears part of the already inexistent city's defensive wall, which surrounded the Ruins of St. Paul's. This is a perfect corner to shoot some fun or romantic photos of your trip to Macau. Painted pink, Travessa da Paixão's buildings are great for Instagram! Read this to find out more on this alley.
We'll let you in on a secret: if crowds are not your thing and you really want to make your way to this spot without having to push and shove people, head through Rua dos Mercadores, follow Calçada do Amparo, go up the stairs and you'll come right at Rua de S. Paulo, 10 metres from Travessa da Paixão, on the other side of the street.
Travessa da Paixão Macau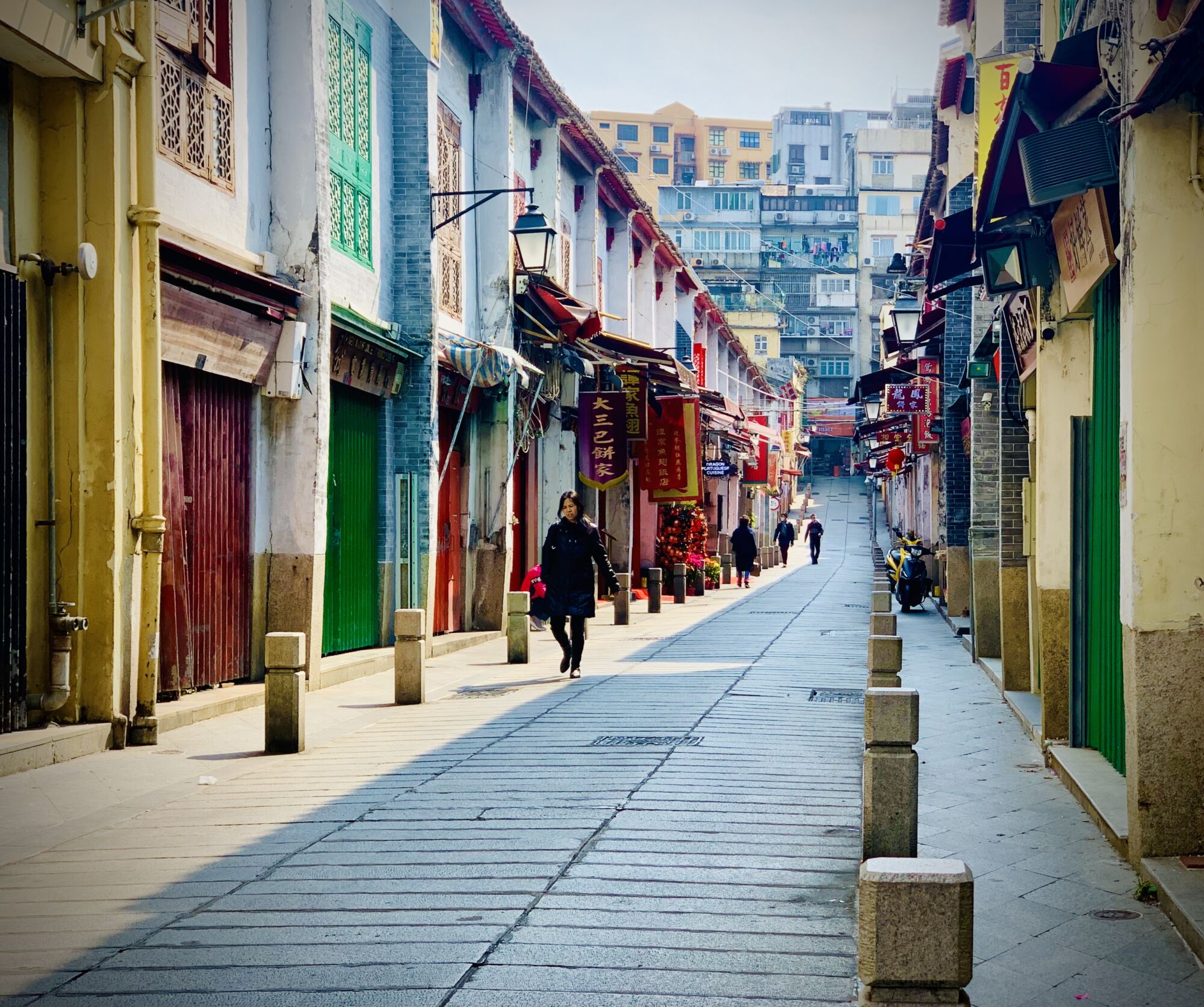 Rua da Felicidade
Known as Macau's former "red light district", this long and narrow street is part of the most emblematic ones in the city. Packed with tourists, couples and photography buffs, Rua da Felicidade is a must-see spot. Nestled in one of Macau's oldest neighbourhood, right in the city center and close to the inner harbour, it's home for cheap accommodations, but also local shops, a Macanese eatery and one of the oldest restaurants in town, Fat Siu Lau. There are a bunch of things to check out in this street, which you can find out more about here.
Rua da Felicidade Macau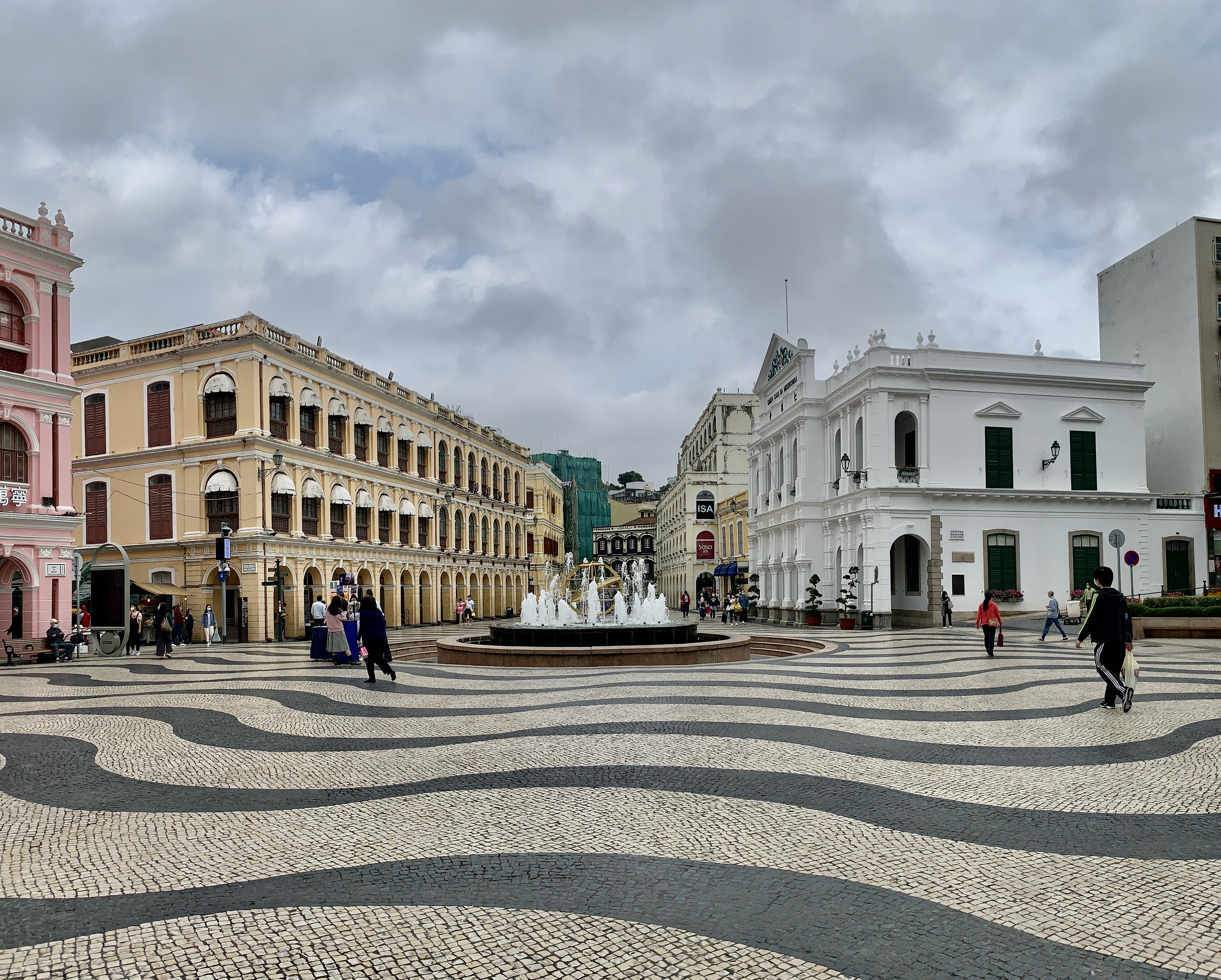 Senado Square
Undoubtedly one of Macau's most touristic and scenic areas for decades now, Senado Square is a very rich place when it comes to history, but also street food and landscape. Besides having well-preserved buildings dating back to the 19th century–Leal Senado and Holy Mercy House–it includes a beautiful fountain and it's usually decorated according to local seasonal festivities. There are several restaurants to try out, as well as shoe and sports shops, and beautiful architecture to check out, including St. Dominic's Church.
Senado Square Largo do Senado, Macau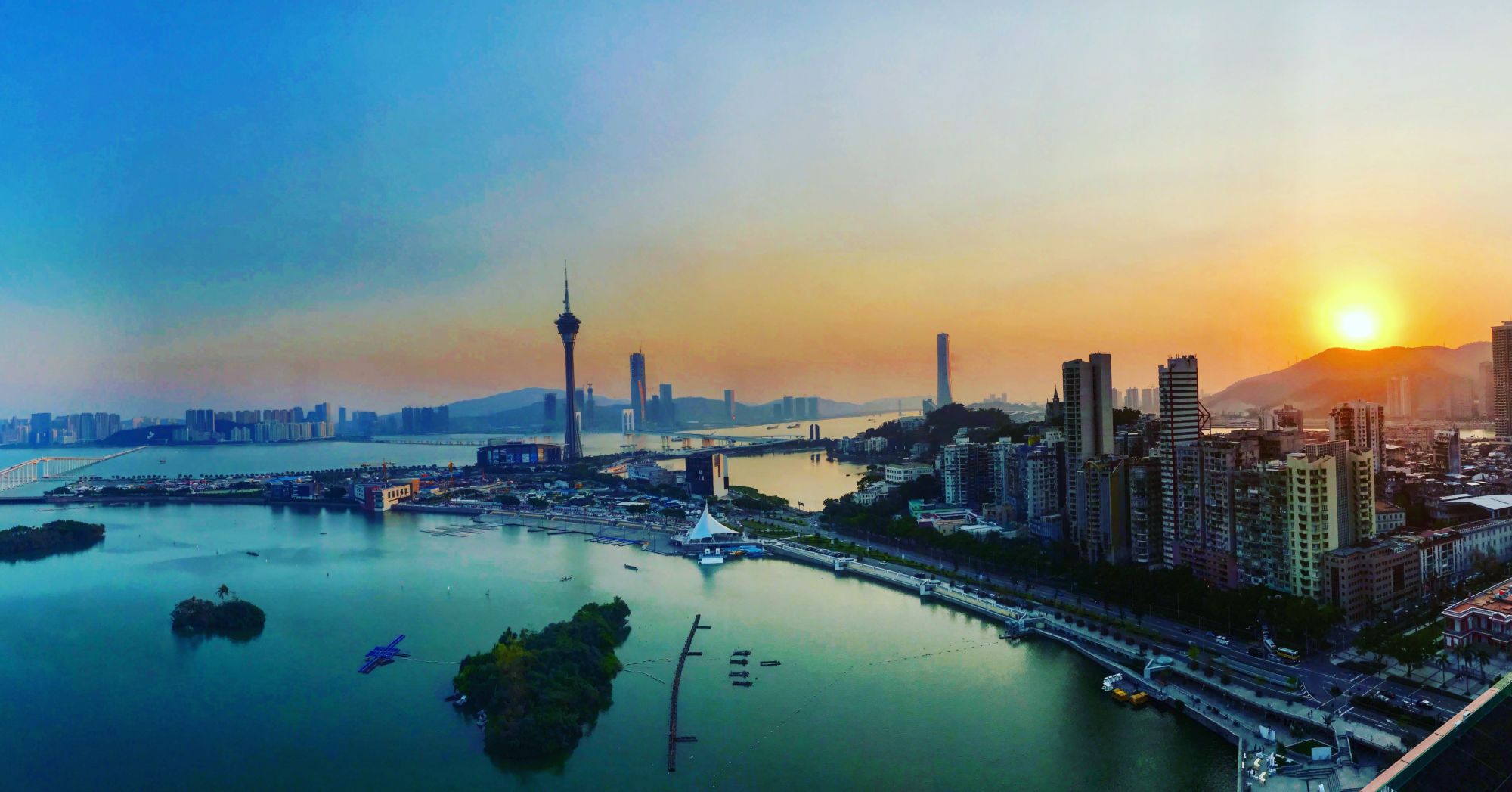 Two Lakes and One Tower
It's great to finally have a name to call this view! "Two Lakes and One Tower" refers to the beautiful landscape that the Macau Tower–together with the Nam Van Lakes–creates. One of the main draws of this is that this view can have many perspectives, depending on where you see it from. Either from the breathtaking 21st-floor terrace of the bar and restaurant, Sky 21, or the Nam Van Nautical Centre, this is a great scenic spot for people to photograph and just chill while overlooking this beautiful city!
Sky 21 21/F AIA Tower, 251A – 301 Avenida Comercial de Macau, Praia Grande, Macau, +853 2822 2122, www.skyconceptmacau.com/sky21
Nam Van Nautical Centre Lago Nam Van, Macau, www.sport.gov.mo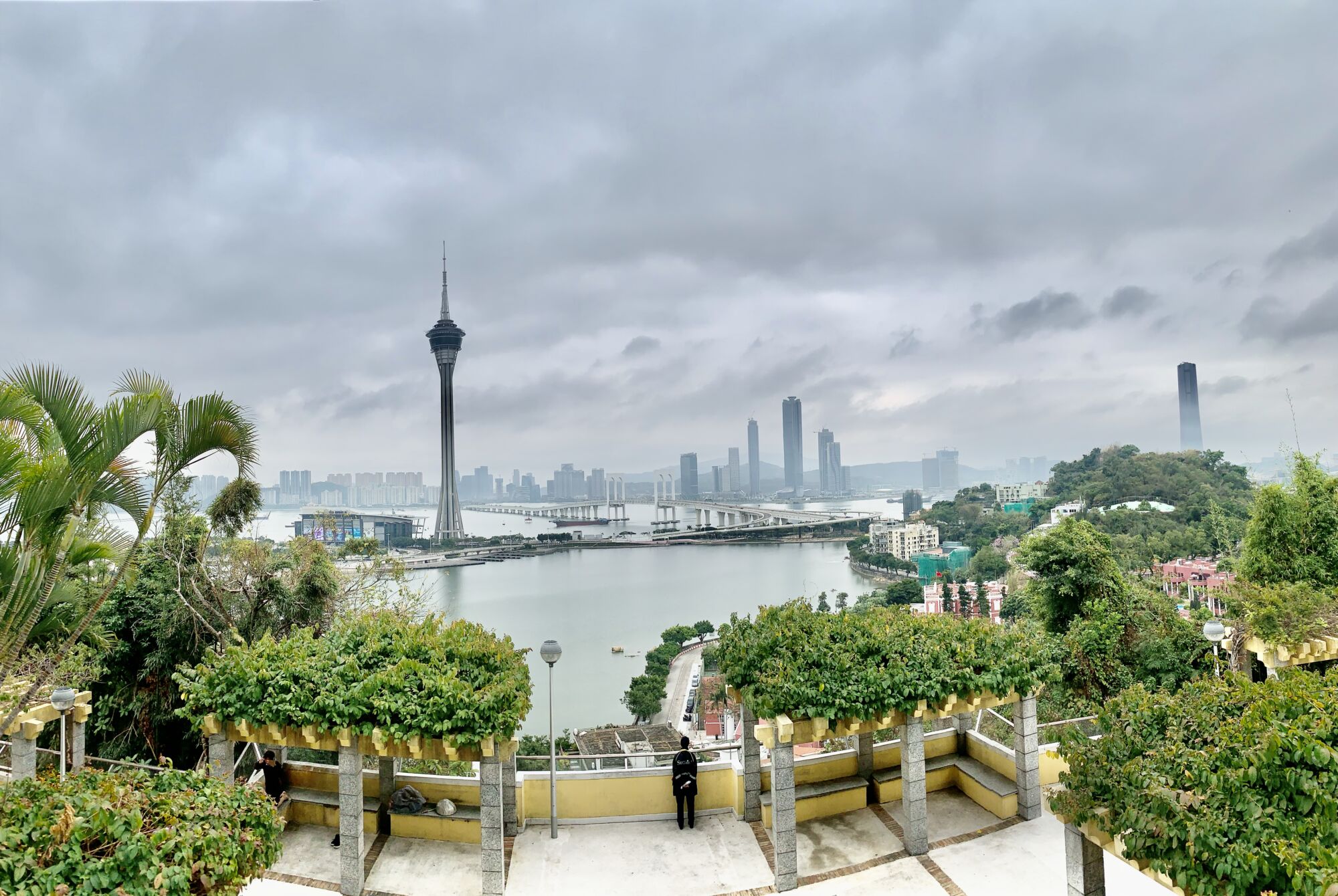 Penha Hill
From here, you can see the central area of Macau and beyond. Actually, it's one of the best viewpoints when looking for panoramic views of the city. Penha Hill holds the Chapel of Our Lady of Penha, one of the oldest and most historical buildings. Located 62.7 meters above sea level, it also features trees and a calm and relaxing vibe if that's what you're looking for.
Other interesting things on-site include the residence of the Portuguese Consul, the former Bela Vista Hotel. Reach this spot by walking from Praia Grande Avenue or Barra area, going up, passing by Lilau Fountain and other beautiful Macau areas. Read more about the church here.
Chapel of Our Lady of Penha Located on the top of Penha Hill, Macau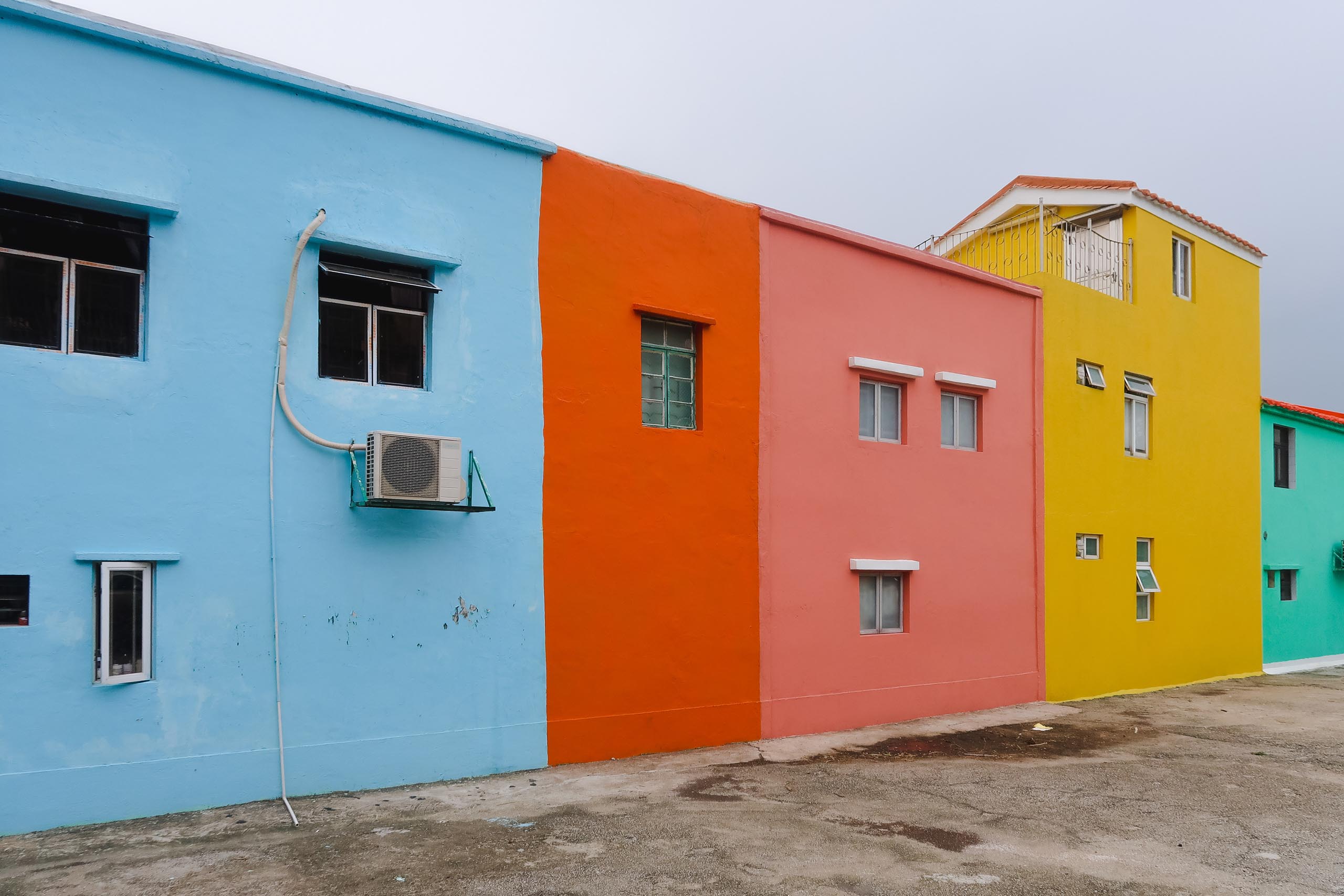 Coloane Fishing Village
Coloane has always been the place where locals go to when seeking peace and quiet. Surrounded by the sea on one side, it's a romantic place to stroll around, but also have lunch or dinner, a fresh beer at local Chinese and Portuguese food restaurant, Nga Tim, or have an egg tart for dessert at Lord Stow's, right in the village's center. There are also plenty of stalls where residents usually buy fresh fruits and vegetables.
This village used to be a hub for the fishermen and later, the shipyard industry. Unfortunately, both are now relics of the past, although one can still feel the historical vibe all over the place. Coloane is one of the most beautiful places in Macau when it comes to scenic views, a slow-paced lifestyle and green areas. Colorful, small houses give life to this tiny village, making it look like an enchanted little world.
Coloane Village Coloane, Macau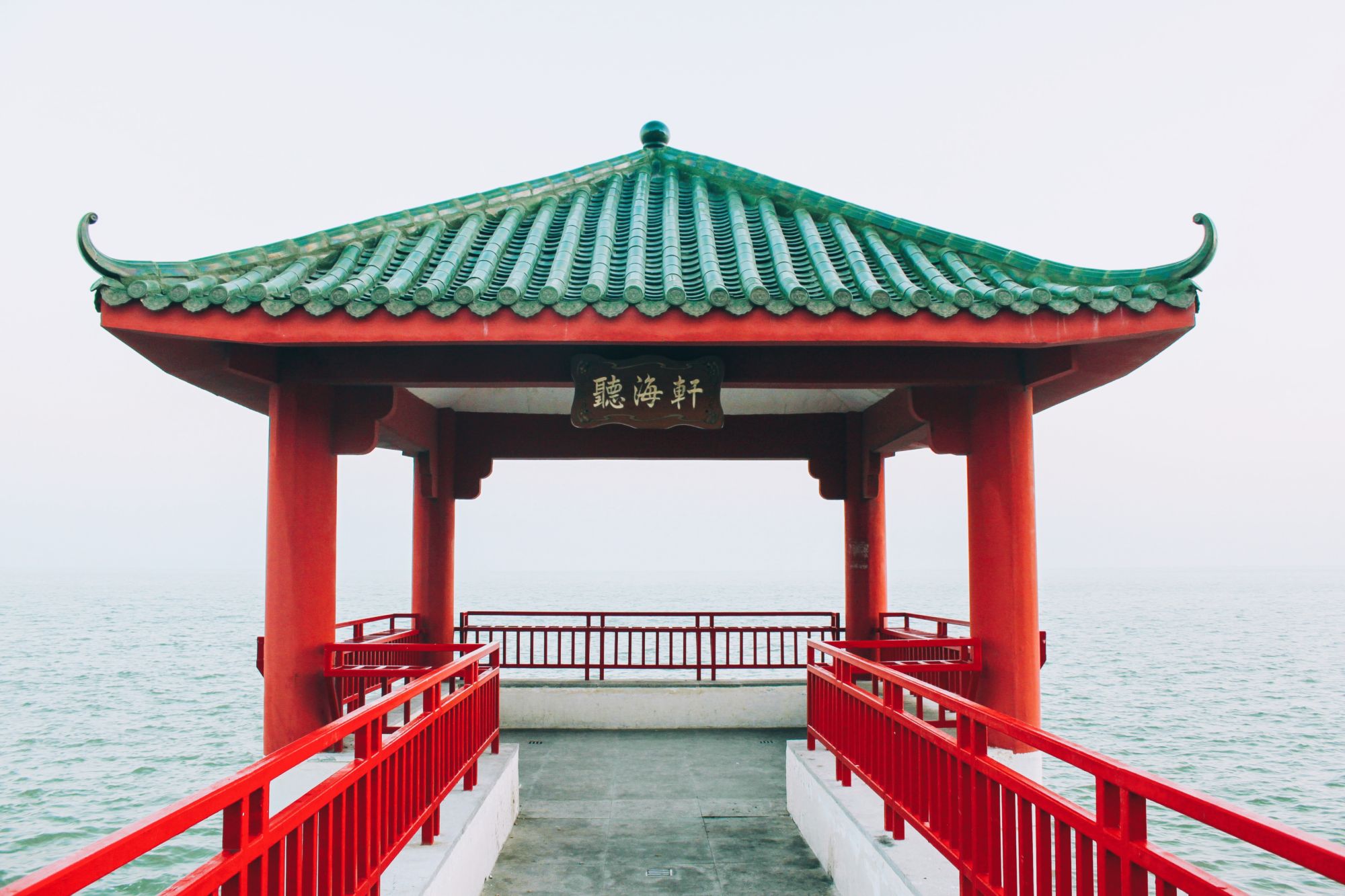 Long Chao Kok Trail
Macau is full of nice trails that bring you closer not only to nature but to a time when the city was a quiet place. Running from Hac Sa Beach all the way to a private condo close to Cheoc Van, Long Chao Kok Trail has everything one needs for a great evening near the water.
With a red and green pagoda giving way to the sea, one can feel alone, but never lonely. The course is easy to finish, so why not bring the little ones or your loved one for time well spent close to nature? Read this to find out more on the trails to explore around this area!
Long Chao Kok Coastal Trail Rua de Hac Sá Long Chao Kok, Hac Sá, Coloane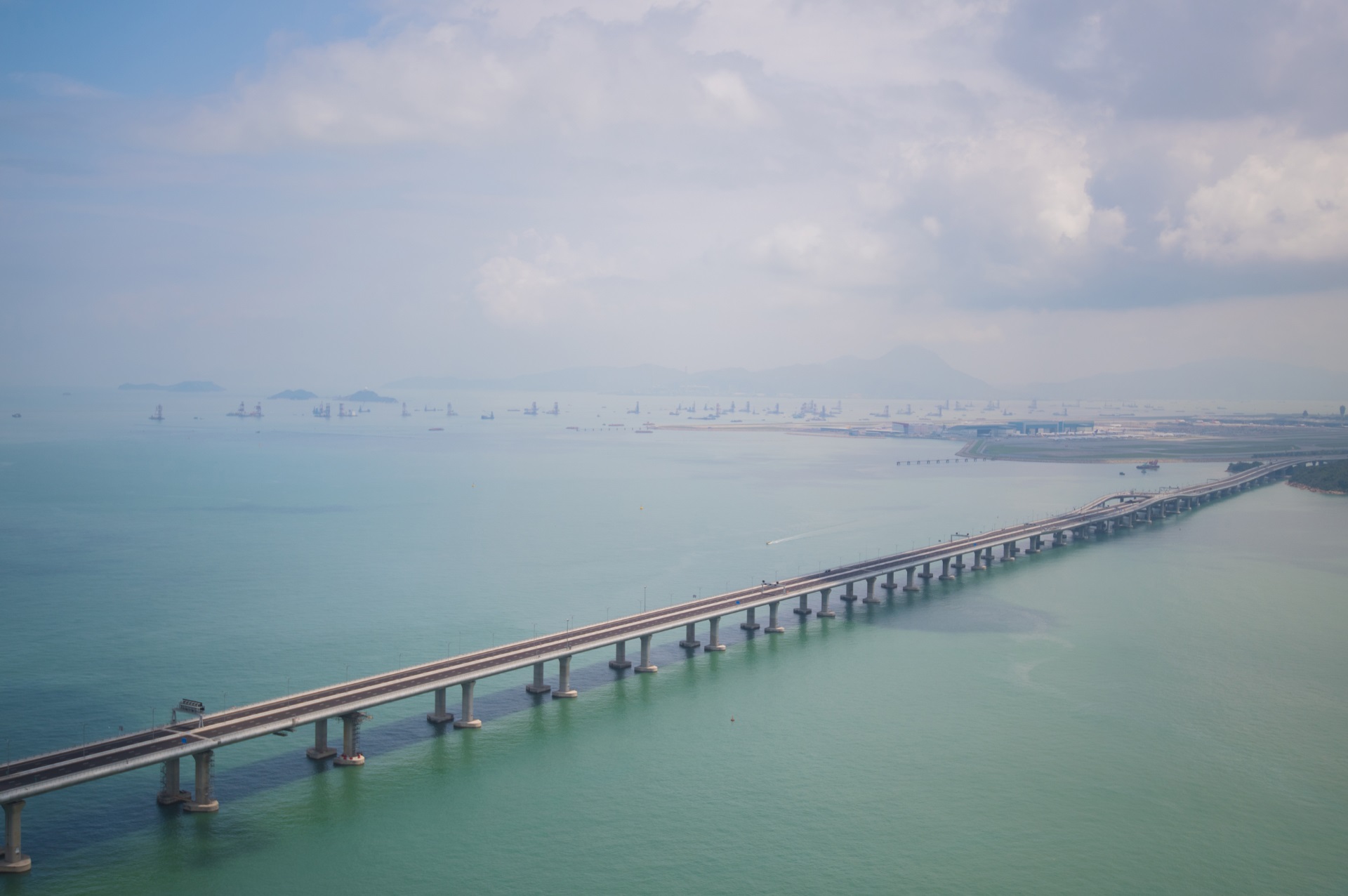 Hong Kong-Zhuhai-Macau Bridge
This is the longest bridge in the world, so it's only natural it's included on this list. Inaugurated in 2019, it's 55 kilometers long and connects Hong Kong to Macau and Zhuhai. Besides 24 hour buses, one can also cross by renting a car from certain companies.
Although most of the views are of the sea, it's a great trip to enjoy during sunset, especially when the sky is blue. At night, the bridge is lit up with beautiful colors as well. Just take your passport and enjoy this dazzling ride!
HMZ Bridge Macau Hong Kong Bridge Port, Macau
---
For more information on these incredible eight scenic spots, contact the organizers by sending an email to [email protected] or checking their website
Tags
Related Posts