Featured image by Pinoy Photographer
Macau and Hong Kong, along with the rest of the Pearl River Delta and Greater Bay Area, share similar weather conditions. As the city is surrounded by the sea on three sides, it is exposed to direct solar radiation twice a year with a subtropical oceanic monsoon climate characterized by intense sunlight, exuberant evaporation, rich heat, adequate moisture, high temperature, and abundant rainfall. That being said, when's the best time to visit Macau? Find out in our quick guide below on Macau weather!
The best time to go
The best time to visit Macau is from October through January, or autumn through winter, when days are sunny and dry while the nights are cool and comfortable. January and February used to be notorious for being cold and damp with periods of overcast skies, but due to climate change, winter has become less harsh and cold, and the summers have been getting longer.
March and April–springtime–historically has been a pleasant time to go, but lately, it has been plagued with consistent rains, lasting sometimes up to May and all the way through summer.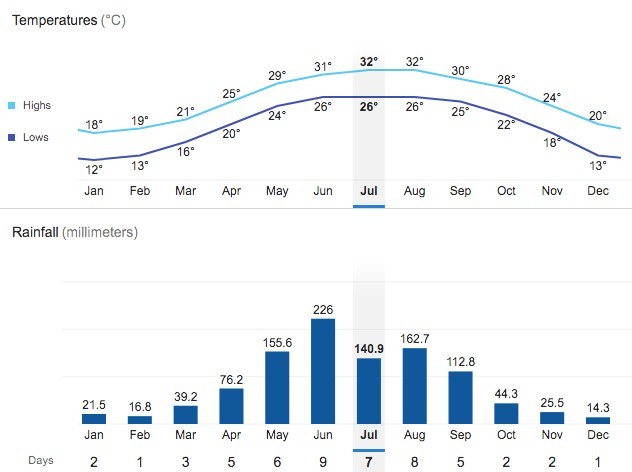 "Due to the influence of southerly airflow and summer monsoon, Macao gradually transits from the first rainy season with heavy rains to the second rainy season with more typhoons and heavy rains, often having hot and rainy weather during the period," according to the Macao Meteorological and Geophysical Bureau. Thus, there are actually two rainy seasons for Hong Kong and Macau.
Summer, from June through August, is the cheapest time to visit because they coincide with hot, sticky and rainy typhoon or hurricane season. Don't worry because Macau is prepared for such blustery assaults; if a big storm approaches, your hotel will post the appropriate signals.
Spring and autumn 
Shoulder season, which is a travel period between peak and off-peak, is from April to March (spring) and October to November (autumn). However, this has been relative from year to year. The seasonal interchange period is short; in spring, the region stays in the interchange from the winter to summer monsoon. Macau therefore sometimes experiences cold and rainy weather during this time.
Autumn then wins as the best time to visit Macau. Under the effect of cold air, the summer monsoon in south China during this period is gradually replaced by the northerly winter monsoon, accompanied by less rainfall. As a result, Macau is often controlled by the easterly airflow, enjoying the "clear and refreshing autumn" weather. For more information, refer to the Macao Meteorological and Geophysical Bureau website.
Annual Events & Festivals Schedule
Below are some of the major events you might want to consider when planning a trip to Macau. For the full list, click here.
January: Macao City Fringe Festival
February: Chinese New Year and Parade for the Celebration of Chinese New Year
March: Procession of the Passion of Our Lord, the God Jesus
April: Macao International Travel (Industry) Expo & HUSH! Full Music
May: Macao Arts Festival
June: 2019 Macao International Dragon Boat Races
July: International Youth Music Festival
August: Art Macao
September: Macao International Fireworks Display Contest
October: Macao International Fireworks Display Contest, Macao International Music Festival & Macao International Trade and Investment Fair (MIF)
November: Macau Food Festival & Macau Grand Prix
December: Macao International Marathon, Macao Light Festival, International Film Festival & Awards
We hope this article has answered all your questions about Macau weather and when to visit Macau! For more planning tools, check out our quick guide for first-timers to Macau.
Tags
Related Posts