Looking for something original and classy to get as a gift or display at home? As a place with a strong Portuguese background and culture, Macau has a few stores offering wonderful and beautiful souvenirs, gifts, and even exclusive items that make for great presents or even a step up on your home decoration. From silk scarves patterned with Portuguese artwork to candles and more, there's an array to choose from. We think your biggest issue will be deciding what to buy from our top favorite places to buy Portuguese-inspired gifts in Macau!
Alma Viva
(See featured image above)
Nestled in the beautiful and peaceful St. Lazarus district, Alma Viva–translates to "Live Soul"–is one of the most remarkable shops selling Portuguese items in Macau. As one of the main importers as well, it stocks all these different products that are really worth a browse. From bowls and plates to rag dolls and sardine-themed things, there are other less seen things such as beautifully scented candles in animals shapes or lotus flowers–perfect for decoration, floating in a bowl–and also soaps, compotes and wine, Portuguese liqueur Ginginha and so many other interesting and exclusive goodies, this is the perfect place to shop for others, but also yourself! Why not shop here for your Christmas, anniversary or birthday presents, but also perhaps a nice terrine to serve your friends some lovely food in at a potluck?
Opening hours: Daily, 1:00pm–7:30pm
Alma Viva 35 R. Nova de São Lázaro, St. Lazarus District, Macau, +853 6238 6820, www.facebook.com/almavivamacau, www.almavivamacau.com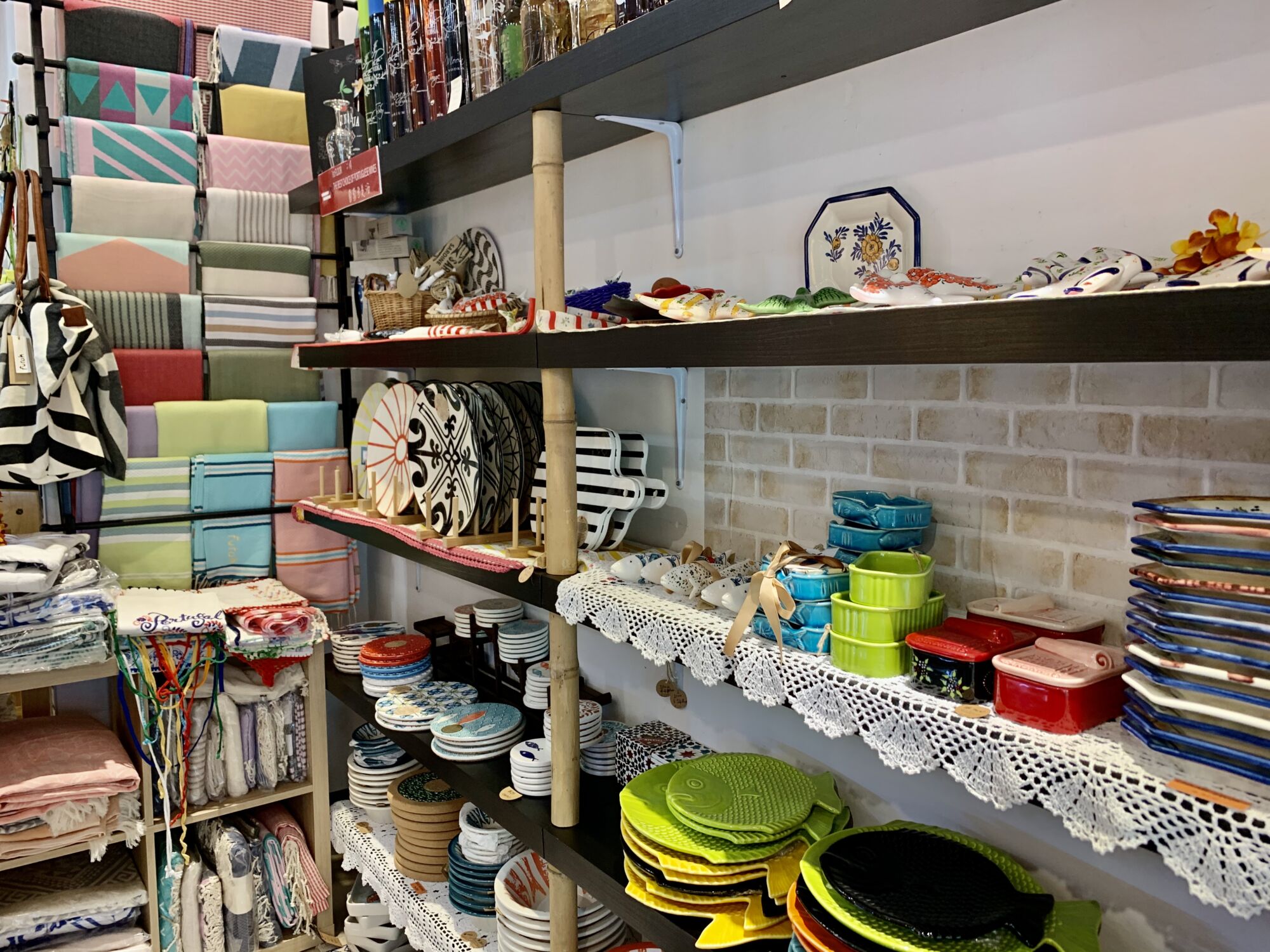 Cool-ThingzZ & Portuguese Spot
Set in Taipa Village, this is one of the biggest stores in Macau when it comes to Portuguese brands. You might've spotted Portuguese wine and cheese, and even chocolates, jams and canned goods in several places like supermarkets, but this venue has lots of unique finds. From handmade serving plates to decorative objects like lanterns and candles, bowls and so many others, there are also beautiful silk scarves printed with known paintings from Portuguese artists.
This looks–and really is–super cool. For a mother, co-worker, partner, or friends, there's an array of things to choose from. Soaps and jams, wonderfully unique wines, Portuguese brands of gin, coffee, and tea, beach towels to wow your bunch in your next Maldives trip, or even olive oil to pamper the cook at home; prices might be a bit higher, but some of their stuff are really worth it. They also offer tastings and have a space upstairs that one can rent for smaller events such as social gatherings.
Opening hours: Daily, 11:00am–10:00pm
Cool-ThingzZ & Portuguese Spot 2 Rua das Gaivotas, Taipa Village, +853 2857 6873, www.facebook.com/CoolThingzzPortugueseSpot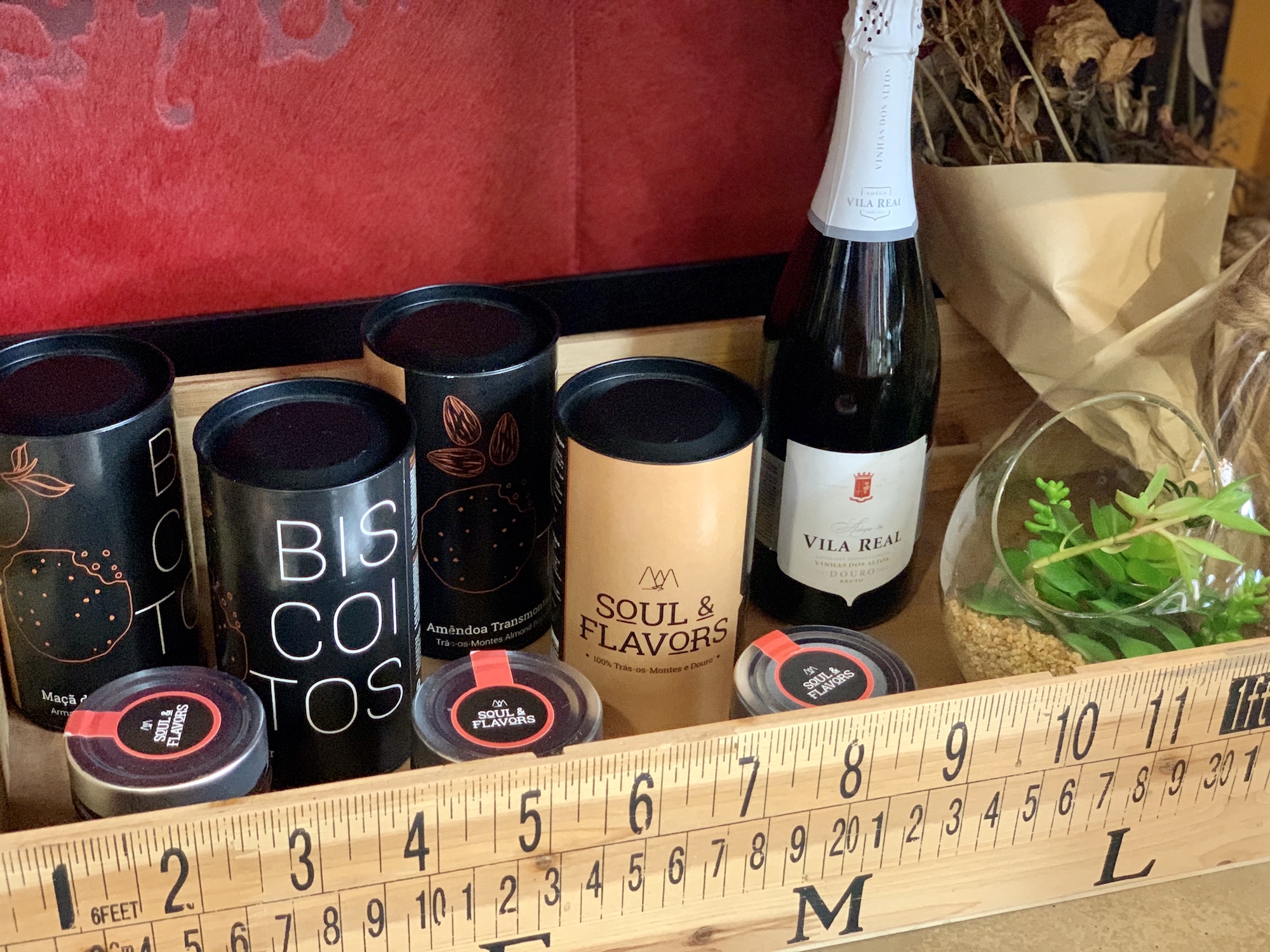 3 Monkey's
Located in the bustling and artsy Rua da Nossa Senhora do Amparo–parallel to Rua dos Ervanários and close to Travessa do Amparo–this shop has a very vintage vibe. The owner loves having people over and to show them around, explaining all the things she sells. Some come from other countries, but Portuguese items are also available. From olive oil to high quality wines, there are some classic choices to make. There's no way of getting it wrong on Father's Day or a friends' dinner if you show up with a wine bottle. Stocking several Portuguese brands from the northern part of the country, flavors are certainly traditional and true to themselves. 3 Monkey's also sells some vintage furniture and it's described as a "lifestyle" spot. It also has coffee available for customers who like to come in and settle for a while, although it's not really a coffeeshop.
Opening hours: Wednesday–Monday, 12:00pm–7:00pm
3 Monkey's 10 Rua da Nossa Senhora do Amparo, Macau, +853 2888 8833, www.facebook.com/3MonkeysMacau
Also read: Rua dos Ervanários: Old Macau is Around the Corner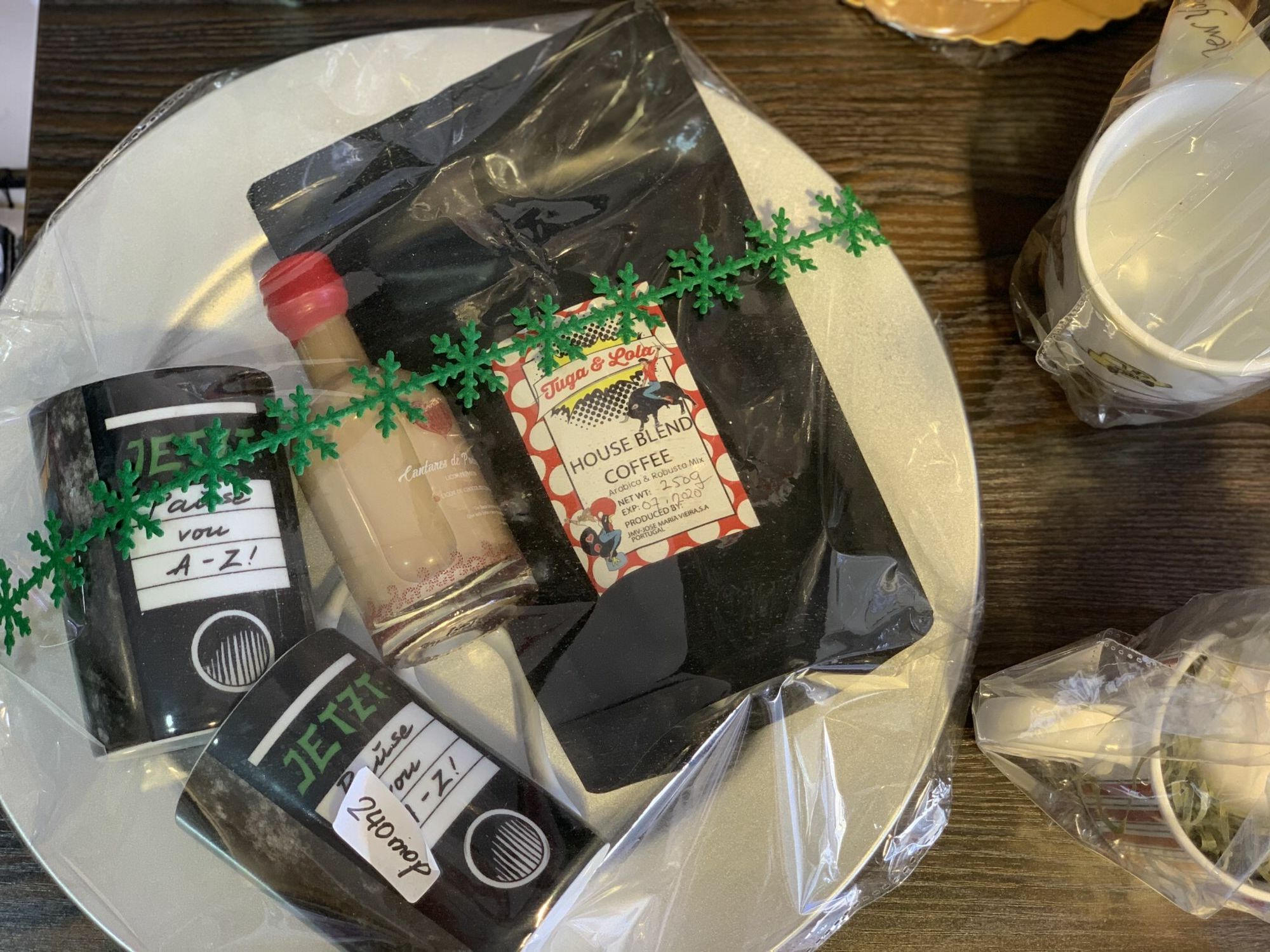 Tuga & Lola
Also set in Taipa Village, this small and cute shop sells a wide array of wine–both Portuguese and Spanish–but also Ginginha, a very typical Portuguese liqueur made of fruit. House blends of coffee are one of the shop's signature products. The good thing about this place is the fact that they have pre-made baskets with different goodies in them. These make for the perfect gift when you can't decide on a specific item and want to offer someone a few different things to experiment with. They're also kind of a coffeeshop, where you can taste their different blends before taking them home. The venue can also be rented for events and they cater it with croquettes, wine, Portuguese codfish fritters, and more.
Opening hours: Wednesday–Monday, 12:30pm–8:00pm
Tuga & Lola 6 Rua dos Clérigos, Taipa Village, www.facebook.com/tugalola
Also read: Tuga & Lola: A Wine and Tapas Extravaganza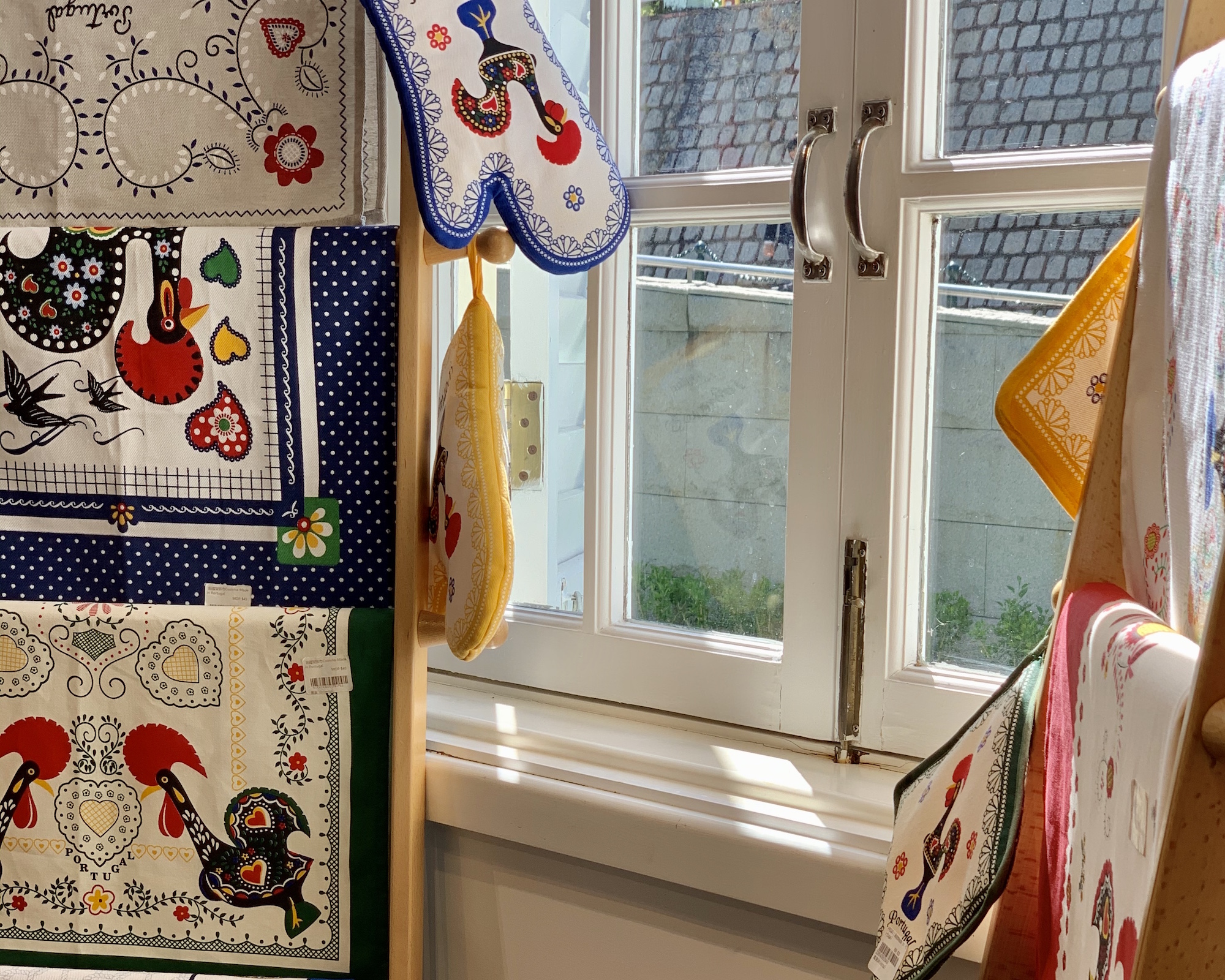 Universal Gallery and Bookstore
Looking for traditional, typical recuerdos from Portugal? This art gallery and bookstore is also a souvenir shop selling all things related to Macau–magnets, puzzles, keychains, postcards, paintings and more–but also some unassuming Portuguese-themed things. Aprons and kitchen cloths, oven mits and some other items with folklore patterns are available here too. You might be lucky enough to see kids and teens trying on traditional Portuguese dresses and dance costumes, also for sale here.
Most of the books are in Chinese, but they have a fairly good selection of kids' books in English. The second floor is filled with art pieces, mainly paintings by both local and international artists. The shop has a nice vibe as it's inside one of the Taipa Houses-Museum buildings.
Opening hours: Daily, 10:00am–6:30pm
Universal Gallery and Bookstore Taipa Houses-Museum, Avenida da Praia, Carmo, Taipa, www.facebook.com/Universal-Gallery-Bookstore, www.universal-artspace.com
Also read: A Bookworm's Guide: Where to Buy Books in Macau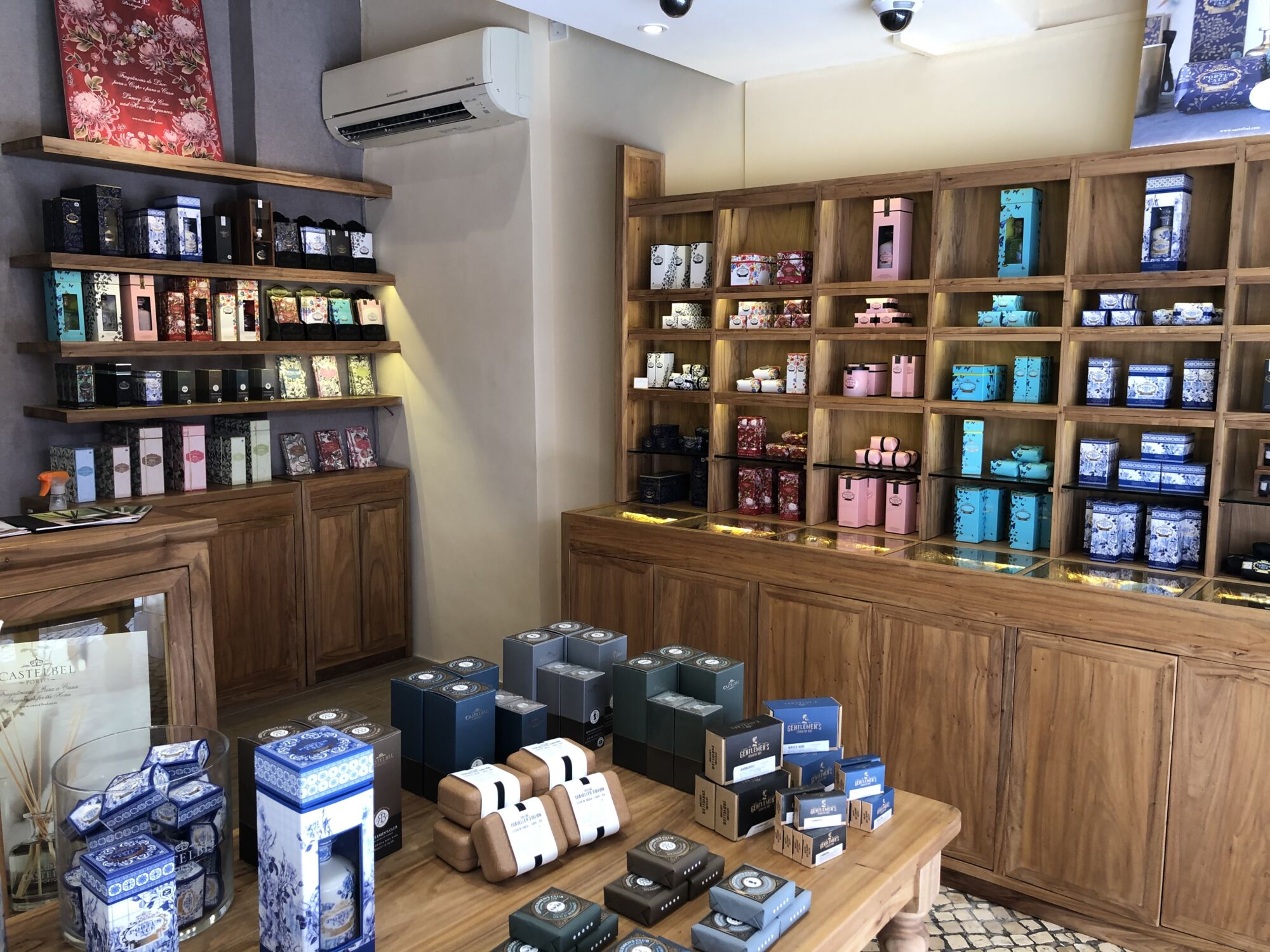 Castelbel Porto
With a focus on beauty products, it's no surprise this Portuguese brand sells classy skincare items. Besides out-of-this-world scents, their soaps and creams, home perfumes and more are all beautifully designed as well. With a recently opened shop in Macau, Castelbel Porto sells items for both men and women. Their target? Well, mostly people who love to pamper themselves. A brand from Oporto city, expect scented home fragrances and body products that will leave your home and soul smelling of orange, fig and pear, lavender, lemon and sage and many other wonderful combinations, guaranteed to make your home that much cozier.
Opening hours: Wednesday–Monday, 11:00am–8:00pm
Castelbel Porto Travessa de S. Domingos, Macau, www.facebook.com/castelbelmacau
Tags
Related Posts