Featured image photo credit: Bar do Fundo Facebook
Sintra is much more than just a Portuguese village 30-minutes away from Lisbon. Besides its mysterious aura–probably due to the castle on top of the eerie mountains–Sintra is a place where one can revel in history, relax in nature, and eat your way through town! With castles, palaces, beaches, seafood and more, Sintra is not a destination to miss on your bucket list. We have selected the best things to do in Sintra and what not to miss when time is short.
Enjoy Praia Grande
(Featured image above)
Translated into "big beach", this spot earned its name from the length it occupies. Even though it isn't that extensive, it has some of the best sunsets in the Lisbon area. Don't be frightened by the clouds in the morning sky, they usually dissipate at lunchtime! Besides, there are great restaurants and cafés to try. If you are looking for a laid-back spot to get some food, Pipeline or Crôa are great choices with balconies both overlooking the beach so people can enjoy the sea breeze while eating or drinking. When quality food is a priority, Bar do Fundo is the answer. Serving fresh seafood, a wide array of Portuguese wine and other homemade beverages, this spot is ideal to have a nice meal under the sun or even the stars. To make sure you can get a seat, tables should be booked in advance. Nights can get chilly here so be sure to bring something warm if you're thinking of staying late.
Pipeline Av. Alfredo Coelho 43, Colares, Portugal
Crôa Av. Alfredo Coelho 11, Colares, Portugal, +351 21 929 2066
Bar do Fundo Av. Alfredo Coelho, 2705-329 Colares, Portugal, www.facebook.com/BardoFundo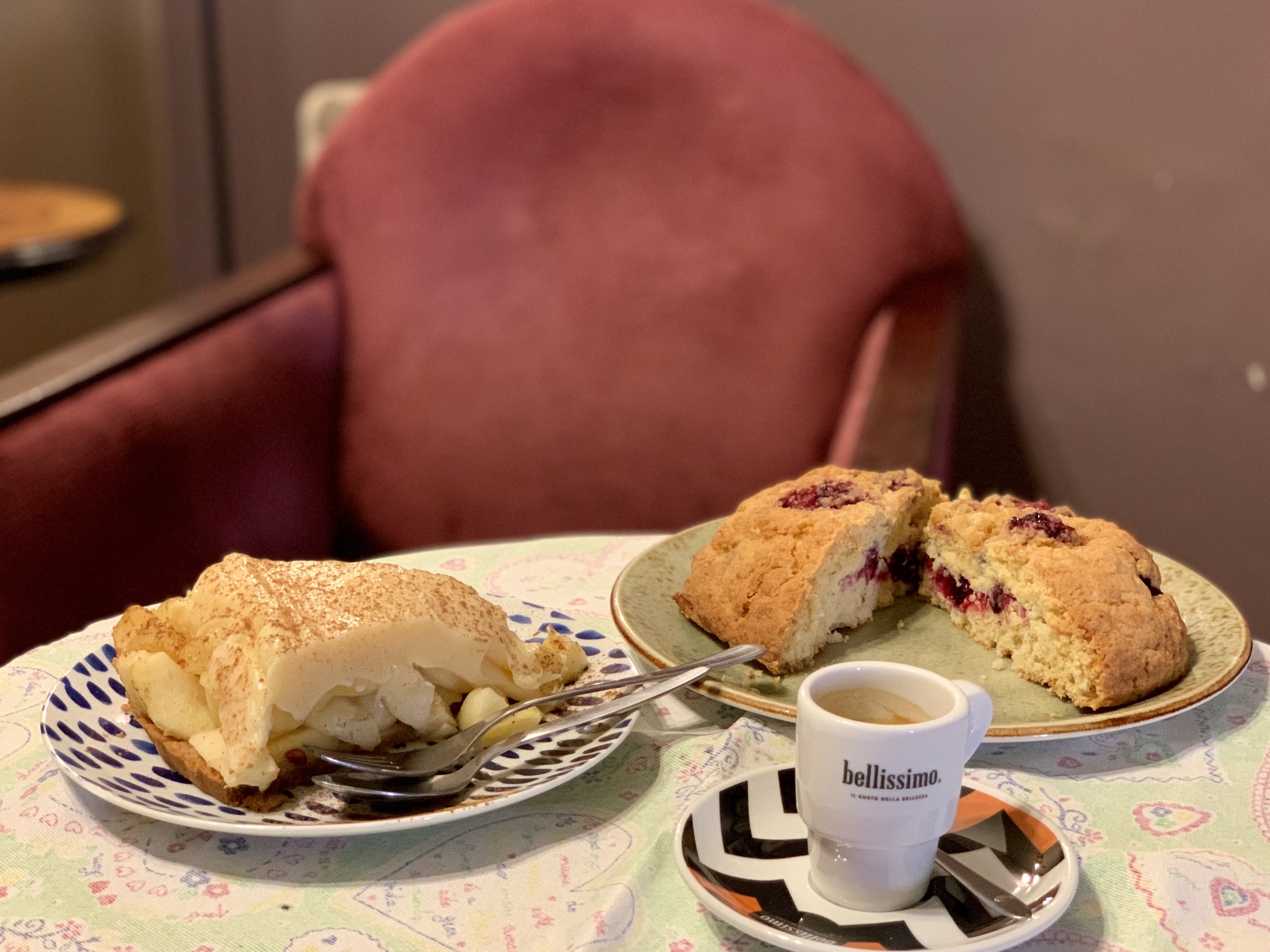 Try the best apple pie in the world
What are you looking for in a dessert? Sweetness? Texture? Freshness? Well, Café Saudade has an array of amazing cakes, salads, and pastries which includes gluten-free and vegan options too! However, it's the apple pie that has left us speechless. Made of big chunks of fresh apples, condensed milk, and a whole lot of other (secret) ingredients–we suspect cinnamon and lemon play a part–this is a marvelous pie with a crunchy cookie base. If you follow a gluten-free diet, there are also options for you where they make this gorgeous pie with a fruit base! Café Saudade is usually very busy, so be sure to head there early to find a spot. The interior is designed to make you feel at home with sayings and pictures on the walls, tiny cute tables, and other decoration details. This is the perfect place for a romantic escapade or a place to bring kids (and yourself) to taste some of Sintra's best delicacies!
Opening hours: Thursday–Tuesday, 8:30am–7:00pm
Café Saudade 6 Av. Miguel Bombarda, Sintra, +351 21 242 8804, www.facebook.com/CafeSaudade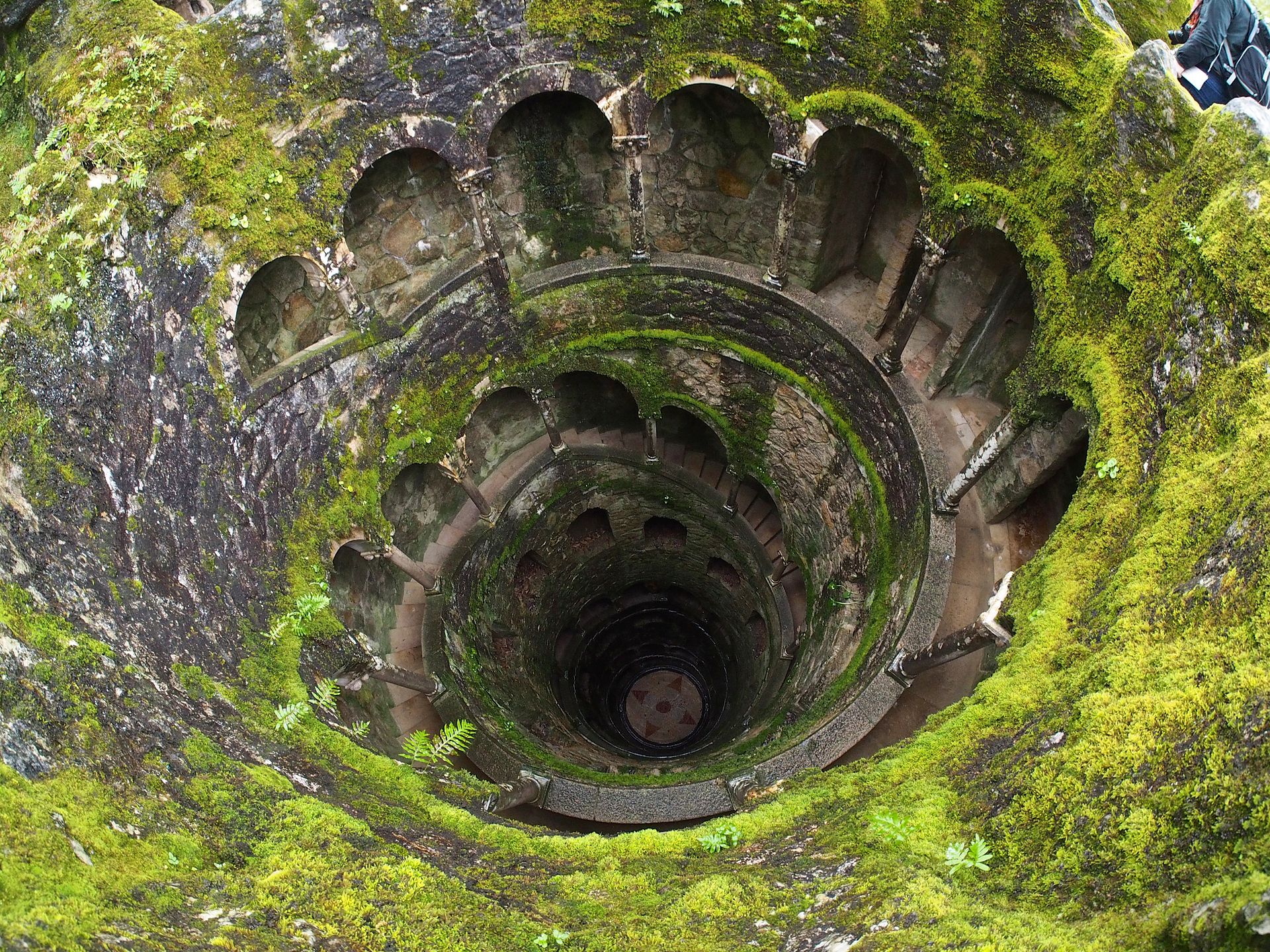 Visit Quinta da Regaleira
Classified as a UNESCO's World Heritage site, Quinta da Regaleira is comprised of a palace surrounded by an extensive garden and beautiful hidden details one can only discover while exploring this stunning place. With a very mysterious vibe, Quinta da Regaleira is perfect for everyone–kids will learn lots about Portuguese history while running through the garden, while the adults can have a romantic stroll or just enjoy the peace. Get lost in Regaleira, a spot dating back to 1904, a historical reminder of the existence of monarchy in Portugal. The well (pictured above) is one of the most beautiful and unmissable details–a subterranean gallery, it's accessible through stairs in a spiral, filled with moss and embedded figures. Everything in Regaleira is symbolic: the stairs are made of nine zones separated by 15 steps each, making reference to Dante's Divine Comedy. There are even theories arguing it's related to the nine circles of hell, heaven, and purgatory. There are also guided visits for those looking to deepen their knowledge.
Opening hours: Daily, 9:30am–7:00pm. Guided visits: Tuesdays and Saturdays, 10:00am and 2:00pm
Quinta da Regaleira 5 R. Barbosa du Bocage, 2710-567 Sintra, Portugal, +351 21 910 6650, blueticket.pt (online ticketing), www.regaleira.pt/en/quinta-da-regaleira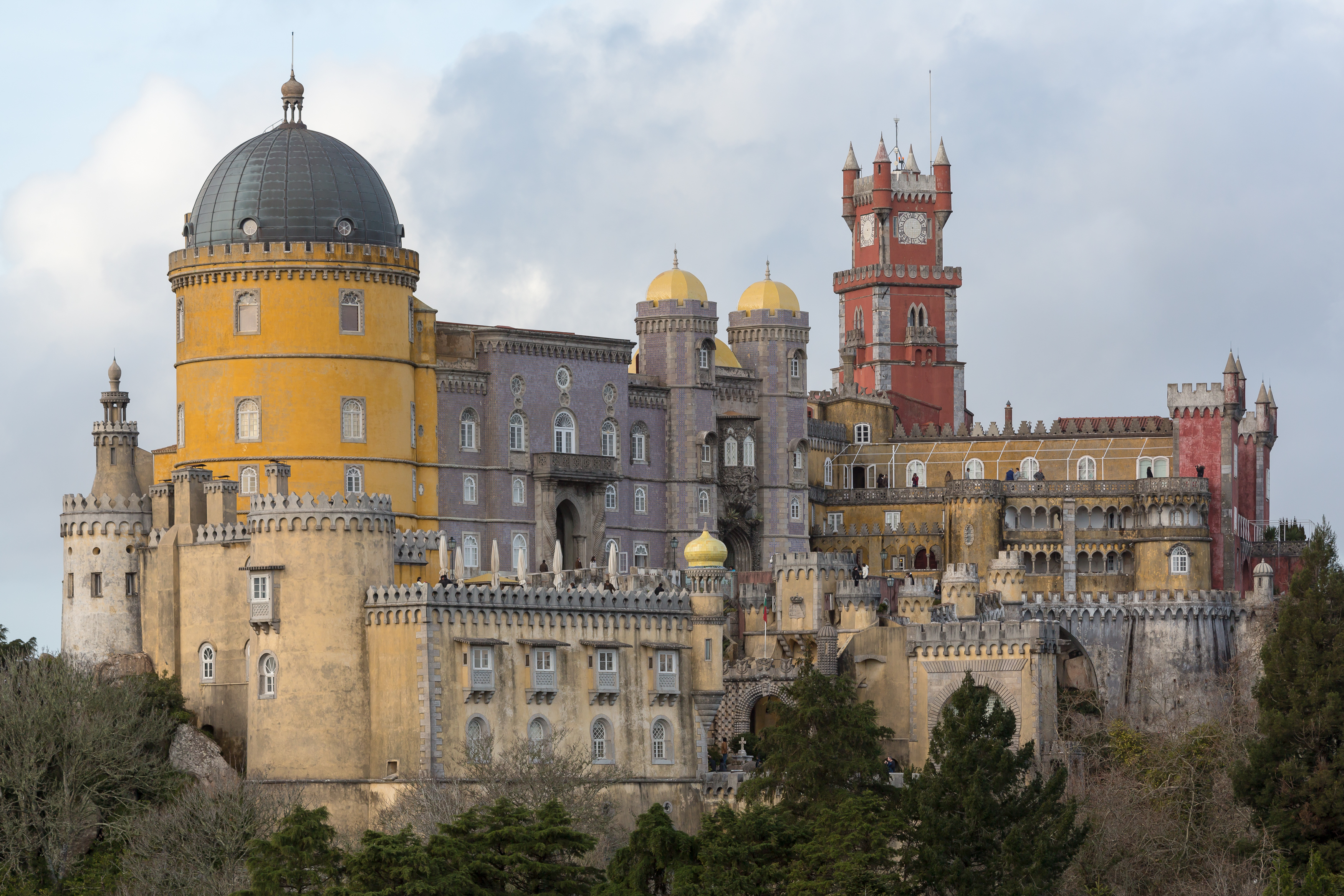 Get to know historical landmarks
Sintra is a historical village by default and besides great food and amazing sea views, there is also lots to explore when it comes to museums, monuments, and landmarks. If you are into history, you should visit both Pena Palace and the Castelo dos Mouros (Moorish Castle): they stand high up surrounded by mountains. Both are reachable on foot and there might be a bit of trekking involved which is great if you like to explore while working up a sweat. Gather your friends and head up there, exploring the protected green area of Sintra. Filled with mysteries, old houses and lots of trees, it's perfect for a stroll on a sunny evening. If walking isn't your thing, there are also buses available at the city center which can take you there and back. Both landmarks require a little bit of payment for entrance, definitely nothing excessive.
Pena Palace was refurbished in 1860 into more or less what one now sees. It tells the story of kings, queens, and barons back in the day, with fully furnished rooms and kitchens–it's a sight to see and learn about. Standing 420 meters above sea level, the Moorish Castle has one of the best views of Sintra. It's full of verandas and patios, small halls and gorgeous rooms along with an interesting history behind it, dating back to the 10th century. It's a live testimony of the Islamic presence in Portugal and in this specific area. You can just visit one of these monuments or stroll through the park where they're located: tickets are cheaper and you'll have a better sense of this area.
Opening hours: Daily, 9:30am–8:00pm
Pena Palace Estrada da Pena, 2710-609 Sintra, Portugal, www.parquesdesintra.pt
Opening hours: Daily, 9:30am–8:00pm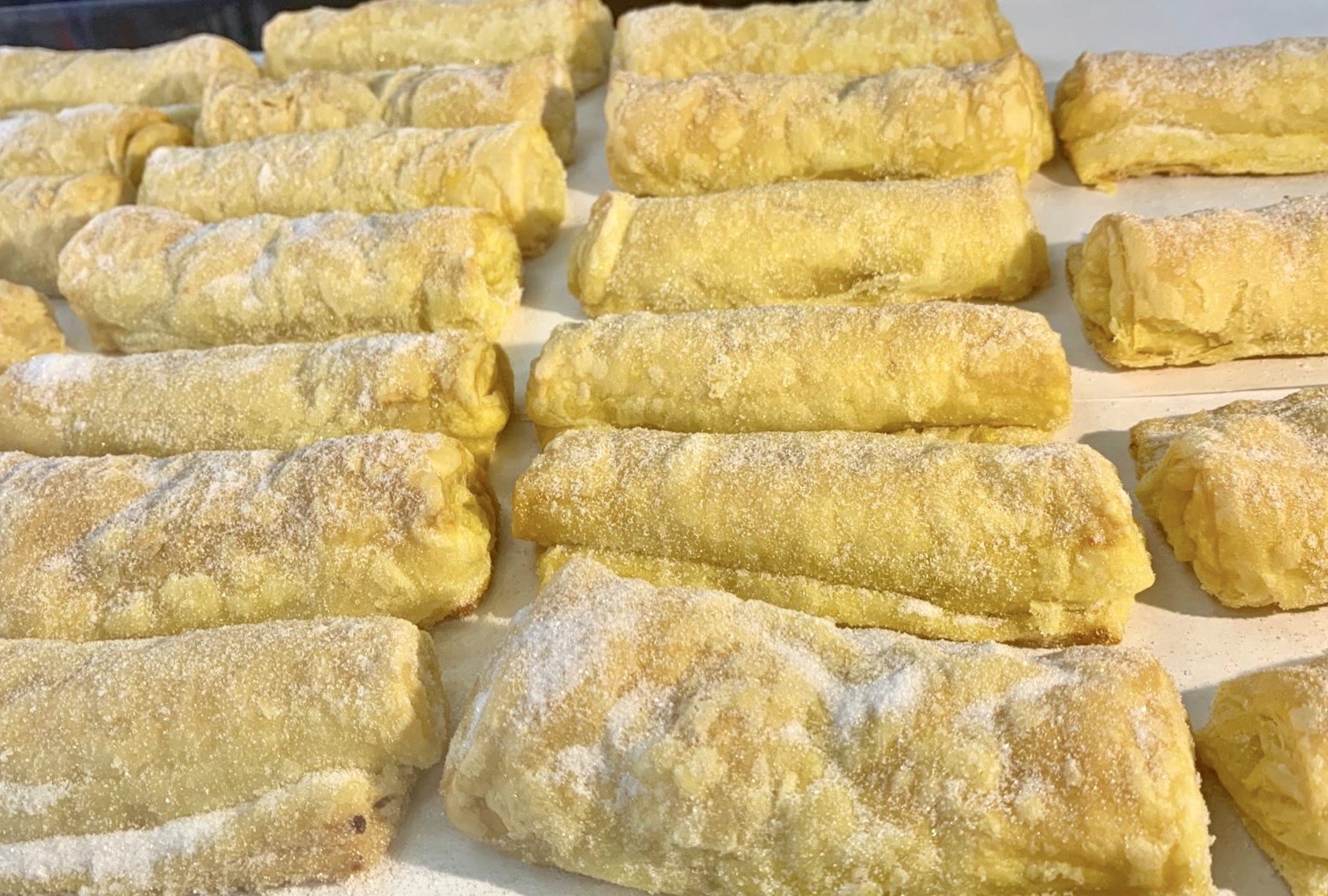 Sweet souvenirs
Ever heard of travesseiros and queijadas? Well, Sintra is the birthplace of both these sweets, so these are a must-try! Whether you visit Casa Piriquita, Casa do Preto or any other given pastry shop in Sintra, you're surely going to be treated with respect and lots of traditional and lavish pastries! Try mil-folhas, butter cookies and much more in there. Take some home for your friends and family to share with them how conventual treats are some of the best in the world.
Casa Piriquita 1–18, R. das Padarias, 2710-603 Sintra, Portugal, +351 21 923 0626, www.piriquita.pt
Casa do Preto 40 Estr. Chão de Meninos, 2710-194 Sintra, Portugal, +351 21 923 0436, www.facebook.com/casadopretosintra
Pastelaria Gregório 35 Av. Dom Francisco de Almeida, 2710-562 Sintra, Portugal, +351 21 923 2733, www.facebook.com/Pastelaria-Gregório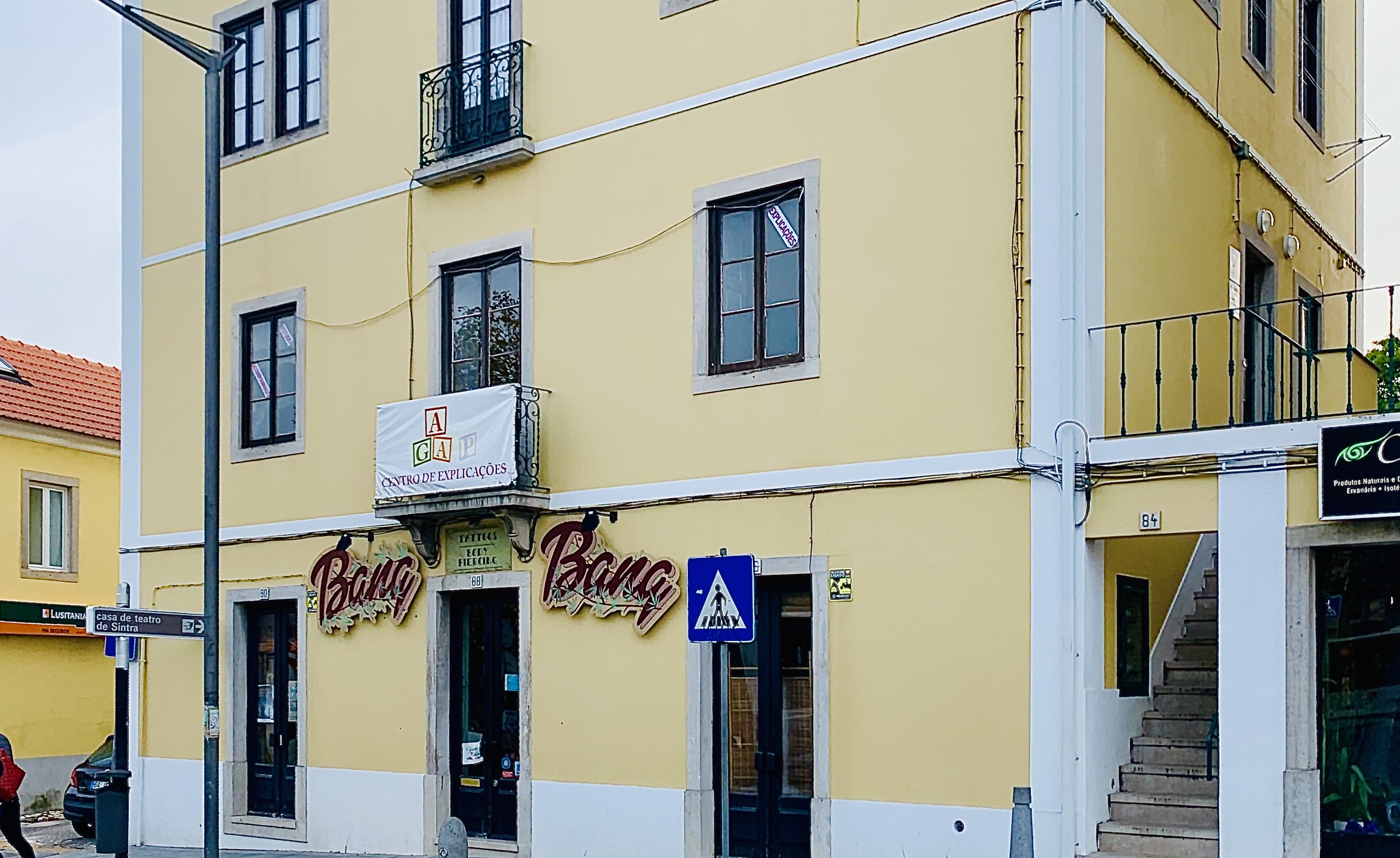 Visit Bang Bang Tattoo
Tucked away in a little corner of Sintra (Portela area), Bang Bang Tattoo is a tattoo shop worth checking out for its cool vibe. Owned by an interesting couple, it's decorated with all things vintage: from flamingos to a Hawaiian standing sculpture, this tattoo, piercing shop and studio has everything! Take interesting photos and see how pin-up style has flourished in Portugal because Nazaré, the owner of the shop, wears vintage clothing, including the elaborate hairstyles of yesteryear, ribbons, and lots of tattoos! Check this spot out especially if you're on the lookout for a permanent accessory or just for fun. Note that they are usually booked, so be sure to reserve a slot if you'd like to get inked.
Bang Bang Tattoo 88 Av. Heliodoro Salgado, 2710-624 Sintra, Portugal, +351 21 923 2128, www.facebook.com/bangbangtattoosintra

Stroll around Cabo da Roca
Did you know that Cabo (Cape) da Roca is the westernmost point in Europe? Can you imagine walking along the coastline and feel yourself at the furthest point of Europe? Well, at Cabo da Roca you can! It's quite easy to get there: be it from Cascais or Sintra, drive along one of the most beautiful roads in the area and enjoy the journey. Overlooking nature and the sea, it's a great way to start or end a day, but be sure to be aware of the road so you don't miss the cape's exit! Take panoramic photos, have an espresso at their café or explore the area on foot–whatever you do, just take a moment to deeply breathe in the fresh air of Sintra.
Opening hours: 24 hours
Cabo da Roca Estrada do Cabo da Roca, 2705-001 Colares, Sintra, Portugal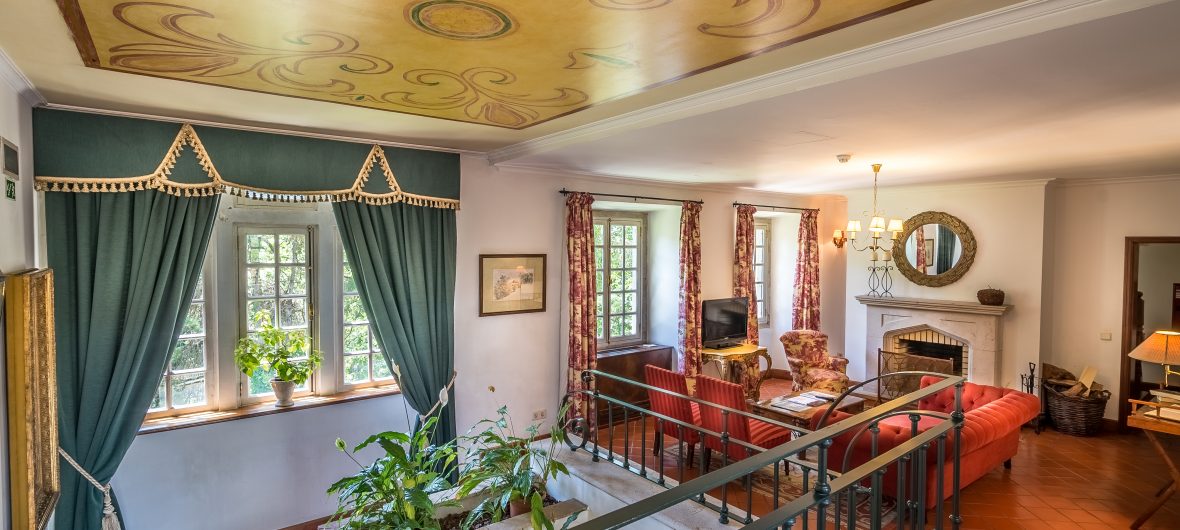 Where to Stay
Built in the 17th century, Lawrence's Hotel is the oldest hotel establishment in the whole Iberian Peninsula! Get a hint of the old times in Sintra by staying somewhere historic, which also hosts a restaurant. Lavish verandas give way to precious and unforgettable views of both the village and the mountains with lots of cafés, restaurants, souvenir shops and transportation options nearby.
Lawrence's Hotel 38-40, Rua Consigliéri Pedroso, 2710-550 Sintra, Portugal, +351 219 105 500, +351 914 821 216, [email protected], lawrenceshotel.com
Vila Galé Sintra
There are, of course, more budget-friendly accommodations, like boutique hotels and hostels. Vila Galé Sintra is a four-star hotel priced between EUR €100–200 per night (for two people), which includes an indoor pool with nice views and situated in a quieter area of the village. Here, you can get to either the coastline or the city center in around 15 minutes by car.
Vila Galé Sintra 30, Rua Fonte da Granja, 2710-652 Sintra, Portugal, +351 210 520 000, www.vilagale.com
Pestana Sintra Golf Resort & Spa Hotel (around EUR €62 per night) is also a good option and even has a free shuttle bus from Lisbon Airport! Tivoli Sintra offers wallet-friendly pricing as well and stands right in the middle of the village center, with lots of amenities and great views as well.
Casa das Hortênsias – Charming Guest House, Nice Way Sintra Hostel and Moon Hill Hostel all offer simple, cozy and central accommodations for less than EUR €60 a night.
How to Get There
There are direct roads from Lisbon, but also a train line, so be sure to know what you're really looking for. If time is of the essence and you're only interested in seeing the village area, the train is a great choice, since it takes you there directly. Get off, head to your right and start exploring! Maybe even start with Café Saudade, just a minute away (walking distance). The tickets cost less than EUR €4. There are also lots of tuk tuks you can rent to take you on a personalized and guided tour through the city center.
You can also Uber your way from wherever you are to the village and then request another ride to the beach or your next destination. It costs around EUR €15 to head there from Lisbon. If you have time and want to visit the area at your own pace, why not rent a car? The IC19 road is the quickest (non-peak hours) and most direct way, but there's also the A16 (with toll). Estrada Marginal is definitely the scenic route because it is a coastal road with beautiful sea views that takes you to Cascais from where you can go to Cabo da Roca into Sintra beaches or to the village itself. Alamo, Avis, Budget, Enterprise, and Hertz are some of the car rental companies available in Portugal.
Tags
Related Posts