From sunlight to moonlight, there is no more perfect time to celebrate with an all day (and all night!) party of music and fun at Hac Sa Beach.
It's not as if you need more reasons to attend one of the most anticipated musical events in Macao—the remarkable bands and talented artists are obviously a huge draw, but there's so much more to the two-day Hush!! Music Festival at the scenic Hac Sa beach. Here's what awaits you…
Incredible Showcase of Musical Talent
It's an absolute party, with a total of 25 groups of singers and bands from Macao and various Asian regions set to perform. Representing different genres of music including rock, metal, pop, and electronic music, it's one of the largest gatherings of musical talent in one setting ever in Macao. What makes it even more amazing is that it's free admissions for everyone. Two days of music, April 30th and May 1st—free admission!
The 15 hours of music features a brilliant line-up of bands including the legendary Supper Moment, Wild Children, Kinoco Hotel, Forget the G, and more. Take a peek at the complete schedule of bands set to perform on each of the days at Hush!! Full Music.
Prepare for incredible performances by amazing artists. From singer-songwriter Jun Kung to Macao's very own Achun, Sonia Ka Ian Lao, Ellen Loo and more, check the full list of Solo Artists You Can't Miss!
To give you some background, check on our list of Macau Music Bands You Need to Know!
What better way to stay tuned for details about HUSH!! than following our favorite musicians' Instagram accounts? Here are the Instagram Accounts You Need to Follow. Take a sneak peek into their daily lives and adventures on tour.
Fashion and Fair
The Village Mall heads to Hac Sa beach too! With a bustling community of creative products, retail, art and design, fashion, and authentic local cuisine, the incredible installations and cool stalls add flair to the festivities. The Village flea market will transform the Hush!! Village and put a spotlight on local artisans and talents. Explore the fabulous finds at the pop-up market; hand-made jewelry, vintage clothing, interesting handicrafts, special foods, and music products. Hush!! has also collaborated with local fashion design brand Worker Playground in a collection of limited edition Hush!! clothing. Explore the stylish Pop-up shop that will be set up during the concert at the venue.
Making Magical Music
Learn the proper posture, tuning, and rhythm with Uncle Ma on May 1 at 12pm. The famous YouTube personality and guitar teacher from Taiwan graces the Hush!! festival to teach basic ukulele techniques in an easy and relaxed atmosphere. Popularly known for his inventive and funny ways of teaching, don't miss this chance to gain a new skill and play a musical instrument. The workshop will be conducted in Mandarin and is open to residents aged six or above, subject to availability. Don't forget to bring your own ukulele to the workshop. Registration can be made online through IC's website Activity Registration System at www.icm.gov.mo/eform/event or contact +853 8399 6699.
Share The Spirit of Music
Showcase your talent at the exciting event that will also feature a music video contest—"HUSH!! 300 Seconds"—for the first time, allowing everyone to show the diverse possibilities of music by sharing their works with the public. Participants only have to submit application forms together with a video of their own music or vocal performance, and will be eligible to win spectacular awards and prizes. The award ceremony will be held on May 1 at the "HUSH!! Full Music" concert. Registration is open until April 26. For more information about the contest and application form download, please visit the "Hush!! Full Music" website at www.icm.gov.mo/hush.
Food, Friends, and Fun
Eat your way around the food stalls offering what else but the best comfort food in Macao. Tuck into some delicious snacks while listening to phenomenal performances by a diverse group of magnificent musicians. Walk around the artisanal shops and find unique pieces to fit your style. Come with friends, and make new ones!
See you at Hush!!! and make sure you tag us at @macaulifestyle and @macaustreetstyle for a chance to be featured!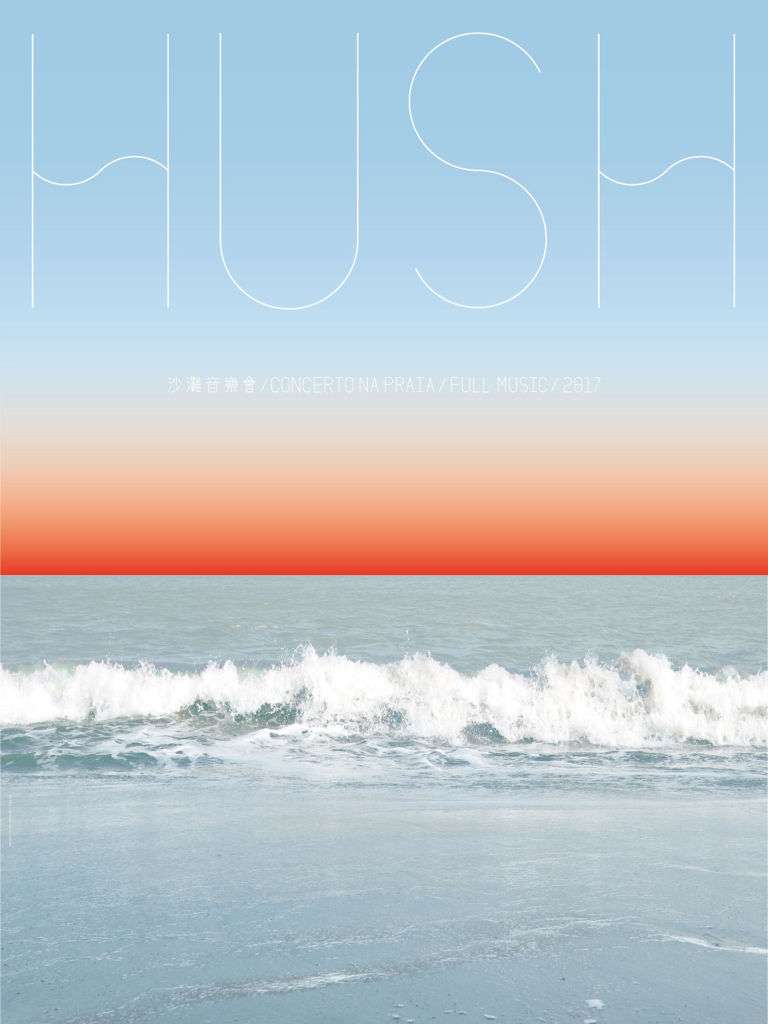 When: Sunday – Monday, April 30 – May 1
The concert will run from 1:00pm to 9:00pm on April 30 and from 1:00pm to 8:00pm on May 1.
Where: Hác Sá Beach, Coloane
How much: Free admission
• Public transportation is strongly encouraged (bus number 15, 21A, 25 and 26A)
• Very limited number of car park, with parking meters, will be available to the public. Parking area for motorcycles is available.
For more information, contact +853 2836 6866 or visit www.icm.gov.mo/hush and Facebook page www.facebook.com/hushfullmusic
Tags