The days of Long Island Ice Tea and Sex On the Beach cocktails are almost over. Now, there are probably as many cocktail aficionados who can smell a good Old Fashioned from afar, as Michelin-star restaurant fans. Mixology walks hand in hand with gastronomy with one influencing the other. It's no wonder that Macau's cocktail culture is developing quickly, and there are plenty of cool spots to have a drink. With a myriad of various bars around the city, which ones have the best cocktails? Check out our guide to Macau's best cocktail bars and plan a visit!
The St. Regis Bar Macao
(see featured image above)
New York has been one of the cocktail capitals of the world since the beginning of 20 century, the era that, among other phenomenons, brought us speakeasies and jazz. No wonder one of the best spots for a cocktail in Macau is The St. Regis Bar, the signature establishment of the luxury hotel chain that originated in the Big Apple. The St. Regis' long history and traditions are reflected both in the Macau bar's design, its cocktail menu, and music.
From original cocktails named after NYC landmarks and the renowned Astor family (John Jacob IV was the founder of The St. Regis Hotel) to the classic recipes with a twist, the menu offers an extensive range of exciting concoctions for every taste. If a fruity-berry profile is what you are looking for in a drink, ask the bartender to mix you The 5th Avenue with lemon-leaf infused vodka, St. Germain Elderflower liqueur, super berries, ginger ale, Crème de Violette, and kaffir lime. The fans of sours will appreciate cognac-based John Jacob's Gold & Glitter.
Check out their Bloody Mary menu, if you are fond of this savory drink. As this recipe was created at the King Cole Bar in The St. Regis Hotel New York, every other bar of the chain makes its own interpretation of the timeless classics. Macau's version is called Maria do Leste, a combination of spicy, smoky, fresh, and salty notes. It features ingredients from the Portuguese Empire ex-colonies following the trail of Portuguese sailors. While you are sipping a cocktail of your choice, enjoy the sounds of jazz performed by a talented duo of musicians, Aaron Lo, a pianist and vocalist, and Jandira Silva, a vocalist.
The St. Regis Bar Macao 2F, The St. Regis Macao, The Londoner Macao, Estrada do Istmo, s/n, Cotai, +853 2882 8898, www.thestregisbarmacao.com
Also read: The St. Regis Bar Macao: The Hottest Spot in Town 
The Ritz-Carlton Bar & Lounge 
Hands down, The Ritz-Carlton Bar & Lounge is one of the most popular spots for a drink in a classy setting. The awarded bar is located on the 51st floor of the luxurious The Ritz-Carlton, Macau features stunning views of Cotai, a live band on weekends, and, of course, unique creations that won them those awards and loyal customers. There is no better bar to savor gin and tonics as the Ritz' gin collection consists of around 140 bottles! As for the cocktails, many of them are gin-based, however not exclusively.
The signature cocktails mostly have a sweet flavor profile and feature typical Asian ingredients. Sawayaka, inspired by Japan, is mixed with yuzu-infused gin and maraschino. Great Fortune's main elements are concubine tea-infused gin and Kyoto liqueur. If you are into fruity drinks, you would probably enjoy a Pinky Breeze made with in-house made raspberry syrup. If you don't find a drink you'd like on the menu, just ask the friendly bartender. Their expertise in mixing and knowledge of recipes won't leave you disappointed. 
The Ritz-Carlton Bar & Lounge Galaxy Macau, Estrada da Baía de Nossa Senhora da Esperança, Cotai, +853 8886 6712, www.ritzcarlton
Vida Rica Bar 
What do we love about Vida Rica Bar at Mandarin Oriental, Macau? Picking only one reason would be mission impossible! For starters, MO's proximity to Nam Van Lake makes the bar one of the best sunset-watching spots with magnificent views. Then, it's their chic and classy interior and outstanding service but what makes us come back here is primarily their cocktail culture.
Their Bar Stories saga brings the creme de la creme of the mixology world to Macau. Local bartenders know their craft and are always fun to chat with. But most importantly, they know how to mix a cocktail and juggle unorthodox flavors to create something unique and memorable. Not only can you expect to see all the latest mixology trends here, but a fusion of gastronomy and mixology in a glass. Naturally, there is nothing they don't have in the shaker for you, so ask away whatever you prefer. But do take a look at the Art in Mixology menu that most likely became why The Bar Awards Hong Kong and Macau 2019 bestowed Vida Rica Bar two awards, for the best bartender and the best hotel bar.
The first volume (no longer available) featured drinks influenced by local artists and their art. The second volume, Art in Mixology: Cinematique, results from a collaboration with Cinematique Passion, a place of independent, arthouse, and local films. Among the 11 creations on the menu are Gin, Sake, and Margharita, named after a short film directed by local talent; Pundusina with clarified Yakut; and Illigalist, a complex fusion of sour, sweet and smoky flavors.
Also read: 5 Reasons Why We Love Vida Rica Bar at Mandarin Oriental, Macau

Vida Rica Bar Mandarin Oriental, Macau, 945 Avenida Dr. Sun Yat Sen, NAPE, +853 8805 8928, www.mandarinoriental.com
The Macallan Whisky Bar & Lounge
As the name suggests, Macallan is where you should go if your whiskey knowledge goes beyond Jim Beam and Jack Daniels. A cozy interior with leather armchairs, a fireplace, and vintage carpets resembles an elegant living room that sets a perfect stage for single malt appreciation. However, not everybody knows that Macallan is also one of the best cocktail bars in town. Otherwise, it wouldn't be on this list, right? 
From classic cocktails to signature creations, they can mix anything that you wish. Naturally, there are many whiskey-based cocktails. If you ask, they would add a particular whiskey in the blend. One of their distinguished offers is the Old Fashioned experience. Choose a liquor that you prefer, be it bourbon, Japanese whiskey, or cognac, and watch the bartender working his magic on the whiskey trolley. Although their focus lies in whiskey and whiskey-based drinks, there are all kinds of spirits and even a whole page of different mojitos, if you feel like having something tropical.  
The Macallan Whisky Bar & Lounge 203, 2/F, Galaxy Hotel, Galaxy Macau, Estrada da Baía de Nossa Senhora da Esperança, Cotai, +853 8883 2221, www.galaxymacau.com, www.facebook.com/galaxymacau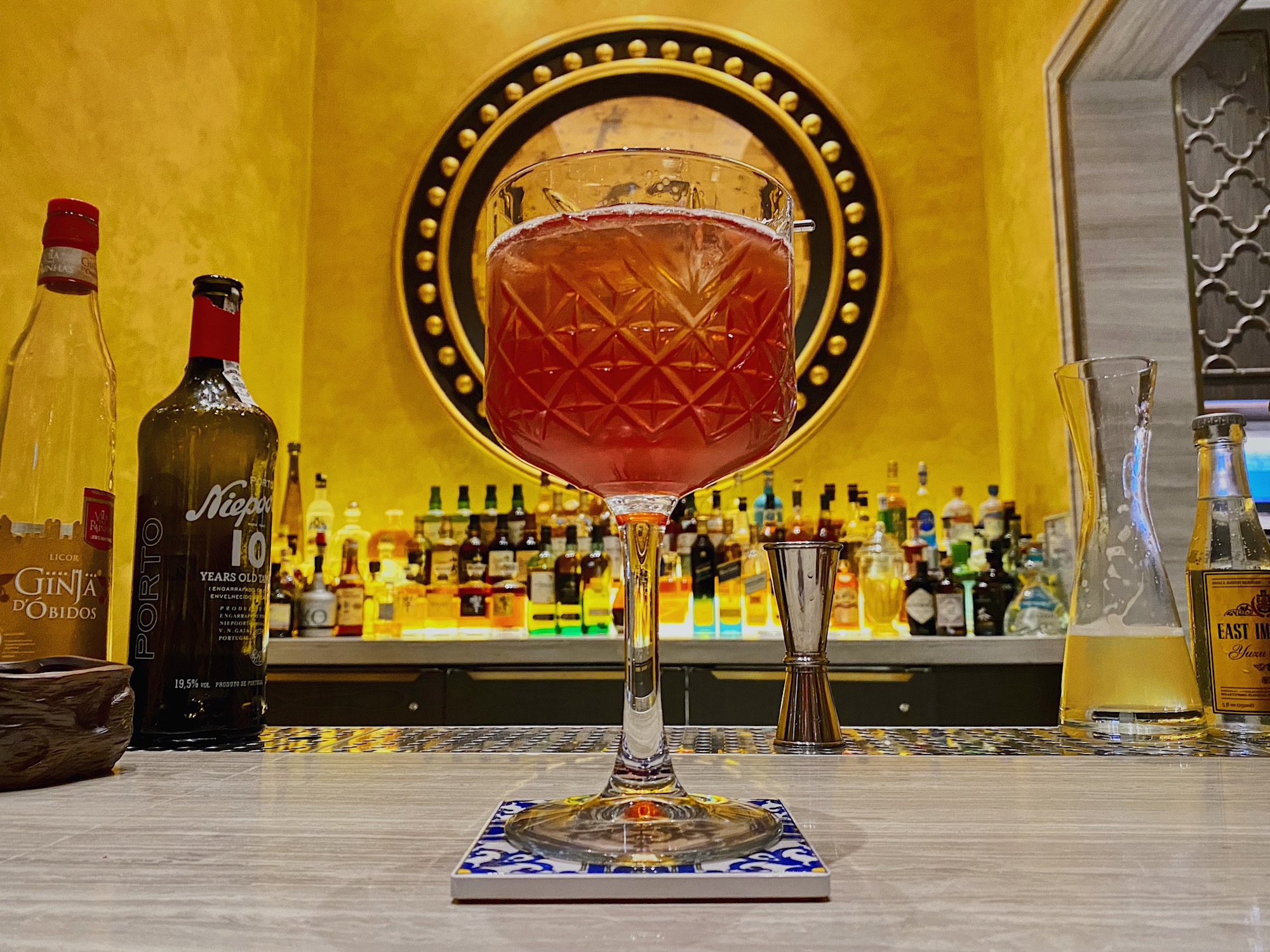 Bar Patuá
Patuá at MGM Cotai got its name from the local creole language, a fusion of European and Asian elements. Everything at the bar reflects this concept, from the interior to the bar menu. Its design in golden and beige with bright ruby accents, azulejo coasters, and Portuguese wall art takes guests on an exciting adventure of unique Macanese culture and mixology wonders. Patuá's head bartender Paul is a geek when it comes to cocktails and spirits. He loves getting into specifics, learning all the details about the production and ancient traditions to create perfectly balanced concoctions.
The signature cocktail menu features five drinks influenced by five establishments at MGM. Patuá is a complex blend of Chinese and Portuguese flavors with sweet, sour, and spicy notes. The spices and flavors of Five Foot Road restaurants are represented in the cocktail with Sichuan pepper notes and homemade bitters. Refreshing and fruity Rossio is a lighter cocktail perfect if you like drinks such as sangria or Aperol spritz. Don't hesitate to ask Paul for advice. If you didn't find anything you want, he'd surprise you with an impressive mix explicitly crafted for your taste.
Bar Patuá MGM Cotai, Avenida da Nave, Deportiva, Cotai, +853 8802 8888, www.mgm.mo
Also read: Paul Zhang: An Ambassador of Chinese Mixology at Bar Patuá

Goa Nights
Not all must-visit cocktail bars are in hotels and resorts! One of them can be found on the narrow streets of authentic Taipa Village. A trendy two-story spot, Goa Night offers equally decent tapas-style Indian dishes and cocktails. Apart from that, you will always find excellent service with a smile there, a great atmosphere, and funky beats. Have we mentioned that The Bar Awards Hong Kong and Macau 2019 named it the best non-hotel bar in the city?
When it comes to drinks, they have plenty of options with no misses among them. If you like your drinks like you like your movies–time-tested and created during the Prohibition era–check out their list of classic recipes. From all-time favorites like the Negroni and Old Fashioned to lesser-known yet no less worthy Boulevardier and Hanky Panky, this list will make every cocktail fan nod in approval. 
Besides the traditional drinks, Goa Nights' bartenders crafted nine signature creations inspired by the voyages of Vasco da Gama. Named after a location, each of them features an ingredient to the region: Lisbon with port wine, Cape Verde with coconut rum, and more. Moreover, there is a special section on the cocktails menu influenced by Goa and Macau's landmarks, a unique way to embark on a journey without leaving your bar stool! 
Goa Nights, 118 Rua Correia da Silva, Taipa Village, +853 2856 7819, www.facebook.com/goanightsmacau
L'Attitude 
A perfectionist in all his endeavors, monsieur Alain Ducasse personally makes sure everything in his restaurants down to the tiny details is set at a high standard. Inspired by a traditional French bistro, L'Attitude at Morpheus Hotel features time-proven recipes. On the other hand, their signature cocktails are nothing less than innovative and trendy. On your next visit, take a pit stop at their magnificent bar with emerald plush chairs and ash marble counter to savor a drink or two. As a French restaurant, L'Attitude focuses on French liquors, including Alain Ducasse's brand. 
Their signature concoctions will surprise you with a creative presentation that goes beyond a beautiful glass topped with a nice little garnish. For instance, the Guns and Roses' preparation is as fascinating to watch as it is enjoyable to sip. Served in a martini glass with a smoke bubble on top and rose petals around, it is a perfect drink for a romantic date! Fans of sours will be fond of This is my Passion, a balanced sour with passion fruit. And if you are into stronger drinks, don't ignore a favorite of Alain Ducasse, Oui Chef, a twist on Negroni with kalamansi puree and Fernet Branca.  
With all that said, feel free to share your preferences with the bartenders here. They take pride in their talent of addressing the personal taste of every guest and will spare no effort to become your favorite bartender in town. 
L'Atittude City of Dreams Macau, Estrada do Istmo, Cotai, +853 8868 6688, www.cityofdreamsmacau.com
Also read: Where to Have Gin & Tonic in Macau
Wing Lei Bar
A jewel box, that's what they call Wing Lei Bar for its opulent design with an antique 18th-century chandelier, mirrors, emerald plush, and semi-precious stones. After you finish creating content for social media, take a glance at the signature cocktails section as there are several original creations worth your attention. Among them are a fresh and fruity Rhurbarbu, citrusy The Flower Carrier with tonka beans, and a delicious twist on an all-time classic, Wing Lei Bar Old Fashioned with stout reduction.
If you are a classy kind of guy who loves martinis, don't miss Wing Lei's luxurious Million Dollar Baby, a cocktail sprinkled with truffle shavings and golden flakes served with caviar on the side. It is pricey but pays off with a combination of bold flavors and stunning presentation. 
Wing Lei Bar Wynn Palace Cotai Avenida Da Nave Desportiva Cotai, Macau, +853 8889 3663, www.wynnpalace.com/en//wing-lei-bar
SW Steakhouse 
One of Macau's best steakhouses and another Wynn Palace establishment on our list, SW Steakhouse, is much more than a restaurant with juicy ribeyes and filet mignons. If you have been postponing a fancy dinner date, uncertain if you can afford it, come to the restaurant and head directly to the bar counter. If steaks are not your goal, it doesn't mean you should ignore the place completely. The local team of mixologists knows their craft and is eager to share some secrets with you over a flowing conversation while mixing you a cocktail. Tell them what you like and trust their instincts! 
But don't forget to explore the drinks menu and see what they have to offer. The signatures here are original interpretations of all-time favorites. Try SW's take on the Aviation called Fly Me to the Moon, a refreshing drink with yuzu. Fans of the savory Bloody Mary would enjoy The Bone Doctor, a twist on classics with roasted bone marrow. However, their forte is the aged barrel cocktails matured in American oak barrels. The aging process is a science that requires expertise and precision every step of the way. The maturation adds mellowness and takes off the edge. If done right, aged cocktails, even the strongest ones, are smooth and easy to drink. So if Negroni is your poison, then SW Negroni or Mezcal Negroni should be on your must-try list. 
SW Steakhouse Wynn Palace, Avenida da Nave Desportiva, Cotai, +853 8889 3663, www.wynnpalace.com
Antica Trattoria 
An Italian restaurant run by a Portuguese Macau local, Antica Trattoria also offers some of the city's coolest cocktails. Frankly, it is a no-brainer because Bruno Santos is an established mixologist well-known in Macau. Moreover, he is the founder of UBCM (Union of Bartenders & Cocktails of Macau) and the secretary at IBA, International Bartenders Association. And last but not least, Antica Trattoria received the award for the Hospitality Team of the Year at The Bar Awards Hong Kong & Macau 2019, a well-deserved appreciation.
If the numerous titles and awards don't faze you, let's get down to mixology. To connect Macau's diverse history with cocktail culture, Bruno and his team created the Little Red Book, a selection of six creations inspired by the historical event of 1966 and its preconditions. With every drink, you can learn a little bit of Macau's past and the bartenders' mastery of blending Asian and Western liquors and ingredients. Home-made syrups go together with Chinese baijiu and spiced liquors, Porto is mixed with Agua Ardente and poured into a teacup; both flavors and presentation are surprising but impressive. You would not find something similar anywhere else in town!  
Antica Trattoria 40-46 Edificio Vista Magnifica Court, Avenida Sir Anders Ljungstedt, Macau, +853 2875 5102, www.facebook.com/anticatrattoriamacau
Also read: At the Bar With Bruno Santos of Antica Trattoria
Bar Das Glas 
A coffee shop by day and a bar by night (only on Fridays and Saturdays), Bar Das Glass is another hidden gem for cocktail aficionados. A two-story coffee shop in front of the Tap Seac Square is not as secret as Ninety-Nine Pieces, but you do need to know where to look for it. Don't expect bizarre ingredients or out-of-this-world presentation–at Bar Das Glass, they keep it simple. Classic cocktails here are grouped by the main spirit and include the well-known Moscow Mule, Negroni, Manhattan, and more. If you wish to try something new, look at their Special that mostly featured gin-based drinks such as Thyme Sour made with bourbon, cinnamon syrup, lemon juice, aquafaba, and thyme. Even though the bartenders take their time preparing a drink, the wait pays off with excellent flavors.
Bar Das Glas (look for ORA Coffee) 9 Filipe O'Costa, Macau, +853 6531 6705,  www.facebook.com/bardasglasmacau
Mesa
One of the hottest additions to Cotai's restaurant scene in 2021, Mesa features contemporary design influenced by Asian traditions and delicious Portuguese food with a modern twist. It is also a nice spot to meet your friends for a few cocktails.
The man behind the bar counter and the creative cocktail menu at Mesa is master mixologist Nokoy Mak. The bar list's gem is twelve Macau-inspired concoctions, each with a story behind it. The rum-based citrusy Find Wisdom with crème de violette and butterfly pea syrup is dedicated to Senado Library. The Tak Seng's On Pawnshop on Avenida de Almeida Ribeiro is behind the recipe of The Taste of Virtue and Success, featuring mushroom-infused bourbon, Chinese vinegar, and celery salt, an unusual combination of flavors that come together perfectly. We recommend taking a seat at the bar counter to learn more exciting stories of Mesa's cocktails and drink your way through Macau's rich history. And if you are hungry, pair your cocktail with petiscos by Mesa's head chef Andre Lai.
Mesa Level 3, The Karl Lagerfeld Tower, Grand Lisboa Palace Resort Macau, Rua do Tiro, Cotai, +853 8881 1800, www.grandlisboapalace.com/mesa
Photo credits: Ksenia Kuzmina, Antica Trattoria
Tags
Related Posts