September is here and there's so much to do this month as a family! Sure, school has started for the kids but that doesn't mean quality time can't be had. Grab a wonderful Sunday brunch to catch up with everyone, celebrate Mid-Autumn Festival with mooncakes, catch the legendary fireworks display and more; make time on your September calendar for these super fun family-friendly events in Macau!
A Journey of Imagination Sunday Brunch with Jak at The Manor
(See featured image above)
A New York-inspired culinary journey of imagination awaits every Sunday with a spectacular Gourmet Tour Sunday Brunch at The Manor featuring the St. Regis Macao's very own Jak. In true St. Regis style, Sunday Brunch guests can indulge in an endless array of the freshest seafood, succulent prime meats and a live-teppanyaki station, a selection of pass-around signature dishes, and then finish off with an assortment of decadent French-themed desserts.
Guests are invited to experience Jak's stories while enjoying the lavish brunch, with the dining areas of The Manor transformed into a New York theme inspired by Jak's hometown. New York is home to the first St. Regis founded in 1904, where Jak grew up and heard all the fascinating stories about the founder of the original St. Regis hotel, John Jacob Astor IV, after whom Jak is named. To spark imagination, children receive an exquisite Jak cookie decorating kit that includes a Jak-shaped cookie and frosting that they can bring home as a keepsake or play with during the brunch.
When: 12:00pm–3:30pm, Every Sunday, 2019
Where: The Manor, 1/F The St. Regis Macao, Cotai Central, Estrada Do Istmo, S/N, Cotai
How much: MOP $528 per adult (includes unlimited non-alcoholic beverages, fruit punches, cold-infused tea, plus non-alcoholic champagne for the little ones)
Children under 12 years enjoy a 50% discount, and complimentary for children under three
For more information and reservations, call +853 2882 8898 or send an email to [email protected]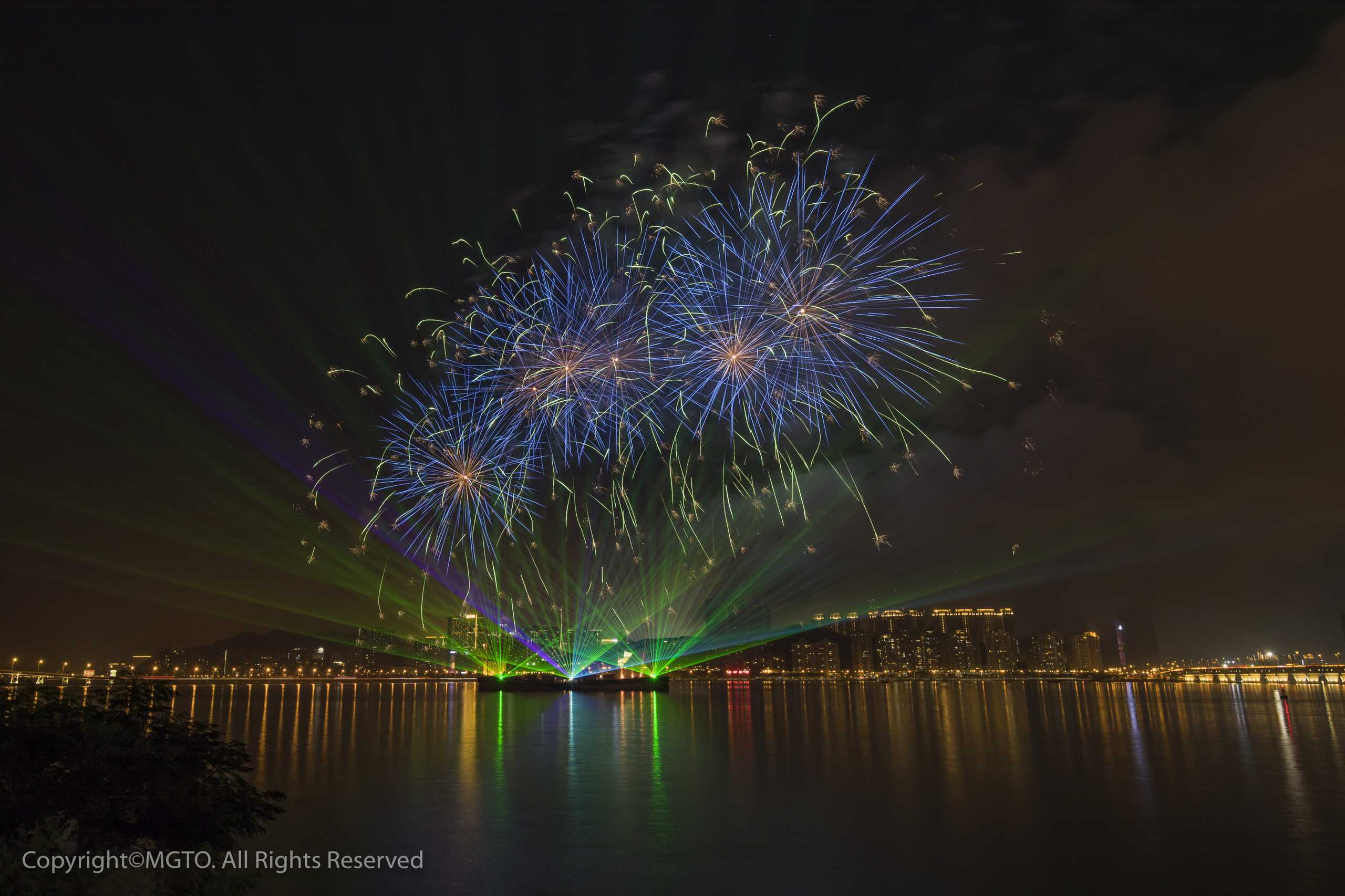 Imagine the night sky of Macau aglow in a starburst of magnificent fireworks accompanied by the cheers and applause of spectators enjoying this spectacular light and sound show. What a splendid scene! The annual Macao International Fireworks Display Contest usually takes place on several Saturdays every September, on Mid-Autumn Festival and on China's National Day–October 1. The marvellous fireworks displays add a joyous atmosphere to holidays and festivals and have become an annual must-see in Macau, with many spectators especially choosing this time of the year to visit for an exotic and romantic break.
The Macao Government Tourism Office staged the inaugural edition of the Macao International Fireworks Display Contest in 1989, which featured only five participating teams. By 1995 the annual event had developed into a ten-team event, with two different teams demonstrating their expertise each night, a successful format that continues to this day. The Macao International Fireworks Display Contest has grown over the years into an internationally acclaimed event and is acknowledged as one of the best of its kind. Over the years, more than 100 outstanding teams from China, Japan, Korea, Thailand, Malaysia, the Philippines, Australia, Chinese Taiwan, the United Kingdom, France, Switzerland, Italy, Spain, Portugal, Germany, Austria, Poland, Croatia, Finland, the United States, Canada and South Africa have participated in this pyrotechnic wizardry.
When: Saturdays, 9:00pm and 9:40pm, September 7, 13, 21 and 28, October 1 and, 2019
Where: Sea Area in front of the Macau Tower, Largo da Torre de Macau
How much: Free admission
For more information, check the event's official website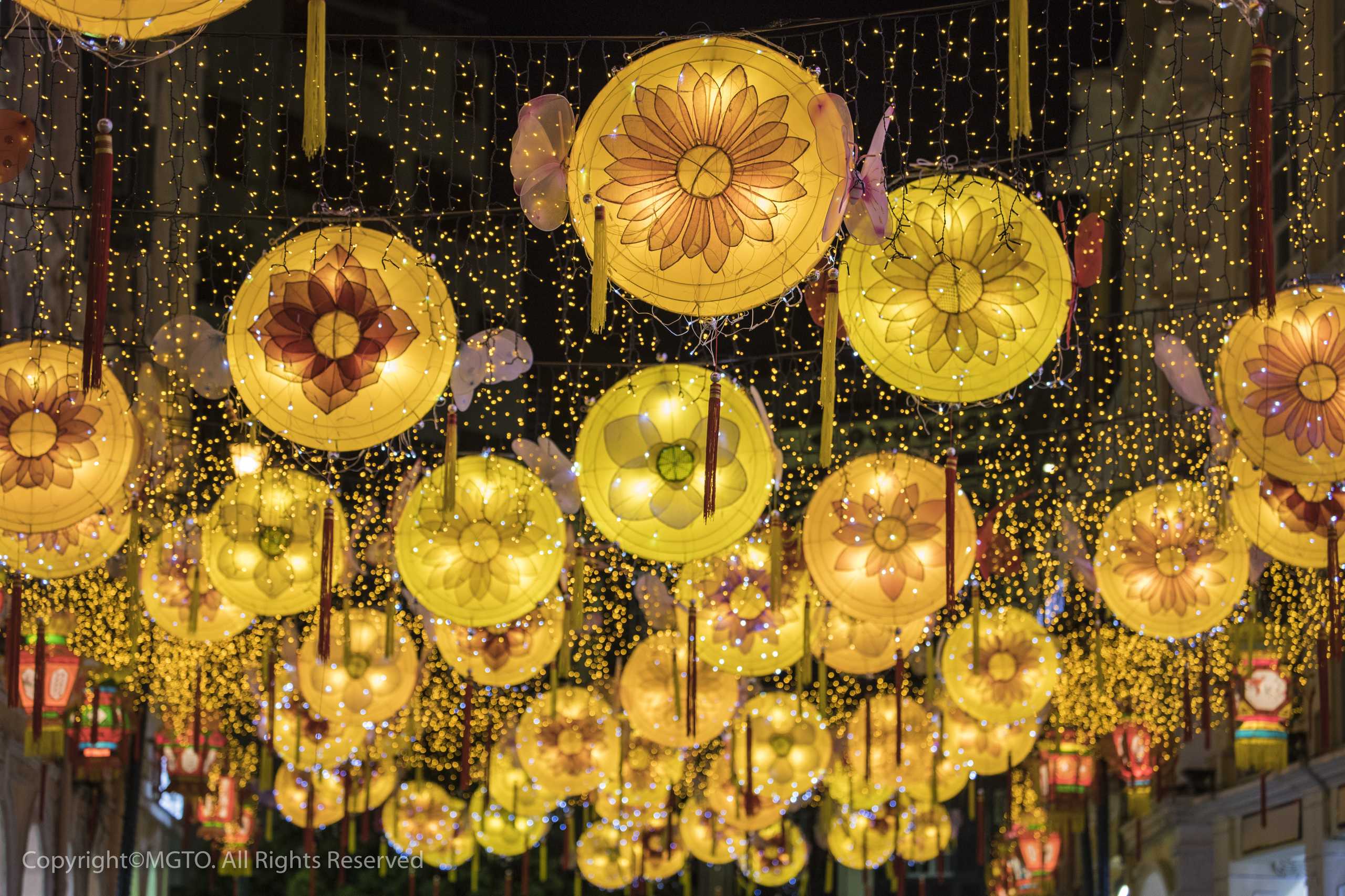 The Mid-Autumn Festival falls on the fifteenth day of the eighth month in the lunar calendar. Festive vibes permeate the town where main streets are decorated with colorful lanterns to celebrate the festival. As one of the most celebrated festivities in Chinese culture, the Mid-Autumn Festival symbolizes a time for family reunion. Locals enjoy eating mooncakes and offer this sweet pastry as a gift to relatives and friends as a tradition for this occasion.
During the Mid-Autumn Festival, families gather for a joyful dinner followed by a night out admiring the beautiful full moon. Others may enjoy a picnic in the garden, by the lake or beach, having mooncakes and fruits that are in season under the moonlight while children play with traditional paper lanterns or more flame-resistant plastic ones that light up.
When: Friday, September 13, 2019
Where: Commemorative Gallery of the Macao Basic Law, Avenida de Marciano Baptista, Macau (left side of the Macao Forum's Main Entrance)
How much: Free admission
For more information, check this website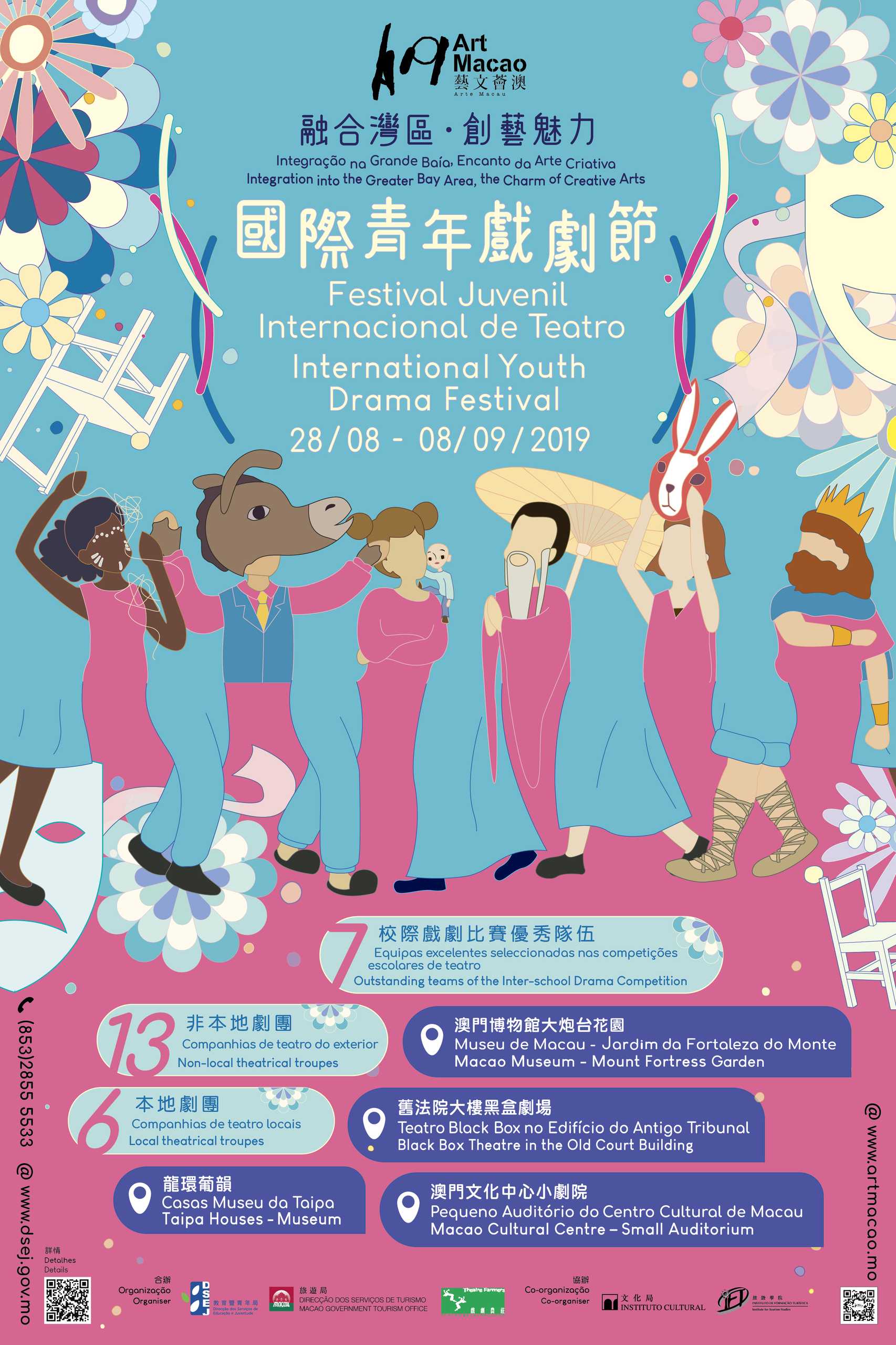 During the festival, there will be 15 indoor, outdoor and site-specific theatrical performances. Performance sites include Macao Cultural Centre–Small Auditorium, Blackbox Theatre in the Old Court Building, Taipa Houses‒Museum, Macao Museum–Mount Fortress Garden, and others. There will be various theatrical performances, including the musical, physical theater, mime theater, puppet show, improvisational theater, sensory theater for young children and other diverse plays. Macau's youth and visitors will be exposed to theatrical arts and will experience the entertainment of theater through different senses.
Non-local theatrical troupes attending the Drama Festival 2019 are from Cape Verde, Korea, Japan, Malaysia, Portugal, Singapore, Ukraine, regions in China such as Shanghai, Guangzhou, Taiwan, and Hong Kong. Macau theatrical troupes include Theatre Farmers, SPARK Theatre Group, Miracle Lab, Rolling Puppet Alternative Theatre, Big Mouse Kids Drama Group, and Bomb Theatre Garden. Some non-local theatrical troupes will perform together with local theatrical troupes to demonstrate artistic abilities, exchange knowledge with and learn from each other.
When: August 28–September 8, 2019
Where: Macao Cultural Centre, (Small Auditorium), Old Court Building, Blackbox Theatre, Taipa Houses, Square of Macao Museum
For more information, check here or DSEJ's official website, and for scheduling, check here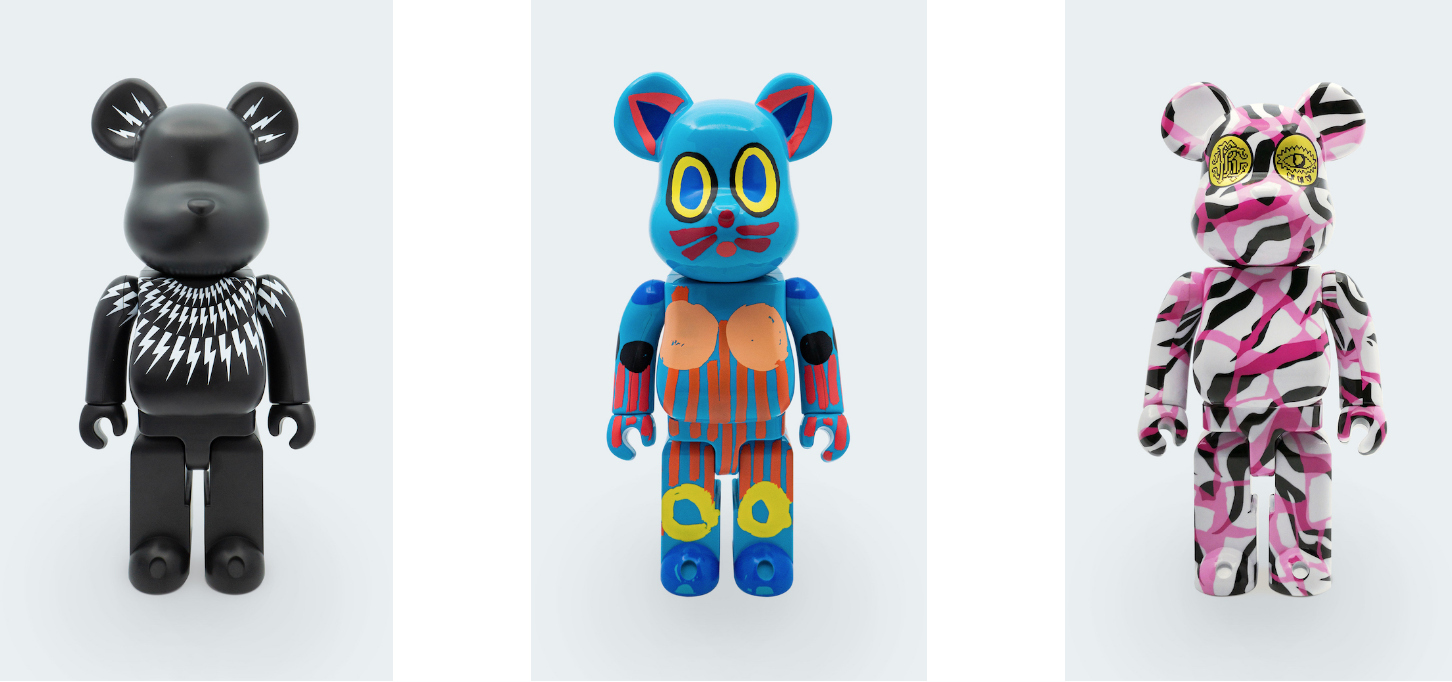 The Promenade Shops at Galaxy Macau welcomes the world's first [email protected] MACAU 2019. Available until September 15, [email protected] MACAU 2019 is presented by the iconic [email protected] and WF Fashion, Macau's fashion and lifestyle multi-brand store. Bearbrick (rendered [email protected]) is a collectible toy designed and produced by the Japanese company MediCom Toy Incorporated.
Since its inception in 2001, [email protected] has risen to global popularity and has forged partnerships with some of the world's most prestigious artists and brands. This year's fashion art exhibition at Galaxy Macau sees participation from WF Fashion and seven leading international fashion brands–La Maison Du Chocolat, MARNI, Neil Barrett, Pinel et Pinel, Roberto Cavalli, Sergio Rossi, and VITAL MATERIAL. There will be seven unique 3000% [email protected] installation that stands 2.1 meters tall in different corners of The Promenade Shops. Make sure you visit all of them! For a [email protected] to call your own, you may shop their collection of 100%, 400% and 1000% [email protected] The all-time popular MY_FIRST [email protected] [email protected] collection features an exclusive crossover edition with WF Fashion with the word "Macau" on it. This unique collection comes in limited colors, together with a special edition chrome gold version [email protected]_AROMA_ DIFFUSER from Japanese organic fragrance brand Vital Material, will be available for sale.
When: July 6–September 15, 2019
10:00am–10:00pm (Sunday–Thursday)
10:00am–00:00am (Friday and Saturday)
Where: Pearl Lobby, The Promenade Shops, Galaxy Macau, Estrada da Baía de Nossa Senhora da Esperança, Galaxy Macau, Cotai
How much: Free admission
For more information, check their official website
Art Macao is spreading art all over the city and it's no different outdoors. There is an array of art pieces scattered around in parks and gardens across Macau, including Cotai and Taipa. "Happy Heads" is at Jorge Álvares Square until August 15. Created by Benoit+Bo–a duo of Franco-Chinese visual artists–it's a sight to see in the middle of the grass. Their artistic practice is above all an invitation to travel. They work on territories and landscapes from their own memories and places they have visited. Through photography, sculpture or video, these artists can evoke the various issues of today's world. "Happy Heads", which they call "smiling heads", are colorful masks inspired by popular Chinese festivals. The mask is their emblem but also the link between all their works made since the creation of their duet in 2003.
Fernando Pessoa is a famous Portuguese poet and author, whose work was acclaimed with its unique poetic quality and philosophy. He was also famed for "inventing" personalities, fabricating 75 heteronyms to replace himself. Wong Ka Long's "The Wanderer" sculptures wandering in the same place are and aren't Pessoa at the same time, resonating with the heteronyms he invented. "Sanctuary", designed by João Ó and Rita Machado is a site-specific outdoor intervention located at the top of the hill, within the defence walls of Mount Fortress, once a historical military center of Macau, now transformed into a prime location for tourists to get a panoramic view of the city and the mainland areas. "Contemplation of Lovingkindness" by Mok Yat-San, is a set of stainless steel sculptures combining elements of Chinese ink art and the contemporary landscape.
When: June–October, 2019
Where: Anim'Arte Nam Van, Macao Cultural Centre, Taipa Houses-Museum, Praça Jorge Álvares, Mount Fortress
How much: Free admission
For more information, check here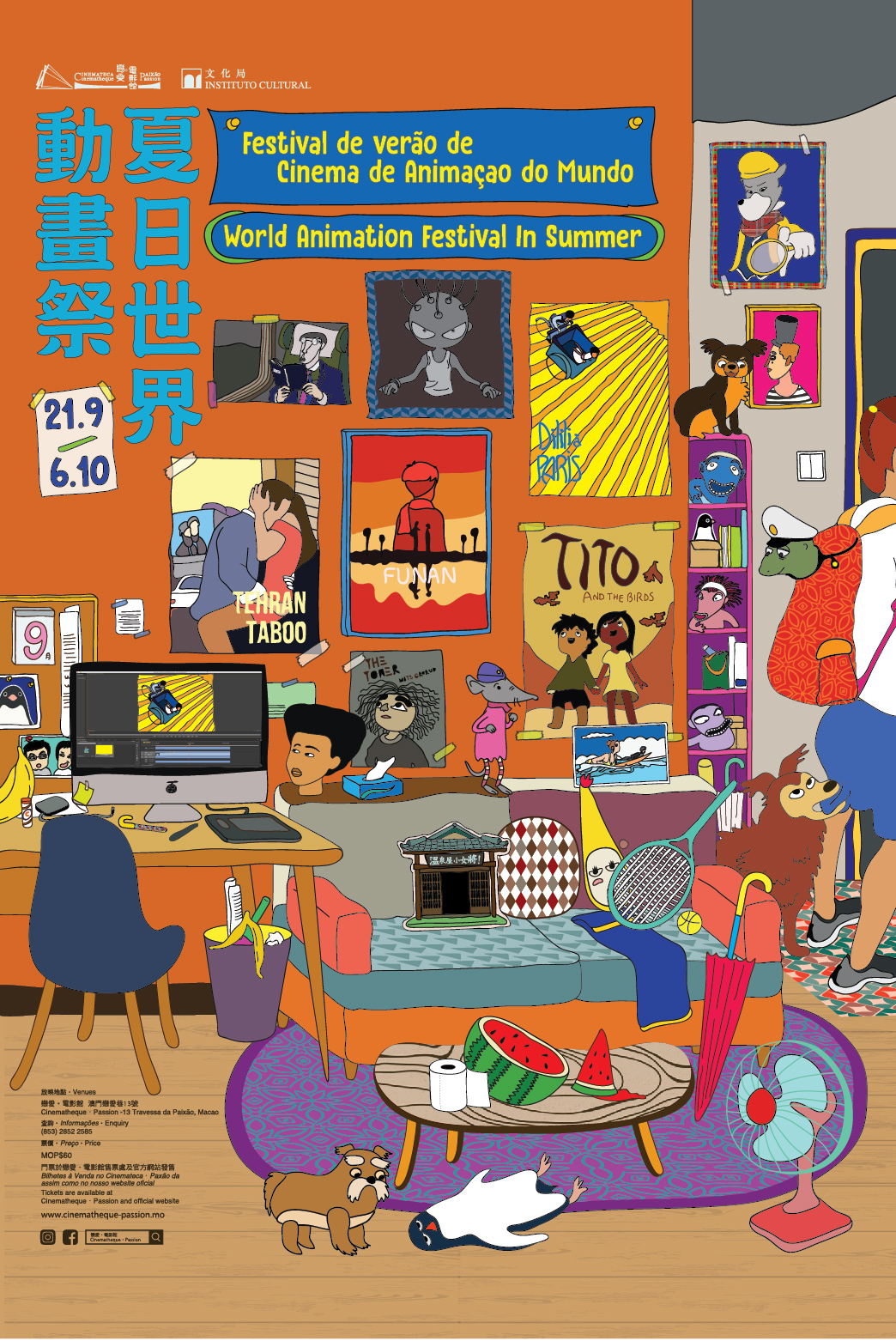 Cinematheque ‧ Passion brings the exciting World Animation Festival from September 21 to October 6. Kicking off the festival is César Awards' Best Animated Film winner Dilili in Paris, unveiling the enchanting scenery of La Belle Époque in Paris. "Family Fun" session presents delightful adaptations and adventurous pieces. "Japanese Animation" unites the works of top Japanese animators including Yuasa Masaaki and Kitarō Kōsaka. "World Horizon" investigates cultural and social issues from different parts of the world in unique animation styles. The closing film "The Tower" is a moving illustration of the life of Palestinian refugees. Local animator Pundusina is invited to lead two workshops for children of different ages in creating their first animation set and props.
Popular local animator Pundusina is going to lead two workshops–one for 5-7 year olds and the other for 8-10 year olds. Kids will learn the magic behind animation and how to transform toilet paper rolls and paper cups into decorations and sets for animation.
When: September 21–October 6, 2019
Where: Cinematheque Passion, 13 Travessa da Paixão, Macau
How much: Workshop – MOP $100 per person
Movie sessions – MOP $60 per person
Full-time students and senior citizens age 65 or above can enjoy 50% discount on ticketing
For more information, call +853 2852 2585, check their brochure online or their official website
Tags
Related Posts