September is sizzling with stylish events, starting with the Sofitel Wine days to kick off an exciting weekend in Macau. Watch the Super 8 showdown at Studio City as international teams battle it out in Asia's premier basketball tournament. Don't miss Hong Kong's dining institution, Lily & Bloom, as Chef Grare takes over Vida Rica Bar in an ultimate gastronomic experience. There are so many ways to cherish the weekend in Macau.
(Featured image above)
Experience the stylish setting of Sofitel Wine Days with the anticipated Apéro Chic Wine Tasting on September 22. A special collaboration with esteemed brand Superar. Toast and sip high-quality wines from Portugal, Italy and New Zealand, including Castas de Moncao, Paulo Laureano Premium Red & White, and Masumi Type -1 Sake. Chefs will prepare culinary delights to match, such as chicken shawarma and kambing guling. The event will be held at RendezVous Lobby Bar with an elegant ambiance to complement the wonderful affair.For one night only, embark on a romantic evening with music,
For one night only, embark on a romantic evening with music, gastronomy, and wine!
When: 6:00pm–9:00pm, Friday, September 22, 2017
Where: RendezVous Lobby Bar, Sofitel Macau at Ponte 16, Rua das Lorchas E Rua do Visconde Paco de Arcos, Macau
How much: MOP $198 per person
For more details, visit Facebook Apéro Chic Wine Event Page or www.sofitelmacau.com and contact +853 8861 7213

The start of a bold, new era in Asian professional basketball will be celebrated in Macau at Studio City Event Center from September 20 to 24, when eight of Asia's top teams come together for a groundbreaking invitational tournament.
The tournament aims to be the Asia Pacific's premier club-to-club basketball competition to crown the region's champion. The Super 8 features eight clubs from five regions, all of which are champion contenders in their domestic leagues and support efforts to increase club-to-club competition across the region. In addition to full domestic player rosters, each team will be allowed two import players, which will increase the level of competition excitement.
When: September 20–24, 2017
Group Stage: September 20–22 (Wednesday to Friday) 3pm, 5pm, 7:30pm, 9:30pm
Semi-Finals/Final Four: September 23 (Saturday) 7:30pm, 9:30pm
Final: September 24 (Sunday) 7:30pm, 9:30pm
Where: Studio City Event Center, Level 1, Studio City, Estrada Do Istmo, Cotai
How much: (A Reserve) MOP $780, MOP $880, (B Reserve) MOP $580, MOP $680, (C Reserve) MOP $380, MOP $480, (D Reserve) MOP $180, MOP $280,
For more details, visit www.studio-city.macau.com or call +853 8865 3333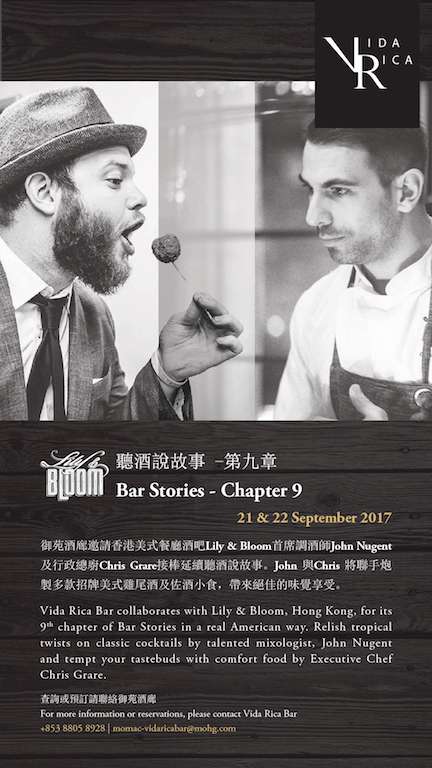 An exciting Chapter 9 of The Legendary Bar Stories will be held at Vida Rica Bar of Mandarin Oriental Macau. Lily & Bloom will be one of the anticipated restaurant and bars to showcase its signature cocktails and food, and Head Mixologist John Nugent and Executive Chef Chris Grare are taking over the entire bar area to satisfy guests' cravings with innovative cocktails and delectable fare.
For two evenings only, guests can enjoy classic cocktails with a unique twist by Head Mixologist John Nugent and Executive Chef Chris Grare's divine dishes from Lily & Bloom.
When: 7pm until midnight, Thursday–Friday, September 21–22, 2017
Where: Vida Rica Bar, Mandarin Oriental Macau, 945 Avenida Dr. Sun Yat Sen, NAPE, Macau
For more details, contact +853 8805 8928 or visit www.mandarinoriental.com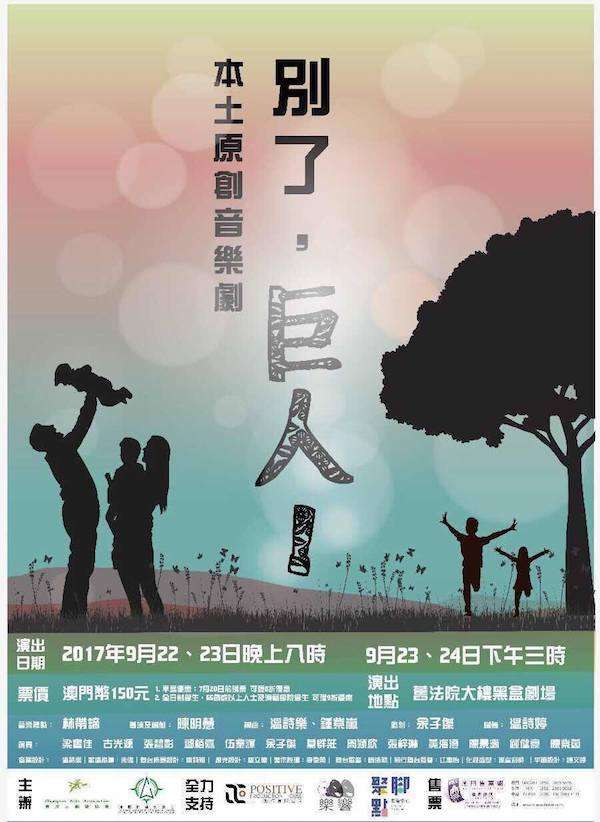 An original Macau musical "Farewell, Giant!" comes to life and depicts filial love when children occupied by their own families and jobs struggle to assume responsibility for taking care of their aged father. Recalling their childhood memories together, however, they start cherishing their final moments with their father, their giant. Don't miss the wonderful performances evoking sincere emotions.
When: Friday–Sunday, September 22–24
Where: 2F, Black Box Theatre at Old Court Building, Avenida da Praia Grande, Macau
How much: MOP $150
For more details, contact +853 2855 5555 or www.whatson.macaotourism.gov.mo.com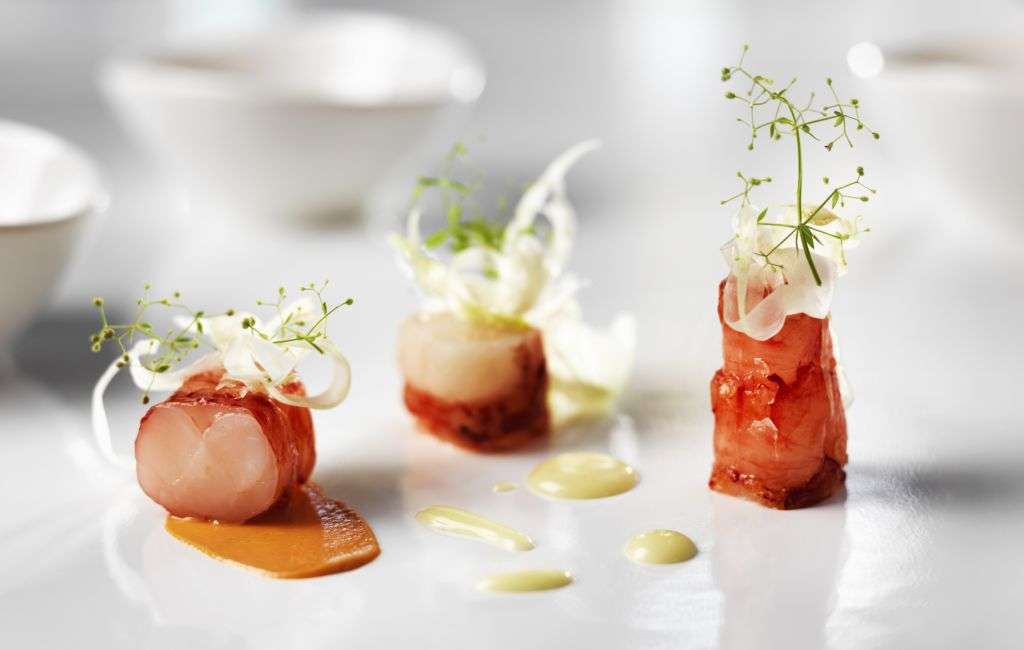 Celebrated German-Swiss chef Rolf Fliegauf, considered one of Europe's top culinary talents, will be making his debut in Macau this September as the final guest chef of this year's Michelin guide Hong Kong Macau Dining Series' International Chef Showcase.
With an impressive six Michelin stars under his apron, Chef Fliegauf will be presenting two exquisite tasting menus created exclusively for the Series at Yi Pavilion, Altira Macau. German-born Chef Fliegauf won his first Michelin star at the age of 26, only six months after opening his first restaurant Ecco Ascona in Switzerland. His three restaurants, Ecco Ascona, Ecco St. Moritz and Ecco Zurich, each holds two Michelin stars, making him the most awarded chef in Switzerland. Inspired by the natural surroundings of the picturesque lakeside locale of Ascona, Chef Fliegauf is highly regarded for his produce-driven dishes with inventive uses of seasonal ingredients.
Chef Fliegauf's four-course lunch and eight-course dinner menu, created especially for the series, will showcase his take on modern European cuisine. His dishes are a true reflection of his masterful culinary skills, with a playful use of ingredients and culinary creations inspired by some of his favorite Asian flavors.
When: September 22–23, 2017
Where: Level 10, Yi Pavilion, Altira Macau, Avenida de Kwong Tung, Taipa
How much: Four-course lunch with wine pairing: Saturday, 23 September
Price: MOP $888
Eight-course dinner with wine pairing: Friday, September 22 & Saturday, September 23
Price: MOP $1,888
For more details and reservations, visit www.guide.michelin.com.hk and www.altiramacau.com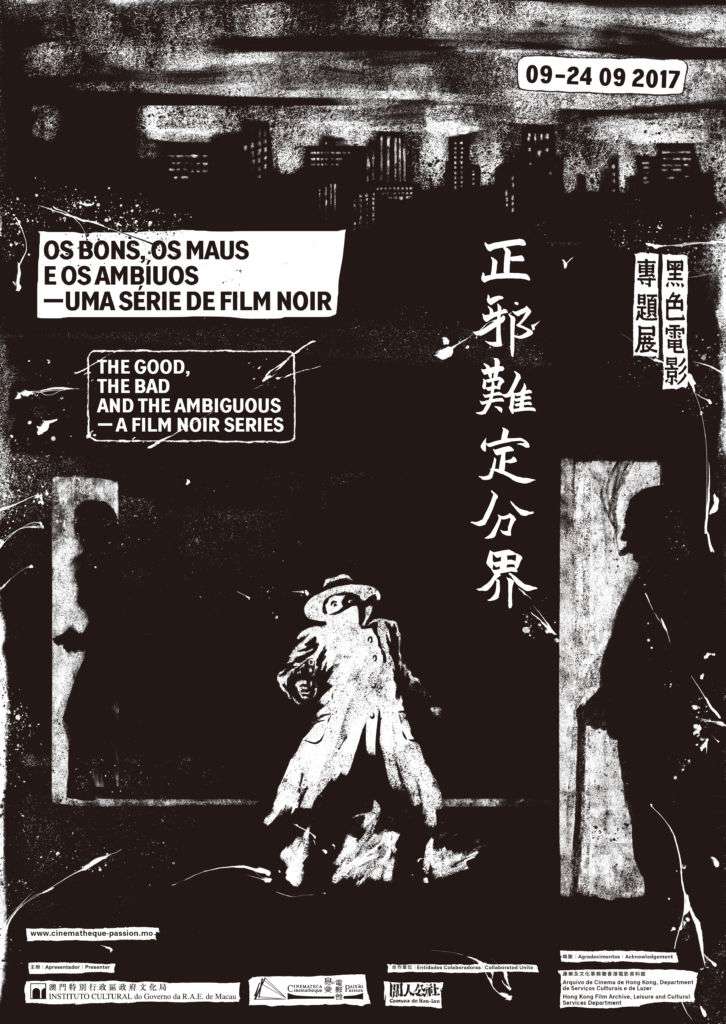 "The Good, the Bad and the Ambiguous – A Film Noir Series", a collaboration between Cinematheque Passion and Comuna de Han-Ian, will commence in September featuring 10 amazing classics from Europe, USA, Japan, South Korea and Hong Kong. Let's open our eyes to enjoy thriller films with unique visual styles.
Film noir is a cinematic term used primarily to describe stylish Hollywood crime dramas, which were popular from the early 1940s to the late 1950s. Film noir of this era is associated with a low-key, black-and-white visual style that has roots in German Expressionist cinematography, together with elements of French Poetic Realism, New York style street photography and detective novels.
When: September 9–24, 2017
Where: Cinematheque-Passion, 13 Travessa da Paixao, Macau
How much: MOP $60
Full-time students and senior citizens aged 65 or above can enjoy 50% discount. Each purchase of 10 tickets or more can also enjoy 20% discount.
For more details, contact +853 2852 2585, www.facebook.com/events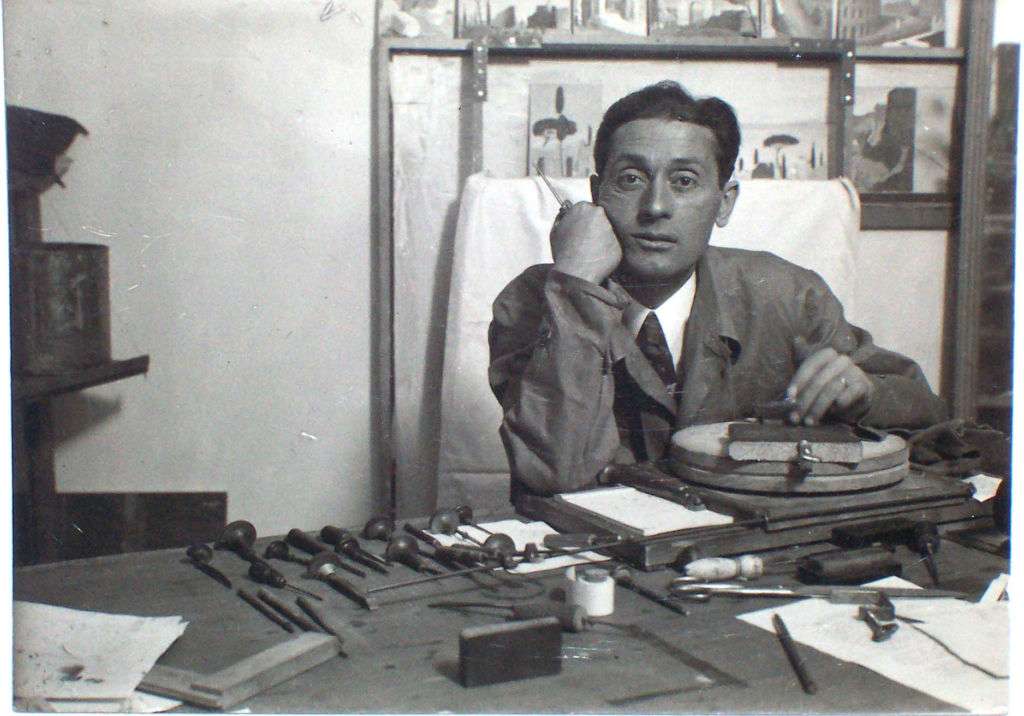 The Consulate General of Hungary in Hong Kong and Macao is proud to present the exhibition titled: Scenes of Daily Life: Graphic Arts Exhibition of Pál Molnár-C. (1894–1981).
The exhibition is supported by the Hungarian Ministry of Foreign Affairs and Trade, the Pál Molnár-C. Studio and Museum—Budapest, Hungary, the Consulate General of Hungary in Hong Kong and Macao and the Cultural Affairs Bureau of Macao (Instituto Cultural de Macau). The exhibition material consists of a collection of xylographs and other graphic arts works of renowned Hungarian artist Pál, Molnár-C. The exhibited 28 items were mainly produced in the period between the two world wars from 1920–1940. In addition, personal objects of the artist, such as paintbrushes, wood blocks, wood cutting tools, paint boxes will be on display as well.
When: September 13–29, 2017
Where: Taipa Houses Museum, Exhibitions Gallery, Avenida da Praia, Carmo Zone, Taipa
How much: Free admission
For more details, visit www.hongkong.mfa.gov.hu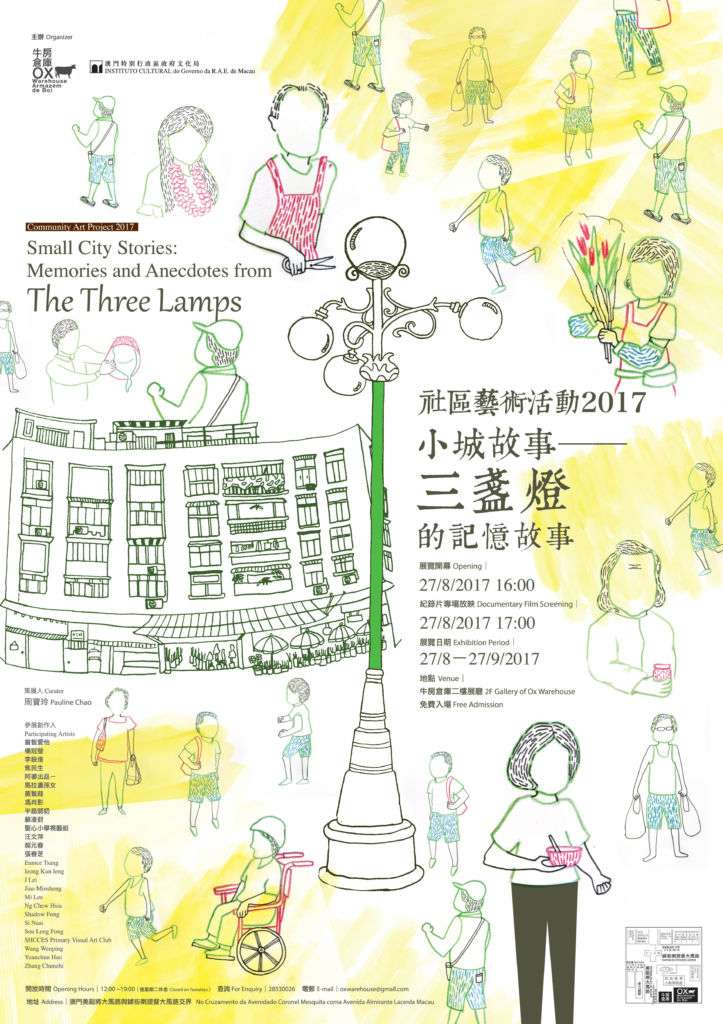 This year, the Community Art Project of Ox Warehouse revolves around the Three Lamps District (aka Rotunda de Carlos da Maia) and the people who were born and grew up in this area—the Burmese Chinese who settled in Macau after the anti-Chinese riots in Burma in the 1960s, owners and staff of stores and restaurants in the neighbourhood, schoolboys and girls on their way to and from school or just stopping for lunch, the old folks as well as the immigrant workers from Southeast Asia gathering in the leisure area.
Together with the project creative types, through communication, research and interviews with the residents in different approaches, on different subjects and topics of their interest, we aim to sort out and compile personal stories related to the Three Lamps District residents and its neighborhood, which will be presented through different artistic angles, on a variety of media.
When: September 3–27, 2017
Where: 2F, Gallery of Ox Warehouse, No Cruzamento da Avenidado Coronel Mesquita coma Avenida Almirante Lacerda, Macau
How much: Free admission
For Enquiry: +853 2853 0026 or [email protected]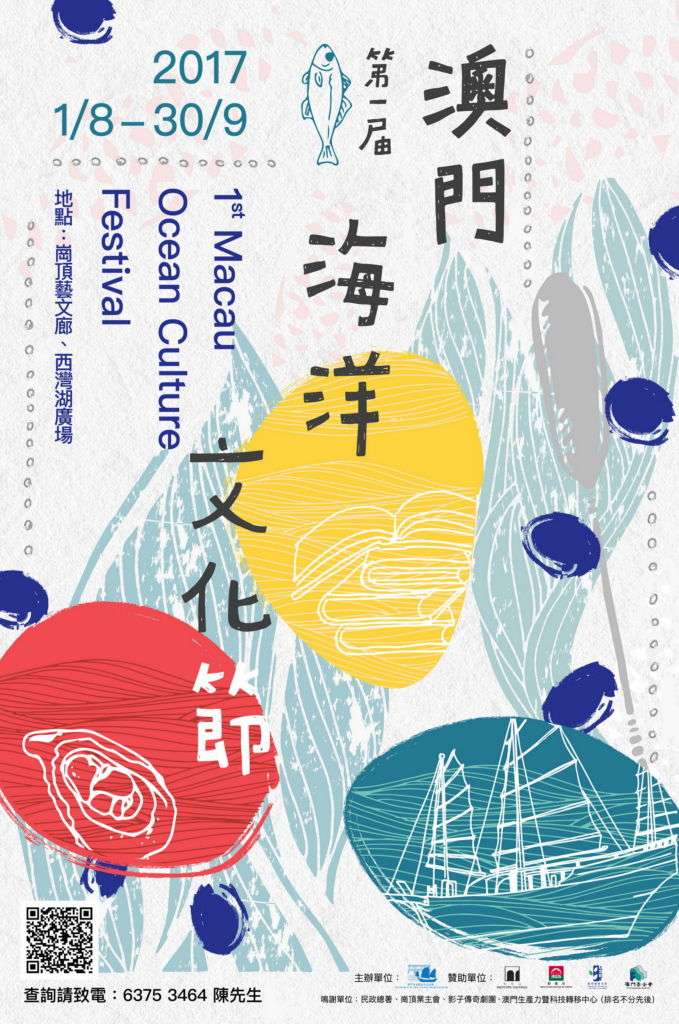 The first Macau Ocean Culture Festival celebrates Macau's long-standing waterborne culture and traditional industries with a series of public activities. The highlights include an exhibition with a special sailing ship "berthed" on Sai Van Lake Square, with outings on Sai Van Lake. In addition, a shadow puppet performance on September 17 recounts the impact of fisheries development on marine ecology and the fishermen's culture of Macau. Some of the other activities include guided tours, workshops, exhibitions, talks, reading clubs, and ecological tours. Everyone is welcome to explore and experience the event.
When: August 1–September 30, 2017
Where: Sai Van Lake Square and Dom Pedro V Theatre, Macau
How much: Free admission
For more details, contact +853 6375 3464, www.porthistory.org.mo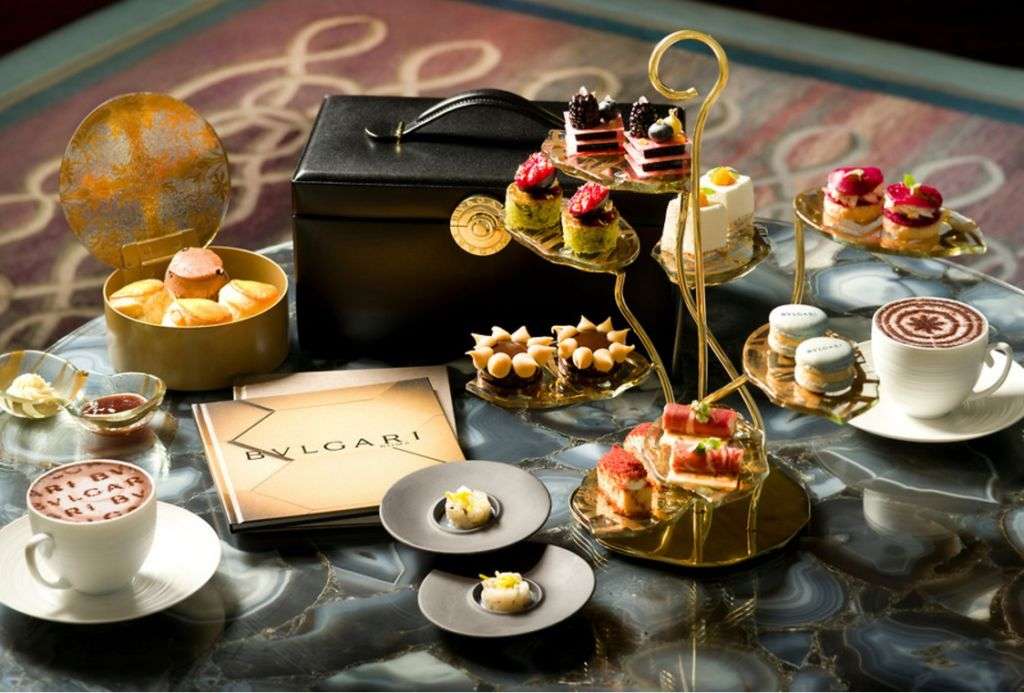 In celebration of edible fashion, the Italian Magnificent Jeweler BVLGARI is collaborating with The Ritz-Carlton Bar & Lounge to present an exclusive BVLGARI "Roman Holidays" afternoon tea experience from July 15 to August 31.
Inspired by the magnificent culture and history of Rome, the set will tantalize guests' taste buds with an artful selection of tea and tea time snacks. Savory choices include tomato polenta, burrata with balsamic, scallop tartare, honey with vanilla, blue Curacau macaroon with duck foie gras, marinated beets with crab meat salad and Iberico ham, mascarpone; while sweet choices include pistachio and raspberry delight, traditional tropical touch, blackberry supreme disc, tonka chocolate and salted caramel and three kinds of scones. Guests who join for afternoon tea will also receive an exclusive BVLGARI fanciful Roman map created by Finnish visual artist Lotta Nieminen.
When: July 15–August 31, 2017
Where: The Ritz-Carlton Bar & Lounge, The Ritz-Carlton, Macau, Galaxy Macau, Estrada da Baía da Nossa Senhora da Esperança, Cotai
How much: MOP $488 (set for two) or MOP $688 (set for two, including two glasses of Louis Roederer Champagne)
For more details, visit www.ritz-carlton.com
Tags