May ends on a high note, with a lot of cool and different events! First and foremost, don't forget to book your seat at the FMCC charity gala dinner, which will take you on a journey through international museums. Studio City's newest and coolest Water Park has opened already, so this is your chance to take the whole family for some aquatic adventure through swimming pools and slides. If you're a fan of cocktails, there's no shortage of these for sure: More Gin, Monsieur! at ABA Bar and Bar Stories Chapter 51 – E.P.I.C are waiting for you! Have a great time this weekend in Macau and make sure to take lots of pictures and share the experiences with us!
(See featured image above)
Gather your best buddies and head to ABA Bar for a Thursday filled with fun, friends, and gin! This More Gin, Monsieur! promotion includes a free flow of selected gin & tonic and gin cocktails for all to savor. It features different brands of gin for tasting with tonic and three specially crafted gin cocktails made by their experienced bartenders using gin selected each week. There's also a special dining discount of up to 25% off on the same night for all who participate in the This More Gin, Monsieur! promotion. Also, for an additional MOP $88*, guests can enjoy the French Gin Tasting Flight (Citadelle, Audemus Pink Pepper, Audemus Umami, G'Vine).
When: Thursdays, 6:00pm–8:30pm, May 27, 2021
Where: ABA Bar, MGM Macau, Avenida Dr. Sun Yat Sen, NAPE, Macau
How much: MOP $200* per person
*Subject to a 10% service charge
For more information, call +853 8802 2319 or check here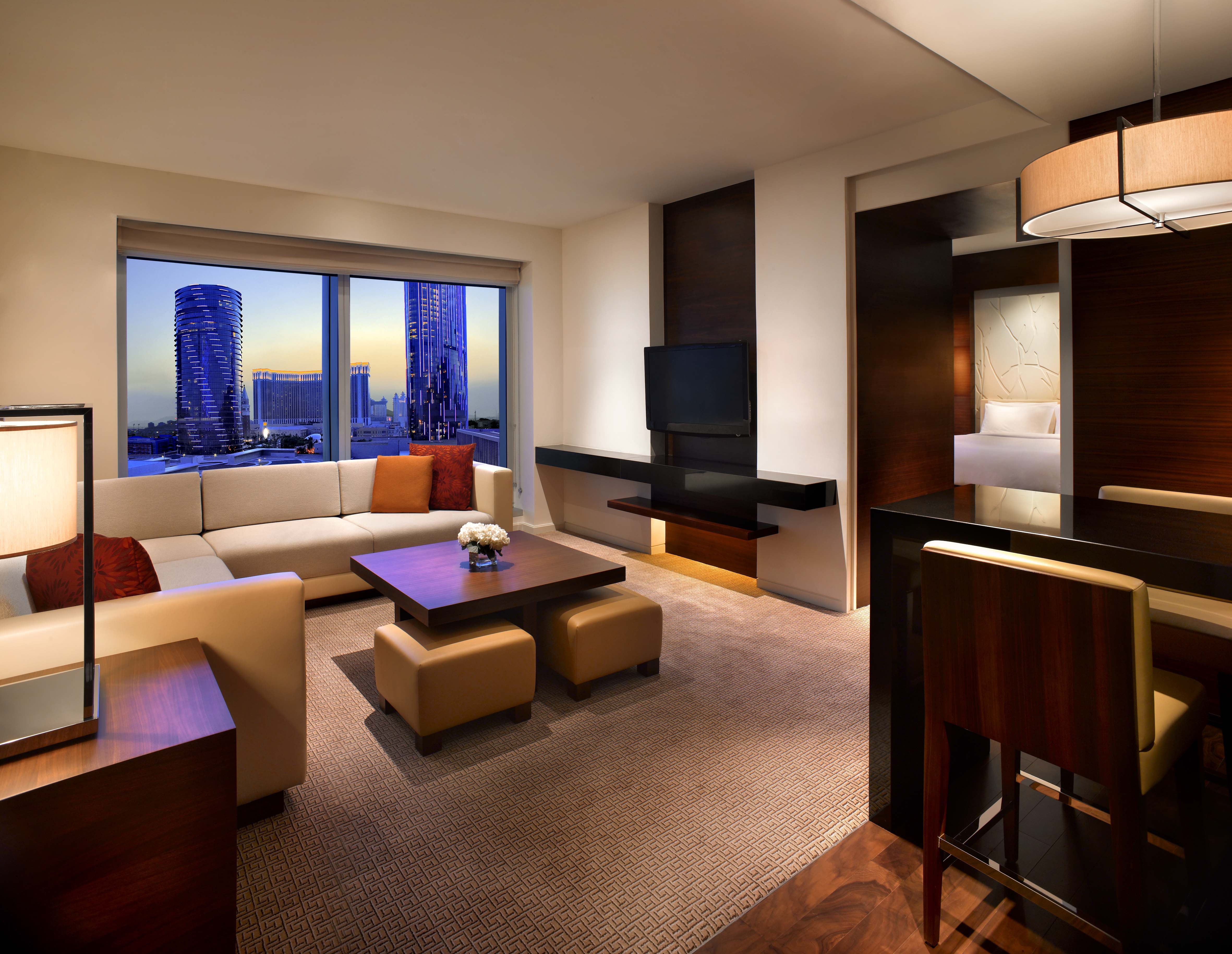 Plan the ultimate getaway with a series of exciting offers and delicacies with your loved ones. Grand Hyatt Macau is thrilled to launch two extravagant room packages–Flourishing Spring Package and Grand Offer–with a wide range of selections and discounts for you to enjoy a splendid springtime experience!
Start your remarkable indulgence with the exciting "Grand Offer" at Grand Hyatt Macau. Priced from MOP $1,599*, "Grand Offer" features luxurious accommodation and mezza9 Macau dinner for two. mezza9 Macau presents a variety of made-to-order fresh seafood with a wide selection of preparation styles, such as steamed abalone with garlic, wok-fried lobster with dry chili and garlic, and steamed garoupa to treat your palate. Fill your night with coconut crème brûlée, soft-serve ice cream, and other exquisite desserts to tantalize your taste buds.
When: From now till June 30, 2021
Where: Grand Hyatt Macau, City of Dreams, Estrada do Istmo, Cotai
How much: From MOP $1,599 per room
For more information and bookings, check here or enter the special offer code 'PRM19' during your booking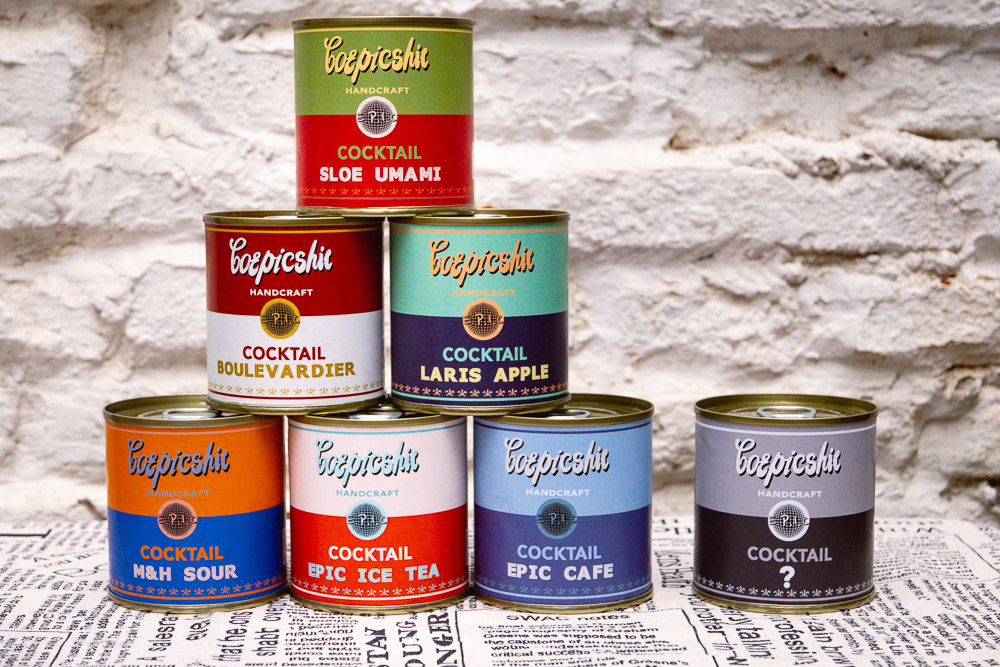 Taking center stage at Vida Rica Bar this May is Cross Yu, owner and award-winning bartender of E.P.I.C Shanghai, a cocktail lounge recognized by Asia's 50 Best Bar Awards. Cross Yu has been revolutionizing cocktail culture in the Chinese city by crafting a series of concoctions really worth the try. For three days only, he'll be at Vida Rica Bar to bring all mixology aficionados a bit of Shanghai's bustling contemporary culture.
When: Tuesday–Thursday, May 25–27, 2021
Where: Vida Rica Bar, Mandarin Oriental, Macau, 945 Avenida Dr. Sun Yat Sen, NAPE, Macau
For more information and bookings, call Vida Rica Bar at +853 8805 8928, send an email to [email protected]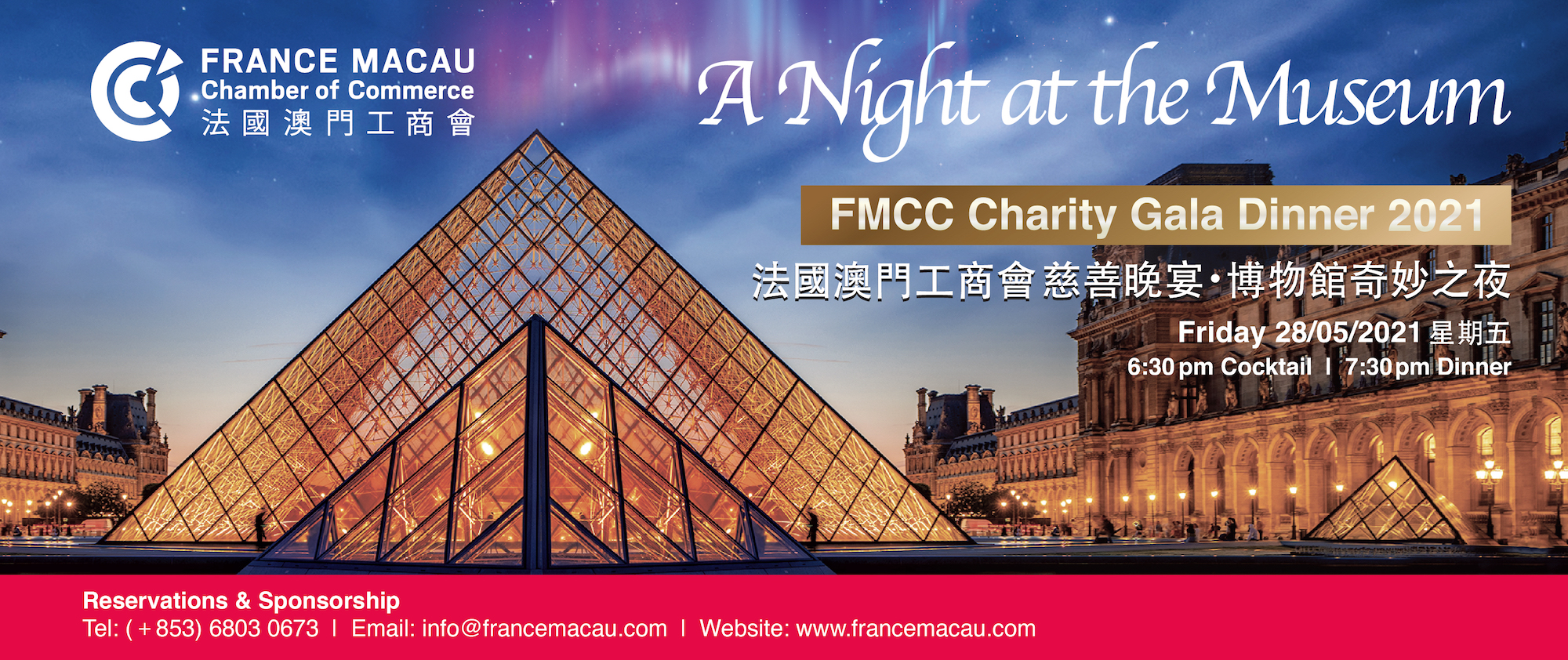 The France Macau Chamber of Commerce (FMCC) presents its upcoming Charity Gala Dinner 2021, themed "A Night at the Museum", and held at the Grand Ballroom of MGM Macau.
Save the date and celebrate with iconic places of culture, from Le Louvre to the Orsay Museum where one can admire prestigious masterpieces such as the Mona Lisa of Leonardo Da Vinci, and the Luncheon on the Grass by Edouard Manet, and feel the artistic French culture during an imaginative evening.
You will enjoy creative artsy shows, great music, and dance while tasting exquisite French cuisine and wines at this gala dinner. Join them for this exquisite evening into the world of the most famous temples of art, with exclusive entertainment; wonderful music, and magnificent lucky draw prizes, with proceeds to Macao Fok Sin Association, in support of their project "Visit the Elderly".
When: 6:30pm (cocktails) and 7:30pm (dinner), Friday, May 28, 2021
Where: Grand Ballroom, MGM Macau, Avenida Dr. Sun Yat Sen, NAPE, Macau
How much: FMCC members – MOP $1,550 (early bird seat), MOP $1,700 (normal seat), MOP $14,500 (early bird table), MOP $16,000 (normal table)
Non-members – MOP $1,700 (early bird seat), MOP $1,850 (normal seat), MOP $16,500 (early bird table), MOP $18,000 (normal table)
For more information and reservations, call +853 6803 0673, send an email to [email protected] or check their website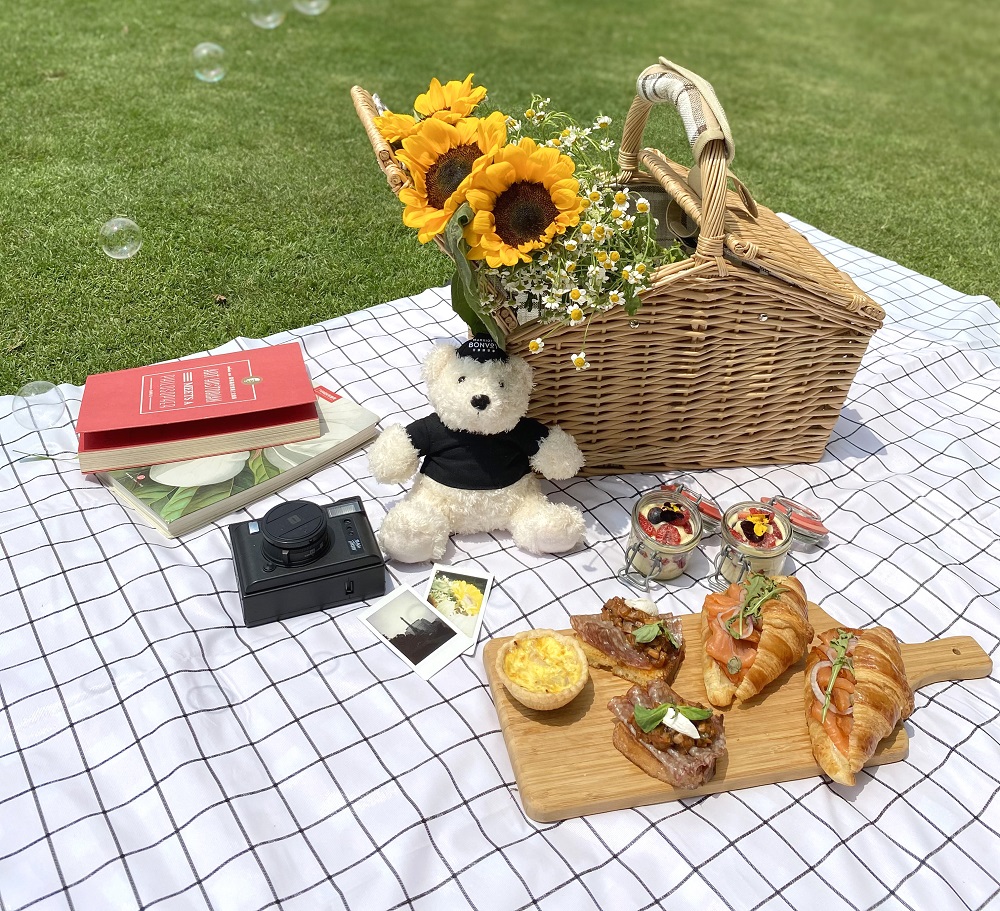 Enjoy a fun-filled picnic on the grass with delicious treats and create unforgettable memories with friends and loved ones with Sheraton Grand Macao's "A Date with Spring" limited-time accommodation package. Offering a delightful outdoor experience, "A Date with Spring" hotel package includes a one-night stay in a Deluxe King or Twin room, as well as a picnic experience featuring a picnic basket full of sweet and savory treats that guests can enjoy on the nearby Le Jardin or elsewhere to explore the beauty of Macau.
The picnic basket is packed with delicious afternoon tea items including charcuterie and cheese, croissants, finger sandwiches, and sweet treats including English trifle, maple, and pecan tart, freshly baked scones, as well as a selection of refreshing beverages. "A Date with Spring" is available now and includes accommodation in a Deluxe King or Twin Room, a picnic experience by Sheraton Grand Macao featuring a picnic basket takeaway, late check-out until 3:00pm, and complimentary room upgrade to the next category (subject to availability upon check-in).
When: Bookings – From now till July 16, 2021
Stays – April 22–July 18, 2021
Where: Sheraton Grand Macao, The Londoner Macao, Estrada do Istmo, s/n, Cotai
How much: From MOP/HKD $888* per night
For more information and bookings, check here
*Subject to a 10% service charge and 5% government tax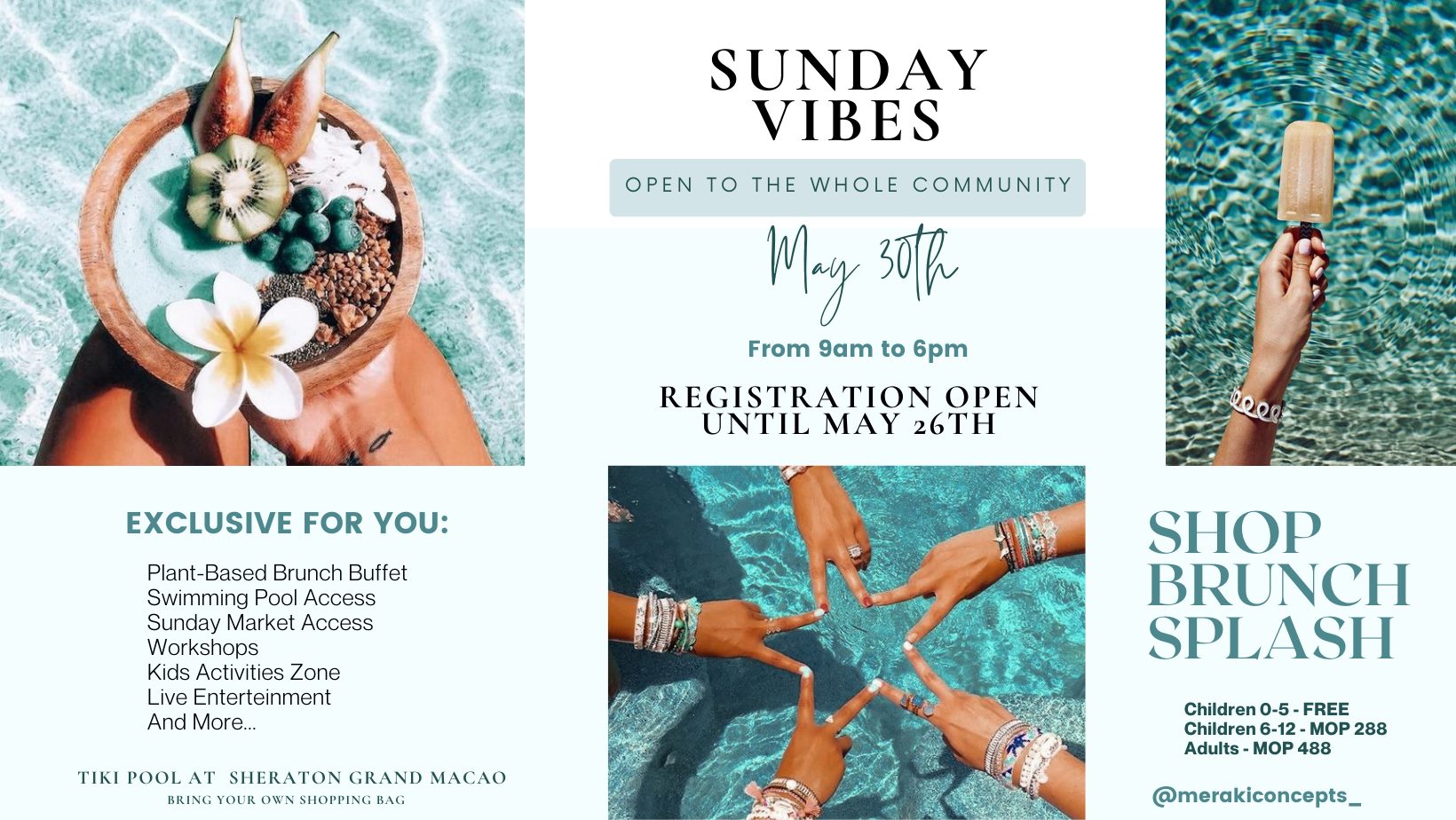 Meraki Concepts–by Mariana de Oliveira Dias and Andreea–is having a wonderful event focusing on wellness and summer vibes, with brunch, sunbathing by the pool, workshops, live entertainment, activities for the little ones, and a Sunday market! Open to the whole community, this is an unmissable event for everyone looking to relax and unwind, and have a great time surrounded by friends and people looking for the same. The market will include 19 brands such as Imbali Essentials, Mood of Aquarius, Knot Me Essentials, Mimocean Organic, Mãos na Massa, and many others!
The event starts at 9:00am with the meet and greet of all the participants followed by a rise & shine flow for everyone. The Sunday market starts at 10:00am and goes on until 6:00pm. The plant-based brunch buffet will take place later. Apart from dining and shopping, there will be live entertainment, face painting, workshops, game zones for children, and plenty of time to enjoy and relax by the swimming pool. Hurry up, because registration ends on May 26!
When: From 9:00am onwards, Sunday, May 30, 2021
Where: Tiki Pool, Sheraton Grand Macao, The Londoner Macao, Estrada do Istmo, s/n, Cotai
How much: MOP $488 (adults), MOP $288 (six to 12 years old), free admission (0 to five years old), private cabana rental* (MOP $588)
For more information, check out their Facebook page. To register, click here
*subject to availability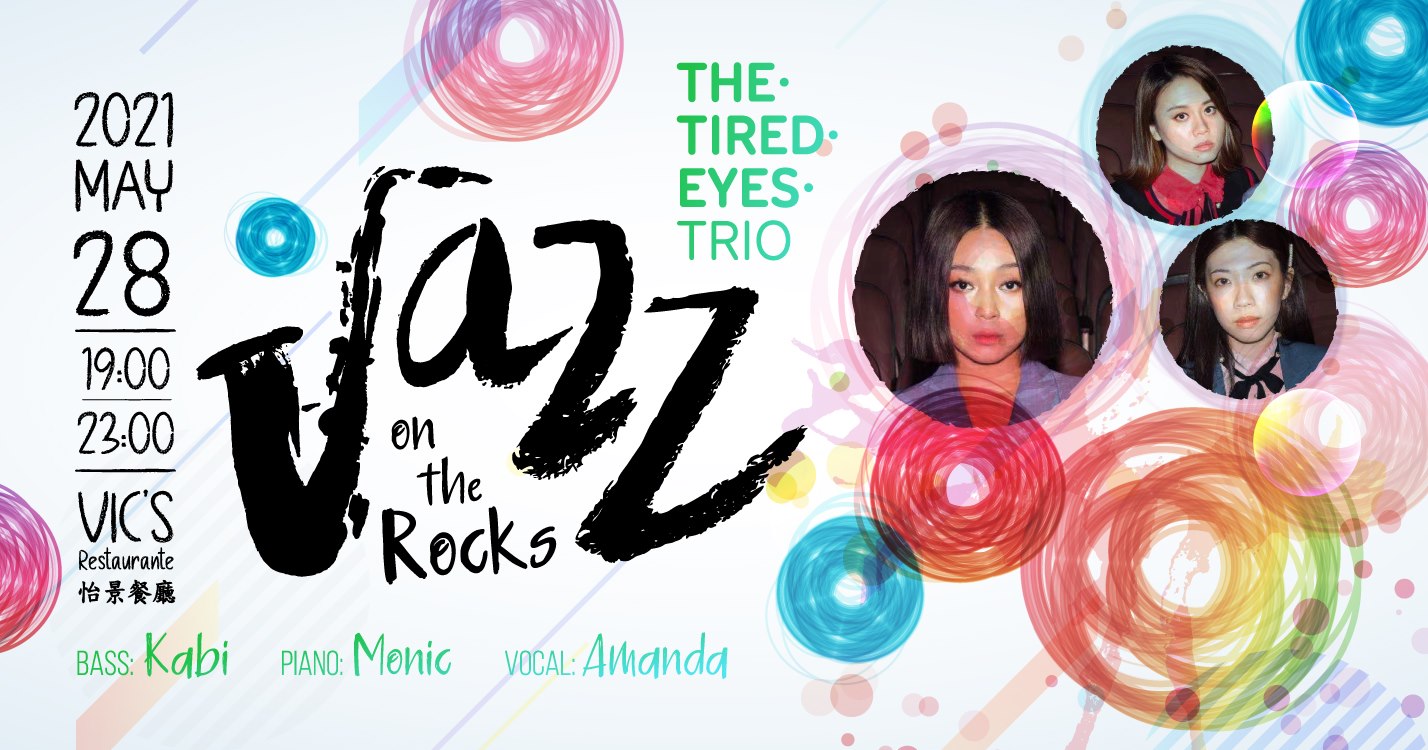 Vic's Restaurante is having yet another fantastic concert from the series Jazz on the Rocks! Taking place at the restaurant's outdoor terrace, it's time to dance and sing along with The Tired Eyes Trio on stage. Head there to enjoy a wonderful night of drinks and jazzy vibes with this incredible band. Indulge yourself in the panoramic waterfront view at the wharf from 7:00pm onwards, with great music and your beloved ones and two free drinks or snacks of your choice included!
When: 7:00pm–11:00pm, Friday, May 28, 2021
Where: Vic's Restaurante, Rocks Hotel, Macau Fisherman's Wharf, Avenida Dr. Sun Yat-Sen, Macau
How much: MOP $150 per person
For more information and bookings, call +853 8295 6580 or check the event's Facebook page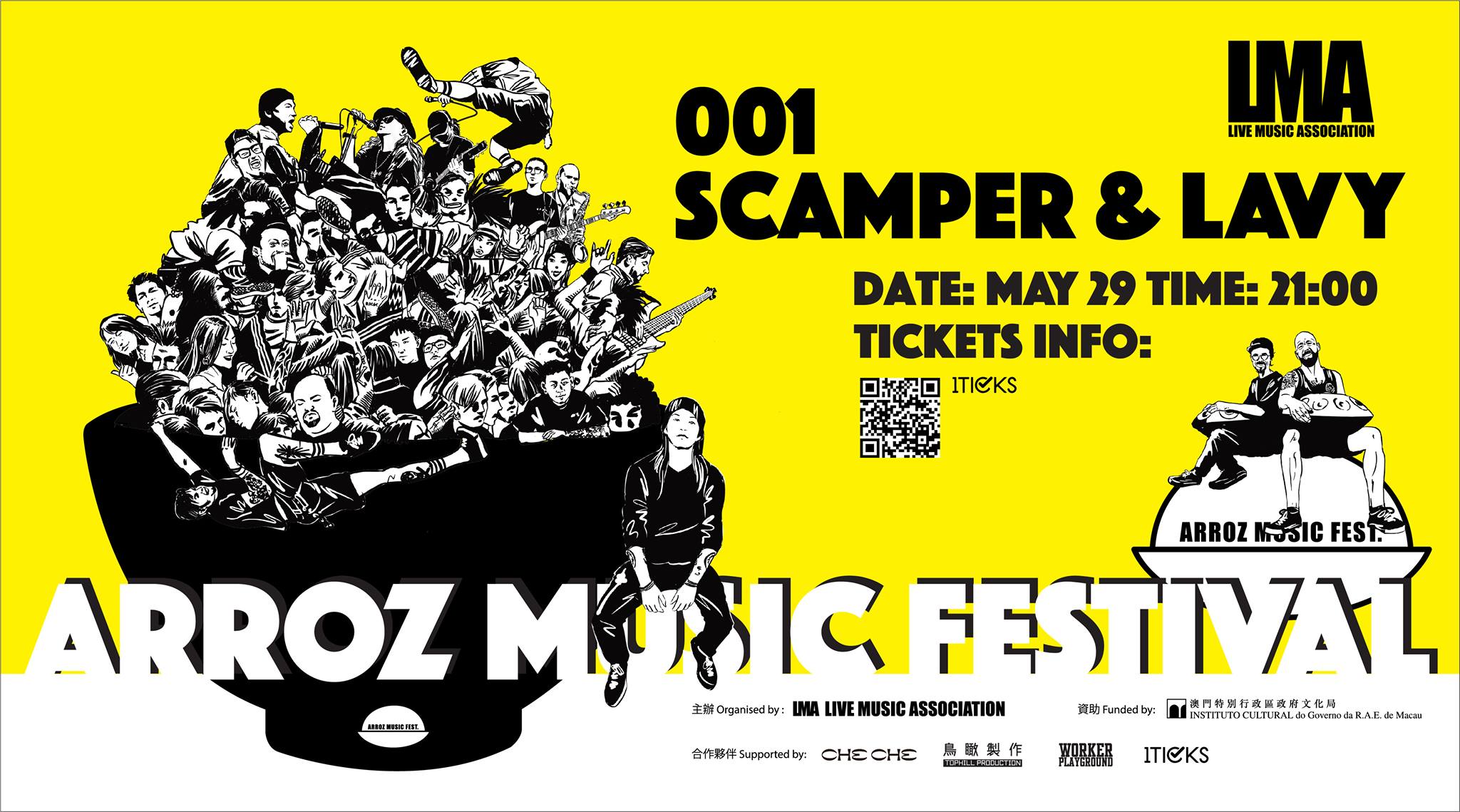 The kickstarting live gig of Arroz Music Festival: Mini Concert Series is almost here! Featuring two legendary local rock bands, LAVY and Scamper, this inaugural concert takes place at Live Music Association and features a series of experiences on stage for everyone to enjoy. This is just the first concert of the series, so stay tuned through their Facebook page to know more about upcoming gigs.
When: 9:00pm–midnight, Saturday, May 29, 2021
Where: Live Music Associaton, 50 Avenida do Coronel Mesquita, San Mei Industrial Building 11B/F, Macau
How much: Concert tickets – MOP $120 (early-bird till May 23, 2021), MOP $150 (regular) and MOP $180 (walk-in)
festival passes – MOP $330 per person (three shows), MOP $650 per person (six shows)
*every ticket includes one drink
For more information, check the event's Facebook page and for ticketing, click here
Macau Sessions: Dialogues on Architecture and Society original content explores the recent development of Macau, its territory, and neighboring regions, by linking themes such as architecture, city, border, memory, representation, and history. It contains interviews with Hendrik Tieben, Thomas Daniell, Mário Duque, Wang Weijen, Diogo Burnay, Jianfei Zhu, Jorge Figueira, Werner Breitung and Pedro Campos Costa. Later, a visual essay developed by Nuno Cera was added offering an artistic perspective on the impact of urban growth on people and the territory. Both books (English and Portuguese editions) will be on sale during the opening at Impromptu Storefront.
This project consists of creating an installation based on the book-object [published books] and the word-sound [recorded interviews] which, in an experimental confluence, cease to be the object of the original study, to become the artistic object itself. Sound design and sound installation designed by Rui Farinha.
When: May 26–July 15, 2021
Where: Impromptu Storefront, 14–A Travessa Inácio Baptista, Macau
How much: Free admission
For more information, send an email [email protected], call +853 6653 2547 or +853 6251 4580 and check their website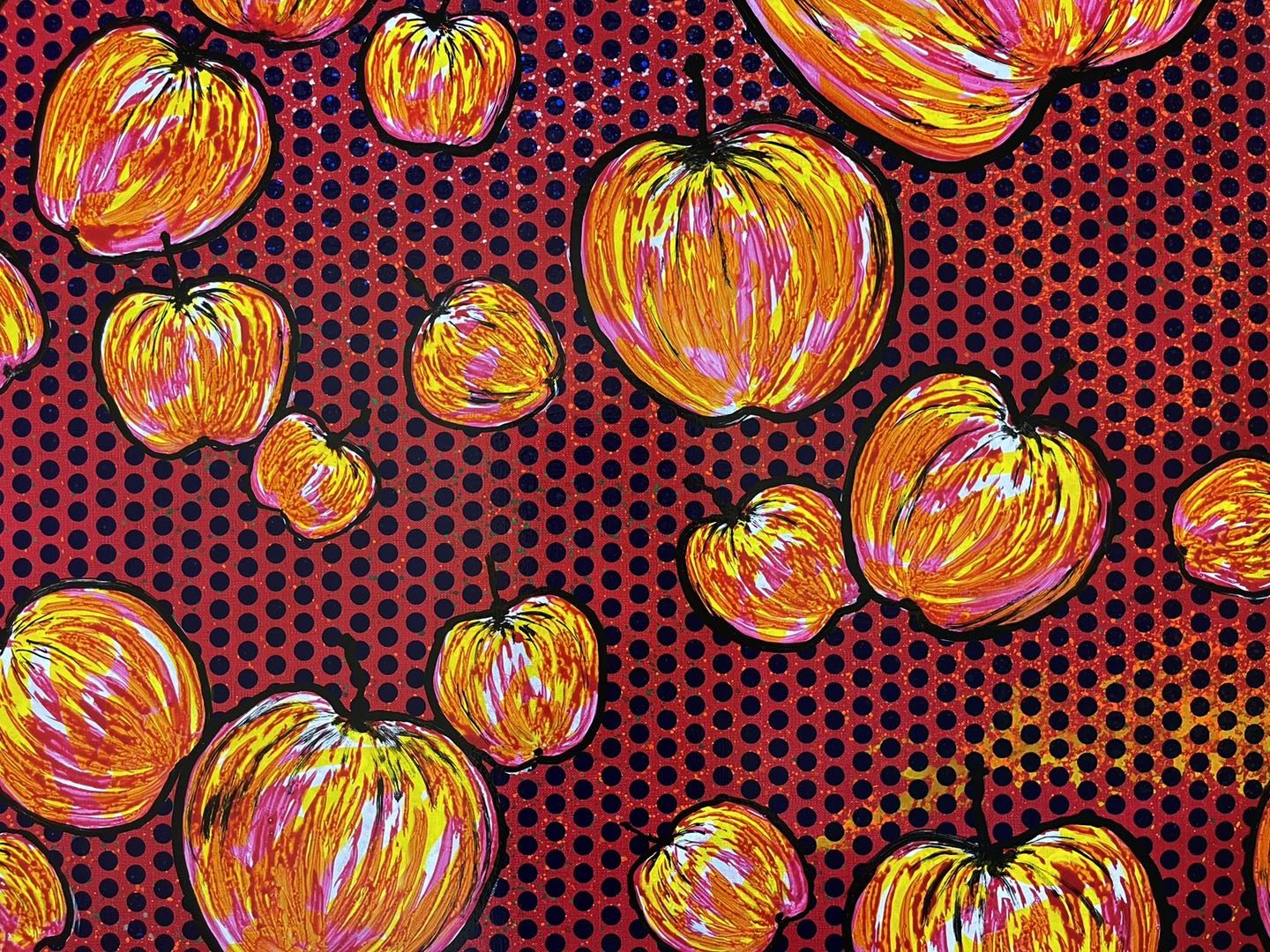 The solo exhibition by Zheng Yu presents the artist's latest series of works that expresses his thoughts, experiments, and implementation in arts. "Desire" is the most primitive and basic instinct of all animals in the world. From the human point of view, it is a kind of mental and physical content, and it is an indispensable demand for the existence of all animals. The most basic desire of all animals is to live and exist, in other words, is love and unsatisfied.
Historically, people like to use "apple" as a symbol of "desire", such as Adam's apple in "The Holy Bible"; and in a Chinese movie named "Apple", it presented a situation of Chinese workers facing their desire in the society. Therefore, in this exhibition, Zheng will present his thoughts on human desire in contemporary society through his unique artworks with apples.
When: May 27–June 26, 2021
Where: Creative Macau, G/F Macau Cultural Centre Building, Avenida Xian Xing Hai
How much: Free admission
For more information, check here
Tags