This weekend is packed full of interesting and diverse events for people to check out and enjoy in Macau. These include the 8th Sofitel Wine Days Festival, but also an Autumn Detox treatment at Shine Spa, Art Macao exhibitions, concerts, and delectable dining experiences! Read on to find out where and what to do these next few days in town. Also, get ready for next Monday at The Roadhouse Macau: it's Motown Magic Mondays! Find out more below.
(See featured image above)
The traditional wine harvest season in France usually occurs in September and October, which coincide with Sofitel's annual "Sofitel Wine Days". In its eighth edition showcasing the best in French wine and culinary delights, the seasonal wine celebration provides an ideal opportunity for guests to discover Sofitel's art de vivre. The global festival brings together Sofitel's 120 hotels from around the world, hosting a sensational wine journey that will delight discerning wine enthusiasts. Sofitel Wine Days at Sofitel Macau At Ponte 16 is held until 31 October at its legendary Privé restaurant, pleasing guests' palates with exclusive wine events and a pairing menu.
The festival begins with a daily six-course wine-pairing set menu featuring premium Chanterelle mushrooms, a luxury ingredient from France and infusing it into the delicacies including oysters and caviar, fresh Boston lobster salad, Chanterelle risotto with black truffle, and tenderloin Rossini with Chanterelle sauce. Choose to pair the meal with a selection of fine French wine handpicked by their sommelier.
When: September 6–October 31, 2019
Curated wine dinner Il Barro – September 27, 2019
Mixology Night – October 12, 2019
Curated wine dinner Casa Ferreirinha – October 25, 2019
Where: Privé, Sofitel Macau At Ponte 16, Rua das Lorchas e Rua do Visconde Paço de Arcos, Macau
How much: Set menu at Privé – MOP $588 per person, MOP $688 per person including one craft cocktail or MOP $1,376 for two persons (including two cocktails). Selection of fine French wine ranges from MOP $198 to MOP $698 per bottle
For more information and reservations, call +853 8861 7213 or check their Facebook page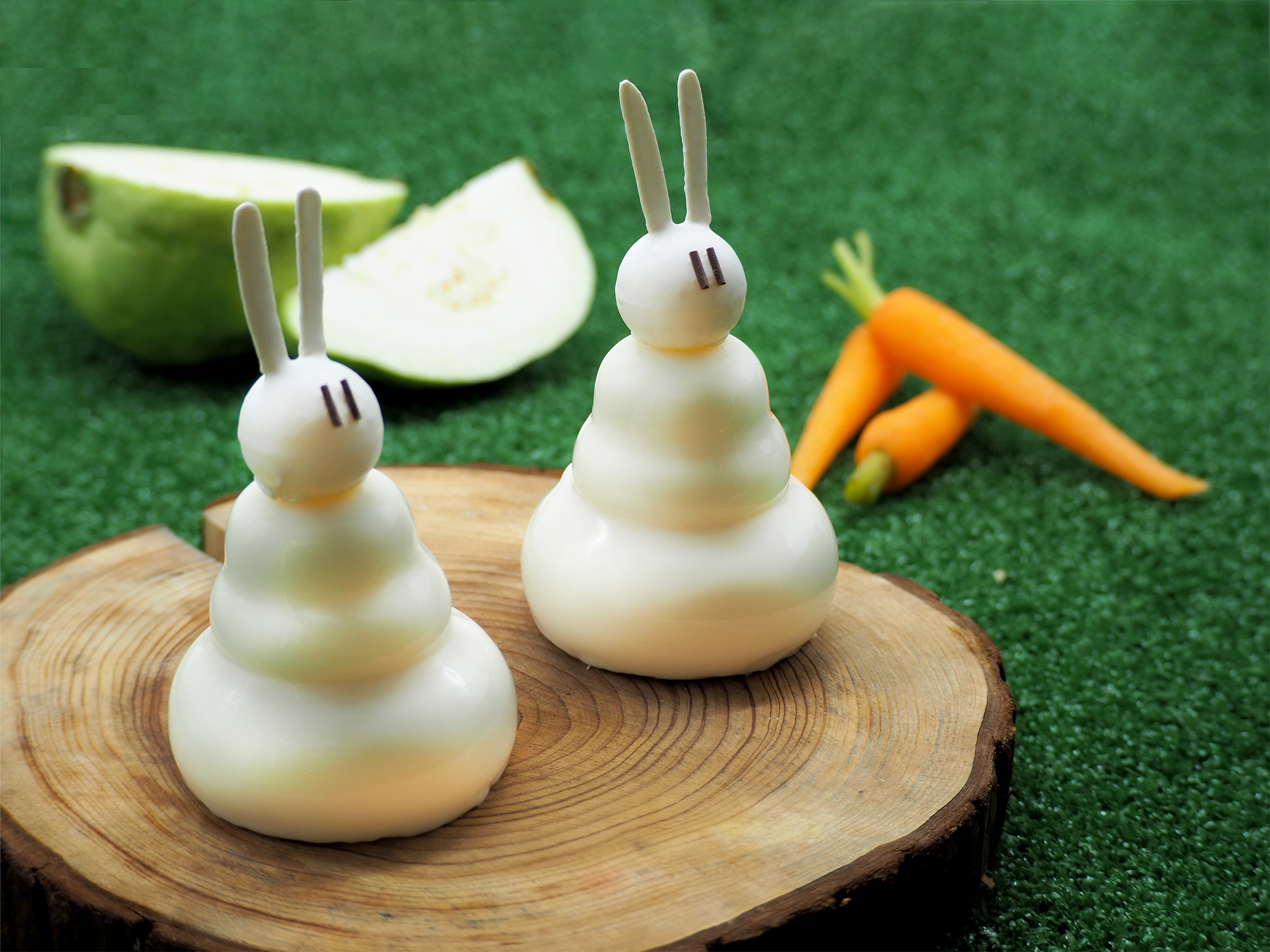 To share the merry moments, One Central Macau in collaboration with Mandarin Oriental, Macau launches the Lantern Festival Afternoon Tea and Festival special menu, until October 15. The special afternoon tea is available at The Lobby Lounge while the Festival special menu with 'rabbit' themed treats is available at The Mandarin Cake Shop.
At The Mandarin Cake Shop, their custom seasonal cakes comprise of vibrant and festive characters. Relish light bites of rabbit and piggy themed cakes, immersed in culinary moments with your loved ones. Spiced up with an imaginative rabbit mix guava cake, their signature afternoon tea offers you an intricate selection of savory and sweets at The Lobby Lounge!
When: September 7–October 15, 2019
Afternoon tea – 2:00pm–6:00pm
Where: Lobby Lounge and The Mandarin Cake Shop, Mandarin Oriental, Macau, 945 Avenida Dr. Sun Yat Sen, NAPE, Macau
How much: The Mandarin Cake Shop seasonal cake – MOP $58 each
Afternoon Tea at The Lobby Lounge – MOP $398 for two persons
For more information, check here
This autumn, experience a truly relaxing treatment at Shine Spa, by Sheraton Grand Macao Hotel, Cotai Central. Purify and invigorate your body and mind with a gentle body exfoliation to eliminate toxins followed by a warm wrap and signature massage. Doesn't that sound just divine?
The 120-minute treatment includes a 30-minute body scrub, another 30-minute thermal detox body wrap and one hour of signature massage with "Metal Detox" oil. Get rid of that sun-dried skin at one of the greatest spas in Macau and experience a fantastic treatment sure to revitalize the whole body.
When: September 1–November 30, 2019
Where: Shine Spa, Level 3, Sheraton Grand Macao Hotel, Cotai Central, Estrada Do Istmo, Cotai
How much: MOP $1,580 (original price was MOP $1,880) per person
For more information and reservations, call +853 8113 0222, email [email protected] or check their website
Continuing the momentum of Art Macao, Melco presents 'Journey', a diverse selection of works inspired by the highly varied culture of anime. Forming part of Melco's contribution to Art Macao: International Art Exhibition, this unique exhibition is a visual adventure that explores the evolution of contemporary Japanese anime from its beginnings rooted in ukiyo-e, the traditional art of Japanese woodblock print and painting.
The visual references of anime abound in Japan and beyond are seen as a visual signature of the nation.  Both the contemporary genres of anime and manga can trace their roots and influences in the woodblock art form of ukiyo-e and its Edo period heroes. Today, its influences can be readily identified in such varying media as computer games, toy culture, and the work of multimedia artists around the world. This first-of-a-kind exhibition for Studio City Macau includes such highlights as Amanami Animated by MAP Office, Mr Waterloo by Rainbo, Waves in Time by Southbend, Blingee by Han Yanjuan, and the "Modern Art of Floating World" collection by Horihiro Mitomo and Ukiyoemon.
When: August 1–November, 2019
Where: Studio City Macau, Estrada do Istmo, Cotai
How much: Free admission
For more information, check here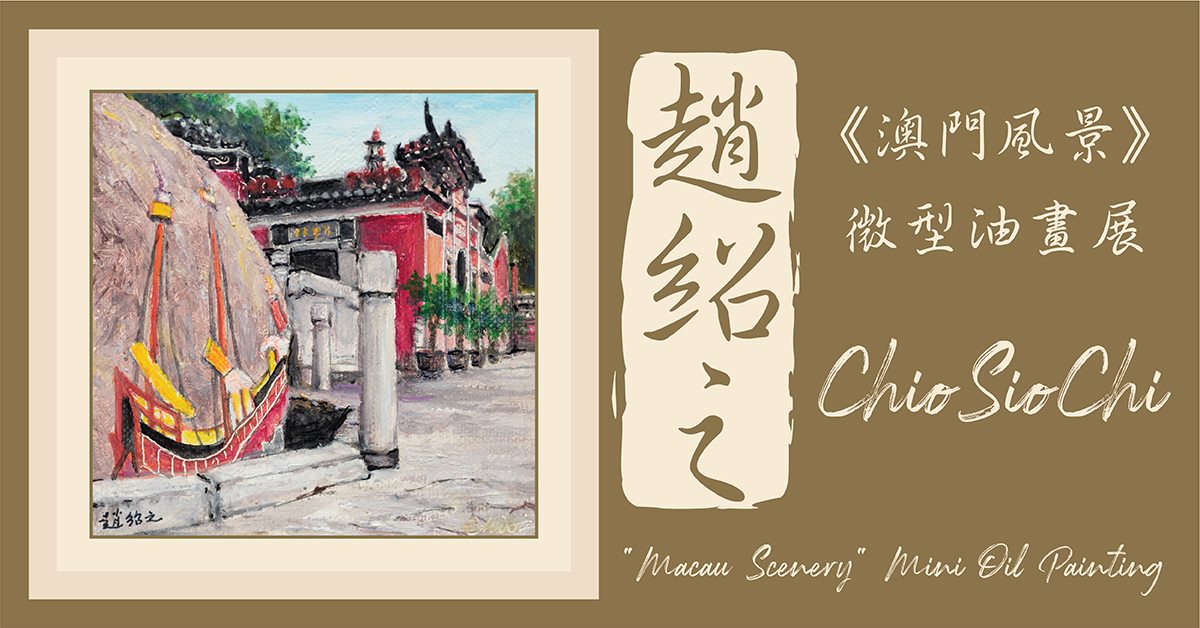 2019 marks the 70th anniversary of the founding of the People's Republic of China and the 20th anniversary of Macau's return to the motherland. It's a great honor for Macau Fisherman's Wharf to join Hands with the Macao SAR Government to host the grand event of Art Macao. On this special occasion, the miniature oil painting exhibition, "Macau Scenery" Mini Oil Paintings by Chio Sio Chi will be presented at Macau Fisherman's Wharf.
Chio Sio Chi's "Macau Scenery" Mini Oil Painting Exhibition features over 300 four-inch square pieces from his vast oil painting repertoire that dates back to the end of the last century. The artworks in this exhibition capture and frame the soul of Macau. The artist has enabled hundreds of these miniature masterpieces to come to life with dimension and detail. Chio's delicate brush strokes have effectively revived the interplay of Chinese and Western cultures through the decades.
When: September 18–October 6, 2019
Where: Galeria Lisboa, Macau Fisherman's Wharf, Avenida da Amizade e Avenida Dr. Sun Yat-Sen, NAPE, Macau
How much: Free admission
For more information, check the event's Facebook page

Macau's famous master guitar player, Allen Harris is fronting Doble Dorias, The Roadhouse Macau's house band from July 17th to the end of September. Get ready for guitar solos that will blow your mind! Allen Harris first started performing in Macau in 1998 way before The Roadhouse Macau, or even before Cotai Strip's first casino was opened. Since that time, the renowned guitar player has been rocking the stages of basically all major entertainment venues such as MGM Macau, The Venetian Macao and Galaxy Macau!
After years of traveling and working all around Asia from Korea to Indonesia, he finally landed in our city to play at The Roadhouse Macau until the end of September. Inspiring, energetic and open-minded, Allen Harris promises that his performance at The Roadhouse Macau will make everyone stand up and dance. Jimmy Hendrix, Stevie Wonder, Prince, Santana and more are what Allen includes in his repertoire. Stop by and maybe catch Allen playing your favorite song!
When: 9:00pm–2:00am, Wednesdays–Sundays, July 17–September 30, 2019
Where: The Roadhouse Macau, E-G016-G019 Broadway Food Street, Broadway Macau, Avenida Marginal Flor De Lotus, Cotai
How much: Free admission
For reservations, call +853 2875 2945 or check the event's Facebook page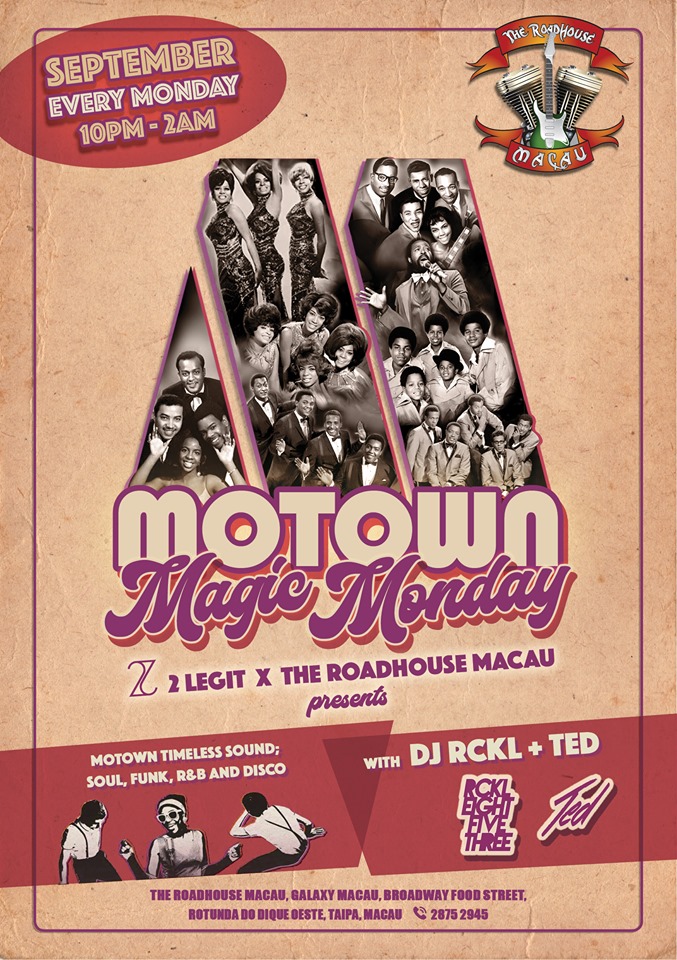 Starting from Monday, September 2, The Roadhouse Macau introduces DJ nights, featuring local DJ Rocklee and DJ Ted. They will funk up your nights with the Motown sound. Five weeks of classic Motown tunes will make anyone jump up from their chairs and dance to funk, soul, R&B–from all-time classics to future sound. Monday is now the new Friday!
Motown Records is an American record label owned by Universal Music Group. It was originally founded by Berry Gordy Jr. as Tamla Records on January 12, 1959. Its name, a portmanteau of "motor" and "town", has become a nickname for Detroit, where the label was originally headquartered. Motown played an important role in the racial integration of popular music as an African American-owned label that achieved significant crossover success. In the 1960s, Motown and its subsidiary labels were the most successful proponents of what came to be known as the Motown Sound, a style of soul music with a distinct pop influence. Motown was the most successful record label of soul music.
When: 10:00pm–2:00am every Monday of September 2019
Where: The Roadhouse Macau, E-G016-G019 Broadway Food Street, Broadway Macau, Avenida Marginal Flor De Lótus, Cotai
How much: Free admission
For more information, call or check the event's Facebook page
Tags