It's the Mid-Autumn Festival, perfect to get in some quality family time. Spend time with your loved ones by checking out a captivating Art Macao dance drama and art exhibition, indulge in exclusive wining and dining opportunities, a film festival and more. We round up the best things to do this weekend for you and your family!
(See featured image above)
Celebrating the Mid-Autumn Festival, the Qinghai Province Performing Arts Group Co., Ltd presents Haojiang Moonlight Night – Dance Drama "Thangka". The performance is organized by the Hong Kong, Macao and Taiwan Affairs Office of the Ministry of Culture and Tourism of The People's Republic of China and the Cultural Affairs Bureau.
The original and national dance drama "Thangka" depicts Thangka artists painting with their lives, reverently and persistently inheriting and carrying forward the art of Thangka painting, and extols the pure sentiment of generations of people in the land of Qinghai. The whole drama tells a story of three times of life by the unique structure of "the previous life, another life and this life", revealing the theme of profound Tibetan culture. The passion and love of the hero and heroine for Thangka and Tibetan culture run through the whole drama. With vivid characters and innovative stage vocabulary, it conveys a strong and rich artistic appeal.
When: 8:00pm, Friday, September 13, 2019
Where: Macao Cultural Centre, Avenida Xian Xing Hai s/n, NAPE, Macau
How much: MOP $100, $150, $200
Those holding a valid Macau ID Card, Macau Teacher card and full-time local student card will be entitled a 50% discount
For more information, check here

"The Romans" is the theme of September 2019's Bene Food & Wine Mercato! On September 13 and 14, enjoy all sorts of Italian delicacies. The menu includes potato and provolone cheese croquettes, porchetta alla romana, breaded fried shrimps with arrabbiata sauce, roasted whole seabass with broad beans, garlic sautéed chicory and shallot bell pepper oil, grilled squid tossed in lemon garlic and parsley are just some of the exclusive dishes you can have at this month's Mercato. There are other dishes such as broiled semolina gnocchi romana with truffle pecorino, conchiglie all'amatriciana and slow-roasted brisket and green peas with pancetta and red onion.
Selection of wines includes Villa Sandi Prosecco, N.V., Alois Lageder DOC Chardonnay, Alto Adige – Südtirol, 2016, Villamedoro Montepulciano d'Abruzzo DOC, Abruzzo, 2017 and Lohsa Morellino di Scansano DOCG Sangiovese, Toscana, 2017. For dessert, besides classics such as gelato or seasonal fruit, there is also olive oil and red wine biscotti, ricotta cheese and sour cherries tarte, "grattachecca" Roman ice granita, chocolate nuts, candy fruit and black pepper pie, and bignè "choux" with vanilla custard.
When: Friday and Saturday, September 13 and 14, 2019
Where: Bene, Level 1, Sheraton Grand Macao Hotel, Cotai Central, Estrada do Istmo. s/n, Cotai
How much: MOP $488 per adult and MOP $200 per child
For more information, call +853 8113 1200, email [email protected], click here for reservations or check their Facebook event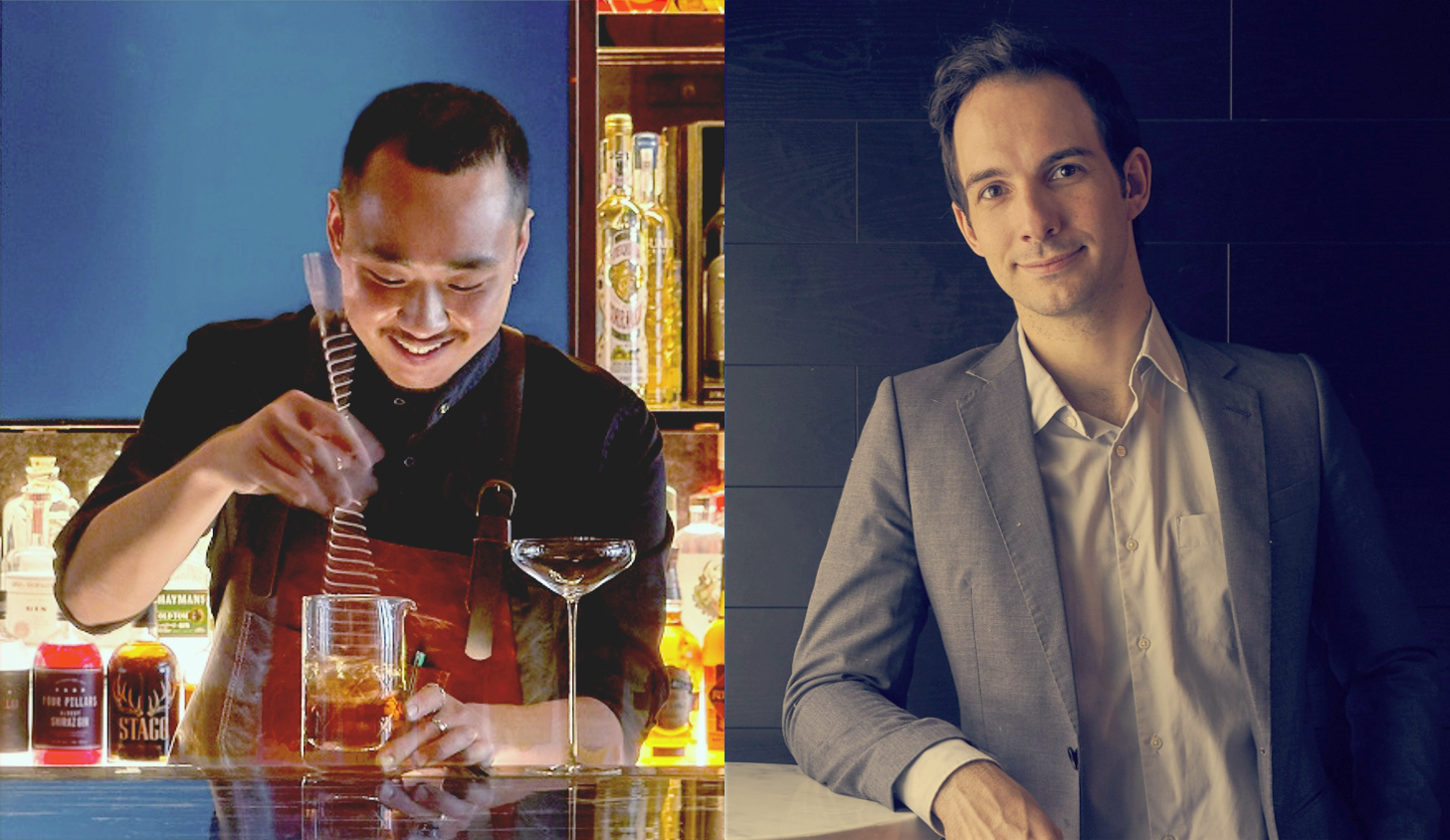 A friendly mixologist competition between Bin Guo from MO Bar at Mandarin Oriental, Wangfujing and Bastien Ciocca from the award-winning Hope & Sesame bar in Guangzhou. The menu includes five cocktails and one mocktail to choose from, with original and exclusive recipes making their way into the mix.
When: 9:00pm till late, Friday, Saturday and Sunday, September 13, 14 and 15, 2019
Where: Vida Rica Bar, Mandarin Oriental, Macau, 945 Avenida Dr. Sun Yat Sen, NAPE, Macau
For more information and reservations, call +853 8805 8928, send an email to [email protected] or check their Facebook page

From September 11 to 14, Macao Film Week 2019 features ten local productions released in the years following Macau's handover to China. The screening is held at the Cinematheque Passion and the Macau University of Science and Technology.
The ten local productions selected for the Film Week include three subsidized productions from the "2013 Support Programme for the Production of Feature Films", namely Sisterhood directed by Choi Ian Sin, Love is Cold directed by Ho Fei and Passing Rain directed by Chan Ka Keong; two productions by the Audio-Visual CUT Association, namely Macau Stories 2: Love in the City and Macau Stories 3: City Maze; the former tells love stories of the city and the latter is a suspense film; Oliver Fa's marathon-themed film Against the Wind; Chan Nga Lei's inspirational teen film Our Seventeen; Chan Kin Tak's film The Last Roar of a Mother Bear; and Lio Chi Heng's producer projects Diago and Nobody Nose. These ten productions, all directed or produced by local filmmakers, seek to present the city and its stories to audiences through the camera lens of different directors.
When: September 11–14, 2019
Where: Cinematheque Passion, 13 Travessa da Paixão, Macau and Macau University of Science and Technology, Avenida Wai Long, Taipa
How much: Free admission
For more information, call +853 8399 6295 or check the organizer's Facebook page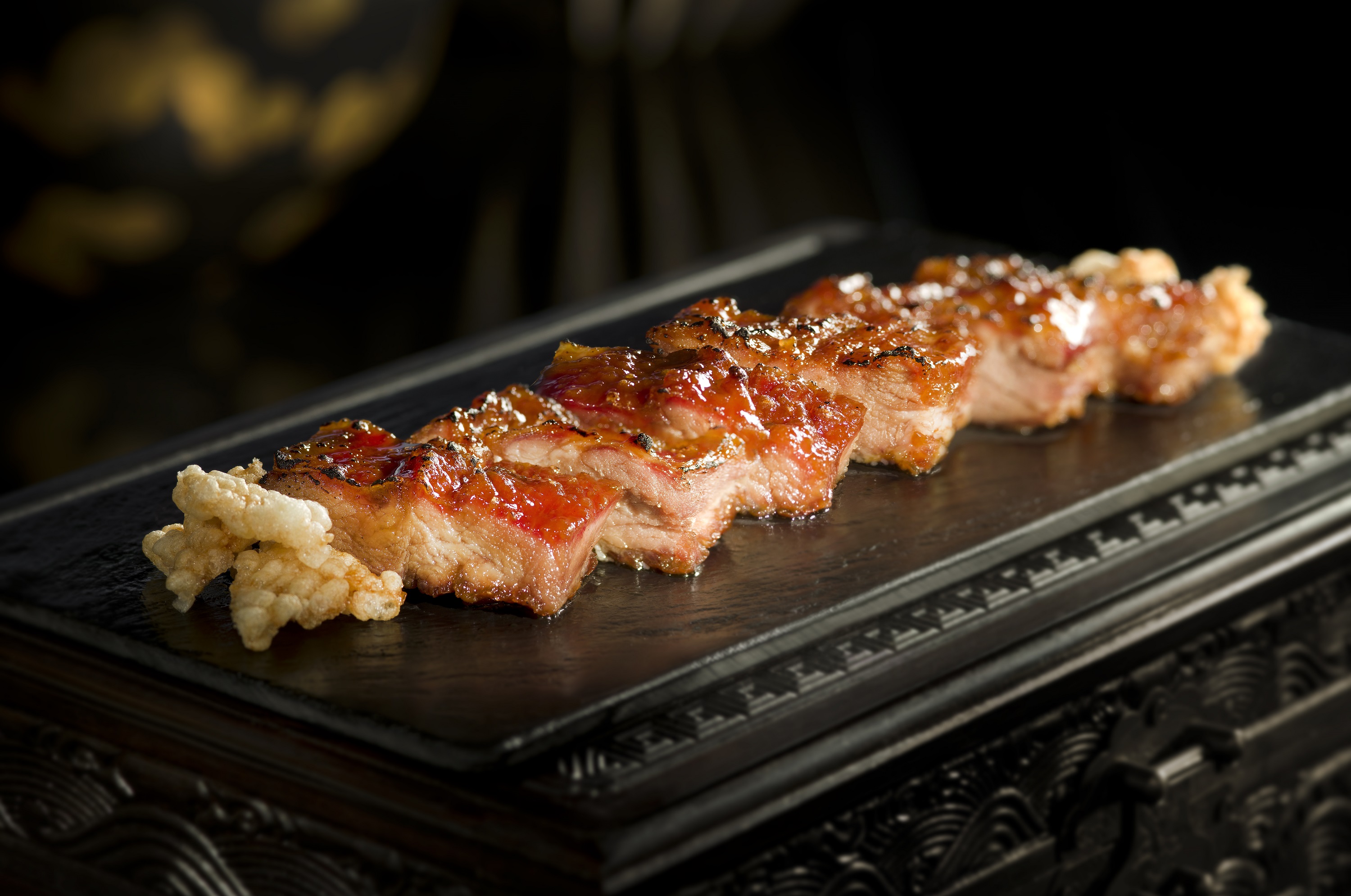 This exclusive menu includes chilled bean curd in sesame sauce, marinated okra in chili sauce served with Mumm RSRV Cuvée 4.5 Champagne, but also smoked bean curd sheet roll stuffed with mushroom and fungus, chilled pork knuckle terrine barbecued Iberico pork in honey sauce, crispy shrimp toast with shrimp mousse, double-boiled crabmeat soup with matsutake mushroom, steamed egg white with superior bird's nest and scallop served with a 2017 Jean Pabiot et Fils, Sancerre Blanc, La Merisiere, Loire, France. Next up is a wok-fried lobster fillet with kale in shrimp sauce, sautéed diced Korean beef with homemade cognac and shrimp paste with a 2017 La Vieille Ferme, Rouge Cotes du Ventoux, France.
Finally, they are serving a crispy chicken fillet with sesame, lemongrass in tangerine sauce, steamed bamboo pith stuffed with seasonal vegetables and black truffle 2014 accompanied by a Ceretto, Asili, Barbaresco, Piedmonte, Italy wine. Menu highlights also include fried rice with braised sea cucumber, abalone, conpoy, and Sakura shrimp, chilled mango cream with sago, pomelo and aloe vera for dessert, as well as baked Tokachi red bean puff, and chilled hawthorn and preserved plum jelly.
When: September 9–15, 2019
Where: Lai Heen, 51F, The Ritz-Carlton Macau, Galaxy Macau, Estrada da Baía de Nossa Senhora da Esperança, Cotai
How much: MOP $2,988 per person (including four glasses of sommelier-selected wine)
For more information and bookings, call +853 8886 6712 or check their website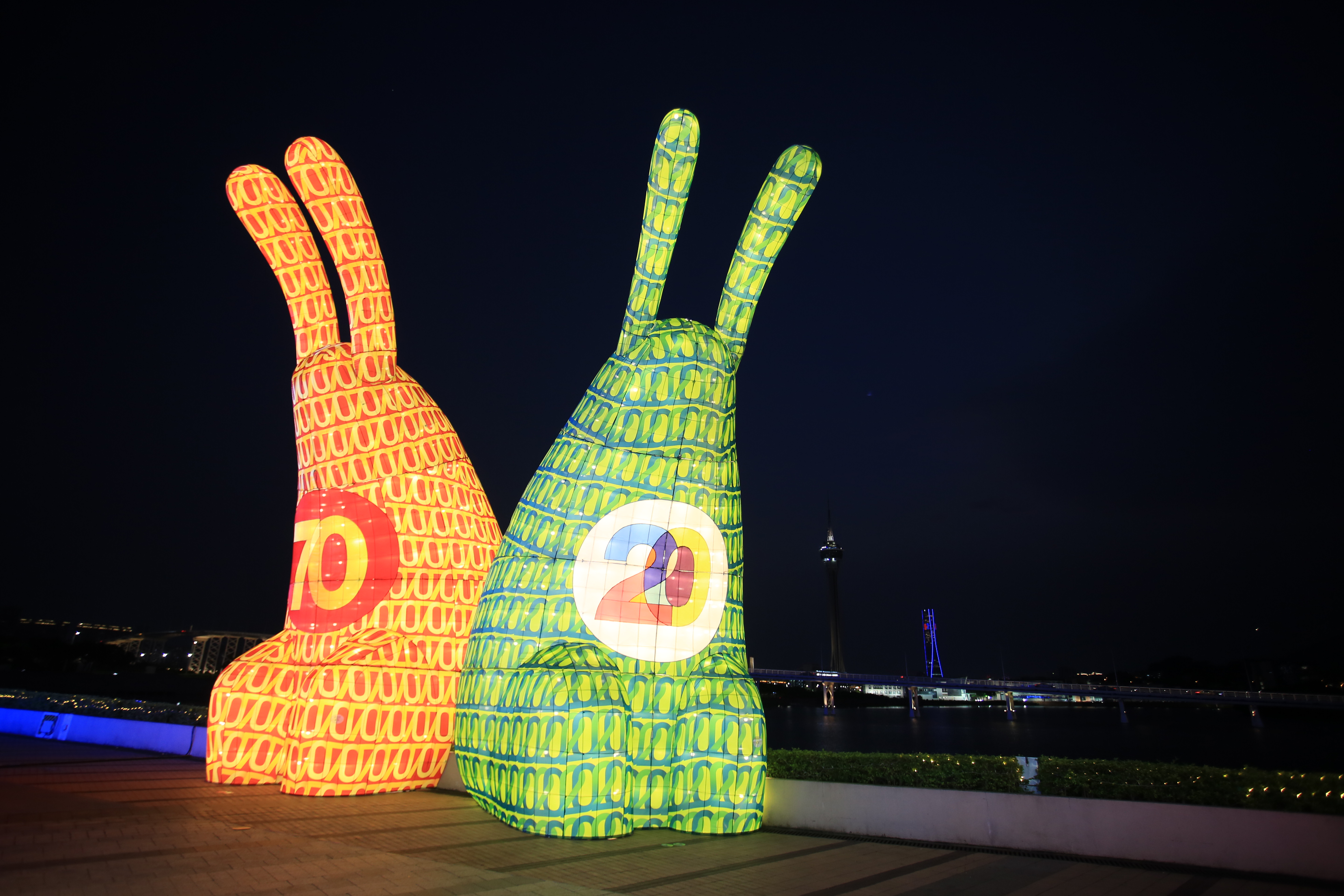 Entering the fourth year, coinciding with the 70th Anniversary of the founding of the People's Republic of China and 20th Anniversary of Macao Special Administrative Region returning to the motherland, the collaboration is led by Macau architect and renowned artist Carlos Marreiros themed as "70 + 20 Commemoration – All in the Family". The urban art installations comprising 10 monumental and illuminative lantern sculptures between 2.5 and 12 meters tall located at the Waterfront Promenade of One Central Macau facing the Nam Van Lake. All the lantern sculptures are designed by Marreiros and six of them are personally decorated by him including the two major Lunar Rabbit Lanterns themed "70 + 20 Commemoration", the three newly added auspicious pigs, "Swimming Pigs", "Piggy Piggy Bank" and "Loving Mother", turning the promenade into a joyful and harmonious festive carnival.
Meanwhile, four lantern sculptures are commissioned decorative works in collaboration with prominent and promising artists. They are "Ethereality Adorn Macau" by Macao painter Lai Ieng, "Ears of Flower" by Chinese artist Zuo Zheng Yao, "Lantern" by Portuguese artist Raquel Gralheiro and "How Far Can You Go?" by Italian artist Guido Scarabottolo, gracing the dazzling and fun-filled festive season with bright colors and delicate contour.
When: September 7–October 15, 2019
Where: One Central Macau Promenade, extending to Wynn Macau, Avenida de Sagres, Nape, Macau
How much: Free admission
For more information, check their website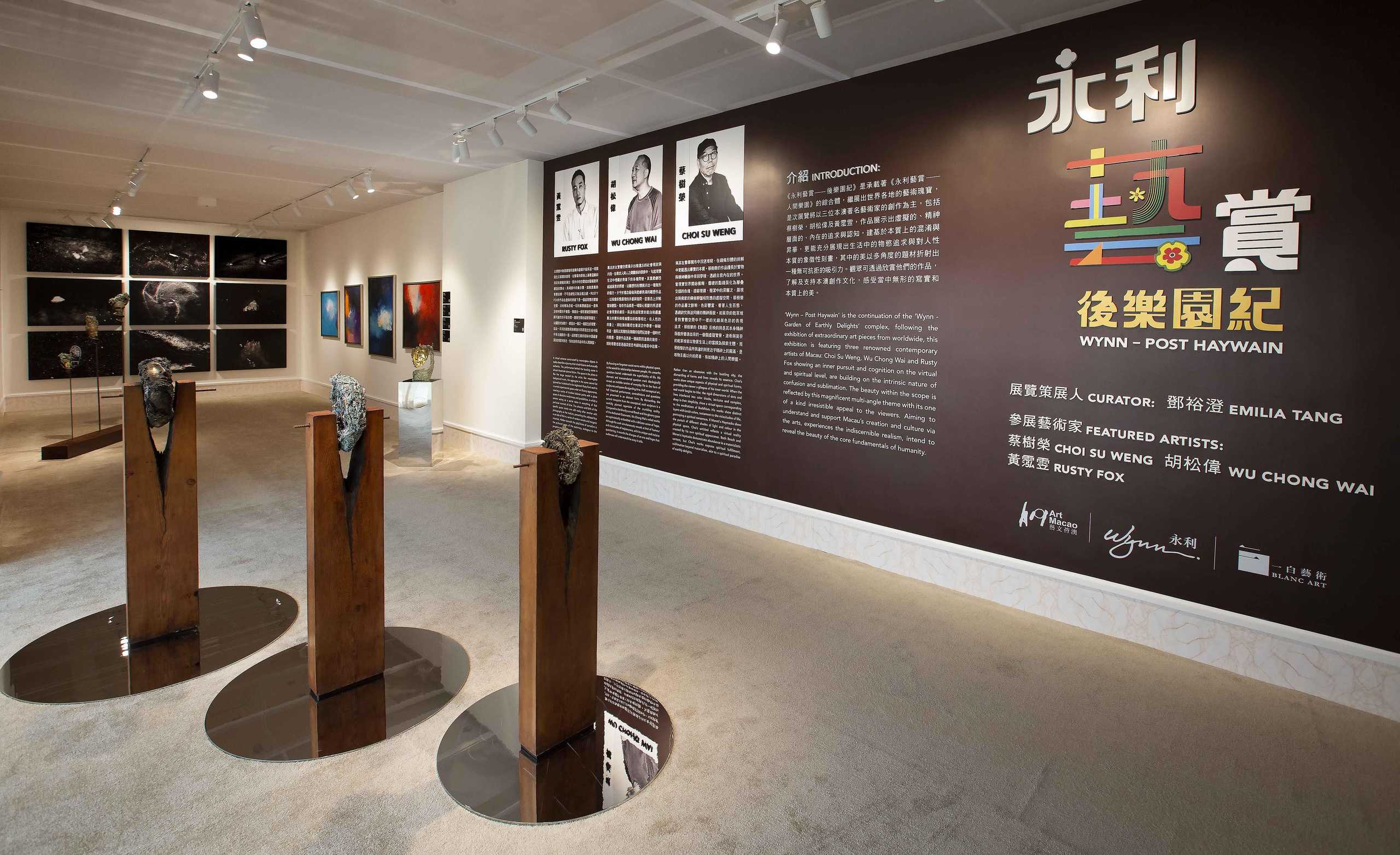 Tags