Le French May may have ended but it saved the most delicious bonus that Macau people will be able to enjoy for the rest of summer. We are talking about an outstanding unprecedented event on the local art scene– "Marc Chagall, Light, and Colour in Southern France" exhibition in Macao Museum of Art; a true gift for all the art lovers displaying yet another strong link between Macau and France.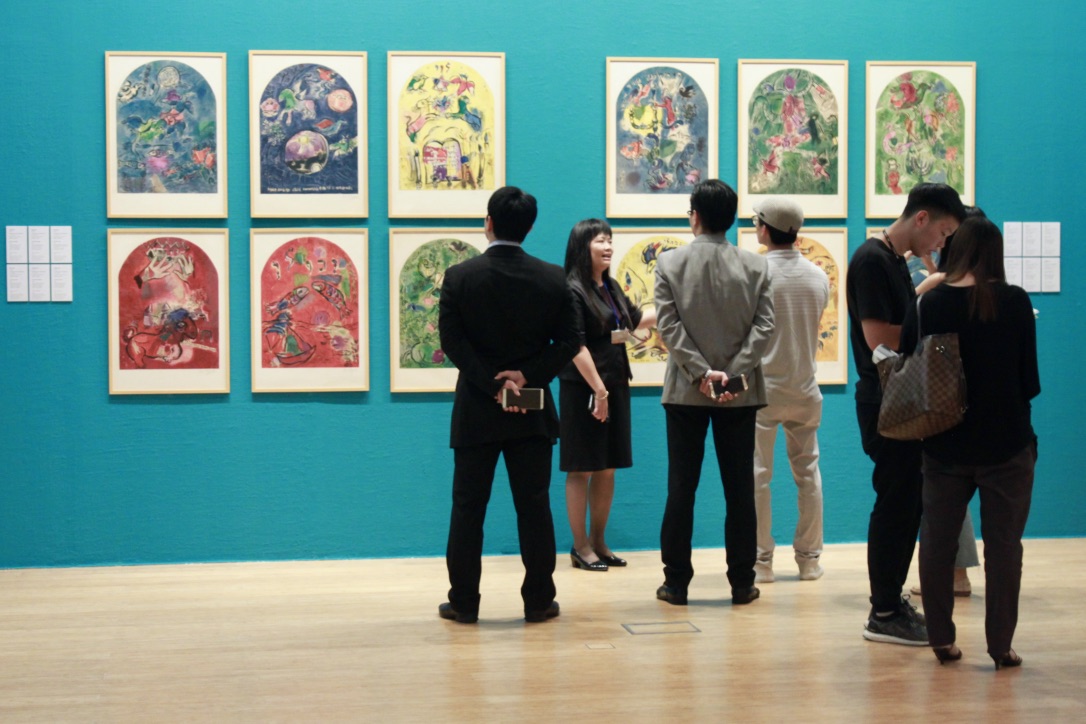 Exhibition
The official opening ceremony was held on a lovely Thursday evening with the participation of both Macau and French officials, including Acting Consul General of France in Hong Kong and Macau, Paule Ignatio and the President of the Cultural Affairs Bureau of the Macau S.A.R. Government, Mok Ian Ian.
"Light and colour…" features more than 100 artworks created over a span of 30 years, from the 1950s to the 1970s and puts a spotlight on Chagall's connection with Southern France. The selection depicts Marc Chagall as a fruitful master of many genres like painting, stained glass, stage sets, tapestries, costumes. What is particularly significant is that some of the works (like Greece inspired gouaches) were provided by Chagall's family and had never been exhibited before. In addition to being an extraordinary event for Macau, it is also an important milestone in the history of artist representation.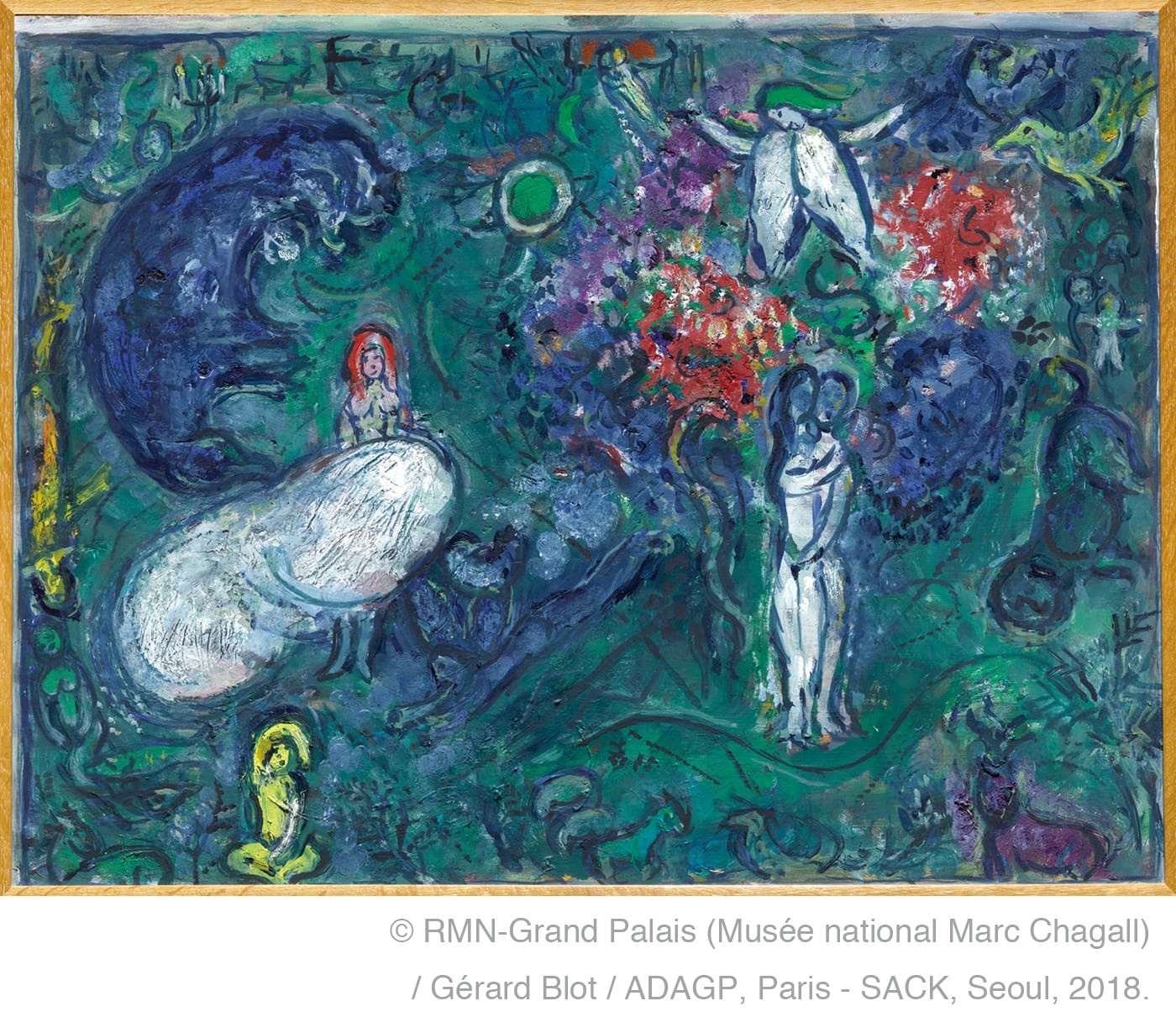 The life and work of Marc Chagall
Marc Chagall, Paradise. 1961
Born in Vitebsk (now Belarus, then a part of Russian Empire) in a Jewish working-class family, Chagall spent most of his adult life in France. A major influence of Jewish origin that he cherished despite or thanks to his harsh experience of growing up as a Jew in anti-Semitic society, was Russian avant-garde art life, that he encountered and absorbed while living and studying in St. Petersburg, and the French spirit of artistic freedom were the key elements that formed Marc Chagall's personality and work.
While his work is normally put in a frame of modernism, throughout his creative life Chagall combines different art forms of Cubism, Symbolism, Fauvism, and Surrealism, and, influenced by Jewish, Russian and French cultures, creates his own unique recognizable style. Through radiant light and strokes of ripe, deep color a symbolic world is born– mythical creatures, sirens, hyperbolic bouquets and, of course, soaring lovers. When Marc Chagall settled in his home in Côte d'Azur, dazzling Mediterranean sea, picturesque Southern landscapes and scenic promenades become his muse and eternal source of inspiration like it has been and always will be for many great artists. Here his art blossomed even more, bringing to life numerous paintings, lithographs, gouaches, tapestries and more.
Marc Chagall, Sketch for The Life. 1963-64
This period is also a peak of Chagall's interest in symbiosis of decor and architecture that reflected in his monumental art such as the decor of Opéra de Paris ceiling, five color section of which honor fourteen composers and their works; a large painting "The Life", a celebration of vitality and happiness; and several tapestries, a collaboration with his friend Yvette Cauquil-Prince.
One of the greatest colorists of all times, Marc Chagall once said: "In our life, there is a single color, as on an artist's palette, which provides the meaning of life and art. It is the color of love".
---
Visit the Macao Museum of Art and you will see for yourself that every work of this genius is all about love. What can be more inspirational and uplifting?
When: 10:00am—7:00pm, June 1—August 26, (closed on Mondays)
Where: Macao Museum of Art (MMA), Avenida Xian Xing Hai, Nape, Macau
How much: Free admission
For more information and details please visit www.mam.gov.mo
Tags
Related Posts