With one of its main entrances through Avenida Sidónio Pais, linking the northern part of the city to Tap Seac Square, Guia Hill is one of Macau's most complete spots when it comes to the range of activities and things to visit there. From UNESCO World Heritage sites to a beautiful lake, a panoramic view of the city across the skies, or a haven for walkers and runners, Guia Hill is one of the coolest places to visit in town. Also, don't miss the (rare) chance to visit the inside of the lighthouse, which only opens to public some days a year during summer time. Bookmark this article, head over to Guia Hill for an adventure, and check out the sights while breathing in all that fresh air!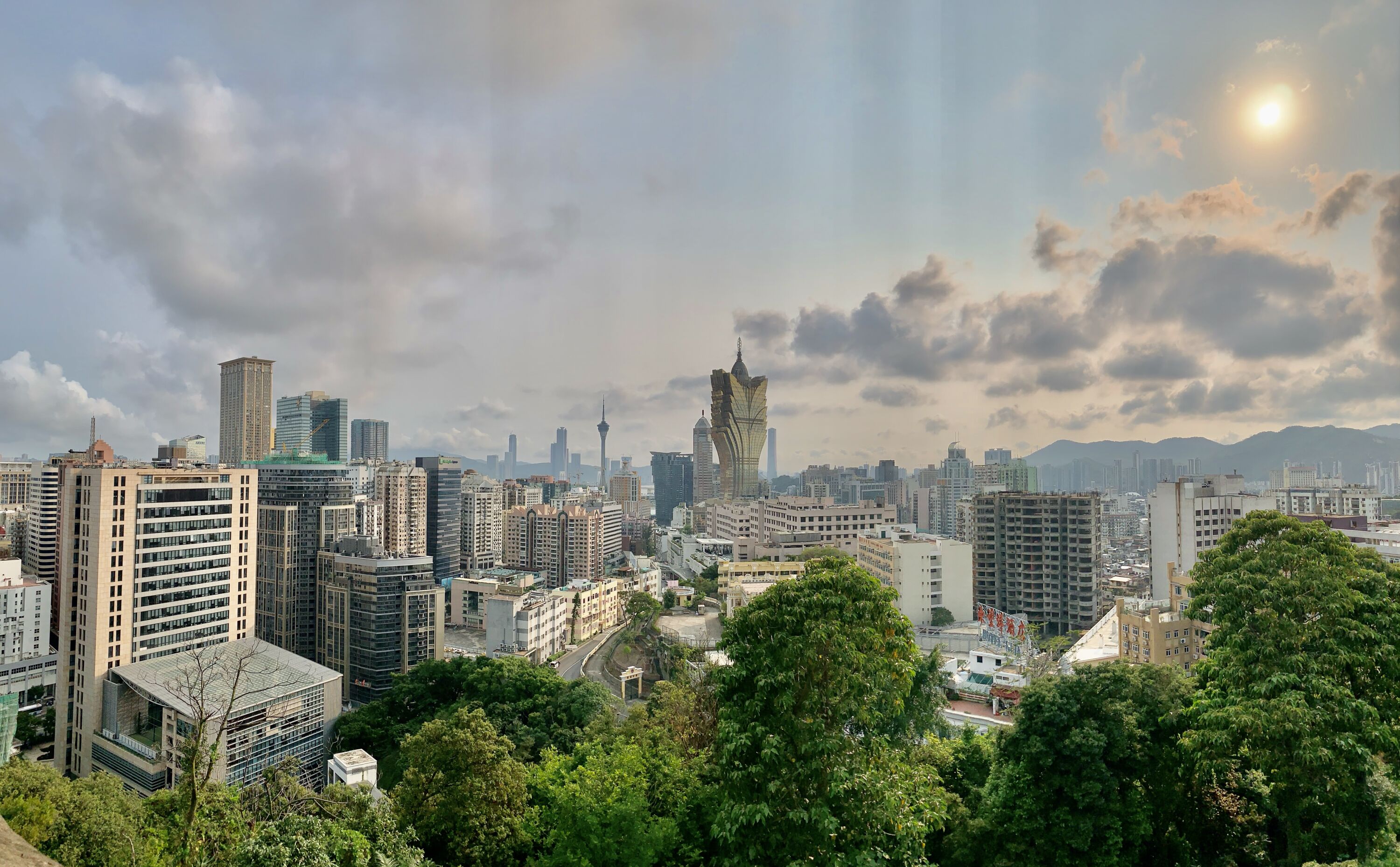 Relaxation in an Urban Center
Guia Hill is comprised of lots of green areas and different species of plants and trees, trekking paths, seating areas, a lighthouse and a church set inside an ancient fortress, and more. The hill's main entrance is through Flora Garden, set in a lower area.
The Guia Hill Municipal Park was inaugurated in 1865. The writer of a dissertation regarding Macau gardens, Joana Santiago Pinto Brum, attributes the existence and green aspect of this place to the efforts of two figures: the 86th Portuguese governor, Tomás de Sousa Rosa, and engineer Tancredo do Casal Ribeiro.
Standing 90 meters tall, Guia Hill has wonderful hiking trails to explore, benches to relax on, or you could just chill downstairs nearby the lake. We took the cable car leading to the top of this hill and this journey lets you appreciate the greatness of our city with a bird's eye view–spot Hotel Lisboa, its surrounding area, and also the northern zone and more. It's a great place to shoot some photos before reaching the top. Each cable car fits four people and has a little window from where you can take interesting shots.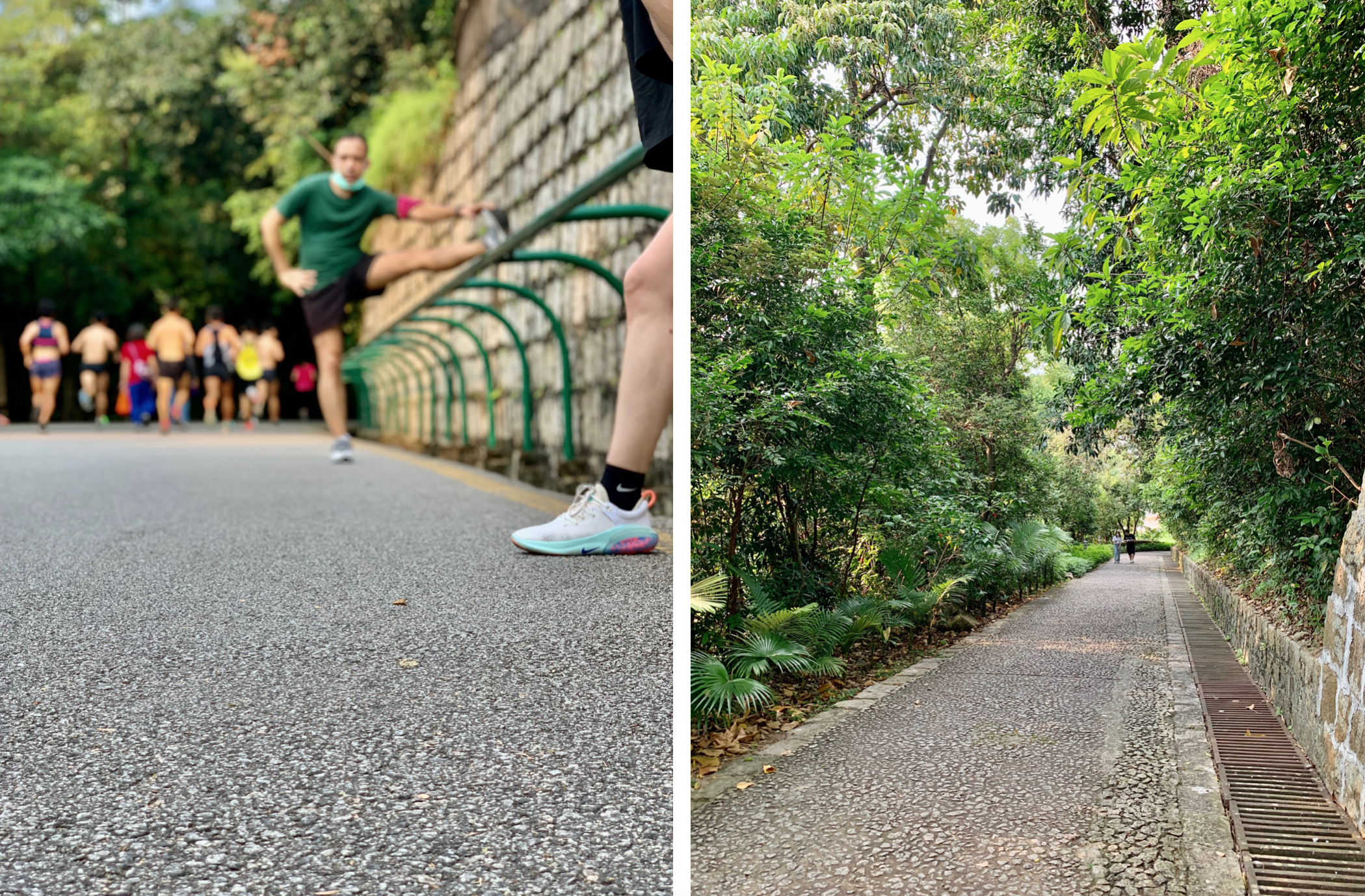 Hiking Haven
Once up there, look down and you'll find an immensity of greenery, almost as if time hasn't passed by. Keep going up towards the lighthouse–just follow the indications along the way–and be mesmerized by all the hidden corners, little paths bathed in sunshine, and others in the shade, where one can just sit and enjoy the weather. Sure, some joggers might pass by, but even that won't be enough to distract you from the fact you're now at one of Macau's highest points, looking down on the city's hustle and bustle.
Safe from traffic, cyclists, and hoards of people–maybe not from animals such as mosquitoes, birds, spiders, or small snakes–this is the perfect place to carry out your daily or weekly jogging plans. With several different paths going straight, up and down the hill itself, challenge yourself and take the ones with steps and even invite friends for the added competition!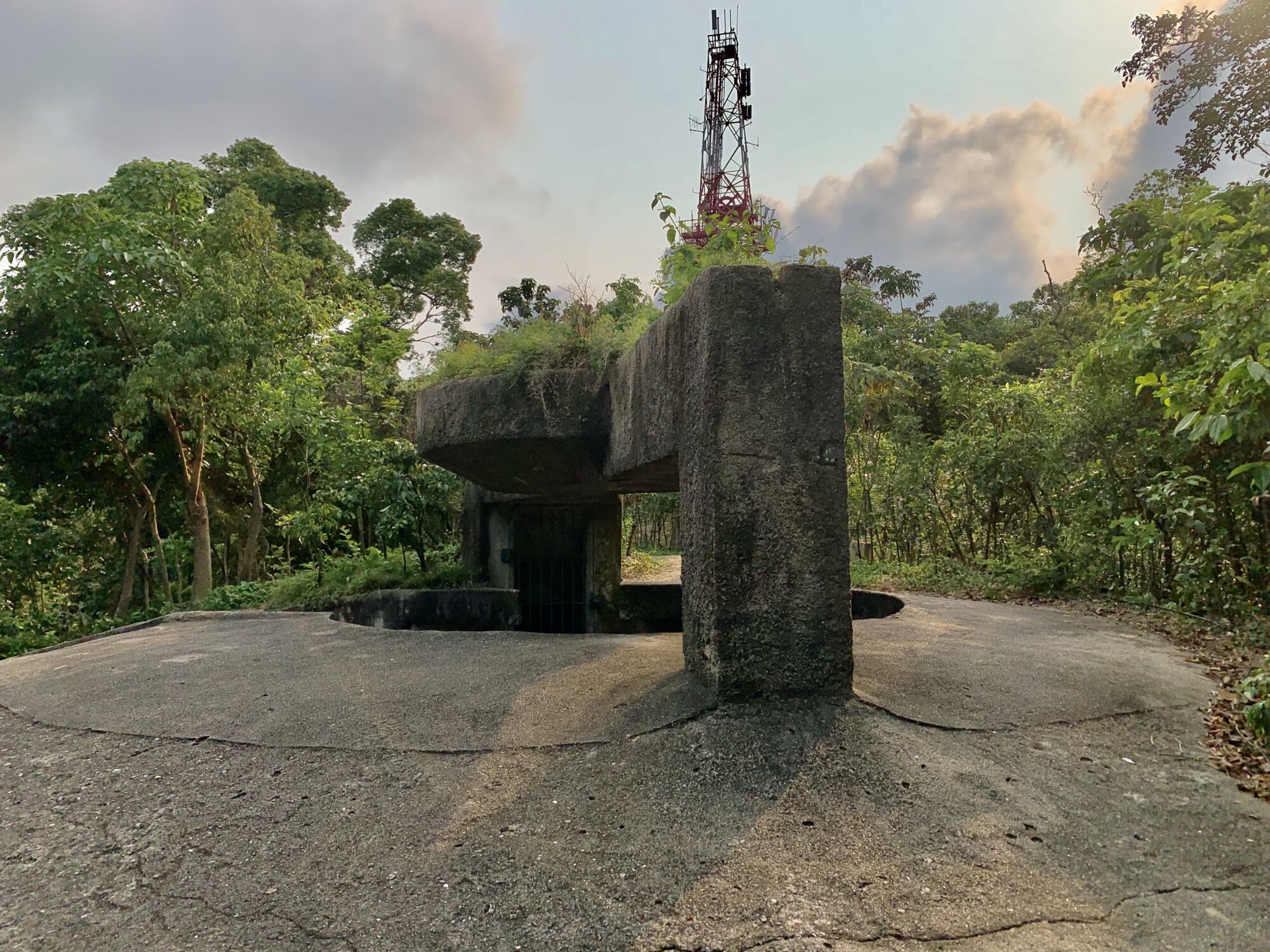 The Guia Hill fitness walk features two paths: one that's 1,700 meters (around 33 laps) and another comprising 1,100 meters in total. The first is known as the 33-Turns Circuit and is 52 meters above sea level, allowing for breathtaking views across the city. There are lots of fitness equipment installed along this circuit for people to run and jog but also exercise if they want to. The 1,100 meters' walk stands one level above the previous and it's accessible through Rampa do Reservatório.
During the 1930s, a subterranean network of anti-air raid shelters was built to protect the population from possible attacks by air. These are still there and they're quite interesting to look at, especially when you're on a run and feel like pausing for a bit. These extend in all directions of the park and there are several throughout, linking to other things. The longest tunnel is 456 meters long!
UNESCO World Heritage Site: China's Oldest Lighthouse & a Catholic Church
Most heritage places in Macau has both Chinese and Portuguese elements: the first is usually in the form of temples and other architectural elements alike; Portugal's remainders are scattered all over the city as Catholic churches and other colonial-style buildings like the Taipa Houses-Museum and so many others.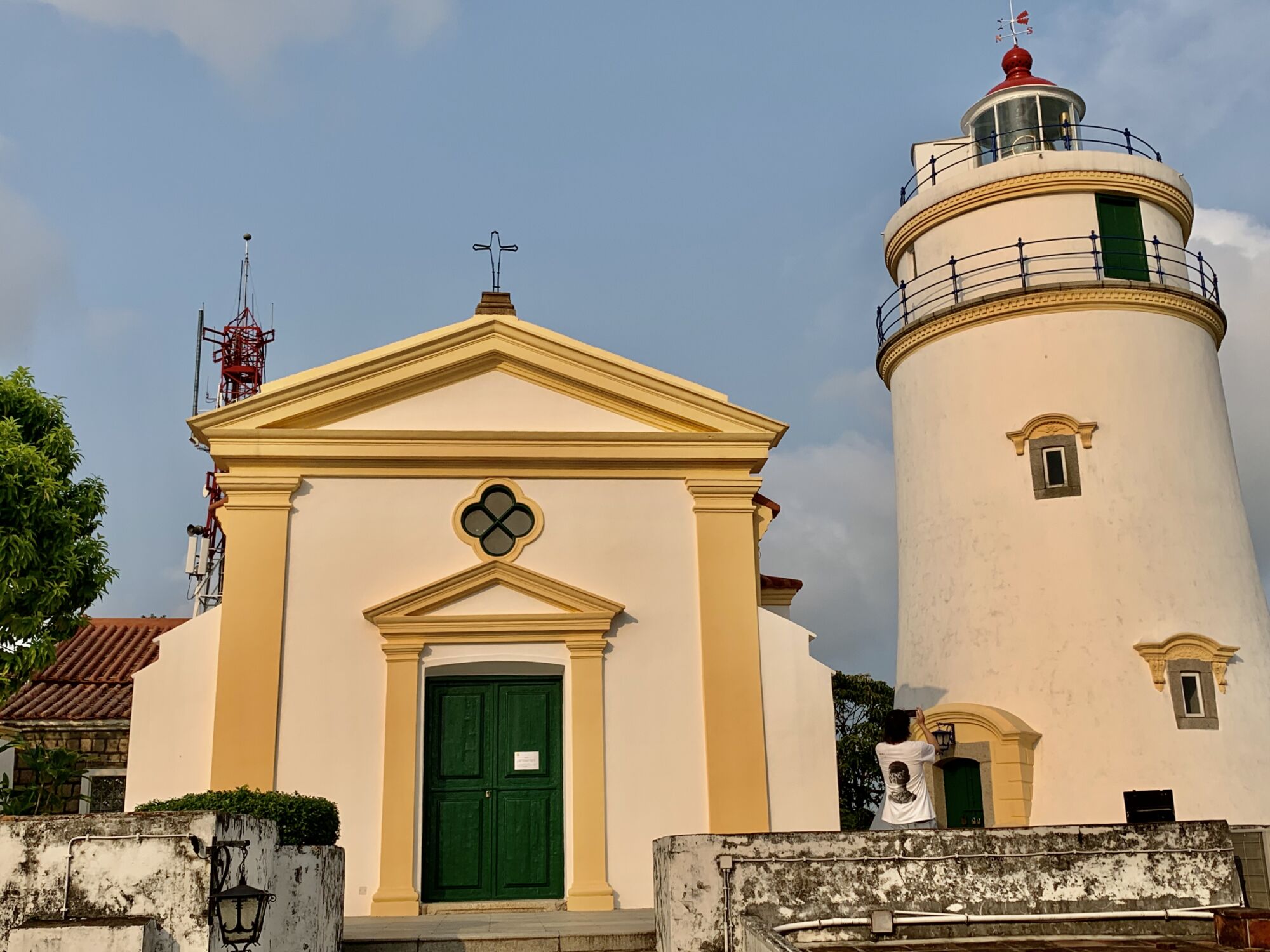 At Guia Hill, the Portuguese left a church and what's believed to be the first and oldest lighthouse in China. Both are set at the city's highest point. Both these structures are walled by Guia Fortress–believed to be built between 1622 and 1638–measuring 800 square meters. The complex is a UNESCO World Heritage Site that's part of the Historic Centre of Macao since 2005.
This edification, along with Mount Fortress, was constructed to protect Macau against the attacks of the Dutch, who tried to take over the city but never succeeded. There was even a celebratory date. Until 1999, June 24 was a public holiday called the "Day of Macau". Demolished a few years after, it was refurbished by Portuguese artillery captain, António Ribeiro, and later used as a viewing and observation point to check the arrival of naval structures and typhoons.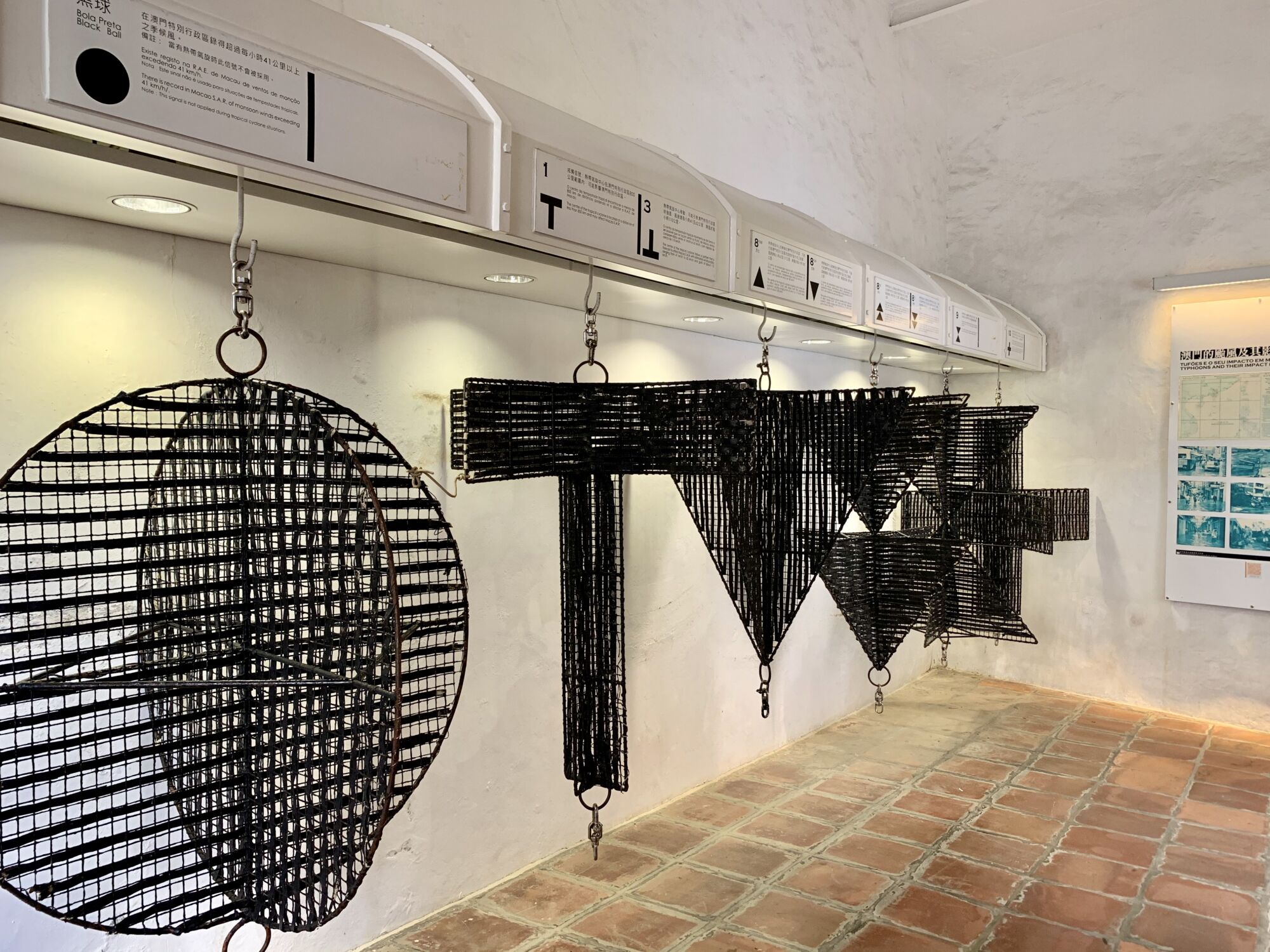 A small hut at the entrance showcases the different signals of typhoons–1 to 10–and explains its history. Before we were able to know which was issued through the television or radio, they were displayed in high points so everybody could see them; the fortress was one of them.
The lighthouse was inaugurated in 1865, stands 91 meters above sea level and it's 15 meters high. However, it was closed for almost 30 years–due to the impact of a strong typhoon in 1874–a period after big changes were made, including the electrification of the lighthouse. You might be lucky enough to have the chance to visit the inside of the lighthouse, as the local government opens this landmark for public tours a few times a year. The interior of the lighthouse is usually closed to public but opens a few days per year, normally during summer time–for the Marine and Water Bureau Day Celebrations.
The only one with Fresco Paintings
Our Lady of Guia Chapel is believed to have been built around the same time as the fortress itself: 1622. Clarissa nuns lived in this small church until the later built Saint Claire Convent opened. Interestingly enough, during the refurbishment works of 1998, the government found mural paintings in its interior, which had been covered with several layers of lime for almost two centuries. These frescos represent biblical figures and their narratives, but also Chinese motifs like animals and bonsais. This is the only church in Macau with painted frescos in its interior walls, so it's definitely worth the visit.
Most cultural heritage and tourist attractions in Macau are well-equipped with pertinent information. Usually in the form of posters and explanatory texts, there are also lots of places featuring QR codes that you can scan on your phone and listen to the info as you go on your tour. Quite cool, right?
---
Opening hours: Fortress – 9:00am–6:00pm, Chapel – 10:00am–6:00pm (admission until 5:30pm), Lighthouse – closed to public
For an interesting approach and audio information on these landmarks check this website
Guia Hill Guia Fortress, Rampa Da Guia, Macau, www.wh.mo
Tags
Related Posts