Featured image source:  Macao Archives
While strolling from Senado Square to Rua do Campo, did you ever pass by an impressive yellow building, surrounded by a dark green gate (it also has a Vhils installation inside)? That's the Consulate General of Portugal in Macau and Hong Kong, an institution established by Portugal's government to aid citizens living in Macau and its neighboring city. However, this building served other purposes before.
Majestic as it is, one can't help but wonder what purposes the structure serves. We let you in on the Portuguese consulate's foundations and history, so read on and find out what this beautiful place housed before become a safe haven for Portuguese passport holders living in Macau.
The Healing Temple
If you're interested in the history of our city, you must've read our article on the Holy House of Mercy, a Portuguese institution that cares for the less fortunate. Well, the past–and creation–of that yellow building has everything to do with this and can be traced back to the 16th century.
It started out as a hospital, the S. Rafael (St. Raphael) Hospital, specially dedicated to treating the poorest amongst the local population. Founded in 1569 by bishop D. Belchior Carneiro, it was managed by the Holy House of Mercy, an institution also created by this religious figure. Known as the "poor people's hospital", locals called it "I Yan Miu", which means "healing temple".
Firstly, because it offered free treatment for people who had no way of paying it, and secondly, it was groundbreaking when it comes to health achievements. One, in particular, was that this hospital was the starting point of the smallpox inoculation protocols–where they were developed–that then spread throughout China. S. Rafael is considered the first Western hospital in Macau. If you'd like to see remains of this place, head to the Holy House of Mercy's museum–behind the white building in Senado Square–and you'll see the old bronze bell previously set at this treatment center.
Also read: Macau Epidemics Through Time: From the Black Death to Leprosy
Life with Purpose
D. Belchior Carneiro dedicated his life to the cause, having founded yet another institution dedicated to improving health: a leprosy asylum in St. Lazarus neighborhood, in the area where Albergue SCM now stands. The bishop has even earned a street with his name in Macau, the road where currently, there's an elderly people's home, also founded by him and currently managed by the Holy House. It was relocated from St. Lazarus as well, where it was first placed. D. Belchior Carneiro has a long list of achievements in the city, where he spent most of his adult life. Giving to the community was, in truth, his main goal and that becomes obvious when looking at the Catholic institution's history.
Becoming the Macau Monetary and Exchange Authority headquarters
The hospital was later shut down and the place was refurbished to house a new government institution: the Macau Monetary and Exchange Authority–now called Monetary Authority of Macao–which started operating in 1988. Designed in 1990-91, the renovation project was authored by architects António Bruno Soares and Irene Ó, owners of O.BS architects, a Portuguese architecture firm operating in Macau since 1980.
According to records on the company's website, a survey done on the building concluded a "very degraded and unsafe construction", thus it was decided that the interior walls and structure had to be demolished and rebuilt. "The building plan was designed with respect for the former plan, by means of keeping the cloister feeling with large corridors contouring the internal courtyards, which allow the natural light to enter the most interior areas", can be read in the project's description.
In fact, its current interior design matches the one created by the two architects and it's characteristic of the "explosive renovation" era, a term used in an article about Macau's architecture development, by José Manuel Fernandes. The author explains that after a stagnation phase–1967 to 1975–there was a boom in the architecture area strongly fostered by the dozens of Portuguese professionals coming either from a recently politically freed Portugal or its former colonies in Africa.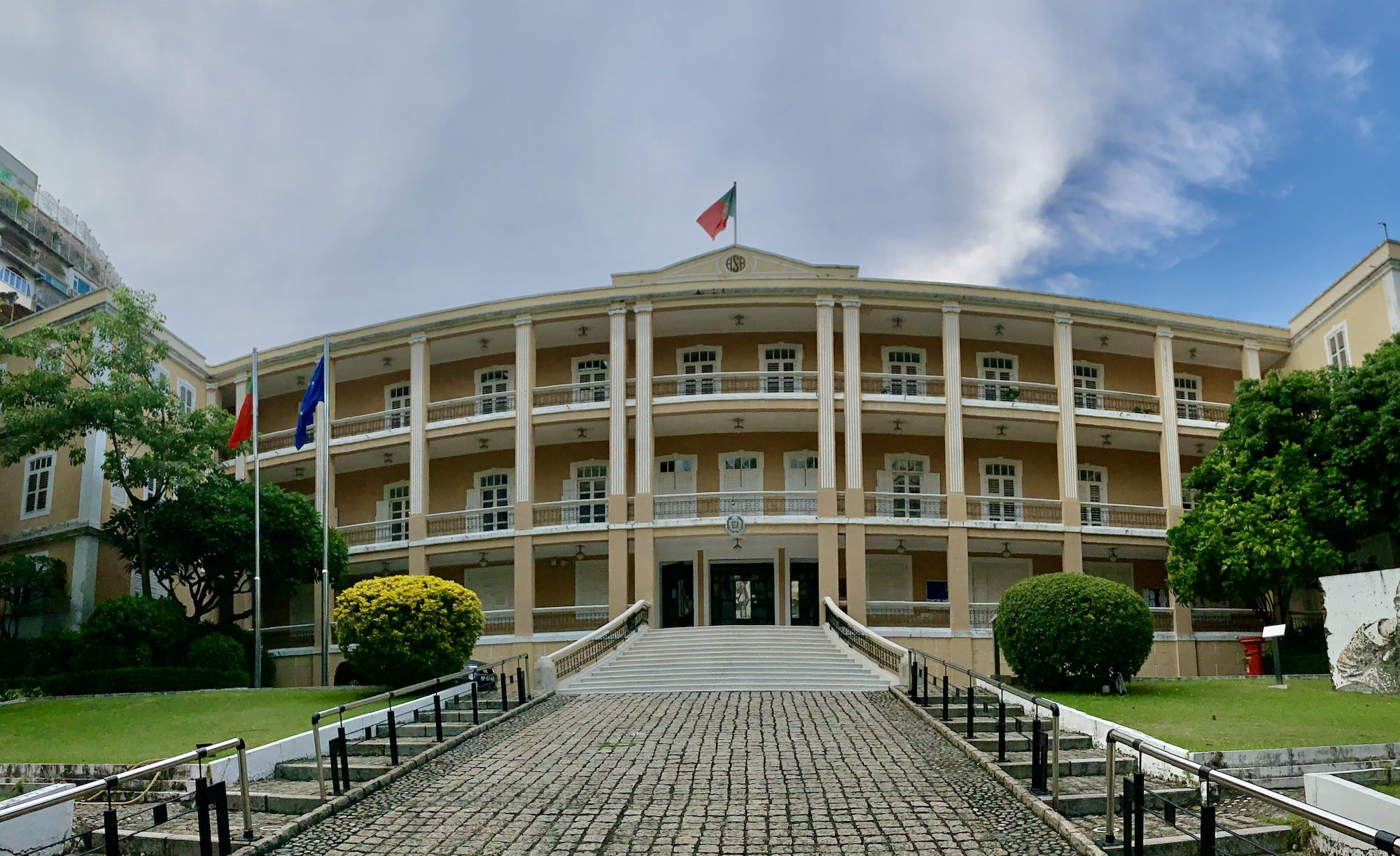 Now & Then
The building was renovated a few times, with the last major one taking place in 1939 to match the exterior design we see today. It has a U design with two advanced towers in the endings and the main body with three stories that include terraced areas. The structure is classified as a building of architectonic interest in Macau.
Inside, you'll find not only the Portuguese Consulate's offices and customer area but also IPOR, a Portuguese-based institution dedicated to the spread and teaching of the Portuguese language in Macau. It also features a library and an auditorium and hall hosting several exhibitions and cultural happenings.
If you're into contemporary art, check out Portuguese urban art Vhils' piece, set at the entrance on the right-hand side of the beautiful garden surrounding the building.
Also read: Macau Holy House of Mercy: 450 Years of Charitable History
---
Bibliography:
---
Consulate General of Portugal in Macau and Hong Kong 45 Rua Pedro Nolasco da Silva, Macau, +853 2835 6660, www.cgportugal.org
Tags
Related Posts